The Best Books About Blogging To Read In 2023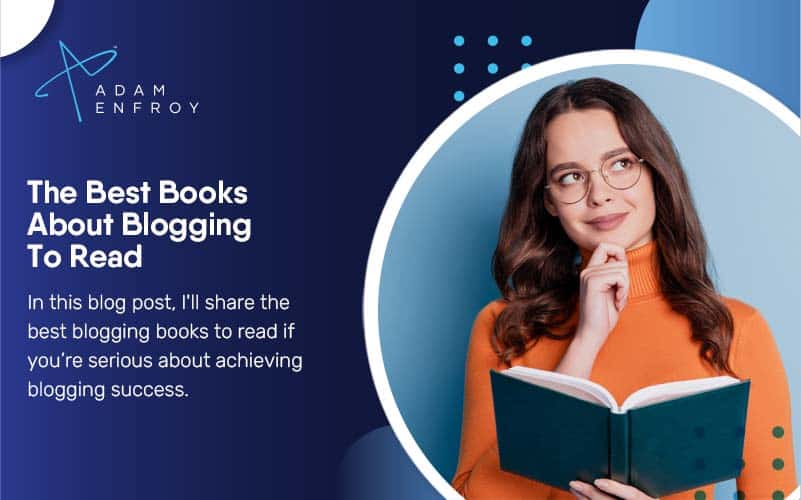 What's the best business investment you can make?
Is it your site, plugins, and themes? The user experience and design? The business plan?
If I had to pick one, I'd say that self-education would be your best best.
The right knowledge will open doors (some you didn't know existed) and help you reach your dream goals faster than you thought possible.
When building a blogging business, knowledge will make things click.
Blogging books allow you to leverage other people's successes (and failures) and provide insights into the steps you must take.
Having gone ahead and done the book research already, I'll share the best blogging books to read if you're serious about your business.
The Best Books About Blogging
Here are the top books to help you master the art of blogging and grow your blog into a successful venture.
1. Building A Story Brand.
Donald Miller's "Building a Story Brand" is a practical guide to crafting compelling narratives that drive results.
The book embraces the concept of the hero's journey, a universal story archetype that resonates with audiences across cultures and industries.
Miller breaks down this narrative framework into seven key elements that you can apply to any brand message: a character, a problem, a guide, a plan, a call to action, a success story, and a vision.
One of the strengths of "Building a Story Brand" is its focus on simplification and clarity.
Miller emphasizes the importance of distilling your brand message into a clear, concise statement that speaks to your customers' needs and desires.
He also offers practical tips on identifying your brand's unique value proposition and communicating it effectively through various marketing channels.
In addition to these core concepts, "Building a Story Brand" also provides a wealth of practical advice for bloggers and content creators.
From crafting effective headlines to designing landing pages that convert visitors into customers, Miller offers step-by-step guidance.
This guideance will help you maximize the impact of your storytelling efforts.
The book also has real-world examples of brands that have successfully applied Miller's framework, providing inspiration and insights for readers.
2. Blogging All-in-One For Dummies.

Blogging All-in-One for Dummies has seven parts, each covering a different aspect of blogging.
Part one covers the basics, including choosing a blogging platform, setting up your blog, and writing your first post.
Part two covers more advanced topics, such as customizing your blog, optimizing it for search engines, and using RSS feeds to increase traffic.
Part three focuses specifically on making money with your blog.
You'll learn about various monetization strategies, such as affiliate marketing, advertising, and sponsored content.
You'll also learn how to create a media kit and pitch your blog to potential advertisers.
Next, the book covers social media and how to use it to promote your blog.
You can also learn about podcasting and video blogging, showing you how to create and host a podcast and integrate video content into your blog.
You'll also learn to use platforms like YouTube and Vimeo to grow your audience.
3. Profit First.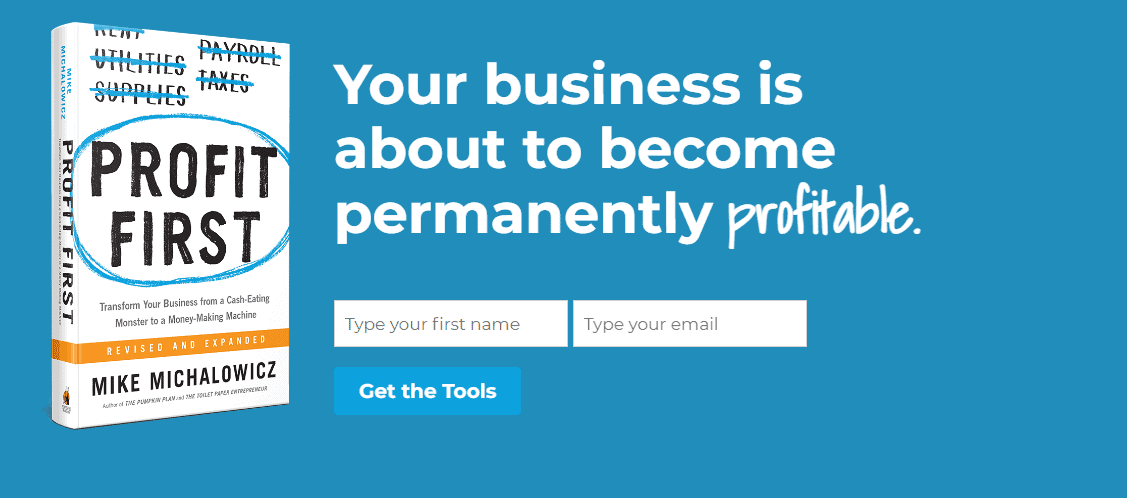 At its core, Profit First is a cash-management system that aims to streamline expenses and maximize profits.
The book provides a simple, step-by-step process for implementing this methodology.
The process involves setting up multiple bank accounts for your business, each with a specific purpose, such as profit, taxes, and operating expenses.
By allocating funds to these accounts in a specific order, you ensure that you prioritize profit and financial stability over unnecessary expenses.
One of the most exciting aspects of Profit First is its emphasis on small wins.
Michalowicz argues that entrepreneurs often get caught up in pursuing big wins, such as landing a huge client or securing a significant investment.
However, the book argues that success depends on consistent, incremental progress.
By celebrating small wins, such as hitting a revenue milestone or reducing expenses, you'll build momentum and ultimately achieve the big wins you're after.
One of the most compelling aspects of Profit First is the wealth of real-world success stories that Michalowicz shares throughout the book.
These stories offer concrete examples of how the Profit First methodology works in practice and has transformed businesses of all sizes and industries.
By seeing the results that others have achieved, you can gain inspiration and confidence in your financial journey.
4. Atomic Habits.
Atomic Habit's central premise is that small habits can lead to significant changes.
James Clear encourages readers to focus on the smallest possible behavior that can produce a positive result.
For example, instead of trying to run a marathon, start with a single pushup or write a book by writing a single paragraph.
These small actions may seem insignificant initially but can lead to significant improvements over time.
James introduces readers to his "four laws of behavior change.
"These laws serve as a framework for developing good habits while breaking bad ones.
The first law is to make habits obvious.
Create an environment that makes it easy to perform the desired behavior.
For example, place books near your bed or desk if you want to read more.
The second law is to make habits attractive.
This law emphasizes that we will likely stick with habits if we enjoy them.
The third law is to make habits easy.
This law suggests making small changes that are easy to implement.
Finally, the fourth law is to make habits satisfying.
This law is about creating a sense of immediate satisfaction after performing the desired behavior.
One of the biggest takeaways from Atomic Habits is the idea of identity-based habits.
Focus on who you want to become rather than what you want to achieve.
For example, instead of trying to lose weight, focus on becoming a healthy person.
This shift in mindset can make a big difference in creating long-lasting change.
5. Problogger.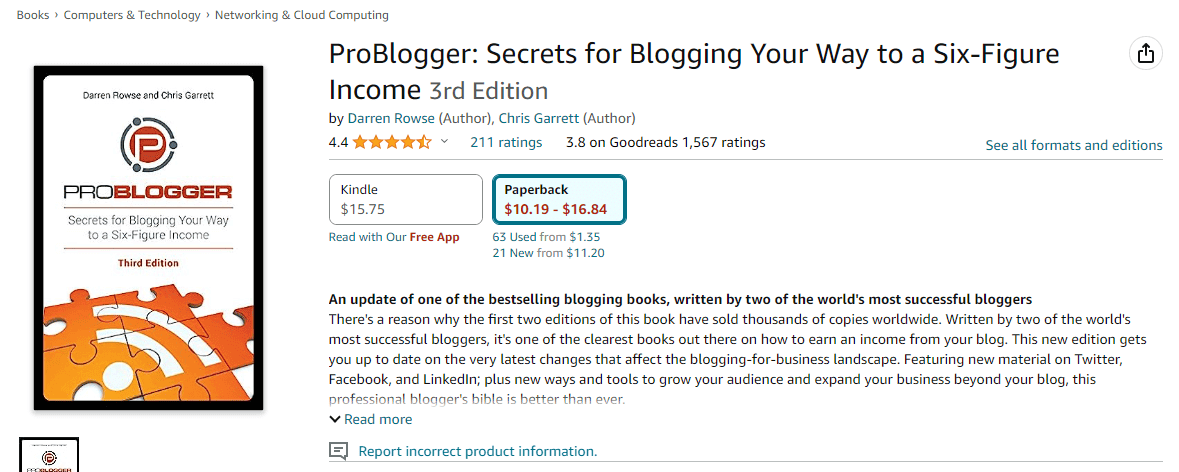 One of the biggest challenges bloggers face is finding the right topic to write about.
"Problogger" by Darren Rowse provides practical advice on choosing a topic that aligns with your passions, interests, and goals.
This book section also covers how to conduct market research to identify popular niches and topics in your industry.
Turning your blog into a profitable business requires understanding how to monetize it effectively.
The book offers valuable insights on different ways to monetize your blog, including affiliate marketing, sponsored posts, advertising, and e-commerce.
The book also covers topics such as creating a sales funnel and driving conversions to maximize your revenue potential.
One of the keys to success in blogging is growing your audience.
Problogger provides a comprehensive guide to building a solid online presence through social media, email marketing, and SEO.
The book also covers topics such as engaging with your readers and building a loyal community.
In addition to growing your audience, Problogger also covers how to supercharge your reach through targeted advertising and collaborations.
The book offers practical advice on how to work with brands and influencers to expand your reach and build your brand.
6. Fire The Haters.

Whether you're a beginner or a veteran, online hate and criticism can hinder creativity and growth.
In her empowering guide, "Fire the Haters," Jillian Johnsrud shares her personal experiences and offers practical advice on navigating the challenges of online criticism.
Her insights can help you overcome negative comments and unleash your creativity in ways you never thought possible.
The first section of "Fire the Haters" is about setting boundaries.
Johnsrud points out that not all criticism is constructive and that limiting what kind of feedback you're willing to accept is essential.
She shares practical tips on determining what kind of feedback is helpful and when it's time to shut down the trolls.
This section is crucial for anyone who wants to protect their emotional and mental well-being while creating content.
Johnsrud dives deep into the emotions that often come with online criticism.
She recognizes that negative comments can be hurtful and takes the time to validate those feelings.
However, she also encourages readers not to let their emotions control them.
She shares personal anecdotes and provides concrete steps to help readers separate their work from their self-worth.
This section is invaluable for anyone who wants to stay true to themselves and their creative vision, no matter what kind of comments they receive.
The book's next section explores the role that your inner critic might play in how you respond to online criticism.
Johnsrud discusses how your thoughts and beliefs can affect how you perceive comments.
She provides strategies for silencing that inner critic and finding the courage to keep creating and improving.
This section is beneficial for bloggers struggling with imposter syndrome or who are overly self-critical.
7. Everybody Writes.
Ann Handley's "Everybody Writes" has got you covered when creating content that wins over your readers and stands out in the blogging world.
In today's digital age, content is king, and everybody is a publisher.
Ann Handley successfully navigates the ever-evolving landscape by breaking down the principles of content marketing.
She also does a great job identifying the key components of excellent content, and teaching you how to craft content that will resonate with your readers.
Grammar and punctuation may not be the most glamorous parts of writing, but they are essential elements that can impact your reader's perception of you and your brand.
Ann Handley provides a comprehensive guide to grammar, punctuation marks, and spelling, making it easy to understand writing mechanics.
Writing is more than just putting words on paper.
Your tone and voice are essential in capturing readers' attention and creating an emotional connection.
In "Everybody Writes," you'll learn about different tones and voices, choosing the right one for your audience, and communication goals.
Every successful blog post tells a story.
It can be a personal anecdote, a case study, or a relatable story that captures your readers' attention.
Ann Handley breaks down the art of storytelling, showing you how to create compelling narratives that will keep your readers coming back for more.
Writing is the first step; editing and revising are the real magic.
Ann Handley provides practical tips on how to edit your writing for clarity, consistency, and effectiveness.
You'll learn how to identify the common pitfalls of writing, such as wordiness, redundancy, and jargon, and how to overcome them.
8. The $100 Startup.

The $100 Startup focuses on the side hustle nation and individuals who build their businesses instead of seeking traditional employment.
The book features case studies of businesses earning at least $50K, most with a small initial investment.
These businesses range from a woman who started a successful rice farming business to a man who created a successful e-commerce business.
The case studies offer a wide range of businesses and industries, giving readers a glimpse into what's possible with a strong work ethic and determination.
The book provides timeless advice on the bigger picture of starting a business and practical advice on the daily aspects of running a business.
Guillebeau discusses topics such as finding customers, pricing your product, and building a team.
These practical tips are invaluable to anyone starting their own business, and Guillebeau presents them clearly and easily.
One of the most valuable sections of The $100 Startup is the chapter on launching a product.
This chapter is a step-by-step guide on how to launch a product.
You can use it as a reference for those looking to launch their product.
Guillebeau discusses how to create a product that customers want, price the product, and market the product.
By following these steps, readers can increase their chances of success when launching a product.
9. Traffic Secrets.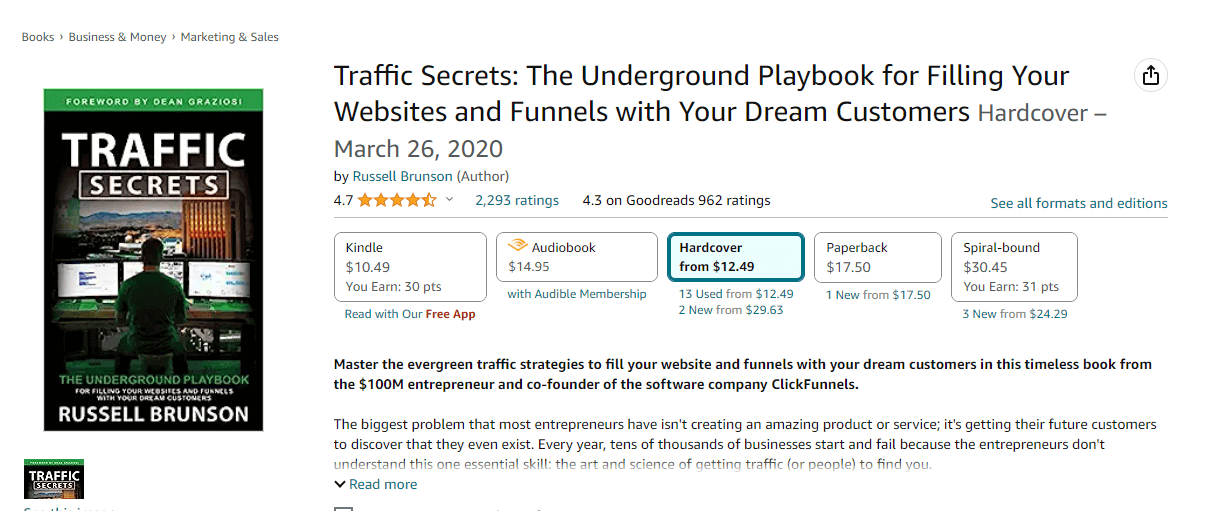 Russell Brunson's book, Traffic Secrets, is groundbreaking for all marketing professionals, entrepreneurs, and bloggers.
The book provides a comprehensive guide to driving traffic into sales funnels and creating a loyal customer base.
Traffic Secrets offers valuable insights into traffic generation.
The book uncovers the secrets to directing traffic into sales funnels, building a loyal customer base, and increasing online sales.
The book focuses on timeless marketing tactics that work on any platform, whether social media, websites, or blogs.
One of the critical concepts that Brunson focuses on is the "Dream 100" technique.
This technique involves identifying your industry's top 100 websites, influencers, and blogs, connecting with them, and building relationships.
Brunson's Traffic Secrets provides a roadmap to achieving success in marketing by leveraging the power of relationships and networks.
Traffic Secrets is a must-read for anyone looking to master the art of marketing.
The book features practical tips, powerful strategies, and step-by-step guides that are easy to follow and implement.
The book also provides valuable insights into optimizing funnel conversion rates, increasing engagement, and turning leads into loyal customers.
By unlocking your marketing potential, Traffic Secrets can help marketers grow their business and achieve success in today's competitive digital landscape.
10. Influencer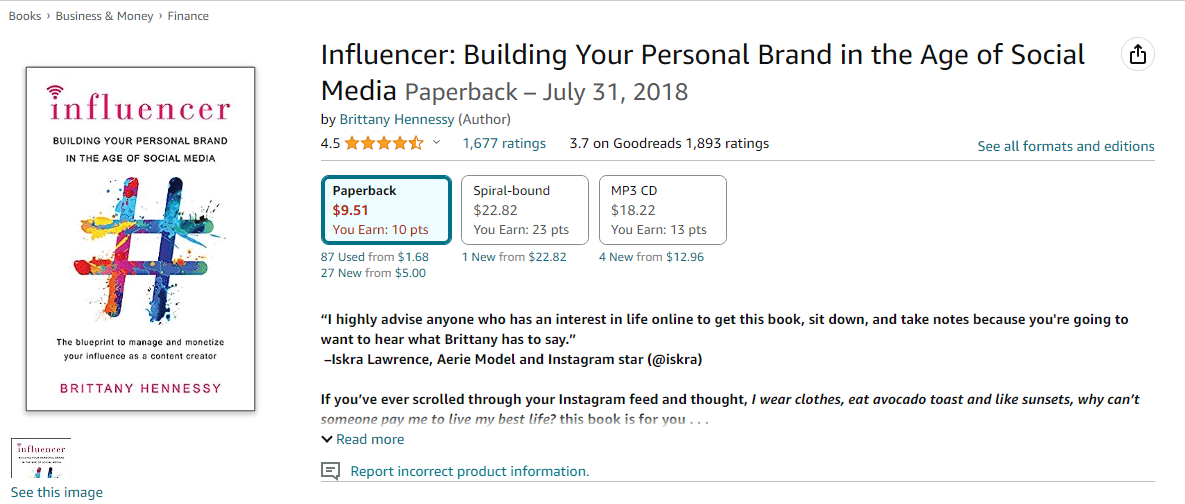 To truly succeed as a blogger, you need to become an influencer.
But what exactly does that mean?
How can you build a loyal following and work with brands to monetize your content?
That's where Brittany Hennessy comes in.
"Influencer" provides invaluable insights into influencer marketing, which can be overwhelming for those just starting.
Hennessy explains how to work with brands, how to pitch, how to monetize your content, and how to measure your success.
The book also features interviews with successful influencers, giving readers an inside look at the industry and what it takes to succeed.
While there are plenty of books and resources on social media marketing, "Influencer" is specifically tailored for fashion and beauty Instagram accounts.
Hennessy offers advice on what types of content perform well in these niches, how to work with beauty and fashion brands, and how to build an engaged following.
If you want to take your fashion or beauty Instagram account to the next level, "Influencer" provides the guidance you need.
Whether you're a small blogger or aiming for big success, "Influencer" can help you easily navigate the world of influencer marketing.
Hennessy provides practical advice anyone can follow, whether you're just starting or have been blogging for years.
The book is also relevant for those looking to grow their following on other social media platforms, such as YouTube or TikTok.
11. One Million Followers.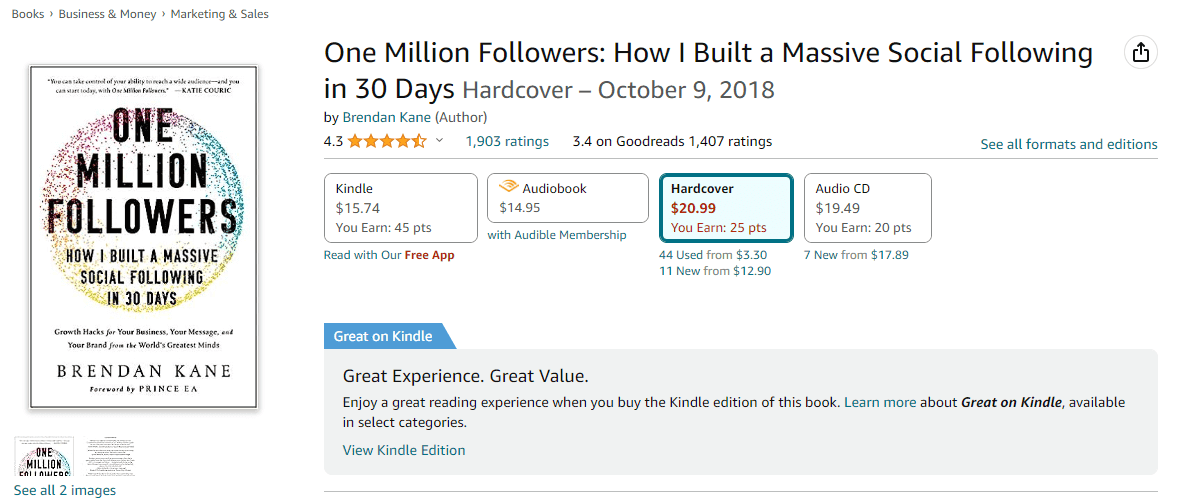 Have you ever wondered how people grow their social media following to millions of loyal followers?
Whether you're a blogger, influencer, or business owner, social media presence has become a fundamental aspect of brand growth.
Fortunately, social media marketing expert Brendan Kane has created a tried and tested method to unlock the secrets to acquiring a massive following, as outlined in his book One Million Followers: How I Built a Massive Social Following in 30 Days.
With Kane's strategies, you can stand out and command attention in the crowded realm of social media.
With his background in film and entertainment, Kane uses storytelling techniques and a data-driven approach to help you create content that engages your audience and leads to viral growth.
Kane's perspective on social media is that it is a "daily storytelling exercise," he emphasizes that your content should always address your audience's needs and interests.
With Kane's guidance, you'll learn to craft attention-grabbing content that will captivate even the busiest social media scroller.
Blogging has become a fundamental aspect of modern-day content marketing.
As a blogger, you may have struggled with blog post ideas or how to make your blog compelling to your audience.
Kane's methods help you identify trends and create content that resonates with your followers.
His data-driven approach makes you understand your audience's needs and create relevant, engaging, and shareable content.
You'll learn how to write headlines that get clicks, use data to guide your content creation, and optimize your blog for viral growth.
Other blogging books you might consider reading include How To Blog For Profit: Without Selling Your Soul (Ruth Soukup), Blog, Inc (Joy Cho), Blogging for Beginners (Meera Kothand), and Blogging All-in-One (Sally Miller).
Understanding The Blogging Ecosystem
The role of content and its quality is essential for producing great blog posts.
To achieve this, new bloggers should focus on improving their writing skills and explore content ideas to create engaging blog content.
I cannot overstate the importance of consistency in blogging, as the essential habits of 6-figure bloggers include consistently publishing high-quality content.
Exploring different blogging platforms, such as WordPress, and using plugins can allow bloggers to enhance their blogs and attract more readers.
By implementing these practices, bloggers can share inspiring stories and blog for a year's content ideas, even for beginners.
Effective Blogging Strategies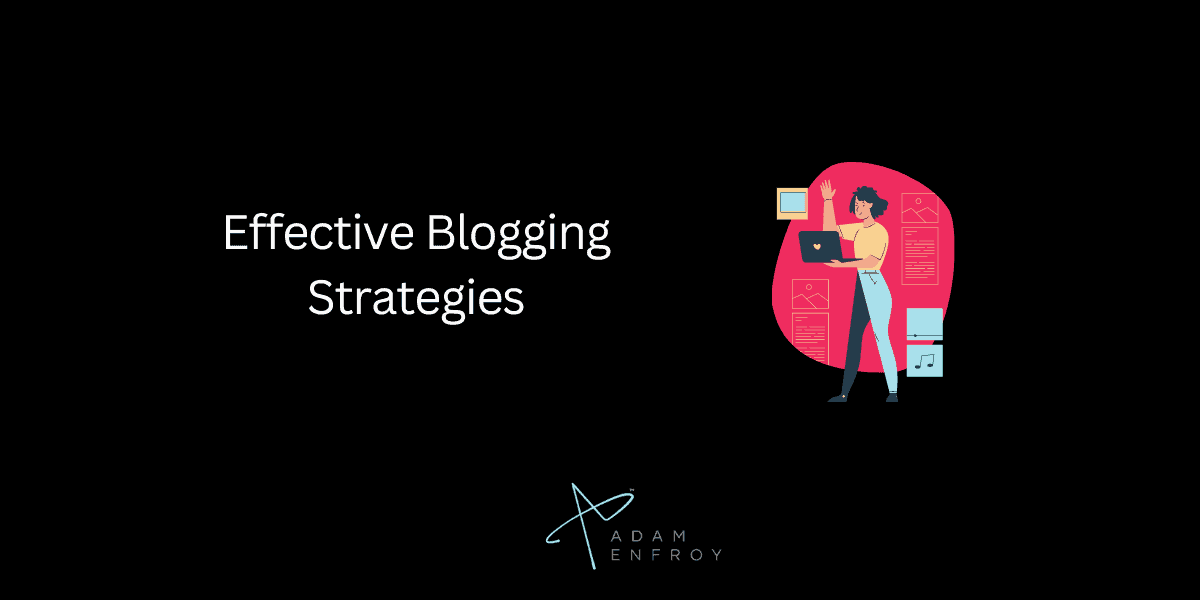 One of the most crucial strategies is SEO and Blogging, a powerful combination that can significantly drive traffic to your blog.
Implementing a social media strategy can also help you leverage platforms for promotion and increase your blog's visibility.
Additionally, guest blogging is a goldmine for building relationships and driving traffic to your blog.
Building your subscriber base through email marketing is another effective marketing strategy.
By utilizing these strategies, you can achieve long-lasting success as a blogger.
Building A Profitable Blog
With the potential to earn a six-figure income, blogging can provide virtual freedom and the opportunity to turn your online business into a full-time career.
Starting from scratch, small business owners can transform their blogs into thriving businesses by utilizing various monetization strategies, such as affiliate marketing and sponsored content.
Selling digital products can take your blog business to the next level and provide a consistent revenue stream.
With abundant resources available, including blogging courses, turning your site into a profitable blogging business is within reach.
Personal Growth And Development As A Blogger
Personal growth and development are essential for any newbie in the blogging world.
As you become a more successful business owner, you can work on developing better organizational skills and understanding the nuances of marketing.
You can also learn more about building relationships with other bloggers and readers to increase your audience size and reach.
By taking advantage of online resources, such as blogging webinars, courses, and conferences, you can continually refine your blogging skillset and ensure that your blog remains competitive in the ever-changing landscape of the blogging world.
With the help of the right blogger books, anyone can achieve such development.
The above books can also contribute towards enriching yourself in the best way possible.
Handling criticism and turning it into improvement is another significant aspect of personal growth and development for bloggers, and these books cover it extensively.
If needed, you can also explore podcasts on such topics, as they are an excellent source of inspiration and motivation for any blogger trying to grow.
Wrap Up.
Getting ahead in the blogging game isn't easy without proper education.
Conversely, the right book can help you make money blogging, guide you along your blogging journey, and help increase the odds of a successful business.
By considering the above books as part of your blog-reading curriculum, you can gain valuable insights into the blogging world and how to make it a more successful endeavor.
As a future successful blogger, I suggest you jump over to Amazon and pick up the top three (or more) books you resonated with that provide good blogging tips and demonstrate how you can take your blog to the next level.
Further reading on AdamEnfroy.com: Building passive income through a successful blog can come in various formats.
Whether you create online courses, focus on search engine optimization, or write about blog post ideas that help readers solve problems, there are many methods to start generating passive income.
This is especially true if you can find the right niche and combine multiple sources of revenue into your blog.
Editorial Process:
Our reviews are made by a team of experts before being written and come from real-world experience. Read our editorial process here.
Some of the links in this article may be affiliate links, which can provide compensation to us at no cost to you if you decide to purchase a paid plan. These are products we've personally used and stand behind. This site is not intended to provide financial advice. You can read our affiliate disclosure in our privacy policy.