Best Affiliate Marketing Courses to Consider in 2023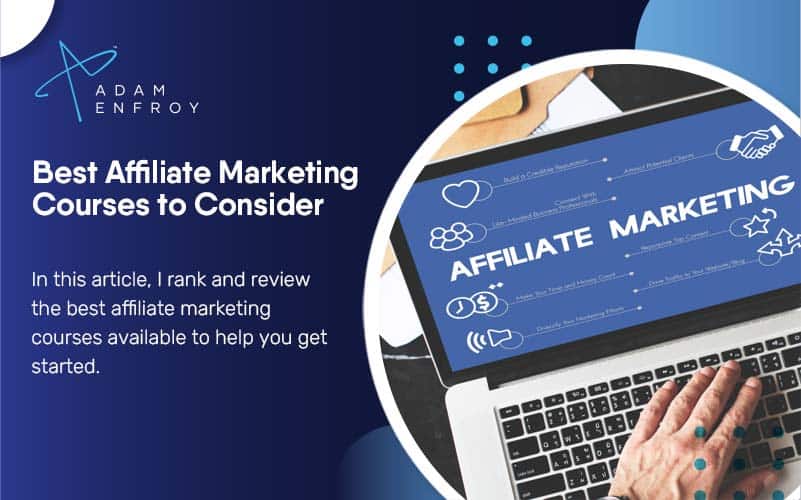 Learning the basics of affiliate marketing can be challenging.
The proper steps might not always be clear, and even experienced affiliates may need to improve their skills.
That's why taking a course on affiliate marketing can be beneficial.
It will give you the guidance you need to become successful when promoting the products and services of others.
Fortunately, plenty of online courses make exploring the world of affiliate marketing and making money online easier.
In this article, I'll rank and review the best affiliate marketing courses available to help you get started.
What Are The Best Affiliate Marketing Courses?
Here are the top affiliate marketing courses to get you started.
1. Blog Growth Engine
Best Overall For Affiliate Marketing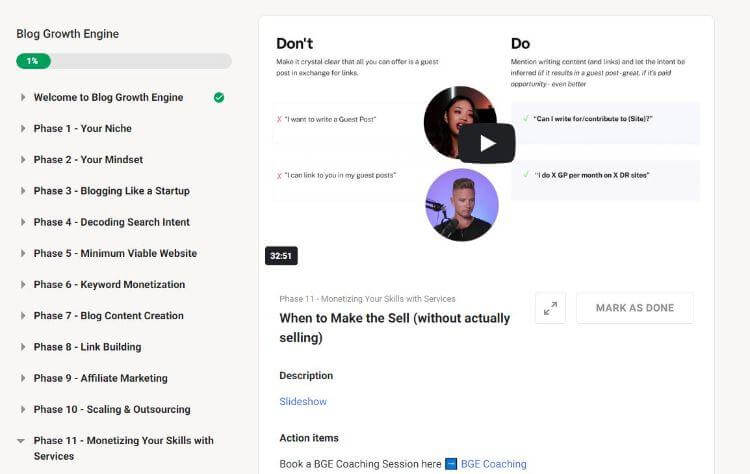 Have you ever dreamed of building and growing a successful blog through free, organic search engine traffic?
Blog Growth Engine is an online course created by myself, Adam Enfroy, and my partner, Colin Shipp, to help aspiring bloggers succeed as they have.
This digital training will give students profound insights into what it takes to be a successful blogger.
Plus, students get unlimited 1-on-1 coaching calls, access to a private community for added support, and a community of people on the same journey.
Being one of the best affiliate marketing course options, this program covers everything from choosing the perfect domain name for your blog to finding the right keywords for SEO and beyond.
Aspiring bloggers will learn how to create content that stands out from the competition and resonates with their readers.
They'll also get detailed instructions on setting up their blog's layout and design to look professional and inviting.
The course even covers monetization – giving students tips on generating income from their blogs through affiliate marketing courses, sponsored posts, and more.
2. The Authority Site System.
Best For Building Your Authority.
Are you looking for a comprehensive course on how to build an online business from the ground up?
The Authority Site System, created by Authority Hacker, is a step-by-step approach with over 192 video tutorials and helpful tools.
Whether you're interested in learning about keyword research, monetization, or writing review content that will adhere to Google Updates, The Authority Site System covers everything.
Plus, the creators updated the system with the most recent lessons on search engine optimization techniques for even more success.
These lessons cover expired domain optimization techniques, better keyword research/content monetization methods, and even the latest on ad networks.
And it gets better: they put this process into action by taking two old abandoned websites and turning them both into 6 figure success stories within 18 months to prove their teachings.
The Authority Site System offers everything you need to understand how to create a profitable online business from scratch.
3. Affiliate Lab.
Best For Having A Proven System.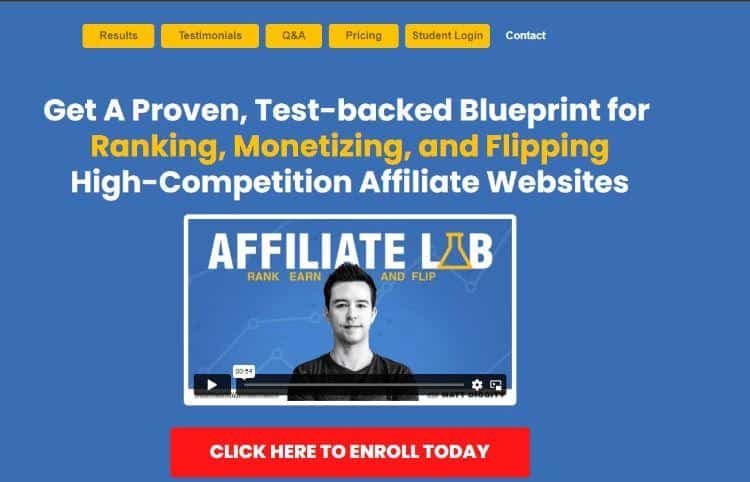 Matt Diggity's Affiliate Lab came out of lots of trial and error in digital marketing.
After many failed attempts where he lost everything, he dedicated himself to thinking like an engineer and approaching digital marketing like a science.
His determination to develop an effective SEO strategy allowed him to rank sites and reap the rewards.
As Matt's journey to success began with experimentation and testing, he realized that there was potential for businesses to make money from affiliate websites if they had the right strategies in place.
He set out to create a system allowing anyone interested in making money from affiliate marketing to do so quickly and easily.
His system included a comprehensive course that provided step-by-step guidance on how to build successful affiliate websites from scratch.
To share his knowledge and help others take advantage of this opportunity, he authored The Affiliate Lab Course.
This course is a 46+ hour training guide featuring templates, checklists & SOPs, niche selection tools, and keyword research.
Everything is based on empirical data so that you can dominate Google for maximum profit.
4. Passive Income Geek.
Best For Building Passive Income.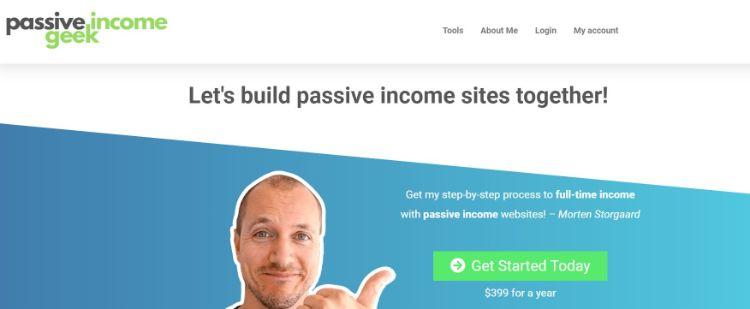 Passive Income Geek is another affiliate marketing course great for those wanting to find success in this industry.
This comprehensive community provides members with over 18 hours of expert video lessons and 7 hours of research across eight different niches.
This course gives you all the over-the-shoulder secrets and tools to create a profitable website.
You'll learn how to build your site from scratch, monetize through premium ads, affiliate links & more, and use social media platforms effectively.
The Passive Income Geek Community also provides members with expert instruction on creating a profitable website from scratch and how to monetize it using premium ads, affiliate links, and more.
5. Income School's Project 24.
Best For Building Up Your Eat Principles.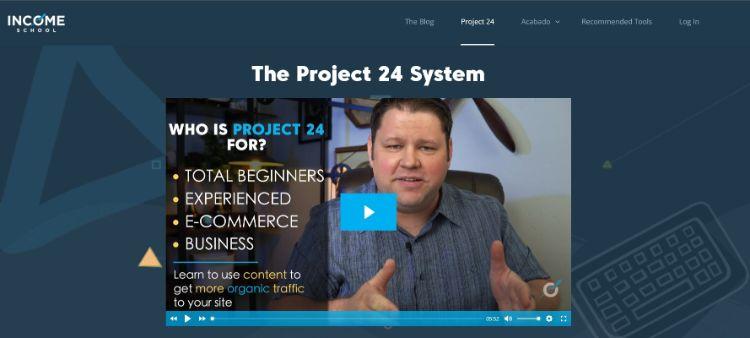 Project 24 helps turn the dream of becoming a successful content creator as an internet entrepreneur into reality.
This comprehensive course provides easy-to-follow advice on how to get more website traffic, better search rankings, and maximize your earnings potential.
Plus, with access to tutorials from a unique online community, you can learn the Battleship Method and Authority with EAT (Expertise, Authoritativeness, and Trustworthiness) principles.
This comprehensive program offers step-by-step instructions on getting more website traffic and better search rankings to maximize earnings potential.
Project 24 also offers access to a unique online community of fellow entrepreneurs, allowing you to network with like-minded individuals and gain valuable insights into your industry.
With access to up-to-date tutorials and advice from experienced professionals, Project 24 can help you transition from an aspiring content creator to a successful internet entrepreneur.
6. Blogging Fast Lane.
Best For Speed Of Execution.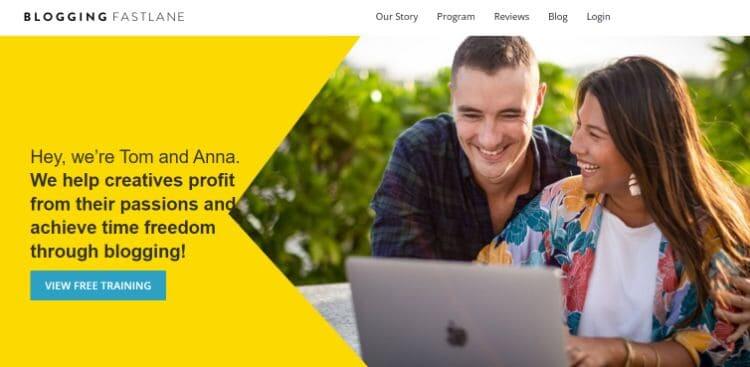 Have you struggled to monetize your passions as you attempt to turn them into a passive income source?
Look no further than the Blogging Fast Lane Accelerator.
This 8-week course will transform your mindset and teach you all the principles of successful affiliate marketing, SEO strategies, trust marketing automation, and 1-click processes.
Plus, you'll have exclusive access to a supportive community that will encourage and motivate you throughout your journey.
You'll start by learning how to make money through WordPress blogging.
This information includes basic SEO principles, best practices, and email marketing.
You'll then progress to cover how you can use social media alongside your blog to increase your reach and effectiveness.
The course then covers advanced SEO strategies to help you increase your traffic and authority.
You'll also learn how to use automated processes to save time and maximize profits.
Along with these lessons, each week will provide a target/goal that one can achieve within that week's lesson plan.
Each video lesson has transcripts and workbooks so you can review them anytime.
What Are Affiliate Marketing Courses?
Affiliate marketing courses are an invaluable way to help grow an affiliate marketing business.
With lifetime access to comprehensive affiliate marketing training, individuals and companies can learn how to create and manage a successful affiliate program.
As educational programs that aim to provide individuals and companies with the necessary skills to build a thriving affiliate program, these courses help teach the fundamentals of affiliate marketing.
One of the most significant benefits of an affiliate marketing course is that it will equip students with the knowledge and skills to create a successful affiliate business from the ground up.
Key Features Of The Best Affiliate Marketing Courses
Here are some critical components for selecting the right affiliate marketing course.
Email Marketing
While a free affiliate marketing course generally focuses on broad strategies for beginners, paid courses often include more advanced email marketing training.
Following the right strategies and building a solid email list can help individuals access expert insights and strategies for effective internet marketing.
While email might not be the new kid on the block, learning the insider secrets successful affiliate marketers are using can help you make more money from your campaigns.
Landing Pages
Affiliate marketing courses are a great way to learn the subtleties and strategies of making money online through effective landing pages that convert.
With the increase in affiliate marketing experts, access to the right landing page builder (and knowing how to use it well) can differentiate your campaigns from competitors and help you maximize your profits.
Part of this knowledge comes from understanding affiliate products, why people buy them, and the various marketing strategies available.
Whether you market online through display ads, search engine optimization (SEO), social media campaigns, or other forms of advertising, landing pages will always be an essential part of your success.
Looking at a marketplace like Clickbank can also give you an idea of what types of products are popular in the affiliate space.
You'll also be one step closer to creating compelling landing pages for these products.
Online marketing is continually evolving, and updating your landing pages with content and information that resonates with potential subscribers and customers is vital.
Niche Sites
While some affiliate marketing courses broadly teach basic concepts, others focus on niche markets and learning strategies to create a successful affiliate website or blog.
Through affiliate marketing courses, individuals can learn about affiliate marketing strategies for niched-down topics such as pet care, fashion, travel, and more.
Many specialty courses are available for those hoping to become successful affiliate marketers in specific niches to help take their skills and knowledge further.
Money-back Guarantee
Affiliate programs are commonplace, the right money-back guarantee can be essential when selecting an affiliate marketing course.
Many popular affiliate marketing courses offer money-back guarantees ranging from 30 days to a year, so you can try the program risk-free and see if it works for you.
Along the same lines, it's worth checking out reviews from previous students in the space who have had success with other affiliate marketing courses.
While courses on Udemy and similar platforms come with money-back guarantees as standard, it pays to check out what kind of customer service and satisfaction guarantee they offer when dealing with more specialized classes.
Tools and Software
Finally, one of the most critical aspects of an affiliate marketing course is the available tools and software.
From plugins that help you track and analyze your website performance, to email and marketing automation tools, as well as SEO software, it can also help make it easier to optimize your pages for search engine results.
The right tools can be fundamental in helping you succeed as a successful affiliate marketer.
By understanding how each tool works, individuals can quickly identify what will help them reach their goals.
Facebook Ads
The right affiliate marketing program can be a great way to generate sales and make money online.
However, to make this happen, you need traffic.
Getting traffic to your affiliate network offers can happen in various ways, including through Facebook ads.
High-quality training regarding Facebook ad strategies (along with current best practices) can be incredibly beneficial for anyone looking to succeed as an affiliate marketer.
When joining a specific course, knowing how the instructor will teach the material, what topics will be covered, and how the system can help you reach your goals is essential.
Who Should Consider Taking Affiliate Marketing Courses?
Affiliate marketing courses can help various people seeking different outcomes.
From full-time employees looking to make an extra income to those with minimal years of experience in the field, there is something for everyone.
Here are examples of individuals who may benefit from an affiliate marketing course.
Internet Marketing Newbies
Affiliate marketing is an excellent way for newbies to understand this facet of digital marketing.
The suitable affiliate marketing courses offer a training program to help them quickly and efficiently understand the basics of setting up online campaigns and driving traffic to offers.
Checking out the creator's YouTube channel is also beneficial to understand how advanced such content is.
For example, on my YouTube channel, I provide step-by-step tutorials on what's currently working in the affiliate work, discuss the latest trends, and show how to get started online.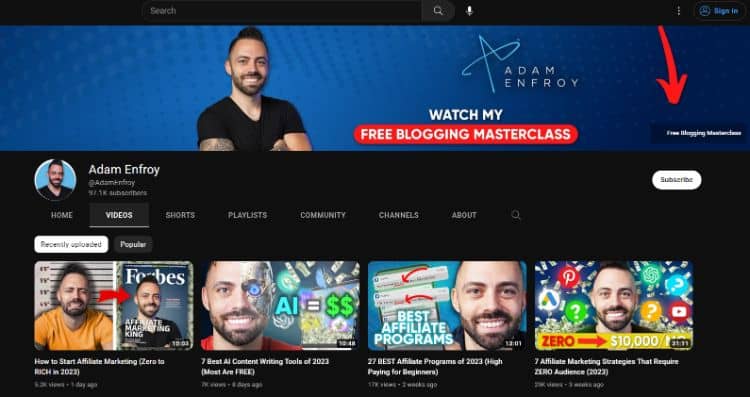 Influencers
Affiliate marketing courses allow individuals to learn how to maximize affiliate commissions.
Influencers are generally at a stage where they can benefit most from this.
Whether it's engaging with an audience with popular strategies that include quizzes, polls, giveaways, or even one-on-one conversations, the proper course can help guide influencers to be more successful in their campaigns.
Also, some influencers would benefit from promoting the right products on networks like Amazon Affiliates and other networks.
As such, the correct affiliate marketing course can help set the stage for optimal success in this field.
Full-Time Salespeople
Affiliate marketing courses can give salespeople the tools they need to become better marketers.
Being in the shoes of their prospective customer can help salespeople develop better strategies for promotions and create more effective campaigns.
These courses provide much-needed guidance on affiliate sites, how to use them, and how to track down new offers.
Whether one runs an ecommerce store and is seeking new affiliates or wants to learn something new in the affiliate marketing world, a suitable course offering modules tailored to one's needs is vital.
Bloggers
Affiliate marketing courses can be an invaluable asset for bloggers with online digital estate who want to boost their revenues by leveraging their current platforms.
Bloggers often use affiliate programs as part of their content strategy because they provide additional monetization options outside of ads and sponsored posts.
A course on best practices for affiliate marketing can help them become more knowledgeable about the process and better understand how to optimize successful campaigns.
Niche Sites Vs. More General Sites
Deciding on which type of affiliate marketing course to pursue is complex when starting either a niche or a bigger site.
Niche sites have the advantage of focusing on a smaller subset of products or services that beginners can go after.
They are often better for this crowd because they are smaller and easier to handle.
In fact, as more content surfaces on the internet, smaller niche sites can benefit significantly from link-building strategies and might see results much faster than more significant sites.
Still, more significant sites can eventually have a more extensive reach and target more customers over the years.
Wrap Up.
Proper online affiliate marketing training can transform your business as you learn affiliate marketing and implement strategies that work in today's age.
Considering best practices for optimization, content creation, and promotion of your brand helps you further understand the processes and tactics that can help you make a more significant impact in affiliate marketing.
Balancing long-term goals and short-term profitability is crucial when launching your own business.
Further reading on AdamEnfroy.com: If you want to learn how to make money from home, knowing the basics of promoting affiliate links is essential.
Furthermore, here's a list of the best affiliate programs that can help you make more money in this industry.
Editorial Process:
Our reviews are made by a team of experts before being written and come from real-world experience. Read our editorial process here.
Some of the links in this article may be affiliate links, which can provide compensation to us at no cost to you if you decide to purchase a paid plan. These are products we've personally used and stand behind. This site is not intended to provide financial advice. You can read our affiliate disclosure in our privacy policy.