Synthesys Review: Does AI Text-To-Speech Work & Is It Worth It?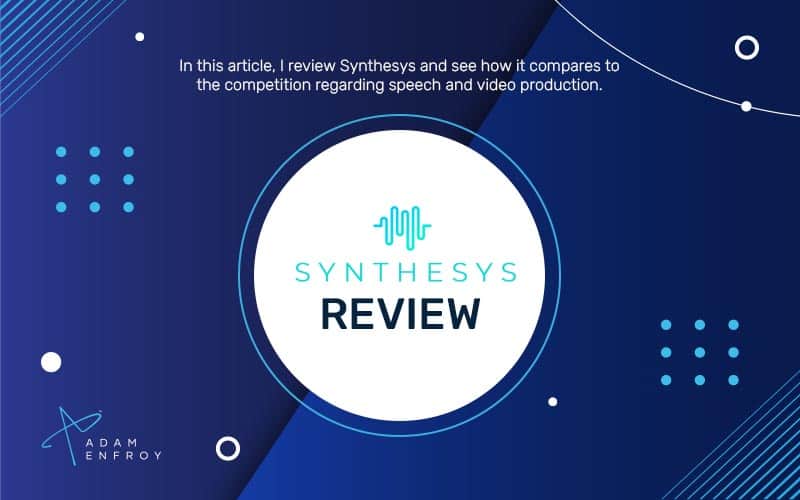 As artificial intelligence gets more advanced and sophisticated, so do the tools used to synthesize digital voices and avatars.
Synthesys is an AI video generator tool that uses the latest technology to create naturalistic-sounding (and looking) audio and video.
But can authentic human presenters be replicated using this tool?
In this article, I'll look closely at Synthesys and see how it stands up to the competition regarding speech and video synthesis capabilities.
What is Synthesys?

Synthesys aims to make creating high-quality synthetic voices easy and accessible for everyone.
With past text-to-speech software, users had to rely on pre-recorded voice actors or generate robotic-sounding vocals with limited customization options.
However, Synthesis software promises that anyone can create realistic human-like voices in minutes.
For social media, webinar recordings, podcast intros, video game audio, or other content, Synthesys makes it easier to create natural-sounding voices.
The commercial license with the software also allows users to produce unlimited voice projects without worrying about copyright issues.
Synthesys also offers 66+ languages and 15 synthetic human voices for creating realistic-sounding speech in different accents and dialects.
Synthesys Studio
Being a cloud-based tool that runs inside your internet browser, there's no need to download any additional software for Synthesys.
The tool offers two main components: AI Text-to-Speech and AI Video.
You can use the AI Text-to-Speech to create audio files from written scripts.
With real human voices and top-notch speech synthesis, Synthesis AI text-to-speech can create realistic-sounding voices that are perfect for various applications.
Then, the AI video creator allows users to create realistic-looking human avatars for videos.
Finding a spokesperson and getting a camera crew to film them used to be costly.
With Synthesys' AI video creator, businesses can create high-quality videos without breaking the bank.
Let's explore each of these modules in more detail.
AI Text-to-Speech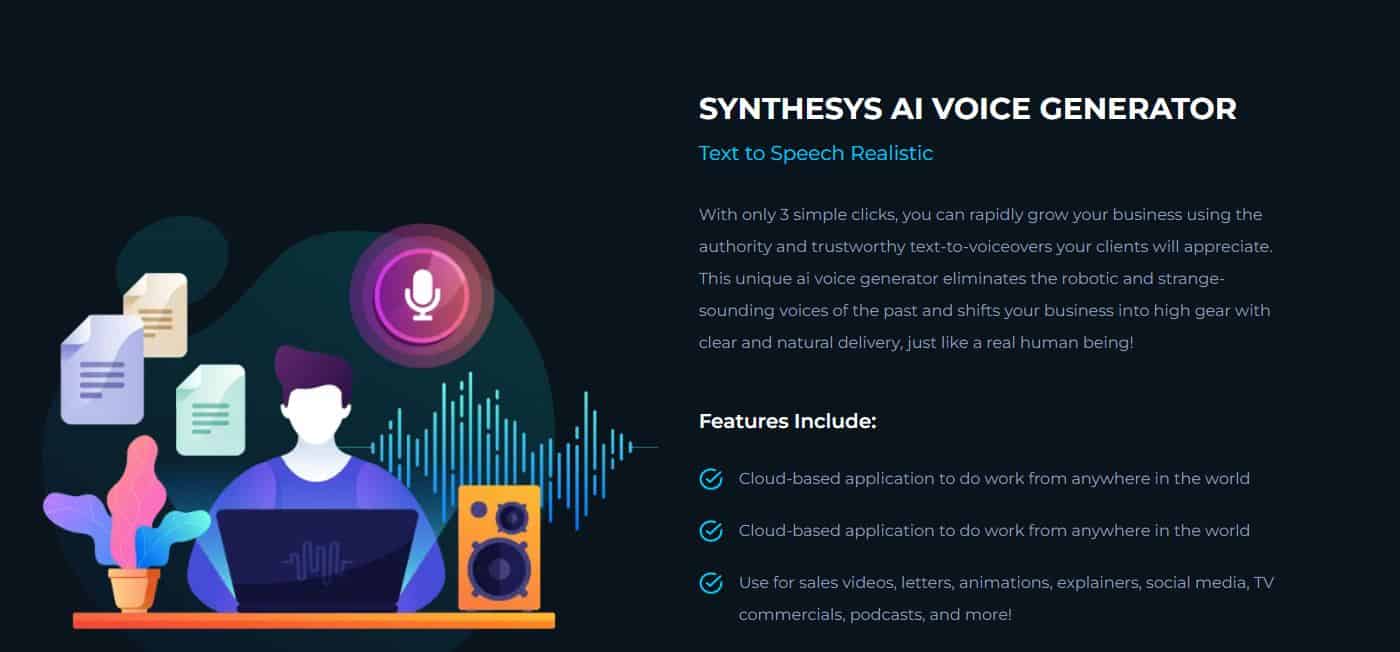 Generating audio files from written scripts is a breeze with Synthesys' AI Text-to-Speech.
Companies can deliver highly realistic-sounding audio files in multiple languages using real human voice generation options.
Imagine a voiceover that uses male and female voices to create natural-sounding conversations instead of robotic monologues.
You can also adjust the reading speeds, tones, and pauses that the tool uses when generating audio files.
Users can create audio in different accents and dialects with a top-notch library of professional voices covering several languages.
Finally, you can make your adjustments and re-render your text to voiceover using the various tools available in Synthesis studio.
AI Video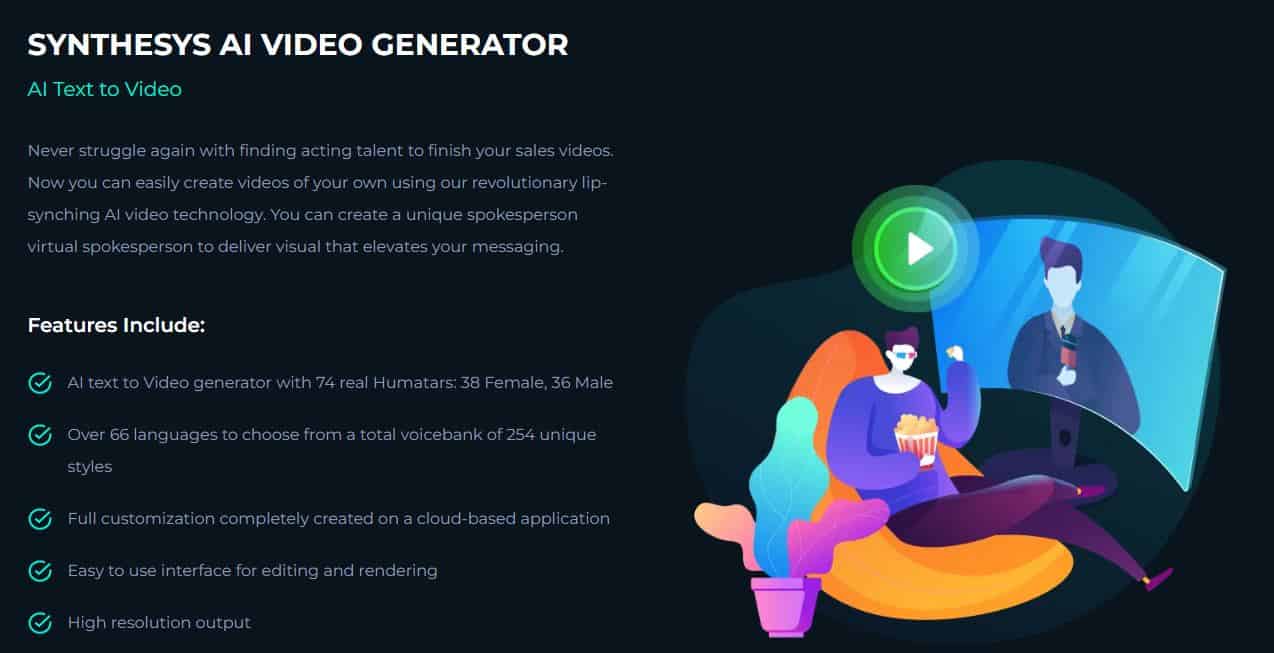 Creating videos with real actors used to be a costly exercise.
Finding a spokesperson and getting a camera crew to film them could cost thousands of dollars per video.
Now businesses can use realistic-looking humans (a.k.a humatars) instead.
With Synthesis AI Video creator, anyone can easily create these life-like characters without breaking the bank.
Since the tool comes with commercial use, you can use synthesys.io to create speaking characters for your product or service using the various stock avatars.
Moreover, as the platform adds more characters to its already impressive library, you can easily customize its look and feel.
Synthesys' abilities allow you to edit on the fly, change avatars, update the script, add your logo and call to action, and much more.
You can also upload your music and create videos with sound design and background scenes.
These features all add various layers of realism and professionalism to your videos.
Whether you want to increase your brand awareness or get higher conversions, Synthesys' AI Video Creator can be invaluable.
Synthesys Key Features
Here are the main features of Synthesys.
Wide Variety Of AI Actors And Voices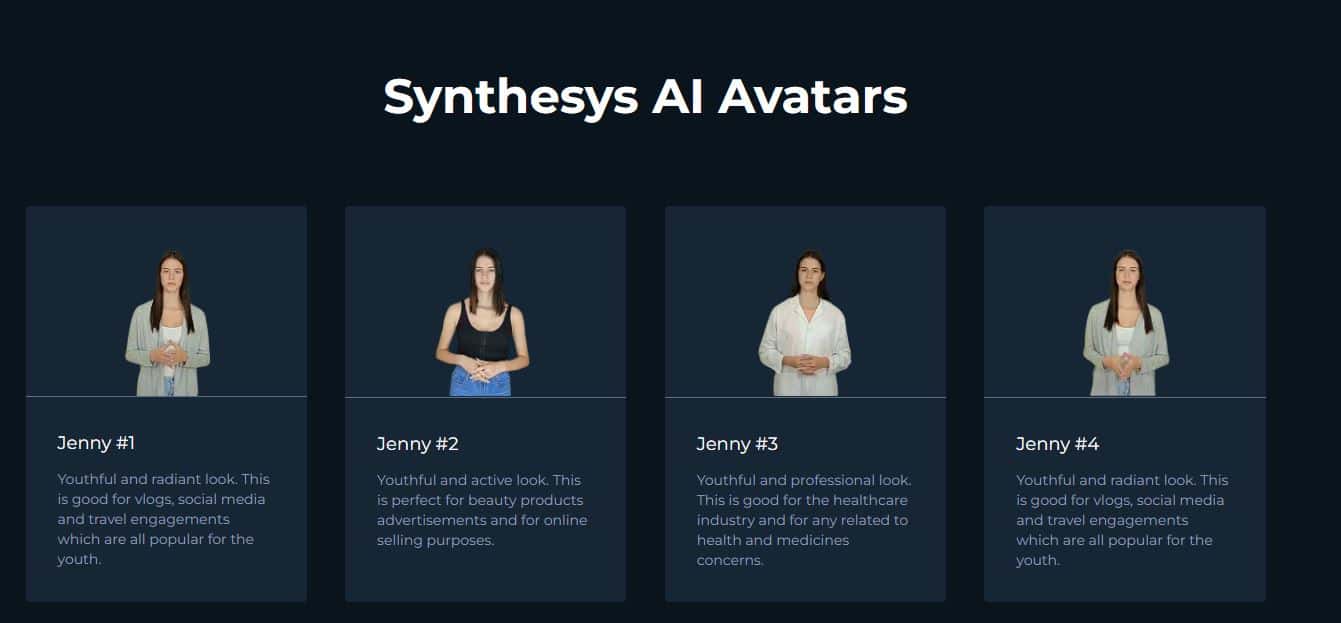 Synthesys has an extensive library of actors, voices, and backgrounds for you to choose from.
You can use different characters every time you make a video to keep your content fresh and engaging.
There are also more voices than you would probably ever use available.
Huge Selection Of Templates
With developing algorithms allowing for automated editing and production of content, Synthesys has pre-made templates ready to be used.
These services eliminate the hassle of starting from scratch when making your videos.
Simple Artificial Intelligence Text-to-Video Generator
Using TTS (text-to-speech) technology, Synthesys can generate realistic voices using its proprietary software.
You have complete control over the voice's speed, pitch, and tone generated with just a few clicks.
Output in HD and 1080p
An AI video should look great.
Synthesys offers high definition and 1080p output to provide you with the best quality videos possible.
Branding Options
You can easily add branding elements such as logos, subtitles, and graphics to your videos using Synthesys.
You can also create a more personalized look for your videos and increase brand recognition among viewers.
Accurate Lip-Synching
Synthesis proprietary lip-synching technology allows you to create videos that look and sound more realistic.
This feature ensures that your avatar's lips are in sync with the words they say.
Complete Text-to-Speech Technology
Synthesys has an integrated text-to-speech engine that allows you to generate authentic voices from any text input.
100% Web-Based
Synthesys is a web-based platform that you can access anywhere in the world with an internet connection.
What Can You Create With Synthesys?
Here are some of the main ways you can use Synthesys to create content:
Explainer Videos: Using Synthesys, you can produce high-quality explainer videos with AI actors in a fraction of the time. The platform's artificial intelligence tools ensure that your explainer video looks and sounds just like a real human actor created it.
Voice mail and On-Hold messages: Synthesys makes it easy to develop professional-sounding voice mail and on-hold letters quickly.
Audio Website Confirmations: With audio website confirmations, you can easily add a personal touch to your website by having AI actors deliver automated customer service and support messages.
Training videos: You can use Synthesys to produce training videos for new employees or update existing staff about organizational changes.
Audio Instructions: From software tutorials to product instructions, Synthesys is an ideal platform for creating audio instructions that are easy to understand and follow.
Who Should Use Synthesys?
Here are the primary users of Synthesys.
Small Businesses
Creating a demo video showcasing your products or services can be time-consuming and expensive.
With Synthesys, small businesses now have a cost-effective way to create engaging videos quickly.
Marketers
From starting your YouTube channel and getting subscribers to creating content for social media, marketers can use Synthesys to produce high-quality videos at scale in no time.
Moreover, embedding videos as part of a WordPress post or website has never been more accessible.
Advertising Agencies
If having a real human spokesperson wasn't feasible for you when advertising your services, then using an AI actor can be the best option.
With Synthesys, advertising agencies can access realistic AI actors to help them deliver effective messages with impactful visuals.
Brands & Influencers
With future-proof technology, Synthesys makes it easy and cost-effective for brands and influencers to create videos that engage their audience.
Whether wanting to make money on Instagram or build up one's personal brand, Synthesys provides a great way to do so.
Video Production Companies
With users of all levels able to create professional-grade videos with Synthesys, video production companies can offer their clients a broader range of services.
Combine that with the right video editor or animation software, and you could be in for some serious success.
Freelancers
Freelancers on Fiverr and Upwork can offer their services using Synthesys to produce realistic AI actors and voice over files at a fraction of the cost compared to traditional actors.
From providing podcast marketing services to creating explainer and whiteboard videos, freelancers now have more opportunities to increase the scope of their services.
Do You Need Expert Knowledge To Use Synthesys?
With real-time feedback and a leading-edge optimization system, Synthesys is a platform anyone can use.
As you type out (or copy and paste) your tutorials, video scripts, or whatever type of content you want to generate, the platform will optimize it to look and sound like a natural human voice.
There is no experience necessary to use Synthesys, making it accessible for people from all walks of life.
Being the closest thing to real humans sharing their thoughts on camera, Synthesys can help you deliver your message to a broad audience in an engaging way.
Synthesys Help And Customer Support
Synthesys provides a knowledge base to help users get the most out of their experience.
There are various sections in the knowledge base, including:
Account Settings: Here, you can find information about setting up an account, changing your password and email address, and managing payment and subscription options.
Human Synthesys Studio: With this section, you'll find all the tutorials and materials needed to get started with Human Synthesys Studio for editing videos, creating animations, and more.
Synthesys AI Voices: You'll learn how to create realistic AI voices in different languages.
Walkthrough Videos: To help new users quickly become comfortable with Synthesys's features and capabilities, a selection of walkthroughs is available for viewing.
Synthesys API
Using the platform's text-to-voiceover API, one can quickly create engaging audio content for their website, video projects, and more.
Whether you want to enhance your customer experience or enable voice-driven applications, Synthesis's API makes it easy to add a human touch to any application or project.
Just speak to their technical support team to get started with the API.
Pricing

Synthesys pricing is as follows:
Human Studio Synthesys: $31 per month
Audio Synthesys: $23 per month
Audio and Human Studio Synthesys: $47 per month
The above are billed yearly.
There's also a 3-day money-back guarantee on all the plans.
Appsumo and Synthesys
Having been offered on Appsumo as a lifetime deal, you might find conflicting information on the pricing.
At the moment, Appsumo is no longer offering this product as a front-end offer, OTO, or as various upsells.
Wrap Up.
Synthesys is a powerful tool that one can use to create audio instructions, tutorials, and more.
Whether you want to create an audio-only project or use the Human Studio Synthesys to create animations and visuals, it's easy to get started.
Additionally, with the API, you can connect Synthesys to any application or project.
If you believe video is the future, Synthesys is an essential tool that will help you create engaging, high-quality audio content quickly and easily.
Further reading on AdamEnfroy.com: Using whiteboard animation software to engage and educate your audience is one of the best ways to increase engagement and drive conversions.
With presentation software, you can create professional-looking whiteboard animations in a fraction of the time and cost compared to traditional actors.
Then, you can also employ AI video editor tools to make your videos look even more professional.
Disclosure: I may receive affiliate compensation for some of the links below at no cost to you if you decide to purchase a paid plan. You can read our affiliate disclosure in our privacy policy. This site is not intending to provide financial advice. This is for entertainment only.