The Ultimate List of Affiliate Marketing Statistics for 2023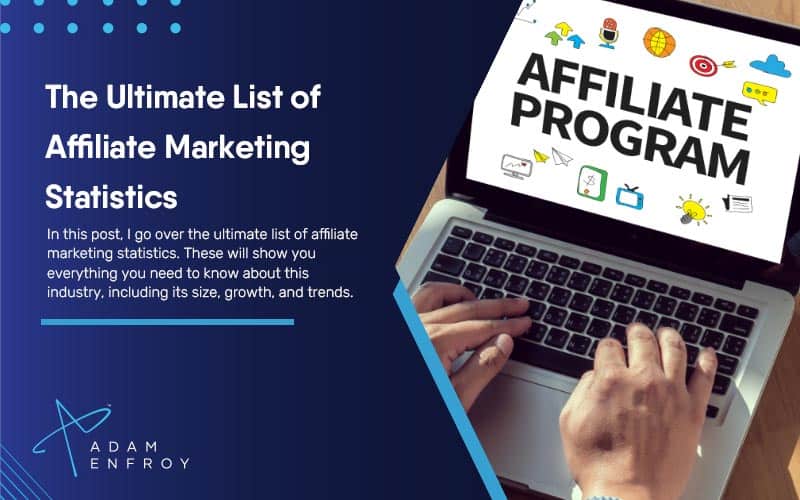 Making the most of affiliate marketing programs is a great way to earn income as a website or blog owner.
The process is simple at face value – businesses pay affiliates a commission for referring sales, and the affiliates drive traffic to the business's site.
With some of the best affiliate programs paying out massive commissions, it's no wonder that this channel is so popular among online publishers.
That said, understanding the trends in affiliate marketing is critical for any business looking to make the most out of this channel.
To that end, I've put together a list of the essential affiliate marketing statistics right now.
These will help you better understand how affiliate marketing works and make more informed decisions about specific marketing efforts.
Let's get started.
Spending On Affiliate Marketing
1. The Typical Affiliate Conversion Rate Is 0.5% To 1%. However, Some Programs Have A Much Higher Conversion Rate.
(Business 2 Community)
When it comes to the conversion rate for affiliate marketing, the average lies between 0.5% and 1%.
However, it's essential to keep in mind that there is a wide range of conversion rates based on several factors.
Some programs have conversion rates that are much higher than the average, while others have lower rates.
The important thing is to know the conversion rate for the programs you're promoting and whether this makes sense for your specific traffic model.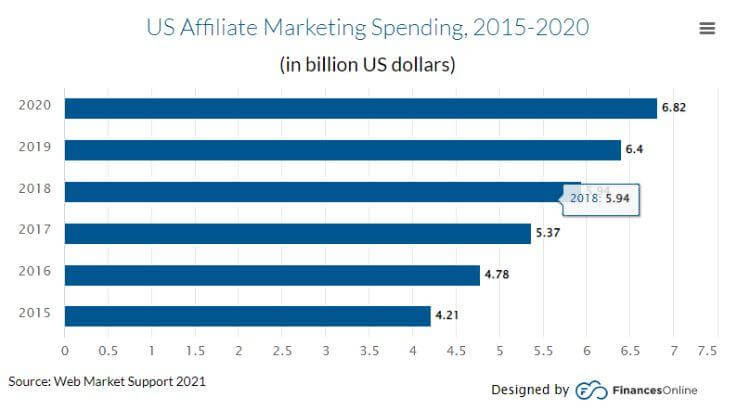 Image credit: Financesonline.com
2. More Than $8 Billion Were Spent In The United States In Affiliate Marketing In 2020.
(Statista)
A whopping $8 billion was spent on affiliate marketing in the United States in 2020.
With an industry this large, it's no wonder that so many businesses are looking to get involved.
What's more, it's expected that affiliate marketing spending will continue to grow in the coming years.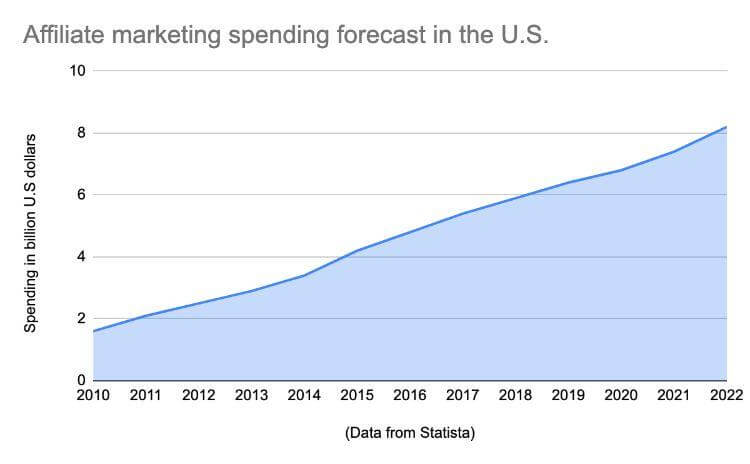 Image Credit: Statista.com
Affiliate Marketing Searches
3. Online Searches For Affiliate Marketing Have Increased Significantly Since 2016. In Fact, In June 2021, This Increase More Than Doubled.
(Google Trends)
June 2021 marked the highest point in the last five years for online searches related to affiliate marketing.
This is a clear indication that more and more people are interested in this topic, which means that more businesses are looking to get a piece of the pie.
4. Half Of The Affiliate Traffic Worldwide Comes From Mobile Devices.
(Call Hippo)
With more and more people using mobile devices to access the internet, it's no surprise that affiliate traffic is following this trend.
This will only increase in the coming years, so businesses need to make sure they're prepared to accommodate mobile traffic.
5. Almost Three-Quarters Of Online Shoppers In The United States Check Various Affiliate Websites Before Purchasing.
(CyberCash Worldwide)
Comparing prices is one of the main reasons people turn to the internet when shopping.
This means it's no surprise that many shoppers check out multiple affiliate websites before making a purchase, indicating how important it is for businesses to have a presence on various websites.
Affiliate Marketing Industries
6. Almost A Quarter Of All Affiliate Programs Happened To Be In The Fashion Industry.
(AM Navigator)
The fashion industry is one of the most popular for affiliate marketing, with AM Navigator finding that close to a quarter of all affiliate programs are in this industry.
With fashion being an ever-changing industry, people are always looking for the latest trends.
Fashion is also a highly competitive industry, so having an affiliate program can give businesses a competitive edge.
7. As Many As Eight Out Of 10 Brands Have An Affiliate Program.
(Mediakix)
It's tough to find a business that doesn't have an affiliate program today.
With so many businesses jumping on the affiliate marketing bandwagon, it's clear that this industry is here to stay.
Businesses must ensure they're prepared to compete in this increasingly crowded space by providing the correct value to their affiliates.
8. Almost 95% Of All Publishers Make Use Of Multiple Networks.
(Affise)
Publishers aren't restricted to just one affiliate network when promoting their business.
This also allows them to find the best offers and programs for their audience, allowing them to compare commission rates and find the most lucrative deals.
Affiliate Marketing Traffic Sources
9. As Many As 65% Of All Affiliate Marketers Use Blogging As Their Number One Traffic Channel.
(Awin)
Building a blog remains one of the most effective ways to drive traffic to an affiliate program.
This is likely because it's a relatively easy and low-cost way to get started.
It also allows businesses to build a rapport with their audience and establish themselves as an authority in their industry.
10. Finding New Affiliates Is Done Through Multiple Channels For Most Businesses.
(Forrester via DocPlayer)
When it comes to affiliate recruitment, 83% recruit through network dashboards, 71% use a call to action button on their site, and 56% host their own events.
These are all great ways to find new affiliates, and businesses should consider using a combination of these methods to ensure they're reaching the broadest possible audience.
Affiliate Marketing Earnings
11. In General, Amazon Offers Between 1% And 10% Commissions To Its Affiliates.
(Investopedia)
The Amazon Associates program is available in a wide range of industries and provides up to 10% commissions.
This makes it an excellent option for businesses looking for a way to earn extra money for their recommendations.
However, businesses should keep in mind that the amount they earn will vary depending on the products they sell and the type of traffic they can provide.
12. More Than Four Out Of Five Affiliate Marketers Believe That Their Revenue Will Increase.
(Fetch Profits)
There's a positive outlook for the future of affiliate marketing.
This is likely because more and more businesses are starting to see the value of this marketing channel.
Furthermore, as industries become more competitive, businesses will need to find new ways to stand out, and affiliate marketing could be the perfect solution.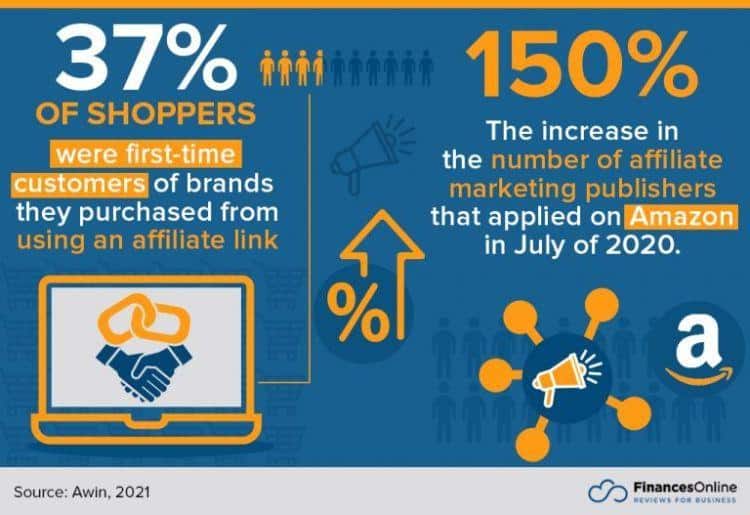 Image credit: Financesonline.com
13. As Many As 10% Of All Affiliate Marketers Worldwide Make More Than $50,000 Per Year.
(Investopedia)
Affiliate marketing can be a very lucrative career.
This is especially true for those who can generate traffic and sell high-ticket items.
However, it's important to remember that affiliate marketing is not a get-rich-quick scheme.
14. More Than 70% Of All Merchants Believe That Affiliate Marketing Will Help Them Exceed Their Expected Revenue.
(Fetch Profits)
Continuing with another positive affiliate marketing trend, most merchants believe their expectations will be exceeded when it comes to the revenue generated.
Since affiliate marketing is performance-based, businesses only have to pay when they see results.
Furthermore, it's a great way to reach a wider audience and increase brand awareness, factors that might all contribute towards the general affiliate marketing outlook.
15. Almost Half The Marketers Worldwide Consider Affiliate Marketing To Be A Skill They Need To Have.
(BloggingX)
When it comes to money-making skills, affiliate marketing is one that many businesses consider to be essential.
Affiliate marketing can be very profitable if it's done correctly.
What's more, it's a relatively easy technique to employ, which makes it an attractive option for both those just starting out, and marketing veterans, alike.
How To Become Successful As An Affiliate Marketer
While various affiliate marketing trends show that this form of marketing is rising, some businesses are still hesitant to get involved.
This is likely because they're not sure how to go about it or what it takes to succeed in the industry.
Here are some ways to become successful.
Do Your Research
Doing the proper research is key to success in affiliate marketing.
This means that you need to find the right products to promote and the right audience to target.
Doing your research will also ensure that any affiliate marketing spending is done wisely.
Find A Niche
While it's essential to do your research, it's also necessary to find a niche.
This will make it easier to target a specific group of people and promote products they're interested in.
Various affiliate marketing accounts in different niches can also help you diversify your income as you grow.
Build An Audience
After doing your research and identifying your niche, you'll have to build your audience.
One can do this in several ways, such as through social media, email marketing, or even by starting a blog.
The more people you can reach, the better your chances of making affiliate sales.
Promote Products That You Believe In
The right affiliate marketing program is the one that you believe in.
If you don't believe in the product, it won't be easy to convince others to buy it.
Remember, people can tell when you're not being genuine, so only promote products that you would use yourself.
Be Transparent
While most affiliate networks require that you disclose your affiliations, it's also essential to be transparent with your audience – even if you're not obliged to.
This means being upfront about any commissions or kickbacks that you may receive when someone uses your affiliate links to purchase a product.
People appreciate honesty, making them more likely to trust you in the future.
Offer Value
To be successful in affiliate marketing, you need to offer value.
This can be in the form of helpful content, such as blog posts or tutorials, that show your audience how to use the products you're recommending to solve a problem they have.
People are more likely to click on a link if they can see what they will get out of it.
Stay Up To Date With The Latest Trends
Various global affiliate marketing statistics show that this form of marketing is becoming more popular.
As an affiliate marketer, it's essential to stay up to date with the latest trends, allowing you to adapt your strategy accordingly.
This will also ensure that you're ahead of the competition and able to make the most out of any opportunity that comes your way.
Measure Your Results
Affiliate marketing revenue statistics indicate that the winners are those that religiously measure their results.
By tracking your conversions, you'll see what's working and what isn't.
A real-time dashboard that gives you affiliate marketing stats is worth its weight in gold.
This will allow you to make the necessary changes to maximize your profits.
Be Patient
While the top affiliate marketing statistics paint a picture of passive income that is achieved by pasting your affiliate link in a few places, the reality is that you need patience to get to this level.
Affiliate marketers generate traffic in various ways, and some of them take time to deliver results.
Have A Budget
If you're serious about making money through affiliate marketing, you need to have a budget.
Affiliate marketing budgets will help to keep you on track and ensure you can invest in the necessary tools and resources to achieve your goals.
Avoiding Common Affiliate Marketing Mistakes
As bloggers, marketers, or business owners, we're always looking for new ways to monetize our sites.
However, staying away from mistakes that can sink our referrals and earnings is just as important as finding new revenue streams.
Here are some affiliate marketing mistakes to avoid:
If most affiliate promotions are not genuine (i.e. you're just after a quick buck), your audience will get turned off real quick.
A successful affiliate marketer should be transparent about their relationship with the brands they promote.
The most extensive affiliate networks are not always the best-paying ones, so doing your research is essential.
Affiliate marketing programs are not one size fits all, and finding what's suitable for you and your audience is essential.
Keeping these points in mind will help you avoid common pitfalls and ultimately be more successful with your campaigns.
Affiliate Marketing Statistics – FAQ
What Are Some Of The Most Popular Affiliate Networks?
The most popular and extensive affiliate marketing networks that generate massive revenue include Rakuten, Shareasale, CJ Affiliate, Viglink, and Clickbank.
Image credit: Financesonline.com
Can You Generate Affiliate Marketing Revenue By Being An Influencer?
Yes, you can generate a good amount of affiliate marketing revenue by being an influencer on social media platforms like YouTube, Instagram, and Snapchat.
You can also use other tactics, including content marketing and SEO, email marketing, and using other influencers to promote your affiliate links.
How Much Money Can You Make With Affiliate Marketing?
This varies depending on several factors such as the niche you choose, including:
The market share of the products you promote.
Your marketing strategy.
The payouts that your affiliate products deliver.
The number of affiliate sales generated.
Other factors that impact the purchasing decisions of your target market.
Of course, as with any business, there is no guarantee of success, and it takes time and effort to build up a successful affiliate marketing campaign.
Can Small Businesses Have An Affiliate Marketing Program?
Yes, small businesses can have an affiliate marketing program, and there are many benefits to having one.
These benefits include generating additional revenue, building brand awareness, and increasing website traffic.
In addition, getting new customers through affiliates usually means that you can increase your customer lifetime value.
Part of the digital media process to get more online purchases can involve using affiliate marketing strategies, so there is an opportunity for small businesses to make money this way.
How Do You Get Started With Affiliate Marketing?
The first step is to find a good affiliate program that suits your business and offers a good commission on ecommerce sales.
Then, ensure that online orders are correctly tracked to get credit for sales that come through your affiliate links.
You will then need to create digital marketing material (or use provided content) to promote the products or services you're an affiliate for.
As content creators, this could include creating posts on social networks that provide value, writing blog posts, or creating YouTube videos.
Once you have this setup, it's time to start promoting your affiliate links.
Conclusion
Affiliate marketing industry statistics show that this form of marketing is here to stay and will only become more popular in the coming years.
As a business owner, this presents an opportunity for you to generate additional revenue by partnering with affiliates while being an affiliate yourself.
By understanding the steps involved and factoring in the most common mistakes people make with affiliate marketing, you can put your business in an excellent position to succeed with this channel.
Further reading on AdamEnfroy.com: If you want to learn the affiliate marketing process and how to get started, check out my affiliate marketing guide for beginners.
In addition, here are the best ways to profit using Amazon Affiliates as the backbone of your business.
Editorial Process:
Our reviews are made by a team of experts before being written and come from real-world experience. Read our editorial process here.
Some of the links in this article may be affiliate links, which can provide compensation to us at no cost to you if you decide to purchase a paid plan. These are products we've personally used and stand behind. This site is not intended to provide financial advice. You can read our affiliate disclosure in our privacy policy.