The Best AI Photo Editing Software For Better Images (2023)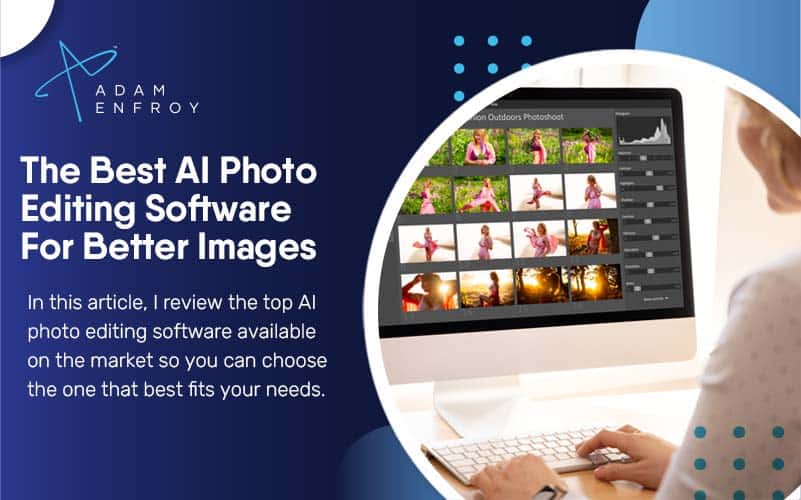 Editing photos can be tedious and time-consuming, especially if you're not an experienced photographer.
Manually adjusting each photo could take hours of work.
Sometimes, you can't even be sure the end result will be one you're satisfied with.
That's why AI photo editing software has become so popular in recent years.
AI photo editing software uses artificial intelligence and machine learning algorithms to enhance photos and adjust them to your liking automatically.
In this article, I'll review the top AI photo editing software available on the market so you can choose the one that best fits your needs.
What Is The Best AI Photo Editing Software?
Here is the best AI photo editing software that you can use to edit your photos.
Best Overall AI Photo Editing Software.

Skylum Luminar is a revolutionary AI-powered photo editor that offers more than 20 unique features and effects for photographers of all levels.
Skylum Luminar stands out because of its innovative SkinAI & FaceAI technologies, perfect for fashion makeup portrait photography.
Users can achieve spectacular results with just one click, bringing images to life.
Skylum Luminar works on both MacOS & Windows platforms, making it easy to create unique photographs in no time.
Skylum Luminar also includes dozens of powerful editing tools that allow users to obtain specific results.
From adjusting colors and contrast to whitening teeth and removing blemishes – this software has something for everyone.
And with its intuitive user interface, even novice photographers can quickly learn how to use its various features and start creating stunning images immediately.
Key Features: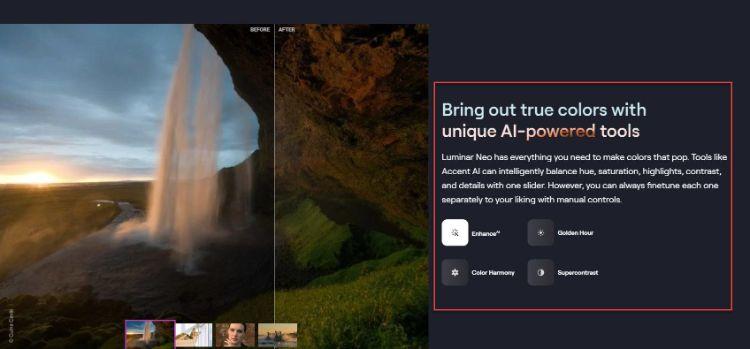 The ability to remove dust spots is an incredible feature that allows you to quickly and easily remove these undesired elements from your images without affecting the quality of the photo.
Portrait background RemovalAI allows you to quickly and easily remove unwanted background elements with the click of a button.
Portrait Bokeh gives your images a unique depth-of-field effect.
Easily enhance the highlights and shadows of your photo.
User Experience:
Seeing the before and after images in real-time is excellent, as you can easily compare the results and adjust if needed.
Pricing:

Luminar AI offers the pricing plans:
Explore $9.95/mo
Pro: $6.21/mo
Lifetime: 179$
What I Like/Dislike About Luminar AI
Like:
One-click photo editing makes it very easy to get great-looking photos quickly.
All the effects/adjustments needed to bring your picture to life are available within one interface.
Dislike:
The Sky Replacement feature needs to be more polished than the other features.
Product Updates:
LuminarAI has an updated support version for new cameras, such as the DJI Mavic 3, Fujifilm GFX 100S and 50S II models, and more.
Best For Photo Editing Reliability.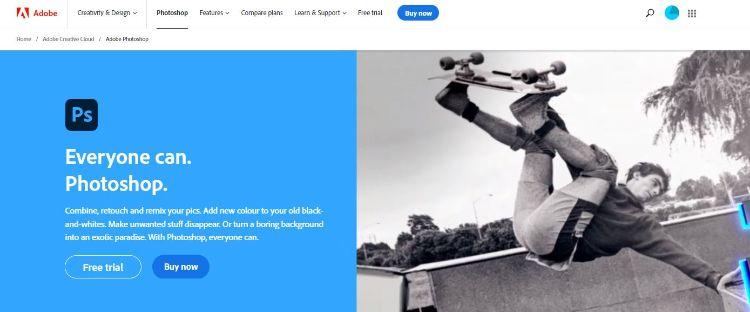 Adobe Photoshop provides an extensive range of features that enable users to manipulate images in various ways.
Adobe Photoshop offers something for everyone regardless of skill level in photo editing.
Whether you want to retouch portraits or design graphics from scratch, Photoshop has the tools to do so quickly and easily.
You can also use its filters and effects to enhance your images and give them a professional look without investing too much time learning complex techniques.
For photographers, graphic designers, and illustrators looking for the best AI photo editing software today, Adobe Photoshop should be at the top of their list.
It's fast, efficient, and highly versatile – perfect for creating stunning visuals that stand out.
Key Features: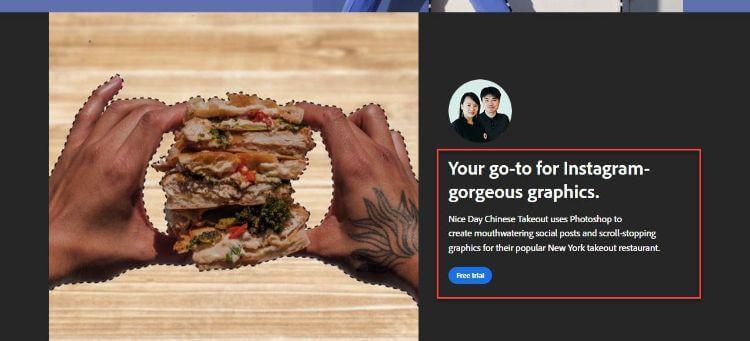 You can easily target layers within the canvas for easy selection and editing.
Photoshop on the web allows users to collaborate with stakeholders from any device or desktop and make limited edits. These features enable Adobe Photoshop users to get their work done faster.
Enhancements such as Neural Filters and Vector Paste capabilities save time while creating high-quality visuals.
User Experience: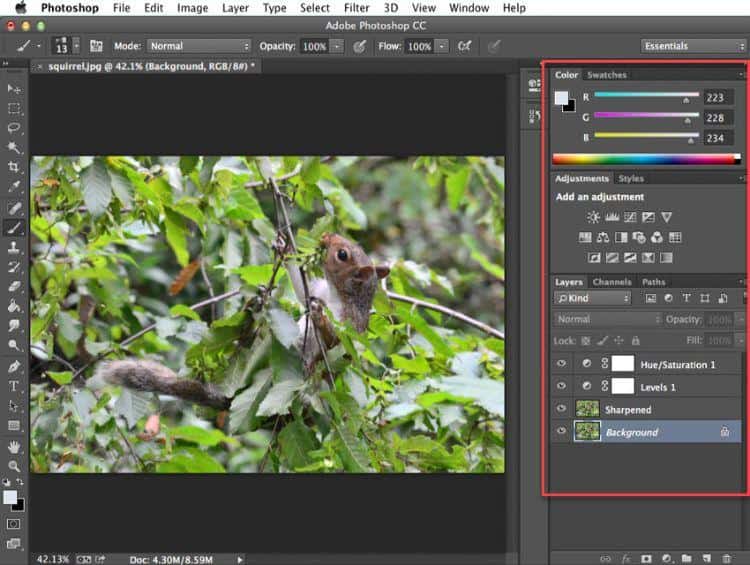 Interface photographers, graphic designers, and illustrators have grown to love unchanged Adobe Photoshop.
It's intuitive, user-friendly, and easy to learn, with plenty of online tutorials and video guides for those who need help getting up to speed.
Pricing:

Photoshop costs $20.99 per month.
What I Like/Dislike About Adobe Photoshop
Like:
The reliable, easy-to-use interface that is user-friendly and intuitive
Ability to work with a variety of formats, including RAW images
Plenty of tools and effects to manipulate photos in any way you want
Dislike:
The recurring subscription fee can be expensive for some users.
Product Updates:
The option to bulk delete from the Files tab is now available to help users save even more time.
Best For Font Customization.

Corel PaintShop Pro offers plenty of painting software options available when starting.
It also comes with dozens of brushes, textures, and backgrounds pre-installed.
PaintShop Pro includes 50 free modern fonts, so you can easily add text or titles to any image or video project.
Whether making a meme or designing a logo, these fonts provide plenty of options for spicing up your work.
Moreover, with AI-powered workspaces, it's easy to touch up portraits and enhance photos with features.
Whether a beginner or an experienced photo editor, PaintShop Pro has all the tools to make your images look amazing.
Key Features: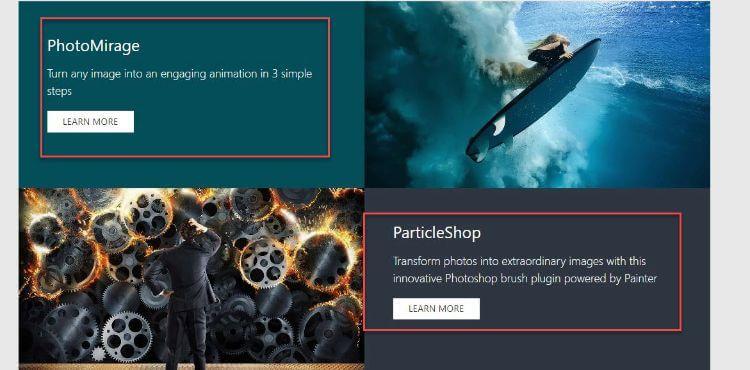 PaintShop Pro 2023 Ultimate includes a complete photo-editing studio, allowing users to enhance photos with AI.
Users can edit photos like a professional and create graphics and designs.
The software also offers multiple workspaces, so users can find one that best fits their style.
Add effects for impact, such as color correction and image sharpening, to make photos look their best.
User Experience: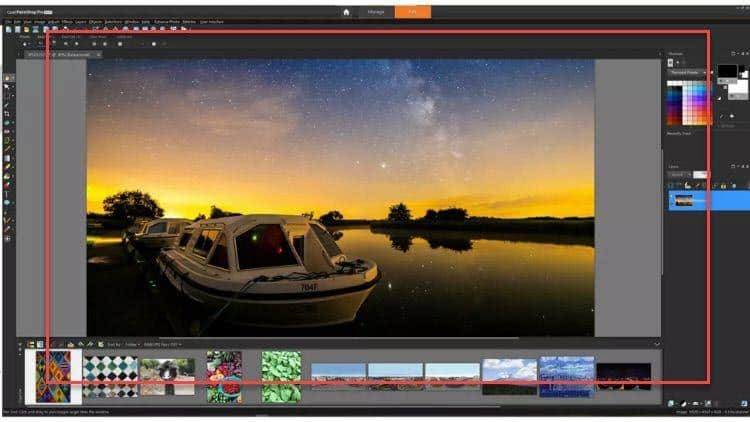 The interface is similar to other photo editing products, so users familiar with this type of software should be able to pick it up quickly.
Pricing: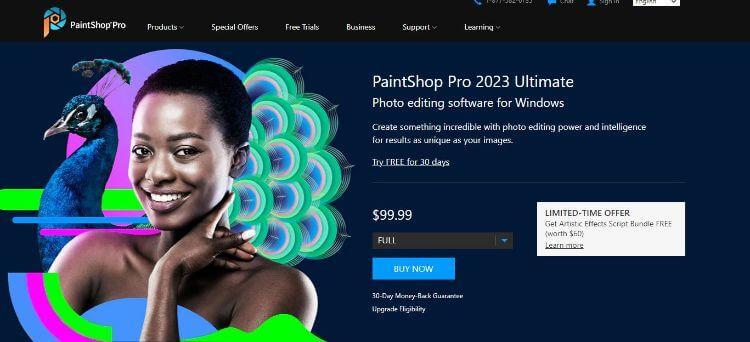 PaintShop Pro 2023 Ultimate sells for $99.99 for the full version, or you can upgrade from a previous version for only $79.99.
What I Like/Dislike About Corel PaintShop Pro
Like:
From cropping to adding effects and filters to your images, PaintShop Pro provides all the tools to bring out the best of your photos.
With full integration to Auto CAD, you can easily import objects and assets into your project.
The MultiCam Capture 2.0 Lite feature is excellent for recording videos with multiple camera angles simultaneously with no extra hardware required.
Dislike:
The pen tool doesn't always work well with drawings, making it challenging to create precise effects.
Product Updates:
Developers added new camera formats support allowing users to work with a more extensive range of image files.
Best For Applying Predefined Filters.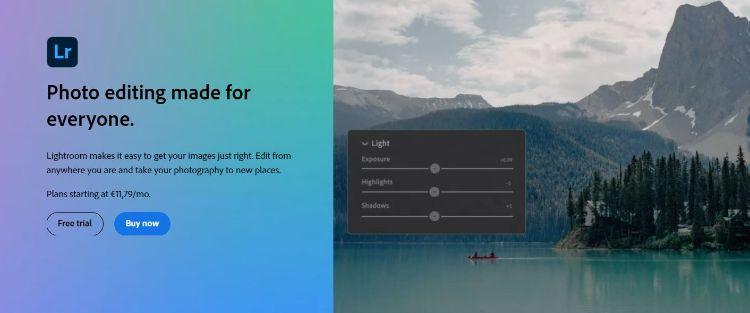 Adobe Lightroom is the perfect all-in-one photo editing package.
This software lets you quickly and easily adjust your photos' exposure and color settings and explore over 100 preset filters.
It also offers valuable insights from step-by-step tutorials curated inside the app.
Lightroom has an intuitive user interface for beginners, so anyone can quickly take their photos to the next level.
For more experienced photographers, there are plenty of advanced tools to help fine-tune any image.
Adjust colors and tones using the HSL sliders or create custom looks for different areas in an image using selective adjustments.
You can also trim video clips using sliders and presets for even more precise editing capabilities.
Plus, with its ability to sync across devices, you can take Lightroom wherever you go to edit photos on the go.
Key Features: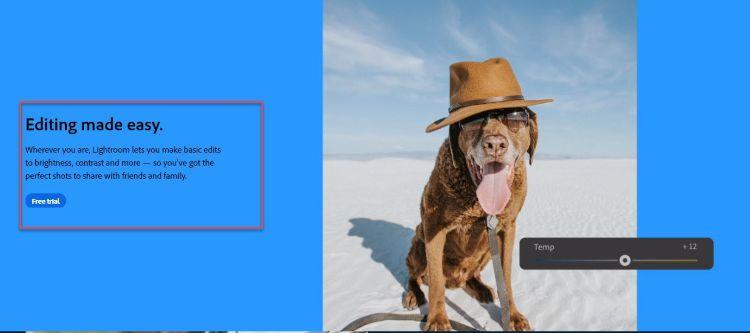 Seamlessly remove unwanted spots to generate better results with fewer clicks.
Quickly compare your photos while editing with the split-screen "before and after" feature.
Enhanced support for Presets lets you apply a series of adjustments at once.
Support for new cameras and lenses so you can stay up-to-date on the latest technology.
Remove blemishes and unwanted spots from the photo with one click, so you can focus on achieving your vision.
User Experience:

Adobe Lightroom users can control multiple variables to enhance a photo, making it ideal for beginners and experienced photographers.
The interface is simple and easy to use, with all the tools you need visible on the main screen.
Pricing:

Lightroom offers two plans:
Lightroom (1TB): $9.99/mo
Photography (1TB): $19.99/mo
What I Like/Dislike About Adobe Lightroom
Like:
A wide range of creative tools and editing options make it easy to create beautiful photos.
Integration with other Adobe services helps those who want to take their photography to the next level.
Dislike:
Adobe Creative Cloud can be expensive for those who don't need the full suite of applications.
Product Updates:
Lightroom Classic (version 12.2) now supports modern cameras, lenses, and bug fixes to ensure the best possible experience.
5. Topaz Labs.
Best For Sharpening Images.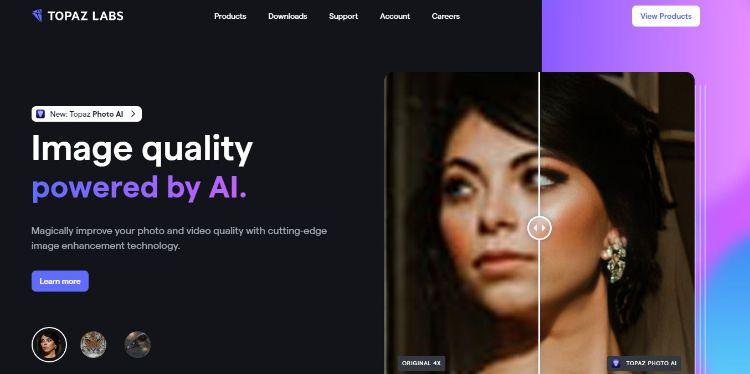 With Topaz Labs, you can use the latest artificial intelligence to take your image and video quality to the next level.
This software amplifies resolution and detail by up to 6x the original size.
Topaz Labs also provides various features designed to make editing images and videos more accessible than ever before.
You'll get batch processing for Windows or macOS, selective adjustments, auto-subject selection, and noise removal preserving details.
Plus, you can use deep learning image enhancement technology when converting interlaced videos into a progressive format.
With Topaz Labs, you'll have all the tools to create stunning visuals without hassle.
The AI technology behind Topaz Labs is beneficial for transforming low-resolution images and videos into high-quality works of art.
Instead of manually adjusting colors or sharpening images, it's as simple as clicking a few buttons to get the desired results.
Key Features:

Maximize image quality on autopilot with Topaz Labs.
Buy once and own forever with lifetime access to their products.
Live support is available, so you can get help when needed.
With a satisfaction guarantee, you can get your money back if you are unsatisfied with the product.
User Experience: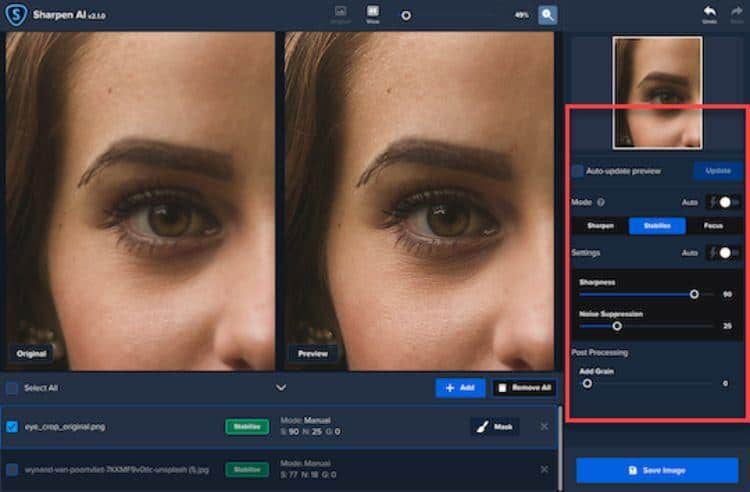 The ability to refine and correct images with AI makes the user experience effortless and efficient.
Slide the AI adjustment bar to your desired outcome level and watch the image transform into something extraordinary with minimal effort.
Pricing:

The price depends on the product chosen.
What I Like/Dislike About Topaz Labs
Like:
Results are often sharper, crisper, and more vibrant without compromising the original quality.
You can choose how much or little AI to use with manual and auto control.
Dislike:
The interpolation included in the AI technology may sometimes be inaccurate.
Product Updates:
With a range of updates to its various product lineup, Topaz Labs now offers multiple new features and improvements. Sharpen AI v3.3.5 is the latest version that provides an improved user interface, simplified workflow, and better results.
6. Lensa.
Best For Mobile AI Editing.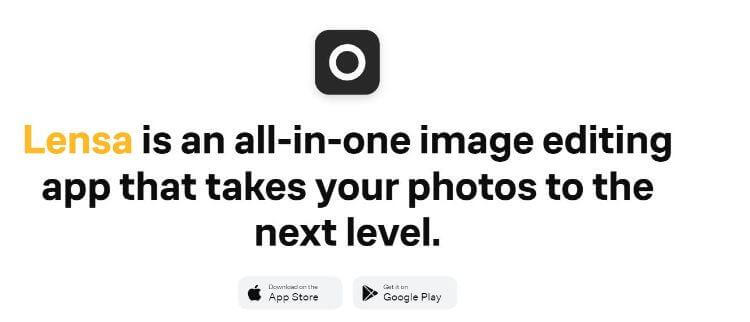 If you're looking for an easy way to upgrade your mobile photos and take them up a notch, look no further than Lensa, the all-in-one image editing app.
With this powerful tool, you can explore facial retouching tools and background blurring or replacement options alongside creative filters and special effects.
Plus, you can create magical avatars using artificial intelligence in just one tap.
The "Magic Retouch" feature of Lensa allows you to create a magical avatar in only one tap.
All you need is 10-20 selfies, and the app will take care of the rest.
You can manually control saturation/exposure and adjust for that extra shine.
Lensa also boasts an intuitive interface that makes it easy to pick up and use immediately.
Whether you're a seasoned photographer or a beginner looking to try something new, Lensa will help you unlock your creativity quickly and easily.
Key Features:
Use Lensa for professional-level photo and video editing on the go!
Upload 10-20 selfies to create your Magic Avatar using artificial intelligence.
Enjoy one-tap transformation options ("Magic Retouch"), as well as manual edits (saturation/exposure) and facial retouches (eye makeup, teeth whitening, etc.).
Pricing:
The app itself is free, but the portraits come at a cost.
With a seven-day free trial, users can upload 10 to 20 selfies and select a package of unique avatars.
These range from 50 for $3.99, 100 for $5.99, or 200 for $7.99.
Otherwise, a year-long subscription is $35.99.
7. Remove.bg.
Best For Removing Backgrounds.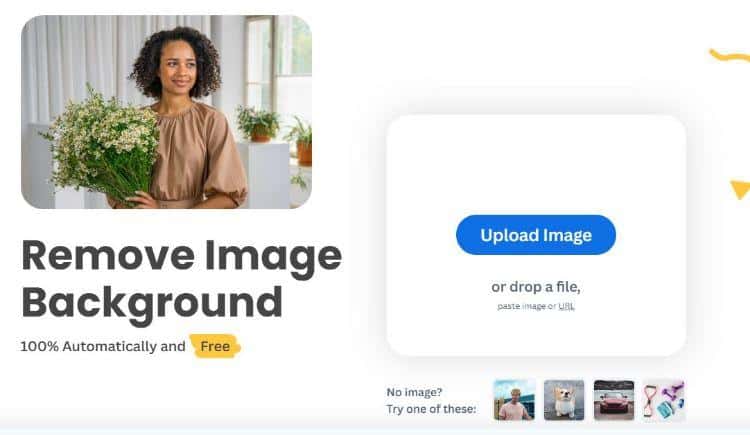 With just one click, Remove.bg can remove backgrounds or add stylish white ones in only five seconds.
This feature makes it the ideal tool for creating custom greeting cards and efficiently powering through thousands of car photos.
It also offers tools, plugins, and an API to increase efficiency across multiple platforms.
Remove.bg uses sophisticated AI technology to easily recognize objects in a photo and separate them from their background.
You can separate images of people, animals, objects, and scenes from their backgrounds with a straightforward click.
All you have to do is upload your image into the platform and let Remove.bg take care of the rest.
You can even develop virtual backgrounds for video conferences using its built-in tools and plugins.
Key Features:
API documentation makes it easy for developers to use the platform within their applications.
Remove.bg has various integrations, tools, and apps to help you work faster and more efficiently across multiple platforms.
It is available for Windows, Mac, and Linux computers and is an Android App for mobile users.
Remove.bg also offers templates with professional-looking designs that you can use to create stunning visuals in no time.
Pricing:
Remove.bg is free to use for basic use.
It then offers a subscription plan that costs $0.20 per image.
If you process more images, you pay less for each of them.
They list up to 75,000 processed images monthly, but you can contact them for more.
Other AI photo editing software not mentioned in this article includes Aurora HDR, ImagenAI, Luminar Neo, and Prisma Labs.
What Is AI Photo Editing Software?
AI photo editors take a new approach to editing photos using artificial intelligence (AI), machine learning algorithms, and automated features.
The best benefit is that you don't need to be an expert photographer to get the best photo edits, as the software does all the heavy lifting.
These editing apps also allow users to make minor adjustments and apply effects with just a few clicks.
AI photo editing software is an innovative way to enhance photos while allowing machine learning algorithms to analyze every aspect and detect improvement areas.
Features Of Great AI Photo Editing Software
Here are some features to consider when choosing AI photo editing software.
Noise Reduction
AI photo editing software utilizes image recognition to provide efficient image editor capabilities, allowing users to quickly remove noise and enhance photos with just a few clicks.
AI Photo Enhancer
Using a unique combination of machine learning algorithms and artificial intelligence, these programs can identify objects and subjects in a photo.
They then make various adjustments to improve the image.
Powered by complex algorithms and artificial intelligence, an AI photo editor software can enhance photos with subtle precision.
These programs often include skin smoothing and color correction tools designed to improve an image's appearance.
Standalone Application
AI photo editing software is a powerful standalone application that can create amazing edits without any other software.
This ability has opened a new world of possibilities regarding tweaks, effects, and adjustments you can make to images.
Supports the Right Workflow
AI photo editing tools allow you to use automated image recognition to recognize, detect, and classify objects and streamline your workflow.
This editing software uses an algorithm-driven virtual assistant to adjust and apply effects with just a few clicks.
It has become an essential asset for professional photographers who need to save time and work more efficiently.
Works with RAW Files
AI tools automatically adjust a photo's color, contrast, sharpness, and other aspects to detect areas that need improvement.
AI photo editing software is changing the photo editing game by changing how photographers modify JPEG and RAW image files (without having to tweak each area of the image manually).
Works on Mobile Devices
No matter which device you're using, AI photo editing software can be a great way to spruce up photos taken on the go.
For example, Apple is one of the most prominent players in the industry.
As such, developers have created various AI-powered programs for the iPhone and iPad that provide users with an easy-to-use platform.
Even better, these programs are now available for more than just iOS devices.
Users on Android phones can also take advantage of the power of AI photo editing software.
Overall, AI photo editing software for mobile devices is becoming increasingly popular.
Users Of AI Photo Editing Software
Here are some of the top users of AI photo editing software.
Professional Photographers and Retouchers
AI photo editing software provides professional photographers and retouchers powerful tools to adjust photos precisely.
With advanced features such as skin smoothing, color correction, and noise reduction, users can quickly perfect their images for use in publications or client projects.
Graphic Designers
Graphic designers can use AI photo editing software to manipulate pixels and perform tasks more accurately and quickly.
The ability to recognize objects, adjust colors, and apply effects makes it easier for these professionals to create stunning designs in a fraction of the time.
Social Media Managers
Social media managers increasingly rely on AI photo editing software to improve the visuals they use in their marketing campaigns.
Using artificial intelligence photo editors, these professionals can quickly adjust photos and create engaging visual content that resonates with their target audience.
Bloggers
Bloggers are finding ways to take advantage of AI photo editing software to create eye-catching visuals for their posts.
Using advanced AI technology, they can quickly adjust photos to create more captivating content that stands out from competitors.
Instagram Influencers
Instagram influencers use AI photo editing software to spruce up their pictures and enhance the visual appeal of their posts.
Influencers can quickly and easily adjust their photos' brightness, contrast, saturation, and other aspects using AI-powered tools and photo editors to make them more visually appealing.
Wrap Up.
The best AI photo editing software can take your photos to the next level, allowing you to create stunning visuals with minimal effort.
Whether you use sky replacement features in your favorite app or quickly touch up photos taken on the go, the right photo editing apps can help you get the job done.
Further reading on AdamEnfroy.com: Did you know people can now use AI image generators to create realistic images using a simple text prompt?
If you're more into videos, you can also look at these video editor tools to learn how to create final products without much manual work.
Disclosure: I may receive affiliate compensation for some of the links below at no cost to you if you decide to purchase a paid plan. You can read our affiliate disclosure in our privacy policy. This site is not intending to provide financial advice. This is for entertainment only.