7 Best Keyword Rank Tracking Software of 2023 (Reviewed)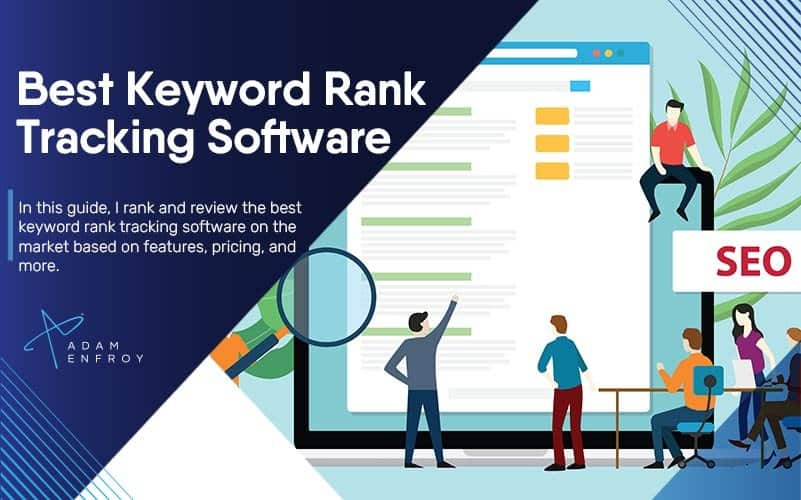 Want to dive straight into my top choices when it comes to keyword rank tracking software? Go with SE Ranking or SEMRush.
Keyword rank tracking provides critical insight into how a website is performing in the SERPs. It will help you get a better idea of your website's visibility based on your target keywords.
It is one of the most important SEO tools that you can invest in by far.
As per estimates, 90 percent of content gets no organic local search traffic on Google. That alone proves that SEO is difficult without the right keyword ranking software at hand.
The core driver of this blog is all of my Google rankings, and to monitor that, I use a rank tracker.
Of course, the right keyword tracker will also identify the keywords with higher search volumes. Based on current trends, long-tail keywords with four words or more have three to five percent higher CTRs than regular keywords.
To help you gain more insight, I'll be highlighting the most popular keyword rank trackers. I'll be mentioning what each of them is best for, along with their features and pricing plans.
Then I'll move on to briefly discussing keyword tracking platforms and answering a few commonly asked questions related to the topic.
Disclaimer: This article contains affiliate links that I receive a small commission for at no cost to you. You can read my full affiliate disclosure in my privacy policy.
What Is The Best Keyword Rank Tracking Software?
Here are my top picks for the best rank tracking software.
Best For Real-Time Keyword Rank Tracking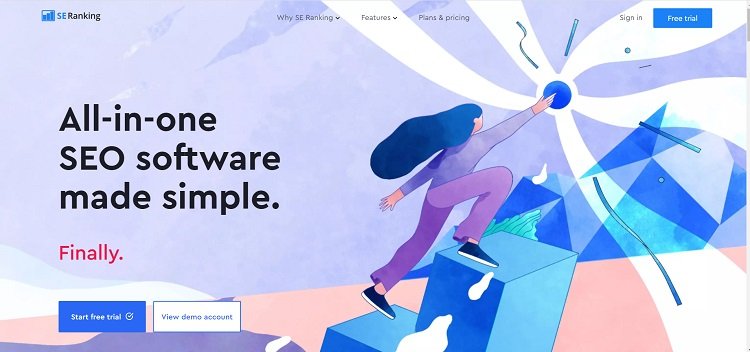 SE Ranking is a top pick for a rank tracking software tool among business owners, digital agencies, and the SEO pros since it's an all-in-one keyword rank tracking platform. It ensures 100% accurate real-time rankings of your website's keywords across major search engines based on country, city level, and region.
Additionally, the software offers a range of tools to help control SEO rankings. While its in-depth website audit tool can help push a website's ranking to the top ten search results, the backlink checking (which is important for link building) and monitoring tool provides data on key parameters and backlinks.
SE Ranking can also check the site's performance for SERP features. You may add up to five competitors, compare ranking results, and see how your website performs on Google, Bing, Baidu, Yahoo, etc.
Even if you don't know your competitors, the platform will give you an idea by providing insight into the top search results.
Features:
SE Ranking is a complete package offering all of the features and tools to help improve your website's overall SEO performance. You can use it to discover ads and keywords competitors use in their paid and organic search campaigns.
Here is a list of features SE Ranking has to offer:
Alerts about modification on site
Keyword suggestion and grouping
White label reports
Backlink monitoring
Offers API and scripts for experts
SEO reporting tool
Social media management
B2B features make the SEO journey smooth and enjoyable
Pricing: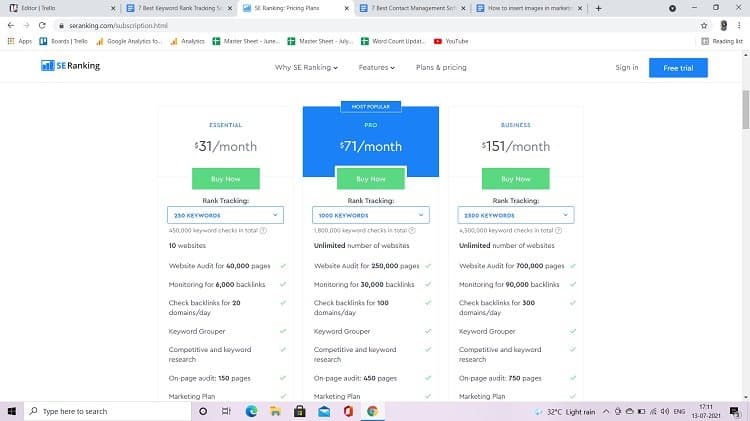 SE Ranking has a custom pricing structure where the amount you pay will depend on factors, such as frequency of tool use, length of the subscription period, and the number of keywords.
You may opt for a plan of one, three, six, and nine months, or a year, and choose the required ranking check frequency. That said, here's a breakup of SE Ranking's pricing plans:
1. Essential plan at $24.8/month
Up to 15,000 keyword checks
Monitors performance of up to ten websites
Website audit for 35,000 pages
2. Pro plan $56.8/month
600,000 keyword checks
Monitors performance of unlimited websites
Website audit for 200,000 pages
3. Business plan at $120/month
1,500,000 keyword checks
Monitors performance of unlimited websites
Website audit for 550,000 pages
The software also offers a pricing plan calculator to help you decide which plan to choose and they offer a 14-day free trial.
Best For Digital Marketing And SEO Professionals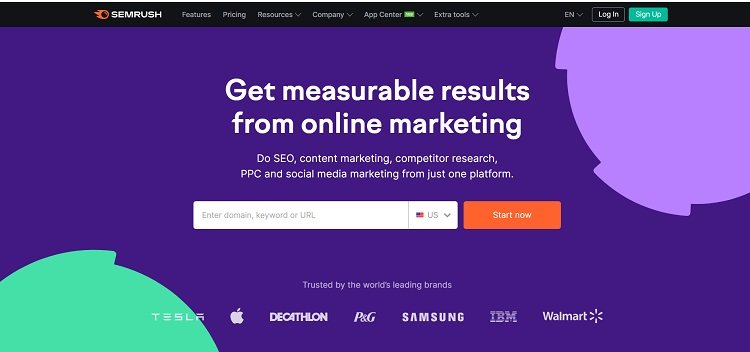 SEMRush is a reliable digital marketing platform that serves as an accurate position or keyword tracking tool for SEO professionals. It collects data from Google and monitors the rankings of any domain, URL, or subdomain for the keywords tracked daily.
This makes it one of the most reliable rank tracking software tools on the market today.
The data helps you track your website's position at local and national levels, on both mobile or desktop. Additionally, you may filter the data using any of its 16 SERP features to know which keywords trigger which features and if your domain ranks on the particular search engine.
SEMRush also helps you determine your real competition in organic search. Simply switch to the Competitors Discovery Tab and discover all of the domains that rank for target keywords sorted by level of visibility.
Features:
SEMRush tracks keywords to help websites rank by organizing and allocating them into meaningful segments. It then filters reports by tags to provide a more focused view of your SEO ranking.
This is a brief list of features SEMRush offers:
Accurate local map pack rankings
Helps discover essential competitors
Keyword segmentation
Reports on worldwide rankings
Alerts in case of crucial position changes
Pricing: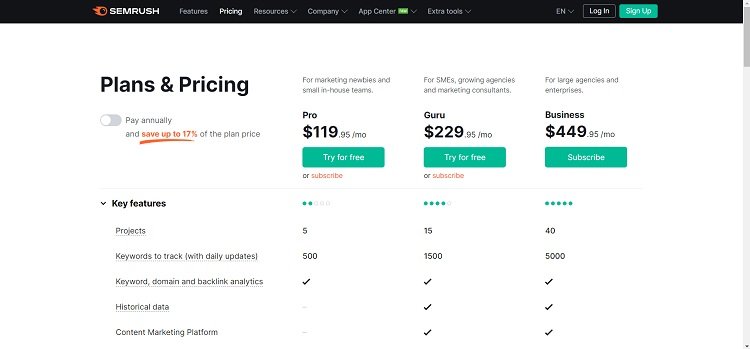 SEMRush offers subscription plans to meet everyone's requirements, be it marketing newbies, SMEs, marketing consultants, or large agencies and enterprises. You may opt to pay for the following plans monthly or annually and save up to 17% of the price plan.
1. Pro Plan at $119.95/month
Five projects
Tracks 500 keywords with daily updates
Up to 3,000 reports per day
2. Guru Plan at $229.95/month
15 projects
Tracks 1,500 keywords with daily updates
Up to 5,000 reports per day
3. Business Plan at $449.95/month
40 projects
Tracks 5,000 keywords with daily updates
Up to 10,000 reports per day
You may choose to cancel, downgrade, or upgrade your subscription plan at any time. SEMRush promises to give you a full refund if done within the first seven days, no questions asked.
Best For Daily Rank Tracking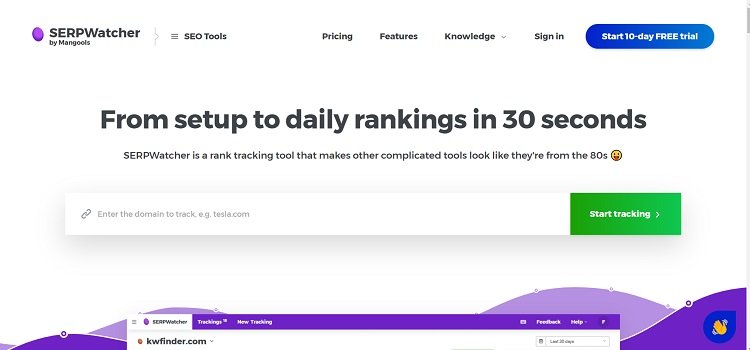 SERPWatcher can help keep a tab on the organic traffic potential of your website daily. After all, it allows beginners to go from initial setup to reviewing daily rankings within 30 seconds. You just have to enter the domain and start tracking.
This platform also provides email alerts to notify you of any significant changes in ranking positions. Additionally, you get precise local ranking data of more than 50K locations, including states, cities, countries, and DMA regions – crucial for rank tracking.
The changes and data obtained can be further shared with clients and team members using SERPWatcher's interactive report sharing feature. Just schedule the reports based on priority.
Features:
SERPWatcher is a simple and intuitive rank tracker for beginners and professionals alike. Alexa, Airbnb, Skyscanner, and Adidas are just a few of the big names that trust its credibility as a rank tracking platform.
Here are a few of the features SERPWatcher has to offer:
Daily keyword tracking
Mobile and desktop-friendly
Shareable interactive reports
Tracks rankings over 50K locations
Performance index to know about organic traffic potential of the website
Organizes keywords with tags
Pricing: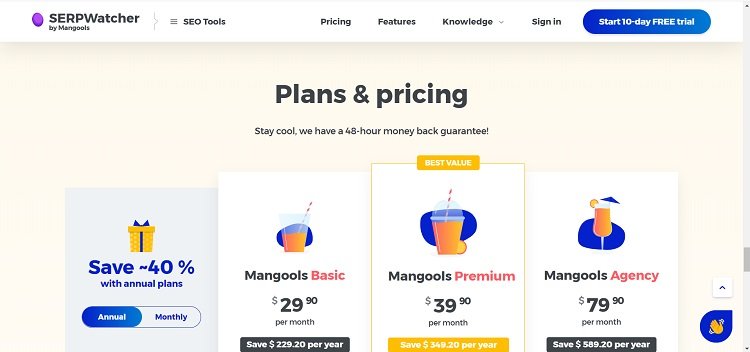 SERPWatcher offers a 48-hour money-back guarantee. So, even if you're not satisfied with it, you may request a refund by canceling any of the following monthly or annual subscription plans.
1. Mangools Basic Plan at $49/month
Annual plan at $29.90/month
100 keyword lookups/24 hours
200 of 700 keyword suggestions/search
25 competitor keywords/search
2. Mangools Premium Plan at $69/month (Best Value)
Annual plan at $39.90/month
500 keyword lookups/24 hours
700 of 700 keyword suggestions/search
Unlimited competitor keywords/search
3. Mangools Agency Plan at $129/month
Annual plan at $79.90/month
1,200 keyword lookups/24 hours
700 of 700 keyword suggestions/search
1,200 SERP lookups/search
4. Wincher.
Best For Affordable Keyword Tracking
Wincher is one of the most cost-effective rank tracker tools that help online businesses follow their SEO efforts and progress. But that doesn't mean affordability comes in the way of its functionality.
The powerful rank-checking software comes with features that let you monitor keywords efficiently. Consequently, it has helped brands gain quality traffic from organic searches, improving overall SEO performance.
Wincher also has a range of tools to help you find and focus on high-volume keywords that both you and competitors might not have known existed. You can further grow your business by outranking competitors while keeping track of their ranking positions.
Features:
From keeping track of ranking data to customizing it into automated and manual reports, Wincher can do it all. It helps make your marketing outcomes clear at affordable pricing.
Here is a list of features the software offers:
Boosts ranking positions on SERPs
Provides daily reports via emails
Monitors competitors
Automatic keyword recommendations
Accurate local ranking data across 180 countries
Complete API access
Multiple device accessibility
Pricing: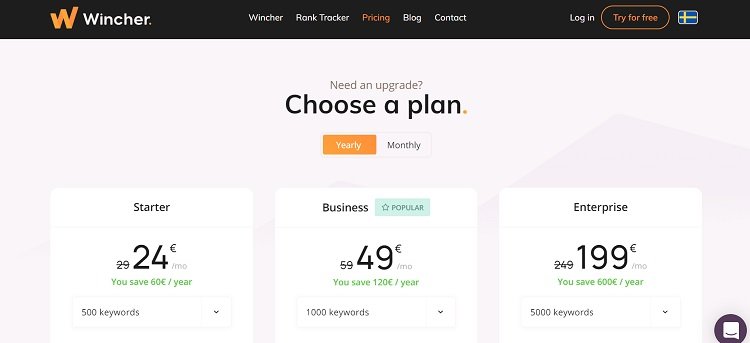 Wincher has one of the most flexible and cost-effective pricing models. You can opt for any of its monthly and annual subscription plans based on your business size and keyword tracking requirements.
1. Starter Plan at 29€/month or $34/month (approx)
Annual plan at 24€/month or $28/month (approx)
Tracks 500 keywords per day
Ten websites
2. Business Plan at 59€/month or $70/month (approx)
Annual plan at 49€/month or $58/month (approx)
Tracks 1,000 keywords per day
Unlimited websites
White-labeled reports and API access
3. Enterprise Plan at 249€/month or $295/month (approx)
Annual plan at 199€/month or $235/month (approx)
Tracks 5,000 keywords per day
All features of the Business plan
Gives project permission to external users
If you need to track over 10,000 keywords, get in touch with the team for a tailored quote.
5. Advanced Web Ranking.
Best For On-Demand Rankings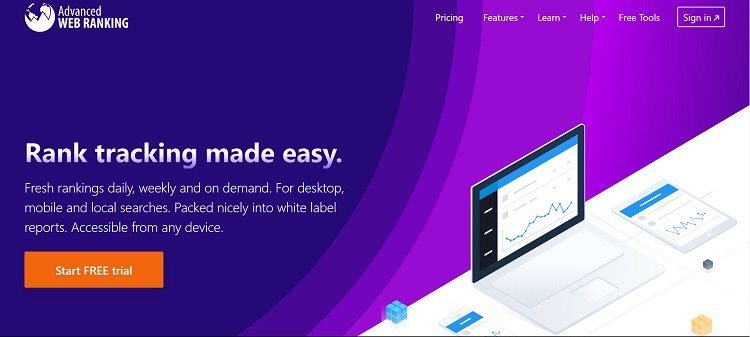 Advanced Web Ranking helps tackle on-demand keyword rankings for online businesses. It gathers accurate and fresh ranking data across any device, language, and search engine within an hour.
Additionally, it helps create engaging SEO reports with customizable layouts, which can be shared with clients in minutes via links and user accounts. In turn, you can access these white-label reports from any device, be it a desktop or mobile.
Advanced Web Ranking also provides a landscape overview of competitors by monitoring the keywords they use to rank on SERPs. Marketers can use the data to determine marketing strategies and discover emerging competitors.
It also provides an aggregate list of websites you compete against across the entire keyword set.
Features:
Big brands, such as Microsoft and Amazon, use AWR to grow their business. Over the years, the platform has also managed to improve its functionality and intuitive user interface.
The following is a list of features Advanced Web Ranking has to offer:
Custom and engaging SEO reporting
Desktop and mobile-friendly
Competitor insights and discovery
Unlimited websites and users
Includes all of the SERP features
Supports multiple language tracking
Powerful API and data integration
Pricing: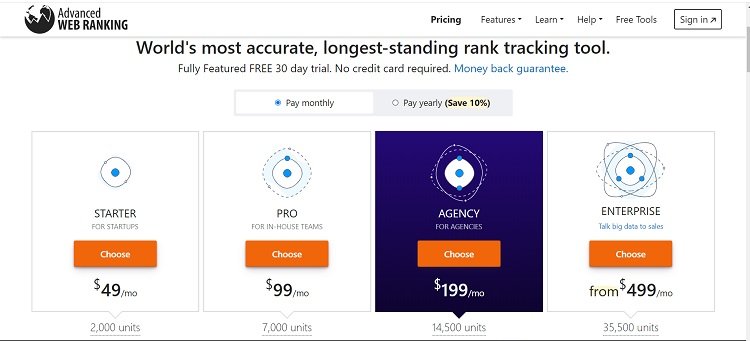 Advanced Web Ranking is one of the few platforms that provide a 30-day trial with a money-back guarantee. After the free trial period, you may choose to pay for any of the following plans monthly or yearly.
1. Starter Plan at $49/month
Suitable for startups
2,000 units
SERP features
Competitor insights
2. Pro Plan at $99/month
Ideal for in-house teams
7,000 units
Starter features
Competitor discovery
3. Agency Plan at $199
Suitable for agencies
14,500 units
All of the Pro features
Local keyword search volumes
One-hour updates
4. Enterprise Plan at $499/month
35,500 units
All of the Agency features
Data migration assistance
6. Authoritylabs.
Best For Marketing Agencies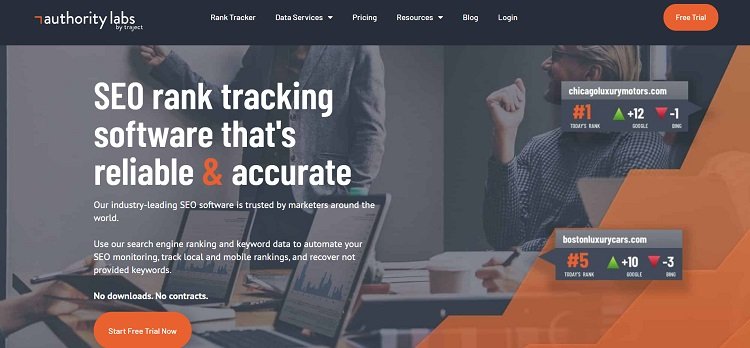 Authoritylabs is a software most digital marketing agencies rely on for its white-label capabilities. It automates local, SEO, and mobile rank tracking using keyword data and search engine ranking.
Just provide the keywords, domains, and locations you want the tool to check. Authority labs will help you know where you stand with daily rank checking and reporting.
It will also look into the most granular and accurate data by tracking search results by state, city, and postal code. Additionally, the software can help expand your reach by adding domains or pages from any country or language supported by search engines like Bing, Yahoo, and Google.
Features:
Agencies, e-commerce websites, and enterprises can visualize their SEO performance and keep track of their SEO strategies, thanks to Authoritylabs.
Now, I'll be listing some of the most crucial features Authoritylabs has to offer:
Custom data collection
100 percent white label reporting
Unlimited users
Tracks competitor domains
High-quality keyword data
Daily data reports
Mobile-specific rank tracker
Global rank tracking
Pricing: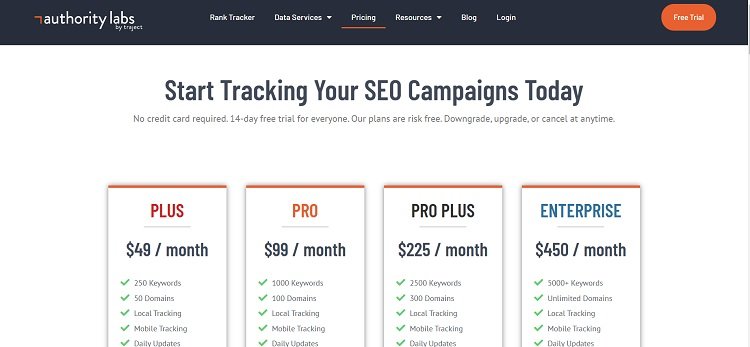 You can choose any of the following plans to track your SEO campaigns, depending on your business requirements. Authoritylabs also gives you the option of upgrading or downgrading plans to fit your needs.
1. Plus Plan at $49/month
250 keywords
50 domains
Local and mobile tracking
2. Pro Plan at $99/month
1,000 keywords
100 domains
All features of the Plus plan
White-label reports
Google data studio integration
3. Pro Plus Plan at $229/month
2,500 keywords
300 domains
All features of the Pro plan
4. Enterprise Plan at $450/month
5,000+ keywords
Unlimited domains
All features of the Pro Plus plans
Interface API access
All of Authoritylabs' pricing plans are risk-free with their 14-day trial.
7. Moz Pro Keyword Rank Checker.
Best For Keyword Research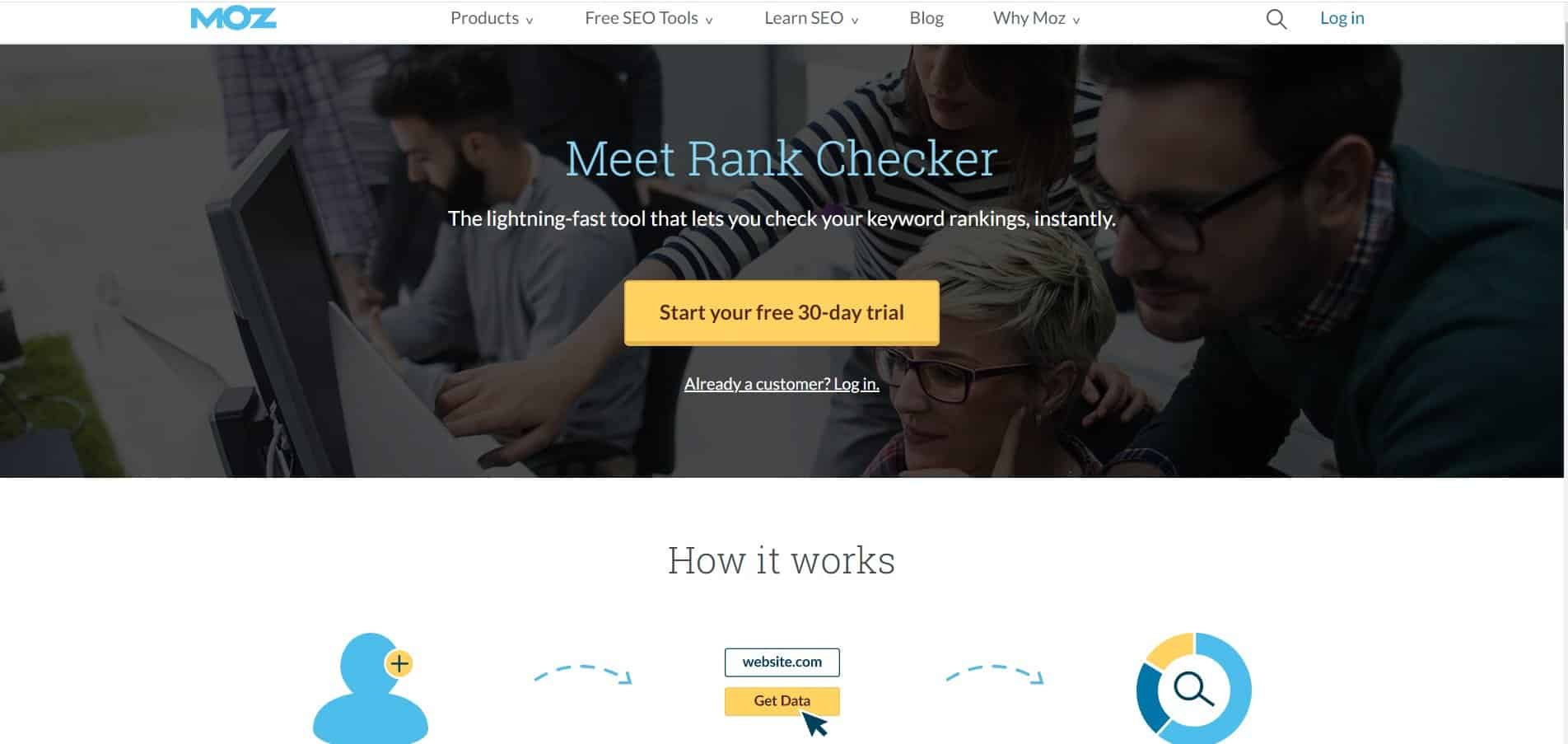 Moz Rank Checker is one of the best keyword research tools that helps identify a website's SEO performance for target keywords within seconds. It predicts the keyword search volume for terms and phrases with more than 95 percent accuracy.
The platform also discovers rankings for potential keywords you might want to track for without having to commit. It provides a difficulty score for each of these keywords to help you identify how easy or difficult it's for them to rank on the SERP of your choice.
Be it Google, Bing, or Yahoo; you can choose the search engine you wish to receive the ranking data from. And then send the most important keywords over to the Moz Pro Campaign for long-term keyword rank tracking.
Features:
Moz Rank Tracker can generate instant ranking reports to help you prioritize your SEO strategies. It's a trusted SEO analytics platform that can help improve your website's performance through search engine optimization.
The following is a list of features Moz Pro offers:
Performs competitive keyword research
Sorts keywords using predictive metrics
Adds your SEO rank to a ranking history graph
Tracks keywords for long-term
Identifies keyword difficulty
Free SEO tools
Pricing: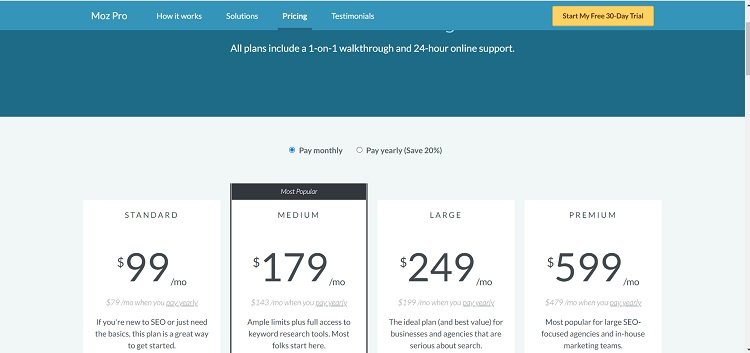 You may choose any of Moz Pro's monthly plans to get access to its keyword research tools. Or, simply pay yearly to save 20 percent. Irrespective of the plan you choose, you get 24-hour online support and a one-on-one walkthrough.
Here's a quick breakdown of its monthly plans:
Standard Plan at $79/month
Medium Plan at $143/month
Large Plan at $199/month
Premium Plan at $479/month
What Is A Keyword Rank Tracker?
Marketers rely on keyword rank trackers to track keyword rankings and monitor the progress of their SEO campaigns. That said, a keyword tracker is an SEO software program, offering rank checker tools.
It helps with keyword research to optimize a website's on-page SEO performance. Additionally, it provides important data and metrics about keywords, including keyword position, search volume, traffic, and more on the SERPs of search engines like Baidu, Google, and Bing.
Then, it compiles the information into instant desktop and mobile ranking reports. As such, these platforms help small businesses or large enterprises keep track of how well their website performs for those exact keywords.
Rank tracking tools, such as SE Ranking, SEMRush, Ahrefs, Moz Pro, or even free tools like Google Search Console, can also track competitor data. They track rankings and provide information about any new keyword competitor websites may use to improve rankings.
Frequently Asked Questions.
1. What is SEO position tracking?
Position tracking is also called SERP tracking or rank tracking. It helps marketers track their websites' daily SEO rankings for a custom set of keywords.
You may target a specific geographic location and device type and use a rank checker tool to gain insights and boost performance.
2. Why are keywords important to SEO?
Keywords are a vital part of search engine optimization (SEO). They help search engines, be it Google or Baidu, understand your website content by making it relevant to the industry. In turn, it helps the particular site rank higher on global or local search results pages.
3. What are the key metrics that matter during keyword rank tracking?
The three most crucial metrics keyword trackers consider are as follows:
1. Visibility
A website having organic visibility of 100 percent will ideally have keywords ranking at the number one position.
2. Search Volume
Higher volume terms and phrases are more important to track. But that doesn't mean one should ignore small volume keywords.
3. Keyword Position
Keyword position is determined by where a website ranks on the search engine.
What is rank tracking software or rank tracking tools?
Rank tracking software are tools that allow you to track the rankings of your keywords the SERP's. They are important for monitoring your sites overall SEO performance so you can adjust your current content and SEO strategy.
What is SEO rank Tracking?
SEO rank tracking is having your posts and pages tracked by a tool to see where it is landing in the SERP's. These tools are not perfect but they do act as a baseline for where you stand in a given search engine.
Is Rank Tracker free?
Rank Tracker is not free but it does start at a relatively low price for a rank tracker and in comparison to other rank tracking tools it does a good job for the price.
Which is the best tool to check website ranking?
The best tool to check your keyword rankings is SE Ranking. It is the most complete tool that has very accurate up-to-date data unlike some of the other rank tracking tools.
What are AI SEO tools?
AI SEO tools are software that use artificial intelligence to help you optimize your website for search engines.
From keyword research to link building, AI can help you automate and improve many of the tasks involved in SEO.
Wrap Up.
As keyword rank tracking platforms develop, marketers can expect to see a boost in the functions and SEO tools they offer.
If you wish to boost your website's SEO performance to drive traffic and generate sales, then choose from the following list of options:
SE Ranking: Best For Real-Time Keyword Rank Tracking
SEMRush: Best For Digital Marketing And SEO Professionals
SERPWatcher: Best For Daily Rank Tracking
Wincher: Best For Affordable Keyword Tracking
Advanced Web Ranking: Best For On-Demand Rankings
Authoritylabs: Best For Marketing Agencies
Moz Pro Keyword Checker: Best For Keyword Research
I'm sure you'll find a suitable keyword rank tracking platform from the list of options mentioned above.
Looking for other resources about building a blogging business and SEO?
Disclosure: I may receive affiliate compensation for some of the links below at no cost to you if you decide to purchase a paid plan. You can read our affiliate disclosure in our privacy policy. This site is not intending to provide financial advice. This is for entertainment only.