Quillbot Review: Is It the Best AI Paraphrasing Tool?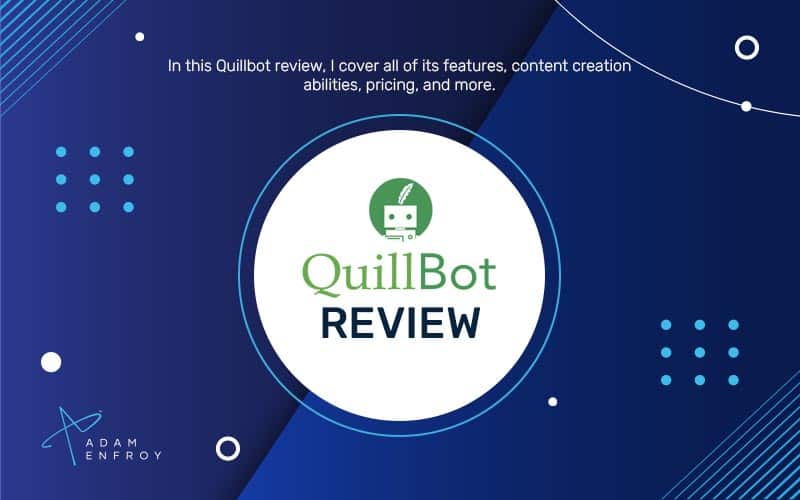 Have you heard of the Turing Test?
It tests a machine's ability to exhibit intelligent behavior indistinguishable from a human.
If one can't tell whether it's a machine or a person communicating with them, the robot has effectively passed the test.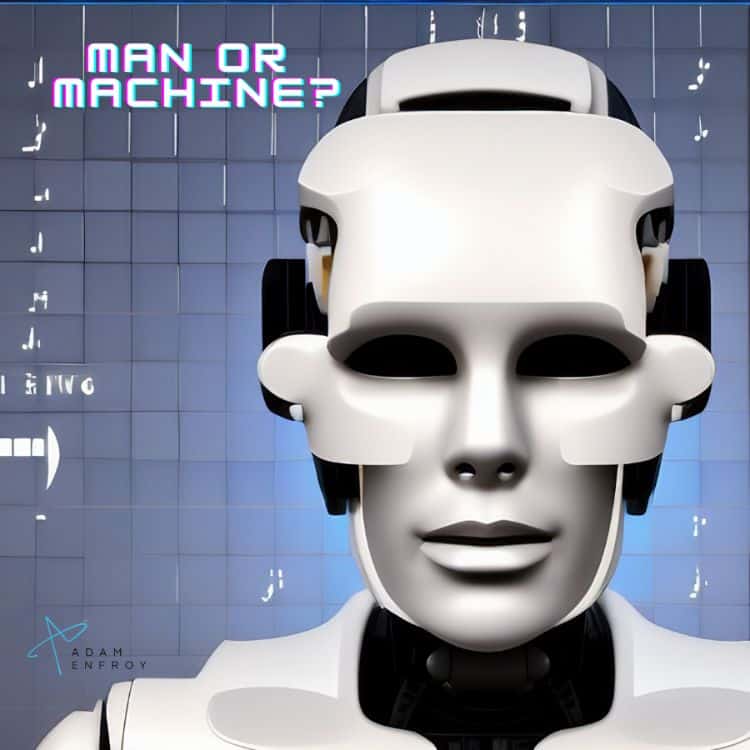 With the help of artificial intelligence, robots are taking over many jobs humans used to do.
They are faster, more accurate, and more efficient.
So it's no surprise that AI is also used to create content across different industries.
Quillbot claims to be the best AI paraphrasing tool on the market.
But is it?
In this Quillbot review, I'll look closely at what this tool can do and see if it lives up to the hype.
I'll get into its features, discuss its pricing plans, and give you my final verdict.
What Is Quillbot?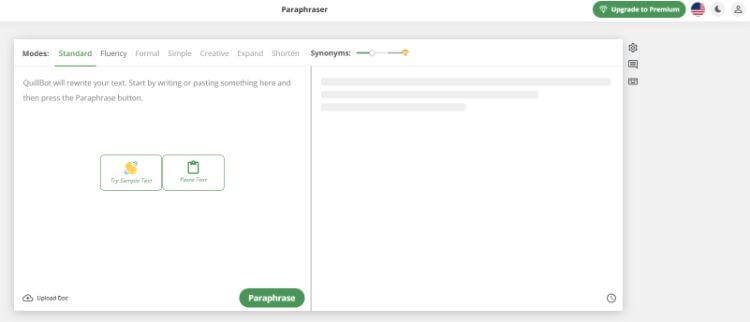 Quillbot is a paraphrasing tool that uses artificial intelligence to rewrite your articles.
It is one of the newer kids on the block, but it has quickly become popular among writers and content creators.
However, it's not just a one-trick pony.
It also offers a comprehensive suite of features, making it a well-rounded writing tool.
Quillbot Features
Here are the main features that help your writing process.
Paraphrasing Tool
One of the writing modes that Quillbot offers is paraphrasing.
With natural language processing at the heart of the software, this tool makes it easy to rewrite your content without changing the original meaning.
The Quillbot paraphrasing tool can help you sound more like an expert in your field or make your writing more concise.
Rephrasing your key sentences and paragraphs is essential for anyone who wants to create high-quality content.
With a spinner, a paragraph mode, and even compare modes, you are bound to end up with the correct text.
Freeze Words
While saying things differently is vital in some situations, you sometimes want to keep exact words from changing.
Doing so is especially important when writing about brand names or product names.
With an unlimited freeze words functionality, Quillbot can keep any words you desire from being changed when paraphrasing.
Tone Insights
Apart from being a writing tool, Quillbot can also help you improve your writing style.
It does this by giving you insights into the tone of your writing.
From a formal mode that understands the writing style, figuring out the level of positivity or negativity in your text, and more, Quillbot can help you become a more rounded writer.
Grammar Checker

No one likes grammatical errors, yet they can be hard to spot sometimes.
With grammar mistakes ruining the flow of your writing, it's essential to have a grammar checker to help you find and fix them.
The Quillbot grammar checker is a powerful tool that comes in handy to avoid embarrassing mistakes.
Plagiarism Checks

In addition to grammar checking, a Quillbot plagiarism checker helps ensure your content is original.
With some tools, there is an extra cost associated with using a plagiarism checker.
But with Quillbot, it's included in the price.
Summarizer
The Quillbot summarizer tool is another excellent component that can help you improve your writing.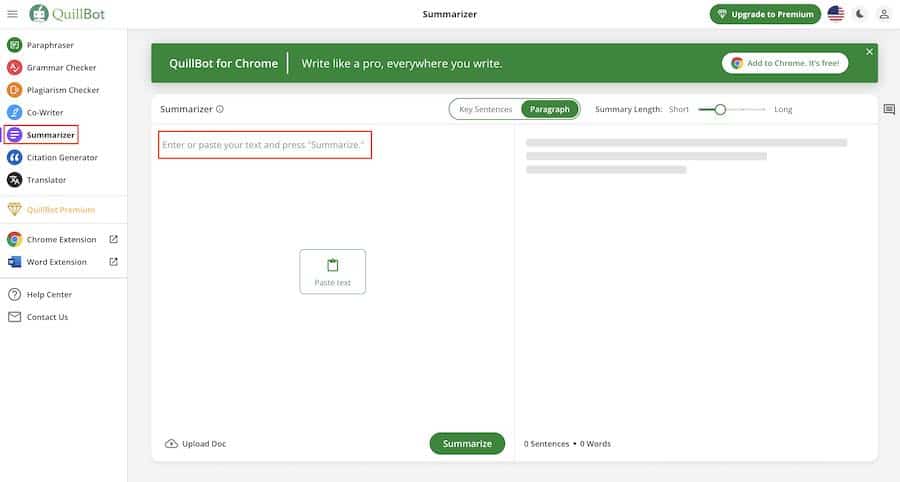 The summarizer comes in handy when you want to shorten a text and be more succinct in what you're saying.
It condenses your text into a shorter, more concise version while maintaining its original meaning.
Citations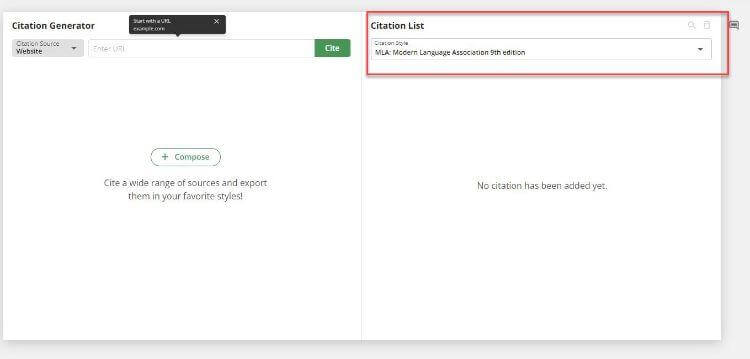 A nifty feature for those writing research papers or doing any academic writing is Quillbot's citation generator.
Compared to manually having to look up each citation, this tool can save you a lot of time.
The citation feature, which many other tools also don't have, ensures you can cite your academic papers properly.
Suggested Text
Using artificial intelligence, Quillbot can suggest different words and phrases that improve your writing.
Getting better sentence structure as you explain ideas is critical.
Choosing more powerful words that pack a punch is also essential.
With the suggested text feature, you can do all this and take your writing to the next level.
Built-in Thesaurus
Finding the perfect synonyms can make a difference when explaining various concepts.
With Quillbot's built-in thesaurus, you can find the perfect word for any situation.
With various synonym options presented to the user as they type, Quillbot can help you sound more intelligent while ensuring your writing flows smoothly.
Co-Writer

If you thought the above features were great on their own, the Quillbot writing assistant provides a creative mode to combine all of the above into one powerful tool.
The Quillbot AI in the Co-Writer module comprises an article rewriter tool, expand mode, shorten mode, fluency mode, and more.
The Co-Writer combines all of the best writing tools into one package.
Extensions and Integrations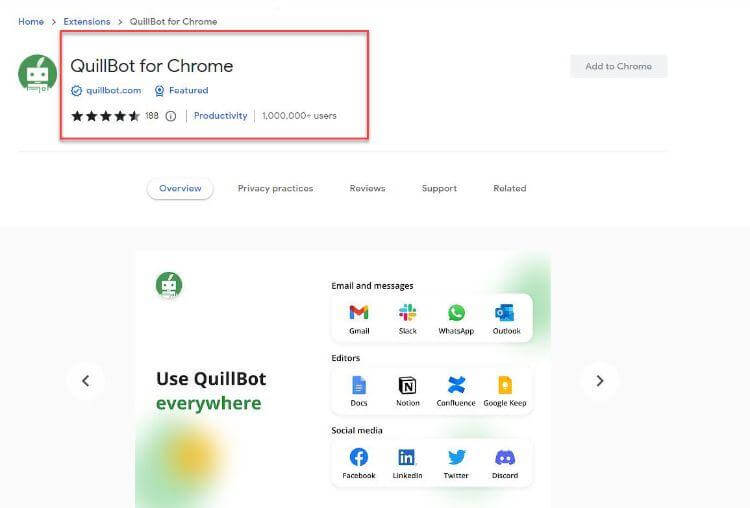 Quillbot also provides various ways to help you have a better workflow when using third-party add-ins.
Having its own Google Chrome extension helps ensure you can use Quillbot no matter on which website you might find yourself.
Then with Microsoft Word and Google Docs integrations, you can use Quillbot directly within those applications.
Using these integrations helps ensure you're never without the Quillbot writing assistant in the moments that matter.
Who Is Quillbot For?
Various users can benefit from using Quillbot.
Here are some of the main ones.
Social Media Managers
The job of a social media manager is to create, curate, and post content that is interesting and engaging for their audience.
Quillbot can help by providing easy-to-read and engaging content, ensuring that the social media manager can keep their audience entertained.
At the same time, if the social media manager uses Quillbot to create original content, they can be sure that it is unique and not simply a regurgitation of someone else's work.
Web-Based Content Creators
Many people create content for the web, such as articles, videos, and more.
Quillbot can help content creators by suggesting different ways to say things or giving them new ideas for their content.
Suggestions can range from creating better headlines to improving the descriptions for their videos.
Two of the main benefits web-based content creators get from Quillbot are that it can help them create content faster and more efficiently.
Bloggers and SEO Professionals
People who work in SEO or blog about various topics often need to develop new ideas for content and keywords.
A tool that understands how NLP (Natural Language Processing) works can be a huge help.
Moreover, with SEO being all about understanding how people search for things, Quillbot can help by providing different ways to say something or by giving you new ideas based on the input you provide.
Quillbot Pricing
A free account will get you started with the basics, but you'll be limited in terms of features, word limit, and functionality.
From character limit when generating content to disabling certain features, more than what the free plan can offer may be needed for some users.
With a premium subscription, Quillbot offers unlimited usage with no limits.
There's also a 100% money-back guarantee within the first three days of purchase, so you can try it out risk-free.
The pricing for the Quillbot premium version depends on the length of time you decide to go for: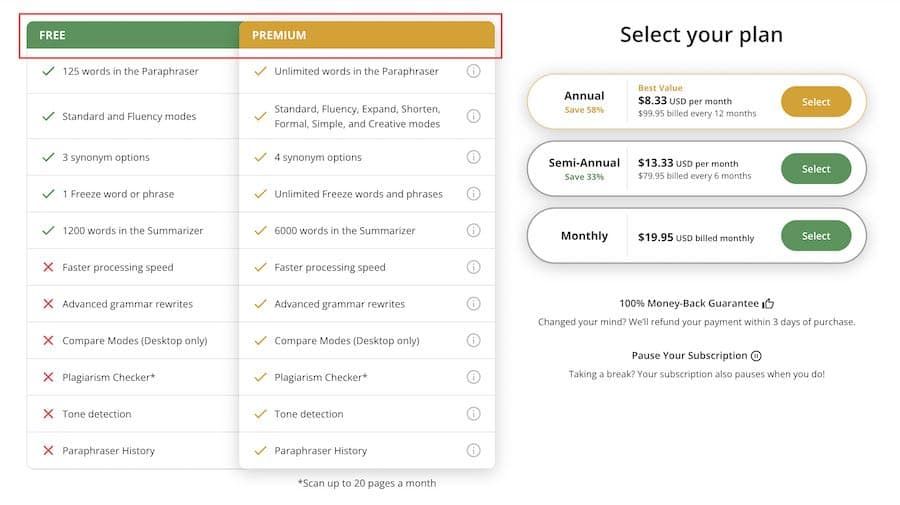 Annual: $8.33 per month
Semi-Annual: $13.33 per month
Monthly: $19.95 per month
Pausing Your Subscription
If you like the premium plan but aren't finding any use for it right now or need to take a break, Quillbot offers the option to pause your subscription.
Your account will remain active and ready for you to return to it when appropriate.
Quillbot won't charge you for the time you're not using the service.
Wrap Up.
Whether you're a student, a professional, or just someone who wants to improve their writing, Quillbot is worth checking out.
The AI paraphrasing tool can help you in many ways, from developing new ideas to improving your sentence structure.
Plus, with the ability to start with the free version, pause your account as needed, and have a money-back guarantee, there's nothing to lose.
Further reading on AdamEnfroy.com: When it comes to Quillbot alternatives, Jasper AI is considered one of the best AI writing software tools of our time.
Check out my Jasper AI review to learn how it can help you create content for your blog or website.
Finally, did you know that 52% of executives said their productivity increased when using AI?
If artificial intelligence interests you, be sure to read the latest artificial intelligence statistics to learn more.
Editorial Process:
Our reviews are made by a team of experts before being written and come from real-world experience. Read our editorial process here.
Some of the links in this article may be affiliate links, which can provide compensation to us at no cost to you if you decide to purchase a paid plan. These are products we've personally used and stand behind. This site is not intended to provide financial advice. You can read our affiliate disclosure in our privacy policy.
---
Last Updated on May 5, 2023 by Adam Enfroy