Frase.io vs. Jasper: Which Is Best For Your Business?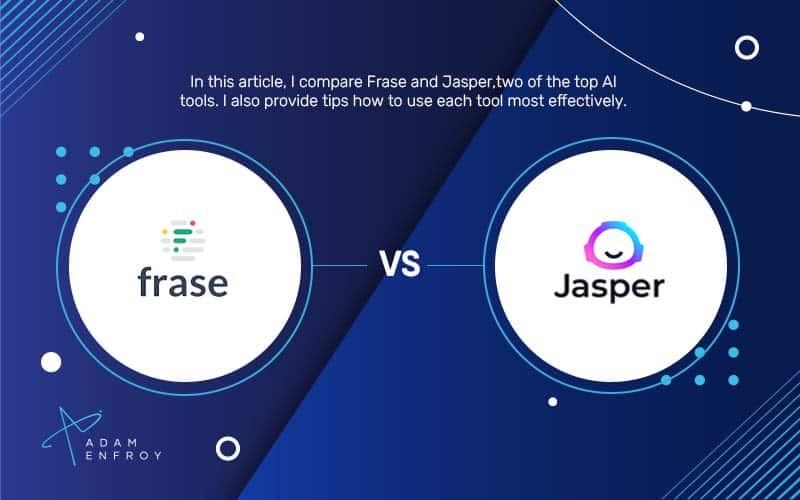 Two of the most popular AI writing software for generating AI content are Frase.io and Jasper.
Both offer robust features that can help you create compelling and engaging content quickly and easily, but which is right for your business?
In this article, I'll compare Frase and Jasper while showing you how to use each tool effectively.
Comparing Frase io vs Jasper
Let's first review each software individually.
What Is Frase?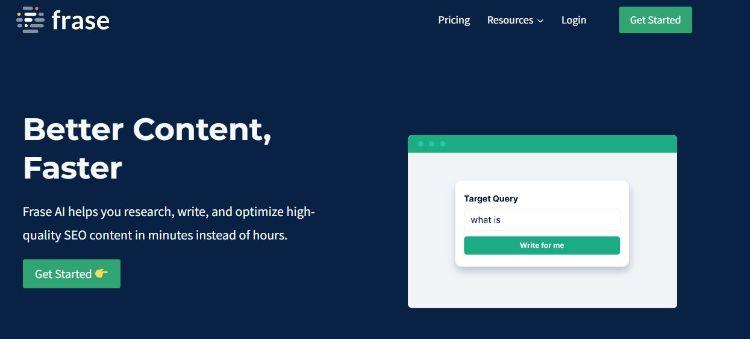 Frase is an artificial intelligence tool that focuses on a keyword-based approach.
All you need to do is enter your desired keyword into the search bar, and Frase will take care of the rest.
It will search the internet and pull up the top results related to your keyword, allowing you to see what already exists in similar content topics.
From there, it will curate a content brief with suggestions on how to write about your chosen topic or keyword.
After writing your content, Frase allows users to compare their written content against competitors' and make changes accordingly before publishing it live online.
Using Frase offers users numerous benefits when optimizing their website's content for SEO purposes.
For starters, users can access various data points when creating original content.
This data includes competitors' content and other relevant topics related to their chosen keyword.
Additionally, by comparing their work against competitors' content after writing, users can refine their pieces further before publishing them live.
Get started with Frase.
What Is Jasper Ai?
Jasper AI is an all-in-one platform that provides digital creators with tools and features to save time and hassle when creating content.
It lets users quickly generate written content for their projects, making it ideal for entrepreneurs, agencies, and freelance creators.
One can also use its powerful artificial intelligence capabilities to brainstorm ideas and automatically generate creative solutions.
Moreover, Jasper AI makes it easy for users to quickly generate copywriting briefs that stand out, a feature Frase was traditionally known for.
Additionally, its robust database of existing content allows users to access high-quality material they can use to inspire their work.
Jasper's clean interface makes it easy for users to access all the features they need in one place without switching between multiple applications or searching through multiple tabs or windows.
Get started with Jasper.
A Side-By-Side Comparison
At its core, Jasper is a text generation tool that utilizes OpenAI's GPT-3 model.
For those unfamiliar with GPT-3, it is a natural language processing model that uses machine learning algorithms to generate human-like results.
It has become increasingly popular among developers as it can produce results quickly with minimal training data required.
As such, it is ideal for people who want to generate high-quality text without too much effort.
Frase is different than Jasper thanks to its reliance on a custom algorithm.
This algorithm allows users to create tailored results based on their specific needs, as one can fine-tune the algorithm to match different types of content.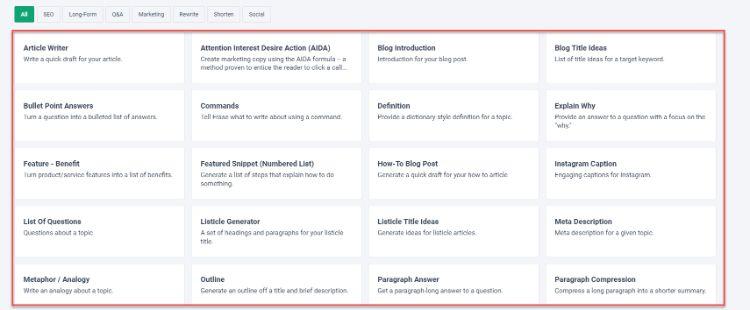 Frase also offers analytics capabilities that allow users to track their engagement metrics over time – making it ideal for marketers who need detailed insights into their content performance.
Jasper and Frase offer unique advantages depending on your individual needs.
If you're looking for quick and easy text generation capabilities, Jasper's GPT-3 model should be your go-to choice.
Frase's custom algorithm should be your preferred option if you want more tailored or analytical insights into your content performance.
Simplicity And Aesthetics
If you don't need all the bells and whistles and are looking for basic functionality, then Jasper AI could be just what you need.
Its no-frills approach allows users to focus on the task without being distracted by shiny features that may not even be relevant to their current project.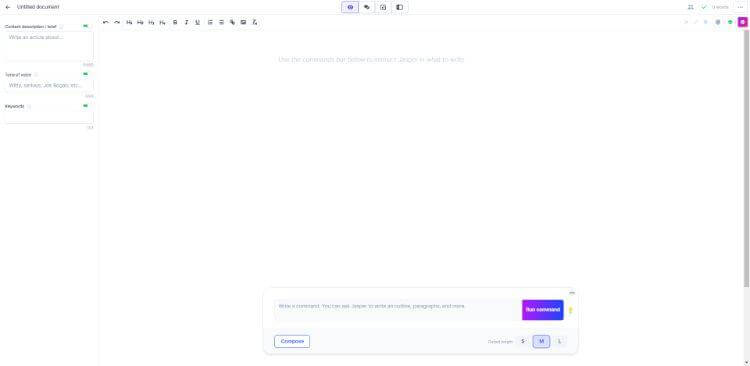 Jasper AI could be the perfect fit for content writers who want technology that does the job.
Whether writing a first draft or refining an existing piece, the AI writing assistant will help you write more efficiently and accurately without compromising quality.
On the other hand, if you prefer a bit more pizzazz in your digital experience, Frase might be the ticket.
With its vibrant colors and user-friendly interface, Frase combines powerful functionality with an aesthetically pleasing design to create an enjoyable atmosphere for users.
The Language Advantage Of Jasper
If your company does business in multiple countries with diverse linguistic backgrounds, the Frase.io vs. Jasper AI language comparison shows that Jasper is the better choice in terms of language support.
After all, the more languages your chosen platform can support, the more accessible your content is to potential customers worldwide.
In this regard, Jasper dominates the market; its impressive array of 25 languages gives it an edge over Frase, its closest competitor, with only 20 language support.
With Jasper, you don't have to worry about communicating effectively across different language barriers because better content is available at your fingertips.
Pros And Cons
Here are the pros and cons of the two platforms.
Frase
Pros
Frase offers an easy learning curve + intuitive UI system for users new to keyword research and much more.
Frase is an excellent option for content creators looking to incorporate SEO into their work.
The platform provides keyword research, optimization capabilities, and comprehensive analysis of existing content.
It also offers deep-dive analysis on topics related to your keyword research, allowing you to find relevant information to incorporate into your content quickly.
Frase also offers a range of templates that can help speed up the writing process while still incorporating SEO principles into the writing.
In other words, if you are looking for optimized NLP keywords, then Frase is a great tool.
Cons
Frase sometimes lacks factual accuracy, resulting in content that offers questionable insight.
Furthermore, it is limited in the number of answers its Answer Engine provides regarding the content on your site.
While this is a crucial feature, the fact that it only provides a limited number of answers can sometimes be an issue.
Said differently, it does not give you the full context that a search engine would provide.
Jasper
Pros
Jasper provides an excellent platform filled with templates alongside its Boss Mode capabilities, making it superior when curating unique pieces.
You can create blog posts, landing pages, or campaigns from scratch while using tools to optimize SEO.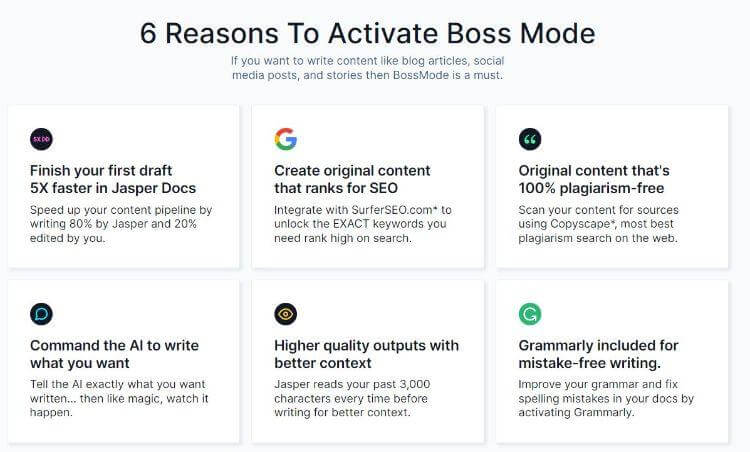 The Boss Mode feature enables users to create recipes (a sequence of reusable commands) without any coding experience or technical knowledge.
This feature makes it ideal for those with limited time or resources who still need an effective way to quickly and efficiently create quality content.
Jasper provides three- factor authentication giving users great security over their work and general privacy.
Cons
One of the cons of Jasper is that the team removed the unlimited plan from its roster, meaning that customers no longer have open-ended access to generating content.
However, despite this setback, Jasper AI (and its credit-based system) is still worth it due to its comprehensive features.
Which Is Best For SEO?
Both tools can help optimize your website and rank higher on search engine result pages (SERPs).
However, which one is better?
As an AI-driven tool, Frase helps maximize optimization efforts by providing crystal-clear insights into search trends and algorithm changes.
It also offers automated keyword research and content optimization based on user data.
Additionally, Frase offers users an NLP-optimized add-on that seamlessly integrates Copyscape into their workflow, allowing them to detect plagiarism in content quickly and easily.
Jasper is a powerful tool for optimizing websites for SERPs through the content created.
As a result, Frase and Jasper are more allies than competitors, offering great features to help improve your website's ranking on SERPs.
If you're looking for comprehensive insights into search trends, Frase takes the lead thanks to its AI-guided optimization feature and crystal-clear insights on search trends.
Then again, if you want easy content generation, Jasper might be the answer.
If you want the best outcomes, why not try out both?
Ultimately, choosing between these two tools largely depends on what kind of features you want in a device for SEO optimization.
Customer Service
Customer service is an essential part of any successful business.
Whether it's providing helpful tutorials, having a robust help center, or the convenience of submitting support tickets, companies like Frase and Jasper have done a great job in this area.
However, Jasper AI stands out above the rest regarding community engagement on social media.
Whether you want help regarding the content types you can create or in-depth details about SEO optimization, Jasper AI has you covered by creating an online community that allows customers and staff members to connect.
Users get quick advice from staff members and other customers through the Facebook group, which has over seventy thousand members.
The group is an excellent way for customers to ask questions, get advice from other users, and stay up-to-date on the latest product features and updates.
The Jasper team has created a more personal experience for those seeking help, which can be beneficial in building relationships with customers and brand loyalty.
In addition, with its BootCamp training, Jasper AI takes customer service to the next level by allowing customers to get answers directly from experts – before they even realize they have questions.
This training allows them to learn more about how the platform works, troubleshoot issues, and become more familiar with Jasper AI's products and services.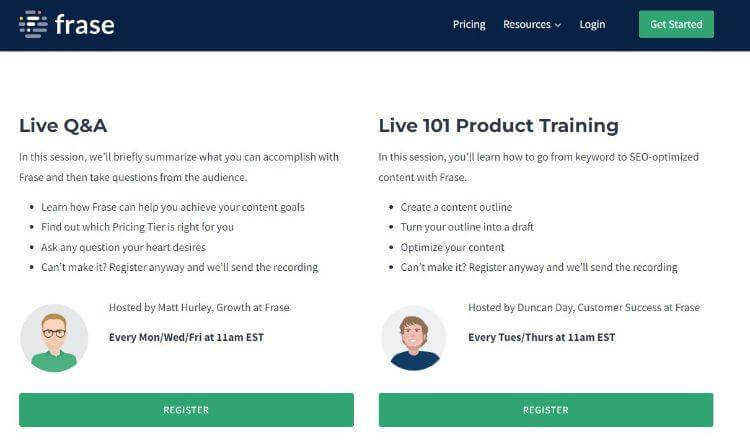 That said, Frase offers live Q&A and product training for its users to ensure they use the platform to its full potential.
Frase Io Features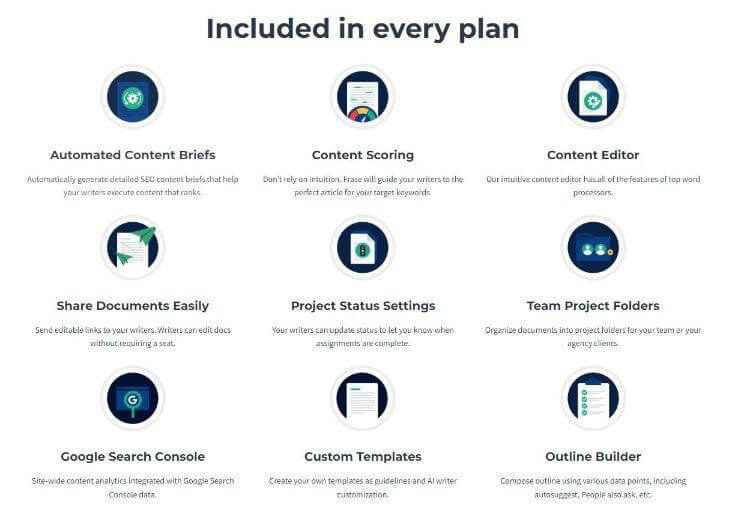 Here are some top features that make Frase.io stand out from its competitors.
Idea Recommendation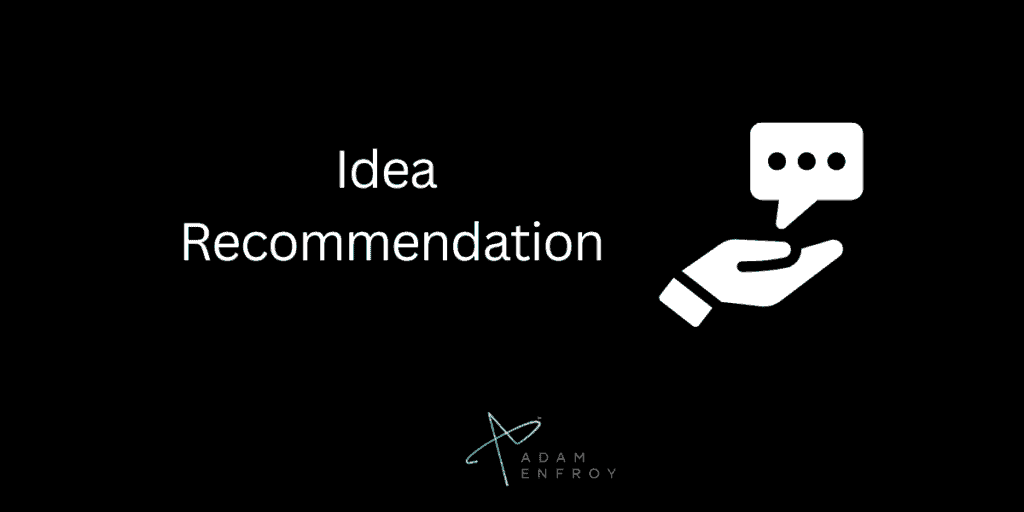 Frase is known for its ability to produce content briefs that are highly detailed and customized.
As you generate the right content for your writers, they can produce long-form content that resonates with readers and achieves the desired outcome.
Sentence Rewriter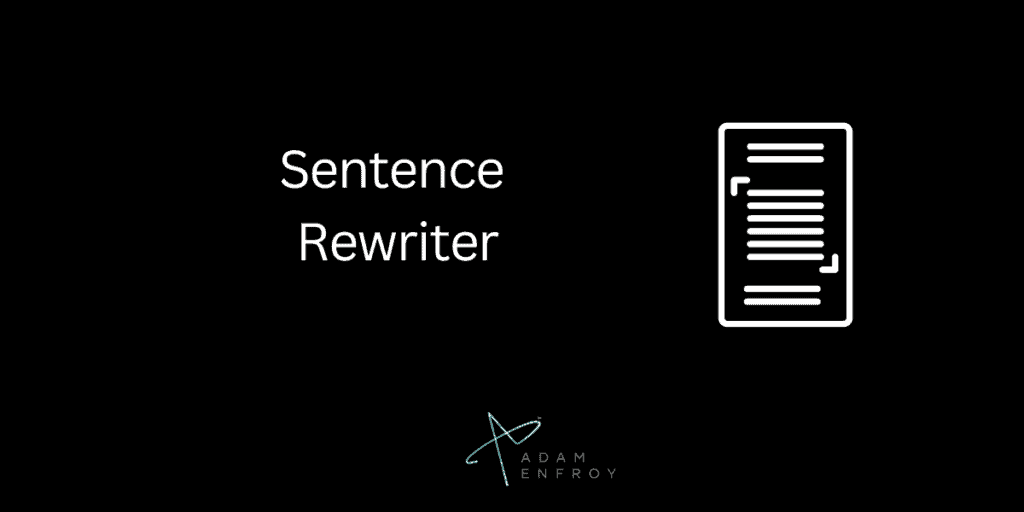 Sentence formatting is a process where you can quickly rewrite each sentence of your content for clarity, accuracy, and readability.
Getting your sentences to flow as you want them can be challenging, but Frase's Sentence Rewriter feature eliminates this issue.
It is an invaluable tool that helps writers craft better content without spending too much time on it.
SEO Auditing

With in-depth content analytics, you can easily track your website's performance in search engine rankings and identify any areas that need improvement.
One of the top SEO features of Frase is that it uses its inbuilt SEO tools to analyze your content and provide detailed recommendations on optimizing it for the best results.
As a result, Frase is an excellent choice for content marketing agencies looking to create SEO-optimized content, as it can help them achieve their goals in a much shorter time.
While this is an SEO add-on, learning how to use it properly can be worth its weight in gold.
Competitor Analysis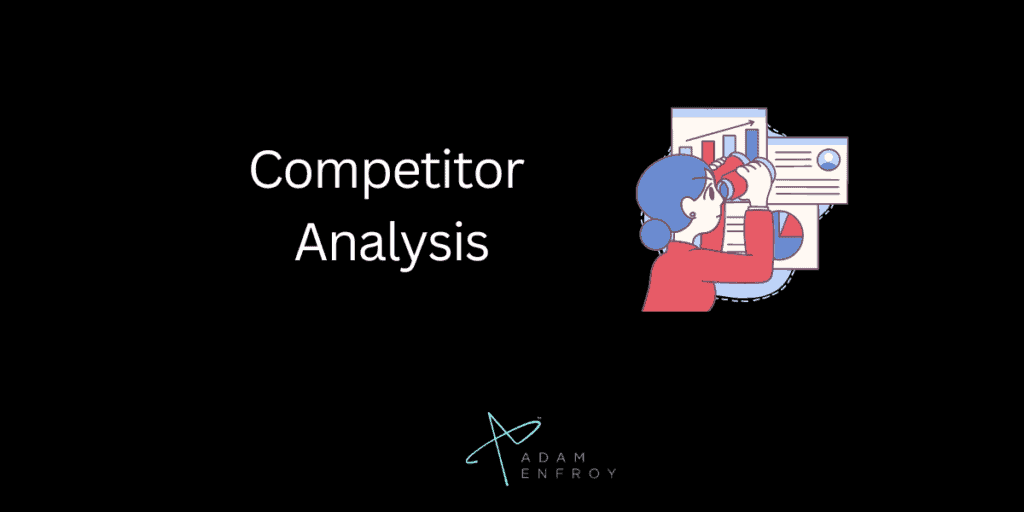 In addition to creating SEO content, you can see what others in your market are doing with Frase's Competitor Analysis feature.
If there are any quick SEO-optimized wins you can capitalize on, this tool will help you identify them.
Frase also helps create better headlines and descriptions for search engine optimization that mirror what's working for your given keyword.
You can integrate your Google Search Console with Frase to target search query terms and improve the ranking of your website in organic searches.
Google Search Console is a great resource when using AI content writing tools, as you can see which keywords your content is ranking for and how to optimize it accordingly.
SEO-Focused Training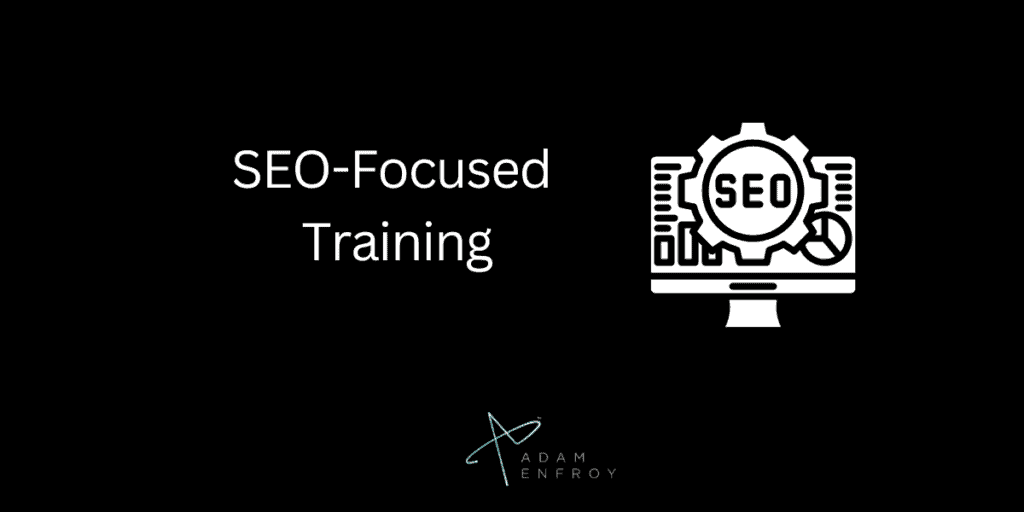 With Frase being a more specialized SEO optimization tool, it offers its users plenty of training materials to quickly get up to speed with all its features.
Whether you want to learn about search volume and how it affects keyword rankings or discover ways to optimize page titles for higher click-through rates, Frase delivers the resources you need to become an SEO expert.
Jasper Features
Here are some of the best features of Jasper.
Content Generation
Creating AI-generated content is the bread and butter of Jasper's capabilities.
With AI writing and long-form content creation tools, you can quickly create high-quality content for your website or blog.
Jasper should be your go-to solution if you have a content strategy for creating long-form content.
Paraphrasing
Whether you want to tweak an existing sentence or express it more creatively, Jasper provides powerful paraphrasing tools.
Various tools and templates make it easy to develop your unique writing brand.
Recipes
What if you could create repetitive commands that help generate predictable outcomes time and time again?
Recipes take AI content generation to the next level, enabling users to create and reuse workflows regardless of their writing experience.
This AI tool within Jasper helps create product descriptions, blog posts, and articles – more quickly and efficiently than ever before.
If there's a sequence to creating something, one can use (or create) recipes for it.
Then load the recipe you want to use in the content editor, and the platform will generate your desired content.
Languages
As far as AI writing tools go, creating content in multiple languages is one of the most powerful features of Jasper.
With more than 26 languages available, this AI writer will surely exceed expectations for those creating content in a non-English language.
Bloggers, freelancers, and marketers alike find the process of creating content for any audience worldwide something to look forward to.
Integrations
Two of the most used integrations with Jasper are Grammarly and Surfer SEO.
With Grammarly, you get accurate grammar correction and spelling suggestions while writing on the platform.
On the other hand, Surfer SEO helps optimize your content for better search engine rankings.
Competitors And Alternatives
Here are a few AI content competitors you might want to consider.
Copy.ai
Copy.ai is an AI-powered content-writing tool that helps you create copy quickly and easily.
This tool has a drag-and-drop interface which makes it very easy to use, and it comes with various templates for different types of content, such as web pages, emails, newsletters, etc.
Ryter
Ryter is another AI writing tool that offers text optimization, automated SEO analysis, and other advanced features created to help improve the quality of your content.
It also analyzes competitors' websites so you can gain insight into their digital marketing strategy and get ideas for improving your content.
Frase vs. Jasper Pricing
Frase AI's pricing is as follows: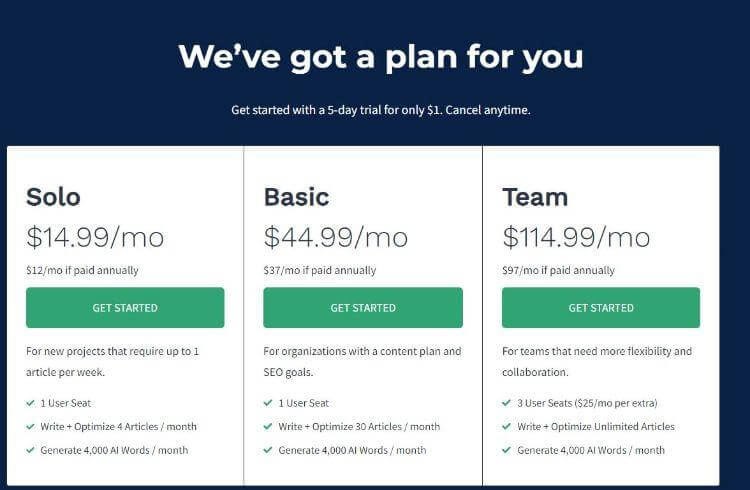 Solo – $14.99/mo
Basic – $44.99/mo
Team – $114.99/mo
The Team plan offers unlimited document credits, unlimited document sharing, three user seats, and more.
Jasper's pricing is as follows: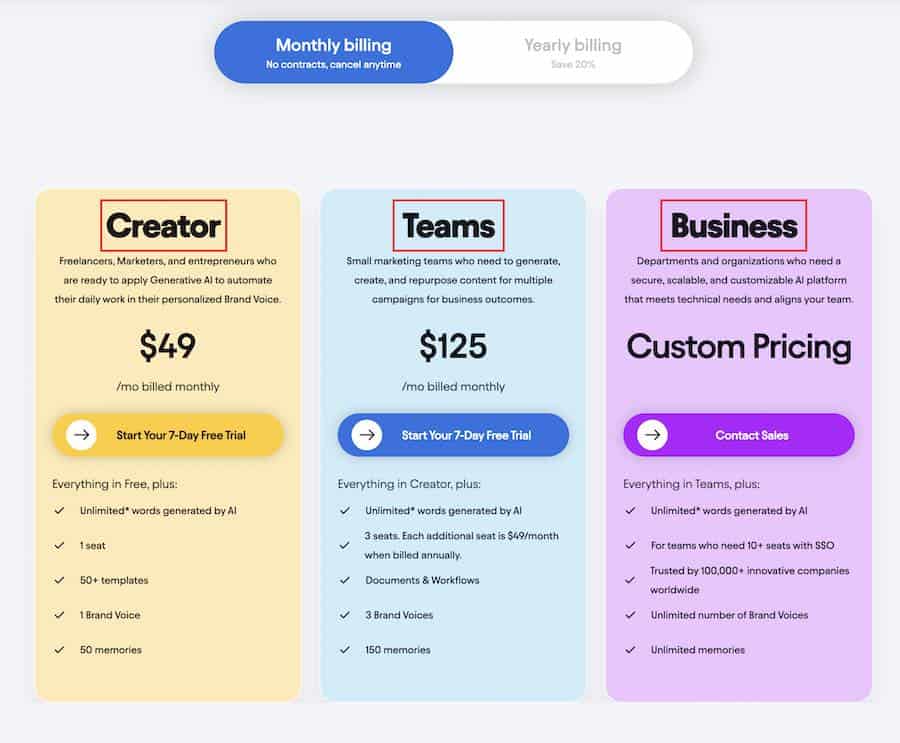 Creator – $49 per month
Teams – $125 per month
Business – Custom plans are available
Jasper offers an enterprise sales plan created with large businesses in mind if you want to use this AI copywriting tool more than the average user.
It has custom pricing, AI templates, various admin features, and dedicated account management support.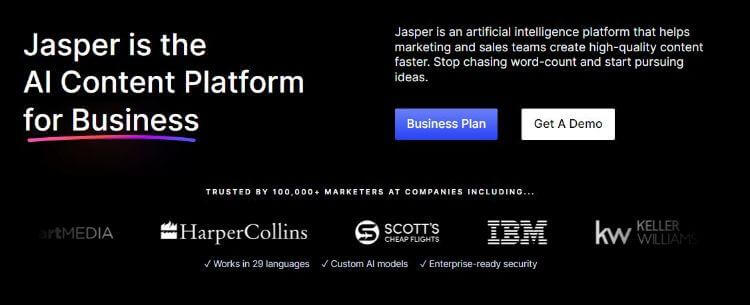 Furthermore, Frase AI and Jasper offer free trials, so you can test the platforms before committing to them long-term.
Critical SEO Mistakes To Avoid When Using AI Tools
Whether you use Frase, Jasper, or other SEO-related tools, there are several critical mistakes that businesses should be sure to avoid.
One of the most common is using too many keywords in your content, which can negatively affect your ranking.
Known as keyword stuffing, this practice is frowned upon by search engines and readers alike.
It can also result in a penalty from search engines, so it's essential to ensure you use keywords strategically and sparingly throughout your content.
Additionally, businesses should avoid using duplicate content, which can negatively impact their SEO ranking.
Duplicate content refers to either identical or similar text appearing on multiple pages of a website or across different websites.
Search engines prefer to reward unique content, so ensure your site's content is original and not copied from another site.
With duplicate content, the risk of cannibalization is also a factor.
Here, one page of your website can compete with another for a higher ranking in search engine results.
Cannibalization can lead to confusion and make it difficult for potential visitors to find the correct page.
Another critical mistake to avoid is not optimizing website images and videos.
Both of these can be incredibly important for SEO, as they can add context to search engine results and encourage users to click through.
Furthermore, neglecting mobile optimization is another critical mistake to avoid.
With more people using their phones than ever, site owners must optimize their websites for mobile devices to ensure a positive user experience and increase organic traffic from phone searches.
Frase.io vs. Jasper – FAQs
Does Frase Integrate With Google Docs?
Yes, Frase offers a Google Docs add-on allowing writers to export their content from the platform into a document quickly.
It also has a WordPress plugin that helps users that work with this CMS.
Jasper has fewer integration options but offers a Chrome extension that one can use for browser-based writing activities.
How Do You Ensure Your Headings Are SEO-Friendly?
The best way to ensure that your headers are SEO-friendly is to use an AI writing tool like Frase or Jasper.
Both tools make it easy to generate keywords and phrases related to your topic and create content around them.
Is The Monthly Search Volume For A Keyword Important When Doing Your Research?
Yes, the monthly search volume is vital in knowing if a keyword is in demand.
For example, this data provided by Frase helps writers determine which keywords they should use to optimize their content.
Doing the proper SERP research is essential to ensure your content ranks well on search engines like Google or Bing.
Wrap up
Whether you want to eliminate writer's block, ensure your SEO is on point, or generate high-quality content quickly, using the right AI writing tool can help you achieve these goals.
The answer to the Frase vs. Jasper debate depends on your specific needs and budget.
Frase is ideal for SEO-based content since it provides more in-depth analysis and keyword data.
Jasper is the better content creation and optimization option due to its easy-to-use interface and automation capabilities.
Editorial Process:
Our reviews are made by a team of experts before being written and come from real-world experience. Read our editorial process here.
Some of the links in this article may be affiliate links, which can provide compensation to us at no cost to you if you decide to purchase a paid plan. These are products we've personally used and stand behind. This site is not intended to provide financial advice. You can read our affiliate disclosure in our privacy policy.
---
Last Updated on May 19, 2023 by Adam Enfroy