Your Play-by-Play Guide to Sports Affiliate Programs (2023)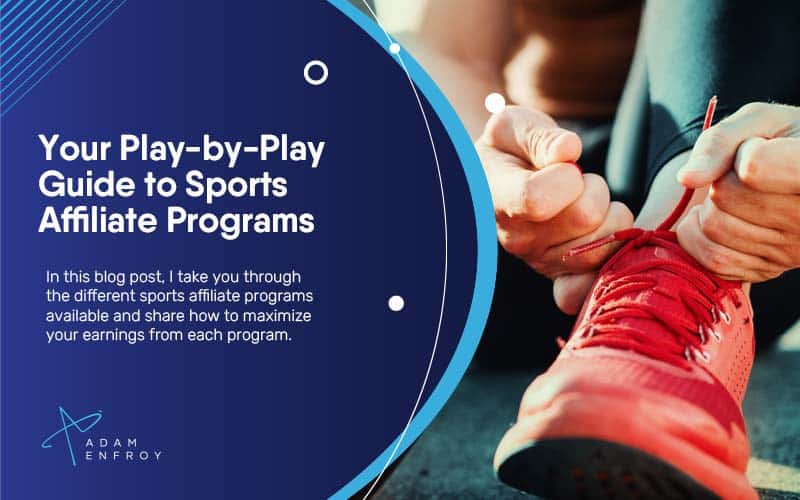 Have you ever sat on your couch, cold beverage in hand, cheering on your favorite team, and thought, "Boy, if I could make a buck for every time I shouted at the referee from here, I'd be buying the owner's yacht, not dreaming about it?"
Well, let's take a pause from your yacht dreams and set a course toward the goldmine known as sports affiliate programs.
In this blog post, I'll blow the whistle on monetizing your love for whichever sports you're passionate about.
I'll take you through various affiliate programs available, what to look for when choosing one, and how to maximize your earnings from each program.
Consider it your top-secret game plan, reviewing the various programs that can help you pivot from a passionate fan to a profitable sports affiliate.
What Are The Top Sports Affiliate Programs?
Here are some of the best sports affiliate programs available.
Fanatics

Fanatics provides an extensive range of fan gear for popular sports teams globally.
It is one of the leading sports retail partners and provides affiliate publishers with generous commission rates on sales.
Through their Fanatics Affiliate Program, affiliates earn 10% commissions by driving traffic to the site.
In addition to sporting events, the company caters to outdoor activities with its hiking and camping collections.
All you have to do is sign up for the program and receive your unique tracking link, which you can share on your website, blog, social media posts, or email campaigns.
Once accepted into the Fanatics Affiliate Program, you can start promoting their products and earning commissions.
It's crucial to ensure the products you promote are relevant to your audience and aligned with your brand.
For example, if you run a sports blog that discusses the latest NBA news, it makes sense to promote NBA jerseys and apparel on your website.
That way, your audience will trust your recommendations and be likelier to click on your affiliate link and purchase.
Sports Memorabilia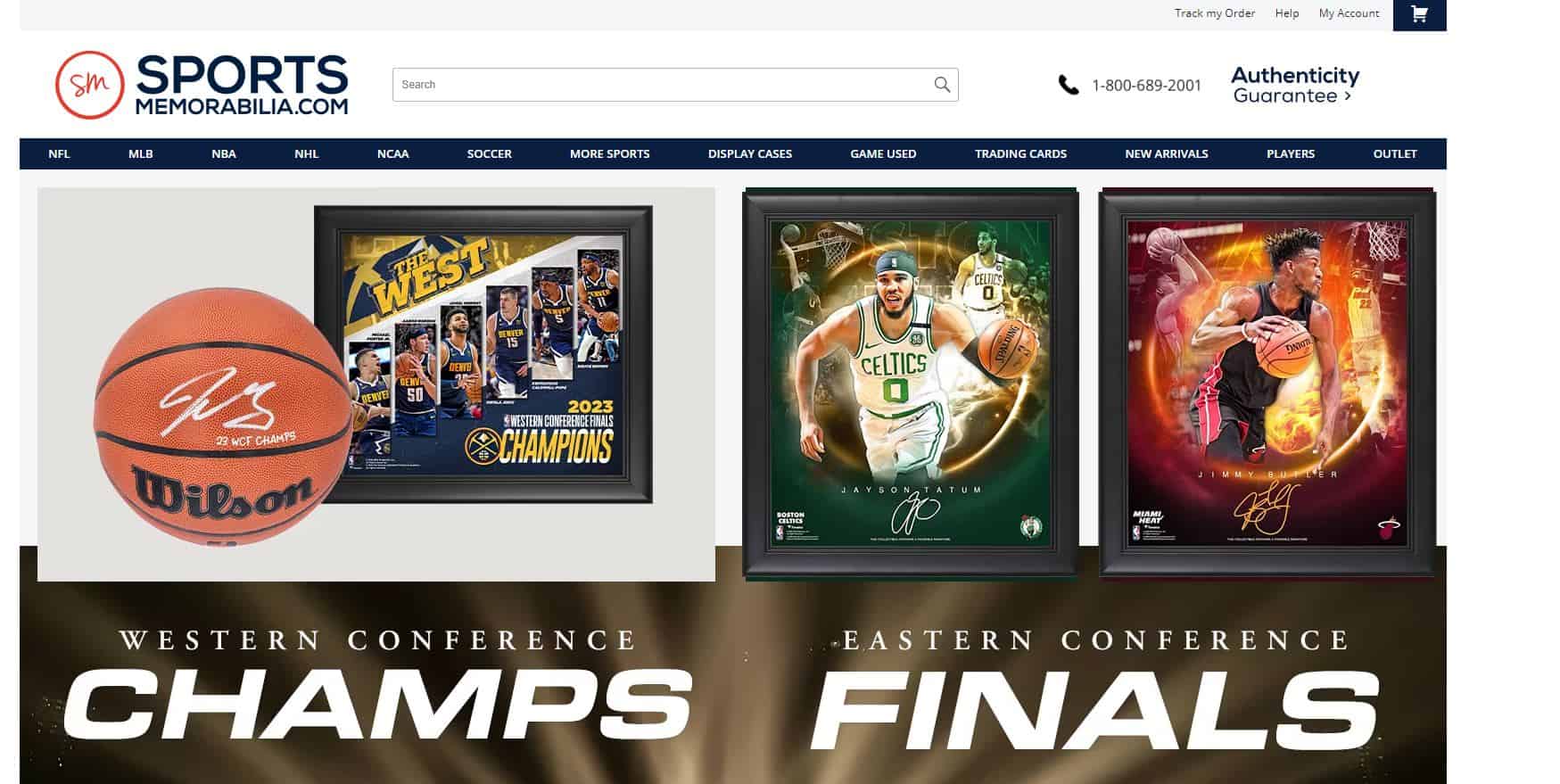 Sports Memorabilia offers genuine collectibles and game-used products, all with a rock-solid authenticity guarantee.
It is an authorized dealer for many of the biggest names and brands in sports, including autographed memorabilia from top athletes.
You can earn a commission as an affiliate marketer by promoting sports memorabilia products.
These products include signed jerseys, game-used sports equipment, and collectible cards.
Online sports memorabilia can be a lucrative sports niche for affiliate marketers due to the large following of sports fans.
With commission rates of up to 12 percent and a 30-day cookie life, the Sports Memorabilia affiliate program is a match made in heaven for any avid collector.
Moreover, their items come with a certificate of authenticity, proven to boost conversion rates, so you can be sure your audience will buy authentic sports memorabilia.
Total Gym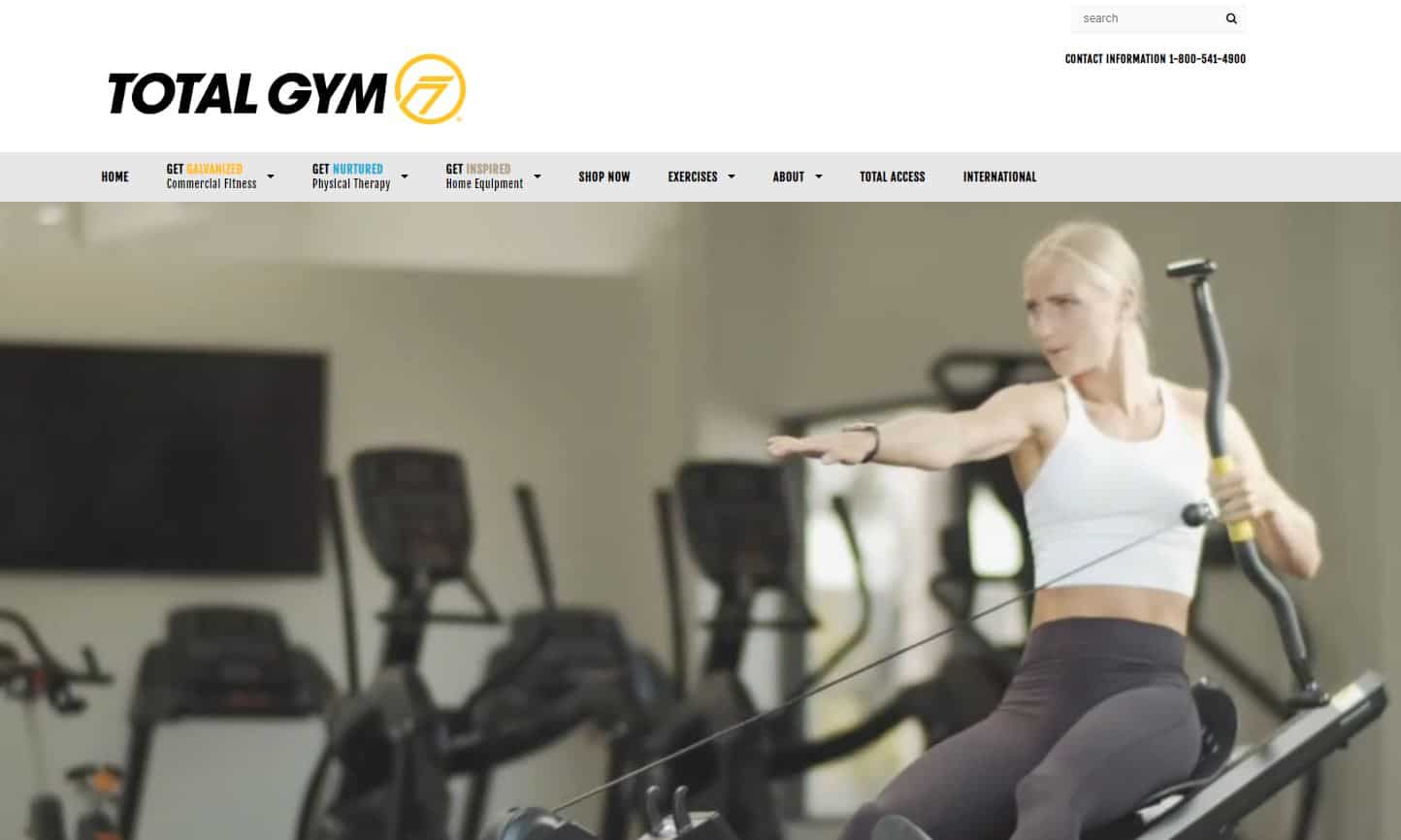 Total Gym is a leading brand in the fitness industry, making it a perfect fit for most sports affiliate programs.
In addition to fitness trackers, Total Gym offers official fan gear and sports apparel, allowing affiliates to cater to a broader range of consumers.
Total Gym has a dedicated affiliate management team available to help you every step of the way.
You can quickly sign up for Total Gym's affiliate program via Commission Junction and earn commissions immediately.
As an affiliate, you'll get access to high-quality banners, text links, and other marketing materials to help you promote Total Gym products effectively.
Plus, they offer prompt payments every month.
The Total Gym affiliate program offers excellent commission rates, which are 3% on DVD sales, 5% on core trainer sales, and 7% on home gym units sold.
With the increasing importance of fitness and sports in today's world, Total Gym's sports affiliate programs provide a lucrative opportunity for affiliates to tap into this market and earn generous
commissions.
By promoting Total Gym's products, affiliates can tap into the growing market for fitness trackers, helping athletes and fitness enthusiasts monitor their progress.
The Clymb

The Clymb is an online retailer specializing in sports and outdoor gear, offering exclusive deals up to 50-70% off MSRP.
With over 1,000 top brands and 1,500 new products added daily, you can find everything you need for your favorite activities- from apparel and shoes to equipment and accessories.
The Clymb offers a wide range of sports clothing for active sports fans.
By joining their affiliate program, you can make money online by promoting products catering to the growing sports industry.
With increasing numbers of sports fans looking to purchase quality merchandise, partnering with The Clymb can be a profitable opportunity for anyone interested in earning from their passion for sports.
TaylorMade Golf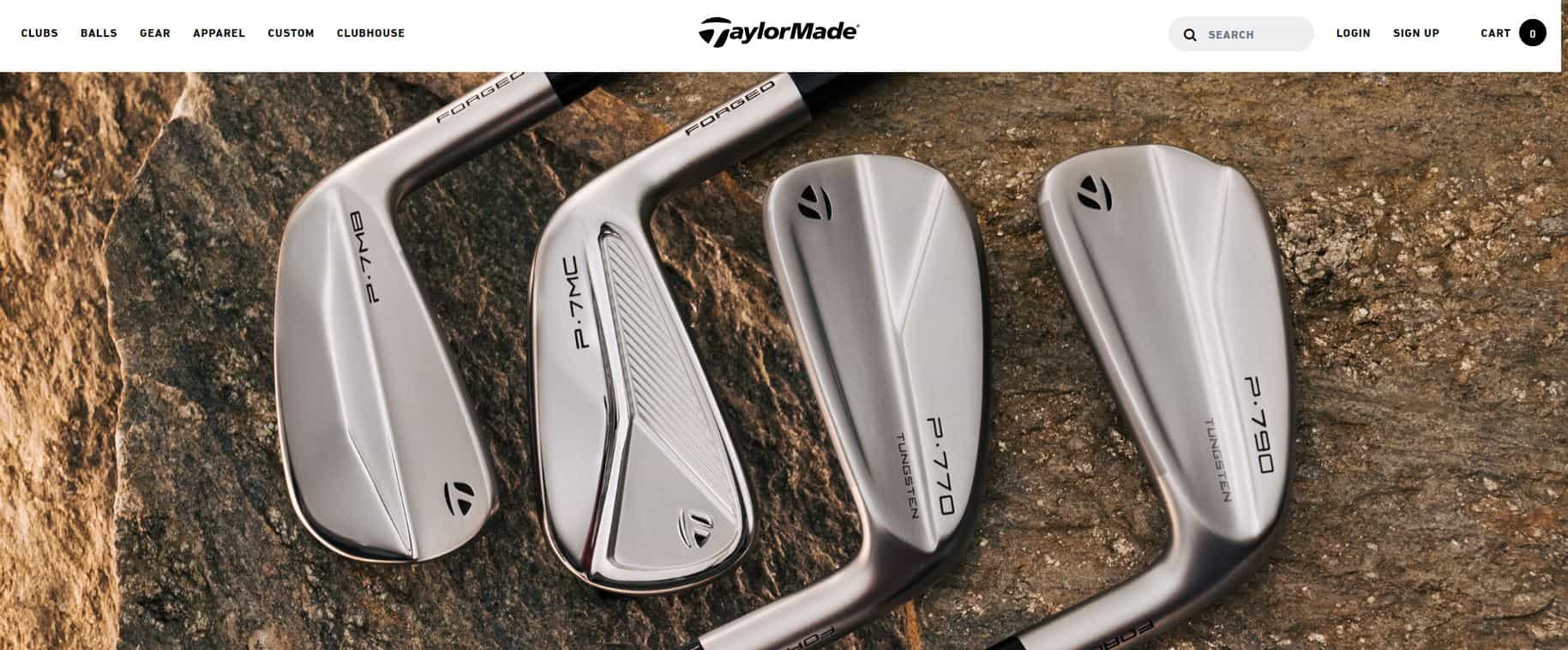 TaylorMade Golf is a brand that has revolutionized the entire golfing experience.
It all started in a converted warehouse, and now TaylorMade has become a household name for golf lovers.
The brand's popularity comes from its innovative technology, superior design, and exceptional quality.
The brand has become the favorite of professional golfers and amateur players.
TaylorMade has always prioritized innovation and design over its competitors.
The brand has developed special equipment like SIM irons, SIM drivers, and TP5 golf balls that have taken the industry by storm.
TaylorMade's commitment to research and development has helped them design and introduce new golfing equipment with cutting-edge technology, making them stand out in the market.
TaylorMade Golf offers a lucrative golf affiliate program for bloggers and website owners interested in promoting high-quality sports gear.
By joining this program, you can earn good commissions and associate yourself with one of the biggest brands in the industry.
JumpSport
JumpSport is one of the leading trampoline manufacturers and innovators in trampoline safety.
With their diverse range of products, strict safety standards, and lucrative affiliate program,
JumpSport's dedication to trampoline safety is unmatched in the industry.
Their patented trampoline enclosures help to prevent injuries, making their products a top choice for families and athletes.
JumpSport's product line includes high-quality and durable trampolines in various sizes and shapes, from mini trampolines to large fitness trampolines.
Not only are their trampolines perfect for exercise, but they're also a fun way to spend time with family and friends.
By promoting JumpSport's safe and entertaining products, you'll be doing your part in promoting a healthy and active lifestyle.
If you still need to decide whether to join JumpSport's affiliate program, consider that the company is a highly reputable company that offers a rewarding affiliate marketing program, allowing affiliates to earn up to 4% commission on sales with a 30-day cookie duration.
The cookie duration means that clicks that result in purchases within a month will count as sales to your account.
With JumpSport's high commission rate and lengthy cookie duration, you can earn substantial money while promoting a product you believe in.
Play Your Court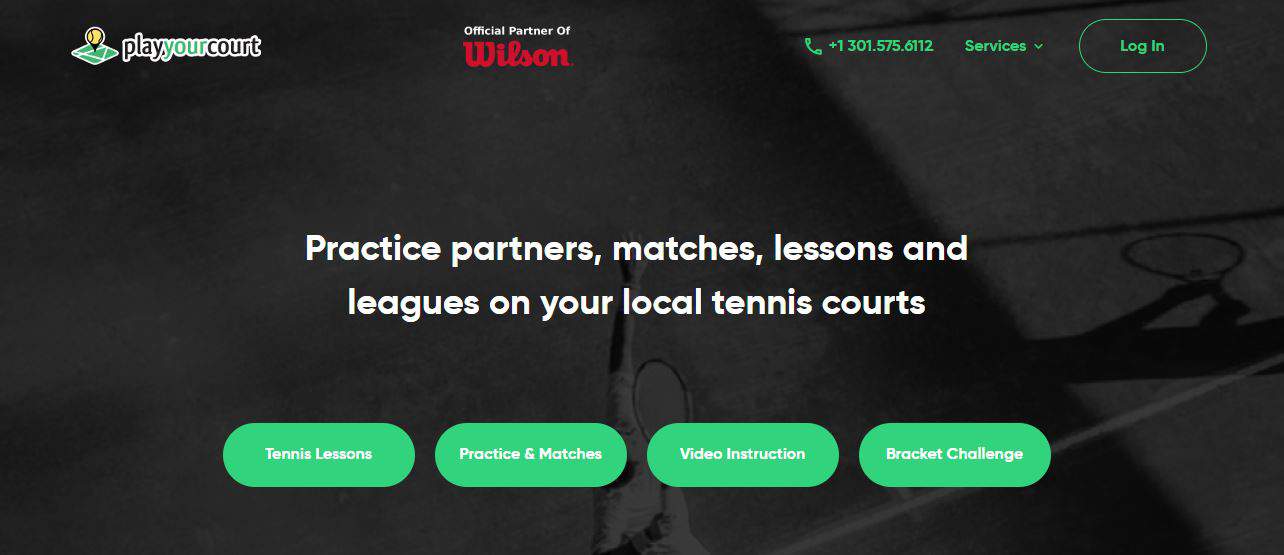 Play Your Court has provided personalized tennis coaching services since 2008, tailoring each session to the player's needs.
If you want to improve your skills and take your game to the next level, Play Your Court's certified coaches are ready to help.
Play Your Court's coaching services are personalized and rewarding, making them popular among tennis enthusiasts nationwide.
For those who are passionate about tennis and want to promote a quality coaching service, Play
Your Court's affiliate program may be the perfect fit.
You can earn $15 per sale as an affiliate, which is a great way to monetize your tennis-related website, blog, or social media platform.
The high average EPC of $139 means you can earn significant money with each sale.
One of the best things about Play Your Court's coaching services is that their certified coaches come straight to your local court.
Offering coaches means that players can learn and train in a comfortable and familiar environment without traveling to a distant training facility.
With Play Your Court's personalized coaching, players can learn at their own pace, focusing on specific skills and techniques that need improvement.
Whether you're a beginner looking to learn the basics or a seasoned player looking to hone your advanced skills, Play Your Court's coaches have the experience to help you succeed.
Play Your Court's affiliate program has a 90-day cookie duration, giving you plenty of time to convert potential customers.
The cookie duration means that even if a customer doesn't purchase on the first visit, you'll still earn a commission if they return to the site within 90 days and make a purchase.
Mountain Hardwear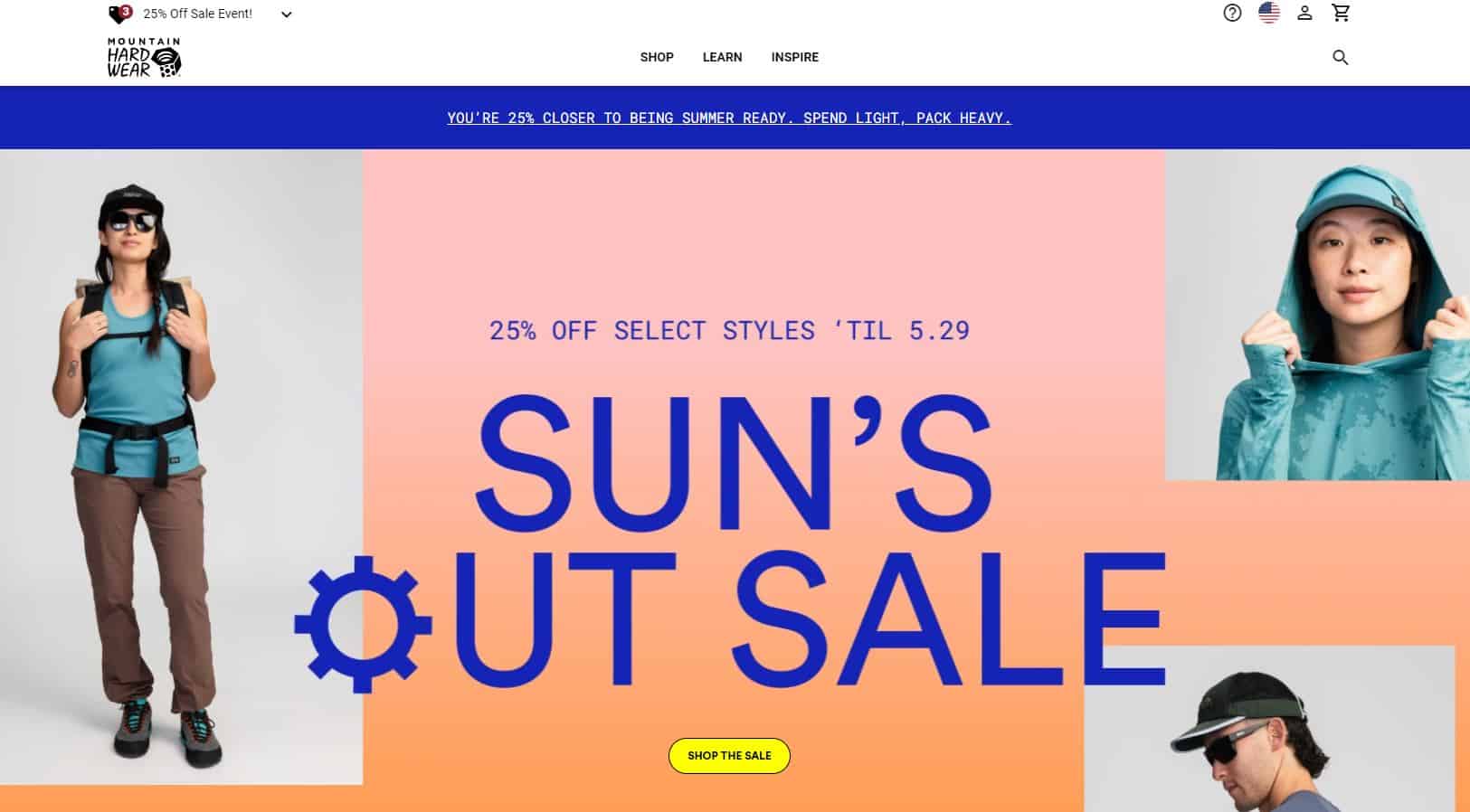 Mountain Hardwear is the ultimate one-stop shop for all your outdoor needs.
With high-quality and dependable gear for every adventure, they have everything you need to take on the great outdoors.
Mountain Hardwear offers an extensive selection of outdoor apparel and accessories, ranging from jackets, fleeces, and base layers to backpacks and sleeping bags.
Mountain Hardwear also caters to preppers who demand top-quality gear for survival situations.
They offer durable and reliable backpacks, tents, and clothing that withstand the most challenging conditions.
For sports and outdoor enthusiasts, they offer an outstanding affiliate program.
By joining the program, you can earn up to 8% commission on average order values of $140.
With an impressive EPC of $27.92 and a generous cookie duration of 21 days, you can enjoy earning passive income while exploring nature.
Mountain Hardwear also offers coupon codes to its affiliates, incentivizing customers to purchase through their affiliate links.
Affiliates can also access a product data feed, which includes detailed information on Mountain Hardwear's inventory.
Other Sports Affiliate Programs
While the programs mentioned above are some of the most popular sports affiliate programs, many other options are available.
Some of these include:
Adidas: As one of the most prominent players in the global sports industry, Adidas has an extensive affiliate program, offering generous commissions for promoting their products.
Amazon: Amazon also boasts a unique affiliate program with a wide range of sports products.
Under Armour: Under Armour's affiliate program is another popular choice among sports enthusiasts, providing commission on all sales referred through their platform.
Awin: Awin offers a unique affiliate program that allows publishers to connect with a vast network of sports brands, including Nike and The North Face.
Dick's Sporting Goods: Dick's Sporting Goods affiliate program is well-known for rewarding content creators and influencers for promoting their high-quality products.
Fitbit: Fitbit is another famous brand with a successful affiliate program, offering competitive commission rates for promoting its fitness tracking technology.
GoPro: GoPro's affiliate program is an excellent choice for content creators looking to promote their extreme sports cameras.
Nike: Nike's affiliate program is well-known for offering commissions on sales of its iconic sports products.
The North Face: The North Face, a popular outdoor apparel and gear brand, also has its affiliate program, allowing content creators to earn commissions by promoting their products.
There are also affiliate networks that offer access to a variety of sports brands.
Impact Radius is a leading affiliate network that connects publishers with various sports brands.
Shareasale is another affiliate network with a diverse range of sports brands.
Sports Affiliate Programs – FAQ
When Do Sports Affiliate Commissions Get Paid Out?
It all depends on the specific affiliate program you join.
The timeline of each program can vary; some may pay out directly after a sale, while others may offer payment every month or quarter.
A sports-related payout depends on the brand's policies regarding its payout.
A company with a 7-day cookie policy generally pays faster than a 60-day cookie policy as the period is shorter.
How Much Commission Can I Earn As A Sports Affiliate?
The commission you can earn depends on the specific program you join.
Some programs offer a flat rate for each sale, while others give you a percentage of sales generated through your referral link.
It's essential to consider the types of products offered, conversion rates, and more before deciding which sports affiliate program is right for you.
Are There Any Restrictions On The Types Of Sports Products I Can Promote?
Yes, some sports affiliate programs may restrict the types of products you can promote.
Please read the terms and conditions carefully before joining a program to ensure it fits your marketing strategy.
What Promotional Materials Are Available For Sports Affiliates?
Some sports affiliate programs may provide promotional materials for their high-volume affiliates, such as banners or pre-written emails that you can use to promote products.
How Can I Track My Success As A Sports Affiliate?
Most sports affiliate programs will provide an online dashboard to track sales and commissions earned from referrals.
What Is The Process For Joining A Sports Affiliate Program?
The process of joining a sports affiliate program will vary slightly from program to program.
Generally, you'll need to fill out an application form and provide basic information about yourself before being accepted into the program.
Are There Any Costs Associated With Becoming A Sports Affiliate?
No, most sports affiliate programs are free to join and don't require any upfront costs or fees.
Is Any Support Available For Sports Affiliates, Such As Training Or Mentoring?
Yes, some programs may offer additional support services, such as mentoring or training sessions, to help you succeed as an affiliate.
Be sure to check with your specific program for more details.
What Happens If A Customer I Refer Returns The Product – Do I Still Receive A Commission?
In most cases, you will not be eligible for commissions if a referred customer returns the product.
Can I Promote Sports Affiliate Products On Social Media Platforms Like Instagram Or Facebook?
Some sports affiliate programs allow their affiliates to promote their products on social media sites like Instagram and Facebook.
Be sure to check with your program for specific guidelines before proceeding.
Wrap Up.
Whether you are a tennis enthusiast, prepper, or outdoor lover, there is a sports affiliate marketing program for you.
With the proper research and dedication, you can find the perfect affiliate program to monetize your website, blog, or social media platform.
From choosing the right program to tracking your success, plenty of resources are available to help you get started.
Further reading on AdamEnfroy.com: The right fitness affiliate programs can complement a target audience interested in sports.
Furthermore, getting into high-ticket affiliate marketing can be a great way to make even more money online.
Moreover, the benefits are invaluable for those who understand how to promote and monetize their content.
Disclosure: I may receive affiliate compensation for some of the links below at no cost to you if you decide to purchase a paid plan. You can read our affiliate disclosure in our privacy policy. This site is not intending to provide financial advice. This is for entertainment only.