7+ Best Ways How to Sell on Amazon in 2023 (Seller Central, FBA)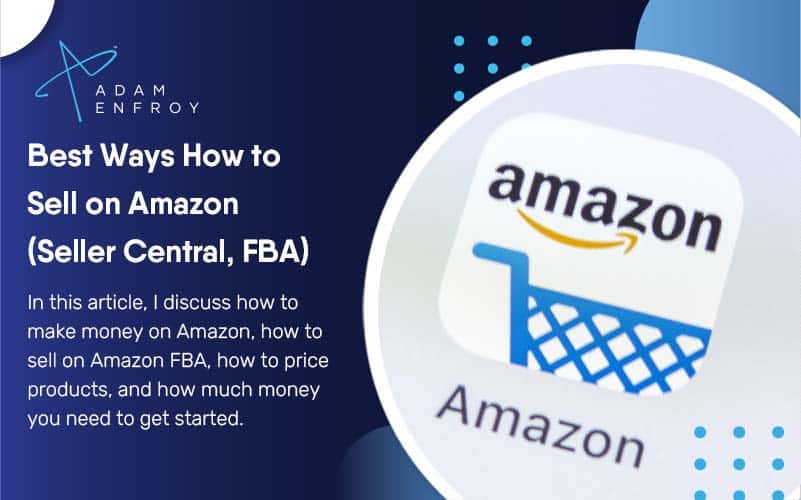 The global ecommerce market is expanding rapidly, and Amazon is at the forefront. Two day (or same day) shipping. Almost any product imaginable. A high-performing supply chain and logistics powerhouse. A company that makes sure to handle customer service. If you want to join this phenomenon and start learning how to sell on Amazon, keep reading.
As they say, in the end, if you can't beat em, join em. In 2018, Amazon's share of the US ecommerce market hit an unbelievable 49%.
Having built trust for over two decades and amassed 2.5 billion shoppers every month, Amazon, which is the world's largest online retailer, presents new ways to make money online for every seller that starts an ecommerce business.
In this article, we will discuss how to make money on the Amazon marketplace, how to sell products on Amazon FBA, how to price products, and how much money you need to get started.
Selling on Amazon FBA
Amazon FBA (Fulfillment by Amazon) is a program that allows you to sell on Amazon without having to fulfill orders yourself. Amazon will pick, pack, and ship your orders for you.
With FBA, you can also pay as you go, only being charged for inventory management tools and storage space and orders that Amazon fulfills. Plus, the ecommerce shipping costs are included in your yearly fees, with no extra charge for Amazon Prime free Two-Day Shipping.
One beautiful thing about selling on Amazon is that it is scalable. You can start small and step it up with time. With sales estimation software, you can anticipate your sales beforehand.
To get started, let's look into what you need to do to get up and running so you can start selling on Amazon.
How to Sell on Amazon
The first step to head over to Amazon Services, where you can sign up for an Amazon Seller Account.
Scroll down and click the link to get started.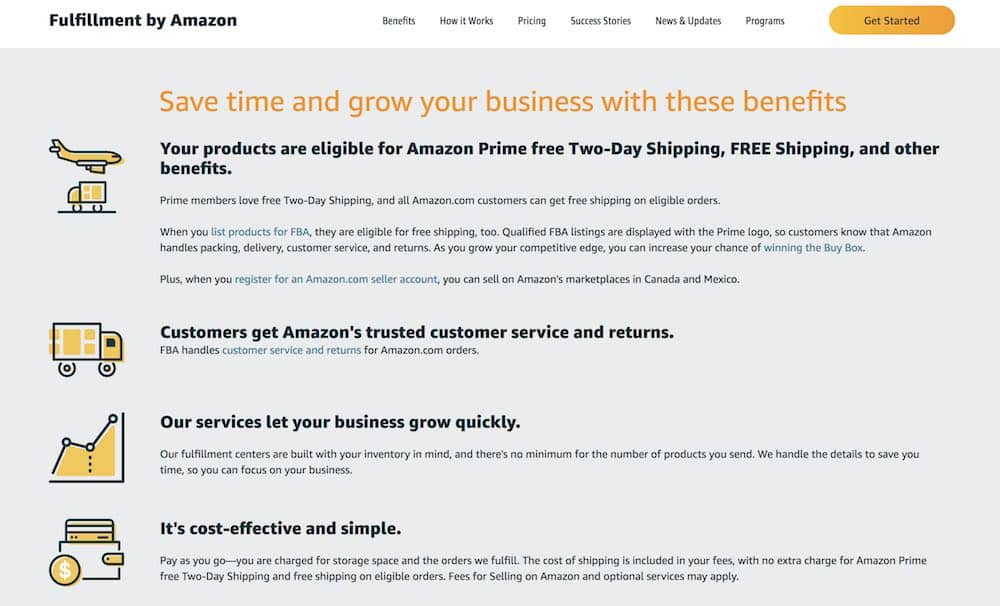 At this point, you decide if you want to "Sell as a Professional" where Amazon charges you $39.99 monthly or "Sell as an Individual" where Amazon costs you $0.99 for each sale you make. If you're starting and don't have a ton of deals under your belt, you can choose to get started as an individual.
You'll need to input information and enter a credit card with a company like Mastercard or Visa for international charges.
If you are outside of the United States, Amazon will request your local bank information. Note that precisely this local bank must support ACH for wire transfers.
You will also need your local phone number (bearing the allocated prefix of your resident country) as well as your home address for your mail.
Lastly, you would need a US Employer Identification Number (EIN) if you run an LLC or a social security number (SSN) for a sole proprietorship.
Now that you've gotten some necessary information out of the way, let's discuss precisely how Amazon FBA works.
How Does Amazon FBA Work?
As a seller, you first have to choose the type of product you'd like to sell online. Once you have products in mind, you add their details to your Amazon account, including product title, product description with relevant keywords, prices, product images, and other additional Amazon-specific product information.
Next, your listed items are prepared (boxed up) and shipped to an Amazon FBA warehouse.
Once your items are packed and shipped to Amazon, they will take care of the order fulfillment for you. Amazon first goes through a verification process to ensure your items were delivered correctly and in the right condition.
After this verification, Amazon activates your listings. Once activated, your seller name is visible on your new product detail pages where you can now sell your items.
These items are then stored in Amazon's warehouses until a buyer orders them.
When Amazon receives the order, they handle the fulfillment and can ship it as Prime Two-Day Amazon Shipping.
Generally, Amazon FBA first settles your account balance 14 days after you start, and you'll get paid every two weeks.
The most significant advantage of the Amazon FBA program is that you, as a merchant, don't have to focus on logistics software, returns, and customer service, and only focus on generating sales. Additionally, your Amazon business customers enjoy the benefits of Amazon Prime Two-Day Shipping. It's a win-win.
Now that we've discussed with Amazon FBA is, how to get started, and the benefits of joining, let's go over the total cost.
What is the Cost of Selling on Amazon FBA?
Selling on Amazon FBA is a pretty cheap option for getting your feet wet in ecommerce. If you're a professional seller and paying the $39.99/month, you can avoid paying the $1.00 per item fee. So typically if you're selling more than 40 items per month, you should join Amazon FBA as a professional seller.
Here is my advice. If you plan to sell 41 items or more monthly, it would be better to start with the professional seller account. But if you are going to sell less than 40 items monthly, you can go with the individual seller account.
However, there are also Amazon Referral Fees, which vary based on the type of items sold. For example, if you're selling books, Amazon will take 15%. If you're selling consumer electronics, they'll receive an 8% referral fee.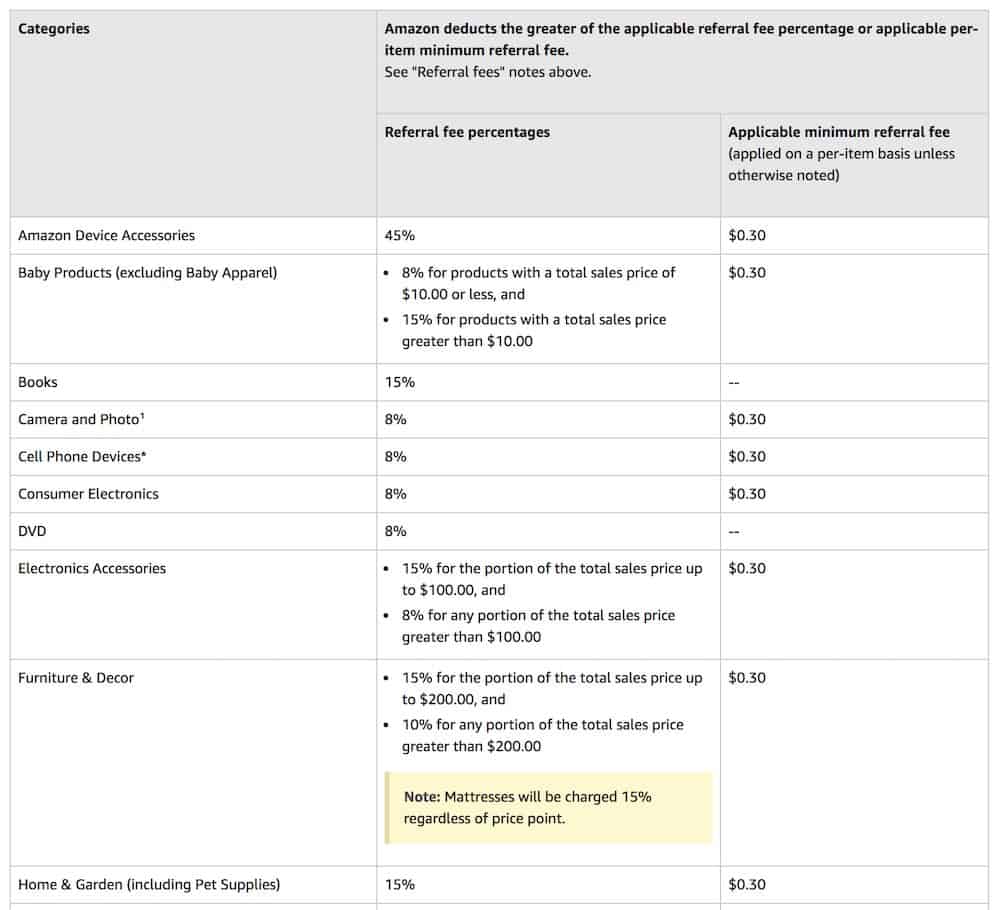 These FBA fees add up over time, which is why it's essential to calculate the costs and expenses you're paying to Amazon. While it's great to leverage their massive user base and get your products in front of more people, you need to have a selling plan.
I recommend using an ecommerce platform that syncs with your Amazon listings so that you can sell both from Amazon and your website. Plus, these platforms help you sell on Instagram, Facebook, and other channels, building your omnichannel marketing strategy.
How to Choose Products to Sell on Amazon
To a large extent, your profitability on Amazon is tied to the product category you choose to sell in and how well you can create a distinct brand. If you're selling simple commodities like kitchen utensils or paper products, it's going to be hard for your brand to stand out from the crowd.
You also need to become well-versed in Amazon SEO and do your best at listings optimization to rank higher when people search.
That's why it's crucial you understand private-label products.
Private label products are goods or services made by one company to be sold and branded by another company.
With private labels, goods can be created by third-party producers, which allow you to sell them under your brand name with your personalized logo.
As said, I would recommend the private label method. But why will I do that?
What Are the Benefits of Amazon Private Label Products?
1. Private label relieves you of the stress of sourcing products
Many sellers source multiple products from third-party sellers in small quantities. With private label, you can focus on obtaining a more significant amount of products.
2. Private label allows you to control the price
In the private label model, you are directly responsible for your Amazon listing. In arbitrage and wholesale selling, there is a tendency to undercut the competition. But in private label, you're more in control of the price.
3. Private label has a better ROI
With Amazon's private label, you can better predict your sales on the Amazon FBA program. When you have more control with your brand image, you get to dictate price and enjoy a stronger ROI.
Now, let's dig deeper into how you can identify the best products to sell.
How to Price Products for An Amazon Seller Central Account
The right product has a substantial profit margin and is also a product that fits your expertise and brand image.
One easy way to start generating product ideas is to choose a category you're interested in and check out the products where companies have a sponsored product listing. In these instances, you know that brands are willing to spend money on these products so that it may be a good indication of ROI.
1. Use Product Research Tools
Finding the right product to sell on Amazon also has a lot to do with your choice of product research tools. These product research tools enable you to filter through products identifying which best fit your chosen criteria.
Some of the best Amazon product research tools are Jungle Scout, AMZ Scout, and Unicorn Smasher.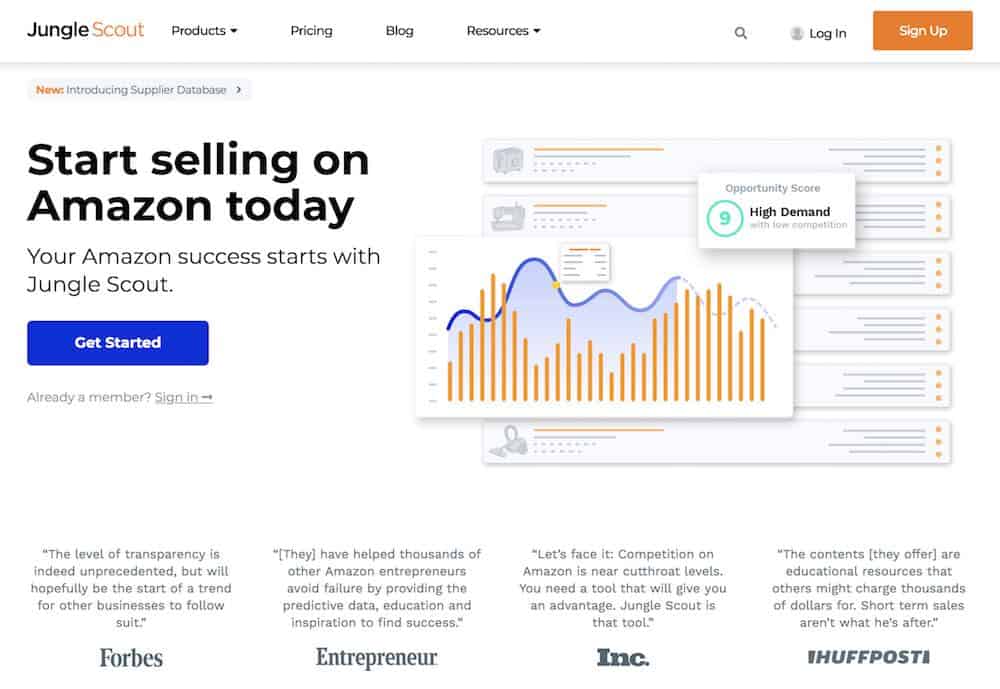 Many Amazon sellers make the mistake of either pricing their products too low or too high.
If your price is too high, buyers are likely going to be turned off and not purchase. If the price is too low, your brand's quality perception may decrease. Alternatively, you generate a lot of sales, but the profit margin is too small to maintain profitability.
2. Understand Your Gross Margin and Cost of Goods Sold (COGS)
If you understand your gross margin and cost of goods sold, you better understand the price point that makes you both competitive and profitable.
The gross profit margin is the amount you get when you subtract the cost of goods sold (COGS) from total revenue and then divide that number by total income. The top number in the equation is the gross margin – the total revenue once you subtract the total cost of goods sold (COGS).
In the case of Amazon, the formula looks something like this:
Gross Profit Margin = Total Revenue – Cost of Goods Sold (COGS) – Amazon Referral Fee
If you can maintain a 20-30% margin after all associated costs and Amazon selling fees, you are in good shape. So make sure to check your own product categories' Amazon referral fees and understand your COGS when finalizing your pricing strategy.
3. Keep an Eye on Your Competition
If you're selling in a competitive space, you can virtually sell at the same price or slightly lower than your main competitors.
One factor for a new seller to consider is Amazon storage fees. You can always drop prices in instances like these to ensure you're in good standing with Amazon.
There isn't a "Holy Grail" pricing strategy that accurately applies in every scenario on Amazon. Typically, before you adopt a pricing strategy for your inventory, it is best you experiment in a beta phase (with minimal risk) before wholesome assimilation. The key is to hit the balance between profitability and sustainability.
How Much Money Do You Need to Sell on Amazon?
You don't need a ton of money to start selling on Amazon.
There are five areas where you are most likely to spend money when you start selling on Amazon.
1. It begins with your inventory
By your beginning inventory, I mean the items you will start selling on Amazon. I have established before now that your beginning inventory can make or break your Amazon adventure. Therefore it is paramount you correctly identify the right products.
For the cost of your beginning inventory, anywhere from $150 to $500, is cool for a start. This way, you would have sufficient stock to keep you going for a while rather than just depleting your inventory too quickly and losing momentum.
Of course, your beginning inventory should have substantial profit potential. You can use the Amazon FBA calculator to estimate how valuable, such items would be in the long run, especially after Amazon takes off its operational fees. Another tool to use for such profit anticipation is the Amazon Seller App.
You can go with two or three copies of about 18 different items. This strategy can help you hedge your investment rather than pouring all your capital in one product that could potentially flop.
2. The cost of your Amazon account
As I have earlier pointed out, you will need to open an Amazon account where you will choose between a professional reseller account and an individual seller account. The professional seller account is your best choice if you are selling above 40 products – unlike the individual seller plan where Amazon takes $0.99 for every sale. The professional reseller account goes for $39.99 monthly.
So add this $39.99 to your starting budget.
3. The cost of UPC Codes
To sell on Amazon, you need to procure a standard barcode. This UPC is fundamental for the generation of an "FNSKU" – Amazon's proprietary barcode, which is a mandatory code printed on your product packaging.
To get your FNSKU, Amazon's TOS will demand a Global Trade Identification Number (GTIN) from you.
Some time ago, Amazon made modifications to their TOS procedure. These modifications stipulated that barcodes can only be acquired from GS1. This comes at an initial registration cost of $250 in addition to a $50 yearly renewal fee for about ten barcodes.
There is also the option of buying UPCs from third parties. However, this may not be the best path to follow as Amazon is making frantic efforts to clamp down on such third-party UPC acquisition.
4. Product photography
I can't overstate the power of having your own products with high-quality photos on Amazon. Today, people want to view high-quality images and experience something as close as possible to an Amazon store retail experience.
It is worth investing in good quality photography as your photos are one of the essential things that can increase product sales and conversion rates.
5. Company branding, trademark, and logo design
If you're a private-label Amazon seller, you will have to get a registered trademark.
Additionally, your branding should stand out. If you're starting, you'll still need a designer to create a company logo and Amazon image assets for you so that you give off a professional presence.
Other Factors To Consider
Running an Amazon business (whether it be a dropshipping one or FBA) requires entrepreneurs to do the proper research to sell the first product and beyond.
Beginners should definitely take their time to have a plan of action they will focus on when it comes to building their startup business, add listings, ship orderse, check inventory levels, get product reviews, and provide an all round customer experience that rocks.
While the process is simple once it's up and running, there are quite a few variables that you'll have to manually do before you can automate this business.
Small business brand owners also need to understand that Amazon selling and social media go hand in hand. In fact, marketing your products and increasing their own brand awareness on various networks ensures that creating a new listing will result in success.
Finally, FBA sellers should be monitoring the key metrics to ensure that customers are happy with the products they are getting. Customers vote with their wallets and bank account, as well as the number of refunds they request. Before you ship products out to buyers ensure that everything is as best as it can be.
Finally, when it comes to search terms on Amazon, ensure that you are constantly tweaking your listings to the best of your abilities. You can also use templates to make this process even more straightforward.
Summary
If you can't beat em, join em.
If you're looking to start selling online, a safe bet is to join Amazon FBA and tap into a vast customer base. As Amazon just increased its Q4 2018 profits by 20% year-over-year and brought in $72.4 billion, the market is more significant than ever and still growing.
So do some product research and get started with Amazon FBA. It's a great way to test out product ideas with little risk and sell directly to your loyal Amazon customers.
More Resources on AdamEnfroy.com: Check out my articles on the best ecommerce platforms, how to sell on Facebook, and the best fulfillment services to handle Amazon shipping.
Moreover, consider that getting traffic to your Amazon store is key.
To that extent, marketing your Amazon store on Twitter can be very beneficial.
Disclosure: I may receive affiliate compensation for some of the links below at no cost to you if you decide to purchase a paid plan. You can read our affiliate disclosure in our privacy policy. This site is not intending to provide financial advice. This is for entertainment only.