How to Go Live on TikTok (Guide for 2023)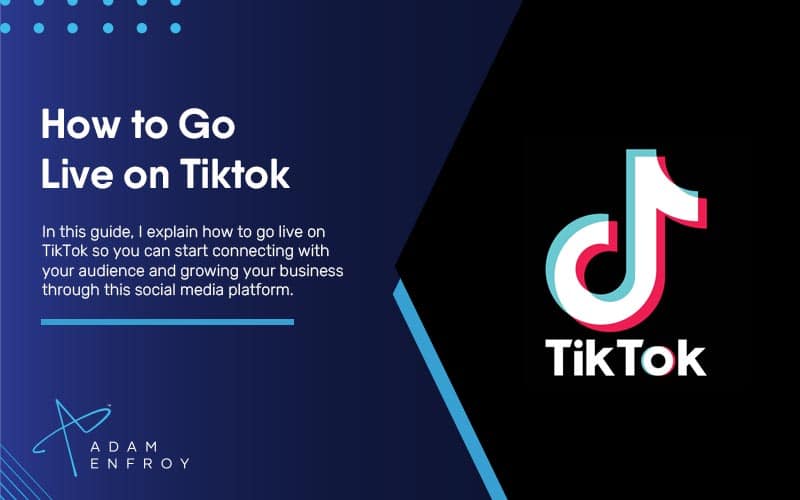 When it comes to social media marketing, there are many options out there.
One of the newer and more popular options is TikTok.
TikTok has quickly become one of the most popular social media platforms, with over 1 billion users.
If you're not familiar with TikTok, it's a social media app that allows users to create and share short videos.
Particularly popular with younger audiences, this platform is an attractive website for brands and businesses that want to make money through TikTok.
One key feature of TikTok is the ability to go live.
This allows you to connect with your audience in real-time and build a connection with them.
With live streaming becoming a $184.27 billion industry by 2027, there's never been a better time to start using it for your business.
In this article, I'll show you how to go live on TikTok so you can start connecting with your audience and growing your business.
Keep reading if you're ready to get started.
Requirements To Go Live On TikTok
These are the requirements you need to meet before going live on TikTok.
Download And Install The App.
The first thing you need to do is download and install the TikTok app on your mobile device.
You can find it in the App Store (for iOS devices) or Google Play store (for Android devices).
While you can create a live video on TikTok using a laptop or desktop (more on this later), the easiest way to do it is with a smartphone.
Double-Check That You Are Allowed To Go Live On Your TikTok Account.
There are a couple of conditions that must be met before going live on TikTok.
First, you need to be over 16 to do so.
When it comes to age, it's also good to know that you have to be at least 18 years old to both receive and send gifts during a live stream.
One can later convert these offerings to cash on the TikTok platform.
The next condition is related to your follower requirement.
You must have at least 1,000 followers.
This is to prevent spam and ensure that only quality content is streamed.
Those are the two primary requirements – if you satisfy both of those, you're good to go.
How To Start A Live Stream On TikTok
Now that you know the requirements for going live on TikTok, let's look at step-by-step to start a live stream.
Step 1: Click the + icon at the bottom of the screen
Step 2: Open your camera
Step 3: Add a live stream title – you only have 30 characters here, so use this space wisely
Step 4: Select a cover photo. Choosing a relevant and visually-appealing image can help you attract more viewers.
Step 5: Tap on the Go Live button.
Step 6: You'll get a three-second countdown before your live stream starts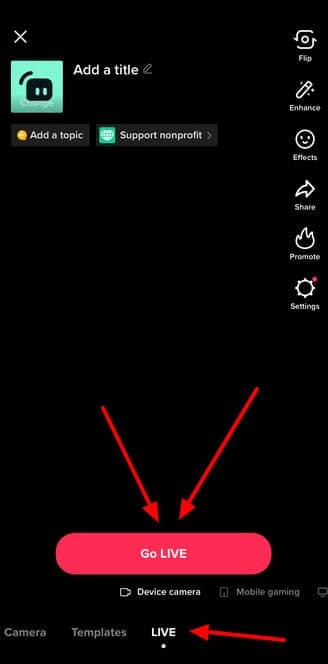 And that's it. You're now live on TikTok.
How To Go Live On TikTok Using Third Party Software
While the above method is the easiest way to go live on TikTok, other options can be helpful in certain situations.
The first option is to use an emulator to run the TikTok app on your computer.
This essentially allows you to use the app on your laptop or desktop.
One popular emulator is Bluestacks, which you can download for free.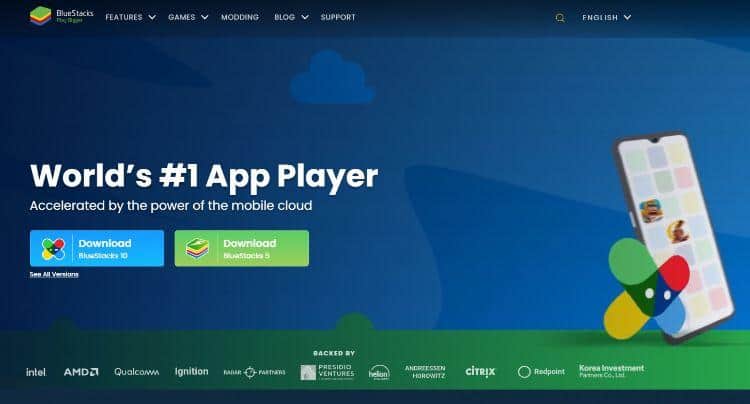 Once installed, open the emulator and search for 'TikTok' on the store of the mobile version you're running.
Once you find it, install the app and follow the steps above to go live.
Another way to access TokTok live is to use a tool like ReStream.io.
This streaming software allows you to go live on multiple platforms simultaneously, including TikTok.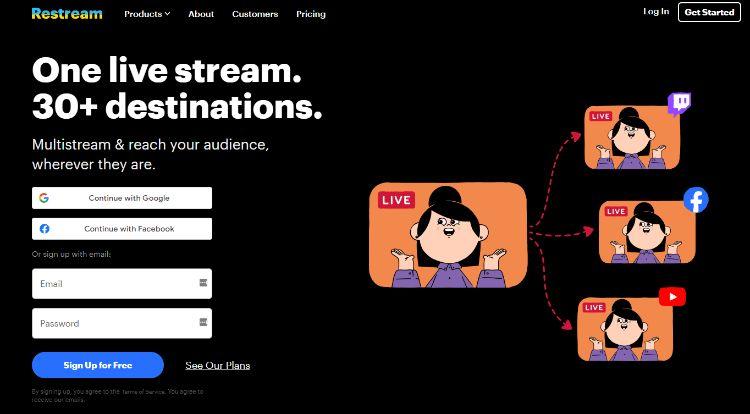 You'll have to create a custom RTMP channel that allows you to stream to TikTok.
While this is slightly more complicated than just going live on your phone, it might be worth considering if using a laptop or computer is a more convenient way to stream directly to your audience.
Top Reasons To Go Live On TikTok
There are various reasons why you might want to go live on TikTok. Here are some of the top ones.
Live Streaming Is A Growing Industry With Immense Potential.
Going live on TikTok allows you to connect with your audience in real-time and build a connection with them.
This is becoming increasingly important in the social media landscape, and it's one of the main reasons why live streaming is such a growing industry.
It's A Great Way To Show Your Brand Or Business To A Broader Audience.
New viewers can discover you through your live stream and get to know what your brand or business is all about.
You can also use live streaming to answer questions or give advice to your viewers.
Live Streaming Is A Great Way To Engage With Your Audience And Get Feedback From Them In Real-Time.
Feedback is essential for businesses, and live streaming allows you to get it in the most direct way possible.
You can use this feedback to improve your products or services and your overall strategy.
You can also use this feedback to promote products or services better or generate leads for your business.
Earn Gift Points
The ability to monetize your live stream is one of the main reasons people go live on TikTok.
You can use this platform to earn gift points that are then converted to cash.
This is a great way to make extra money to help you support your business (more on this in the next section).
Monetizing Your TikTok Live Streams
While going live on TikTok is a great way to engage your audience, you can also make some money from your live streams.
Here are some of the ways you can monetize your TikTok live streams.
Monetize With TikTok
There are a few ways you can monetize your live streams with in-built TikTok features.
Creator Fund
When you satisfy specific requirements, you will be eligible to get a piece of the TikTok pie that's there to help content creators earn money.
These are some of the conditions in question:
You must be 18 years or older
You must have at least 10,000 followers
You must have at least 10,000 views over the last month
You must follow the community guidelines that TikTok provide
Once you satisfy these conditions, you'll have to apply to become part of the creator fund, which you can do directly from your TikTok app.
Creator Marketplace
You can be matched with brands looking for content creators as a creator.
When you find a brand that can sponsor you, you can start working with these brands to create content.
If you hit the requirements for this type of sponsorship, you should receive a direct invitation on your TikTok app.
Video Gifts
If you opt to join 'Creator Next,' which is another monetization method, you'll have the option to receive gifts from your viewers.
Based on the popularity of your TikTok videos, you'll be able to get Diamonds, which one can then turn into cash.
It's good to note that not all videos are eligible to receive Diamonds.
Live Gifts
Similar to video gifts but only applicable when you access TikTok live, you can send and receive gifts from your viewers while you live stream.
The more popular and valuable your live stream, the more gifts you're likely to receive.
One can also then turn these into cash.
Tips
You can also receive tips directly from your viewers during a live stream.
To encourage your viewers to tip you, try and interact with them as much as possible and give them a reason to do so.
Advertise With TikTok For Business
If you have a TikTok business account, there are several ways you can use it to monetize your live streams.
TikTok for business offers a few features that can help you make money from your live streams, such as:
In-feed video ads: These are short, skippable ads that appear between videos. You can run these ads before, during, or after your live stream.
Branded hashtags: You can create a branded hashtag for your live stream that viewers can use to find your stream. This is a great way to promote your live stream and get more views.
Brand takeovers: With brand takeovers, you can let a sponsor take over your live stream for a short period. This is a great way to get more exposure for your live stream and make some money.
Branded effects: You can use branded effects to make your live stream more visually appealing and promote various brands.
Improving Your TikTok Streams
Now that you know how to go live on TikTok and monetize your live streams, it's time to up your game and make it even better.
Here are some tips to improve your TikTok live stream.
Do Not Use Banned Words
When you use the live feature on TikTok, certain words are banned, and if you use them, your account could be suspended.
Sometimes, it's easy to slip up and use one of these words during a live broadcast without realizing it.
To avoid this, it's best to familiarize yourself with the list of banned words on TikTok and avoid using them in your live broadcasts.
Have A Set A Schedule
As with other social media platforms, users can start to follow you on TikTok if they like your content.
Once they do, and to ensure that your followers don't miss any of your streams, it's best to set a schedule for your live broadcasts.
Having a time slot where you always go live will let your followers know when to tune in.
Know What You're Going To Talk About
Before starting a live event on TikTok, it's essential to know what you will talk about.
If you start rambling about random things, your viewers will quickly lose interest and stop watching.
Having templates that you can use depending on the marketing strategy you're following will help you stay on track and also keep your viewers engaged.
Engage Your Audience
Irrespective of how many followers you have, it's essential to engage with your audience when you're live.
Answering their questions, reacting to their comments, and generally interacting with them will make your live stream more enjoyable for you and your viewers.
And as a bonus, it will also help you build a closer relationship with your followers, leading to more views (and even tips).
Don't Go On Forever
The live option on TikTok is excellent because you can go on for 60 minutes if you need to.
However, that doesn't mean you should do so.
Your viewers will quickly get bored if you drag on for too long, and you might lose followers.
Check Your Internet Speeds Before Streaming
Having a steady internet connection is crucial for any live stream.
If your internet connection is slow or keeps dropping, your live stream will be interrupted, which can be very frustrating for your viewers.
A successful live stream depends on ensuring that your wifi is working correctly and checking your internet speeds before going live.
Use A Stream Title That Makes Sense For Your Viewers
A live session allows you to set a title for your broadcast.
This is a great way to let your viewers know what your stream will be about.
TikTok users that see an exciting title are more likely to tune in and watch your stream.
Have Moderators In Your Streams
While the ability to filter comments is a great feature, it's tough to do this as you are live streaming.
Having moderators in your streams can help keep the trolls at bay and ensure that only appropriate comments are visible to your viewers.
Use Good Lighting
A modern iPhone or Android phone should have good enough cameras – meaning that you don't need extra lighting, as long as the room you're broadcasting in is well lit.
In addition, the camera angle you use can have a significant impact on how well your live stream looks.
You can also use a ring light to help improve the lighting for your live stream if you want to take things to the next level.
Remove Background Noise
Live content requires that you are in the moment and present with your audience, which can be difficult if there's a lot of background noise.
Before hitting the record button, listen to your surroundings and try to remove any distractions or background noise.
Finding a quiet place to get ready to go live also helps you mentally prepare for your live stream and gets you in the right headspace.
Wrap Up.
If you've been on the fence about whether or not to go live on TikTok, I hope this guide has helped you decide.
Going live is a great way to connect with your followers and grow your audience.
Remember to be prepared, engage with your viewers, and have fun in the process.
Further reading on AdamEnfroy.com: Want to manage your social media accounts in one place? Check out my post on the best social media management tools.
You can also learn more about the best community platforms if you're looking to build an online presence.
Disclosure: I may receive affiliate compensation for some of the links below at no cost to you if you decide to purchase a paid plan. You can read our affiliate disclosure in our privacy policy. This site is not intending to provide financial advice. This is for entertainment only.