Best Time To Post On YouTube (Days & Times in 2023)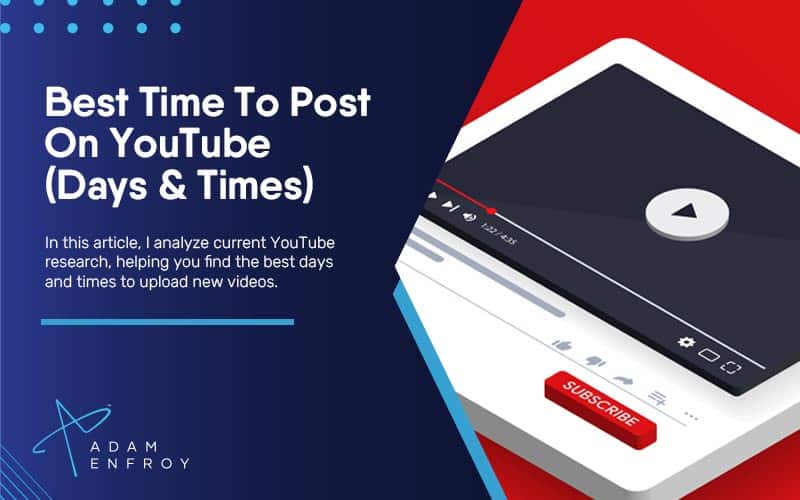 Knowing when to post your videos can help ensure they get seen by the right audiences and result in more views, subscribers, and engagement.
In addition, plenty of companies have done research that sheds light on the best days and times to post a YouTube video, so you won't have to guess and test it out from scratch.
In this article, I'll review and analyze this research, helping you find the best days and times to post on YouTube to maximize your video marketing efforts.
Whether you want to start a YouTube channel or monetize a channel that already exists, here's all you need to know.
What Various Companies Are Saying
Here are some solid conclusions regarding the best times and days to post on YouTube.
Boosted
Boosted claims that the ideal times to post a video on YouTube are Sunday at 11 am or 5 pm to ensure maximum engagement and full attention.
If you post later, do so before 9 pm, as those hours are almost always more engaging.
For those who prefer to target American viewers during weekdays, 8 am EST is a great time to get your viewers ahead of a workday morning grind.
Frederator Networks
According to Frederator Networks' findings, the best times to post on YouTube are Fridays between 6 pm and 9 pm, Saturdays between 3 pm and 6 pm, and Sundays between noon and 3 pm.
Social Video Plaza
Social Video Plaza believes the best time to post a video on YouTube depends on the audience.
After all, different audiences have different times when they are online and most active.
To ensure that your videos get the maximum possible viewership, consider checking your analytics to see when people view them.
Beyond this, Social Video Plaza suggests posting 15 minutes past the hour rather than at the top of each hour.
Doing so helps avoid getting lost in all the notifications sent out by other channels.
Social Pilot
Social Pilot suggests releasing videos between 2 and 4 pm CST or EST on weekdays, giving Google and YouTube the needed time (i.e., hours) to index them.
However, weekend viewer behavior is different; users are far more likely to be active in the afternoon.
To make a difference, you should upload videos on weekends in the morning (i.e., 9-11 EST).
LYFE
LYFE says the best time to post a video is two hours before its channel's prime so it can reach maximum viewership.
To find your channel's peak watch time, you can go to YouTube Studio and click "Analytics" and then "Audience" to see the desired report.
If you only plan on uploading one video per week, choose the day with the dark purple bars; if there are multiple days with similar bar lengths, select the day of the week with slightly lighter purple bars.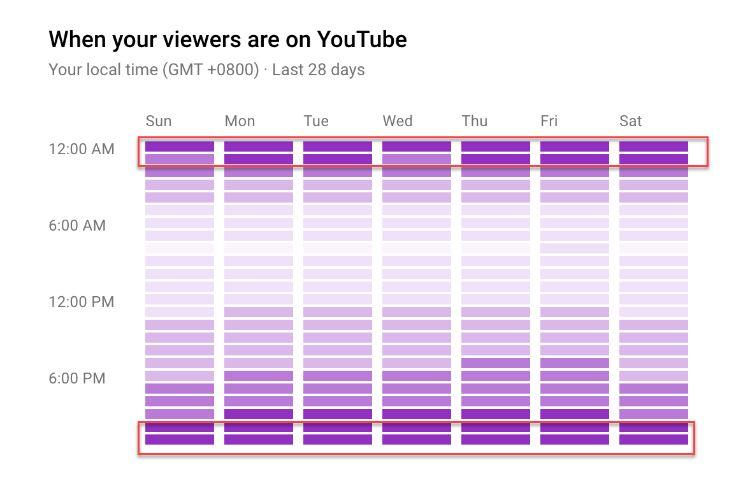 LYFE also suggests it may be wise to post videos 24 hours before your channel has its most viewers, as most videos tend to pick up more views in their first two days online.
HowSociable
While this is a bit of older research, HowSociable explains that the best time to upload a video on social media is late afternoon during Thursday or Friday, as people become more actively engaged online leading up to the weekend.
Additionally, advertising rates change throughout the week, with CPMs being lowest from Wednesday to Friday, with Saturday also thrown into the mix depending on the month.
Knowing all this information can help you maximize engagement for your video and get a better return on your investments in advertising.
Knowing Your Audience Demographic
When planning to release a video on YouTube, it is essential to look at the demographic of your target audience.
Knowing who you are targeting and their various demographics will help ensure that your video gets more views.
Remember that YouTube users are now much more diverse than they used to be, so this is vital information.
It is also important to note that although YouTube is seeing more viewership from the younger population, their watching habits can be very similar to television viewings in peak times.
Also, remember that the indexing algorithm is a process that takes time.
If you want a specific video indexed at a particular time, you'll need to upload it in advance – usually a few hours before the anticipated release time.
Generally speaking, people watch YouTube mostly during evenings and over weekends, so these would be great times to release your video for maximum viewership.
Least-Popular Day For Posting
Contrary to popular belief, Mondays may not be the perfect day for marketers to post on YouTube – only 5% of those surveyed believe so!
Surprisingly, the second least-popular day for posting on YouTube is Tuesday, followed by Wednesday.
Furthermore, according to 20% of respondents, the worst times to post on YouTube are:
6 am to 9 am
9 pm to 12 am
9 am to 12 pm
This data helps one conclude that the times outside these hours could be optimal for your channel's viewership.
Finding Your YouTube Channel's Best Time To Post
Finding the best times and days to post on your YouTube channel can help optimize your content for success.
You can access this critical data from your Analytics dashboard in YouTube Studio.
When you open this page, click on "Analytics," then open the "Audience tab" and view your report.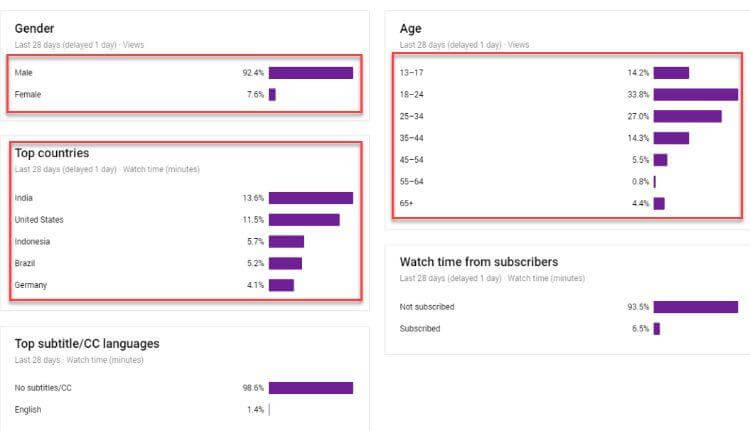 With this in mind, you can plan when scheduling your video content.
As a result, you can set yourself up for optimal reach – because optimizing for success means understanding exactly when it is best to post.
Having A YouTube Content Calendar
One cannot underestimate the benefits of having a content calendar for your YouTube channel.
A content calendar will help you plan what videos you want to upload and when they should go live on the platform, ensuring maximum viewership.
It should include topics, titles, descriptions, thumbnails, etc., so that all your videos are consistent.
Moreover, you can plan out special events or holidays and have an overall strategy of when to post certain types of videos depending on the season.
Here are the steps to create a content calendar that works.
Analyze Your Audience's Watching Patterns
As you build your social media marketing strategy, you must consider which days and times your target audience will most likely be watching YouTube videos.
Most YouTube users are inclined towards certain days or times of day they watch videos.
When you open YouTube studio, you can use analytics to see data about when people are watching your videos the most.
Letting the YouTube algorithm guide your content schedule is a great way to ensure you reach your ideal viewers.
Make Sure To Post Consistently On Your YouTube Channel
When uploading new videos, it's essential to keep up a steady schedule to ensure that viewers follow along with new releases–and not just one-off uploads here and there.
People who know when you'll upload your videos will more likely watch them as soon as you publish them.
Consistent posting is the difference between viewers tuning in regularly and being a distant memory.
Keep to a schedule, whether it's weekly or monthly, and be sure to stick to it.
Utilize Scheduling Tools To Help Plan Out Posts
In the digital marketing world, automation is critical.
Your Youtube analytics and insights can help you plan the optimal post-time.
The right tools can help you publish YouTube videos more quickly, with most having a step-by-step process you can follow when scheduling content ahead of time.
Create Content That Fits Your Audience's Interests
All the data in the world will only mean something if your content is attractive to your viewers.
Returning to your YouTube channel's analytics section can inform you about which topics resonate with your audience.
Whether you create videos about lunch break ideas or focus your efforts on gaming, you must ensure that what you post is something people will want to watch.
A successful Youtube campaign starts with understanding what types of videos do well with viewers and creating content that reflects their interests.
Experiment With Different Video Lengths And Formats
One of the best marketing tips for ensuring success on YouTube is knowing how users consume different types of videos.
Some Youtube channels feature long-form content that details a specific topic, while others succeed with Youtube Shorts, capturing people's quick attention spans.
It's essential to experiment and see what works best for your audience.
The same applies to other social media platforms.
From TikTok to Instagram Reels, understanding the different formats can help you create videos that stand out in the crowd.
Identify Core Topics You Can Build Content Around
Over time, you build the muscle to identify core topics you can create content around.
While your channel dashboard can show you the videos with the most comments, likes, and shares, having the right gut feeling about the type of content that works will help you create videos that people find interesting.
Combined with the correct data, you can identify the topics that are gaining traction with viewers.
In addition to posting time and video uploads, creating content around these core topics can help retain viewers and attract more subscribers.
Other Tips To Help Boost Your Youtube Channel
Here are a few final tips to consider.
Promote Your Channel Across Other Social Media Platforms
While using various formats and creating quality content is essential, remember to spread the word about your videos on multiple platforms.
When you upload Youtube videos, it's worth considering which platforms are best for promoting your content.
For example, taking your YouTube videos and sharing them along with the proper posts on LinkedIn can be a great way to reach new viewers.
Use Appropriate Hashtags To Drive More Traffic To Your Videos
While knowing the best posting time is essential, using the right hashtags can help you reach an even larger audience.
Moreover, a proven template that can help your video's description stand out is critical.
Utilize YouTube's "Suggested Videos" Feature
Getting more conversions doesn't just come from organic search but also YouTube's suggestion algorithms.
From building the right playlist to doing SEO research, the suggested videos can hint at which type of videos to create to get more views and boost watch time.
Ask Subscribers To "Like" And "Comment" On Your Videos
Engagement is one of the most critical metrics for any channel, so remember to ask for it.
With the ability for users to subscribe to your channel in real-time as they consume content, your videos are an excellent opportunity to ask for likes and engagements.
Collaborate With Other YouTubers To Expand The Reach
Getting shoutouts from influencers or other channels can spread the word about your content.
Look for like-minded people interested in working together and building an audience around a shared topic.
Such collaboration can help all the involved channels grow faster.
Thumbnails That Attract Attention
Your thumbnail is one of the essential elements of any YouTube video.
It's also your first chance to capture a viewer's attention.
To get to your thumbnails, go to the YouTube studio within your channel and choose the video you want to edit.
From there, you can upload a custom thumbnail that stands out among a sea of other videos.
Wrap Up.
Knowing when to post on YouTube is essential for growing your channel.
In this ultimate guide, I've gone over some of the best practices and tips that can help you boost engagement and reach more viewers.
As content creators, never underestimate the power of creating high-quality content that resonates with your audience.
By understanding your audience's needs and crafting content that speaks directly to them, you can take advantage of the platform's potential and grow your channel.
Further reading on AdamEnfroy.com: If you haven't yet jumped in and created your YouTube channel, knowing what the top earners are doing on the platform can help you succeed.
Check out this article to learn more about the highest-paid YouTubers.
In addition, here are the best streaming software for YouTube and Twitch.
Editorial Process:
Our reviews are made by a team of experts before being written and come from real-world experience. Read our editorial process here.
Some of the links in this article may be affiliate links, which can provide compensation to us at no cost to you if you decide to purchase a paid plan. These are products we've personally used and stand behind. This site is not intended to provide financial advice. You can read our affiliate disclosure in our privacy policy.