Blogging For Lawyers: Building A Legal Brand Using Content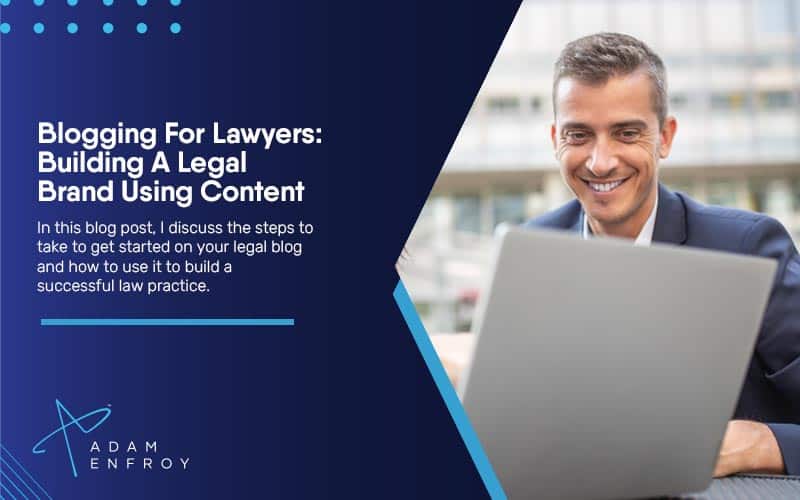 As a lawyer, the importance of marketing your firm to potential clients cannot be overstated.
The problem is that traditional marketing methods may be less effective in today's digital age.
That's where blogging comes in.
As online legal services become increasingly competitive, building a blogging business can help you stand out and establish your firm as an industry leader.
In this blog post, I will discuss the steps you need to take to get started on your legal blog and how to use it to build a successful law practice.
Blogging For Lawyers: Steps To Follow
Here are the main steps you need to follow when creating a blog for your law firm
Generate Content Ideas

Law firm blogging requires thoughtfully generating topics relevant to current events to increase engagement and attract potential clients.
Consider the questions your clients often ask, common legal issues in your practice, and recent legal news.
If you run an LLC service specializing in helping small business owners, then focus on topics relevant to the legal needs of small business owners.
Consider how you can provide valuable insights and advice through your blog posts.
You can also consult with your colleagues or conduct surveys to gather ideas.
Evaluate Law Firm SEO Value Through Keyword Research
Once you have a list of potential blog topics, conduct keyword research to determine how to optimize your blog for search engines.
Determine potential clients' search terms and phrases when searching for legal services.
Incorporate these keywords into your blog post titles, headings, and body text.
By conducting keyword research, lawyers can optimize their legal blog content to increase their search engine optimization value and attract more potential clients searching for legal expertise.
Utilizing keywords relevant to their legal expertise can help lawyers differentiate themselves in a saturated legal market and improve their law firm marketing efforts.
Document A Content Marketing Strategy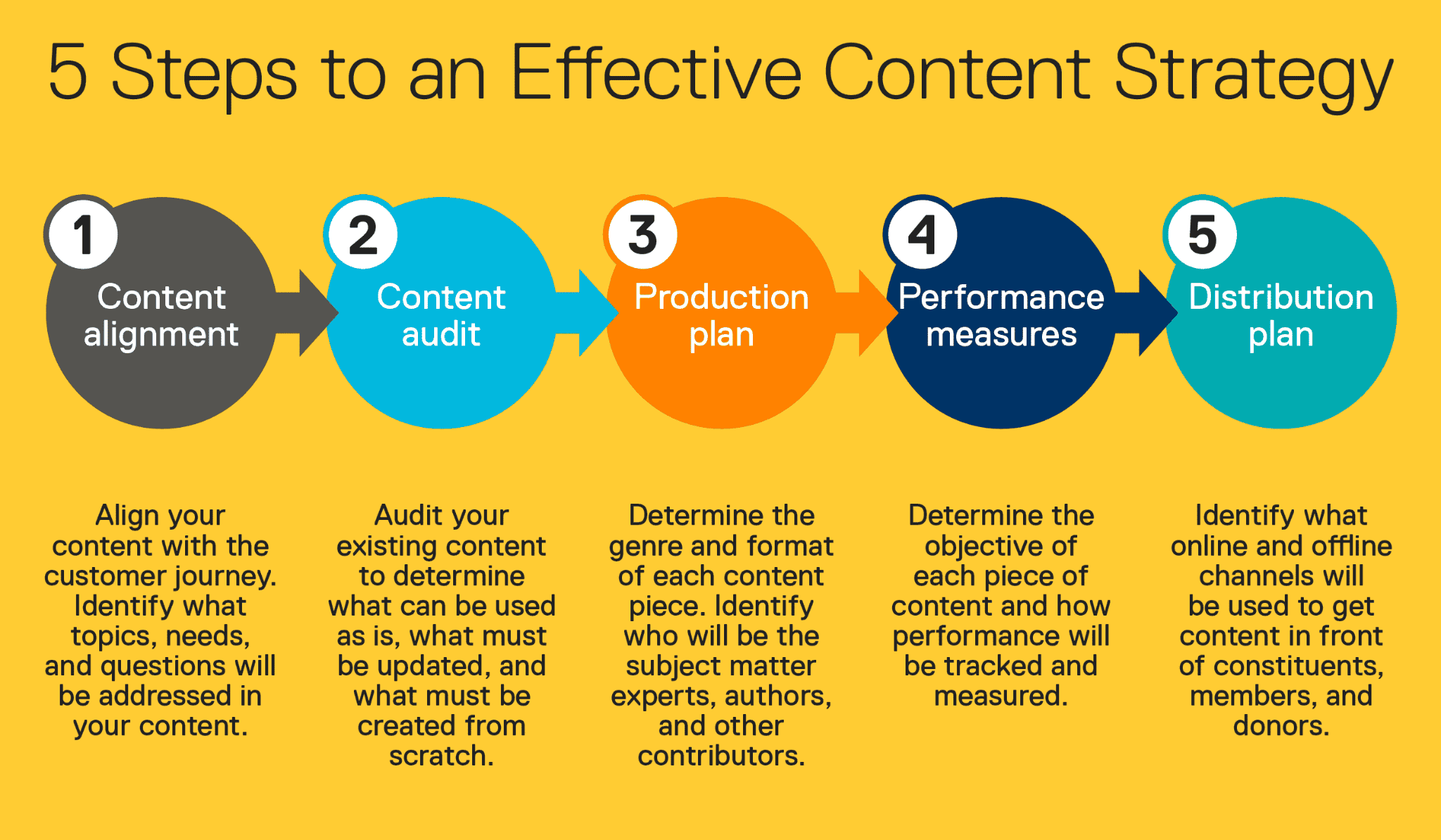 Image credit: https://marketinginsidergroup.com/
Before creating blog content, lawyers must determine their digital marketing strategy, which should target specific audiences and utilize various platforms.
This strategy should outline your goals, target audience, posting frequency, and promotion efforts.
Determine how you will promote your blog posts via social media, email newsletters, and other channels.
Set realistic goals for traffic, engagement, and conversions.
If real estate planning is a big part of your law practice, showcase what you know about that topic.
Knowing that estate planning is a common concern for many individuals (and to reach prospective clients effectively), a law firm's marketing strategy should focus intensely on estate planning content.
By providing informative and relevant content on such topics, a law firm can establish itself as a trusted authority and attract potential clients interested in this law area.
Choose A Blogging Platform
Select a platform with a user-friendly interface, customization options, and SEO capabilities.
WordPress is a popular option for legal blogs as it offers a variety of plugins for SEO optimization and advanced analytics.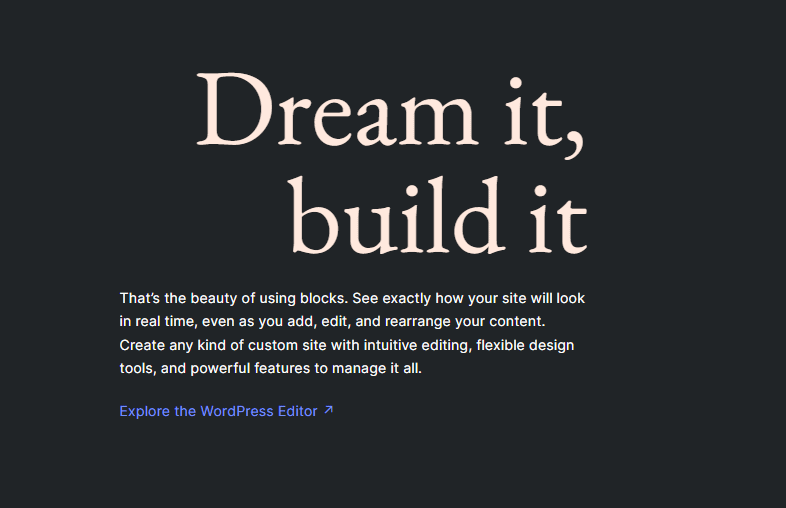 Squarespace and Wix are also user-friendly options when it comes to blogging for beginners.
By combining the right platform and consistent legal blogging efforts, lawyers can establish themselves as thought leaders and attract potential clients.
Consistency increases the chances of converting organic traffic into leads and long-term clients.
Write And Promote Your Law Firm Blogs
As a lawyer writing blog content, you should ensure it is informative, engaging, and relevant to the target audience.
Once you have your legal content ideas and platform, write and publish blog posts regularly.
Make sure your posts are informative, well-researched, and engaging.
Promote your blog posts on social media and other channels to drive traffic and increase engagement.
Analyze Your Efforts To Improve Continually
If you want to make money from blogging, tracking your blog's performance using analytics tools like Google Analytics is vital.
Monitor your traffic, engagement, and conversion rates to determine what's working and what needs improvement.
Adjust your content marketing strategy accordingly and continue to improve and grow your law firm blog.
Whether you are part of a personal injury law firm or a business law firm, it is crucial to regularly analyze the effectiveness of your law firm's website in generating referrals.
In doing so, you can continue to refine your online presence and maximize the potential for referral traffic.
It is essential to analyze not only your website's design but also the quality and relevance of its content.
Why Should Lawyers Blog?
Blogging can help you boost your career opportunities, build your reputation in the legal field, and establish yourself as an expert in your niche.
Here are the main reasons why lawyers should blog.
Your Authority In The Legal Field
Developing a solid online presence through blogging allows lawyers to showcase their understanding of complex legal concepts.
By consistently sharing valuable insights and opinions, skilled and capable lawyers can establish themselves as thought leaders.
Boost Your Reputation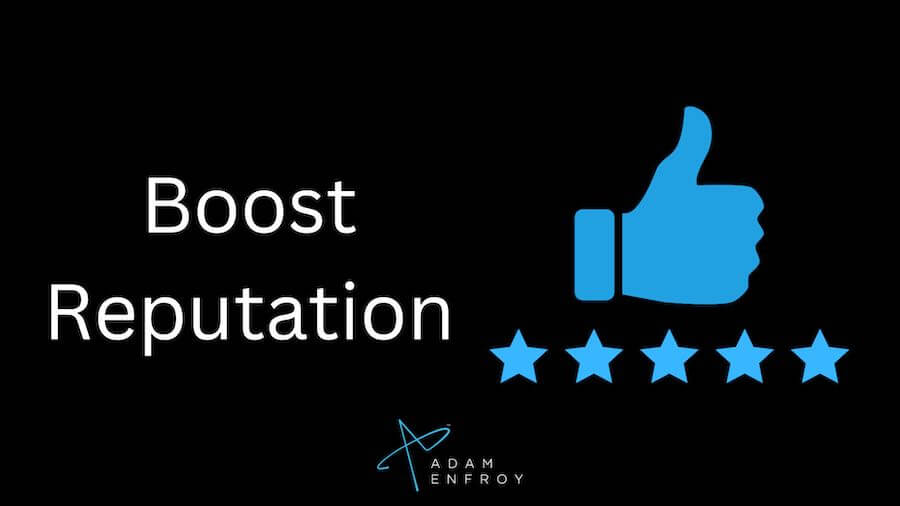 Blogging about anything from family law topics to criminal law advice can enhance your credibility and establish you as a thought leader in your field.
Regularly publishing informative and engaging content can attract potential clients to your law firm.
By creating high-quality, informative content that resonates with your target audience, you'll establish yourself as a thought leader in your niche and build trust with your readers.
And, when people trust you, they're more likely to refer clients to you or work with you on legal matters.
Establish Yourself As An Expert In Your Niche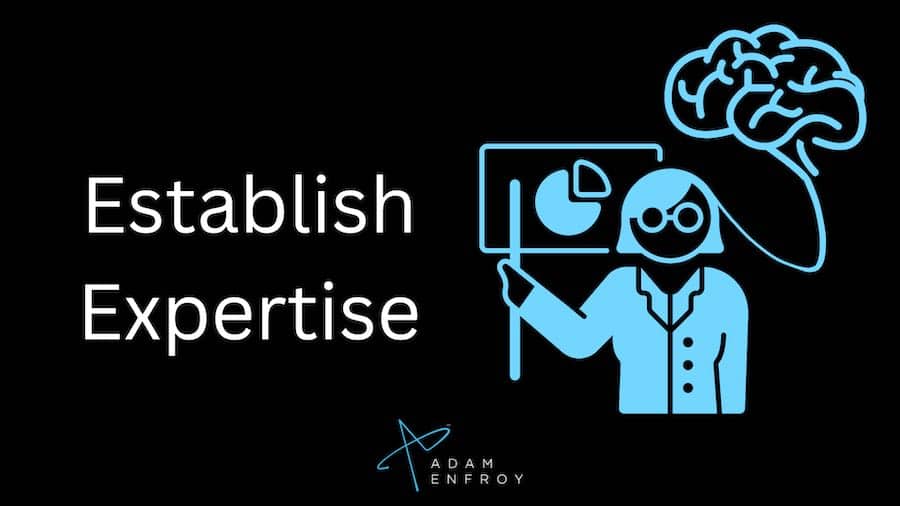 As we mentioned earlier, choosing a niche you have experience in or are passionate about when starting a blog is crucial.
By doing this, you'll have the opportunity to establish yourself as an expert in your niche.
Choosing a good niche can lead to many career opportunities, including speaking engagements, writing opportunities, and job offers.
For example, suppose you're a personal injury lawyer who blogs about your industry's latest legal trends and best practices.
In that case, you may speak at a conference or write a guest post for a legal publication.
Generate New Business Opportunities
Blogging lawyers can use various channels to enhance their blog's functionality and attract more readers.
By writing blog posts on diverse topic ideas within their field, lawyers can establish themselves as thought leaders and attract potential clients looking for credible expertise.
Crafting posts on current events and legal developments provides a valuable resource to readers and can make lawyers more visible to a broader audience.
Pillar Content And Topical Authority
Legal firms can create compelling content that showcases their expertise and differentiates them from their competitors.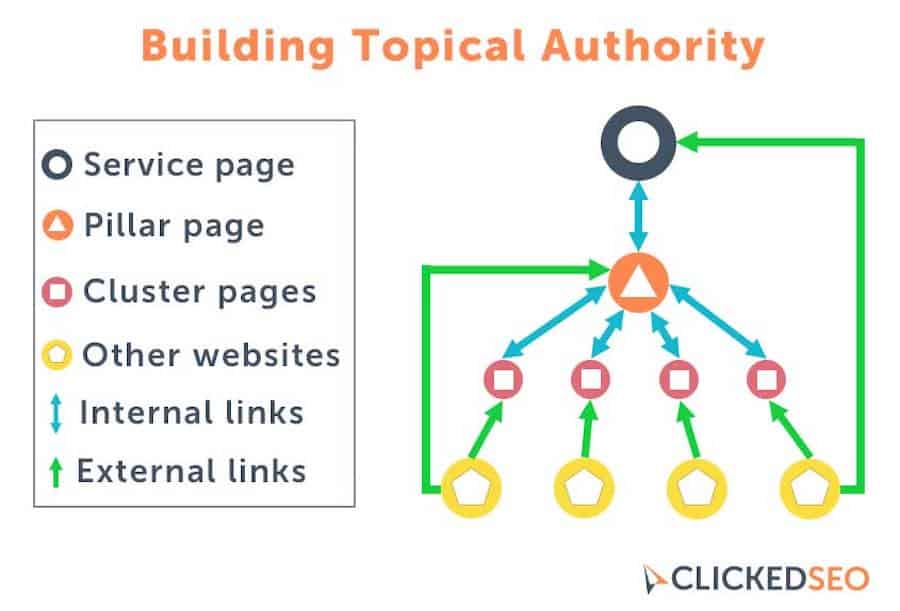 Source: clickedseo.com
By creating pillar and cluster content, firms can establish their authority in their specific practice area.
The benefits of legal blogging extend beyond establishing authority.
Blogging can enhance one's law firm website navigation and indexing, keep visitors engaged, and provide easy access to relevant information.
Pillar content serves as the foundation of your blog and typically covers a broader topic relevant to your practice area.
Cluster content, on the other hand, offers a targeted range that expands upon the topics covered in your pillar posts.
Developing a solid pillar and cluster content approach can help establish authority in your practice area.
Legal firms can showcase their expertise and build long-term client relationships by providing depth and breadth on a topic.
When tackling pillar and cluster content, remember to keep it relevant to your audience and ensure it stays current and fresh to be effective.
Once you have a plan for pillar and cluster content, the next step is to create a navigation that makes it easy for website visitors to find.
Cross-links to internal pages such as practice area pages, case results, and contact us/consultation requests can keep website visitors engaged and improve the page's indexing.
Besides, external linking to other websites can direct visitors to related information sources and highlight your authority in the field.
Remember, the goal is to provide value through information that serves your target customers.
Social media platforms like LinkedIn, Twitter, and Facebook are great avenues to showcase your legal firm's authority.
You could build followers by creating highly engaging content that resonates with your audience's interests, sharing your blog posts, and answering questions they might have.
Remember to use relevant keywords, hashtags, and links to your website when sharing blog posts on social media.
Standing Out As A Lawyer Blogger
Blogging has become essential for lawyers to reach out and attract new clients.
However, it takes more than just writing a few posts to make an impact.
The key is to showcase your expertise with blog posts that attract readers while providing the information they seek.
Focus On A Niche Topic
To stand out in a crowded field, you need to focus on a narrow niche topic instead of trying to cover everything related to your practice area.
Specializing in a particular area makes showcasing your expertise easier, providing in-depth knowledge, and attracting potential clients.
Focus on the areas where you have the most experience, such as business litigation or intellectual property law.
It helps you create engaging content and establishes you as an expert.
Write With Your Clients In Mind
Successful blogging is all about writing about topics that interest your clients.
Therefore, it's essential to think about their pain points and the issues they are facing while writing your blog post.
Think about their questions and doubts, then provide in-depth information to help them better understand your expertise.
Understanding their interests will help you establish a rapport with your clients and encourage them to interact with you.
Being Unique
It's easy to sound like everyone else in the legal blogosphere.
That's why letting your personality shine through your writing is essential.
Be unique, honest, and genuine to show your creativity in providing helpful timelines, infographics, or other subject-relevant material.
Your personality will help you connect with your audience emotionally and make your content memorable.
Stay Relevant And Up-To-Date
The law constantly evolves, and staying up-to-date with the latest trends, news, and changes is
essential.
These factors also help you write up-to-date content relevant to your audience and practice area.
Relevant content requires regular research and review of related blogs and industry news.
Following legal industry blogs and participating in networking groups to keep up with the latest changes and developments may also be helpful.
Consistency Is Key
Blogging is not a short-term solution; it's more like a marathon than a sprint.
You must commit to a regularly scheduled publication of blog posts so effectively your audience knows when to expect new content.
To do so, plan with topics, types of content, and captions to keep it consistent, appealing, and informative.
Over time, this steady stream of high-quality content will help build up your reader base and establish you as a definitive expert in your area.
Establish Your Thought Leadership
Image credit: https://eberlycollardpr.com
Establishing your brand as an industry thought leader is crucial to attracting potential clients.
An engaging blog on your law firm's website allows you to share your expertise, highlight your
case studies, and connect with a larger audience.
By writing about current legal issues, you can demonstrate your knowledge, showcase your skills, and establish yourself as an authoritative figure in your space.
Clients who read your posts will recognize your expertise and credibility, leading to a more significant potential client base.
Create A Strong Online Presence
An engaging and informative blog is essential to your legal services' online presence.
By showcasing your knowledge through insightful content, you're developing a personal brand that resonates with potential clients.
The blog will make your clients feel more connected to your services and more likely to recommend you to their friends and family.
A solid online presence also increases your visibility on search engines, making it easier for potential clients to find you.
Engage Your Clients
Writing online content that resonates with clients can be vital in growing your law firm's reputation.
Engaging your clients with an informative and easy-to-read lawyer blog guarantees that your content gets shared with a broader audience.
By starting a conversation with your readers, you're encouraging them to engage with your website and take the next step by contacting you for legal advice.
Identifying legal challenges, providing solutions, and showcasing success stories encourages clients to work with you instead of seeking legal advice elsewhere.
Tips For Crafting Attention-Grabbing Posts
Here are the best blogging tips for crafting posts that will captivate your audience and keep them returning for more.
Create Captivating Headlines That Draw Interest
Your headline is the first thing readers will see, so capturing their attention and making them want to read more is essential.
A great headline can distinguish between a read and shared post and an overlooked one.
Try to create intriguing and provocative headlines, and suggest that your post will solve a reader's problem or fulfill a need.
Use numbers and action words to make your headline pop.
Focus On Key Points For Clarity
The body of your post should be clear, concise, and focused on the key points you want to make.
Try to cover only a few topics or concepts in one post; instead, focus on one key idea and support it with examples and data.
Use subheadings, bullet points, and short paragraphs to break up the text and make it more digestible for your readers.
Ensure your post is well-organized so readers can easily follow your thoughts.
Utilize Visuals To Make Your Post More Attractive
Visuals such as images, infographics, and videos can make your post more attractive and engaging.
They can also illustrate your points and give readers a deeper understanding of your topic.
When selecting visuals, make sure they are relevant to your post and they support your message.
Use high-quality images and videos that are eye-catching and easy to view on different devices.
Include Relevant Keywords
Using relevant keywords in your posts can help your content rank higher in search engine results pages (SERPs).
Therefore, including keywords relevant to your topic and your target audience is crucial.
Use appropriate long-tail and short-tail keywords, and avoid stuffing your post with too many keywords that may harm your ranking.
Use keywords naturally throughout your post, and make sure they fit into the context of your topic.
Types Of Posts To Create As A Lawyer
Becoming a legal thought leader through your blog means creating valuable, informative content that resonates with your target audience.
Here are some ideas for legal blog posts you can create to reach more potential clients.
Write About Current Legal Topics
One way to become a legal thought leader is to write about the latest legal developments.
Stay up-to-date on current legal topics and share your insights on your blog.
Writing about relevant legal topics will help attract readers looking for information about specific subjects.
It will also help position your firm as a knowledgeable resource.
Share Your Expertise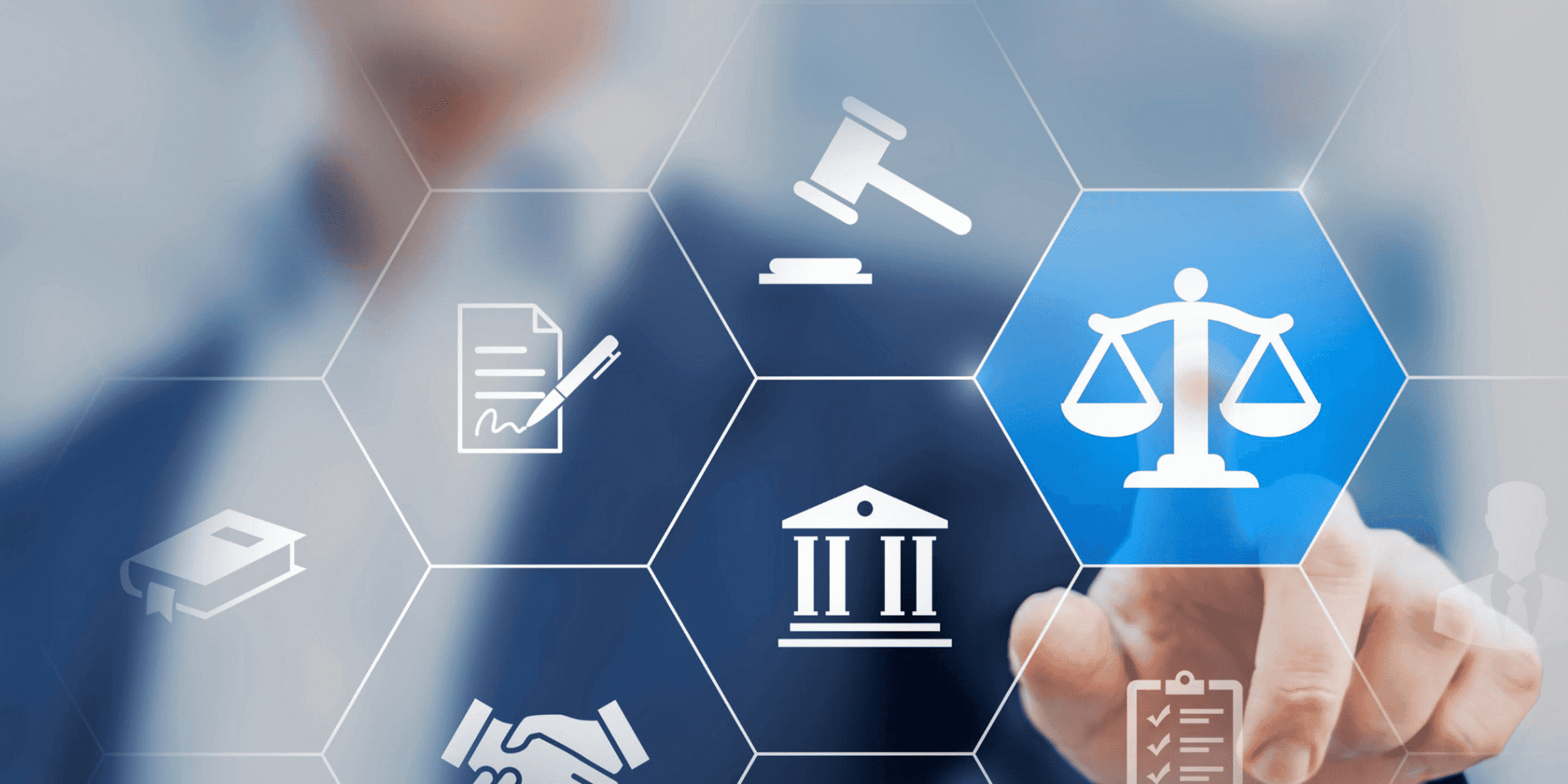 Image credit: https://www.thefutureisunlimited.ca
Blogging is a great way to showcase your expertise and knowledge.
Share your insights on legal issues, trends, and best practices in your area of specialization.
You can also share your experience and case studies and offer practical advice to your readers.
Sharing experiences will help establish your authority in your field and position you as a go-to resource for legal advice.
Write Long-Form Content
Long-form content is more informative and thorough and ranks higher in search engine results.
Writing detailed posts will help demonstrate your expertise and ensure your readers get valuable and insightful content.
You can also break down long-form content into multiple posts and create a blog series that readers can follow.
Blogging For Lawyers – FAQ
What Is The ABA?
The American Bar Association (ABA) is the largest organization for legal professionals and attorneys in the United States.
It sets ethical and procedural standards for law firms and attorneys, accredits law schools, and provides continuing legal education for its members.
What Are The Principles Of Seo For Legal Blogging?
SEO is essential to blogging and can help drive more traffic to your website.
Here are some fundamental principles for SEO when creating a legal blog post.
Optimize titles and meta descriptions for better visibility on SERPs.
Include relevant keywords throughout the post in a natural way.
Use internal linking to add context and link to other relevant content.
Utilize visuals such as images, infographics, and videos.
Improve page load speed by compressing images and using caching plugins.
Share posts on social media for increased visibility.
Wrap Up
Blogging is a cost-effective and regulation-friendly legal marketing strategy to help your law firm reach a wider audience and enhance brand awareness.
Following our tips, you can create a successful blog that provides value and positions your law firm as an authority in your legal field.
Remember to focus on relevant content, optimize your blog for search engines, and promote it using different channels.
Lastly, measuring your blog's performance can help you adjust your strategy and improve your results continually.
Further reading on AdamEnfroy.com: Want to ensure you're moving in the right direction when setting up your blog?
Check out these top blogging courses to help you start and learn how to leverage your blog for success.
Disclosure: I may receive affiliate compensation for some of the links below at no cost to you if you decide to purchase a paid plan. You can read our affiliate disclosure in our privacy policy. This site is not intending to provide financial advice. This is for entertainment only.