Benefiting From Home Decor Affiliate Programs In 2023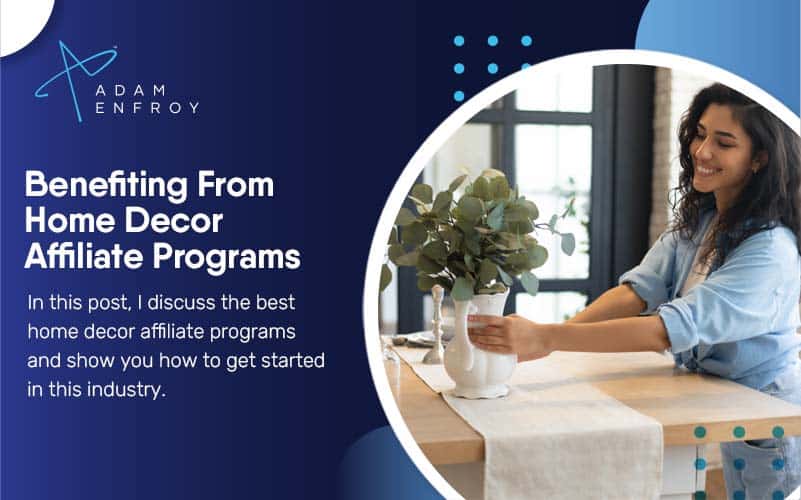 Does this describe you?
As a home decor enthusiast, you always look for new and exciting ways to spruce your home.
You love browsing through the latest trends on Pinterest and your favorite interior design websites, but you consistently spend a fortune on all the beautiful items you need.
But what if I told you that you could earn big by recommending these items to others?
Enter home decor affiliate programs.
In this post, I'll discuss unique opportunities in home decor affiliate programs.
With these programs, you can become an affiliate of your favorite home decor brands and get paid for promoting their products to your friends, family, and followers.
The Best Home Decor Affiliate Programs
Here are some of the best home decor affiliate programs.
1. Amara.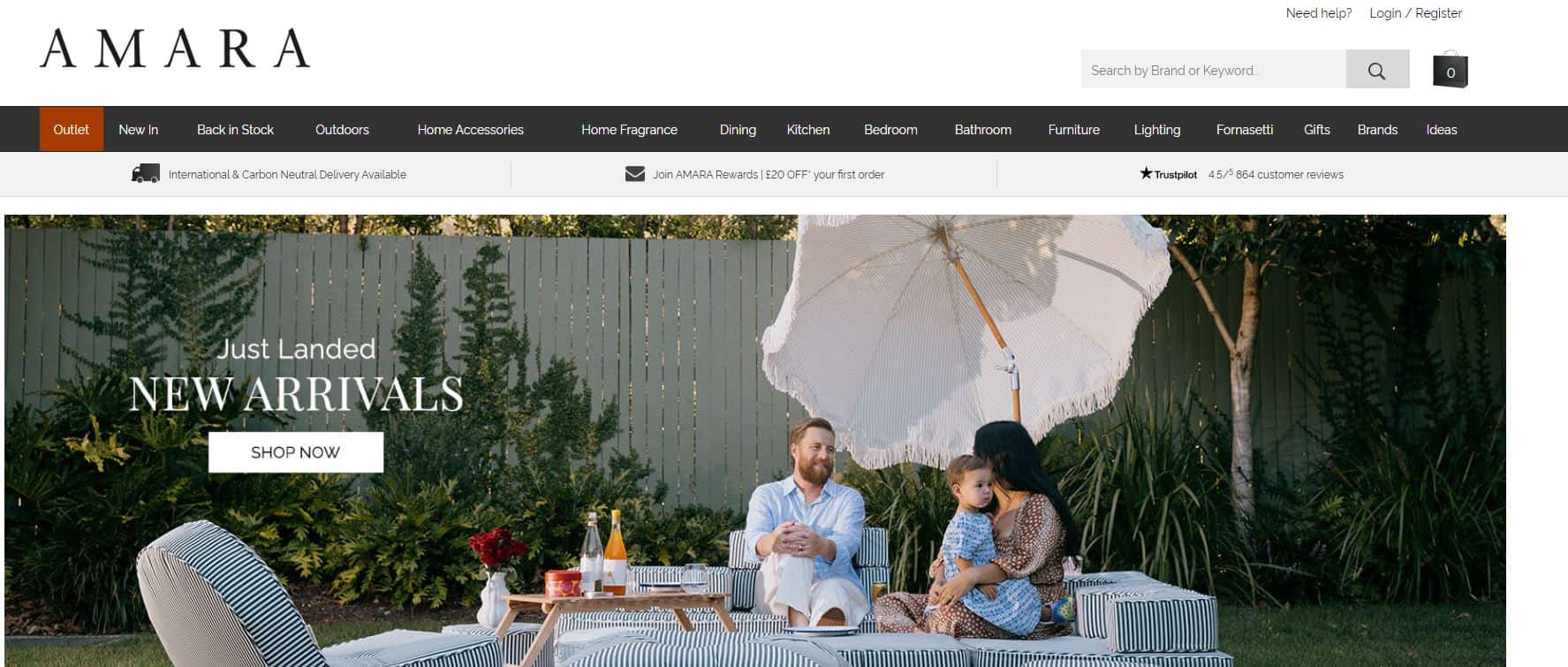 Amara has more than 300 luxury home fashion brands.
The online store features over 20K+ products to curate a unique selection for your followers.
Amara's affiliate program helps content creators, bloggers, and influencers earn money from their content.
It is free to join, easy to use, and has dedicated support.
Being a part of this program can help you monetize your content and earn extra income.
From small independent designers to well-known brands, Amara has everything you need to take your home decor to the next level.
The store is famous for its high-quality and luxurious products that cater to different styles and tastes.
As an affiliate, you can curate your selection and feature the brands that align with your niche and audience.
Amara offers exclusive home furnishings from over 300 luxury brands, making it a top affiliate program to promote.
For those with a focus on home office decor, Amara's selection of elegant and functional pieces is sure to satisfy.
2. AromaTech.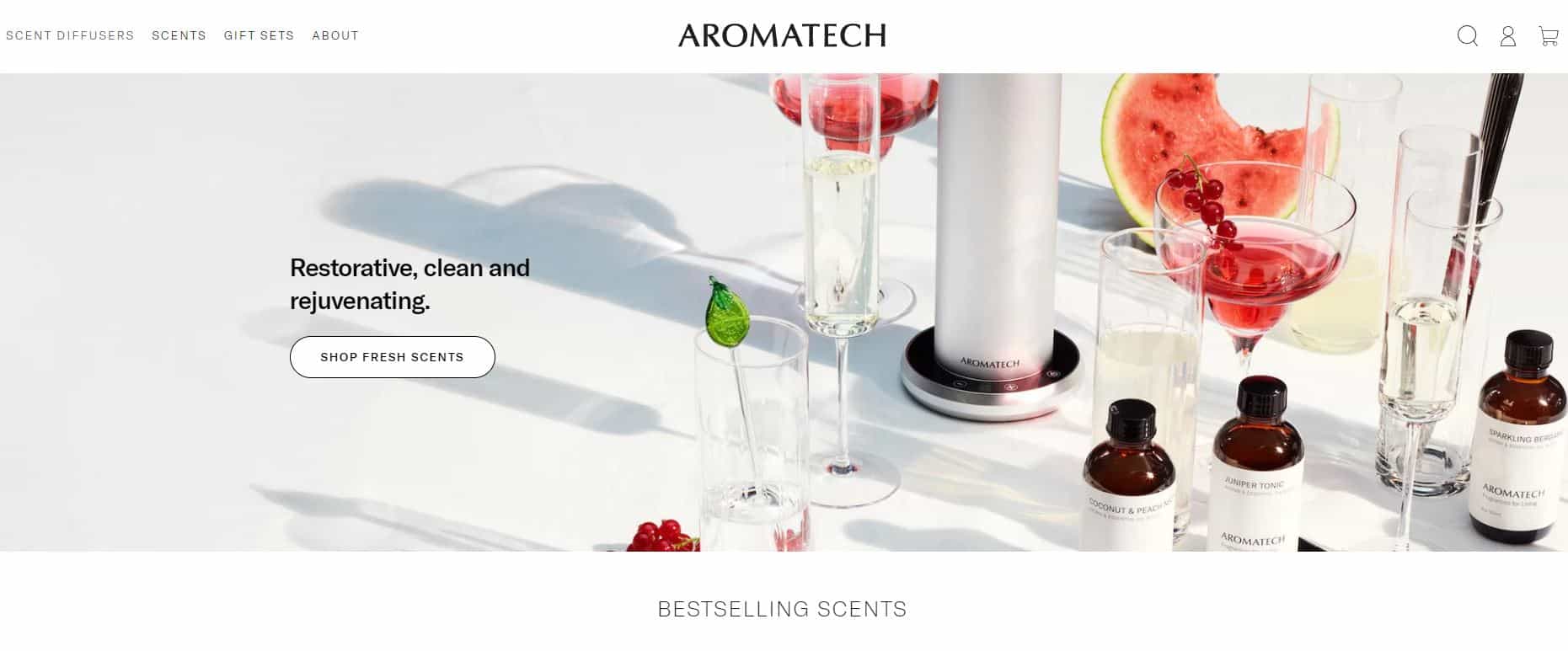 AromaTech is a leading brand in the home decor industry, offering a range of home fragrances and essential oils that are perfect for complementing any bedroom furniture.
Additionally, they provide a variety of home goods that include diffusers, humidifiers, and various types of home scents to enhance the overall atmosphere of your living space.
With AromaTech, you can quickly achieve a sense of luxury and elegance in your home without needing costly home improvement projects.
As an affiliate marketer in the home decor industry, promoting products that offer a unique value proposition to your audience is essential.
One product that fits the bill is AromaTech's 100% natural and vegan essential oil diffusers.
Not only do they help businesses create a distinct scent identity, but they also offer a lucrative affiliate program that can boost your earnings.
One of the most significant selling points of AromaTech is the unique scent experience they offer to businesses.
With AromaTech, businesses can create a scent identity that embodies their brand and appeals to customers.
Therefore, as an affiliate marketer promoting AromaTech, you are not just selling a product but an experience.
You can showcase the value of AromaTech's products by highlighting the importance of brand identity and customer experience for businesses.
AromaTech offers one of the most competitive affiliate programs in the essential oil industry.
You can earn significant profits quickly with a 20% commission rate per sale and an EPC (earnings per click) of $461.62.
Plus, with an average order size of over $200, you can maximize your earnings by promoting their products to your audience.
3. Belle & June.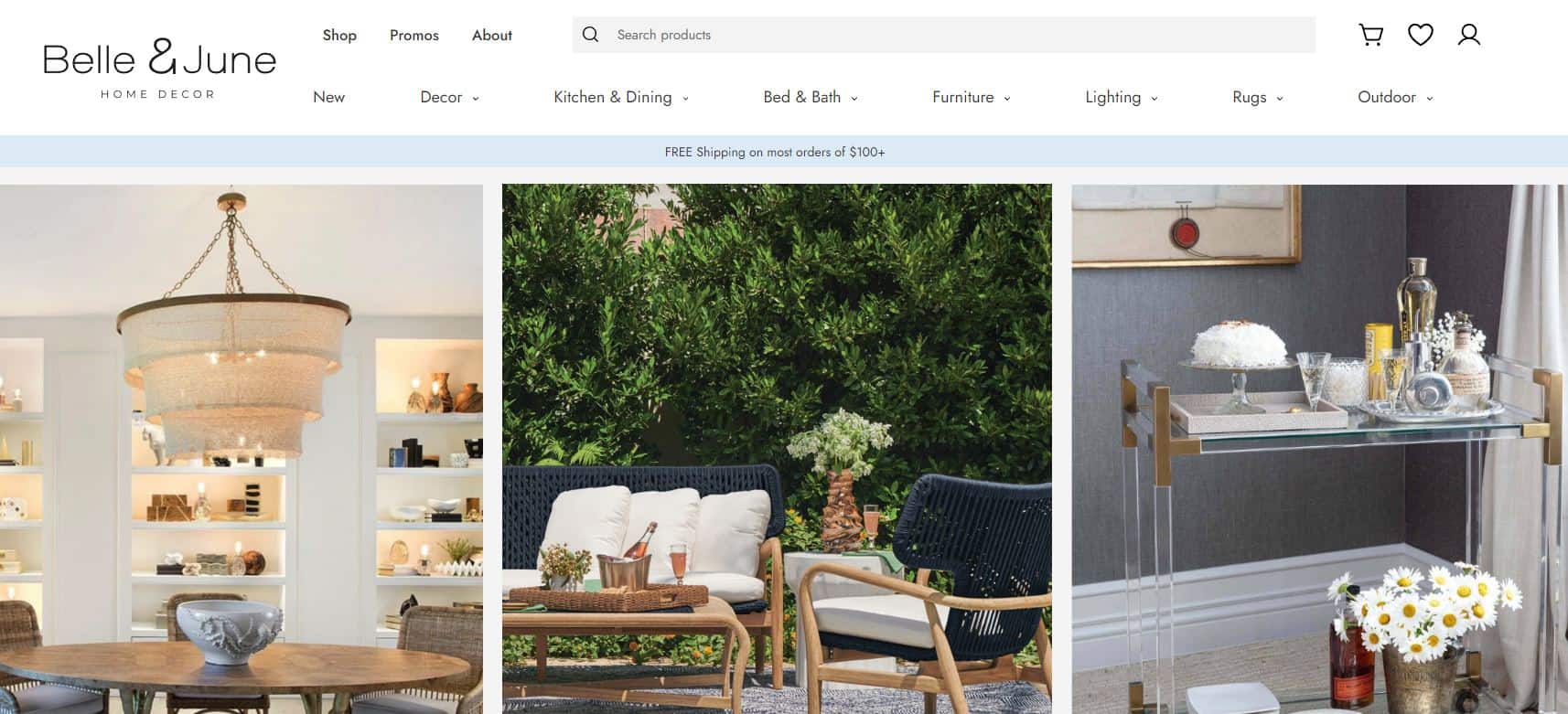 Belle and June is a home decor affiliate program because they offer a wide range of products that include both indoor and outdoor furniture.
Their outdoor and indoor furniture options are of top quality and stylishly designed.
Additionally, their selection of home decor items is unmatched, making it a lucrative partnership for affiliates looking to tap into the thriving home decor market.
This luxury brand offers a wide range of home decor items to enhance the beauty of your living space.
They specialize in unique, one-of-a-kind pieces created with the brides-to-be, high-end shoppers, and discerning designers in mind.
Belle and June is a highly recognized luxury brand that caters to the most discerning tastes in home decor.
Prominent magazines such as Elle Decor, Architectural Digest, and House Beautiful have featured them.
Joining Belle and June's affiliate network will give you access to their prestigious name and established reputation.
Plus, you'll offer your audience a unique range of luxury products they won't find anywhere else.
Such an opportunity is excellent for promoting their products while earning a commission on each sale.
Belle and June's affiliate network offers a lucrative commission of 6% on tracked sales for up to 30 days after each purchase.
That means you'll get credit for purchases within 30 days of your referral, even if the customer makes multiple orders.
Besides that, you'll also get exclusive offers, access to the latest products, and marketing materials to promote their brand.
And the best part?
You'll also have access to international shipping services to promote their products worldwide.
4. Ted's Woodworking.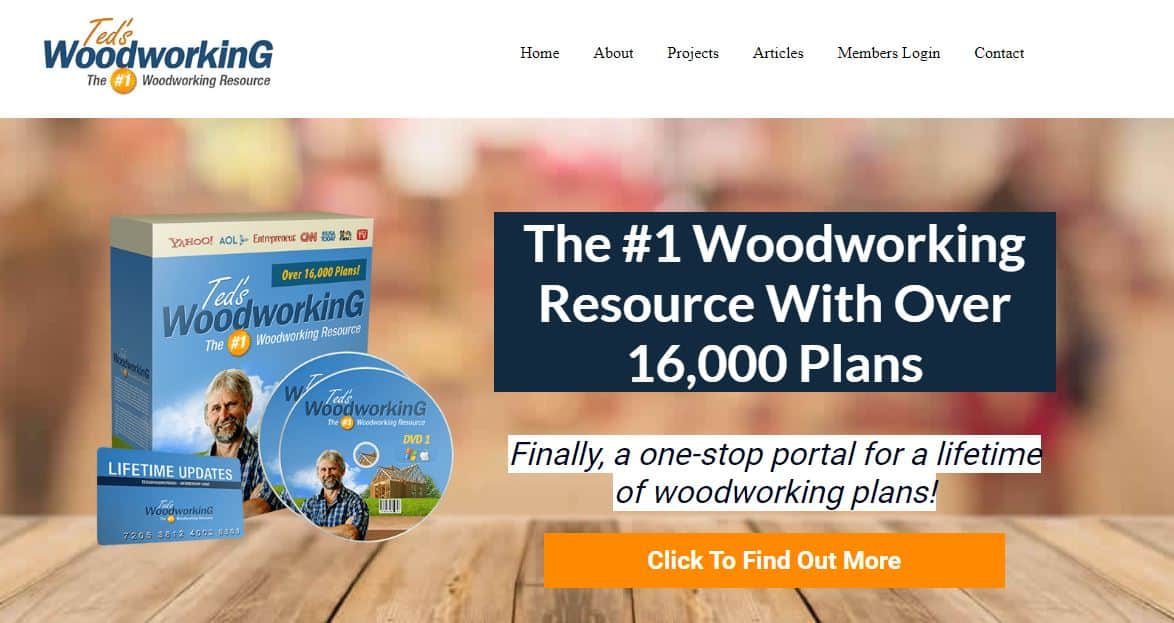 There's something special about creating something with your two hands.
Ted's Woodworking is an all-in-one resource for woodworking enthusiasts.
Whether you're looking to build a basic bookshelf or tackle something more complex like a king-sized bed frame or fancy dining table, Ted's Woodworking has a plan to suit your needs.
And with plans for over 16,000 projects, you will find something that sparks your creativity.
But unlike other woodworking resources, Ted's Woodworking is the real deal.
Experienced woodworkers create and back-up all plans and blueprints with diagrams, materials, lists, and step-by-step instructions.
Plus, there's something for everyone, with options ranging from beginner-level to advanced.
One significant advantage of Ted's Woodworking is its versatility.
Sure, the plans are primarily aimed at woodworkers but are not limited to traditional woodworking projects.
You'll find plans for outdoor furniture, birdhouses, and kid's toys.
Therefore, regardless of your interests or skill level, there's a plan that you can dive into and truly make your own.
Ted's Woodworking offers an affiliate program with a dedicated and efficient affiliate management team.
With the program, affiliates can earn commissions on selling a wide range of products, including bed frames, sofas, and other home decor items.
The program caters to the needs of those interested in interior decor and Woodworking, making it an excellent option for those looking to monetize their passions and skills.
Additionally, Ted's Woodworking offers a variety of high-quality bed frames and sofas, making the program a popular choice among home decor enthusiasts.
5. Rug Source.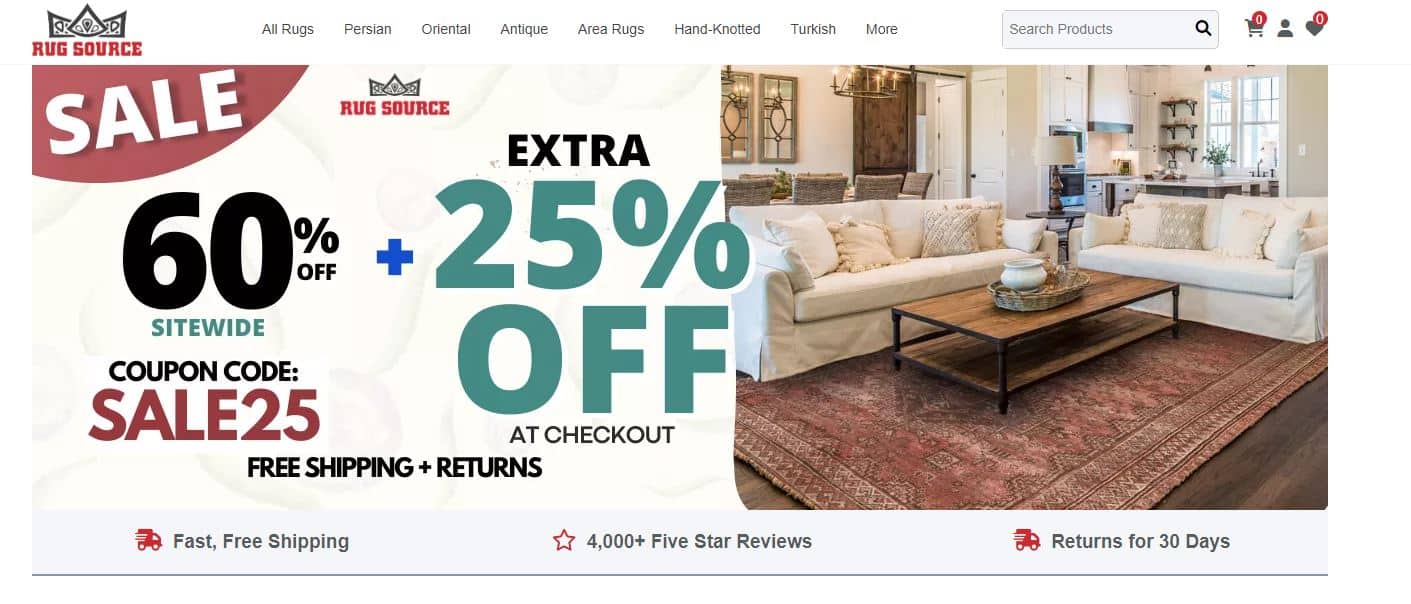 Home decor covers many items, including home furnishings like rugs, which one can find through Rug Source.
Rug Source is an incredible option that you want to take advantage of.
With a wide range of rugs, from classic designs to luxurious Persian masterpieces, and an average order value of $400, affiliates can make some big bucks.
But that's not all – Rug Source also offers a generous commission rate of 10%.
Their Earnings Per Click (EPC) metric shows that affiliates promoting Rug Source products earn good profits.
This commission rate is among the highest in the home decor affiliate industry.
Therefore, for every sale referred by an affiliate, they earn a significant commission.
The program's cookie duration lasts 180 days, giving affiliates ample opportunity to earn commissions on sales they have referred people to, even after the initial referral.
Therefore, Rug Source is a great option for affiliates who want to earn passive income while allowing their audience to make informed purchases.
Promoting Rug Source Affiliate Program is straightforward.
All you need to do as an affiliate is apply for the program and get approved.
Afterward, use online marketing channels such as social media, blog posts, email campaigns, and paid ads to drive traffic to your affiliate link.
You can use text links, banners, and other promotional materials Rug Source provides to increase your chances of success.
6. Designer Living.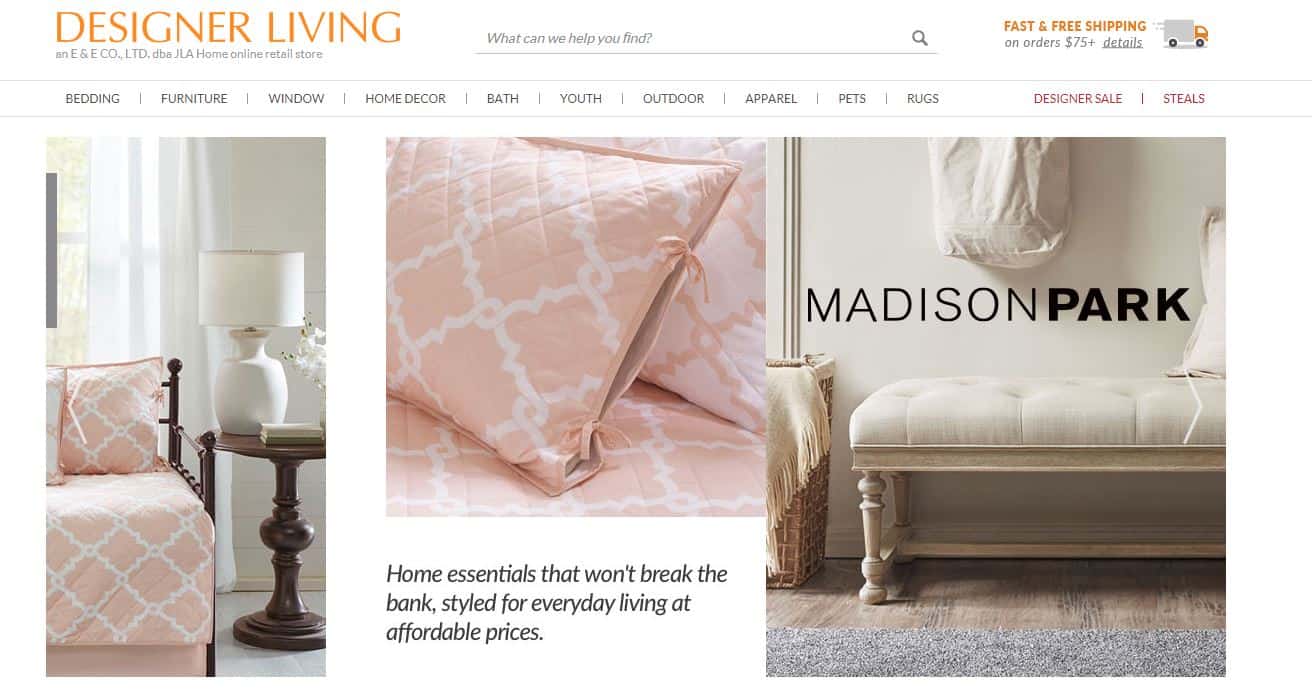 Designers and home decor enthusiasts can partner with the Designer Living affiliate program to promote and earn commission on stylish bedding, high-quality furniture, and decor products from top designer brands.
As a partner with Designer Living, you'll have access to over 10,000 home decor products to promote, with a commission rate of 12% and exclusive deals available.
The Designer Living affiliate program lets you promote their home decor products on your website or social media platforms.
With every sale made through your unique affiliate link, you earn a percentage of the sale paid out to you at the end of every month.
Designer Living offers exclusive deals to its partners, making it even more attractive.
With their extensive selection of high-quality products in the home decor niche, you will have many options to consider.
Joining the program also won't cost you anything; therefore, you have nothing to lose by signing up.
Joining Designer Living's affiliate program is simple; you only need to follow the sign-up process on their website.
Once Designer Living has reviewed and accepted your application, you'll be given access to your unique affiliate link, promotional materials, and support to help you start promoting their products on your website or social media platforms and earn a commission.
7. Brentwood Home.

In today's world, where climate change has become a significant concern, environmentally-conscious people are looking for ways to make a difference.
That's where Brentwood Home's "all things green" concept comes in.
The brand aims to create a sustainable future by promoting eco-friendly practices through its products.
Being a part of their affiliate program fosters sustainability and presents an opportunity to earn good commissions.
Brentwood Home's focus on being green goes beyond its products.
They also have a review program where customers can share feedback about their experiences.
As an affiliate, you can share these reviews with your audience and your experiences with their products.
Everyone likes to read reviews before making a purchase, and you can offer a valuable service to your audience by being a Brentwood Home affiliate.
Brentwood Home is committed to sustainability, and its partnership with non-profits is a testament to that.
Their affiliate program allows you to promote these non-profit partnerships to your audience, giving them a chance to support a good cause.
Plus, you can earn commissions for doing good.
Apart from promoting Brentwood Home's products and non-profits, you can join their Trade Design program.
Being a part of this program gives you access to designer discounts, exclusive trade events, and early access to new launches.
Not to mention bonuses for promoting sustainability to your clients by sourcing eco-friendly products for their homes.
Brentwood Home's affiliate program has dedicated managers who help you with everything from setting up links to performance optimization.
With commissions between 5%-8% and a 120-day cookie duration, you have ample time to earn good returns from promoting Brentwood Home.
8. Pier 1.

Pier 1 offers a selection of furniture, home decor, and accessories that is bound to give your home a worldly flair.
And with their affiliate program via Commission Junction, you can also earn commission on all sales made through your referral.
Pier 1 offers the following to their affiliates and customers:
A Wide Selection of Home Decor– Pier 1 offers a range of home decor options for every taste. They have it all, whether you are looking for bold, bright colors or neutrals with a subtle accent. Their collection includes unique furniture, vibrant wall art, decorative pillows, and more. Mix and match different pieces to create a personalized look for your home.
Outdoor Furniture – Apart from indoor decor, Pier 1 offers various outdoor furniture and decor items. They provide a range of options for outdoor seating, dining, and lounging. Everything is readily available, from weather-resistant tables and chairs to patio umbrellas and fire pits to create a serene outdoor oasis.
Affordable Prices – Pier 1 offers high-quality home decor products at affordable prices. With their affiliate program, you can earn a commission of up to 4% on each sale within seven days of referral. With earnings per click (EPC) of $39.17, you can easily add an extra income stream to your bank account.
The Perfect Gifting Destination – Pier 1's home decor and furniture make excellent gifts. You can shop by occasion or recipient and get unique gift ideas for weddings, birthdays, housewarming parties, and more. With their affordable prices, Pier 1 is an excellent gifting destination without breaking the bank.
Eco-Friendly Products – If you prioritize eco-friendly home decor options, consider Pier 1. They offer a range of sustainable products made from natural fibers, such as jute and bamboo. They also have an eco-friendly collection of outdoor furniture.
9. One Kings Lane.

One Kings Lane has an impressive range of furniture, decor, and artwork; you're sure to find something that brings that perfect vintage touch to your home.
One Kings Lane is a vintage-inspired home decor company offering curated furniture collections, decor pieces, and artwork.
They specialize in bringing unique and vintage items to their customers, allowing them to stand out in a cluttered market with cheaply-made and cookie-cutter decor options.
What's so great is that even with their high-end reputation, One Kings Lane products are still affordable, making it an easy decision to purchase for those looking to invest in quality pieces for their home.
Joining the One Kings Lane affiliate program can be an excellent opportunity for bloggers, influencers, and websites with a strong interest in home decor and interior design.
One Kings Lane offers an excellent opportunity for those who want to partner with them.
With a commission structure offering up to 5% for sales, and a 14-day tracking cookie, you stand a great chance of earning money through the referrals you make to the site.
Also, One Kings Lane has an excellent EPC of $31.45 or more, which means you'll see significant referral returns.
By partnering with One Kings Lane, you can access a wide range of creative banners, text links, and product feeds.
Promoting their products on your blog and social media channels will be easy since you'll not have to worry about creating your content.
Plus, the products are so stunning that it will be easy to get your followers interested.
10. Wayfair.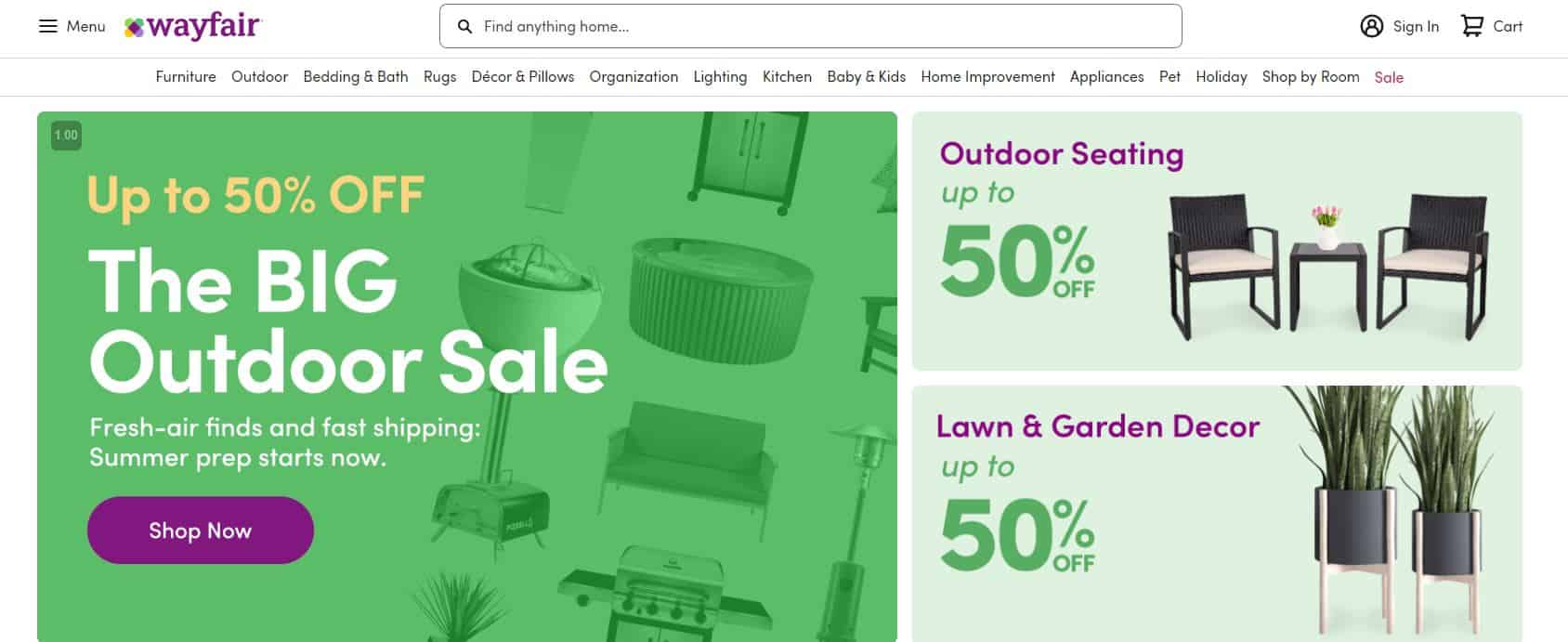 With its vast selection of home décor products and high conversion rates, Wayfair is a top online retailer offering one of the industry's most lucrative furniture affiliate programs.
The program is ideal for monetizing your website or social media channels by promoting high-quality home goods.
Other Home Decor Affiliate Programs
Other popular home decor affiliate programs include
Amazon. They offer a wide range of products, from furniture to lighting.
Canvas Vows. They specialize in personalized wall art pieces.
Etsy. They feature handmade and vintage decor items.
Joss & Main. They offer stylish furniture and decor at affordable prices.
Sierra Living Concepts. People know them for their unique and sustainable furniture designs.
The Home Depot. They provide options for DIY home decor and improvement projects.
What To Look For In A Home Decor Affiliate Program
When considering an affiliate program for home decor, looking for solid affiliate management, quality affiliate partners, and tempting affiliate program offers with a minimum of a 30-day cookie duration to maximize earnings potential is essential.
Furthermore, an efficient e-commerce platform coupled with enticing brick-and-mortar stores operated in-house can be a powerful combination, and adding pet-friendly essential oils to your offerings can help reach a wider audience.
Offering customers a wide variety of home decor products from trusted brands is essential for success because it gives your customers the confidence to purchase from you.
With these tips in mind, you should be equipped to find a successful affiliate program that works best for your business and helps you promote your affiliate links to maximize profits.
Wrap Up.
If you're looking for a great home decor affiliate program, consider the above programs as a starting point to see what works best for your blog.
Each program offers unique and stylish home decor, furniture, and artwork.
From Pier 1's affordable prices to One Kings Lane's curated collections of vintage items, these programs have something for everyone.
What's more, you'll have the pleasure of sharing items your readers will love and find helpful in their homes.
Further reading on AdamEnfroy.com: Want more affiliate programs to promote?
Here are a few to consider:
Finally, if you want an education in this business area, check out the best affiliate marketing books to get started with.
Disclosure: I may receive affiliate compensation for some of the links below at no cost to you if you decide to purchase a paid plan. You can read our affiliate disclosure in our privacy policy. This site is not intending to provide financial advice. This is for entertainment only.