Content At Scale Review: Is It The Best Bulk AI Writing Tool?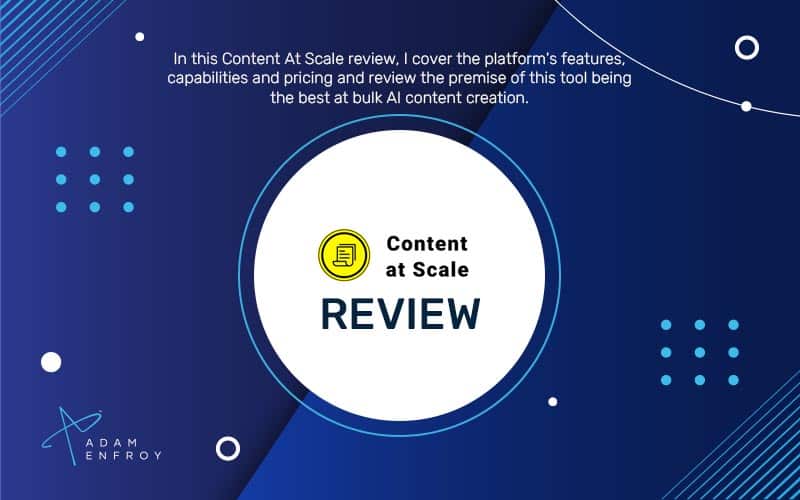 In a world where content is king, creating lots of content is an omnipresent challenge for businesses.
At the same time, no one wants to say no to every family invitation, every networking opportunity, or every client meeting to stay chained to the computer – typing away forever.
That's why an automated solution can be a lifesaver for businesses that don't have time to create content manually.
However, not all automated solutions are created equal.
Content At Scale is an automated solution enabling businesses to easily create engaging, high-quality content without manual labor.
But what exactly makes Content At Scale so great?
In this article, I'll review the benefits of Content At Scale and why it's the perfect addition to any business looking to scale up its digital marketing and content production.
What is Content at Scale?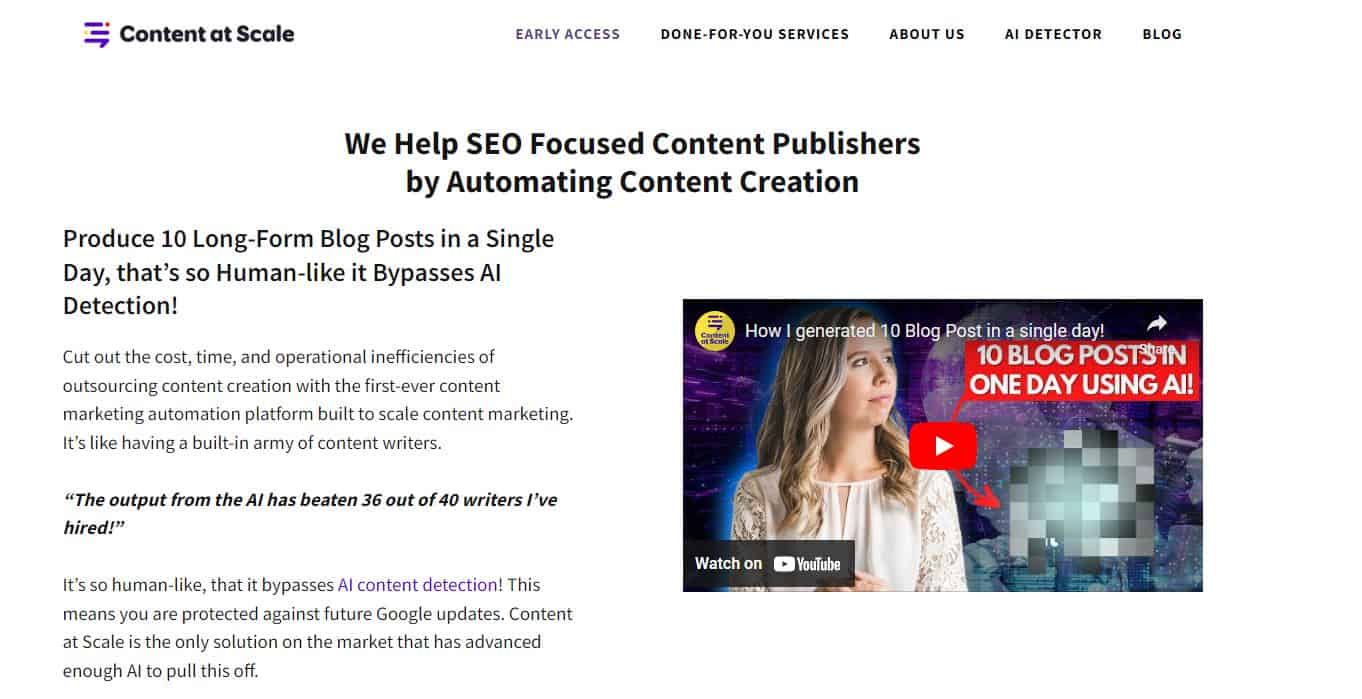 Content at Scale is a revolutionary AI writing software that offers efficient and effective long-form content production.
With the type of content it can produce suitable for entire blog posts, articles, or even eBooks, Content at Scale can help you get the job done quickly and efficiently.
And because the platform is still in beta, you can expect even more features and improvements soon.
How Content At Scale Works
Getting started with Content at Scale is quick and easy.
Create an account and upload your keywords.
Choose the desired word count for your article and provide any additional information as needed.
The system then gets to work.
The articles come ready with an intro and table of contents.
You can also search for a featured image to go along with the post from the integrated image library.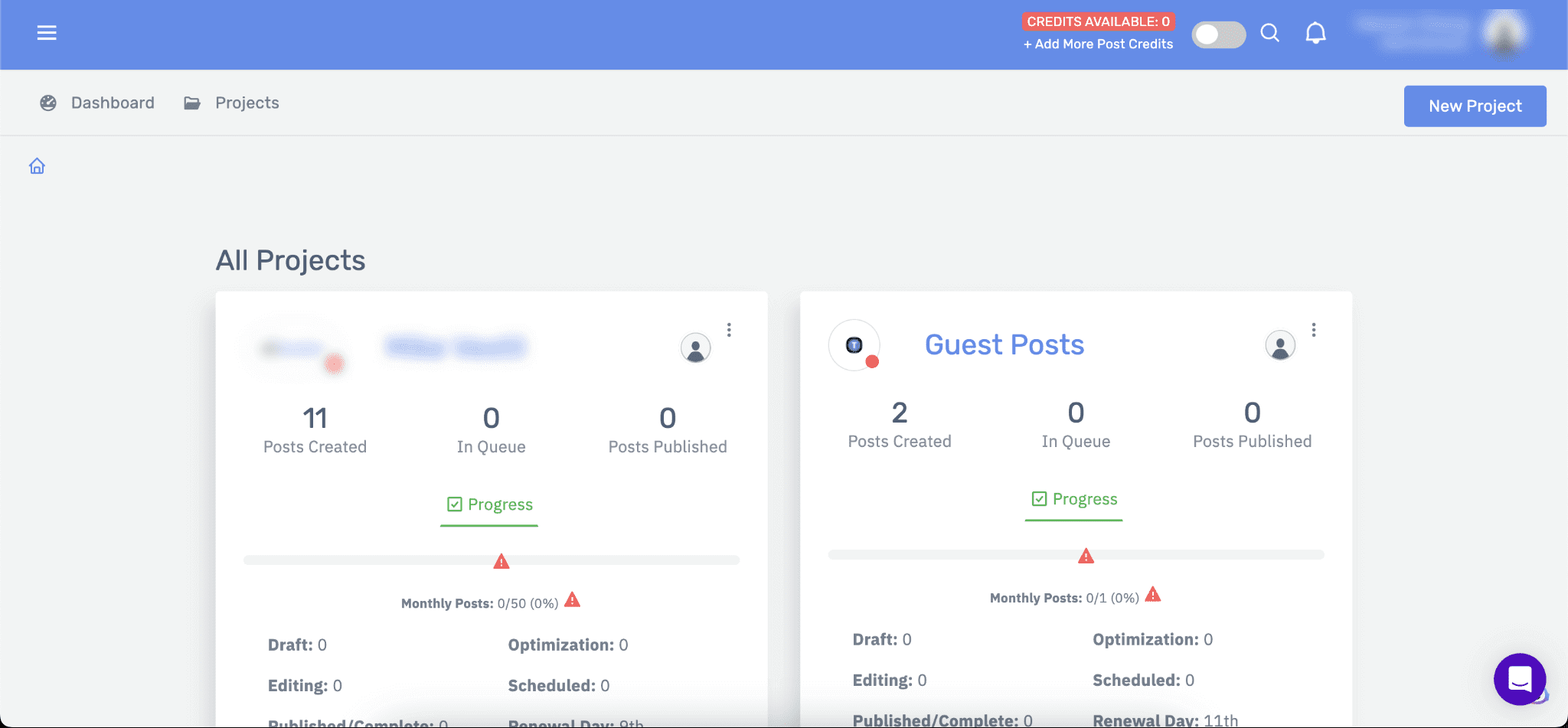 Content At Scale Features
One of the best things about Content at Scale is that its AI-generated content takes all the guesswork of creating SEO-friendly content.
With its unique ability to analyze data from Google & other top sites, Content at Scale can generate whole blog posts with titles, meta description, headings, and URL slugs optimized for maximum visibility in search engine results pages.
Content at Scale allows human writers to quickly generate long-form content, freeing up their time for other pursuits.
Let's explore each of its features in more detail.
Create Long Form Content With No Plagiarism
One of the most time-consuming aspects of content creation is writing long-form, SEO-optimized pieces.
Not only do you have to worry about keyword density and placement, but you also have to ensure that your content is original and plagiarism-free.
Content at Scale takes care of all of that for you.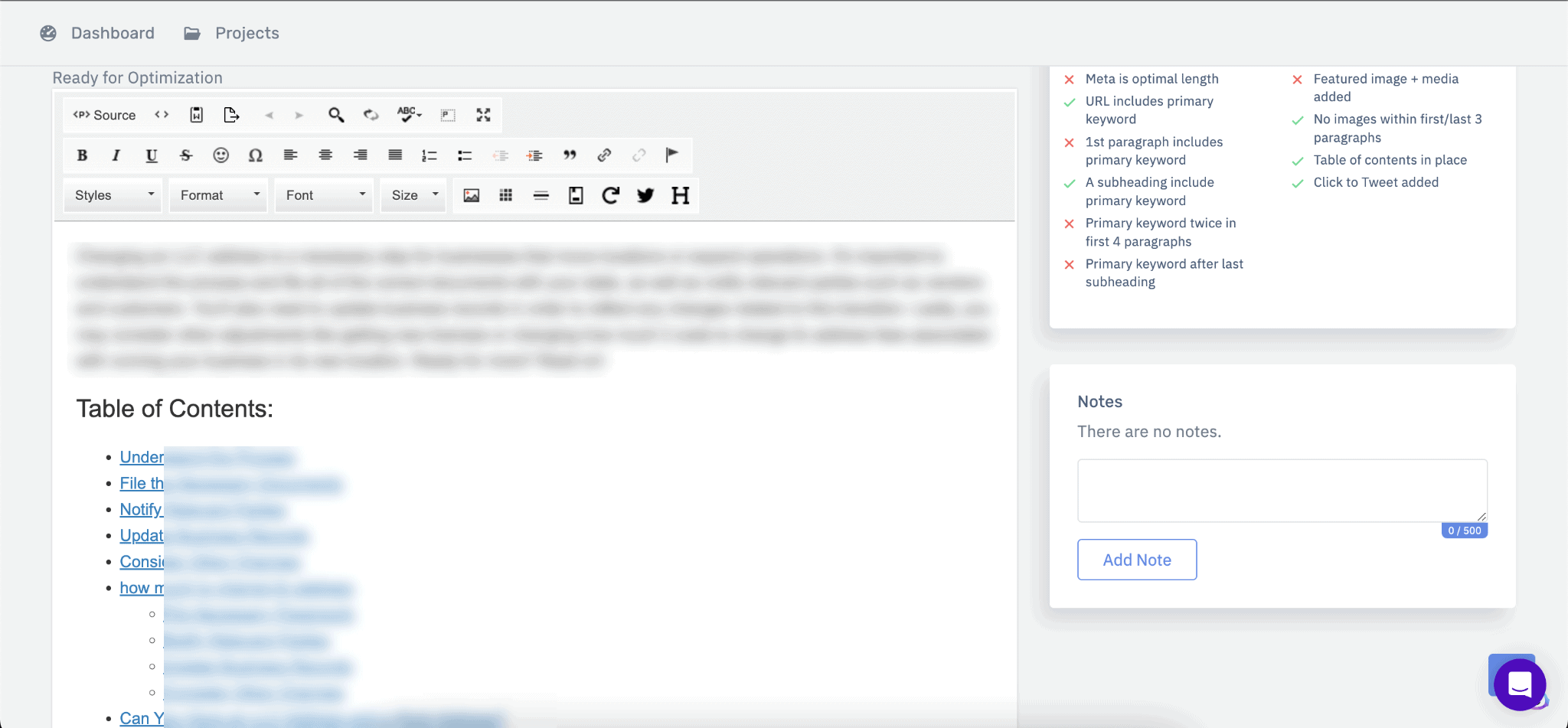 With their long-form, SEO-optimized pieces, you can rest assured that your content will be well-written and plagiarism-free.
If you used to run your written content through Grammarly, Copyscape, or any other third-party tool for plagiarism scans, Content At Scale eliminates the need for various AI writing tools.
As a result, you can save time and money all at once.
Copywriting Engines
Looking at the outputs generated by Content At Scale often makes one wonder about the technology behind the tool.
At its core, 3 AI engines make the magic happen.
These engines comprise two NLPs (natural language processing) and semantic search technology.
These semantic analysis algorithms determine what people are after when searching for a specific keyword.
Then, these tools will create contextual articles within the topic.
As a result, not only does Content At Scale aim to increase output and decrease the time needed for research and copywriting, but it also takes the guesswork out of search engine optimization.
Compared to other AI writing software that cannot do so, this feature makes Content At Scale stand out among its competitors.
It also gives you a higher chance of getting the right traffic from search engines.
Plus, their AI copywriting software is constantly learning and improving to ensure you're getting the best possible results.
Whether trying to optimize the word count for your current blog posts or creating brand new content for a website you're about to launch, Content At Scale has everything you need to get the job done quickly and efficiently.
Why Use Content At Scale?
You should use Content at Scale to create content that provides value for your readers.
Offering informative content is one of the best ways to improve your search engine rankings and build a target audience that knows, likes, and trusts your business.
People are always searching for information, and if your content can provide them with the answers they're looking for, they're more likely to revisit your site, opt into your email list, and buy your products.
As such, Content At Scale is the perfect solution for blog content, website copy, and SEO articles.
Content At Scale is also great for those that hate the post-writing editing process.
You'll love this tool if you want to reduce the level of human intervention and editing needed after generating the content.
Are The Features Worth it?
Content at Scale offers many features that will be helpful for businesses of all sizes.
As mentioned, Content at Scale offers a promising solution for quickly formatting, optimizing, and distributing content.
However, because the platform is still in its beta stage, you'll have to do some fine-tuning before you can outright publish your articles.
With entire articles drafted from a selection of keywords, you will need to spend some time to ensure the generated pieces have your brand voice included.
The features are worth every penny if you look at Content At Scale as an AI writing assistant rather than an autonomous solution.
How Content at Scale Can Help You Grow
Developers also designed Content at Scale to integrate with your WordPress website.
The WordPress plugin includes features that simplify transferring the generated content to WordPress.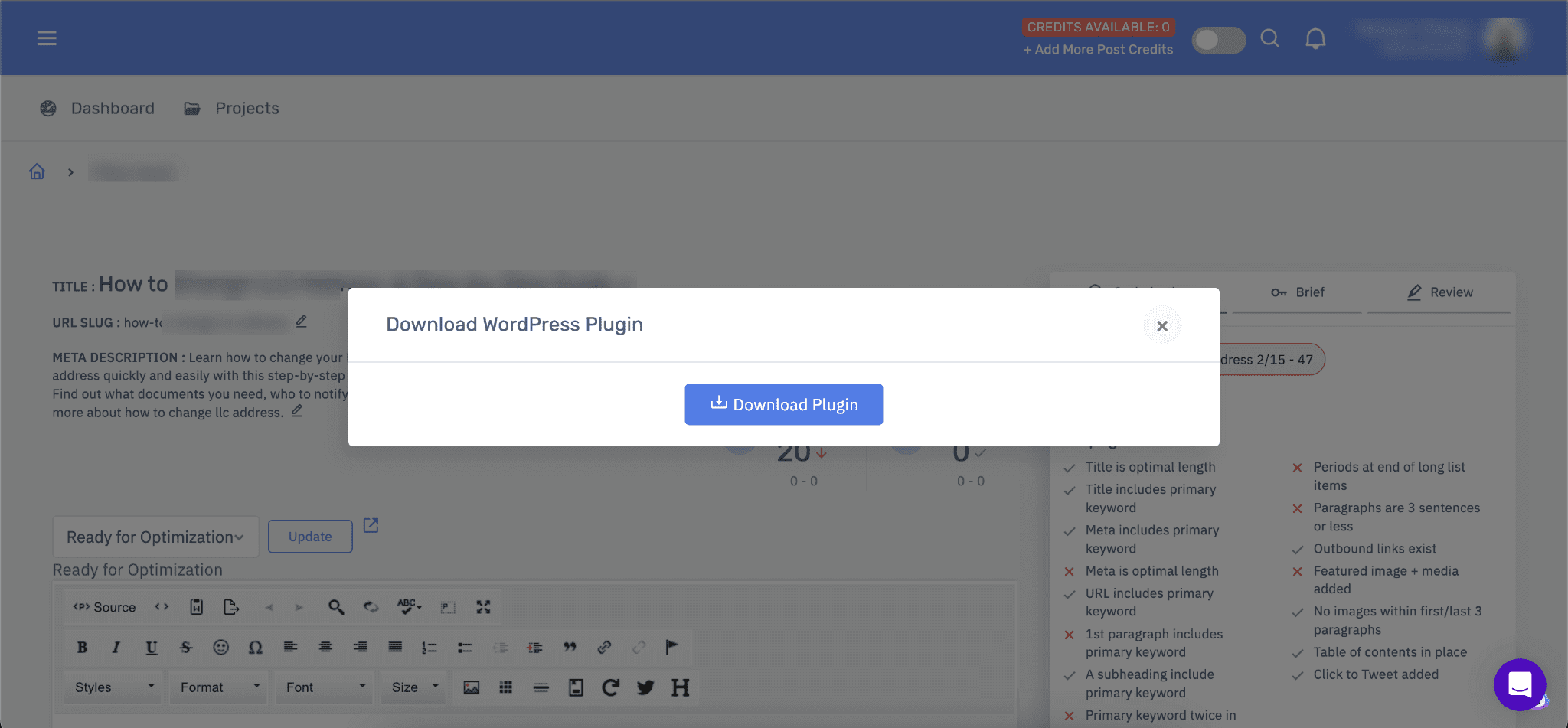 Download the plugin from the user dashboard and install it on your WordPress hosting.
Moreover, if you have any questions or need help getting started, the friendly team behind Content at Scale is always happy to help through the chat found within the dashboard.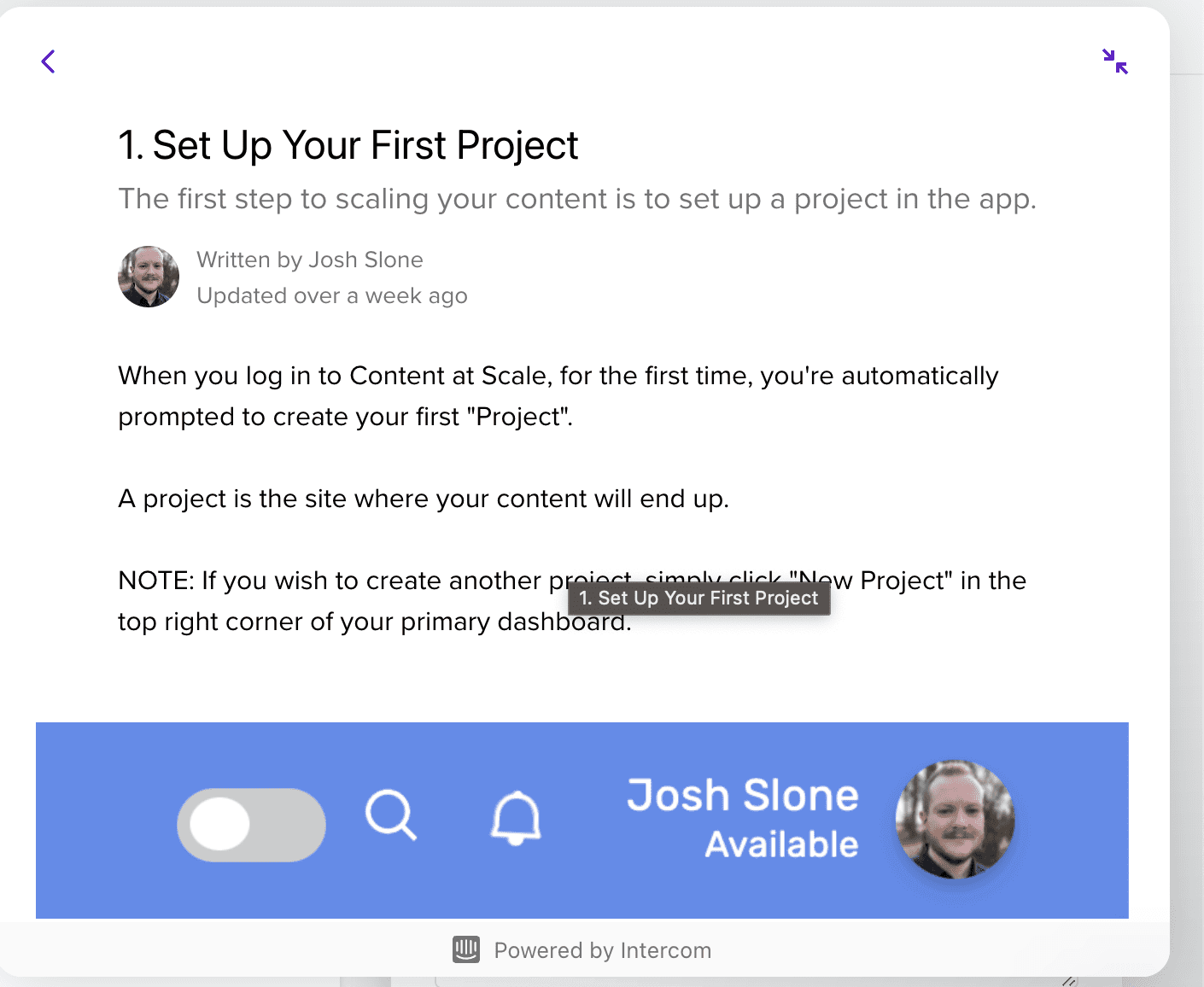 The Pros and Cons of Using AI to Drive Your Content
Here are some advantages and disadvantages to consider before investing in Content at Scale.
The Pros of Using AI to Create Content
NLP (natural language processing) helps users optimize their generated content, making it easier for search engines to find.
You can also create large amounts of content quickly and easily by uploading a list of CSV keywords.
The generated content quality is generally high, thanks to the AI that can understand search intent and create articles based on the proper context.
As a result of this whole process, you can free up your time (or even your team's), so you can focus on other crucial business tasks.
Finally, if you use other tools to ensure your SEO score and ranking is up-to-date, Content At Scale can be a great addition to your content creation strategy and could even replace some of these tools.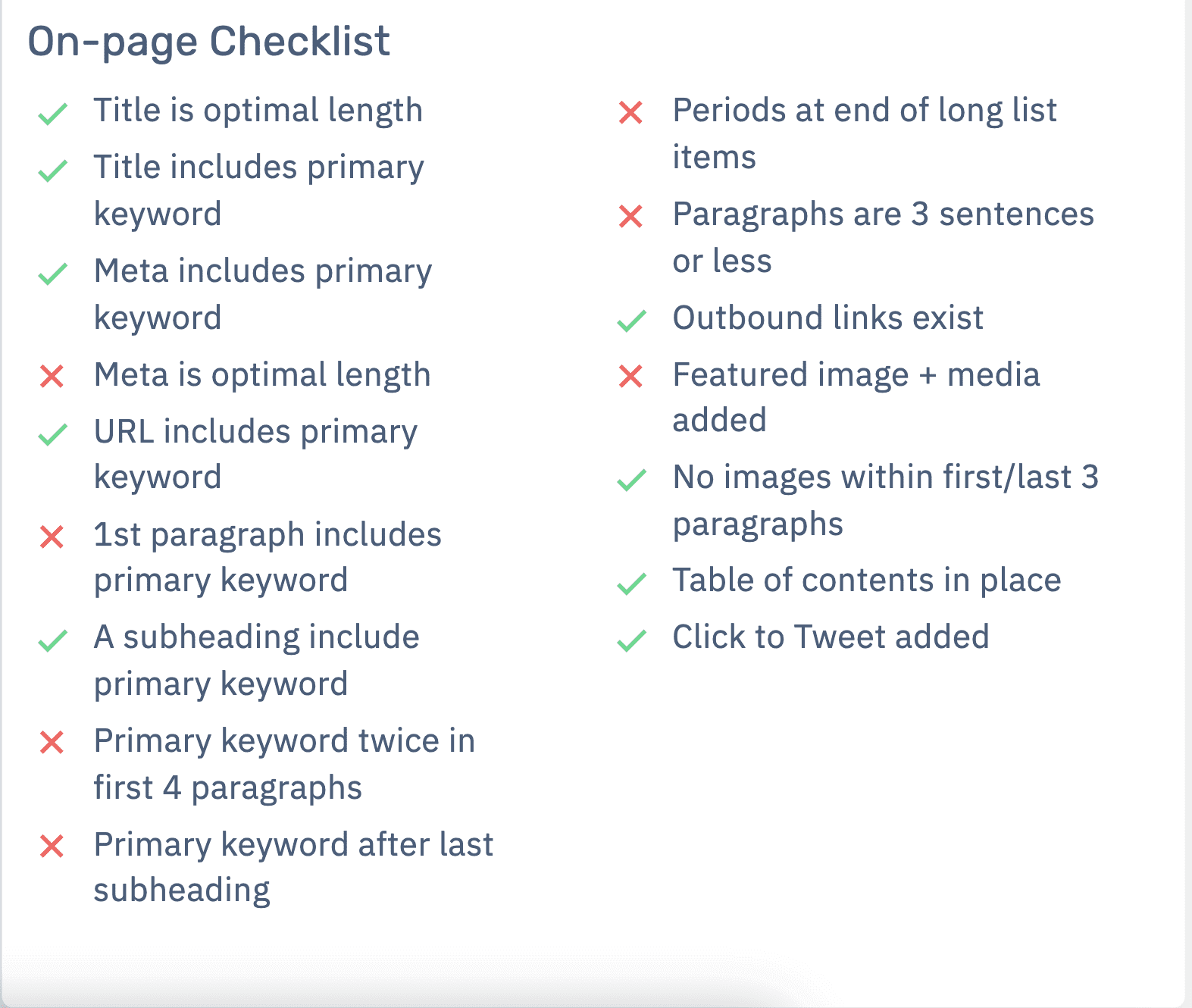 The Cons of Content At Scale
While Content At Scale is becoming an increasingly popular platform for bloggers, there are also some potential drawbacks worth considering.
If you're creating lots of content, there is a pattern in the template Content At Scale uses to produce articles.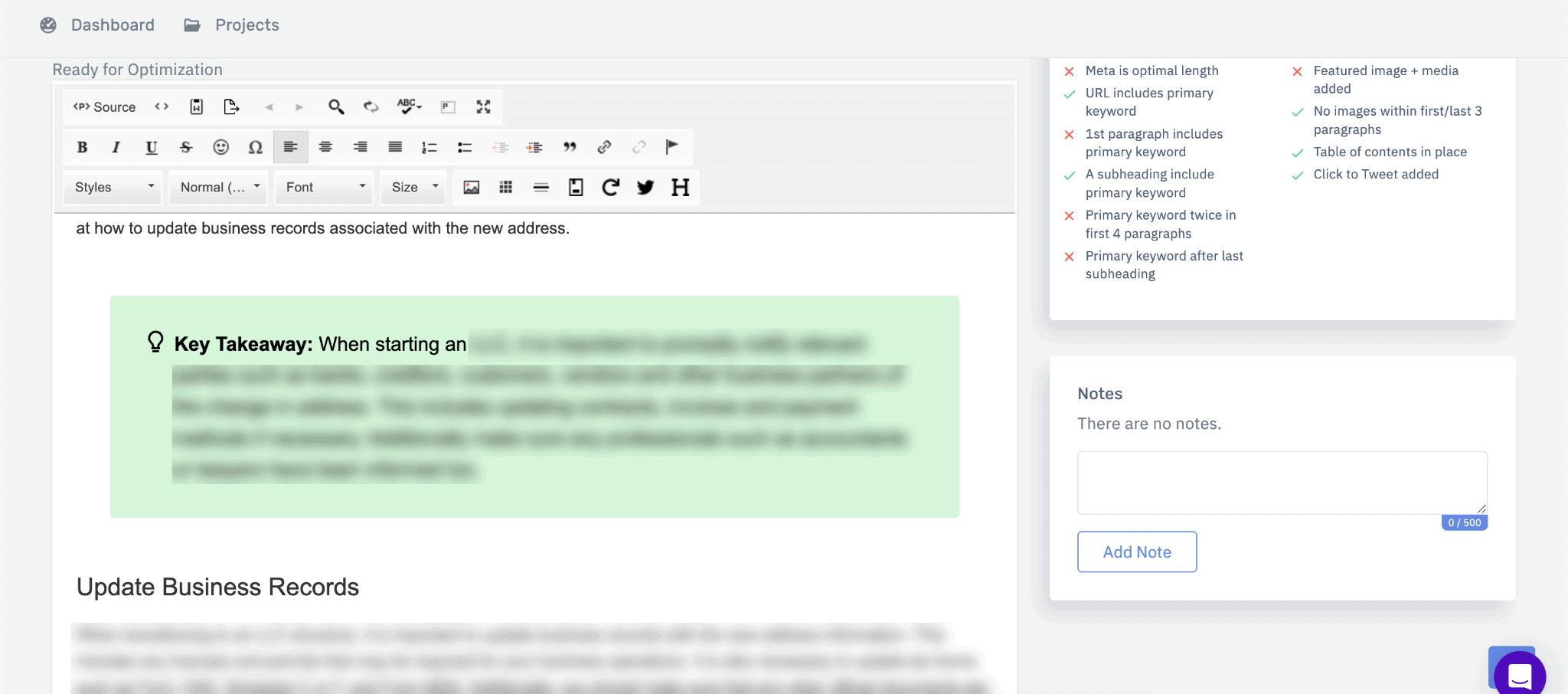 You can see this, especially through the key takeaways section found within each article.
Your audience could realize your content is AI-generated.
Depending on your audience, this might not be something you would want to show, leaving you with more post-generation editing to do.
Pricing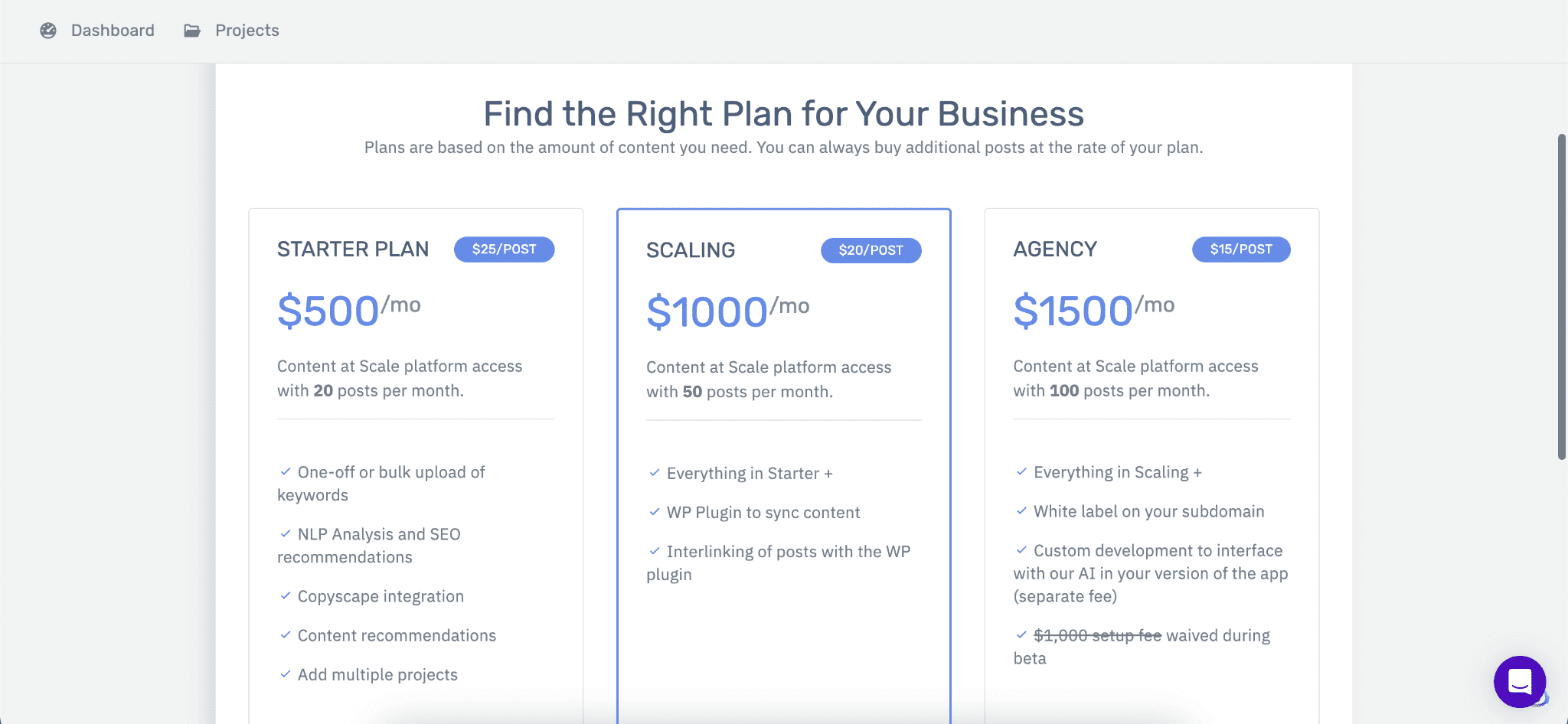 There are three different plans to choose from, each providing quality content at a reasonable price.
The higher the pricing plan, the lower the cost per article becomes.
The basic plan (20 posts per month) is an excellent option for those starting at $500.
This plan within this writing software might be the best option for freelance writers focusing on content generation.
But if you need more content and have a bigger budget, then the mid-tier offers 50 posts per month for $1000.
Then, for large-scale organizations that often rely on scale pricing, the premium plan (100 posts per month) is just what you need.
The price tag of $1500 might seem a bit hefty, but it's an absolute bargain considering the sheer amount of content you get for the money invested.
Content at Scale will provide the same quality and accuracy, whichever plan you choose.
Other Tools You Might Want To Consider
With plenty of AI writing tools available online, Content at Scale is undoubtedly one of the best when creating bulk content.
However, there are also other great options for one's content creation needs.
Jasper AI
When generating long-form content, Jasper AI is another of the best tools.
You can easily and quickly create accurate and engaging content using either one of the various templates or its long-form Boss Mode.
Surfer SEO
Surfer SEO is the perfect tool for you when it comes to optimizing long-form content that follows SEO best practices.
This AI software will analyze your content's keyword density and indicate which keywords to focus on.
The tool allows you to audit your content to remain relevant over time.
Wrap Up.
The Content At Scale AI content writing tool is an excellent option for quickly and easily creating high-quality content in bulk.
As an AI writing tool, it allows you to generate accurate, engaging content tailored to your needs with an easy-to-use user interface.
As artificial intelligence and GPT-3 advance rapidly, Content at Scale uses the latest technology to deliver outstanding results in just a few clicks.
Whether you're a large organization looking for a solution to generate content at Scale, or an individual needing quality content quickly, Content at Scale is one tool to check out.
Further reading on AdamEnfroy.com: Here are a few alternative AI writing tools to consider:
Editorial Process:
Our reviews are made by a team of experts before being written and come from real-world experience. Read our editorial process here.
Some of the links in this article may be affiliate links, which can provide compensation to us at no cost to you if you decide to purchase a paid plan. These are products we've personally used and stand behind. This site is not intended to provide financial advice. You can read our affiliate disclosure in our privacy policy.