The Best Hunting Affiliate Programs In 2023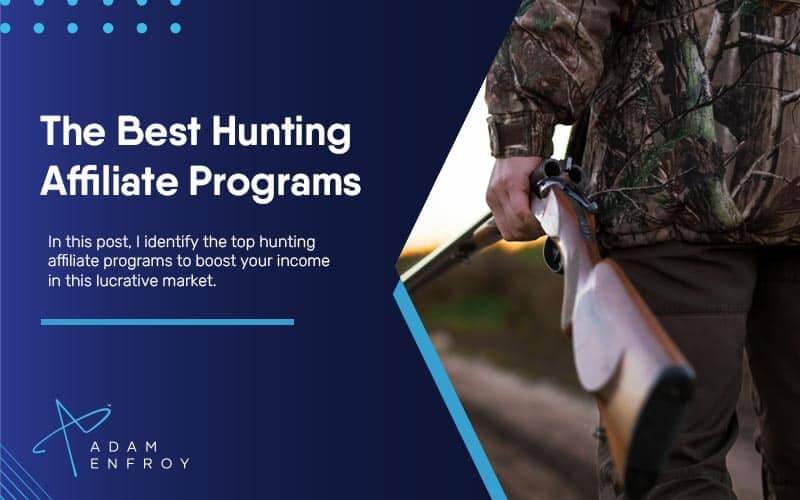 Outdoor recreation is a $862 billion industry, with millions of Americans participating each year and contributing billions of dollars to the economy.
With such a large and lucrative market, many seek ways to get involved and profit.
While you can go out and develop a product yourself (which would take years), there is a better way.
What if you could promote someone else's products without creating anything?
In this blog post, I'll identify the top hunting affiliate programs to consider and show you how to utilize this lucrative market to boost your income.
What Are The Top Hunting Affiliate Programs?
There are many hunting affiliate programs within the hunting market.
You can find programs from outdoor clothing and gear companies, firearm retailers, ammunition manufacturers, hunting guides, or hunting trip organizers.
The following are some of the best hunting affiliate programs to consider.
CamoFire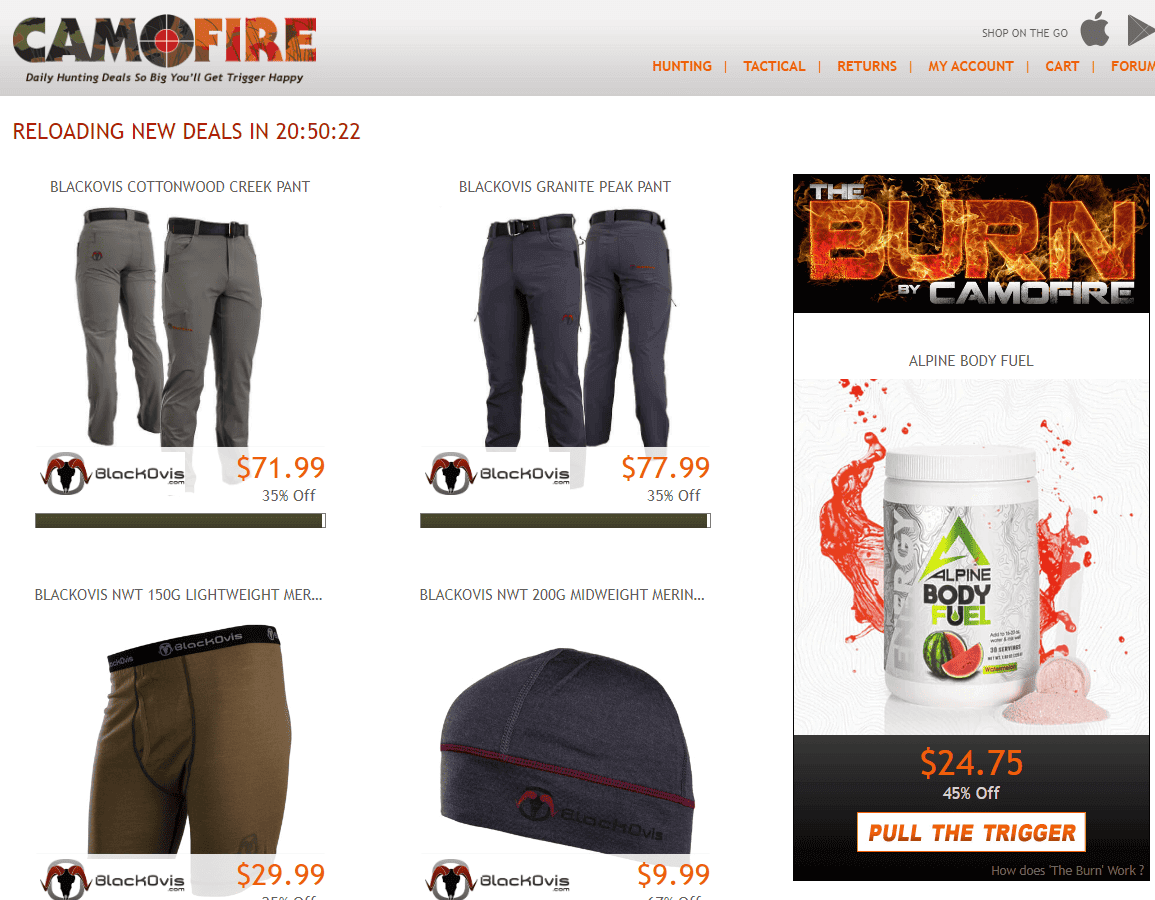 Are you a serious hunter searching for top-brand hunting gear but unwilling to shell out the big bucks?
CamoFire is a one-stop shop for all your hunting needs and a paradise for hunting affiliates.
CamoFire is a hunting gear deal website offering excellent deals, discounts, and flash sales on the best brands and products.
With up to 75% off on top-brand gear, CamoFire allows hunting enthusiasts to save money while they shop for their favorite hunting gear.
CamoFire has been in the hunting game for over a decade and has become a reputable name in the industry.
They offer a vast selection of gear and accessories that cater to all your hunting needs, from hunting boots to game cameras, hunting blinds, and more.
CamoFire also sources the best brands in the industry, ensuring quality and longevity for its customers.
Whether you're a beginner or a seasoned hunter, CamoFire has everything you need to take your hunting experience to the next level.
CamoFire also has an affiliate program that has become popular among hunters and hunting bloggers.
Signing up for the CamoFire affiliate program offers attractive benefits like higher conversion rates, an average order value of $78, and lucrative 4-7% commissions per sale.
You can join the program by simply filling out a form on their website, and then the CamoFire team will take it from there, giving you access to their collection of hunting gear and deals to promote on your blog or website.
CamoFire updates the deals and discounts daily, allowing hunters to snag new deals every time they visit the site.
Filter your search on CamoFire by brand, product category, and even price; this makes hunting for the best deals easy and streamlined.
You can also sign up for their newsletter and get alerts about exclusive discounts, sales, and promotions.
Sportsman's Guide

Sportsman's Guide is one of the best online retailers for hunting and prepping gear.
As such, the platform carries a wide selection of products that will meet your needs.
In addition, Sportsman's Guide offers excellent customer service in the hunting niche with their knowledgeable staff who are always ready to assist their customers.
As one of the best hunting affiliate programs, Sportsman's Guide provides affiliates with competitive commission rates and a wide range of high-quality crossbows and pellet guns to promote.
Their extensive selection of crossbows and pellet guns caters to a diverse range of customers, making Sportsman's Guide a go-to for any hunting enthusiast.
Their affiliate program is one of the best in the industry.
As an affiliate, you can earn a commission of up to 5% on all referred sales, excluding guns, and ammunition sales, which earn a 2% commission.
Sportsman's Guide's affiliate program offers excellent earning potential with an average earning per click of $11.95 and a cookie duration of 7 days.
Their program makes it easy for you to promote their products effectively, and their team is ready to assist you in any way possible to ensure you succeed.
Whether you're looking for beginner-friendly pellet guns or high-end crossbows, this affiliate program has many great things to consider.
With its proven track record and satisfied customers, Sportsman's Guide is undoubtedly one of the best hunting affiliate programs.
Field Supply
Field Supply offers a wide selection of ammo for various hunting rifles.
Additionally, they have partnerships with popular hunting websites, providing customers with exclusive deals.
Field Supply has a brick-and-mortar location in Pennsylvania for those who prefer to shop in retail stores.
Field Supply offers a diverse range of hunting gear, from clothing and footwear to hunting accessories.
They offer MREs, survival gear, and fishing gear, making it a one-stop shop for outdoor enthusiasts.
They carry a broad range of brand-name products, so you can find something that suits your needs at a significantly discounted price.
Field Supply offers a solid affiliate program if you're a hunting affiliate looking to earn extra money.
As an affiliate, you'll earn a 5% commission on every sale you refer, with an average order value of around $40 per sale.
Moreover, you're guaranteed to make consistent money working with Field Supply due to their high "Power Rank" score on ShareASale.
A critical factor to success in affiliate marketing is cookie duration.
At Field Supply, the cookie lasts 45 days, giving you ample time to earn commissions on any orders from the customers you refer.
This extended cookie duration can increase affiliates' earnings, making it an attractive program to join.
Cabela's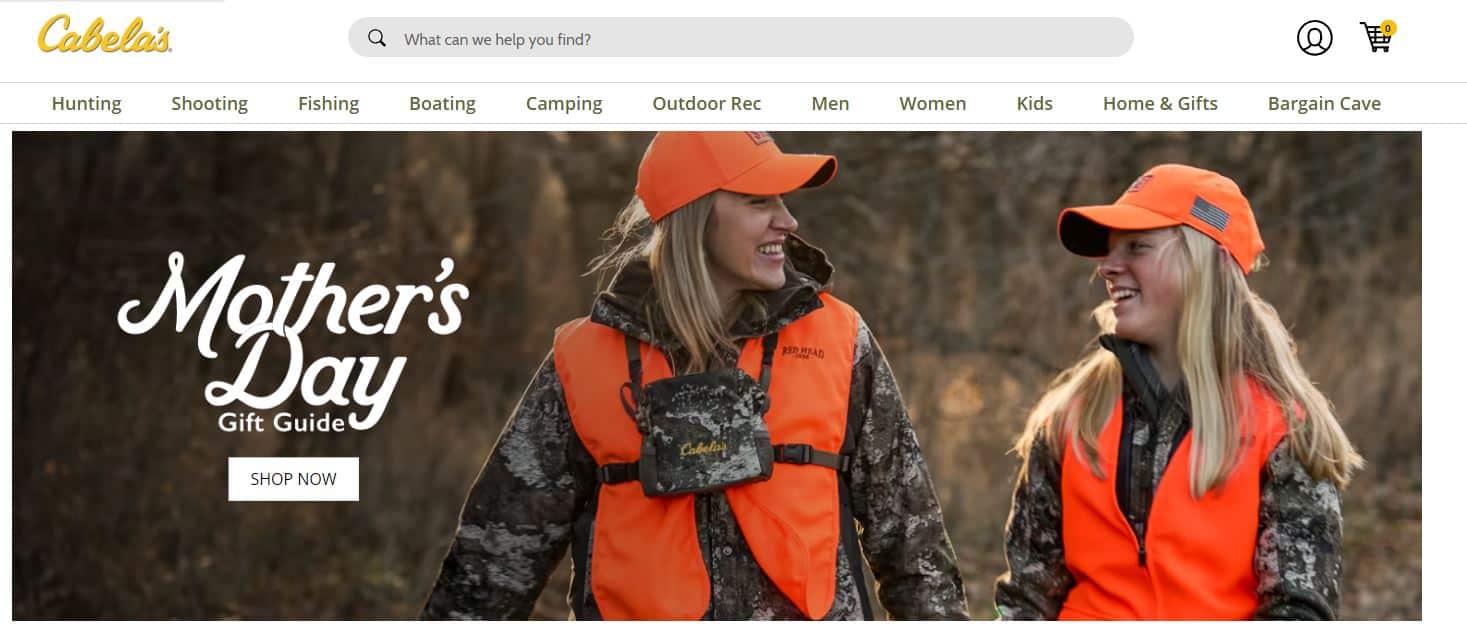 Cabela's offers many active predator-hunting products that affiliate marketers can promote to their audience.
These products are known for their quality and functionality, and Cabela's boasts the best prices in the market.
In addition to hunting gear, Cabela's also offers an extensive collection of Deadwood knives, perfect for hunting and other outdoor activities.
In recent years, Cabela's has gone through a merger with Bass Pro Shops, creating a giant corporation under the name of Bass Pro.
Though Cabela's has lost some of its independence, it remains a trusted source for all things outdoor-related.
It still stocks fishing gear, camping equipment, outdoor clothing, and various firearms and hunting gear.
Atlanta Cutlery Corp

When it comes to outdoor activities, having the right tools is crucial.
A sharp and reliable knife is a must-have for hunters and outdoor enthusiasts.
Atlanta Cutlery Corp should be your go-to destination for all your knife needs.
With various options from top brands, you're sure to find the perfect knife to suit your needs.
Boating enthusiasts can also find quality outdoor gear and rifle scopes at Atlanta Cutlery Corp, catering to shooters of all levels.
Atlanta Cutlery Corp offers a vast selection of knives for outdoor activities.
From Bowie knives to daggers, Kurkris, machetes, and more, you can find the perfect tool to suit your needs.
All our knives come from top brands such as Cold Steel, Boker, Ka-Bar, Gerber, and American Buffalo, ensuring you get high-quality products designed to last.
Another great reason to shop with Atlanta Cutlery Corp. is the option to join the affiliate program.
With an 8% commission on all sales made through your links and a 7-day EPC, you can earn while promoting high-quality knives that will entice your audience.
It's a win-win situation – your audience will be happy with the products you're promoting, and you'll be pleased with the commission you earn.
HuntSmart
HuntSmart offers a wide range of hunting gear, including GPS dog tracking systems that help hunters locate their dogs and keep them safe during hunting trips.
In addition to dog tracking systems, they offer gun parts for those who prefer to customize their hunting rifles.
HuntSmart also offers a selection of hunting knives, which are essential for tasks such as field dressing and skinning game.
HuntSmart is a leading supplier of high-quality predator-hunting products that hunters trust and rely on.
Whether you need GPS tracking systems, anti-cut vests for dogs, Nite Lite systems, or trapper clothing, HuntSmart has got you covered.
With its exceptional customer service, unmatched expertise, and unbeatable prices, HuntSmart is the number one destination for all predator hunters.
HuntSmart offers the following:
A great selection of gear – At HuntSmart, you will find a wide range of hunting gear designed to help you succeed in your predator-hunting pursuits. Whether you are an experienced predator hunter or just starting, you will find everything you need to head out into the field with confidence.
Personalized service – At HuntSmart, they believe in providing customized service to every customer. Their team of experienced hunters can answer any questions about their products. Their customer service representatives are passionate about predator hunting and will provide comprehensive advice on which products suit your needs. Whether you are looking for advice on setting up your GPS tracking system or using a Nite Lite system, they are here to help.
Competitive prices – At HuntSmart, they believe that every hunter should have access to high-quality gear at an affordable price. That's why they offer unbeatable prices on all their products, so you can get the gear you need without worrying about breaking the bank. Their 6% commission rate on sales and 30-day cookie duration make HuntSmart the best value for your money.
Easy online shopping – At HuntSmart, they shop for predator hunting gear easily. Their online store provides you with a quick and easy shopping experience. You can browse our products by category to find what you need quickly. Plus, with our fast shipping and hassle-free returns policy, you can shop confidently, knowing that HuntSmart has covered you.
Unmatched expertise – With decades of experience in the predator hunting industry, HuntSmart has a wealth of knowledge regarding hunting gear. They understand the needs of hunters and keep up with the latest technologies and trends in the industry. With HuntSmart, you can shop confidently, knowing that you are getting the best gear and advice from experts in the field.
Brownells

Brownells is a trusted brand that offers various firearms, accessories, optics, and gunsmithing parts and tools.
However, Brownells is more than just a firearms retailer.
They also offer a wide selection of wing supply products, catering to all hunting enthusiasts.
Brownells are committed to training and education, providing an exceptional customer experience, and being a leader in the industry.
The company has been around for over 80 years and prides itself on offering top-quality products for hunting and shooting enthusiasts worldwide.
When you shop at Brownells, you can access the largest selection of firearms, parts, and accessories.
The company has over 50,000 products in stock, continuously adding more daily.
Plus, everything that Brownells offers comes with a 100% satisfaction guarantee.
Brownell Affiliate program is an excellent opportunity for content publishers and deal sites looking to promote high-quality firearms and gunsmithing supplies.
The program offers a competitive commission rate of 5%, and the platform will disclose the expected commission soon.
The affiliate program has a 3-day cookie for deal sites and a 14-day cookie for content publishers following the TASS methodology.
Another great thing about the Brownells affiliate program is that once you sign up, you can access various marketing materials, including banners, product feeds, and exclusive promotions, to help you promote the products effectively.
1.800.Gear
1.800.Gear is a one-stop shop for all your hunting gear needs.
They offer everything from fishing and footwear to optics and motor accessories, making them the ultimate destination for hunters to find all their gear needs.
1.800.Gear offers a comprehensive gear affiliate program for hunting enthusiasts looking to monetize their online presence.
Affiliates of this program can earn up to 10% commission on all gear sales through their unique referral link.
By signing up through AvantLink, you can earn a 10% commission on each sale you generate through your unique referral link.
Plus, the 60-day cookie period means that even if someone doesn't make a purchase right away, you can still earn a commission if they return and purchase within the cookie window.
With an average sale value of around $100, you can earn at least $10 on most sales.
It's important to note that some products may have a lower commission rate, but overall, 1.800.Gear offers a generous commission structure for its affiliates.
It's also worth noting that 1.800.Gear offers a wide range of products for different hunting needs, including safety gear, scent elimination products, and trail cameras.
Promoting these products can appeal to a broader audience and increase your chances of making sales.
With a diverse range of hunting equipment, including firearms, optics, and clothing, this affiliate program offers a lucrative opportunity to promote high-quality products to a dedicated audience.
In addition to competitive commission rates, affiliates can benefit from the company's reputable brand and top-notch customer service.
BlackOvis

With an impressive selection of clothing, optics, gear, archery equipment, and camping gear for men, women, and children, the BlackOvis affiliate program is a top program for hunting enthusiasts.
BlackOvis's affiliate program has an impressive array of hunting brands in stock, so you can be sure that the products you are promoting are of the highest quality.
From rangefinders at various price points (from under $100 to over $2500) to an extensive selection of optics and archery equipment, they have everything the avid hunter needs to gear up for a successful hunt.
Affiliate marketing can be lucrative, and BlackOvis's affiliate program is no exception.
With commission rates of up to 10% on every purchase and an average order payout of over $180, you can earn a significant amount on every sale.
Plus, with affiliate managers available 24/7, you'll have all the support you need to succeed.
A bonus of the BlackOvis affiliate program is its long-lasting cookies.
With cookies lasting 60 days, you can continue to earn commissions long after your followers leave their site.
Overall BlackOvis is another lucrative and easy-to-join affiliate program, making it an excellent option for hunting enthusiasts looking to earn a commission.
The program also includes a dedicated affiliate manager who provides personalized support and guidance to help affiliates succeed.
Other hunting affiliate programs include the Airgun Depot affiliate program, Optics Planet, and Amazon.
How To Succeed As A Hunting Affiliate Marketer
Customers looking for products within the hunting niche invest in their hobby and are knowledgeable about the products they need.
They already know what they're looking for, so you'll need to know your stuff when recommending products.
One way to become an expert within this niche is to research the brands and products available and learn as much as possible.
You should also join forums dedicated to hunting where you can connect with other hunters and get advice on what products work best.
It will make you understand what hunters need and help you connect with potential customers more effectively.
You'll also need to be creative when marketing your affiliate links.
Try writing product reviews or creating blog posts that provide helpful information on hunting-related topics.
You can also post about your affiliate products on social media and run ads targeting audiences likely to be interested in the products you are promoting.
By being knowledgeable about the products you're recommending and marketing your links effectively, you can increase your chances of making sales through whichever affiliate program you promote.
Wrap Up.
Going for the right hunting affiliate program can make all the difference in your success as an affiliate.
The above companies all stand out in the industry, offering great commission rates, long-lasting cookies, and quality products.
By partnering with one of these companies, you can increase your chances of earning more money while promoting top hunting brands.
Further reading on AdamEnfroy.com: Want even more affiliate programs? Check out these posts:
Disclosure: I may receive affiliate compensation for some of the links below at no cost to you if you decide to purchase a paid plan. You can read our affiliate disclosure in our privacy policy. This site is not intending to provide financial advice. This is for entertainment only.