Copy AI Review: is It the Best Option to Get Content Out There?
Copy AI is an AI writing tool that promises to simplify content creation for users of all levels.
Their team has recently raised $11 million in Series A funding, allowing the tool to keep growing.
In this Copy.AI review, I will discuss its various abilities, ease of use, pros and cons, and, most importantly, whether or not it's worth using for your content production needs.
What Is Copy AI?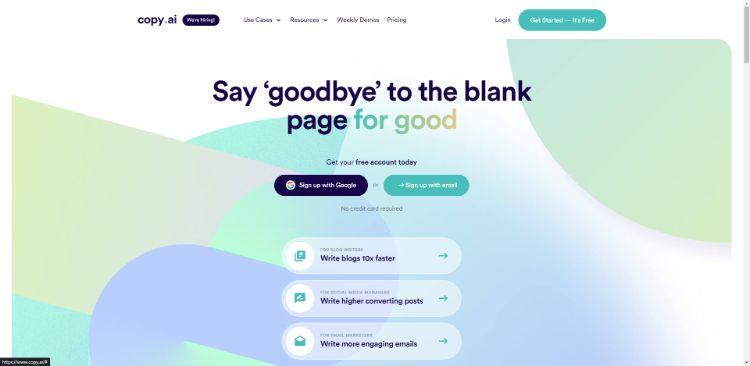 Copy.AI is an artificial intelligence (AI) writing tool that can create long-form blog posts, web copy, product descriptions, and more.
Users can do all this in a fraction of the time it used to take a few weeks ago.
Using a GPT-3 language model algorithm, Copy AI can generate virtually any content you need in minutes.
Also, if matching content intent is challenging for you, Copy AI can help by providing pre-trained templates that make creating top-notch content more accessible than ever.
You can generate headlines, social media captions, and more with Copy AI's natural language processor (NLP).
It even offers an editing feature within various tools to refine your final output before publishing it.
Pros Of Copy AI
Let's look at the advantages of using Copy AI for content creation.
Eliminate Writer's Block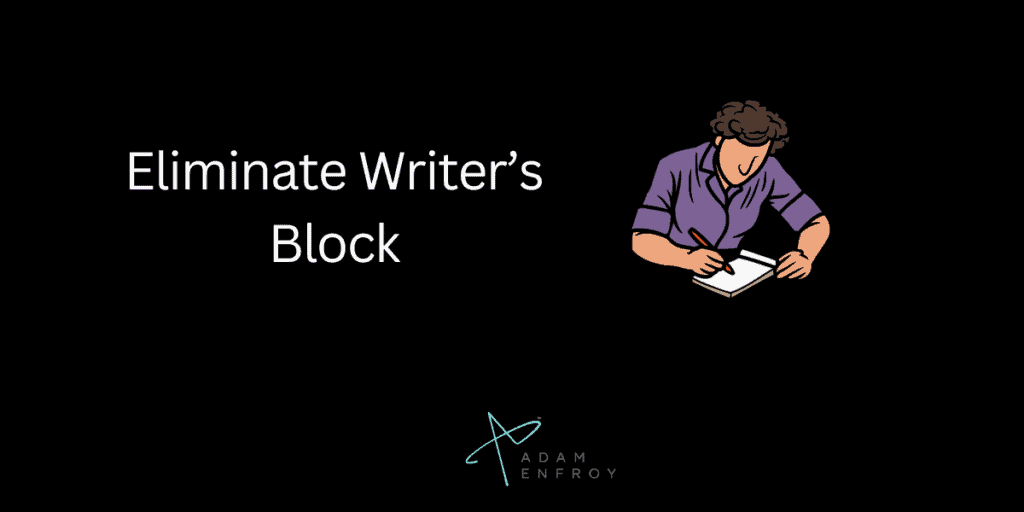 One of the best reasons to generate content using Copy AI is that it eliminates writer's block. Writing blog posts using a traditional text editor makes it challenging to develop ideas. Copy AI can help you develop new and exciting topics in just a few minutes.
Cost-Effective Plans
With Copy AI, you can choose from different pricing plans depending on your budget and needs.
There's even a free plan (more on this later).
Can Create Content in Multiple Languages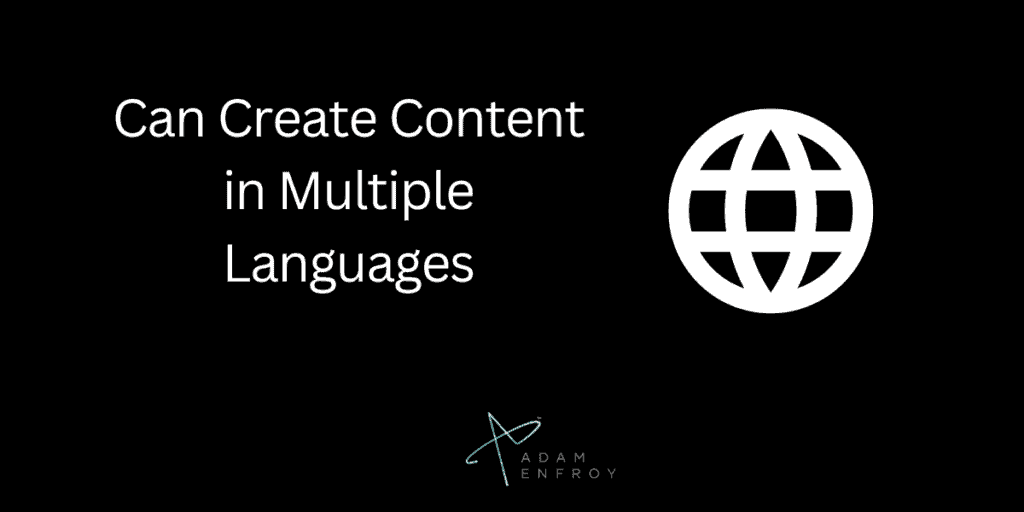 One can use Copy AI to write content in any language, so it's perfect if you need to target an international audience.
A Wide Range of Templates
Copy AI offers a wide range of templates for different types of content, such as blog posts, newsletters, and more.
Cons Of Copy AI
As a writing assistant, every tool has its negatives.
Here are some of the disadvantages of using Copy AI for content creation.
May Lag While Generating Content
Sometimes, it may take a few seconds to generate new ideas during content writing because of the complexity of the GPT-3 language model.
While building longer content may take longer than creating a smaller blog post section, this extra wait time can add up over multiple articles.
This slowness can cause a distraction in your workflow and make your process inefficient.
Random Content Appears
Creating blog content and web copy often requires precision regarding language usage and facts.
Having random content insertion in your work could distract readers from the main message you are trying to convey.
While checking your text is always recommended, Copy AI's seemingly random content can be frustrating.
Moreover, having random facts or dialogue that might slip past you and end up in the finished version of a post can lead to potential embarrassment for the publisher.
Fact-Checking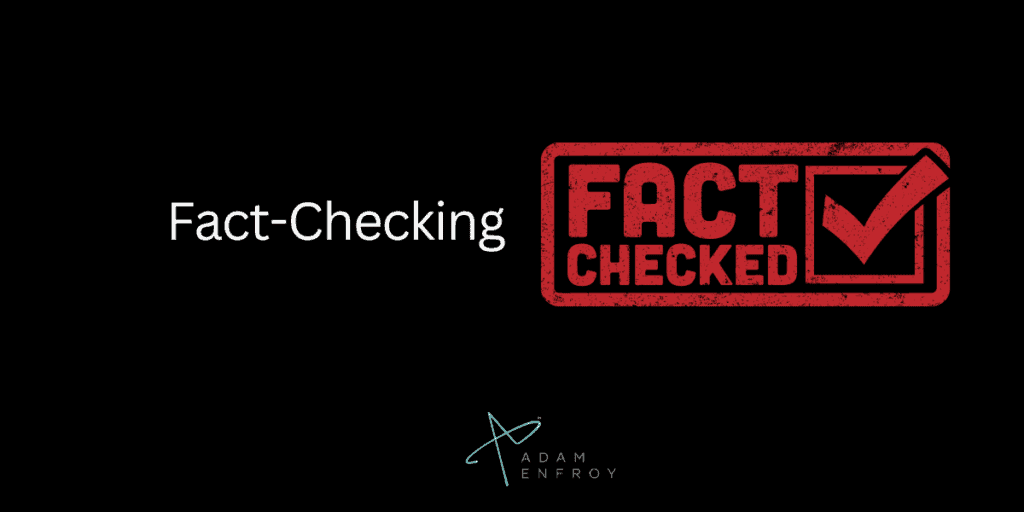 Accuracy is critical when writing a business article using precise guidelines.
Checking facts with reliable sources is always recommended before publishing an essay and should be done manually by the writer.
Building Long-Form Copy Can Be Frustrating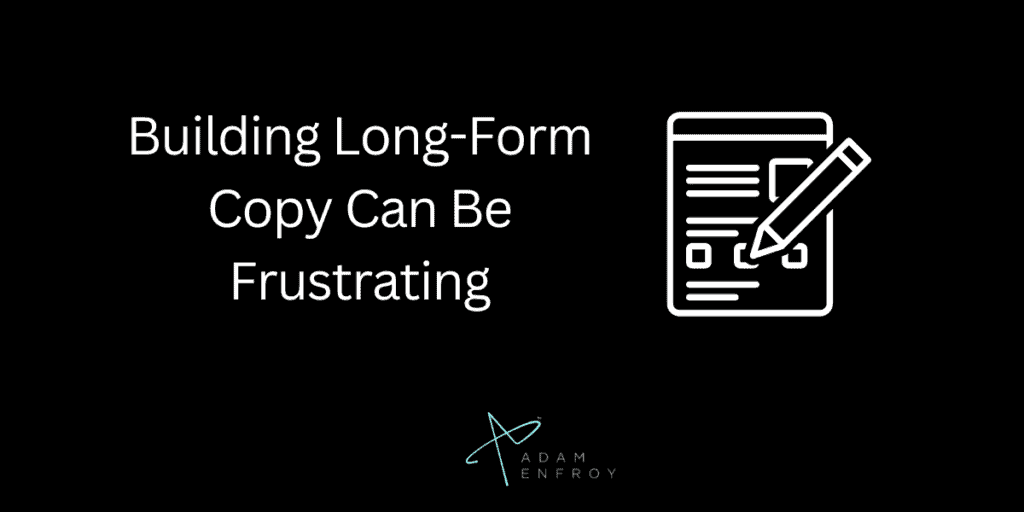 Copy AI can feel limited regarding longer-form content, with some options still considered beta features.
Whether creating talking points for your next webinar or using the blog post wizard to generate an entire post in a few minutes, it's essential to keep this in mind before relying solely on Copy AI for more extended writing.
Features Of Copy AI
Here are some of the features that Copy AI offers to help you create content quickly and efficiently.
Simple Interface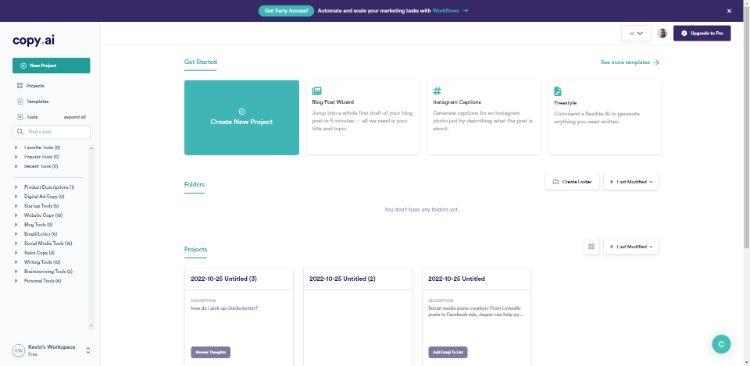 AI copywriting software should be simple and easy to use.
The last thing small business owners want is to spend hours figuring out a new piece of AI copywriting software.
Whether writing the next blog section or creating tutorials, Copy AI has an intuitive user interface to help you quickly create content.
The navigation menu on the left and the workspace on the right-hand side work for most users.
Having your main interface divided this way brings focus as you write content.
Text Editor
If you have actively worked with Google Docs in the past, then Copy.AI's text editor will feel familiar.
Considered simpler than working in Microsoft Word, you can create content quickly and easily within the platform.
Everything you need seamlessly happens in the Copy.AI ecosystem, allowing users to generate marketing copy, short-form content, output product descriptions, and more.
The maximum effort you'll have to do involves cutting and pasting text where it needs to go.
If you can do that, you're good to go.
Specific Tones
Successful content marketing means knowing how to write for different audiences.
For example, as a startup, using a casual but professional tone of voice might work best for blog posts.
A more professional tone will usually be appropriate when writing a knowledge-heavy article in the B2B arena.
A humorous or persuasive tone in social media content might be what you need to engage your followers and get them to take action.
Whatever tone you need, Copy AI provides specific tones that make it easier to target different audiences with each piece of content created.
Tutorials
Producing the best AI-generated content revolves around a company that offers as much information about using its product as possible.
For an AI writer looking to maximize their content creation efficiency, Copy AI offers step-by-step tutorials and templates to help you create engaging content quickly.
With additional use cases and examples of the kind of content, Copy AI can create, users better understand what is possible with the platform.
All these tutorials mean that you can hit your targets if you're using Copy AI to create business presentations, school projects, or anything else that has practical purposes.
Said differently, content writers must see results fast, and Copy AI does just that.
Feature Requests
Sometimes, as you generate blog ideas or create long-form content, you think of features to make the process easier and faster.
You can email Copy AI's support team and request new features or suggest changes to existing ones.
While the team probably will only fulfill some requests, they will consider your feedback when planning future updates.
Easy Content Sharing
When you generate AI content, you sometimes need input on content from others before publishing it.
Sharing it with others with one unique link makes getting that done easier and more efficient.
Whether you have clients, team members, or freelancers working with you, sharing your AI copy and getting their feedback is much simpler than ever before, helping to streamline collaboration.
Get started with Copy AI.
Copy AI Templates
Here are some templates with Copy AI to generate content quickly and effectively.
Digital Ad Copy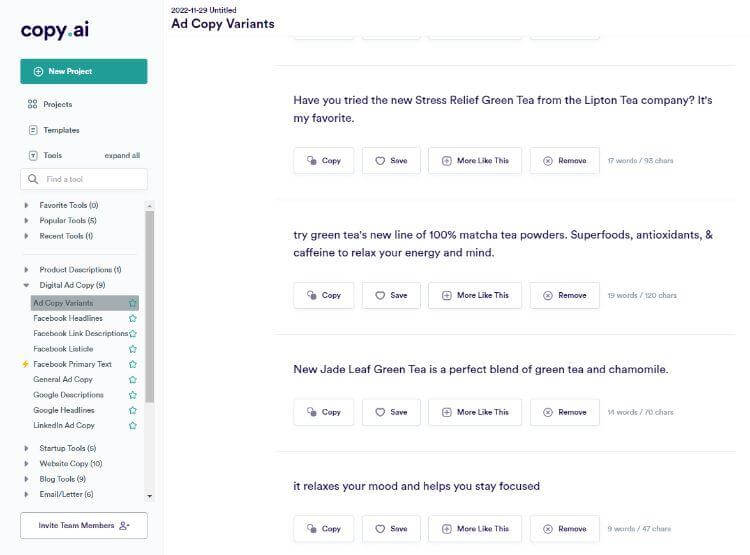 Copy AI can save countless hours of writing.
The tool can sort out your digital copy needs, from creating a blog outline for your website to generating digital ad copy for social media platforms.
As far as writing tools go, Copy AI provides an easy-to-use platform that produces results fast.
Sales Copy
Users can generate multiple content types to sell their products or services.
Whether you want to create long-form sales pages or shorter summaries, the team at Copy AI designed their sales copy tools to help you make the best content for your customers.
Moreover, in terms of user knowledge, anyone from experienced copywriters to complete novices can benefit significantly from this tool.
Copy AI offers various sales templates that make crafting compelling and persuasive copy more accessible than ever.
Social Media Content
Whether you're creating Instagram post captions, generating social media posts for Twitter, or crafting email campaigns — Copy AI helps you get the job done quickly and effectively.
Without constantly revising your work, you can now create engaging and effective social media content in a fraction of the time.
Various templates are available, allowing you to get creative.
Blog Tools
Copy AI helps create engaging blog posts with ease when it comes to long-form content.
Creating high-quality content is the essence of providing value to your readers, and Copy AI ensures that it happens faster than ever before.
Gone are the days of managing freelancers, going through the tedious hiring processes, and waiting for quality content — now you can generate it within minutes.
AIDA
Regarding content creation for marketing purposes, AIDA is a basic formula that helps capture attention and convert leads.
Copy AI ensures you take advantage of all crucial steps, allowing you to craft engaging content quickly and efficiently.
With its AIDA template, you can easily create persuasive content to attract potential customers and convince them to take action.
Feature To Benefits
If your website copy focuses too much on features without discussing the benefits, you might lose out on potential leads and customers.
Copy AI ensures that each feature is paired with a benefit, so readers are better informed when making decisions.
PAS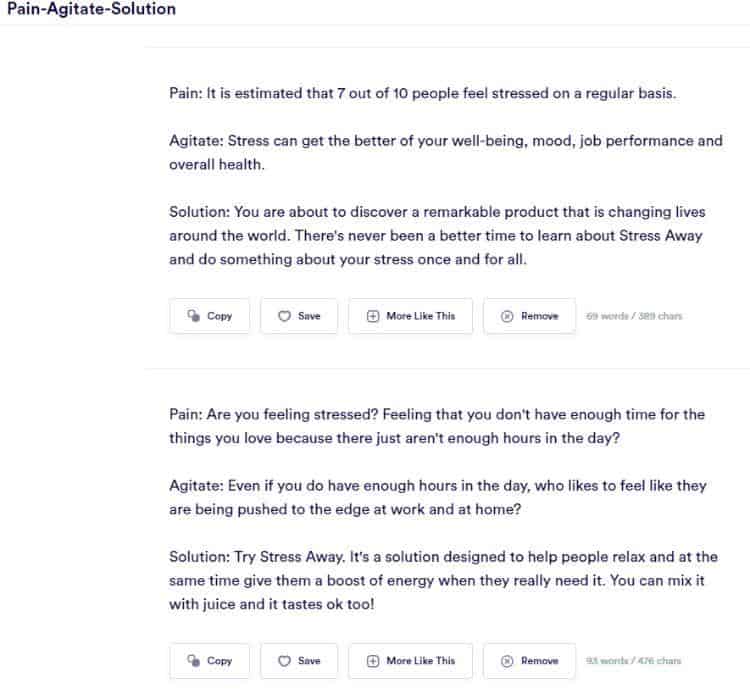 Sometimes, you can eliminate writer's block simply by thinking about the problems your target market faces and how your product or service solves them — this is known as Problem-Agitate-Solve (PAS).
Copy AI provides a framework for crafting PAS content easily so you can quickly and effectively craft engaging copy.
The above are some of the top templates that Copy AI offers to help you create the right content.
Using Copy AI
Here are the main steps to using Copy AI successfully.
Start With An Input
Using the software, start by establishing the inputs you want to use.
Ensure these inputs are clear and concise so that Copy AI can accurately generate content.
Remember, you can also tweak your inputs (and outputs) to ensure your brand voice comes through in the copy.
Grammar and Spelling
With the grammar checker in the platform, you can quickly and easily get feedback on your copy.
While it doesn't offer integration with a tool like Grammarly, it has its technology for grammar and spelling checks.
Plagiarism
Checking for plagiarism is also essential to writing online content — Copy AI allows users to check their content for plagiarism quickly.
Like its grammar-checking features, it offers a plagiarism checker to help ensure your content is original.
Top Users of Copy.AI
Here are the top kinds of users that Copy AI can help.
Content Marketers
From creating blog intros to generating SEO articles and meta descriptions that boost organic search rankings, Copy AI provides content marketers with a powerful and efficient way to produce engaging content.
Moreover, with templates that cater to creating SEO-friendly blog titles, Copy AI enables you to save time while ensuring accuracy and quality.
There is also a Chrome extension helping you quickly generate content while browsing the web.
For bloggers and content marketers alike, these features make Copy AI an invaluable tool to save time in their workflow.
Copywriters
AI copywriting tools help brainstorm various angles for stories and articles.
You can create bullet points for your landing pages and explore various methods of presenting your ideas cohesively, helping you craft compelling copy for your audience.
Product Managers
Copy AI is an excellent tool for product managers as it helps them quickly create content to showcase the features and benefits of their product.
This tool can help create effective marketing campaigns tailored to each customer segment.
Business Owners
For business owners, using various AI algorithms to create content gives them an added advantage over their competition.
From ecommerce websites to digital marketing strategies, machine learning provides powerful insights that one can use to optimize the customer experience.
Social media Managers
Finally, AI writing tools like Copy AI can help social media managers quickly create engaging posts and captions for their accounts.
Whether you're doing Linkedin marketing and want to craft concise posts that drive engagement or need help creating catchy captions for Instagram photos, Copy AI can help.
Pricing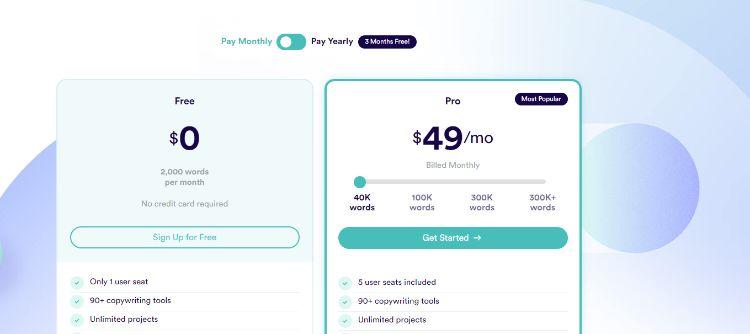 Copy AI offers two pricing plans:
Free: $0
Pro: $49 per month
The free version allows you to create content and copy without inputting a credit card.
This free plan gives you 2000 words per month.
For a free version, this is a great way to test the tool and get an understanding of how it works.
The second pricing plan, Pro, starts at the above rate and gives you 40000 words monthly.
You can then pay more if you need additional words.
Copy.AI AI Workflow Automation
Does your team waste valuable time on tedious tasks like SEO and social media postings? How about product descriptions and outbound campaigns?
Copy AI's Workflow Automation unlocks a new era of success.
What is AI Workflow Automation?
AI Workflow Automation is a powerful tool that enables businesses to automate their daily processes without hiring additional staff or purchasing expensive software solutions.
By automating these mundane yet essential tasks, businesses can free up their staff to focus on more critical tasks such as customer service, sales, marketing strategy, etc.
How Can AI Workflow Automation Help Your Organization?
AI workflow automation can help organizations in many ways.
For example, sales reps can use it to optimize outbound campaigns by automating tedious processes such as data entry, email blasts, and lead qualification.
Marketers benefit from automated SEO processes that ensure their content always meets search engine requirements for maximum visibility.
Social media postings become more consistent with automated scheduling tools that post at the most effective times for each platform.
And product descriptions become easier to manage with automated keyword optimization and natural language generation (NLG).
All of this leads to improved customer satisfaction – with less money spent.
The Benefits of AI Workflow Automation
The primary benefit of AI workflow automation is increased efficiency – which means better results in less time.
It also reduces costs associated with hiring additional staff or purchasing expensive software solutions.
You don't have to invest in either when using an automated system.
Plus, it ensures consistent quality across your output by eliminating human error and providing accuracy every time.
Doing so allows you to make data-driven decisions about how best to move forward with your business goals.
By leveraging Copy.AI's AI-driven platform, you can quickly generate content without going through manual editing processes or researching topics yourself.
Copy.AI's natural language processing capabilities allow you to write faster than ever by automatically suggesting relevant words and phrases based on context rather than typing them out manually.
This feature enables you to produce content quickly without sacrificing quality or accuracy, which many other platforms cannot do efficiently or effectively.
With Copy.AI's scalability options, you can easily adjust the amount of money spent on each project according to its size.
Additionally, its subscription services enable users who pay monthly fees to access exclusive features such as advanced analytics tracking & reporting capabilities.
These capabilities are essential for better understanding how their campaigns perform over time.
Copy AI Alternatives
After reading this Copy AI review, consider various other AI writing tools on the market.
You can read more about these Copy AI competitors below:
Wrap Up.
Copy AI is a handy writing tool that saves time and improves written content accuracy.
Content marketers, copywriters, product managers, social media managers, and business owners have different needs when creating quality content.
Still, Copy AI can help to simplify the content generation process for all of them.
With its two pricing plans – Free and Pro, there is something for everyone.
Copy AI is one tool to consider if you're looking for a platform that uses artificial intelligence to help write better content.
Get started with Copy AI.
Editorial Process:
Our reviews are made by a team of experts before being written and come from real-world experience. Read our editorial process here.
Some of the links in this article may be affiliate links, which can provide compensation to us at no cost to you if you decide to purchase a paid plan. These are products we've personally used and stand behind. This site is not intended to provide financial advice. You can read our affiliate disclosure in our privacy policy.
---
Last Updated on March 3, 2023 by Adam Enfroy