7 Best OTT Platforms of June 2023 (Ranked and Reviewed)
Choosing the right OTT platform is crucial to delivering the best video streaming experience. From movies or episodes to educational courses and tutorials, the best OTT platforms provide easy access to your content. In this guide, I ranked and reviewed the 7 best OTT platforms so that you can pick the best one for you.
---
We're reader-supported. When you buy through links on our site, we may earn an affiliate commission.
Want to jump right to my top picks? The best OTT platforms are Uscreen, Setplex, and Dacast.
Today, 235 million Americans consume digital video from over 820 million connected devices.
The technology behind these digital media services is called over-the-top (OTT) platforms.
The best thing is that people only need an OTT streaming device to view content – no more complicated setup, cables, or installation required.
Just switch on the device, and you're good to go!
In this article, I will rank and review the top OTT platforms to help you make the best choice for your streaming service.
What is the Best OTT Platform?
Here are my top picks for the best OTT platforms.
Best Overall OTT Platform for Video Monetization ($79 per month).

Adam's Take
I personally love Uscreen as the video content monetization platform to use. Whether to stream on-demand or live content directly to your audience, their all-in-one platform can cater to your needs.
Uscreen is the leading OTT platform that launches and manages video streaming apps for TV and smartphones.
With an average launch time of 30-60 days, it's one of the fastest OTT platforms.
From publishing your OTT apps to automated updates, Uscreen.tv handles the heavy lifting.
Monetization of Video on Demand (VoD) and global live streaming services also make it an excellent option.
This is great for those that offer multiple pricing models, including fixed price, subscription, rentals/PPV, bundles, freemium, and free trials.
What's more, its fast encoding provides a 4K UHD video experience across platforms on any internet connection available.
The branding freedom to personalize your app and align it with your brand is another great feature.
This feature makes Uscreen my go-to video platform for building your brand with monetizable content.
Check out my in-depth Uscreen review.
That's not all. It also offers robust security features, including SSL, secure payment data, 24/7 monitoring, and complete data ownership.
To summarize, here are some of its most sought-after features:
Built-in analytics to track user behavior
Centralized CRM
In-app notifications and purchases
Offline viewing
Average release time 30-60 days
It lets you keep 100% of your revenue
Key Features:
Reduce Churn Tool – It decreases your churn rate by up to 35 percent while increasing customer loyalty.
HTML5 Online Video Player – A fully white-labeled HTML5 player offers buffer-free online video streaming with cross-device Full HD quality.
Customizable VoD Templates – Offers tailor-made VoD templates and video website themes to create a stunning online presence and monetize your videos. You can add a logo and adjust colors to meet your branding needs.
User Experience:
Uscreen.tv makes it easy for viewers to find the content they're looking for on your site.
With the ability to categorize your videos into separate categories, collections, and authors and even use custom filters, the experience is top-notch.
All the sales, marketing, analytics, distribution, and other functionality are managed by Uscreen.tv, while still being organized.
As a content creator, you can focus on what you're good at – creating excellent video content.
Pricing
Uscreen offers three pricing plans:
Basic: $79 per month, billed annually
Growth: $159 per month, billed annually
Uscreen Plus: Call for a quote
All the plans include standard features like global CDN, geo-blocking restrictions, 99.9% uptime, unlimited encoding, and more. You also get a 14-day free trial.
What I Like/Dislike About Uscreen.tv:
Like:
The 'Try Again for Free' feature helps you win back customers who canceled the subscription.
Its HTML5 player also supports screen readers and VTT captions.
It is powered by two leading global CDNs (Content Delivery Networks).
It supports Apple Airplay and Chromecast.
Built-in sales and checkout pages provide a seamless customer experience.
You get free web hosting with SSL at no extra cost.
Dislike:
More integrations would be helpful to get the most out of Uscreen.tv.
Having an integrated member referral program feature would also be beneficial.
Product Updates:
The Uscreen fitness tracker for Apple Watch allows you to provide a more engaging and interactive experience for your audience.
You can now use the live chat feature to communicate with your viewers in real time, and they can also purchase gift cards for your content.
All-in-one OTT platform with a complete suite of streaming features (Quote-based).
Adam's Take
Do you want to feature and monetize several channels just as you want? Setplex provides services for IPTV, content owners, government IPTV, and more. If you're looking for a simple, powerful, and affordable solution, then Setplex would be my recommendation.
Setplex is a complete OTT and streaming services provider with numerous broadcast channels, a feature-intense web control panel, versatile monetization methods, and more.
Other major solutions include:
Encoding/transcoding.
API Integration.
Ad monetization.
Billing.
Security.
Real-time analytics.
Multi-screen apps.
CRM built for OTT.
They also cover all essentials, including subscriptions, multi-CDN strategy, broadcasting, and distribution.
The OTT platform distributes your content to various media, including Smart TV, mobile, tablets, Android TV, Apple TV, and Computers.
You can also leverage advanced features like on-cloud or on-premise management of your entire platform centrally.
They'll instantly make your OTT app available on ten app stores and directories.
While their process flow leaves something to be desired, they offer Middleware integration.
This integration allows you to edit your user interface, content, main menu, and more with straightforward, user-guided clicks.
Coming to the analytics, they let you track data and your OTT's performance in real time.
You can access metrics like content consumption, popular content, revenue, and other subscriber data. In addition, Setplex allows you to export data to third-party apps.
Key Features:
OTT Distribution – Transcode your satellite broadcast to IP and distribute it over OTT.
Content Management – Group your channels and VOD content into seasons, categories, sub-categories, and episodes.
Multiple Monetization Options – Monetize your OTT content via subscriptions (SVOD), pay-per-view (PPV), rental (TVOD), and advertising (AVOD).
Encoding/Transcoding – Convert your incoming media into the correct format for different devices and screens.
CDN – Deliver live streaming or VOD content to a large audience without compromising speed, reliability, or quality.
User Experience:
A big geographical map showing where your users are coming from and how they interact with your content helps you understand what's working and what isn't.
In addition, you can see subscriber metrics when you log in, giving you an overview of your content's performance.
Pricing
Fill out this inquiry form for quote-based plans.
What I Like/Dislike About Setplex:
Like:
The ability to customize the user interface across nine platforms.
Adaptive bit rate allows optimized delivery across mobile phones, tablets, SmartTV, or Set-top-box.
Customize packages to support as many devices as desired.
Launch your OTT platform within 24 hours.
Dislike:
Process flow needs work to be more streamlined and user-friendly.
There have been some reports that some channels don't work.
Product Updates:
Security is now beefed up with user authentication and geo-blocking features.
The various real-time analytics allow you to keep track of your audience's engagement and preferences.
An end-to-end SaaS OTT and VoD hosting solution ($39 per month).
Adam's Take
Streaming secure events to an international audience used to be complicated. Dacast makes the whole process as straightforward as it can be. With 24/7 support, I recommend them if you want to be up and running quickly.
Dacast offers OTT VoD and live-streaming solutions across numerous platforms and mobile devices.
It provides a wide range of options for access to the Chinese market, which increases your content footprint.
You can also build professional workflows with live stream recording, video transcoding, and an all-device video player.
The Akamai CDN ensures high-quality video streaming. This white-label OTT platform also customizes your service with your branding.
Some of its top features include:
All-in-one streaming OTT solution
24/7 customer support
High-quality live streaming with top CDNs
All-device HTML5 player
Easy integration of VoDs with APIs
Smooth monetization
Moreover, its APIs and SDKs let you develop your mobile app or OTT platform.
DaCast also offers you complete control over your content and reliable security.
Key Features:
China Video Hosting – DaCast has tie-ups with China-based CDN services to access over 1.4 billion potential viewers. It offers multiple points of presence (PoPs) across Mainland China.
Video Hosting Manager allows you to upload, organize, monetize, transcode, analyze, and share your videos. You can also use its APIs to create custom automated workflows.
Broadcast Live Sports – Monetize your live sports coverage with subscriptions, ads, or pay-per-view methods. You can also embed your live video stream on a website and record it to offer it as a VoD.
HD live streaming – Deliver the highest quality video with full HD resolution and ultra-low latency for the best viewing experience.
On-demand video hosting – Upload videos once and make them available on demand, with no streaming limits or restrictions.
User Experience:
With the ability to create a paywall using presets, groups, or even a paywall Theme, Dacast helps the user experience by allowing you to offer your content in various ways.
You can also build your pages just how you want them to, based on your branding, and use various customization options to ensure your site looks great.
Pricing
Dacast offers four pricing plans:
Starter: $39 per month, billed annually.
Event: $63 per month, billed annually.
Scale: $188 per month, billed annually.
Custom: Quote-based high-volume plan.
All plans include unlimited live events, ad-free HD streaming, custom branding, and more.
What I Like/Dislike About Dacast:
Like:
Buffer-free video streaming adapts the quality of the video based on your internet speed.
Video transcoding creates different renditions of the same video.
24/7 network monitoring provides you with enhanced security.
Host live classes remotely and enable viewers to pay in real time.
Pre-schedule your videos to ensure a 24/7 broadcast.
Use FTP to upload large videos or multiple videos in a batch.
Dislike:
API does sometimes throw up problems when trying to integrate into a website.
The team doesn't always communicate tech changes promptly, which can cause issues.
Delays, when bandwidth is throttled, can be frustrating for viewers.
Product Updates:
Secure Video Hosting means that your content is safe and secure, and you can rest assured that your audience can view it without any issues.
Multi-CDN ensures that your content is delivered smoothly and efficiently to your viewers, no matter where they are.
Best OTT Platform for Audio and Video Streaming.
Adam's Take
Thinking about launching your audio or video streaming platform? Then it would be best if you went for Muvi. With an all-inclusive mobile website included in their plan, you can set up and launch instantly. Having the ability to stream audio only is also a nice feature to have.
Muvi is hands down one of the absolute best platforms on the OTT market.
They are one of the few OTT platforms focusing on audio-only streaming.
Muvi takes a full-stack approach to on-demand OTT video, video hosting, audio hosting, and live OTT streaming.
Instead of only focusing on video, they focus on full-stack, multi-media.
Out of all the OTT platforms, Muvi is the one that can truly handle all of your multi-media needs.
Let's break down some features that make this one of the best OTT platforms.
Some of the top OTT services that Muvi offers:
Live streaming of any kind, from comedy to news to sports.
Video On Demand capabilities so you can build your very own Netflix. (Billing, CMS, Mobile & TV apps, & more.)
Audio and music streaming features allow you to make your very own Spotify.
Live broadcast radio so you can have your radio show(s) that you are 100% in control of with zero hassle.
Key Features:
Use your domain name to host all of your content.
Ability to create a native IOS and Android app.
Smart TV App capabilities.
Accept payments from multiple currencies and integrate several payment gateways.
Take advantage of multiple video monetization methods like subscriptions, PPV, and video advertising.
User Experience:
A well-organized site menu gives you everything you need to know about your content in one place.
This feature is extremely helpful when you want to find a specific video or see how your content performs.
In addition, the ability to look at the billing and invoicing details for your content helps you understand your business from a financial standpoint.
Plus, you can launch your OTT apps directly from the Muvi interface, which is a huge time-saver.
Pricing
Muvi offers four pricing tiers.
Standard starting at $399 per month
Professional starting at $1,499 per month
Enterprise starting at $3,900 per month
Ultimate starting at $8,900 per month
They also offer a "Black" plan with almost unlimited everything and premium support.
What I Like/Dislike About Muvi:
Like:
Video and Audio OTT all-in-one platform – Muvi is one of the only OTT platforms allowing you to monetize video and audio content in one place.
Built-in Monetization – Muvi gives you so many options for monetization. From subscriptions to video advertising, the platform lets you monetize your content in any way you want.
Audience Building – You can create a mobile app for IOS or Android or make a smart TV app.
Zero Coding – With Muvi, you can do everything without writing a single line of code.
Dislike:
More templates for the online website would be beneficial as it is currently quite limited.
Not having many features on the trial version can be frustrating, especially if you're trying to test the platform before committing to it.
Product Updates:
24x7x365 Support – You can now get help and support whenever needed, no matter what time of day or night.
Professional Services for Platform Customization – You can now get help from the Muvi team to customize your platform according to your specific needs and requirements.
5. IBM Watson Media.
For enterprises looking for a scalable OTT service with no budget constraint ($99 monthly).
Adam's Take
Whether you're looking for an OTT platform for video hosting, transcoding, multi-platform playout, and analytics, IBM Watson Media has everything you need to get started. With their reliable and scalable infrastructure, you can be sure that your videos will reach your audience without any issues.
IBM manages, measures, and monetizes your videos and streams them across many platforms.
It offers multiple cloud streaming and video services, including storage and GPU computing.
You also get video hosting, live streaming, transcoding, automated speech-to-text, and powerful analytics.
The machine learning capabilities help you increase engagement with the viewers.
It also monitors real-time measurements to track the performance of videos and make data-driven decisions.
Cloud-based Watson Media also offers multiple CDNs to deliver video content globally on any device.
Here are some of its highlights:
Ad-based (AVOD) and subscription-based (SVOD)
Both live and on-demand VoD streaming
Automated video publishing and closed captioning
Multi-DRM and language support
And more
Key Features:
Live Chat and Q&A – These features enable you to engage with the audience in real-time during a live stream. It offers built-in moderation, user management, and user upvoting.
Customization & Branding – Integrated branding options let you customize the channel according to your video requirement. You can also showcase already live-streamed videos and upcoming events.
Copyright – IBM takes care of any plagiarism or copyright issues automatically. Its copyright enforcement service detects plagiarised content instantly and terminates the broadcast for copyright content.
AI / Machine learning – Leverage AI for video recommendations, personalization, analytics, and more.
Analytics – Track user engagement, revenue, churn rate, and other KPIs.
Automation – Automate encoding, transcoding, and content delivery.
Pros:
Schedule videos to play at specific times. You can also trigger automatic looped playback of live video streaming.
The mobile-compatible player renders HD video on screens of any size.
Simplified metadata compilation and ingestion of videos.
Record your live-streaming video privately. You can also share the video publicly later.
No capping on resolution or bitrate.
Monetize your videos through ads or third-party services.
Pricing

IBM Watson Media provides three pricing plans:
Silver: $99 per month
Gold: $499 per month
Platinum: $999 per month
You also get a 30-day free trial with a complete feature set.
6. Wowza.
Live-streaming for business-critical applications ($125 per month).
Wowza's full-service OTT platform delivers reliable and scalable solutions for any industry. It comes equipped with its CDNs for reliable content delivery across the globe. It offers fine-grained control over the video format, delivery options, and video quality.
You can also access patented Wowza software tailor-made for flawless live streaming performance. The Extensible Modular Architecture instantly scales your videos' live streaming performance.
Wowza provides industry-leading streaming technology, such as:
Cloud Streaming Service – For live-event streaming with minimal setup and integration with numerous custom applications.
Streaming Server Software – For powerful, customizable features.
Live Encoding Solution – It lets you manage and monitor your video production remotely.
Live Streaming Expertise – It provides extensive support, from onboarding to app development.
What's more, Woeza's robust APIs and SDKs help you build a highly customized video streaming infrastructure. Its on-premise streaming servers help you live stream in a secure environment.
Key Features:
VR & 360° Streaming – Wowza enables you to stream 360-degree videos in 4K quality globally for gaming and other purposes.
Browser-Based Live Streaming – Its WebRTC delivers real-time communications directly from the browser. You can also enhance it through Wowza's streaming engine.
Mobile App – Wowza's mobile app helps you start live streaming instantly. It lets you capture, encode, and stream live videos via 3G, 4G, and Wi-Fi networks.
High-quality, low-latency video – Wowza's Secure Reliable Transport (SRT) technology enables secure and reliable video contribution from remote locations to a central hub.
Low-Latency HLS and low-latency DASH – Wowza offers Low Latency HLS and Low Latency Dash streaming technologies that enable you to deliver live streams with minimal latency.
Pros:
Embed IP camera streams in mobile and web apps to stream online videos without any encoder.
It offers live support during live-streaming events to effortlessly sail through any technical glitch.
Its adaptive bit-rate streaming ensures smooth video streaming on all devices with any internet speed.
Quickly ingest streams to any encoder and deliver it globally to any player.
It offers multi-level security with token authentication, encryption of incoming and outcoming streams, and digital rights management (DRM).
Multiple cloud service OTT providers enable high-quality delivery via a reliable infrastructure.
Pricing
Wowza offers two pricing plans:
Wowza Streaming Cloud: $85 per month (prepaid annually)
Wowza Streaming Engine: $175 per month (prepaid annually)
All-Inclusive Whitelabel OTT Solution with Powerpact Streaming Suite (Quote-based).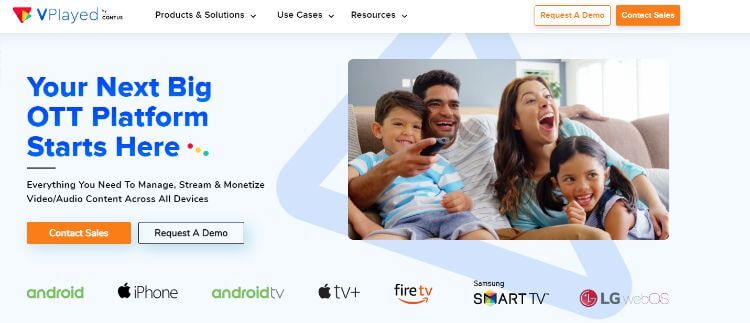 CONTUS VPlayed is a supreme OTT platform provider that innovatively designs maximum potential to stream any media across multiple devices such as Web, Android, iOS & SmartTV, whether live or video on demand.
They are an ideal solution for content owners, media & broadcasters, educationists, fitness enthusiasts, filmmakers, religious leaders, and many more in the online streaming industry.
They have assisted 100+ top leading brands in 70 countries in launching their thriving OTT platform. Also, it supports content owners in migrating their existing platform to VPlayed without losing any data.
Platform providers bridge the gap between technology and content creation.
This bridge allows you to control your launched platform for lifetime ownership.
VPlayed's primary focus is on revolutionizing online streaming standards & monetization with the resourceful internet to build multicast services preferred by audiences worldwide.
Moreover, VPlayed enables you to become the sole entrepreneur by monetizing every content you stream without sharing profits.
Professional streamers have the edge over a highly competent tech stack named Microservice Architecture. It allows reliable delivery of collective casting services, which is easily maintainable.
Some of the major solutions that are furnished in the platform are:
Fully Customizable Solution
White-labeled
Live Streaming
Content Partner Portal
Live to VOD
Any Third-Party Service Integrations
Native OTT Apps
CONTUS VPlayed has all kinds of essentials that you'll need to build a pro-OTT streaming platform.
It also empowers you with 150+ features and diverse 6+ monetization models and shields your content's integrity which is priceless.
Your preferred OTT infrastructure is well-supported with the world's popular CDN networks and best-inbuilt security protocols.
Additionally, phenomenal video marketing solutions and scalable analytics will help you stay in the game.
Key Features:
Security – Secure your valuable inputs within the streaming media using rigid-fix protocols like Multi DRM, AES Encryption, Video Paywall, Watermarking, etc.
Video CMS – Categorize & manage assets in an all-in-one centralized video CMS platform to bulk upload, drag & drop, schedule videos, & more.
Monetization – Gain high revenue from the best OTT business models like SVOD, TVOD, AVOD, CatchUp TV, Coupons & Promotions, etc.
Video Marketing – Get an unmatched online video marketing suite to convert your leads into prospective deals with tools like recommendation engines, social publishing, etc.
HLS Player – Stream videos with 360° compilations in 4K quality having buffer-free renditions in no time and multiformat support within the HLS video player.
User Experience:
An overview of the latest video and progressing videos help you see which content is resonating with your viewers and help you make better decisions about what to produce next.
The ability to easily upload new videos and manage them in the same interface you use to view statistics is also beneficial.
Pricing:
All plans are subject to several customizations and features required within niche business models.
Talk to their experts by filling out this inquiry form for personalized plans and the exact pricing structure.
What I Like/Dislike About CONTUS VPlayed:
Like:
The option to integrate the platform either on the cloud or at your premise is now your choice.
Get a completely customized OTT solution as per your business requirements.
Build your OTT platform with a one-time standardized licensing cost.
Establish complete control of your OTT platform with Whitelabel services & own it for lifelong.
For cross-platform viewability, enable video delivery across multiple devices like Web, Mobile, and SmartTV.
Partner with other content aggregators to stream with monitored portal accessibility.
Dislike:
More advanced in-built tools would be beneficial to get the most out of CONTUS VPlayed.
There have also been some reports of setup issues when using the platform.
Product Updates:
The team at Contus is now comprised of highly skilled professionals who will help you build your OTT platform from scratch.
The new and improved infrastructure allows for faster and smoother deliveries of your content.
You can launch your app on Roku, giving your audience an even better experience.
The DRM security has also been enhanced, so you can rest assured that your content is safe and secure.
Get started right away with VPlayed's free demo today.
8. Kaltura.
Suitable for a flexible and collaborative OTT experience for corporate purposes (Request-based pricing structure).
Kaltura offers live and video-on-demand SaaS solutions to promote collaboration, training, communication, marketing, and sales.
It provides various video communication tools, including meetings, virtual classrooms, webinars, town halls, podcasts, and pitch video messaging.
With Kaltura, you can also hold virtual meetings with any number of participants.
Its advanced VoD and live streaming analytics tools help you gauge your videos' performance in real-time.
On top of that, it comes with a cloud platform ready for TV shows; you'll be able to meet all your video-streaming demands.
For that, its cloud TV platform provides services like:
It offers live TV and a highly personalized on-demand user experience.
It promises a 99.995% uptime.
Fully modular and provides integration with several third-party services.
And more.
Kaltura also offers an open API-based architecture to integrate reliably with any system, including Zoom, Teams, Webex, data systems, marketing automation, and more.
Key Features:
Interactive Video – Its interactive tools enable you to create, share, and embed personalized videos to boost learning, engagement, and conversion.
Create Podcasts – Easily create, edit, or upload podcast episodes and playlists of TV channels via your Kaltura video portal. Its mobile app also provides powerful content creation tools to create and upload a podcast directly.
Kaltura Pitch – Grab attention quickly with 'Kaltura Pitch' videos. Send video and track all the viewer activity, such as when they open the video, how they interacted with it, and more. You can use it for a sales pitch, internal communication, or executive messaging.
Media Management – Kaltura offers comprehensive media management capabilities, including cloud-based file storage, easy uploads, metadata tagging, and more. You can easily manage large groups of media files in one centralized place.
Collaboration – Get the most out of your video content with Kaltura's collaboration tools. Have colleagues comment, like, or share videos. Create and manage team channels for easy collaboration.
Pros:
Capture videos with a user-centric interface and intuitive experience.
Capture multi-stream recordings synchronized with PowerPoint presentations and screen capture.
Add transcriptions, captions, and translations to your video to increase engagement and discoverability.
The 'Townhall feature' creates engaging webcasts powered with interactive elements.
It offers live quizzes, breakout rooms, polls, collaborative whiteboards, and note-taking to keep the engagement alive.
Track video responses and interactions to boost sales.
Pricing
Whether you are still a startup or an enterprise, contact Kaltura to learn more about their prices.
Kaltura also provides a 30-day free trial.
9. JW Player Live.
Launch new apps on mobile and connected TV effectively (quote-based pricing).
JW Player helps you reach your viewership anywhere and launch new apps on mobile and TV. Its OTT apps provide scalable solutions to launch and monetize videos.
It also offers powerful ad support to maximize your CPMs (cost per mile) across screens and platforms.
Moreover, its recommendation engine delivers the most relevant and engaging content to your viewers in real time.
The HTML5 player uses HLS and DASH adaptive streaming for faster delivery of videos and ads.
You can also deliver a fully branded customer experience by configuring your video player using CSS customization and APIs. Moreover, it lets you control your branding by adjusting the color, thumbnails, speed, and more.
Key Features:
Mobile SDKs – It adds JW Player functionality to native iOS and Android mobile apps to deliver consistent video playback across multiple devices.
OTT Apps – It offers turnkey and custom solutions to launch a scalable OTT app within a few weeks.
Article Matching – Its Article Matching feature automatically inserts the most relevant video from your video content library into any post. It claims it would boost your video plays by up to 19 percent.
Adaptive streaming – It automatically adjusts the video quality based on the user's bandwidth in real-time. It ensures that users get the best streaming experience despite their network conditions.
HTML5 Video Player – Its HTML5 Video Player supports all primary desktop and mobile browsers. This fully customizable player supports various advanced features such as adaptive bitrate switching, auto-scaling, and more.
Pros:
It works efficiently with any video ad network, server, or exchange. It also offers built-in support for SpotX, Google IMA, Google DFP, AdX, and FreeWheel.
It supports parameter passback and Google Ad Manager support to help you run ads efficiently.
Apart from native analytics tools, it also integrates with Google Analytics, Nielsen, Adobe, Comscore, Conviva, and more.
It helps you go live within 30 seconds. You can also broadcast replays in under 1 minute.
Its multiple latency settings help you reach any platform and device audience.
Pricing
JW Player Live offers three pricing plans:
Free: It provides a 30-day free trial
Starter: $10 per month
Enterprise: Custom pricing
JW Player offers customized pricing plans for enterprises based on their requirements.
10. Vimeo OTT.
Full-scale subscription service provider for your video content ($1 per subscriber).
Vimeo Livestream is a popular choice for launching your video subscription service.
Its internal video gallery works as a centralized dashboard.
Hence, you can manage, control, access, publish, and archive all your video in a single place.
The good thing is you don't have to hire any support team to handle the tech. Vimeo does all the heavy lifting for you.
Here's a list of all the features you get with any of the Vimeo subscription plans:
Free migration, no downtime
In-app purchase
Live streaming with auto-archive
Real-time insights
24/7 customer support for your subscribers
It also offers practical customization tools for your branding requirements. With Vimeo, you can also live-stream your videos at 1080p flawlessly. Moreover, keep all your live and on-demand videos in a centralized location and showcase them with the required customization.
Key Features:
Monetization supports the pay-per-view and subscription sales model to help you monetize your videos.
Video API – Use Vimeo's video API to customize your content management system. You can also create a third-party video streaming application with its custom API.
Content Delivery – Its internal server network enables global content delivery and adaptive bitrate streaming.
Track subscriber engagement – allow your subscribers to follow your content and activities. With Vimeo OTT, you can track who's watching what and how often – to build a deeper understanding of customer engagement with your videos.
Own customer data – As an OTT provider, all your subscriber data belongs to you. You will have complete control and transparency over who your subscribers are, and you can use this data to understand customer behavior better.
Pros:
It has live polls, audience chat, Q&A, and graphical overlays to produce professional live-streaming events.
To gauge the performance of your videos, it offers shareable user-level analytics, location analytics, and engagement graphs.
Implement digital rights management (DRM) to protect your videos from piracy.
You can provide access to over ten users to manage your video content on Vimeo.
It provides bandwidth and storage at highly competitive prices.
Easily embed background videos on the website.
Pricing
Vimeo offers three pricing plans:
Starter (For all the basic to start your web-based channel): $1 per subscriber
Growth (Suitable for a growing OTT business): $500 per month billed annually
Enterprise (Advanced features to help you scale your OTT business): Quote-based plan
You can try any of the plans for free for 30 days. Or you can join Vimeo Basic, which lets you upload HD videos without paying a single dime.
You might also consider two other OTT services: Amazon Fire TV and Hotstar.
What is An OTT Platform?
An over-the-top (OTT) platform is a service that enables you to deliver video and live stream feeds to any internet-enabled device.
This allows you to provide and monetize video content directly to viewers without any third-party platform.
By connecting to an OTT platform, users can access different content, from movies and TV shows to sports and news.
Unlike cable or satellite providers, OTT platforms offer an on-demand experience that doesn't require any subscription package.
OTT platforms also provide the convenience of watching content anywhere worldwide, as long as you have an internet connection.
All these services provide users access to an extensive library of movies and TV shows.
Many also offer original content from their production studios that can be streamed exclusively on the platform.
Such platforms are popular for VoD (video on demand) and live high-quality streaming services. However, they also provide other services like messaging, audio streaming, VoIP, and more.
And not just streaming the videos over the internet – an OTT platform also enables you to:
Manage videos.
Record live streams in HD.
Distribute content through global CDNs.
Monetize your videos in different ways.
Offer video subscription packages.
Leverage end-user analytics.
Customize your online player.
Etc.
Features to Look For in An OTT Platform.
With the burst of high-speed internet and access to cheaper mobile devices, global OTT advertising and revenue will likely surpass $150 billion by 2024.
That's a massive opportunity.
However, there are countless OTT platforms to choose from.
Here are a few basic features you must look at in an OTT platform for reliable video streaming to cut the clutter.
HTML5 Video – You need a reliable and tightly coded HTML5 player to enable high-quality and buffer-free video streaming. It should also come with adaptive bitrate streaming to render video smoothly on all devices with various internet bandwidths.
Automatic Transcoding – An OTT platform with automatic transcoding ensures that all your videos are converted into multiple formats and resolutions based on device requirements. This helps you deliver high-quality video playback across different devices effortlessly.
Multi-language Support – It's critical to support your content in local languages. An OTT platform should have an automatic language identification tool to make subtitles and closed captions available in various languages.
4K Support – With the rise of high-resolution devices and 4K TVs, many OTT platforms now offer 4K support. It ensures that viewers can watch your videos in the original resolution.
Security – Another good reason to invest in an OTT platform is that it offers data security. Look for encryption and watermarking tools that prevent unauthorized usage of your video content. These features will help you protect your IPs and block pirates at all costs.
Custom SDKs and APIs help you create a highly customized video streaming platform. It will also help you deliver consistent video playback across multiple applications.
Multi-platform Support – With the vast number of mobile devices and smart TVs, the OTT platform you choose must support all major operating systems and devices. It should also support Chromecast, Airplay, and other native mobile mirroring tools.
In-depth Reporting – Make sure your OTT platform offers a powerful analytics tool to gauge your videos' performance and customer engagement in real-time. You should have options to track your video views and revenues in real-time.
Live Video on Demand – OTT platforms with live video on demand features allow users to watch videos anytime without ads. Your viewers won't have to wait for the live stream to begin before they can consume your videos.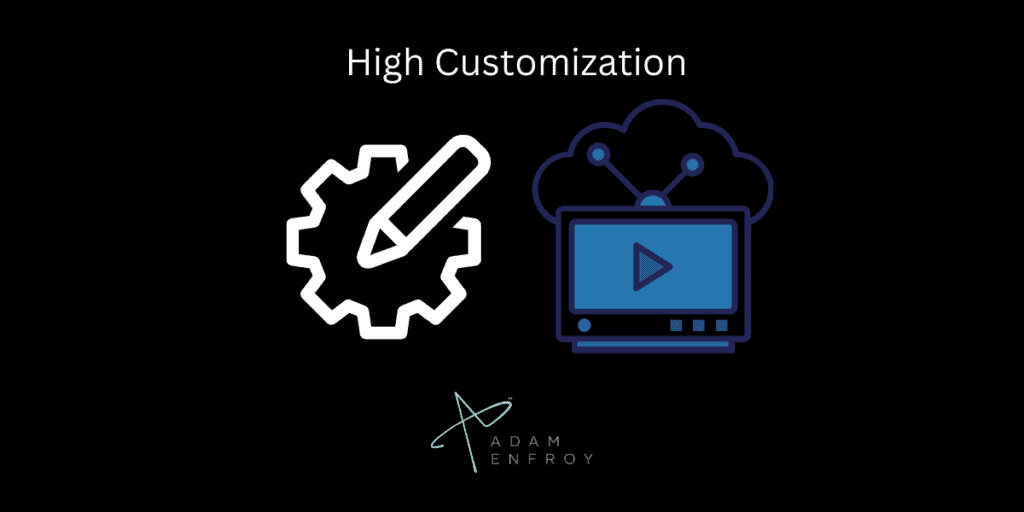 High Customization – To meet your branding needs, make sure that your OTT platform offers ample customization for its video player and library. For instance, you should be able to tweak the colors and embed your logo.
Live Streaming Tools – Look for tools like real-time comments, Q&A, payment, and polls. These tools will help you produce a more engaging and professional live-streaming event.
Why Is OTT Better Than YouTube?
OTT is vastly superior to YouTube in many ways, offering content creators more control over the user experience, monetization, data, and ad-free consumption with subscription services.
With OTT, providers can directly reach their targeted audience with premium video experiences they control entirely.
One of OTT's critical benefits for content creators is its control over the user experience.
This level of control allows them to tailor their content for a specific audience or environment – from design and navigation to how users stream and interact.
OTT also offers more granular analytics than YouTube, which helps content creators track user engagement and develop better strategies for distribution and marketing.
Regarding monetization, OTT enables various options beyond ads, including subscription services (SVOD), one-time purchases (TVOD), pay-per-view events, donations, and paywalls.
Content creators have complete access to their subscriber lists, allowing them to develop relationships with viewers more directly than on YouTube.
They also don't need to worry about having ads placed next to objectionable or offensive material, as happens on YouTube.
For consumers, the freedom OTT offers is unparalleled: they can choose from a wide range of video genres and titles without being forced into expensive cable packages or limited streaming plans like those offered by traditional services like Netflix or Hulu Plus.
Additionally, they have complete control over what they watch and when and what they pay for since no locked contracts are required on most platforms.
Questions to Ask Before Signing Up for OTT Video Streaming
To help you make the right decision, here are some key questions to ask before signing up for an OTT platform:
What video content management tools does the platform provide?
Are the service providers I'm considering HIPAA compliant?
Do the streaming platforms have built-in security measures to protect my content?
Does the platform offer a content delivery network (CDN) for faster streaming?
Is the latest OTT technology compatible with the platform?
What types of content can I upload?
Does the platform provide analytics and reporting tools for tracking performance and viewing habits?
Summary.
That's my list of the best OTT platforms to try this year for your video streaming services.
All platforms offer a few unique features and some basic capabilities.
But all of them are suitable for streaming VoDs and live events.
Review your requirements carefully and decide on an appropriate budget. It will help you make a more objective decision.
My final recommendation: if you want the best overall OTT platform, Uscreen is your clear #1 choice.
Review the platform's features carefully before making your final decision.
Which OTT platform are you planning to use? Let me know in the comments below.
Further reading on AdamEnfroy.com: Subscription video on demand (SVOD) is another type of video monetization model growing in popularity.
With the ability to support live events and VOD content, this platform is ideal for those who want to offer both types of content to their viewers.
Disclosure: I may receive affiliate compensation for some of the links below at no cost to you if you decide to purchase a paid plan. You can read our affiliate disclosure in our privacy policy. This site is not intending to provide financial advice. This is for entertainment only.
---
Last Updated on June 1, 2023 by Adam Enfroy