Uscreen Review: VOD Features, Pros & Cons, and Pricing (2023)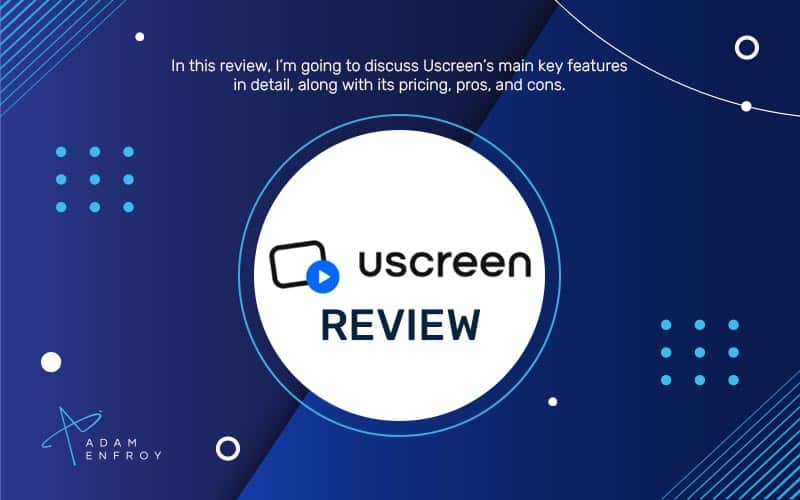 Live video streaming is at an all-time high.
Researchers expect this industry to have a revenue of $184.27 billion by 2027.
As one of the top platforms in this arena, Uscreen provides users an all-in-one solution to their video streaming needs.
In this detailed Uscreen review, I will discuss Uscreen's key features in detail, along with its pros and cons.
Let's get started.
Uscreen Review.
Uscreen is an all-in-one VOD and OTT platform that helps you host, market, distribute, and sell your videos.
It also enables you to launch your apps for both mobile and TV devices without paying any commissions.
The turnkey VOD platform launched in 2015 and has a team of over 70 skilled individuals worldwide.
The hosting platform supports 11,000 video creators and over 8.5 million end-users in 195 countries.
It allows you to create apps and monetize all types of videos, including fitness, entertainment, eLearning, faith, ecommerce, etc.
The central data admin helps you manage every aspect of your video streaming business without coding requirements.
You don't need third-party tools to distribute and monetize your videos since everything is available in your dashboard.
Here's a list of the features it provides to help you build and scale a streaming services business:
Branded Websites and Apps – You can personalize your website and apps to match your brand by using a theme, adding logos, changing colors, etc. You can also make advanced modifications with custom CSS and HTML.
A Central Video CMS – The built-in content management system helps you upload, store, organize, and distribute your videos in a single place.
Video Hosting – Uscreen provides free video hosting with all its payment plans. However, you can add your custom domain if you want.
Fast App Release – The OTT (Over-the-Top) service lets you distribute your videos to your mobile and TV apps with a time-to-launch averaging 30-60 days. There are no coding requirements.
Live Streaming Platform – It provides a complete HD live video streaming service directly from your admin area or over the top apps. You can even monetize your live streams.
Video Monetizing grants access to versatile monetization options, including subscription plans, free offers, rentals, or pay-per-view.
Video Marketing – Marketing features like coupons, upsells, lead generation tools, and more will help you increase your outreach and retain customers. You can offer special discounts and gift cards to entice subscribers and cart abandoners.
In-depth Analytics – You can access detailed reporting and analytics to analyze video and author performance.
Community Feature – As one of the top video streaming platforms, it lets you build a community around your content to engage customers. Respond to comments, manage conversations, and more from your dashboard.
Information Resources – Uscreen offers multiple resources to help its video creators get familiar with the platform. They have a blog, video business school, podcast, help center, and library. You can also refer to their FAQs section.
Since their payment plans include everything, you don't have to worry about encoding costs or additional bandwidth fees.
You can upload your video content without worrying about hidden charges.
Key Features.
1. Video CMS.
Uscreen lets you upload, organize, and distribute your videos from a central admin area, which works as your content management system.
It has built-in video hosting services to host your videos, which you can handle from the CMS.
Start by uploading your videos using the bulk uploader.
Aside from videos, you can also upload audio files, documents, images, presentations, and even Live Streaming.
The process is pretty straightforward.
Head to your dashboard's Content > Videos section and drag and drop your files into the upload area.
You also get the option to upload videos directly from your Dropbox account.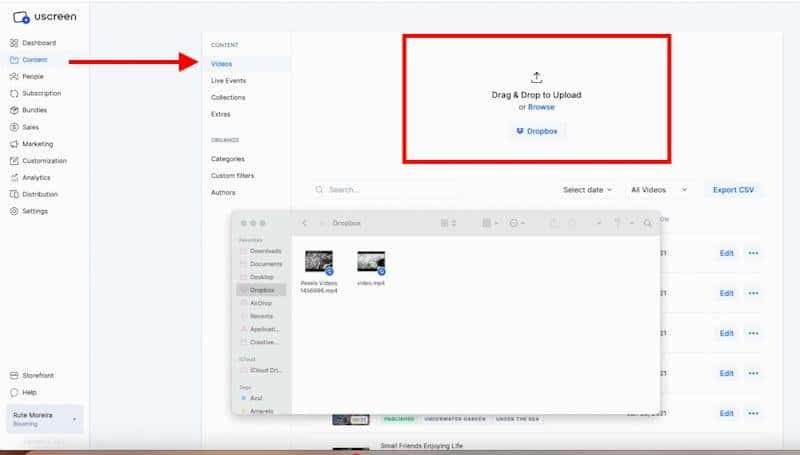 It also allows you "continue where you left off" if you go offline or head to another page. You won't lose your upload progress in any case.
They also provide quick transcoding and a 100% no-buffering guarantee.
However, make sure you're using one of the supported browsers and limit your upload to 13GB at a time for quick results.
After uploading, you'll get multiple options to help you optimize your video and customize its appearance.
You can add your video titles, descriptions, and subtitles and provide a downloading opportunity to your viewers.
Everything is available under the "Video" section from your admin area.
You can also create playlists, collections, and chapters and organize your videos to create an entire series.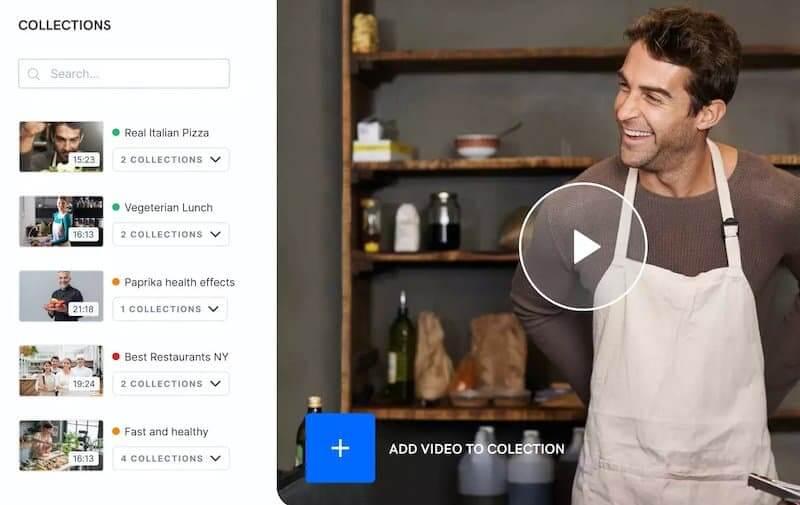 Besides, it also lets you control and schedule your content's availability.
You can set a release and expiration dates, and the actions you select will be completed automatically.
The CMS also allows you to:
Upload custom thumbnails.
Add captions and subtitles.
Add basic SEO elements like meta-data and search tags.
Sync with Vimeo and Wistia.
Choose a trailer video.
Set custom filters to help your viewers find what they're looking for.
Plus, it has a geo-blocking feature allowing you to control video content access.
You can restrict access to specific videos or even your entire website.
Note that Uscreen doesn't allow adding other content types like assignments and quizzes.
It primarily works as an OTT and VOD platform that allows you to host videos and create a video-based membership site.
All in all, I love how intuitive the entire platform is.
The sidebar with all options is always available, allowing you to manage anything you want with a single click and navigate every setting readily.
2. Website Builder.
Uscreen also helps you build and customize your website for your video-on-demand business.
You can use the website to host and promote your videos and engage your audience.
It offers everything you need to create your website quickly without coding requirements.
You get a visual website builder, pre-designed themes, automatic updates, free web hosting, and more.
Moreover, the themes are attractive, responsive, and mobile-optimized.
They also come with multiple web pages, such as a home page, checkout page, subscription page, and more.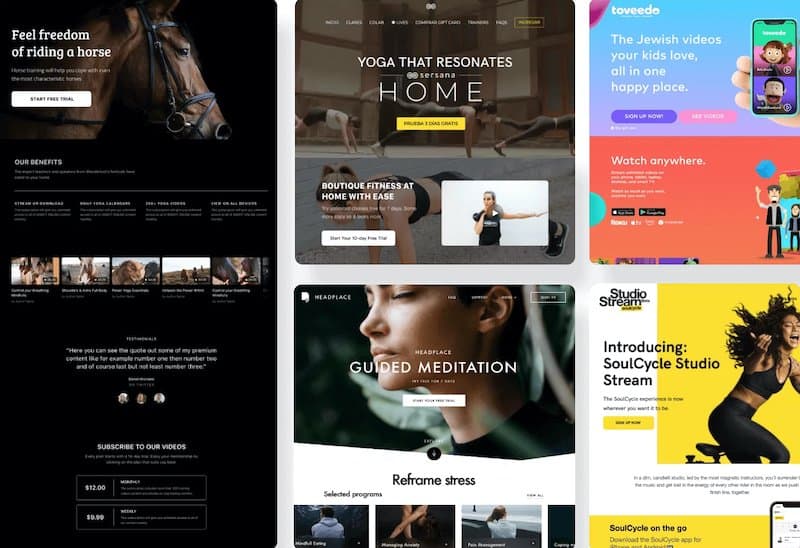 Once you select the theme you like, you can modify its appearance the way you want.
You can customize the text, colors, images, and other branding elements.
Moreover, every theme has a wide array of blocks, including customizable elements like the main banner, the text under the banner, etc.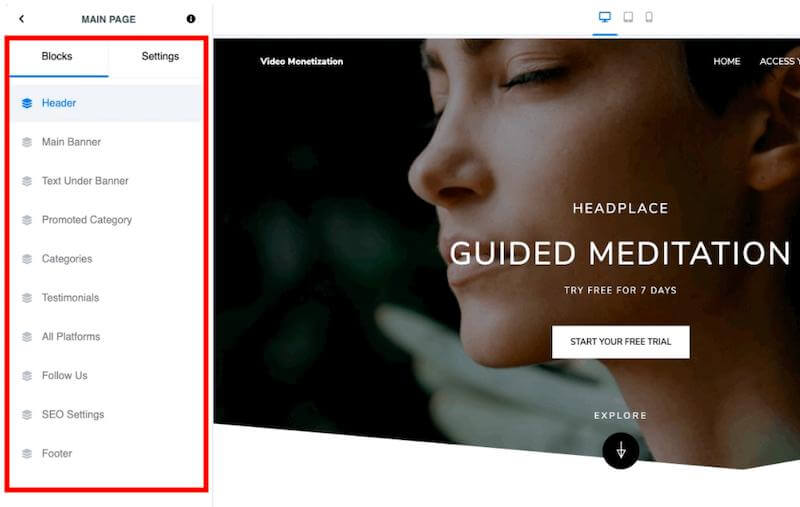 Most themes even allow you to add testimonials or videos to your site.
Some even enable social media sharing right from the site's homepage.
There are even options to preview your site on desktop and mobile devices (accessible from the top right corner).
Your homepage also lets you customize the SEO settings.
You'll be able to customize the SEO Title, Description, URL Handle, and Tags under:
Videos
Video Collections
Live Events
Categories
Authors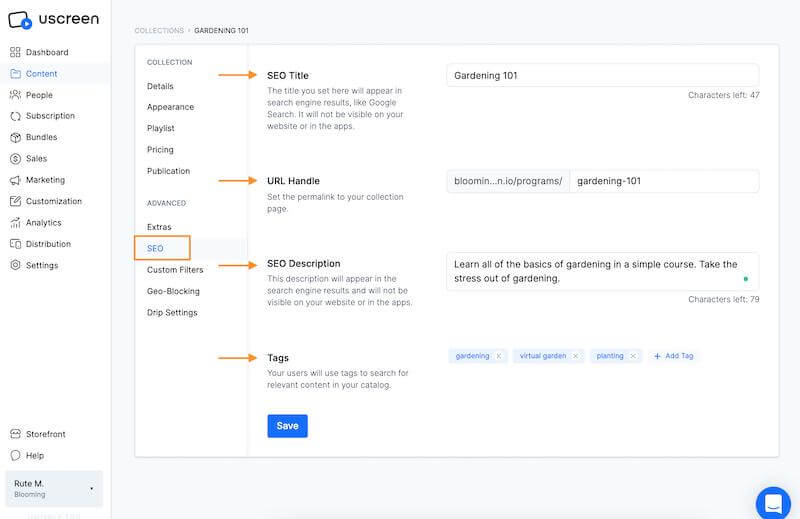 Note that there aren't any tags available for the Categories and Authors section.
Uscreen also handles other hidden SEO settings, such as generating open graph meta tags, marking up your web pages for H1 tags, etc.
The only downside is that you can't add or move around blocks on the pre-built themes.
You can only modify the elements like text, colors, title, basic images, etc.
If you need to modify anything beyond this, you'll have to get it custom coded in the in-built "Code Editor."
Here are some other features for your website customization:
Set your custom domain.
They handle web hosting for free.
Translate your website into any language you want.
A free SSL certificate comes with the checkout and sign-in page.
3. Branded OTT Apps.
Uscreen also lets you launch your smart TVs and mobile device OTT apps.
Your viewers can watch your live streams, videos, series, and collections on these apps from anywhere they want.
The apps are compatible with both iOS and Android devices.
The video monetization platform also supports Smart TVs like Roku Box, AppleTV, Android TV & Amazon Fire TV.
Uscreen will do the heavy lifting, including publishing, maintenance, and regular updates.
You also get complete branding freedom and the ability to modify the look and feel of the apps the way you need.
Additional app features include:
Support for in-app purchases.
In-app notifications.
Live-stream feature.
Offline viewing.
In-depth analytics.
The average release time is 30-60 days.
It allows you to play audio while the phone is locked.
You can also launch your Apple watch app – which is a unique feature.
Viewers can control the player from their wrist while working out.
Note that branded OTT apps are only available with the custom plan.
You may have to spend an extra amount to access this feature.
4. Video Marketing Tools.
Uscreen provides a complete marketing suite to help you promote your video streaming business.
Different tools exist for different scenarios, including retaining customers, cross-selling, upselling, reducing churn from your fan base, abandoned cart recovery, etc.
Here's a quick overview of all of the marketing tools you can leverage:
Reduce Churn Tool.
The Reduce Churn tool is automated and helps prevent cancellations and increase customer retention.
If customers try to cancel their subscriptions, they'll get prompted to provide feedback.
This will help you identify why they're canceling their subscription.
After that, the tool will automatically put the customer into the sequence of win-back offers and emails to retain them as paying subscribers.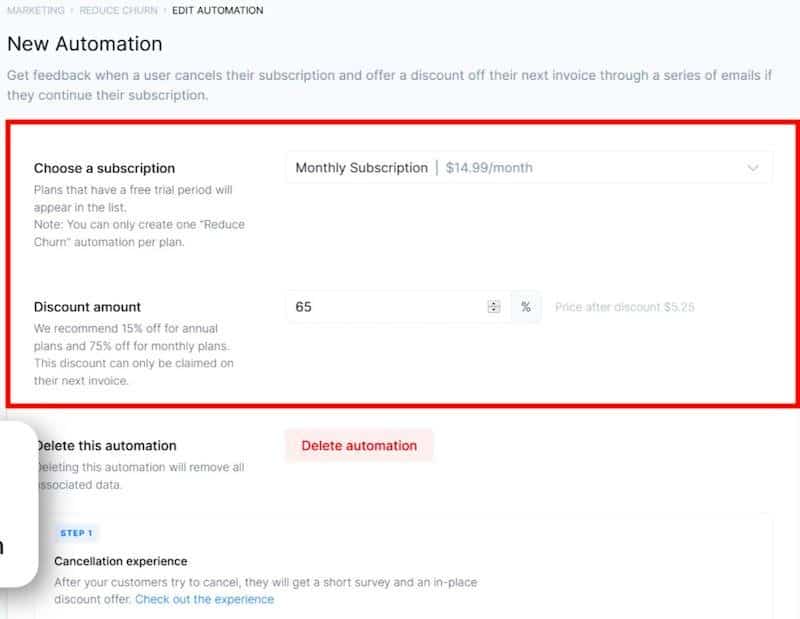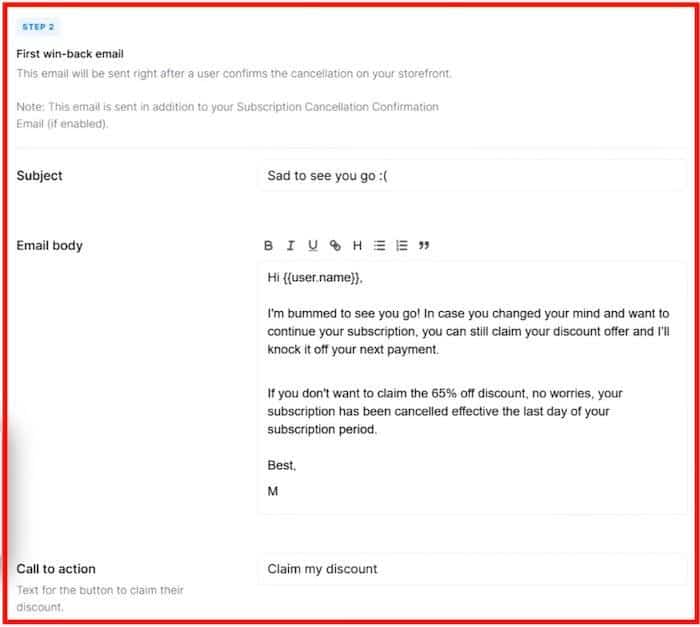 Subscription Upsell.
Subscription upsell is another marketing tool that helps you increase the lifetime value of your existing customers.
For instance, if a customer purchases a monthly subscription, the tool automatically displays special discounts on the annual purchase.
The prospect of getting special discounts gives the customers a big nudge towards making an annual purchase.
Such generous offers not only help you increase your revenue but also help you build customer loyalty.
Leadzen.
Leadzen is a built-in auto-funnel and lead-generation tool that helps you turn leads into paying customers.
It helps you set up automated sequences that help you grow your email list and persuade the customer to make a final purchase.
First, it provides optimized and responsive landing page templates and a builder to create landing pages.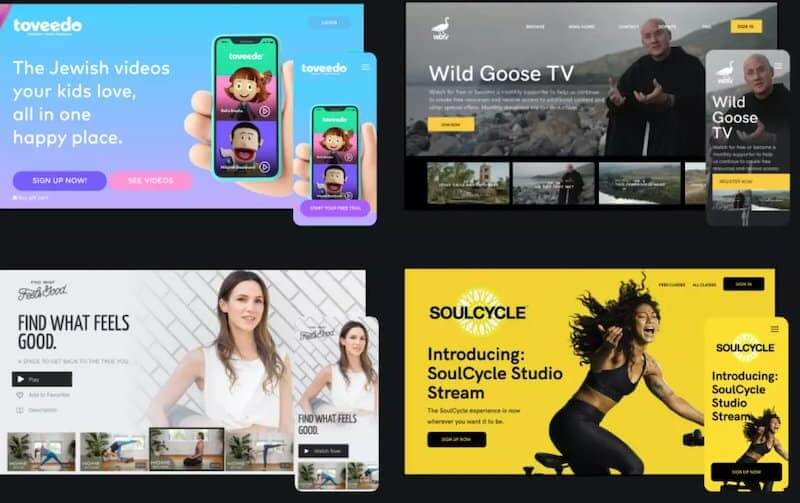 The landing page builder is also intuitive and easy to use.
You can also customize it and see results simultaneously while making modifications.
There's also a preview option for desktop and mobile devices.
These landing pages will help you grow your email list by enticing visitors and persuading them to share their emails with you.
You can add free giveaways, flash sales, and more to your landing page.
You'll be able to configure automated emails to nurture newly acquired leads.
The collected emails are stored in the Leadzen tool, and you can download the list anytime.
You can also connect Leadzen to any of your existing membership platforms.
Coupons.
It lets you create special coupons and discount offers and use them with subscriptions, specific videos, or bundles.
You can also set an expiration date and limit the number of users who can redeem your offers.
These coupons help nurture leads, retain customers, increase revenue, enable upsells, and more.
Abandoned Cart.
This tool helps you capture and bring back your almost-subscribers.
These subscribers abandoned their cart at the last moment – right before the checkout.
When enabled, it will automatically send emails that offer discounts in a last-ditch attempt to retain cart abandoners.
It should help you reel them back in and get them to complete their checkout process.
You can choose the offer type and discount amount – and leave the rest to the automated tool.
The customer will receive a series of automated emails at set intervals.
For example, the first email gets sent after 15 minutes of cart abandonment, the second email after six hours, and the third and final email after a day.
The best part is that Uscreen provides ready-to-use email templates.
However, you can modify the content if you want to change the tone of the email.
Uscreen also provides access to a library of email templates that you can find under Settings > Email Templates.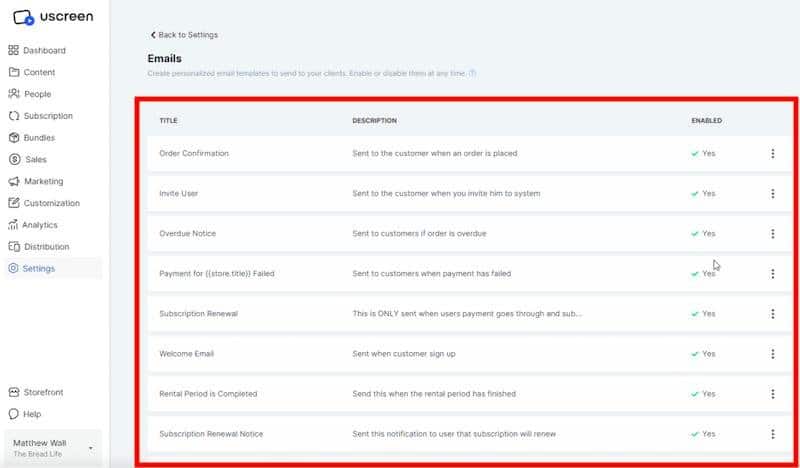 These templates can prove convenient when specific situations arise (confirming an order, inviting a customer, payment failed, etc.).
And that's not all.
The turnkey VOD platform also allows you to offer gift cards and reinstate free trials to leads who didn't convert the first time.
If a potential customer needs more time beyond the expiry of the free trial, another session might help them decide.
5. Video Monetization.
Uscreen allows you to set your payment processing structure for your VOD business.
You can set the pricing under the Content >> Pricing tab when you upload a video.
You get access to all of these monetization models:
Subscription plans (monthly, annually, and more).
Enable one-time purchases.
Rental price.
Lifetime access for a one-time fee.
Pay-per-view.
Free trial periods.
You can also monetize using two or all of these options simultaneously. Uscreen gives you complete monetization freedom – it's up to you how you want to monetize your VOD business.
You can also offer your videos free by selecting the "Free for everyone" option while setting up your pricing.
Aside from versatile monetization options, Uscreen offers many incentives to persuade your viewers to make the final purchase.
For example, it allows you to monetize your live streams by advertising them and charging for access in advance.
Built-in elements like timers can also help you excite your audience and create a sense of urgency.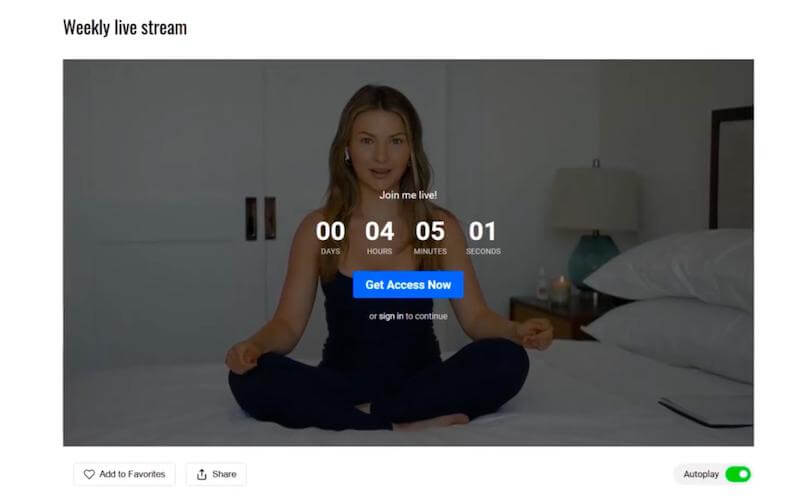 There are also options to create special offers and discount coupons to build loyalty.
And it's all so simple since everything is managed in one admin dashboard.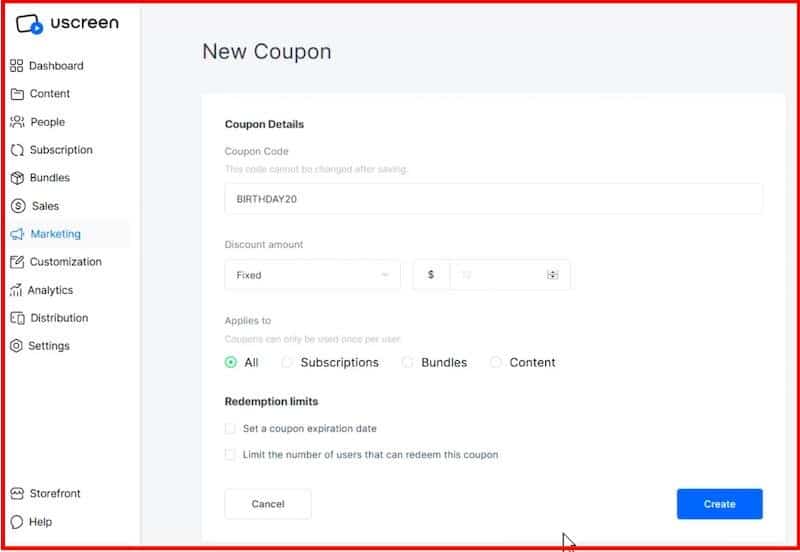 Finally, they provide a conversion-optimized checkout flow with built-in sales and ready-to-use pages.
Other monetization-based features include:
OTT in-app purchases.
Upsells and cross-sells.
The ability to track royalties and payouts.
The ability to monitor customer lifetime value.
Integration with "Rewardful" to help you create your affiliate programs.
6. Payment Gateways.
Uscreen integrates three major payment apps – PayPal, Stripe, and Authorize.net.
It also lets you accept credit cards, disregarding the currency and the origin. Uscreen also enables payment in over 130 currencies, which helps you do business in any country you choose.
If none of these options work, your viewer can process the payment through Uscreen's Payment gateway.
Other features include secured SSL checkout, tracking your sales, pre-designed checkout pages, and more.
7. Analytics and Reporting.
Uscreen's analytics section offers a broad overview of your subscribers' activity, including an insight into their watch time per device.
You can filter the watch time by videos, collections, countries, and devices. The Data on the tab also gets updated every 24 hours to help you stay current.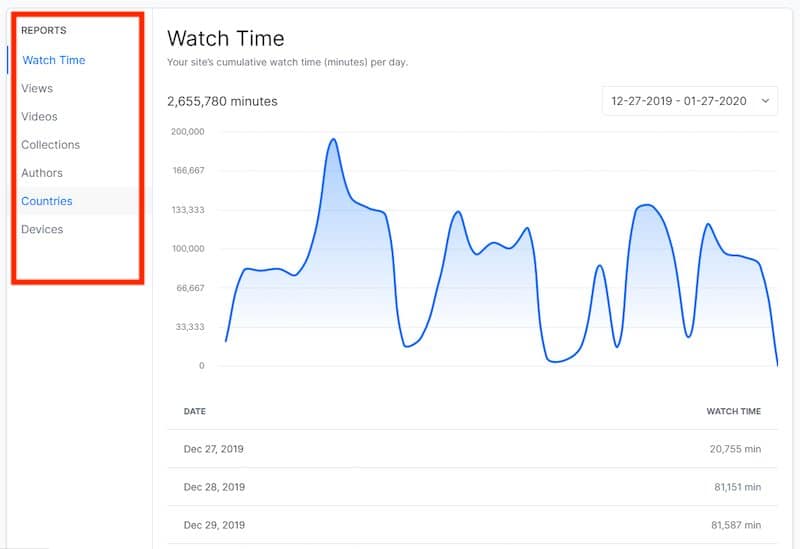 You will also be able to find out which of your videos are performing well so that you can focus on replicating them.
The analytics go hand-in-hand with Uscreen's marketing tools. For example, you can check out the statistics and results of your "reduce churn" automation.
You'll be able to identify metrics like your Monthly Recurring Revenue and Saved Subscribers.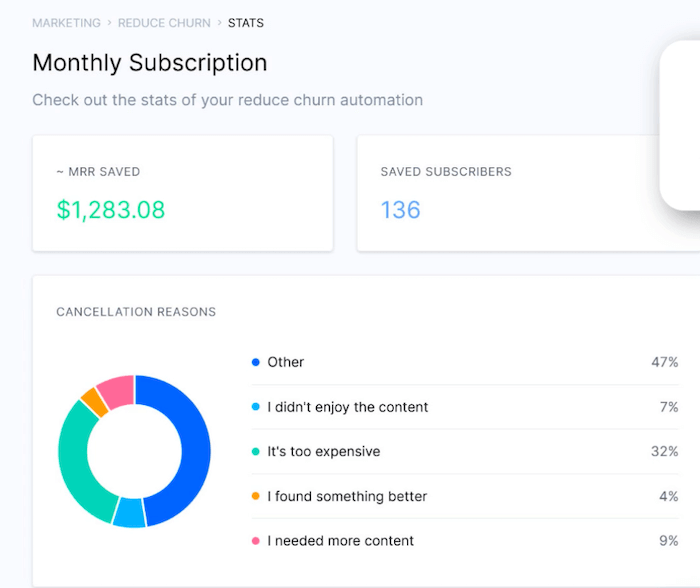 Managing royalties and payouts for your affiliate program is easy by using Author's analytics.
The report taps into your customers' behavior to track total plays and seconds played for videos assigned to each author or video content creator.
This will help you distribute payouts to affiliates accordingly.
If you'd like all of these stats and analytics in spreadsheet form, click on the Export CSV to download the reports.
Leadzen – Uscreen's built-in lead generation tool – provides in-depth analytics access.
It will give you a clear picture of details like:
How many visitors submitted the lead capture form?
How many leads opened the welcome email?
How many leads visited the giveaway page? Or the promo page?
Besides your marketing and video views, Uscreen also reports your sales activities.
You can view all your invoices and financial reporting in one place.
The video platform provides access to the following sales reports:
Invoices – To help you manage your customers' financial transactions.
Annual Sales Report – Determine how your business is performing every year.
Monthly Sales Report – Determine how your business is performing every month.
Coupons Report – See coupon redemption rate over time.
Payouts Report – See your payouts from Uscreen payments and PayPal.
8. Live Streaming.
Uscreen's full HD live streaming feature can help you to offer your audience an interactive viewing experience.
The live streaming feature also helps you grow your community and lets you stream your events on the web, mobile apps, or OTT TV apps.
You can also enable the Live Chat option when you set up your live-stream event. You'll find the option to "Enable Live Chat" under the Details tab of the Content >> Live Event section.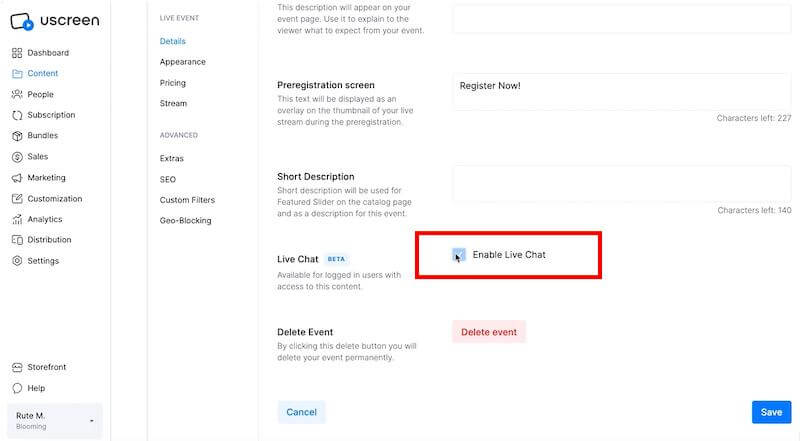 The Live Chat can help you engage and interact with your audiences via a real-time chatbox.
You can encourage conversations, respond to comments, and even report inappropriate comments with a single click.
You can also delete comments and block users.
Here's how your viewers see your live chat:
You'll also see the total number of participants and current active viewers.
Setting up a live event is also easy, and you can do it by heading to the Content >> Live Event tab.
Next, add elements like the event title, start date, full description, information for the pre-registration screen, etc.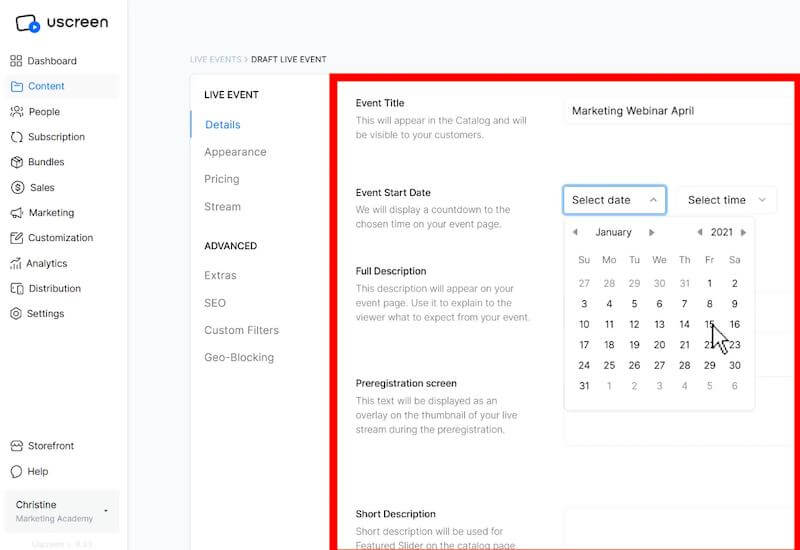 You can also use timers and display your registration options in advance to increase urgency and build excitement amongst your user base.
Once the Live Event is open for pre-registration, it will automatically get listed on your video catalog page.
You can also monetize your Live Event by including them in your subscription packages, enabling one-time purchases, offering them as a bundle, or via a pay-per-view paywall.
You may also offer them for free.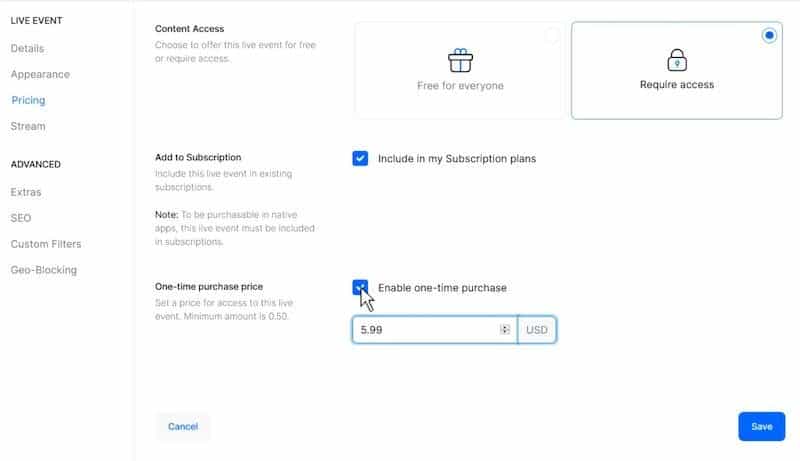 If you plan to host regular live events, you can add a custom live events page to your website and list all your upcoming events.
An option also enables viewers to add your events to their calendars.
You can also set up email and push notifications to the apps to grow your event's attendance. Your subscribers will get notified every time you stream an event.
Other live-streaming features include:
Your live streams get recorded automatically.
Make them available on demand right after the event.
Build engagement with a pre-sales page.
Multi-bitrate adaptive streaming for consistent video quality regardless of bandwidth or location.
Without an OTT app, your live stream will not play on Roku or AppleTV.
You can stream your live events on mobile devices with or without an app, but they can't play on TV without an app.
9. HTML5 Online Video Player.
Delivering an excellent user-end experience is equally, if not more, essential as the backend of the VOD software.
Uscreen comes with a built-in HTML5 video player that provides:
Fast delivery.
White-labeled experience.
Full HD video quality.
ES6 JavaScript player.
Speed controls.
Multi-bitrate HLS streaming.
Support for VTT captions and screen readers.
The platform is powered by a leading global CDN, Akamai, ensuring secure and quick video delivery to your audiences.
There's no need to worry about video buffering, disregarding the region.
10. Third-Party Integrations.
Uscreen integrates all third-party business tools, such as marketing tools, email marketing services, chatbots, affiliate integrations, data analytics software, etc.
You can easily find the available native integrations under the Settings > Integrations tab.
Extensive native integrations eliminate the need to switch to different apps and dashboards. For instance, native integration with third-party payment apps like Stripe, PayPal, and Authorize.net enables a hassle-free checkout.
Other famous integrations include MailChimp, Zapier, Constant Contact, Salesforce, Google Sheets, Slack, Google Analytics, etc.
Aside from native integrations, you can further connect Uscreen with thousands of apps using Zapier integration and Uscreen API.
11. Uscreen Customer Support Services.
Uscreen provides comprehensive customer support services, including onboarding specialists, email support with a fast response time, direct billing, and specialized technical assistance.
All these offerings are designed to ensure that your customers get set up quickly and hassle-free and receive the best possible service from you.
Onboarding Specialists
Uscreen assigns an onboarding specialist to each customer after signup to ensure a smooth transition into the platform.
The specialist carefully walks customers through the setup process and helps them configure their account settings according to their needs.
This personalized help offers clients peace of mind during onboarding and ensures they have a good experience right from the start.
Email Support
Uscreen also offers email support, giving customers access to a team of experts available 24/7 via email.
Customers can reach out anytime if they encounter issues or have questions about using the platform.
Knowing that their queries will be answered promptly whenever they need help gives them peace of mind.
Direct Billing & Technical Assistance
Uscreen also has direct billing services, allowing customers to quickly pay for their subscriptions without going through a third-party payment processor.
It's convenient for customers as they don't have to worry about setting up additional accounts or dealing with multiple invoices each month.
Additionally, Uscreen offers specialized technical assistance, including one-on-one training sessions for new users and troubleshooting for any technical issues that may arise while using the platform.
Pricing Plans.
Uscreen has three payment plans and a 14-day free trial that costs $1 only.
The subscription plans include the following:
Basic – $79 per month
Growth – $159 per month
Enterprise – Customizable, quote-based plan
Uscreen Pros and Cons.
The Video on Demand platform has its fair share of pros and cons.
I'm sharing a list of all benefits and downsides I discovered while going through various reviews and testing it out myself.
Pros.
Visual website and landing page builder.
Pre-designed, mobile-friendly website themes.
Transparent pricing with one predictable fee.
Get paid instantly or with only a slight delay.
No additional bandwidth, streaming, or encoding costs.
Full control of your customers' data or any additional information.
Affordable plans compared to many of its competitors.
Built-in billing and integration with payment tools like PayPal, Stripe, and Authorize.net
Uses Akamai, the same CDN as Netflix and Youtube use.
Integration with over 1000 apps directly from the platform.
A 14-day free trial at $1.
24/7 customer support via email.
Intuitive and user-friendly User Interface.
Cons.
Uscreen doesn't support ad-based video-on-demand monetization.
Their Basic Plan offers three customizable website themes. Unless you hire a web developer, your choices are limited with the website builder.
The customer support Uscreen provides needs improvement.
Executive Summary.
In this Uscreen review, I covered all its key features, pricing plans, and pros and cons.
Uscreen is one of the most prominent players in the VOD platforms space.
It's affordable and provides access to marketing tools, multiple video monetization options, website themes, website editor video hosting functionality, and more for as low as $49/month.
It also allows you to launch your branded OTT apps on mobile and smart TV devices, albeit at a much higher rate.
It has all the features to build a successful video-on-demand and video-streaming business. Another great thing is that every feature is available in a central admin area.
Moreover, the admin area also has a CMS that lets you manage your video library.
And you can even access its 14-day free trial if you're still unsure about this video platform.
The free trial will help determine whether Uscreen's platform meets your requirements.
Editorial Process:
Our reviews are made by a team of experts before being written and come from real-world experience. Read our editorial process here.
Some of the links in this article may be affiliate links, which can provide compensation to us at no cost to you if you decide to purchase a paid plan. These are products we've personally used and stand behind. This site is not intended to provide financial advice. You can read our affiliate disclosure in our privacy policy.
---
Last Updated on October 12, 2023 by Adam Enfroy