Blog Income Report for September 2019: How I Earned $35,174 This Month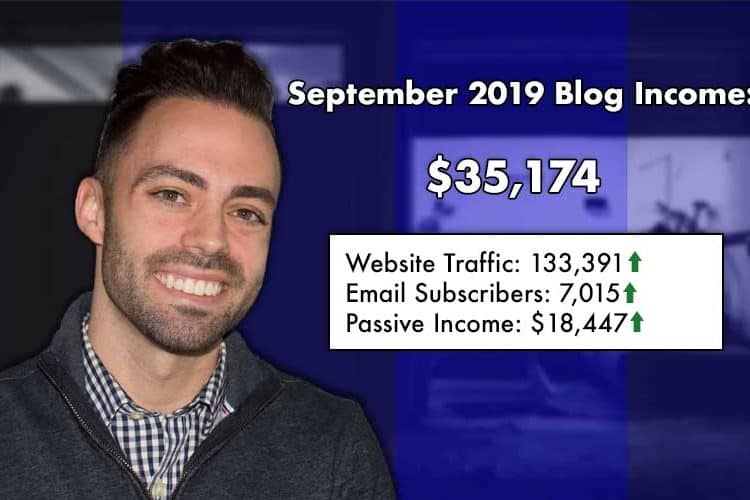 While most blog income reports are from bloggers who started 3-5 years ago, here's one for my blog that just launched 9 months ago.
Let's dive into my blog income report.
1. Blog Income in September 2019:

$35,174
My blog hit a few milestones in September.
I passed July's revenue total of $21k and also hit monthly revenue milestones of $25k, $30k, and $35k for the first time.
Second, my site crossed 100k monthly visitors and my passive affiliate revenue increased by 50% from $12k to $18k.
Let's look at my blog's income streams.
Affiliate Revenue: $18,133

PodBean
Buzzsprout
Thinkific
Simplecast
Teachable
Bluehost
FlexJobs
BigCommerce
Transistor
LearnDash
Learnworlds
Hostinger
Shopify
Adobe
Castos
GetResponse
Skillshare
Smart Podcast Player
Siteground
iPage
Easy Webinar
Amazon Associates
Optinmonster
Captivate
Podia
Campaign Monitor
3dcart

Digital Product Sales: $368
SEO and Link Consulting for 8 B2B Clients: $16,712
Expenses in September 2019:

$3,593
Freelance employee: $1,300
Content writers: $1,200
Instagram Promotions: $380
iPhone: $250
Web development: $150
Web hosting: $115
Email marketing: $105
Adobe CC: $56
Grammarly: $19
CDN: $18
Net Profit:

$31,581 (89.8% Gross Profit Margin)
Now, onto some key takeaways, traffic stats, and a September recap.
2. September Takeaways:
In September, I made $18,079 from 27 affiliate programs.
Right now, I'm in over 100 affiliate programs, with 27 bringing in revenue this month. Affiliate marketing is certainly a numbers game and no matter your niche, you need to join a lot of them.
Overall, I increased my passive affiliate income by 50% this month to $18k.
This proves to me that you can start to generate some strong passive income by month 9 (or sooner) with the right strategies.
3. SEO Consulting.
I currently work with 8 clients and provide them with SEO consulting, link building, and brand mention services. My SEO and content marketing consulting revenue increased to $16.7k this month. This income is easy to generate because it is tied to my guest blogging strategy – I would be creating these guest posts to get links anyway. The fact that I can get paid to help others while I do it is a great setup.
Here's a screenshot of my September invoices:

3. Traffic for September 2019:

133,391 Users (+30.8%)
My blog's traffic increased 30.8% month-over-month, growing from 101,953 users in August to 133,391 in September. My blog is 90% organic traffic.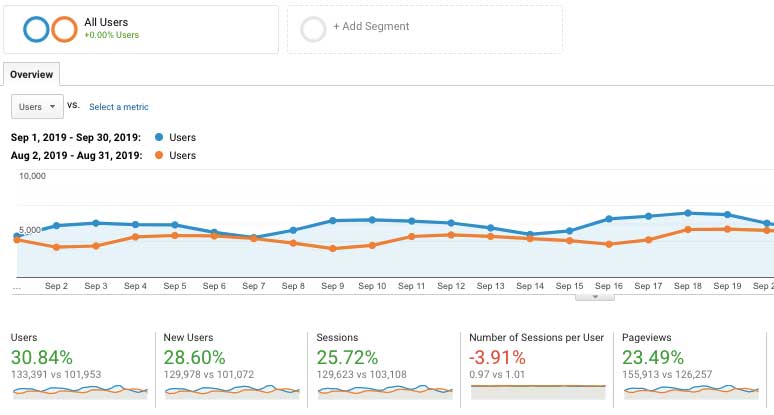 Traffic has been increasing by over 30% month over month since January. Here are my visitors per month so far this year:
January: 1,147
February: 2,055
March: 7,672
April: 16,920
May: 34,261
June: 46,355
July: 76,926
August: 105,056
September: 133,391
I'm seeing a downward trend after the September 24 Google Broad Core Algorithm Update, so I hope to learn more as information is released in the coming weeks.
4. Email Subscribers for September 2019:

+1,894
Astonishingly, I only make 1% of my revenue from my email list. As I've scaled up my blog's traffic, I've been hyper-focused on increasing affiliate revenue, as it is more passive and easy to manage than digital product sales and courses to a list.
Not that I don't love everyone on my email list – I do. It just takes more time to manage and answer emails, and time freedom was the reason I started this blog.
However, this is an untapped area for my site I plan to work on more over the following months.
I use ConvertKit for my email marketing and added 1,894 new email subscribers in September to increase my list over 7k.
5. Tasks Completed in September:
I joined 10+ new affiliate programs.
I updated my digital product Backlink Blueprint to version 1.2.
New blog posts:
10 new guest posts published for:

liquidweb.com
torquemag.io
wordable.io (interview)
volusion.com
beaconstac.com
pixpa.com
cloudways.com (interview)
learnworlds.com
wishpond.com
crazyegg.com

Link building:

304 new backlinks
25 new referring domains with DR over 60
That's it for my blog's income report for September 2019.
The purpose of these new blog income reports is to showcase that you can make a sizable income from a brand new blog within months, not years.
If you want to see some of my top-performing affiliate revenue-generating articles, you can check them out here:
Thank you so much for reading – I'm very grateful you found your way here.
Feel free to follow me on Instagram as I travel the world while blogging.
Finally, if you want to start treating your blog like a business and make life-changing money in months, not years, join my email list for a 10,000+ word, 7-day email course on how to do it.
Editorial Process:
Our reviews are made by a team of experts before being written and come from real-world experience. Read our editorial process here.
Some of the links in this article may be affiliate links, which can provide compensation to us at no cost to you if you decide to purchase a paid plan. These are products we've personally used and stand behind. This site is not intended to provide financial advice. You can read our affiliate disclosure in our privacy policy.