Constant Contact vs. ActiveCampaign: Which is Better in 2023?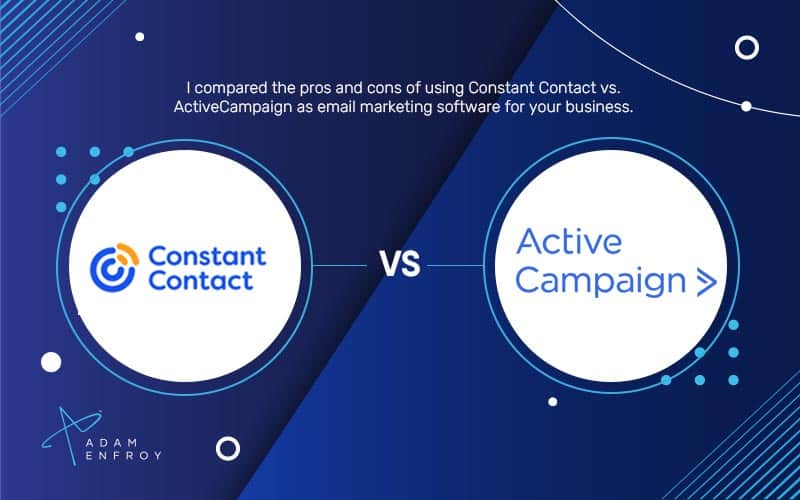 Using email marketing services, businesses can automate their marketing efforts while maintaining a personal touch.
With many features that businesses can use to maximize their impact, choosing the right email marketing service can be challenging.
Being able to review two top products against each other can bring some well-needed clarity when it comes to making a decision.
In this article, I'll compare Constant Contact vs. ActiveCampaign, two of the most popular email marketing services on the market.
In the end, you should have a good idea of which service is best for your business.
Let's jump right in.
Constant Contact Overview
Constant Contact has been around for a long time and provides its users with all the basic features they expect in a great email marketing service.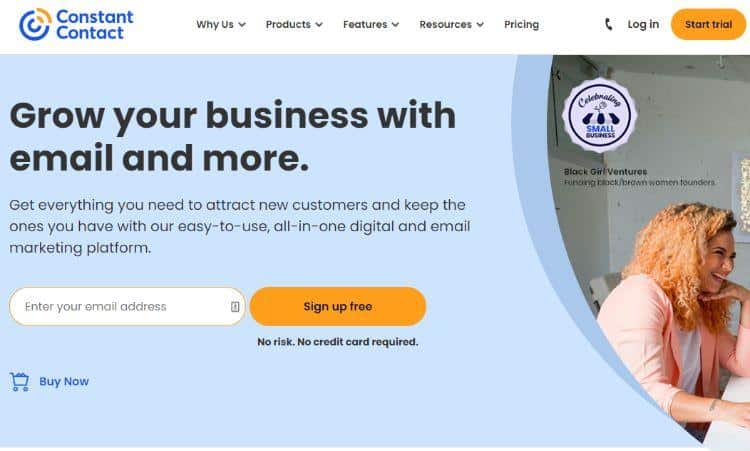 You can also upgrade or downgrade your account based on your specific needs at any given time, which means that you only ever pay for what you use.
With the ability to create optimized emails to be read on mobile phones, you can ensure that customers can open your emails and read them while on the go.
ActiveCampaign Overview
An included sales CRM system that comes with Activecampaign helps its users understand their marketing efforts better and segment their customer base to send more targeted emails.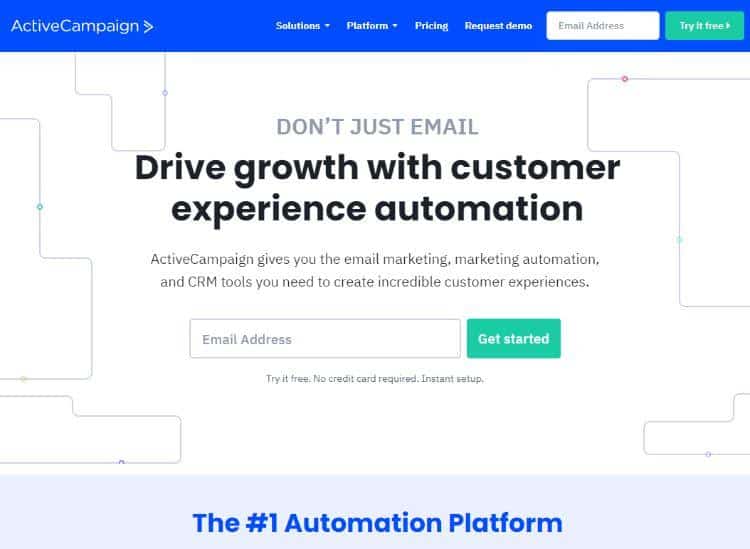 This can help improve the open and click-through rates of your emails, resulting in more customers taking action as a result of your email marketing campaigns.
The platform also has an anti-spam policy ensuring that your emails get delivered to the recipients' inbox and don't get caught up in spam filters.
This can be valuable, especially if your email marketing campaigns are time-sensitive.
Various integrations can make life easier for those that use this platform, including the ability to include chatbot automation when someone takes specific actions (more on this later).
You can also use SMS marketing to reach out to your customers personally.
One great thing about Activecampaign (compared to Constant Contact) is that it allows you to create marketing automation using a visual interface.
This is great for those who want to create more complex email marketing sequences without learning to code.
Constant Contact vs ActiveCampaign Feature Comparision
Now that we've had a quick overview of each service, let's take a more in-depth look at the features they offer.
List Management
When it comes to Constant Contact's list management, managing your email list is relatively straightforward.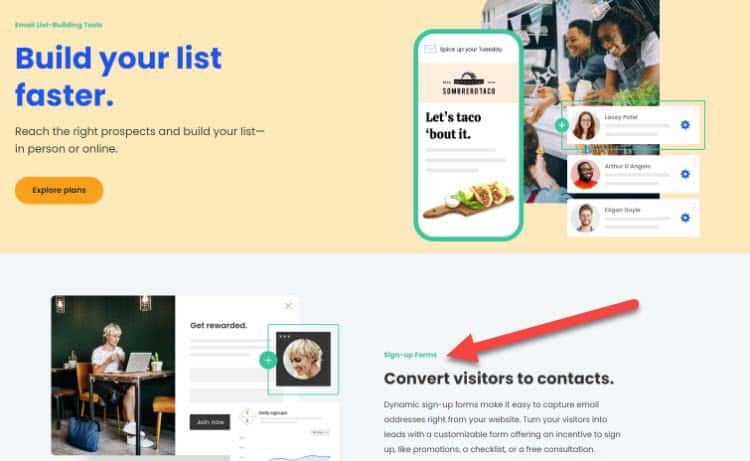 To perform the right contact management, you can copy and paste multiple contacts simultaneously or even import from sources such as Google Sheets, Excel, and more.
This ensures that your list is always up-to-date.
With various integration with e-commerce platforms, you can also import your contacts from the software of choice, including WooCommerce, Big Commerce, Shopify, and more.
Get started with Constant Contact.
On the other hand, ActiveCampaign also provides an easy way to import and manage your list.
ActiveCampaign is great in this regard as it offers many features.
One of the most noteworthy is the ability to clean up your list and ensure that all contacts are valid.
This is essential to keeping your deliverability high.
You can also segment your list based on various criteria such as location, purchase history, and more – all of which can be extremely useful when sending targeted emails.
This makes it much easier to improve your open and click-through rates.
Like Constant Contact, ActiveCampaign also offers various app integrations to import your contacts from multiple platforms such as Salesforce, Hubspot, and more.
Email Design And Templates
Out of the box, Constant Contact offers as many as 250 templates that you can use to customize and send emails to your list.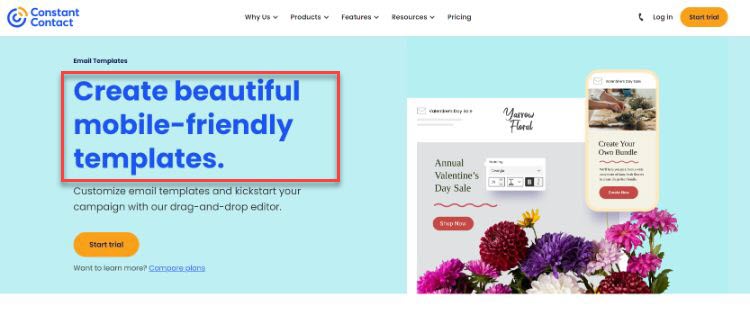 A feature called Brand Templates has also been recently introduced where you allow artificial intelligence to scan your website and create a template based on the colors and design found on your site.
This makes creating a branded email much easier as you don't have to start from scratch.
On the other hand, ActiveCampaign has more than 150 templates you can use for your email.
While this is less than what comes out of the box with Constant Contact, the great news is that you can use code within the email builder to create an email template that looks exactly the way you want it to.
This can be extremely useful for those who want complete control over their email design.
For this reason, ActiveCampaign has a slight edge in design and templates, allowing you to customize your emails fully.
Get started with ActiveCampaign.
Email Campaigns
Constant Contact allows you to create email campaigns from one single interface.
This includes your emails, social media posts, landing page templates, and everything else you might need to promote your business.
When it comes to ActiveCampaign, its campaigns are divided into six types.
These are as follows:
Standard
Auto-responder
RSS triggered
Split testing
Automated
Date based.
I like how these are split up because it makes creating the correct type of campaigns for your needs much more straightforward.
For example, if you want to create a campaign to be sent out on a specific date (such as when running a sale or webinar), then use the date-based campaign.
Both platforms make it easy to create and send email campaigns; however, I think ActiveCampaign has the edge here as the campaigns are much better split up and easy to understand.
Building Your Emails
With a drag-and-drop layout, Constant Contact makes building emails from a template an easy job.
You can add images, text, and links without worrying about code.
A great concept when using Constant Contact is that you can include predefined items and blocks to send out with your emails.
These include items such as polls, coupons, donations, and more.
Active Campaign offers similar functionality and makes using these blocks in your emails easy.
One thing to note is that you can't use a free email provider to send out emails with Active Campaign.
While this might seem like a drawback, they do this to reduce the chance of your emails going into spam.
I think this is a fair trade-off as it improves deliverability rates, which is something marketers want when they send out an email.
Creating Automation Workflow
Email marketing automation allows you to automate specific tasks to save time and increase efficiency.
Constant Contact provides users with two types of automation features they can create.
These are called single-step automation and multi-step automation.
The first one covers welcome emails, birthday emails, and anniversary templates.
This is great for those that want to automate their email marketing but don't need something too complicated.
At the same time, this might not be enough for those running a large business.
In that case, Constant Contact allows you to use multi-step automation tools, which can be triggered when a previous action happens.
For example, when someone opens an email, this can trigger email automation that sends the recipient a follow-up message.
This can be extremely useful for sales teams as it allows them to nurture their leads and increase their chances of making a sale without lifting a finger.
Some triggers include a contact clicking on one of the links in an email or someone making their first purchase.
What's not good about this workflow automation is that no visual interface is provided with Constant Contact.
You will have to go through a step-by-step process to create your automation, which can be pretty tedious.
ActiveCampaign is a beast when it comes to automation.
With more than 100 automation templates that come pre-included in the package, this is a great way to get started.
One can use templates for e-commerce, lead capture, and customer acquisition.
All of these are essential for both small businesses and larger ones to increase sales and revenue.
You can also combine email marketing with SMS marketing (using automation features) to create powerful marketing campaigns sure to convert.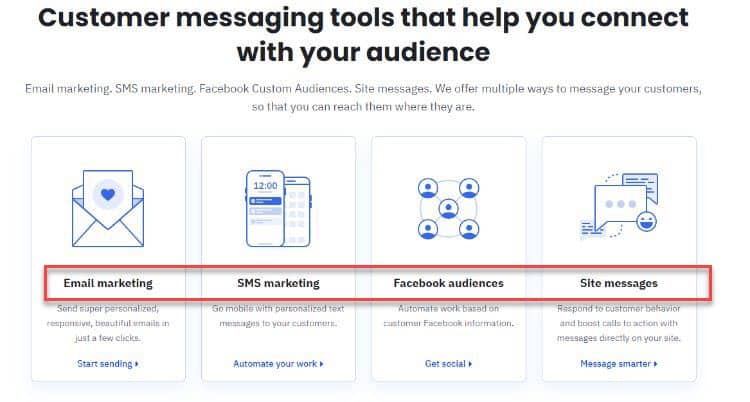 Despite having all the templates to work with, you can also choose to create your automation workflows from scratch if you want to get creative.
The automation builder is very user-friendly and easy to use.
Reporting
Constant Contact provides the essential analytics you need to ensure that your campaigns perform well.
You can see the number of delivered emails, bounces, unsubscribed, and more.
While the system provides insights into your campaign's performance, it's nothing to write home about, as these reporting features are expected from any email platform.
ActiveCampiagn takes reporting to the next level by providing you with a wide range of analytics that you can use to improve your campaigns.
One can also measure sales performance through the included CRM.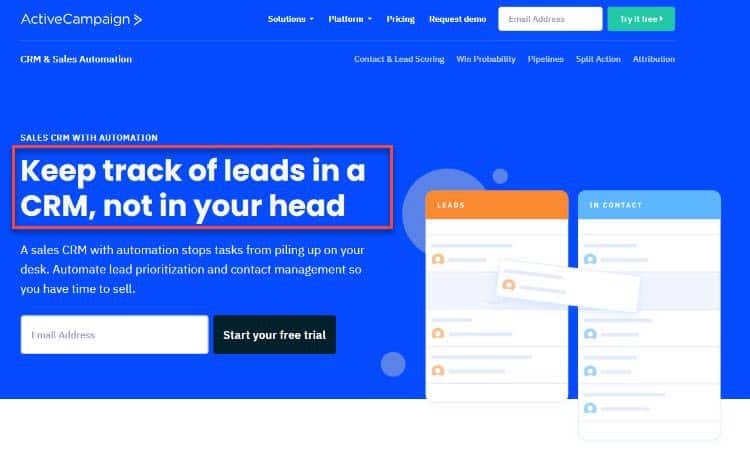 With various integrations with e-commerce platforms, you can get more advanced reporting that can help you understand where your sales are coming from.
You can also track things such as how much revenue each email that you send out generates.
This is essential information as it allows you to make decisions based on data – rather than guessing.
Deliverability
Both Constant Contact and ActiveCampaign use DKIM authentication to encrypt emails and prevent them from going into spam.
This is an authentication method used by top-performing email service providers.
It helps you ensure that your emails get delivered and arrive in the primary inbox of your subscribers.
Regarding deliverability, it's good to note that both platforms are against spamming when sending emails.
As such, they have rigorous policies in place to prevent their users from spamming people.
You must ensure that you're using high-quality content and not just trying to oversell in the emails you send out.
Constant Contact seems to be the stricter of the two, only allowing one out of every 1000 emails sent to be marked as spam.
If this is exceeded, the team will review your account and investigate if you're spamming your list.
ActiveCampaign is not as strict; however, they do say that they are against spamming, and they have a similar policy where if you exceed a certain number of spam complaints, your account will be reviewed.
Another note in this area relates to sending emails that contain affiliate marketing information.
Constant Contact is anti-affiliate marketing, which means you cannot send emails containing affiliate marketing information.
ActiveCampaign, on the other hand, is more lenient and does allow you to send emails with affiliate marketing information – however this is more an exception rather than the rule.
This means that you cannot just send emails promoting an affiliate product but can only do this if the product is relevant to the content of your email.
A final note about deliverability is that ActiveCampaign allows you to purchase a dedicated I.P. address.
This allows you to increase the odds that your email will be delivered to the primary inbox.
A dedicated I.P. address is one that is not shared with any other users.
This means that there is no chance for another user to do something that could get the I.P. address blacklisted, which would affect your deliverability.
Purchasing a dedicated I.P. address from ActiveCampaign will cost you an additional monthly fee, but if your business depends on email marketing to generate revenue, then it's worth the investment.
This is just not possible with Constant Contact.
Split Testing (A/B Testing)
Split testing on Constant Contact is quite limited as you can only send different subject lines to different segments of your list.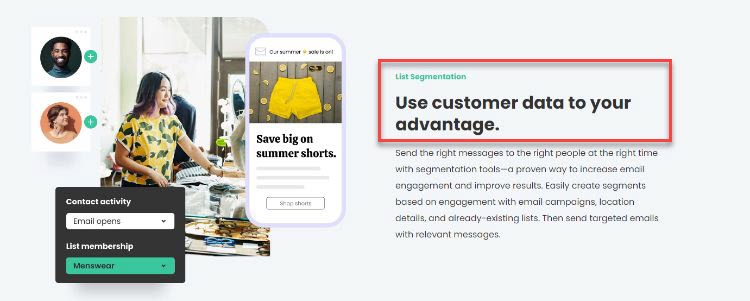 You can't test anything else, such as the content of the email or the call to action.
ActiveCampaign, on the other hand, allows you to split test as many as five different aspects of your email.
This is extremely powerful as it allows you to find the perfect combination that gets the best results for your business.
The only downside is that it can be time-consuming to set up split tests with ActiveCampaign as you have to create multiple versions of your email.
However, depending on how vital email is in your business, this might be some of the best time spent on optimizing your content.
Landing Page Builder
An essential aspect of email marketing software is the landing page builder.
The right landing page builder can save you a lot of money and time as you don't have to pay for a separate landing page software or hire a designer to create one.
With Constant Contact, you can easily create landing pages that can be used to capture leads or sell products.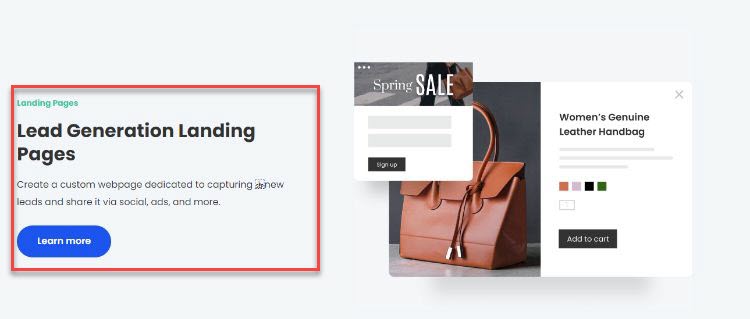 The process is straightforward, and you can create a landing page in just a few minutes.
You can also use the Facebook lead ads integration to capture leads from Facebook and send them directly to your Constant Contact account.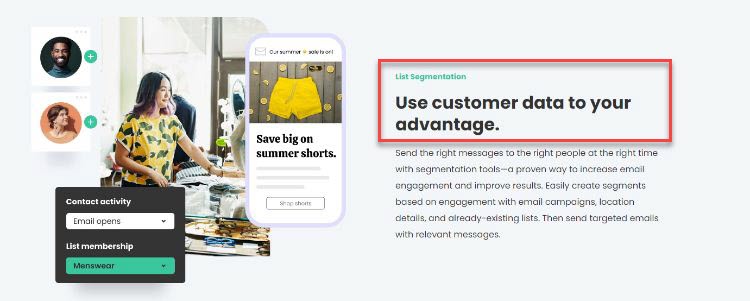 Get started with ActiveCampaign.
The downside in this situation is that the design is limited, as you can only change and customize the background color and font styles.
If you want more control over the design of your landing pages, then you're better off using dedicated landing page software in conjunction with Constant Contact.
With ActiveCampaign, you can create sign-up forms using their landing page creator.
While this is not available in all pricing plans, if you are on a plan that supports it, you will be able to choose from as many as 50 different templates, which are generally stunning and look very professional.
With drag and drop features that allow you to use different content blocks to create the perfect landing page for your business, you can create the right one in just a few minutes.
Pricing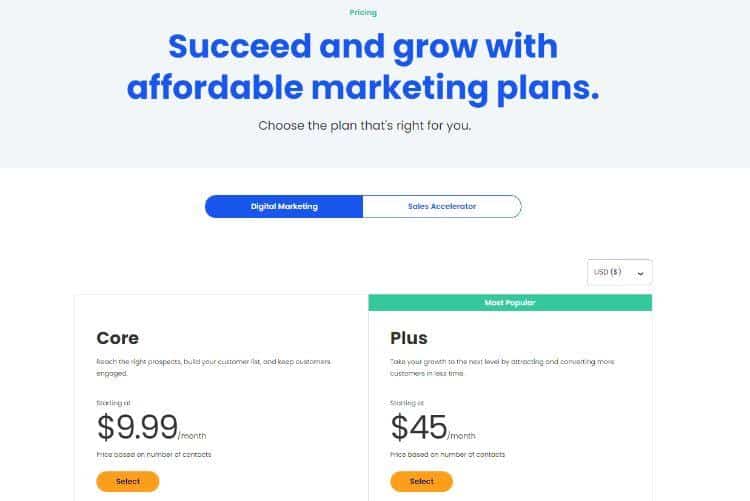 Constant Contact pricing features a basic package called Core at $9.99 per month.
After that, the Plus package starts at $45 per month and includes additional items such as conversion reporting, automated emails, and various list growth marketing tools.
If you need more and require an integrated CRM platform, consider the Sales Accelerator package, which starts at $449 per month.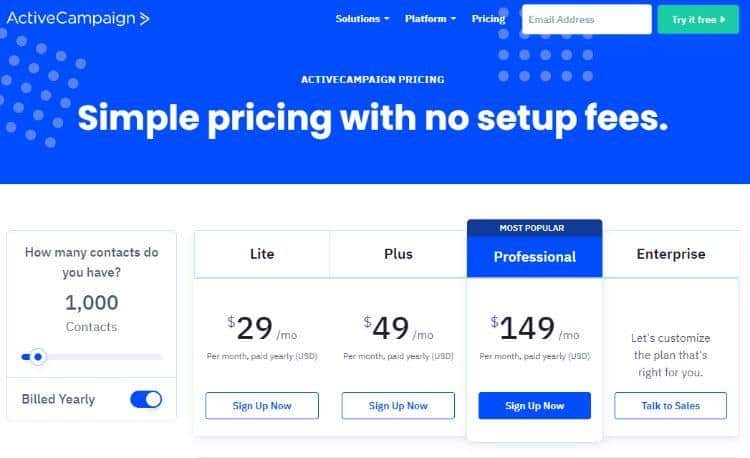 On the other hand, ActiveCampaign's pricing is more incremental, meaning it to be better for businesses of all sizes – from small to larger ones.
The Lite plan costs $29 per month and caters to 1000 contacts.
The second tier package, called Plus, comes in at $49 per month, while the third most popular plan, Professional, starts at $149 per month.
These plans (and prices) are based on having a maximum of 1000 contacts in your contact list.
The more contacts you have, the higher the fee will be.
There is also an Enterprise plan for those that want more advanced features.
To get information about the pricing for this plan, you will need to speak to their sales team.
The great news is that both platforms offer a free trial, so you can test their free plan and features and see which works better for your business before committing to a paid plan.
Customer Support
Constant Contact's customer support hours will change depending on where you are in the world.
General customer support for the U.S. and Canada is available from Monday to Friday, 10 a.m. to 6 p.m E.T.
You also get support where you can get help over the phone, on Twitter, or through their community.
When it comes to ActiveCampaign, live chat is available as follows:
Monday – Thursday from 9 am – 11 pm, CST
Friday from 9 am – 4:30 pm, CST
It's good to know that customers on the Lite, Plus, Professional, and Enterprise plans have both live and email support included.
Enterprise plans get the added benefit of having phone support as well.
As an ActiveCampaign customer, you also get a large knowledge base and various additional training.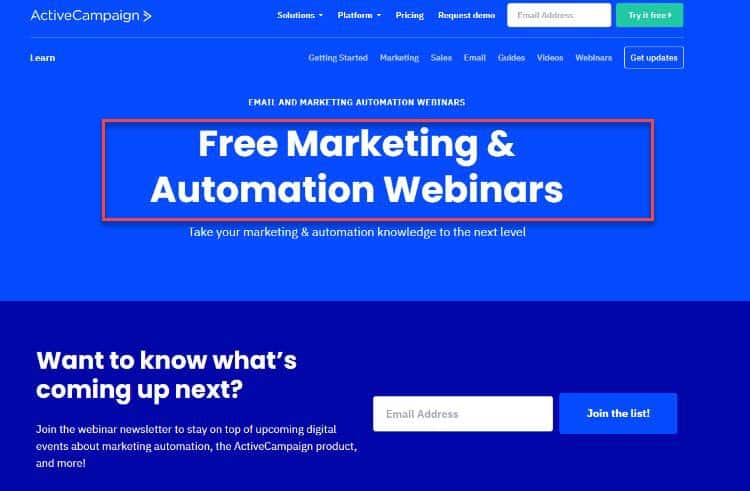 Constant Contact vs. ActiveCampaign – FAQ
Are Email Marketing Tools Good For Beginners?
Many tools are intuitive and easy to use, making them perfect for beginners.
You don't need any technical skills or experience to start email marketing.
What Are Some Of The Most Important Features When Choosing An Email Marketing Tool?
Having an email editor that is easy to use and allows you to create beautiful, responsive emails is important.
Tutorials, training, phone support, and live chat support are important features to consider, especially if you're a beginner.
Lead scoring and automation are also good features to have, as they can save you a lot of time in the long run.
Finally, real-time reports add to the tool's functionality are also essential to consider.
What Are Some Other Top Email Marketing Platforms To Consider?
Email marketing tools such as Getresponse, Sendinblue, Convertkit, and Drip are all digital marketing tools that help with email and other aspects of online marketing.
Can Zapier Be Used To Automate Email Marketing Tasks?
Yes, one can use Zapier to automate email marketing tasks.
Creating a customizable workflow that works with your email marketing tool can save you time.
For example, if you use WordPress, you can automatically send a new blog post as email content to your list using Zapier.
Having a pop-up notification that shows up when someone takes action on your website (such as subscribing to your newsletter or making a purchse) can also be automated using Zapier.
Wrap Up
When it comes to ActiveCampaign vs. Constant Contact, both platforms are great options for email marketing.
However, when I consider all the factors, there can only be one winner, and that is ActiveCampaign.
With all the essential features included and high overall deliverability, ActiveCampaign is one of the best options in email marketing right now.
Considering its ease of use, it's no wonder that ActiveCampaign is one of the most popular email marketing platforms today.
Get started with ActiveCampaign.
However, if you still want to try out Constant Contact to see if it's the right fit for your business, you can check out the link below.
Further reading on AdamEnfroy.com: Want to see how popular email marketing software fare against one another?
Here are a few reviews to consider:
In addition, if you're interested in learning how cold email can help you grow your business, check out my guide on the best cold email software to help you reach future customers without spending a fortune.
Disclosure: I may receive affiliate compensation for some of the links below at no cost to you if you decide to purchase a paid plan. You can read our affiliate disclosure in our privacy policy. This site is not intending to provide financial advice. This is for entertainment only.
---
Last Updated on December 8, 2022 by Adam Enfroy