ActiveCampaign Review: Pros, Cons, and Features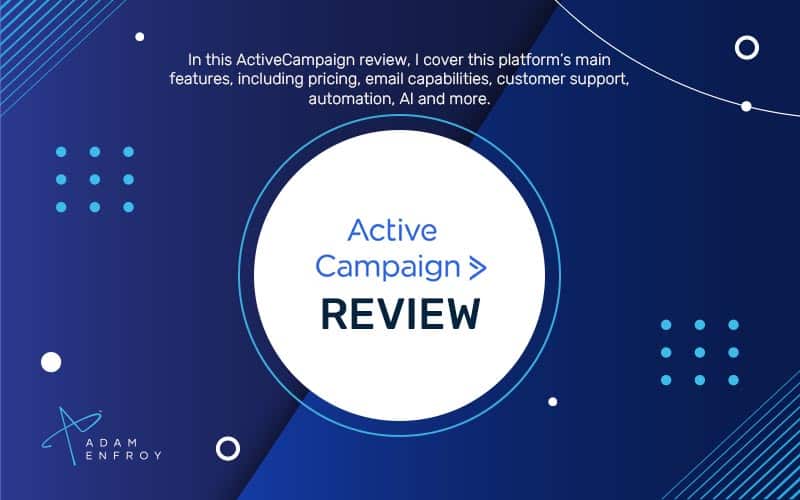 Email marketing tools are vital for online businesses.
Not only do they provide a way to stay in touch with your audience, but they also offer valuable insights into customer behavior.
With email being one of the main methods of communication and marketing today, the right email tool can make a big difference in your business's success.
However, email marketing software has evolved to provide much more than just a way to send emails.
Nowadays, email software includes marketing automation tools, contact management, improved email deliverability, and more.
ActiveCampaign is one of the best software in this marketing category since it ticks all these boxes and more.
In this article, I will review ActiveCampaign, covering this tool's key features so you can decide if it's the right choice.
Let's get right into it.
ActiveCampaign Overview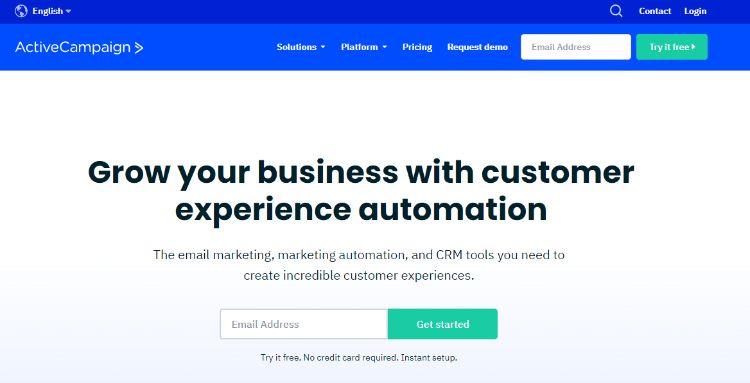 Apart from its autoresponder features, one of the best things about ActiveCampaign is that it comes with a CRM that helps you keep track of your contacts and customers.
This helps you automate not only your email marketing, but also your sales processes.
With ActiveCampaign's CRM, you can keep track of your leads and customers, their interactions with your business, their purchase history, and more.
As such, being able to optimize the customer experience and increase conversions is what ActiveCampaign excels at.
And while traditionally, you needed multiple solutions to have email marketing software integrated with customer relationship management, having it all in one place will save you time, money, and energy.
For those looking for a marketing solution that does more than send emails, ActiveCampaign is a great option.
With the ability to set up virtually all email automation features you can think of, ActiveCampaign will allow you to focus on other areas of your business.

From trigger campaigns and sales follow-ups, to customer segmentation and lead scoring, ActiveCampaign is for those that want to take their business to the next level with email marketing.
ActiveCampaign is also great for those who want to create landing pages that capture leads – without having to use a separate tool.
With ActiveCampaign's landing page builder, you can create beautiful landing pages optimized for conversion in minutes.
You can even set up your social media advertising (specifically Facebook ads) through the ActiveCampaign interface, which is a great solution to centralize your marketing efforts.
That said, ActiveCampaign is unsuitable for those who want a beginner's solution that is easy to use and doesn't require any technical skills.
For those that require simple automation and ease of use, the features on offer by ActiveCampaign might be overkill for their needs.
This means that going for ActiveCampaign would only mean such business owners would only be paying extra for features they don't need.
If you're not ready for such features, other great email management systems include Hubspot and Constant Contact, both of which might be a better fit.
With this in mind, ActiveCampaign has a great free plan you can use to get started and see if the tool is a good fit for you – more on this later.
Get started with ActiveCampaign.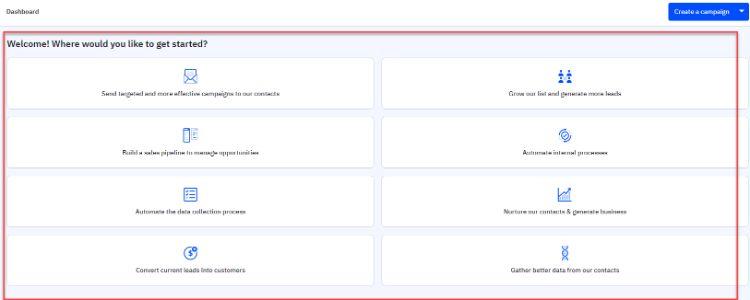 ActiveCampaign Marketing Automation
ActiveCampaign provides automation abilities through a relatively easy-to-use interface that requires no coding knowledge.
With ecommerce automation, you can:
Send out SMS marketing campaigns based on specific actions
Set up campaigns according to user behavior
Have automation set up to integrate with your sales CRM
And much more.
The complexity of automations you can create is only limited by your imagination.
The good news is that ActiveCampaign's automation also comes with all the premium plans; however, when it comes to sales automation specifically, only those on the plus plan and higher will be able to take advantage of this.
ActiveCampaign Automation Templates
Taking automation futher, there are also templates that users can go for.
Known as 'recipes,' these are well-put-together sets of actions that can automate a process for you.
For example, there are recipes to automatically send an SMS when someone subscribes to your email list – or even when a contact unsubscribes.
You can also use these to set up ecommerce automation workflows.
These might include sending out shipping notifications or even offering a discount to customers that haven't purchased in a while.
There are currently over 750 automated recipes available, and more are being added all the time.
Moreover, ActiveCampaign's team is always on hand to help you set these up if you need assistance.
There is also an automation map, giving you a visual representation of all the automation you have set up and how they interact with one another.
You can use this to quickly spot any errors in your automation or even to get a better understanding of how everything works.
Also, once you have set up an automation, you can add further elements to it with just one click.
In doing so, you'll be presented with various actions that apply within the context of the specific automation.
These include actions such as unsubscribing contacts, split testing automation, adding tags, and much more.
SMS Automation
Found on the Plus plan and higher, SMS automation is a great way to keep in touch with your contacts without manually sending every single message.
It's perfect for issuing reminders, updates, or even general messages to those who have opted to receive them.
With integrations to tools like ClickSend, Twilio, and MessageMedia, it's easy to set up and send SMS messages in no time.
The price you pay for sending SMS depends on the amount you send, so this is a cost you will have to consider when using this feature.
However, this can be a great way to stay in touch with those that matter most to your business.
ActiveCampaign CRM Review
Applying lead scoring and tags to your contacts is a great feature of the CRM and something that sets ActiveCampaign apart from many of its competitors.

These given scores depend on the rules that you set.
For example, when contacts open emails, click on links, and submit specific forms, they'll be assigned any number of points as you would have preset.
The ability to also make detailed notes on each contact is beneficial, and with the option to set up tasks for yourself or others, you can make sure that nothing gets forgotten about.
The CRM also integrates with several other tools, such as Pipedrive, Zoho CRM, and Hubspot, making it easy to keep all your data organized and easy to use.
Facebook Audiences
With an in-depth integration with Facebook Ads, ActiveCampaign makes it easy to create audiences based on the actions people take within your email campaigns.
You can segment these audiences in any way you want, ensuring that you only target those most likely to convert.
You can also add or remove people from specific audiences as they move through your campaign.
For example, if someone unsubscribes from your list, you can remove them from your 'subscribed' custom audience on Facebook.
This means you'll never waste money on ads that are being shown to those not interested in your offer.
You can also combine SMS with this to create even more targeted audiences, ensuring that your marketing efforts are always on point.
Artificial Intelligence And Machine Learning
Being able to get a better understanding of your contacts is essential if you want to be able to market to them in the most effective way possible.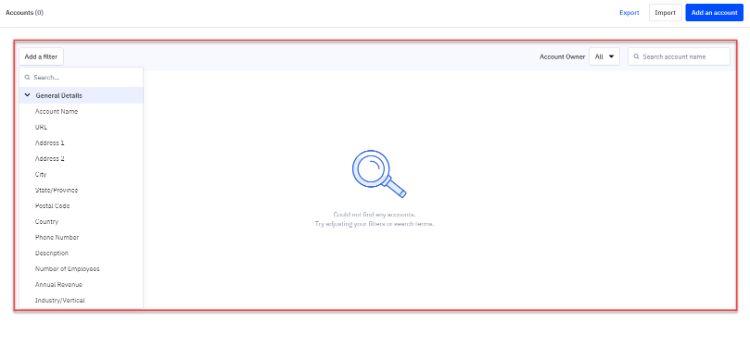 Using predictive sending, ActiveCampaign will automatically send your emails at the best time for each contact, meaning that you are more likely to get a response from the people on your list.
Next, you can use predictive content to show each contact the most relevant media based on their behavior.
While traditionally you would perform A/B testing of two different emails to see which one did better, with predictive content, the platform can automatically show each contact the email that will most likely get the best response from them.
All in all, you'll be able to get much better results from your campaigns without putting in any extra effort.
ActiveCampaign Integrations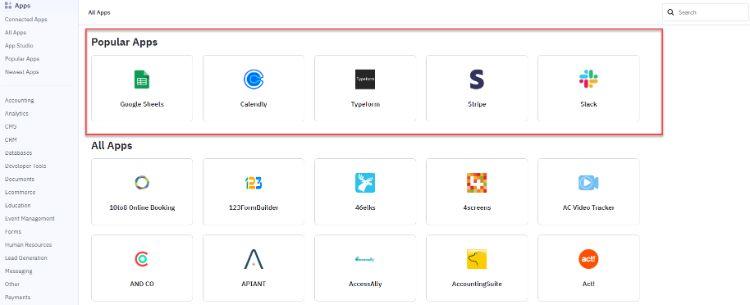 This platform integrates with many different providers and apps, which can be extremely useful for small businesses.
By connecting with other software, business owners can use the provided functionality to build better automation workflows.
These can help them avoid potential issues and duplicate data.
Some of the most common integrations include the following:
That said, this list is by no means exhaustive, and there are many other software programs that ActiveCampaign integrates with.
You can also use Zapier to connect ActiveCampaign with hundreds of other marketing platforms, meaning the possibilities are practically endless.
ActiveCampaign Landing Pages
With more than 50 different landing pages to choose from, it's easy to find the perfect one for your business when using this email marketing platform to get people to opt-in.
The issue that some users might find is that they cannot control exactly where each block on the landing page will show up.
Instead, users can move blocks around to various outlines when setting up their landing page.
This is not a big issue but could be something that causes frustration for those that want complete control over their landing page design.

On the flip side, a great thing to consider is that you can include dynamic content when building landing pages.
This means that users will see different content depending on their interactions with your website, making for a more personalized experience.
For example, someone visiting from a specific location and for the first time can see different content from someone who has visited your website multiple times from the same location.
ActiveCampaign Customer Support
Usually, companies that scale to a specific size can lose that personal touch when it comes to customer support.
However, this is not the case with ActiveCampaign, as they still offer quick customer service with helpful responses to any queries you might have.
With live chat and email support available, you can be sure that someone will always be on hand to help you out.
ActiveCampaign also has a phone support number one can call to get help.
Moreover, there is also a searchable knowledge base where you can find answers to many common questions.
Users also get onboarding/training webinars when they sign up for an ActiveCampaign account, which can help solve many initial questions.
All in all, customer support is highly comprehensive and should be able to help you with any issues that arise.
There are also tons of YouTube tutorials and videos created by ActiveCampaign itself and other users that can help you learn more about how to use the software.
ActiveCampaign Pricing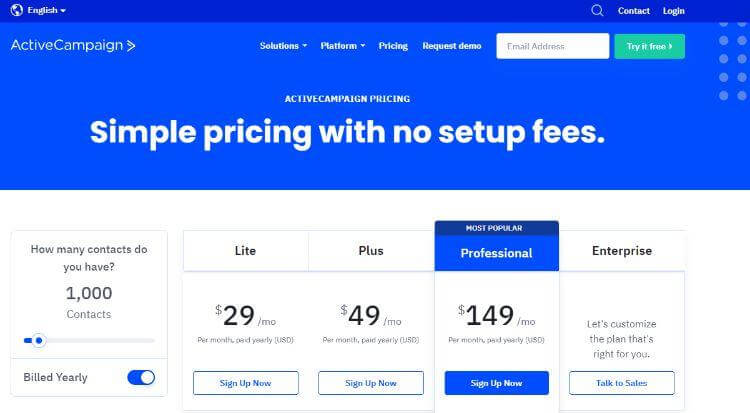 With a 14-day free trial, you can explore all of ActiveCampaign's features without any commitment.
Once the trial is up, there are four different pricing plans to choose from, as follows:
Lite Plan: $29/mo
Plus Plan: $49/mo
Professional Plan: $149 per month
Enterprise Plan: Speak to their sales team for more information.
The above are yearly prices based on an email contact list of 1000 subscribers.
This means that based on the number of contacts that you have, the price will increase.
Considering the features on offer, ActiveCampaign provides very affordable email marketing automation tools that can help take your business to the next level.
ActiveCampaign Review – FAQ
What Is ActiveCampaign's Automation Builder?
ActiveCampaign's automation builder makes it easy to create complex workflows without any coding experience using a drag-and-drop editor.
You can add triggers, conditions, and actions to automate your marketing processes with just a few clicks.
What Does Customer Experience Automation Refer To On ActiveCampaign?
From the preset email templates to the ability to add custom fields in your email editor, ActiveCampaign offers various options to improve your customer experience.
This helps users create a more personalized journey for their contacts by automating the right tasks.
What Does The Email Builder Do?
The email builder and designer allows users to create beautiful and responsive marketing emails with ActiveCampaign.
With a drag-and-drop editor, users can easily add images, videos, buttons, and more to their email templates.
ActiveCampaign also offers a wide range of pre-designed email templates that can be customized to match your brand's look and feel.
Wrap Up.
If you are willing to go through a short learning curve to understand how to best manage marketing emails, automation, and a CRM, all under one roof, ActiveCampaign can provide your business with a valuable tool.
The ability to see the results of your campaigns in real-time is extremely valuable and can help you make quick adjustments on the fly.
All in all, If you are looking for a comprehensive solution for your marketing automation needs, then ActiveCampaign is worth considering.
Have you used ActiveCampaign before?
Let me know your thoughts in the comments below!
Get started with ActiveCampaign.
Further reading on AdamEnfroy.com: As an online business owner, being able to send emails to your subscribers is vital to your success.
Not only do you need to be able to send emails, but you also need to be able to track the results of your campaigns and make changes on the fly.
Here are some other Constant Contact Alternatives that you might want to consider.
These can help you decide which email marketing program is right for you and your business.
Editorial Process:
Our reviews are made by a team of experts before being written and come from real-world experience. Read our editorial process here.
Some of the links in this article may be affiliate links, which can provide compensation to us at no cost to you if you decide to purchase a paid plan. These are products we've personally used and stand behind. This site is not intended to provide financial advice. You can read our affiliate disclosure in our privacy policy.
---
Last Updated on October 12, 2023 by Adam Enfroy