9 Best Constant Contact Alternatives of 2023 Ranked & Reviewed
Despite having been around for a long time, email marketing continues to be a major component of today's companies' successes. So it's crucial that you have the right tool for the job.
Constant Contact is a popular choice when it comes to email marketing software, but you may have found that it's not the best fit for you. Or maybe you're looking for a change. Whatever your reason may be, there are a ton of really interesting tools out there that are worth exploring.
But before we dive into the best Constant Contact alternatives, let's look at what Constant Contact is, both the good and the bad.
What is Constant Contact?
Constant Contact is one of the veteran email marketing tools – the company has been around since 1995.
The target audience for Constant Contact generally consists of small businesses, nonprofits, and freelancers. Over the past few years, they've expanded their offering to go beyond email and into a marketing platform with a forms tool and website builder to help you reach wider audiences.
Constant Contact is a popular choice for businesses, particularly in the event management industry, because of its niche event management features. The tool itself is easy to use and offers a massive set of integrations. They also have excellent deliverability rates.
But if you're here looking for Constant Contact alternatives, you're probably aware of its limitations. The usual complaints generally come back to the limited automation and personalization features and the slightly higher price point than average.
Before jumping in, let's take a look at what Constant Contact got right and the drawbacks that may cause you to want to switch to another email tool.
Constant Contact Pros
High deliverability rates
Easy to use drag-and-drop editor
Large selection of free customizable email templates
Niche features for surveys and event management
Free website builder
500+ integrations spanning across all kinds of industries
Constant Contact Cons
Limited automation (only autoresponders) and optimization features (a/b testing for subject lines only)
Limited contact management
No RSS email function
Limited reporting (basic email metrics)
Registration forms and landing pages are basic and difficult to customize
Expensive for what it offers
Whether you're desperately looking for a new email marketing tool because Constant Contact just isn't cutting it for you, or you're just dipping your toes to see what else is out there, I've rounded up 9 alternatives to Constant Contact that you should consider and how they compare in terms of features and pricing.
Let's get started.
What Are the Best Constant Contact Alternatives?
Here are my top picks for the best Constant Contact alternatives.
HubSpot's email marketing tool is part of a much bigger all-in-one growth platform. HubSpot's platform includes tools for marketing, sales, and customer service that allow you to grow and scale your business.
HubSpot vs Constant Contact: features
Automation: Constant Contact allows you to create automated email sequences, but that's pretty much as far as you'll get in terms of automation. HubSpot's automation tool goes well beyond the confines of email marketing. HubSpot lets you create customizable autoresponders and complex automation workflows. Emails can be triggered whenever someone takes a specific action or based on a specific characteristic they have, pulling from the CRM data. You can use one of the premade automation workflow templates or you can build your own from scratch. These workflows help you manage your email campaigns but also manage how your team operates internally through contact management, lead scoring, and more.
Personalization: The true power of HubSpot Email Marketing comes from the CRM. While Constant Contact does have personalization tags you can add to your emails, HubSpot's free CRM collects all sorts of data on your website visitors and contacts to allow you to personalize your emails at scale. The CRM not only collects basic information on your subscribers, but it also logs any interactions they engage in with your business.
More than just email: HubSpot's free plan offers a lot more value than most email software because of the full suite of tools you get when you sign up. There are the standard email add-on features like forms, a CRM, landing pages, and marketing automation, but you also get an ads management platform, live chat, a chatbot builder, ticketing software for customer service, and more. All of these tools are natively integrated with the email marketing tool to make your emails more powerful. And it's free! When you move on to paid plans, you get even more value for growing your business, like content strategy, SEO, and social media management tools. Beyond email, Constant Contact has a website builder and ad creation tool, but HubSpot generally offers more value overall.
HubSpot vs Constant Contact: pricing
Constant Contact does not have a free plan, which can be a deterrent if you're just starting out and not willing to commit to a subscription just yet. HubSpot's free plan gives you unlimited subscribers and up to 2,000 email sends per month. You have all the CRM functionalities, forms and popups, live chat and bots, and ticketing for free.
Constant Contact has two paid plans: the Email plan at $20/month and the Email Plus plan at $45/month. Both plans include unlimited sends for 500 contacts (the price goes up as you increase your contact list). In comparison to HubSpot's free plan, signup forms are available on the $20 plan, but popups only on the $45 plan.
HubSpot's paid plans start at $50/month and unlock access to advanced automation, personalization, and optimization. The pricing also changes based on contact tiers. You start off with 1,000 free contacts and then pay for each additional thousand.
HubSpot is generally cheaper when you're starting out or have a small subscriber base. As you move up the paid tiers, HubSpot does get more expensive, but you also get a lot more value to grow your business.
Get started with HubSpot Email Marketing.
Moosend is another all-in-one marketing platform that has various tools to grow your business. It's a particularly interesting alternative to Constant Contact for ecommerce and travel companies.
Moosend vs Constant Contact: features
Automation: Moosend has more advanced email automation than Constant Contact. The prebuilt workflow library has various templates that are especially great for ecommerce. The ecommerce templates allow you to email someone who has left items in their cart or someone who has a particularly large purchase so you can follow up without actually having to remember to follow up. There are many triggers to choose from, including when someone views a certain product or when someone subscribes to a certain list.
Personalization: Constant Contact's personalization features allow you to add certain tags to match your contacts' information, but Moosend's personalization is a bit more intricate. For example, if you're a clothing store, you can make recommendations based on the weather conditions where your subscriber lives, so you can tailor your email content to show warm sweaters and boots if it's winter in one part of the world and sandals and bathing suites in the other. You can generate product recommendations based on other customers making similar purchases, or remind someone when it's time to restock a certain product and encourage repeat sales.
Pay as you go: If you don't want to commit to a monthly plan, Moosend has an option they call "credits" where you have access to all of the features available on their Pro plan, but you only have to pay for what you need on a one-time basis.
Moosend vs Constant Contact: pricing
Moosend has a free plan where you can send unlimited non-transactional emails to up to 1,000 contacts and have access to all types of forms, design options, automation, tracking, and most of the reporting.
Most of these features are only available on Constant Contact's Email Plus plan for $45.
Moosend's paid plans start at $10/month and give you access to landing pages, custom reporting, and more personal customer support options.
Ultimately, Moosend is a much cheaper option than Constant Contact. As with most email tools, the cost really goes up when you increase the number of subscribers on your plan.
Get started with Moosend.
Both Sendinblue and Constant Contact are easy-to-use email marketing platforms and perfect for beginners, but Sendinblue also has more sophisticated features that make it a more attractive alternative for advanced marketers.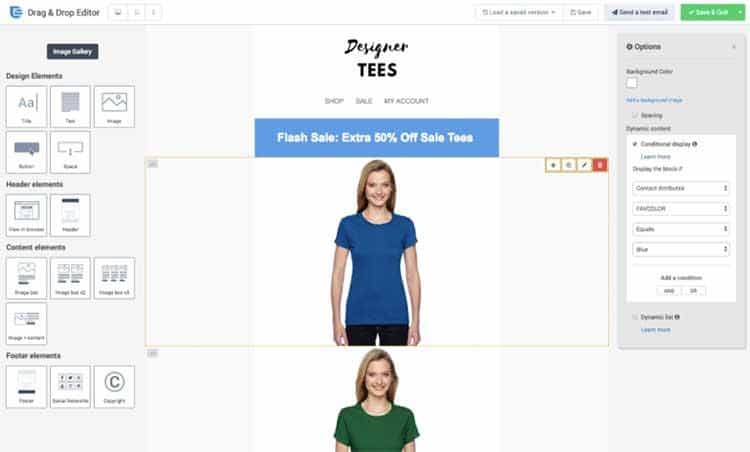 Sendinblue vs Constant Contact: features
Automation: Constant Contact offers a welcome series and automated sequences on their higher priced plan but has overall less automation options than Sendinblue, and Sendinblue has automation features available on their free plan. Automation features that Sendinblue has and Constant Contact doesn't include automation workflows using if/then/else logic, dynamic segmentation, automated lead scoring, database automation, abandoned cart (Constant Contact has it with Shopify only), on-page event tracking, SMS automation, and lead attribution in CRM. Only autoresponders are common to both tools.
Optimization: Constant Contact allows you to a/b test your subject lines, but Sendinblue lets you a/b test your content as well. Sendinblue also has send time optimization, which Constant Contact does not.
More marketing tools: Sendinblue is more than just an email tool; it's a marketing platform that offers you lots of different ways to reach new customers and grow your business. Both Sendinblue and Constant Contact have a landing page builder and Facebook ads. However, Sendinblue also has a sales CRM, retargeting ads, live chat, and SMS marketing.
Sendinblue vs Constant Contact: pricing
Sendinblue's free plan lets you send 9,000 emails per month (or 300 emails daily) and comes with a mobile-friendly email designer, email templates, SMS marketing, full CRM functionalities, transactional emails, as well as basic automation and reporting.
Sendinblue's pricing model is based on the number of emails sent rather than contacts stored, which means you can have as many subscribers as you want across all plans. Constant Contact charges per contact stored, which can quickly get pricey for a small business with a rapidly growing list.
Paid plans for Sendinblue start at $25/month, but the more interesting features like no Sendinblue branding, a/b testing, and advanced reporting are available on higher tiers at $39/month and $66 for landing pages, marketing automation, and Facebook ads.
Get started with Sendinblue.
Omnisend is another great email tool that is a popular choice among online retailers for its ecommerce features and budget-friendly pricing plans.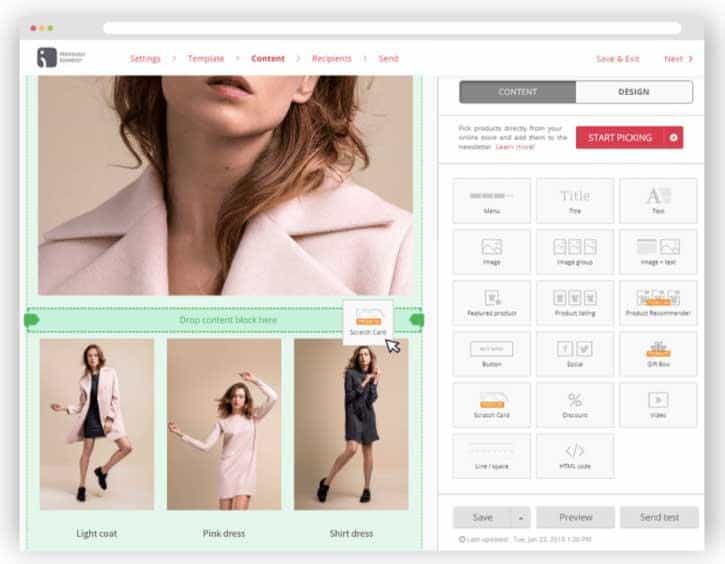 Omnisend vs Constant Contact: features
Automation: Constant Contact offers some personalization and automation, but these features are quite limited. Omnisend has pre-built automation templates for when someone abandons their cart or simply to welcome a new potential customer. You can also promote cross-selling opportunities by recommending products to your customers based on their past purchases. Each template is customizable to fit your own customer journey.
Forms: Constant Contact has no custom field options, but you can change the look of your forms to match your brand. Omnisend has a wide variety of forms with advanced customization options. Omnisend offers popups, embeddable forms, and even a wheel of fortune form for a more fun, gamified email capture experience.
Analytics and Reporting: Constant Contact offers basic email metrics such as clicks and opens. Because Omnisend is geared toward ecommerce, the tool's analytics reports track the performance of your automation workflows with key sales metrics so you can pinpoint what's generating sales and when. In addition to standard engagement metrics, you can measure your sales ROI and determine cross-channel and cross-device revenue attribution.
Omnisend vs Constant Contact: Pricing
Omnisend has a free plan which gives you up to 15,000 emails per month (or 2,000 daily), one month of website tracking data history, 3 active signup forms, exit-intent forms, popups, signup boxes, landing pages, unique discount coupon codes, product content blocks to display your products within your emails, and more features for ecommerce.
Some of Omnisend's free features (ecommerce marketing and landing pages) are available on Constant Contact's Email plan for $20/month. For customizable popup forms and coupons, you'd have to get the Email Plus plan for $45/month.
Paid plans for MailerLite start at $16/month and include more features like automation, SMS marketing, advanced segmentation, unlimited forms, Facebook Custom Audiences, priority support, and more.
Get started with Omnisend.
ConvertKit is a good Constant Contact alternative for bloggers, YouTubers, freelancers, and affiliate marketers to consider. The platform was built with content creators in mind.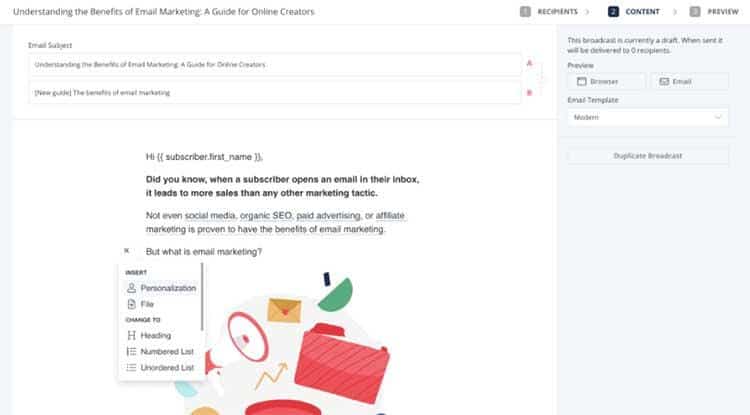 ConvertKit vs Constant Contact: features
Automation: ConvertKit offers more advanced email automation features. While Constant Contact's automation feature is limited to autoresponders and email drip campaigns, ConvertKit uses "if this, then that" logic to allow you to build marketing automation workflows and sales funnels. You can also combine multiple drip campaigns into a single workflow and tag subscribers based on their preferences for more targeted campaigns.
Email builder and templates: Constant Contact has a much wider variety of templates than ConvertKit. Convertkit's templates are actually quite basic. They want to encourage users to create simple emails without too much distracting design. Constant Contact has a drag-and-drop builder, whereas ConvertKit has a rich text editor. So here, the choice might depend on your personal preferences.
Forms: Convertkit lets you create different types of forms that are particularly relevant to content creators like content offers, newsletter signups, and blog subscription forms for specific blog categories. The form tool is easy to use and lets you set up a confirmation email once someone has just signed up.
You can also see how Convertkit compares to Mailchimp for more information about this platform.
ConvertKit vs Constant Contact: Pricing
ConvertKit has a free plan that allows you to send emails to up to 1,000 subscribers. You also get unlimited landing pages and forms, customizable domains, and subscriber tagging.
The features in ConvertKit that are more worthwhile (i.e. automations and sequences) are available on the paid plan, starting at $29/month and the price goes up depending on the number of subscribers you have.
While Constant Contact does not have a free plan, the cheapest paid plan ($20/month) is cheaper than ConvertKit's paid plan and also includes landing pages, signup forms, and custom domains. But ConvertKit's $29 plan offers more value than Constant Contact's $45 plan in terms of automation.
Get started with ConvertKit.
MailerLite has recently grown in popularity and is a good alternative to Constant Contact for anyone who needs an affordable email marketing tool.
MailerLite vs Constant Contact: features
Automation: As with most email tools in this list, MailerLite beats Constant Contact when it comes to email automation. The automation workflow builder is less sophisticated than higher-end platforms like HubSpot or ActiveCampaign, but it does the job for email. Trigger options include form submissions, clicks, and cart abandonment.
Email builder and templates: Both Mailerlite and Constant Contact are pretty much up to par when it comes to using the email builder itself. Both offer the option of drag-and-drop editor and an HTML email editor for those who would rather code their emails themselves. They both support surveys in emails and ecommerce campaigns, but Constant Contact has a wider selection of email templates.
RSS email campaigns: MailerLite's RSS-to-email feature automatically inserts your latest blog posts into an email and is available on the free plan. Constant Contact, surprisingly, does not have this feature.
MailerLite vs Constant Contact: pricing
MailerLite has a free plan which gives you the option between a drag & drop email editor or a rich text editor, but no access to the newsletter templates. This plan includes up to 1,000 subscribers and 12,000 emails a month. You get landing pages, signup forms and popups, an unsubscribe page builder, email automation, RSS campaigns, A/B testing, email campaign reports, and surveys.
For comparable features, you would have to sign up for Constant Contact's Email Plus plan starting at $45/month.
Paid plans for MailerLite start at $10/month and the cost goes up once you go over 1,000 subscribers. These plans include access to the custom HTML editor, newsletter templates, custom domains, promotion pop-ups often used in ecommerce, the option to auto resend to subscribers who didn't open your initial email, time zone delivery optimization, dedicated IP addresses, and advanced tracking.
Get started with MailerLite.
ActiveCampaign is another growth platform that spans across marketing, sales, and service. It's a good alternative for more experienced marketers looking to incorporate advanced automation into their marketing strategy.
ActiveCampaign vs Constant Contact: features
A/B testing: As mentioned previously, one of the main setbacks of Constant Contact is the fact that it only allows for a/b testing the subject line. With ActiveCampaign, not only can you test both the subject line and the email content, but you can also test the performance of your entire automation workflow with up to 5 versions at a time. Anything you can automate you can test.
Automation: Constant Contact has very simple automation features that can easily become quite limiting if you're looking to scale. ActiveCampaign uses triggers and actions together with site and event tracking to create some really powerful automations. Triggers you can add include when someone subscribes to or unsubscribes from a list, when someone submits a form, forwards an email, replies to an email, abandons their cart, and more. ActiveCampaign also comes with a built-in CRM that you can combine with the automations tools to improve your sales.
Analytics and Reporting: Constant Contact's reports offer the standard email metrics: open rates, clickthrough rates, bounce rates and unsubscribes. You can also compare up to 5 emails to see how they stack up against each other. ActiveCampaign's reports are much more comprehensive. They are broken down into five report categories: campaigns, automation, goals, contacts, and chats. Each of these reports is then further categorized into subreports for additional details.
ActiveCampaign vs Constant Contact: pricing
ActiveCampaign does not have a free plan, but their lowest paid plan starts at $9/month, which is significantly lower than Constant Contact's lowest plan at $20/month. ActiveCampaign's Lite plan has generally more to offer than Constant Contact's Email plan, notably marketing automation and unlimited forms and autoresponders. ActiveCampaign's Lite plan includes unlimited email sends for 500 subscribers.
For $20/month, Constant Contact's Email plan also lets you send unlimited emails to 500 subscribers but does not include forms, and the only automation available on this plan is to resend to people who haven't opened your email.
ActiveCampaign's higher tiers start at $49/month and include more advanced features like Facebook custom audiences, integrations, and SMS Marketing. In-depth automation and machine learning are available starting at $149. Pricing changes based on the number of subscribers you have.
Get started with ActiveCampaign.
GetResponse is another interesting Constant Contact alternative, particularly for publishers, ecommerce, blogging, or startups.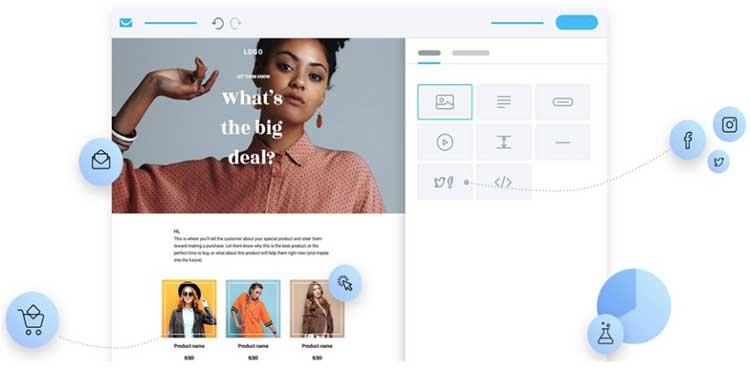 GetResponse vs Constant Contact: features
Automation: With GetResponse, you can send two types of automated messages: time-based messages (you can use this to send happy birthday messages, for example) and action-based messages (with your standard trigger options). You can also use the tool to automatically tag and score contacts or move them to another list. These automation funnels integrate signup forms, landing pages, emails, online payments, and even webinars. Constant Contact, on the other hand, has limited automation options (autoresponders and resend to those who didn't open your email), even with its most advanced plan.
Email builder and templates: With GetResponse, you can a/b test your email message content, subject lines, form fields, and what day and time you send each email. As mentioned before, Constant contact only allows for a/b testing subject lines. GetResponse offers 200+ customizable email templates and over 5,000 free stock photos. Constant Contact gives you access to 100+ customizable email templates but with a limited amount of free stock images. GetResponse also has spam testing that checks your emails against known spam words and other behaviors to ensure your emails don't end up in your recipients' spam folders, a feature not available within ConstantContact's platform. GetResponse also lets you create newsletters with RSS.
Analytics and Reporting: GetResponse offers the same reporting functionalities as Constant Contact, but it also tracks your email activity in real time, gives you a geo map so you can see where your subscribers who opened your emails and clicked on your links are located in the world.
GetResponse vs Constant Contact: pricing
Both GetResponse and Constant Contact are entirely paid (as in, not freemium) and their pricing models are based on the number of contacts you have.
While GetResponse does not have a free plan, it is still a cheaper Constant Contact alternative, starting at $15/month. This plan starts you off with 1,000 contacts and includes all email, landing pages, and form functionalities as well as some automation, which is more than Constant Contact's higher-tier plan.
GetResponse's higher-tiered plans begin at $49 and include advanced automation, abandoned order recovery, and access to their webinar software.
Get started with GetResponse.
Finally, Mailchimp is a free Constant Contact alternative for SMBs that offers a good mix of marketing tools to grow your business.
Mailchimp vs Constant Contact: features
Automation: Constant Contact has simple autoresponders and personalization. With Mailchimp, you can send personalized product recommendations and purchase follow-ups and trigger email sends based on how your subscribers interact with you.
Forms: Both have form builders, but Mailchimp's has more customization options with custom fields to capture information that is then directly sent to the CRM. Constant Contact's fields only offer the standard tick boxes for first name, company name, etc. You can also create a QR code that links to your form within the Mailchimp platform. To do the same on Constant Contact, you'd have to use a third party app.
Analytics and Reporting: Constant Contact reports on the basic metrics like opens, clicks, and forwards. Mailchimp has more advanced reports to explain the different email metrics in more depth. You can see how users are interacting with your emails with the click map feature..
Mailchimp vs Constant Contact: pricing
Mailchimp's pricing is a lot more flexible than Constant Contact's with a free plan, two low-priced plans, and one premium one.
The free plan allows you to send 12,000 emails per month to up to 2,000 subscribers. You get basic segmentation, behavioral targeting, surveys, basic templates, a website builder, some automation, and most email capabilities. Similar features with Constant Contact are only available on the $45 plan.
Mailchimp's Essentials and Standard plans priced at $9.99 and $14.99 per month respectively give you access to more advanced CRM features, automation, and optimization, as well as a lot more email sends and subscribers. The Premium plan is then priced at a much higher cost at $299 per month for advanced segmentation, multivariate testing, and accommodations for larger teams.
Get started with Mailchimp.
Summary
Bonus: If you're already using MailChimp, but would like to explore other options, check out this list of best Mailchimp alternatives.
Constant Contact is a good tool for basic email marketing campaigns and it has a lot of customer support options. However, it also lacks some of the marketing automation and advanced reporting features people might look for in an email marketing tool.
If you need a tool that's more robust with greater automation and personalization and that is scalable, go with HubSpot or ActiveCampaign.
Disclosure: I may receive affiliate compensation for some of the links below at no cost to you if you decide to purchase a paid plan. You can read our affiliate disclosure in our privacy policy. This site is not intending to provide financial advice. This is for entertainment only.
---
Last Updated on December 8, 2022 by Adam Enfroy