Livestorm Review: Is it the Best Webinar Platform in 2023?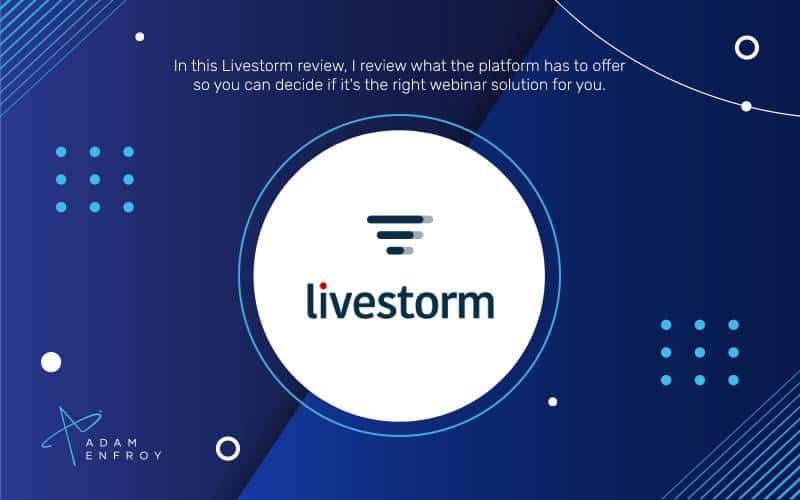 Running a webinar to a receptive audience can be a great experience that propels your business forward and allows you to generate leads, sales, and customers.
With so many webinar platforms figuring out which is best for you can be tricky.
Livestorm is one of the most popular platforms on the market, but is it the best for your needs?
In this Livestorm review, I'll take an in-depth look at what the platform offers so you can decide if it's the right webinar solution for you.
What is Livestorm?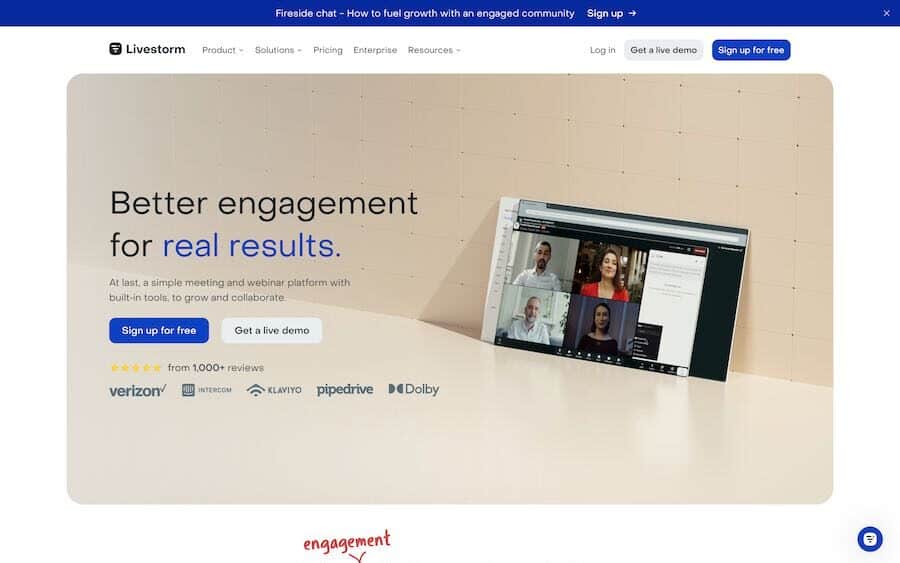 Livestorm allows you to connect with your audience in real time through webinars.
The platform makes it easy to host and manage webinars and even join those hosted by others.
You can see this ease of use because people do not need to download webinar software to attend a Livestorm event.
People can accept the link you share and instantly hop on board using their browser.
Apart from this, people can watch a webinar later since you can record the webinars.
It ensures that viewers never lose any critical information shared during the webinar.
You can also set up various webinar registration pages to collect leads before a webinar starts, ensuring you have an audience to present your information to.
You can also send email notifications at set intervals before a webinar starts to take this further.
It ensures that attendees do not forget about the webinar – while also acting as a potent reminder regarding anything you need to prepare before the webinar.
If you're looking to choose a webinar solution that provides pain-free video engagements, Livestorm might be the one.
Most people only believe that webinars are only helpful for sales.
But that's not the case.
Webinars can help with various things, such as announcements, product training, lead generation, etc.
Companies can therefore use Livestorm in various industries and for multiple purposes.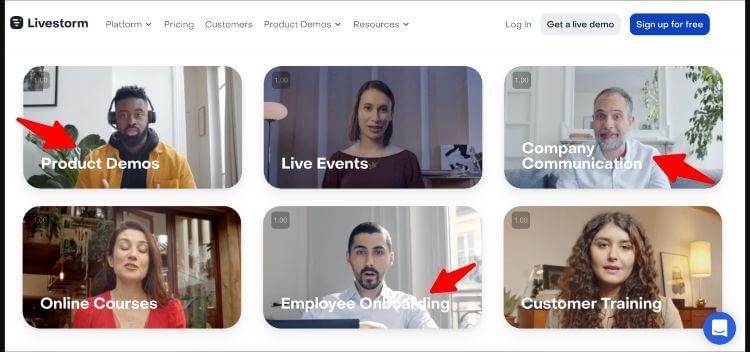 Some specific use cases of Livestorm are as follows:
Product demos: this is one of the main reasons companies use webinars. It allows them to show off their product with its features and get people excited about using it. They can do this by giving a tour of the product, showing how it works, and answering people's questions.
Live event performance platform: You can use Livestorm to host live events with much more advanced tools than standard video conferences. It is a great way to connect with your audience and give them real-time information.
Company communication: Another simple use case for webinars is company communication. You can use it to share important announcements, updates, and changes with your employees. It ensures everyone is on the same page and up-to-date with what's happening.
Online Training Courses: You can also use weekly webinars to teach people something new such as an online course, training, or even a general educational session.
Employee onboarding: If you have new employees, you can use Livestorm to help them get up to speed with your company culture and values. It is a great way to ensure they're fully onboarded and productive from Day 1.
Customer training: You can use webinars to train your customers to use your product to reduce support requests and ensure they get the most out of it.
Podcast interviews and recording: You can use this video conferencing platform to record podcasts, allowing you to connect with your audience and share your thoughts on various topics through an audio recording and share on social media.
API functionalities: If you want virtual meetings while enabling excellent video communication without worrying about logistics, Livestorm can also help with this use case.
Livestorm can do all this and more – it's a versatile platform that one can use in several ways and suit various needs.
Now that you know the platform and what one can use it for, let's look at some of its key features.
Get Started With Livestorm.
Livestorm Key Features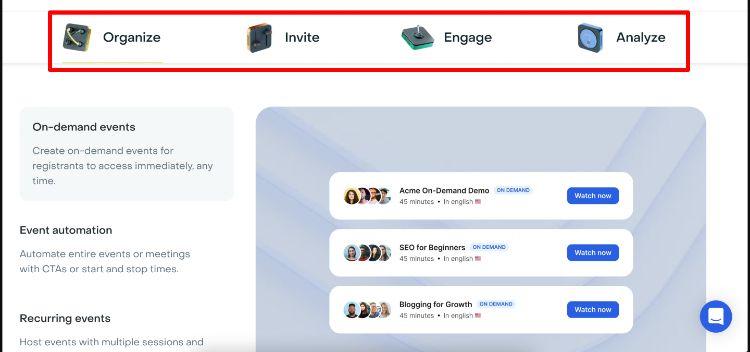 Livestorm comes with many features that make it an excellent platform for webinars, as follows:
Premium Customer Support: No matter your question, one of the Livestorm team members is always there to help.
GDPR compliance: Livestorm is entirely GDPR compliant, so you can rest assured that your data is safe using this video conferencing software.
Access Extensive Resources: With Livestorm, you can access many resources and training to help you make the most out of the platform.
On-demand webinars: You can use Livestorm to host live webinars and on-demand virtual events.
Event automation: With Livestorm, you can automate your events to run smoothly and efficiently.
SAML SSO: Livestorm supports SAML SSO, so you can easily connect it to your existing authentication system.
Unlimited webinars and replays: You can replay your webinar recordings as often as possible with Livestorm.
Custom registration fields: With Livestorm, you can add custom registration fields to collect all the necessary data.
Custom branding: You can brand your events with your logo and colors to make them look professional.
Registration widget: You can add a registration widget to your website so people can quickly sign up for your events.
Email delivery status: With Livestorm, you can track the delivery status of your emails to know when you sent them and if you need to send further follow-ups.
Browser-based: Livestorm is a browser-based platform, so you (or attendees) don't need to download anything to get started.
Blurred & virtual backgrounds: You can use blurred and virtual environments in your events to make them more professional.

Q&A live answer notification: With Livestorm, you can get notified when someone asks a question so that you can answer it live.
Source tracking: With Livestorm, you can track where your participants are coming from, allowing you to target your marketing efforts accordingly.
CRM synchronization: You can sync Livestorm with your CRM software to keep your data up-to-date.
Participation report: Livestorm provides a report to see who attended your event and how long they stayed.
Replay analytics: You can use Livestorm's replay analytics to see how people interact with your events.
Available in 24 languages: Livestorm is available in 24 languages, so you can use it no matter where you're located or which language you speak. These include English, French, Spanish, Portuguese, and German.
While this list is quite extensive, it is still not exhaustive.
Livestorm offers many other program features, which is one of the reasons it's such a popular platform.
Livestorm Webinar Funnel Pages
Having a successful webinar is not just about the actual webinar room and recordings.
It would help if you had a plan for promoting your webinar and getting people to sign up.
That's why you need a webinar funnel page on Livestorm.
A webinar funnel is a landing page specifically designed to promote a webinar.
It typically has a registration form where people can sign up for the webinar.
It's essential to have a well-designed webinar funnel page to make it easier for people to know what your webinar is about and decide if it's an event they want to attend.
Regarding Livestorm, you can customize your webinar funnel pages to match your brand.
You can add your logo, colors, and images to make your pages look professional.
Livestorm also allows you to add custom registration fields to collect the necessary data.
You can also integrate the registration widget on your website so that people can sign up for a webinar directly from your site.
Livestorm's webinar funnel pages are responsive and look great on all devices.
They're also optimized for conversion, so you can ensure that the right people will sign up for your webinars.
One thing to note about Livestorm is that it allows you to tick a settings checkbox on the registration page, only allowing people to use company emails for registration.
You avoid using personal email addresses to sign up for your webinars, a great feature for small businesses catering to the B2B industry.
Webinar Email Reminders
While most people sign up for webinars with the best of intentions, the reality is that many will forget about your webinar if they don't get a reminder.
That's why sending email reminders before your webinar starts is so important.
Livestorm makes sending email reminders to registered people for your webinar easy.
You can choose when you want the emails sent and what content to include.
You can also personalize the emails with each person's name so that they feel like the invitation is coming from you.
Audience Interaction
During the webinar, you can have a public or private chat box.
Attendees can interact with each other or only interact with the host.
The private chat tool is an excellent feature as it allows you to control the flow of conversation and keep things on track.
You can also have moderators observe the chat to ensure everything stays civil.
Like other browser based webinar platform options, you can also have a call to action that you put on the screen during the webinar.
You can use this feature to promote your products or services, get people to sign up for your mailing list, or any other action.
Livestorm also allows you to poll your audience during a webinar to get feedback on what they think about your topic.
It helps engage your audience and ensure they find your content valuable.
Livestorm Q&A Upvoting
Another feature that works great with Livestorm is the ability for attendees to vote on each other's questions.
As such, you can prioritize and answer the most popular questions first.
It ensures your audience gets the information they want from the webinar.
It also allows you to do live market research and get feedback on what your audience is thinking.
Livestorm Automation
Livestorm has some great automation features.
You can automate your webinars so they're always running on time, and you don't have to worry about forgetting to start them.
You can also automate email reminders always to have them go out on time.
Next up, when a webinar ends, you can use the included automation to redirect attendees to various pages.
It saves time and ensures that when you host webinars, they always run smoothly time and time again.
Livestorm Integrations
Livestorm can integrate with various platforms you may already use for your business.
Some of the most popular integrations include:
Slack
Zapier
Google Calendar
Drift
Hubspot
Marketo
ActiveCampaign
Such news are great for those who want to use Livestorm with other business platforms.
Connecting Livestorm with these tools is straightforward, ensuring you don't have to learn to use new software when you already have a working solution.
You can also use Zapier to connect Livestorm with multitudes of other apps to automate your webinars further.
Screen Sharing During a Webinar
An excellent video webinar solution makes sharing your screen with your audience easy because it lets you show them precisely what you're discussing.
It also allows you to share slides or other visuals to help them understand the content better.
Whether you're sharing PowerPoint presentations, videos, or just your computer screen, being able to share your screen is an integral part of any webinar solution.
With the supported sharing PowerPoint slides feature, you get high video quality on each slide you present, making Livestorm an excellent choice for those who want to do just this.
Livestorm Pricing

Livestorm offers a free plan and two paid ones – Premium and Enterprise.
The Free plan allows unlimited events and instant meetings with up to 30 people.
Then, there are the Pro, Business and Enterprise plans for the paid plans.
The Pro plan costs $88 per month, billed annually, allowing up to 100 live speakers and as many as 4 hours of events simultaneously.
The Business and Enterprise plans are quote-based and allow up to 500+ live attendees, which is excellent if you use Livestorm for more significant events.
If you're unsure which plan is right for you, you can always start with the free version and upgrade later on as needed.
Before making a purchase, you can also get a live demo to understand the product and how it works, along with its ability to host online meetings.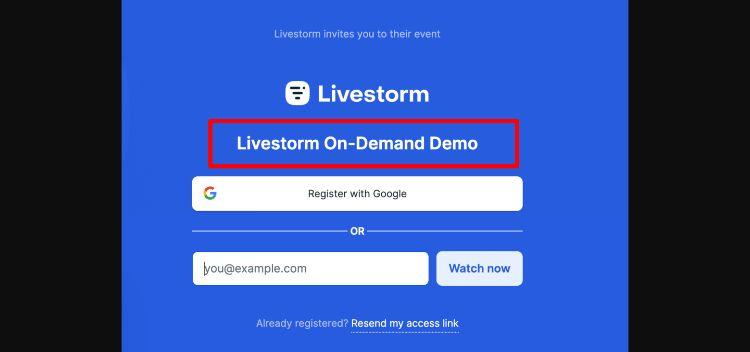 Top Aspects To Consider Before Running A Webinar
Choose The Right Platform: Choosing the right platform is critical to having a successful webinar. You want to select a platform that provides your audience with clear audio, video, and interactivity. Here are the top features to consider before running a webinar:
Set Your Goals: What do you hope to achieve through the webinar? Are you trying to educate or inform people about something specific? Or are you hoping to generate leads or sales? Knowing your goals ahead of time will help guide the content and structure of your presentation.
Create Engaging Content: It's essential to create online events comprised of engaging content for your webinar that will keep your audience's attention. Ensure you include visuals, demonstrations, and examples to keep people engaged.
Promote Your Webinar: You want to ensure you get the word out about your webinar so people can attend. Use social media, email campaigns, and other marketing tools to promote your webinar and generate interest.
Engage With Attendees: During the webinar, actively engage with attendees by asking questions and responding to real-time comments or feedback. This will help create an interactive experience for everyone involved.
Monitor Post-Webinar Results: After the webinar, track results such as attendance numbers, engagement levels, and feedback. This will help you determine the success of your webinar and make adjustments as needed for future presentations.
Overall, planning a successful webinar takes time and effort, but by keeping these considerations in mind, you can ensure that your presentation is engaging and effective.
Wrap Up.
Livestorm is a great software platform to consider if you want to create professional video engagements.
Featuring annual and monthly plans, you can choose which works best for your online events and ensures that billing is a breeze.
Whether you need to engage with customers or train employees, Livestorm has the plan to suit your use case.
In addition, with active customer service that helps you every step of the way, you can be confident that you're in good hands.
If you're ready to make the most out of your meeting room and ditch traditional conference calls for good, Livestorm is a great solution to consider.
I highly encourage you to check out their free plan and explore the features yourself.
Get Started With Livestorm.
Further reading on AdamEnfroy.com: Want to see how Livestorm compares to other solutions on the market?
Check out this WebinarJam review to see how it differs from Livestorm.
Alternatively, various Zoom alternatives can help you with your business.
Disclosure: I may receive affiliate compensation for some of the links below at no cost to you if you decide to purchase a paid plan. You can read our affiliate disclosure in our privacy policy. This site is not intending to provide financial advice. This is for entertainment only.
---
Last Updated on April 26, 2023 by Adam Enfroy