Demio Review: Is it the Easiest to Use Webinar Platform?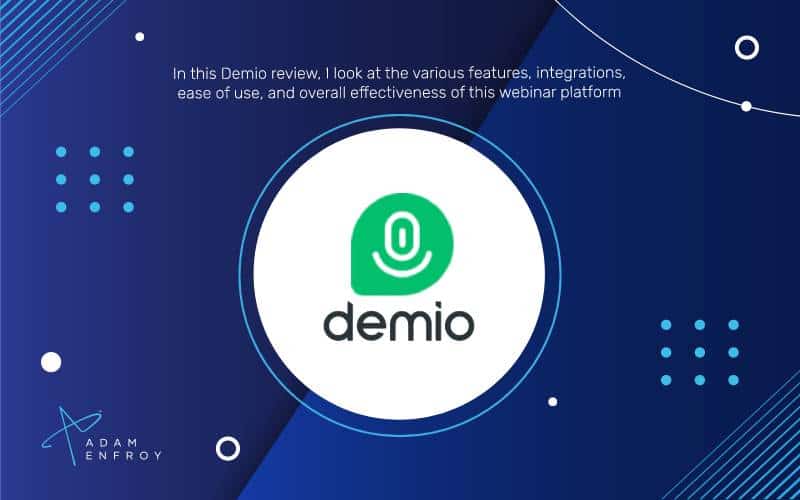 Did you know that customer nurturing is the main focus of 60% of all webinars?
If you want to connect with customers and give them incredible experiences that build relationships, you need to find a webinar platform that makes hosting live events easy.
In addition, choosing the right webinar software is vital as it will enable you to use certain features that will make your webinars more engaging.
Demio is one of the most popular webinar platforms on the market right now.
It's a solution that many businesses favor when hosting their webinars.
But is Demio the right webinar platform for you and your business?
In this Demio review, I will look at the various features, integrations, ease of use, and overall effectiveness of this webinar platform to help you decide if it's the best solution for your needs.
What is Demio?
In a nutshell, Demio provides its users with a webinar experience that requires no downloads, is cloud-based, and also mobile responsive.
Anyone with an internet connection can join your webinar from any device without installing any software.
The platform also offers a variety of features that allow you to engage with your audience, including live chat, screen sharing, and video streaming.
You also get other webinar tools that can help with marketing, so you can get the word out about your webinar.
Demio Features
The following are some of the key features you should consider when using Demio:
Live, series or automated webinars help you deliver your content in the most engaging way.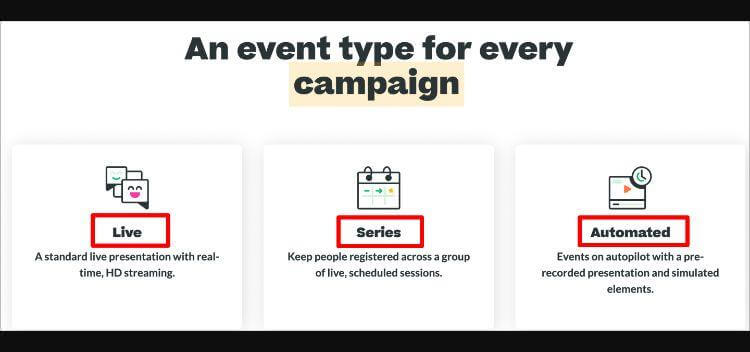 Share your webcam, your screen, and various materials with ease.
One-click join lets anyone with an internet connection join your webinar from any device – directly in their web browser without installing any software.
You can create high-converting landing pages to collect leads and increase conversions.
Create polls that help you gauge your participants' interest during your webinar
Share offers with your audience during your live webinars or replays.
Organize questions and turn them into discussions to get more out of each webinar.
Get a bird's-eye view of your campaigns and integrate the software with various marketing platforms.
Let's have a look at these features in more detail.
Get Started With Demio.
Live Chat
With a 5-minute or less waiting time average when one has a customer support question, you can ensure that no obstacles prevent you from moving forward and getting the most out of Demio.
The Demio team is highly responsive, which is always a great thing to see in an online platform.
This support is also available 24/7, so you can be sure that someone will always be there to help you.
There are also knowledge bases that can help you with any problems, so you get instant answers to your questions in most cases.
Videos, guides, walkthroughs, and other forms of content can help you make the most out of Demio.
Integrations
Several integrations are available if you want to connect Demio to any other tools you already use in your business.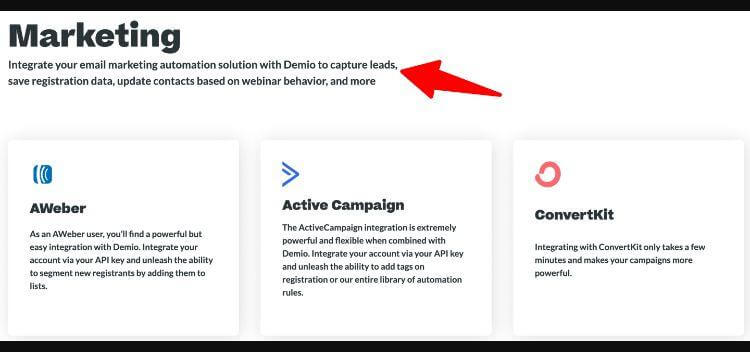 This includes popular tools such as HubSpot, Aweber, GetResponse, ActiveCampaign, ConvertKit, Mailchimp, and Drip.
You can also connect Demio to Zapier, which allows you to communicate with over 1,000 other third-party applications.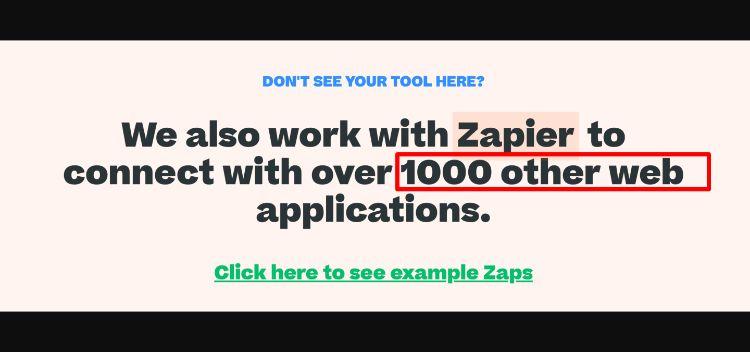 With Zapier, you can automate several tasks, focusing on what moves the business needle – providing a great product to your customers.
You can also request various integrations from the support team if you need something that isn't currently available.
Setting up
Getting started with this software and creating your first webinar is easy after signing in to your account.
Once you log in, you can set up recurring, live, or even automated events.
This means that no matter how you want to deliver your content, Demio has you covered.
All you need to do is create your first webinar, give it a title, date, and time, and you're ready to get started.
Automated Webinars
If you want to run automated webinars, all you would need to do is upload pre recorded webinars directly to the software.
Once a video file is uploaded, you can set it up to play on a recurring schedule or have it play on-demand for registrants.
You'll also get a shareable link that allows you to grant easy access to anyone who has this link.
Setting Up Your Registration Pages
Another great feature of Demio is seen when setting up webinar registration pages.
You will not need any external third-party software to set up such pages.
You need to select one of the available templates and then edit it to match your brand.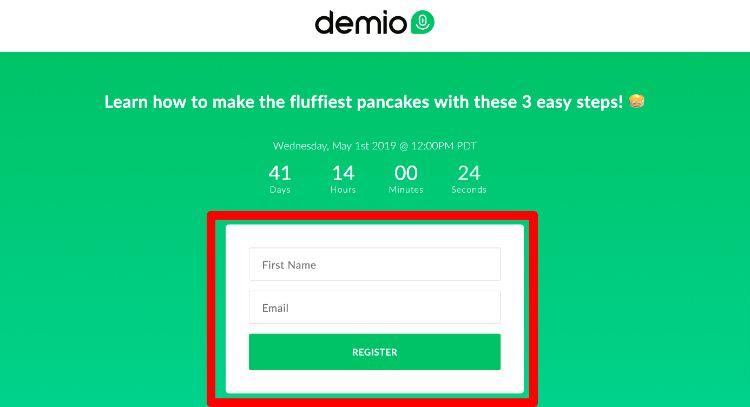 The downside is that there is minimal functionality for customizing registration page templates.
If you want to have a custom page with various options, you might want to consider using an external tool.
Despite these pages not being totally customizable, the good news is that you can still add various elements to your registration page.
You can include:
The webinar's presenter(s).
A description of what the webinar will be about.
Videos directly embedded from YouTube.
You can set up this and further registration options in a few clicks, and it doesn't require any coding knowledge.
You can also embed the registration page on any website simply using the embed code provided on the registration page builder.
When it comes to the user experience on the registration page, the webinar countdown timer is automatically converted to the user's time zone.
This is a nice touch that ensures registrants know when the webinar session will go live and (hopefully) won't miss it.
In addition to this, once someone registers for a webinar, the system will take them to a thank you page that you can set up.
Demio can also redirect registrants to a custom URL of your choice.
This customization option is helpful if you want to send registrants to a specific sales page or another piece of content after they have signed up for the webinar.
Webinar Registration Email
When it comes to live webinars, sending out email reminders to registrants is crucial to ensuring people attend the event.
With Demio, you can set up reminder email notifications to automatically be sent out before the webinar starts.
You can include a link back to the webinar in these emails and any other important information that registrants might need, such as what they need to prepare before the event.
When you initially log into your email reminders section of Demio, you'll see four email messages lined up to be sent before the webinar.
The timing is as follows:
When someone registers
One day before the webinar starts
1 hour before the webinar starts
15 minutes before the webinar
This is a good mix of email reminders that ensures that anyone who registers for a webinar (and is interested in attending) will remember to actually attend the event.
You can, of course, change the timing of these email reminders as well as the content that is included in each message.
It's also worth noting that these emails are sent out automatically, so you don't need to do anything once they are set up.
The Live Webinar Room
After the webinar registration page, the live webinar room will be where all the action occurs.
Here, people will be able to watch your presentation, ask questions and interact with the webinar presenters.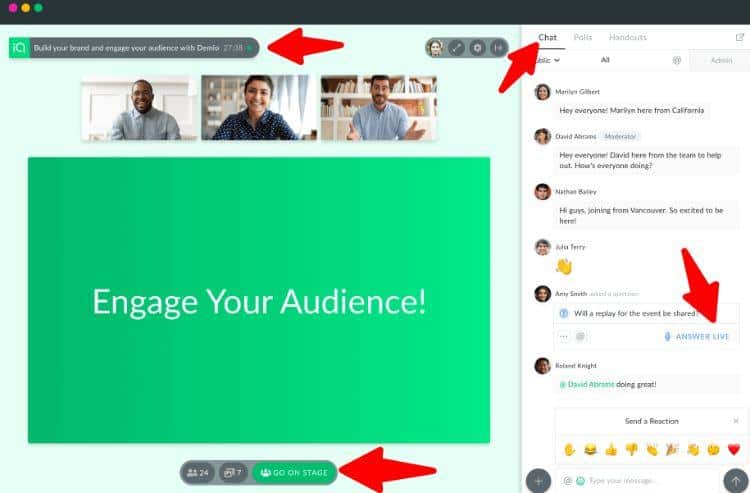 The webinar room is entirely web-based, which means that anyone who wants to join a live event will be able to do so from any device connected to the internet – without having to download any extra software.
These devices include laptops, smartphones (Android and iOS), and tablets, which are convenient for the end-user.
Once a webinar starts, one thing you will notice when you enter the webinar room is the chat box.
By default, any messages sent on this chat are public and can be seen by everyone in the webinar.
This means that when someone asks a question, everyone will be able to see it.
There is, however, to change some enable private chat during webinars.
Another great feature is marking a message that someone sends as a question.
This allows the webinar hosts to easily track which questions have been answered and which are still pending.
Furthermore, with the ability to mark questions as answered, the host can quickly go through the chat box and answer any remaining questions that have yet to be answered.
This is also an excellent method to employ if you want to create a repository of answered questions that you can go back to later.
You could also have a moderator in charge of ensuring that all questions are answered during the presentation and performing general housekeeping needed during a webinar.
Running Polls During A Webinar
Another benefit of using Demio is that you can run interactive polls during a webinar.
With this feature, you can quickly gauge how your audience feels about the topics you are discussing.
Are they engaged?
Do they understand what you are talking about?
Are they enjoying the presentation?
These are essential questions to ask, and with polls, you can get real-time feedback.
This is valuable information that can also help you adjust the rest of your presentation.
All you need to do is click on the "Polls" tab to add your question.
Get Started With Demio.
Webinar Replays
When it comes to the webinar replays, these are generated upon enabling this option.
There are, however, some limitations when compared to other online webinar platforms.
On some other platforms, attendees can still ask questions during a webinar replay, and the host will then receive these questions via email.
Unfortunately, with Demio, this is not possible.
One good thing about a webinar replay page is that you can still set up a call to action (or even multiple CTAs) to appear at specific points.
This is great if you are selling a product or service and want people to take action as they see the replay.
You can also define when items such as handouts, featured actions, and polls show up during the webinar replay.
Downloading Your Webinar
Once a live webinar is finished, you can download the video file in MP4 format.
The video quality is excellent, and overall the process of downloading the webinar is straightforward.
Once you have the webinar video file on your computer, you can edit it to create marketing videos or shorter clips that you can use on social media.
This is a great way to get even more value for money out of your Demio webinars, and it's something that you should consider as far as recycling video content goes.
Webinar Analytics
Demio can track various data points to give you an insight into how your webinars are performing.
In addition to the standard analytics that includes webinar attendees, registration data, and the like (which you should look at closely as you run multiple webinars), Demio also has a few unique analytics worth checking out.
One of these is the Attendee Focus feature. With this, you can quickly see which parts of your webinar people paid the most attention to.
This is valuable information that can help you understand which parts of your presentation people are most interested in.
It can also help you improve the delivery of future webinars.
You will also be able to figure out which parts of your webinar led to people losing interest.
This is also valuable information as it can help you make the necessary adjustments in the future.
All of this data is presented in a very easy-to-understand format.
This data can be downloaded as a CSV file, which allows you to analyze the data further by filtering for specific information or even sharing it with others on your team.
Overall, Demio's analytics are excellent, and they provide a lot of valuable information that can help you improve your webinars both in the short and long term.
Demio Pricing
With a 14-day free trial where you can use Demio and test out the various features, you can decide if this software is the right webinar solution for your business – without any risk on your part.
When it comes to the pricing plans, there are three levels to consider:
The Starter plan comes in at $34 per month and can host 50 people on a webinar.
The Growth plan comes in at $69 per month, allowing a maximum of 150 attendees as a session limit. You can also pay more to get more seats on this plan, so you can have more attendees if the previously mentioned number is limiting.
Finally, the Premium plan is a business plan based on a custom quote the Demio team can provide you with.
The above pricing is based on paying annually – however, there are also monthly options available.
It's also good to know that you can cancel your account at any time, with it being deactivated at the end of a billing period.
Wrap Up.
Whether you want to create a webinar that you deliver live or an automated webinar that can work for your business 24/7, Demio is worth considering.
Being one of the best webinar software on the market, it's very user-friendly and easy to use, making it ideal for those just getting started and even more experienced webinar hosts.
The platform also has great features such as the ability to set up webinar registration pages, run webinar replays, look at detailed analytics, and more.
Overall, Demio is a great platform for creating and delivering your webinars, so I highly advise you to check out the 14-day trial.
Get Started With Demio.
Further reading on AdamEnfroy.com: Want to review how other webinar software compare to Demio?
Check out this WebinrJam review for more information.
In addition, here's a post that reviews Zoom vs. GoToMeeting vs. Webex vs. WebinarJam in terms of what they can do when hosting webinars.
Disclosure: I may receive affiliate compensation for some of the links below at no cost to you if you decide to purchase a paid plan. You can read our affiliate disclosure in our privacy policy. This site is not intending to provide financial advice. This is for entertainment only.
---
Last Updated on June 5, 2022 by Adam Enfroy