How Much Does It Cost To Create An Online Course?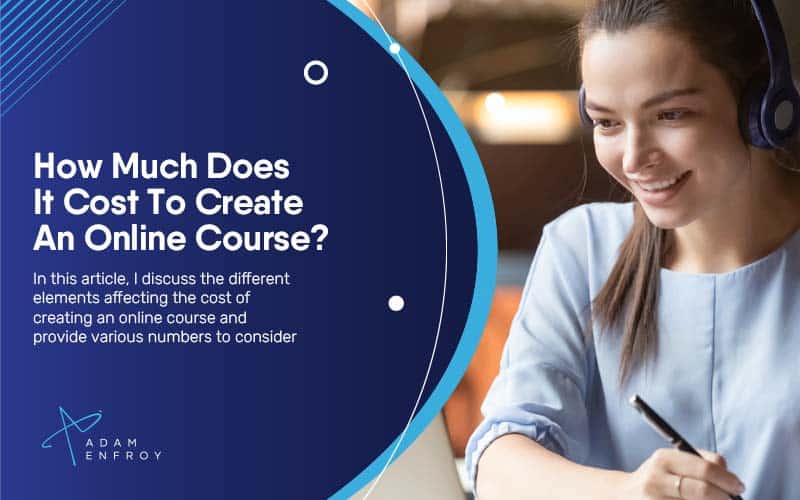 Having successfully created my blogging course, one of the most common questions I hear from potential course creators is, "How much does it cost to create an online course?"
There is no one-size-fits-all answer, as the cost of building a system varies greatly depending on several factors, including the course platform of choice.
Methods involving more complex content, graphics, or audio/video production will require more resources and, thus, be more expensive.
On the other hand, if you are simply creating a course from existing materials or content, the cost could be considerably lower.
With the eLearning industry projected to reach $325 billion by 2025, investing in your course is worth it.
In this article, I discuss the different elements affecting the cost of creating an online course and provide various numbers to consider.
The Overall Costs Of Creating An Online Course
While the cost range can be vast, the fact is that you can make an online course on any budget.
Let's first consider that the cost can vary depending on the quality you are aiming for.
If you want to record a simple system with minimal video and audio equipment, you can spend anywhere from $20 to $100 on a basic microphone and use your mobile phone as a camera.
However, if you want high-quality audio and studio-grade editing, you could spend anywhere from $500 to $5,000 or more on professional equipment.
If you're looking for a more affordable option, free or low-cost tools are available for creating an online course.
Some platforms also do their best to help with various aspects of course creation.
For example, some have a user-friendly platform that allows you to record, edit, and market courses with minimal expense.
These platforms also provide marketing services, ensuring your system reaches your target audience.
Another cost to consider when creating an online course is the content.
Content can range from simple lectures and videos to interactive quizzes and assessments.
Once your course is complete, you will need to market it, and this can be one of the most expensive aspects of creating an online system.
To this end, you can use social media platforms and your existing email list, which allows you to connect with potential students at little or no cost.
Why An All-In-One Platform Might Be Your Best Bet
Creating a comprehensive course curriculum can significantly enhance the learning experience for students enrolled in your online course.
Development costs for creating an online system can vary depending on content creation, multimedia integration, and platform expenses.
Here are the benefits of using an all-in-one platform to create online courses.
More Flexibility with Design: One of the most significant benefits of online course marketplaces is their flexibility in designing courses. With an all-in-one platform, you can create a unique course that stands out. You can upload your images, videos, and other media to create a customized experience for your students.
Key Features That Come With The Platform: From a drag-and-drop interface to template options that come with ready-made graphic design choices, building an elearning course with various modules is easier with the right features. Video hosting is generally included with such platforms, along with a voice over selection, PowerPoint import, and more.
Keep More of Your Revenue: The revenue-sharing model of most online course marketplaces can be a significant benefit for instructors. You can increase your earning potential by selling courses through an all-in-one platform rather than through a third-party marketplace.
Easy to Manage Payments: Managing payments can often be a hassle in the traditional marketplace model. With an all-in-one platform, payment processing is streamlined, automated, and efficient. You don't have to worry about tracking down payments or customer billing inquiries.
You Can Start with A Free Plan: Cost is always a consideration when creating an online course. With most all-in-one platforms, you can start with the free plan and upgrade as your course grows. You can test the waters without a large financial commitment and scale up as needed.
Factors To Consider When Creating An Online Course
Here is a breakdown of the critical factors when creating your online course
Course Content
Developing an online course requires creating engaging and informative content that aligns with the course business's intended learning outcomes and goals.
One critical aspect of engaging course content is using high-quality course videos, which add value to the learning experience and ensure learners' attention and retention.
Selecting the right learning platform is crucial to deliver the course content seamlessly, as it affects the cost, accessibility, scalability, and overall user experience.
Remember that high-quality and in-depth content will ultimately result in higher engagement and better outcomes for the course.
Technology and Infrastructure
The next factor that affects the cost of creating an online course is the technology and infrastructure needed to offer the course online.
Technology includes a learning management system (LMS), video and audio recording equipment, software, and bandwidth requirements.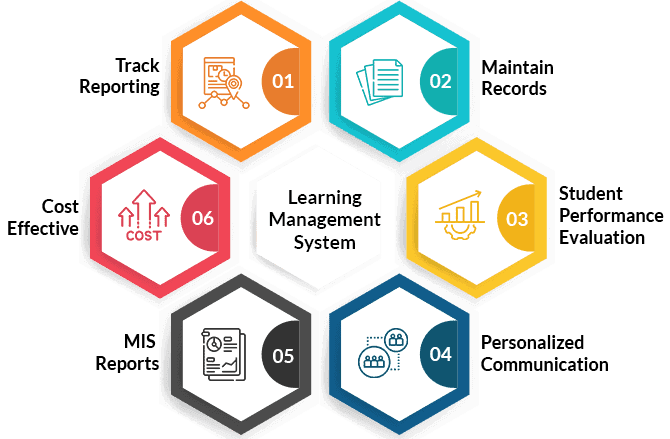 Image credit: https://www.iitms.co.in
To create an online course, you might also need to purchase a domain name reflecting your brand and subject matter, typically costing $10-$50/per year.
Using your own site, you must design a landing page with a clear and concise course description, instructor bio, and call-to-action buttons.
Hiring a web designer and a copywriter can cost $500-$2,000 for the design and copywriting work.
At the top end, creating high-quality presentation-style videos is another element that requires a budget.
Some may quote between $3000-$5000 for professional equipment, lighting, editing software, and other filming expenses.
If you want to collaborate with a subject matter expert who can provide guidance and feedback throughout the course creation process, fees can range from $50-$150 per hour.
If you're creating a course that requires slides, you'll need to consider slide design costs.
Again, the costs depend on whether you want to do the work yourself or hire someone to get the job done.
Free options like Google Slides and Canva are great for those on a tight budget.
Course Design and Development
Content creation is a crucial aspect that determines the system's quality and impacts its effectiveness.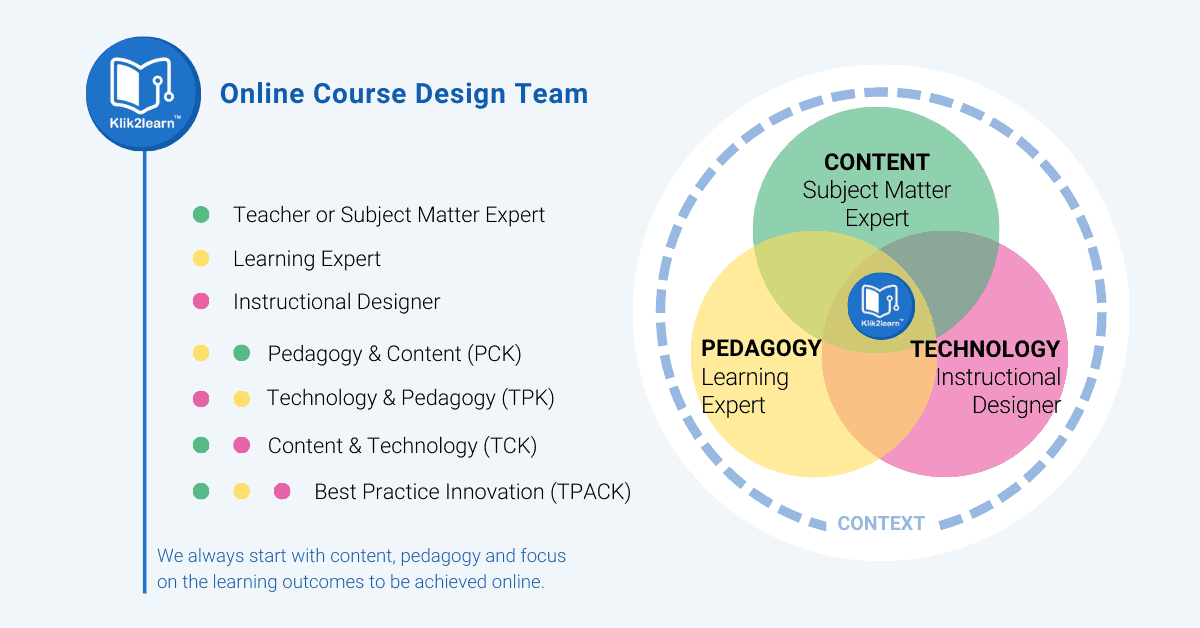 Image credit: https://klik2learn.com
Online course development generally requires instructional design, multimedia production, and digital technology expertise.
Choosing the right online course platform is essential to delivering students a user-friendly and interactive learning experience.
Marketing and Promotion
Creating high-quality online course content is essential, but developing a strategy to sell online courses catering to different learners effectively is equally important.
One way to enhance the style is by incorporating engaging and informative video content that captures your audience's attention and boosts engagement.
Maintenance and Upgrades
Lastly, maintaining and upgrading the course is an ongoing process that incurs additional costs.
Opting for an all-in-one platform can save costs and time in this regard.
However, creating course materials can still be a pricey affair, often requiring freelancers who may charge by the hour at rates upwards of $100 for ongoing work.
These factors can heavily impact online course development costs, making it essential to consider and plan for these expenses carefully.
Choosing the Right LMS
Here are a few key platforms to consider when selecting an online course provider:
Thinkific: Thinkific is an LMS that's perfect for beginners. It's easy to use, affordable, and flexible. You can customize courses to fit your particular needs. Thinkific offers a comprehensive suite of marketing tools, including creating a customizable course website, automated email campaigns, and accepting payments through multiple processors.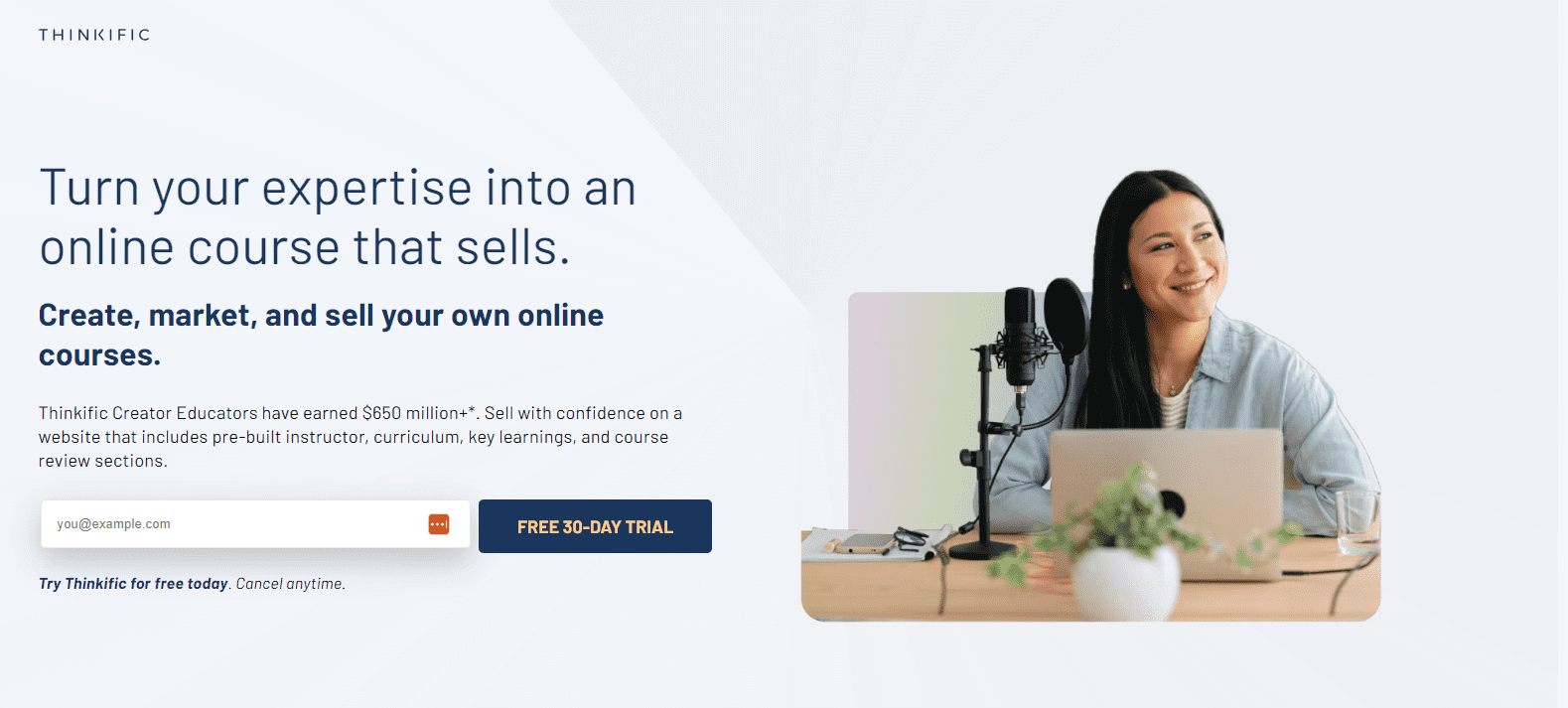 Kajabi: Kajabi is a top-rated LMS with features beyond course delivery. Kajabi is an all-in-one solution that offers website building, marketing, email campaigns, and more. It's perfect for course creators who want to build their businesses around online courses. Kajabi provides a fully customizable course website, the ability to accept payments through multiple processors, and create and market a membership site.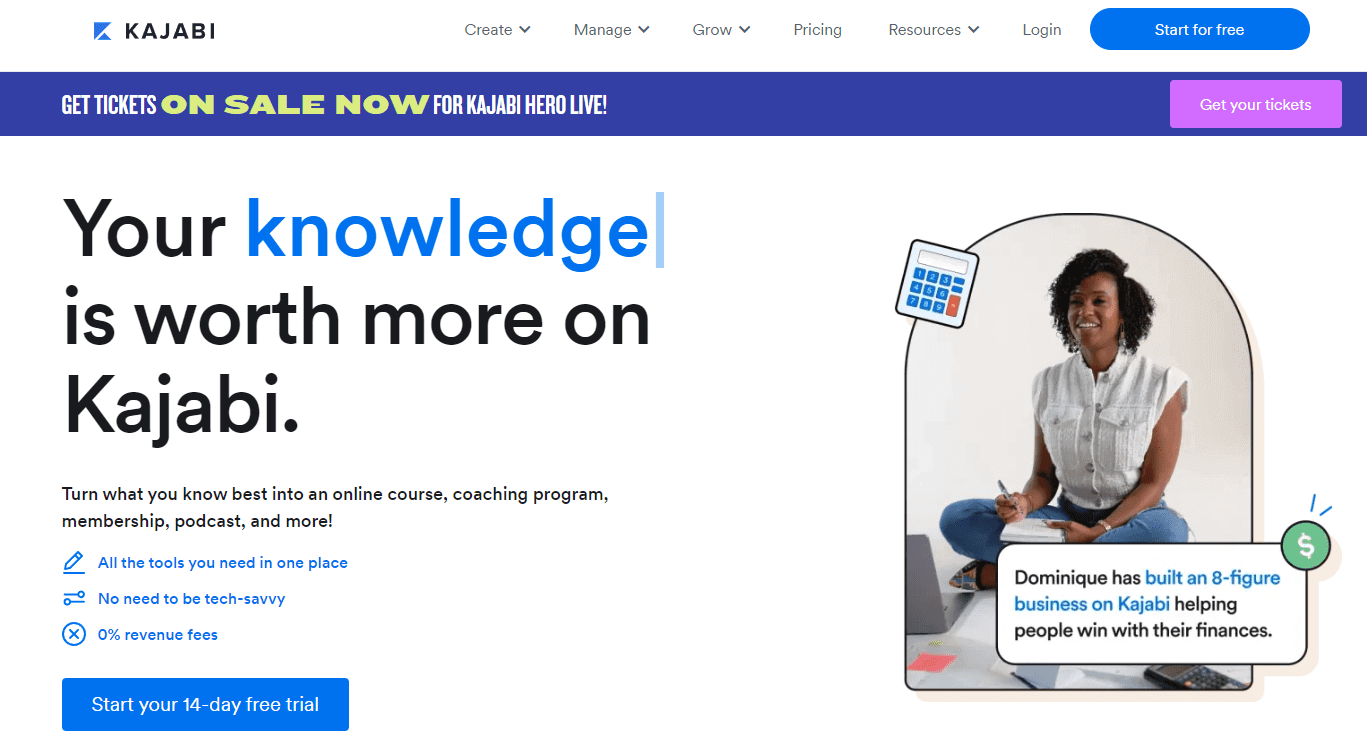 Adobe Learning Manager: Formerly known as Adobe Captivate Prime, this platform is a learning management system trusted in the digital space, and its LMS, Captivate Prime, is no exception. It's perfect for those who want a premium LMS with high-end features but don't want to break the bank. It offers complete course delivery, tracking, and monitoring. Adobe Learning Manager includes custom analytics, learner reporting, and personalized learner homepages. Its course authoring capabilities give creators full control over their courses' look and feel.

Essential Tools and Tips
Before building your course, you must analyze your needs, beginning with the proper tools for a successful online course.
That includes reviewing hardware, software, hosting platforms, and marketing tools to help you best reach your target demographic.
Hardware: The hardware you'll need depends on the media type you plan on incorporating. Recording videos, for example, will require an up-to-date video camera, microphone, and lighting equipment. A computer or laptop with reliable speed and storage capacity is necessary if you write content. Hardware might be the most expensive aspect of your online course creation, so you must shop around and read reviews before purchasing. You can find relatively affordable equipment, which will dramatically cut down on your production costs. It would be best to have a high-quality camera that can shoot in 1080p or higher to record videos for your online course.
Software: Once your hardware is checked, you must find software for editing and production. Your computer will likely come equipped with essential tools such as Windows Movie Maker, iMovie, or Keynote. Still, you'll need to invest in software such as Camtasia, Final Cut Pro, or Adobe Premiere Pro for more sophisticated editing. Again, shop for the best deals to optimize production and keep expenses low.
Marketing Tools: After you've created your course, it's time to market it! A straight-to-the-point promotional video or podcast can draw potential students in, while social media platforms like Twitter, LinkedIn, and Facebook can help spread the word. You can also use Google AdWords or Facebook Ads to advertise to specific demographics, increasing your reach.
Hardware Considerations When Recording Your Course
Let's have a look at specific hardware to consider.
Microphone with stand and pop filter
A good microphone ensures top-notch audio quality when creating online courses.
The right microphone can enhance interactivity and engagement for learners, providing a more immersive education experience.
Acoustics
Additionally, it is essential to consider acoustics, as poor sound quality can negatively impact the learning experience.
Quality equipment and soundproofing can significantly improve the course's overall quality.
Hiring a video editor can also ensure the system is visually appealing and effectively communicates the right message.
Overall, quality assurance regarding acoustics ensures the course is informative, engaging, and entertaining.
Camera
Whether creating your first online course or your tenth, investing in a quality camera is crucial for producing high-quality video content that will attract learners.
Engaging learners is critical to the online course's profitability, as satisfied students are likelier to leave positive reviews and refer others to your practice.
A camera like the Logitech 1080p Pro Stream Webcam is one of the best all-around webcams for those starting to create online content.
This webcam is perfect for streaming, recording, and video conferencing.
Its advanced autofocus technology ensures that you'll always be in focus, no matter how much you move around during your lectures.
That said, there are plenty of options on the market.
Lighting
Throughout the course creation process, you should also be aware of the lighting used in your course.
Lighting can significantly impact the effectiveness of the learning experience.
Incorporating the right lighting into the course content can provide a more engaging and interactive experience, but it may also increase the total cost of production.
Software Screen Recording for Online Course Creation
One technology that plays a significant role in creating online courses is screen recording software.
Online course videos showing you doing various actions on a computer require a specific skill set.
Such a skill set involves knowledge of screen recording software and editing techniques.
While the cost of hiring someone with these skills can vary, the investment is often necessary for creating engaging and effective online course content.
You can also take the time to learn how to use screen recording software yourself and save on the cost of outsourcing this service.
No matter how you go about it, quality screen recording software is essential for producing engaging, compelling, high-quality course videos.
Some of the most popular ones are Camtasia, Screenflow, Filmora, and OBS Studio.
Camtasia, for instance, is an all-in-one screen recording and video editing software that offers a wide range of features, such as webcam recording, green-screen effects, and text-to-speech functions.
Screenflow, on the other hand, is only available for Mac users, and it comes with a slightly higher price tag than Camtasia.
However, it is a feature-packed editing tool that can help you create professional-looking videos with animations and special effects.
Cost To Create An Online Course – FAQ
What Is The Best Email Marketing Strategy For Promoting An Online Course?
Email marketing can promote your online course to potential students and increase enrollment.
To maximize your email marketing efforts, consider sending regular emails to keep your audience informed and engaged and utilizing automated email sequences to deliver content at specific times.
Are There Any Plugins That Can Improve The User Experience For My Students?
A plugin on your course platform can enhance your students' functionality and user experience. Popular plugins that you can consider include:
How beneficial is hiring a project manager when creating an online course?
Hiring a project manager can help streamline the course creation process and ensure timely delivery.
A project manager can help develop the course outline, identify essential tasks for each stage of development, and ensure that deadlines are met.
They can also provide guidance and support throughout the entire process.
What Steps Can I Take To Optimize My Course Pages For SEO?
Optimizing your course pages for SEO can increase visibility on search engines and attract more organic traffic.
To improve your pages' visibility, include relevant keywords in titles and descriptions, keep the content up-to-date, and optimize page loading times.
Where Can I Find Reliable Freelancers To Help With Tasks Such As Video Production And Design Work?
Finding talented freelancers on platforms like Upwork can help with course design and video production tasks.
You can also check out freelance marketplaces like Fiverr, Freelancer, and PeoplePerHour to find reliable professionals for your project.
What Are The Benefits Of Using A WordPress Platform For My Online Courses?
A WordPress course platform can provide a robust and customizable framework for course content and student management.
WordPress also offers a variety of plugins and themes to enhance the user experience and make your course more engaging.
Conclusion
If you're considering taking the first steps to create an online course, understanding the process and costs involved is essential.
By setting realistic expectations and budgeting for the necessary services, you can produce high-quality courses that will help attract students and increase your revenue.
While there are no hard and fast rules for pricing your courses, remember the various factors involved in the development process and what your target audience is willing to pay.
Further reading on AdamEnfroy.com: Learning how to price an online course can help you create an effective pricing strategy that keeps students returning for more.
Moreover, here's how to structure your course to maximize revenue.
Disclosure: I may receive affiliate compensation for some of the links below at no cost to you if you decide to purchase a paid plan. You can read our affiliate disclosure in our privacy policy. This site is not intending to provide financial advice. This is for entertainment only.
---
Last Updated on April 18, 2023 by Adam Enfroy