How To Become A Content Creator: Step By Step (2023)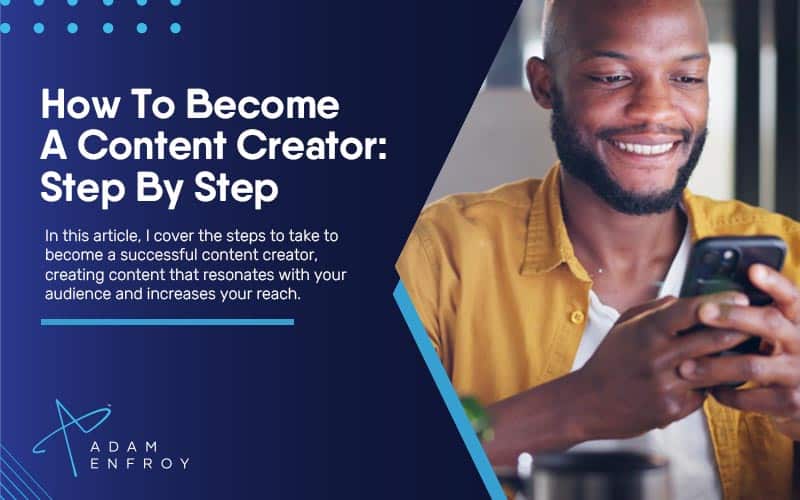 Content creators are the digital storytellers of the 21st century.
Using words, videos, images, and audio, they craft potent narratives that spark emotion and engagement.
In this article, I'll cover the steps you need to take to become a successful content creator.
Whether you're intrigued by content creation, curious about how to monetize GPT-3 tools for content, or simply ready to dive in, the following steps will get you on your way.
Steps To Becoming A Content Creator
Here are the steps you should take to become a successful content creator.
Establish Your Niche
Before you jump into the creative world of content creation, the first step is to define who you want your YouTube channel, blog, podcast, website, or other content media to speak to.
It is essential first to establish a niche as this will help you hone your skills to create quality work that resonates with the right audiences.
You may already know what content creation interests you, but if not, think critically about what topics you are generally passionate about.
Then, research online to see if markets or opportunities are available for that niche.
Remember, this is critical in establishing yourself as an authority in a particular field.
It also makes it easier to attract potential partnerships and sponsorships.
Learn the Skills
Now that you've established your niche, it's time to start learning the skills to produce quality content.
It takes creativity and commitment to create content that stands out from other social media posts and websites.
Looking at various content creator job descriptions can help determine what skills you need to become a successful content creator.
For example, to become a full-time videographer, focusing on mastering video equipment such as cameras and editing software like Adobe Premiere Pro & After Effects goes a long way.
If photography is more your thing, practice taking pictures with different lenses and understand photo editing software such as Photoshop & Lightroom.
If becoming a podcaster is more up your alley, then learn everything there is to know about recording audio using microphones and other audio equipment.
These are just some skill sets needed to become a successful content creator.
Start Creating
Once equipped with knowledge about your chosen niche/theme and the necessary skills, it's time to start creating.
Start creating content on social media platforms like YouTube, Instagram, Twitter, and TikTok.
Experiment with different types of visuals/videos or audio recordings plus short/long-form copywriting to engage your target audiences.
Having a content strategy is essential when starting on this journey.
The right content strategy can boost your creativity, determination, and knowledge of digital platforms by helping you focus on producing the content your audience wants.
Set Up Your LLC and Separate Bank Accounts
An LLC (limited liability company) is a legal entity that ensures you're legally allowed to operate.
Setting up an LLC also separates your personal finances from your content creation business.
When starting an LLC, having a business bank account is crucial.
Content creators can effectively track their finances by having dedicated accounts for income generated from their content.
Setting up an independent bank account for your business can simplify managing your finances.
You won't have to worry about mixing personal expenses with business ones because they'll all be kept separate.
Delegate Tasks
The key to success is to break down the task into manageable chunks and delegate specific duties as you produce content.
Research, graphic design, copywriting, and social media management are all essential; however, if you're running a business as a one-person show, you might wear yourself out quickly.
Consider delegating specific tasks where possible to prevent burnout and maximize efficiency.
If you aren't tech-savvy, you could hire an editor or virtual assistant to help manage the workload or outsource web design services.
By delegating these tasks, you'll have more time and resources focused on growth rather than maintenance.
Hiring in-house social media managers can also be beneficial, as they are skilled in driving engagement and ROI.
Crafting A Customized Brand Voice For Your Business
Every business wants to stand out and ensure its target audience hears its message correctly.
A distinct brand voice is essential for a business to connect with the right people.
But how do you craft a customized brand voice tailored just for your business?
Surveys are a great way to get valuable insights into your target market, what kind of new content they're looking for, and how they prefer to receive it.
This data can provide invaluable information that one can use to craft a unique brand voice that speaks directly to them.
Through surveys, you can pinpoint the age, gender, profession, geographical area, and more of those you want to reach.
With this data, you can tailor your message specifically for them.
An impactful message tailored to your target audience will help create long-lasting customer relationships and build trust in your brand.
Trust And Social Proof With Social Media
Social media is a potent tool for successful content creators, providing an effective way to reach your target audience.
With billions of people actively using these platforms each day, you have the potential to reach a massive number of people.
Through targeted campaigns and well-crafted content, you can use social media as a platform to share your message and connect with like-minded individuals.
Trust plays a significant role in any business relationship but is especially important for content creation.
By utilizing social media platforms and engaging with your followers regularly, you can establish yourself as an authority in your field.
By responding quickly and authentically to comments or messages from users on these platforms, you can also demonstrate that you value their opinions and are willing to work together towards common goals.
Social proof is another of the most powerful tools for content creators today.
It's evidence showing how popular something is through the actions or words of others.
This proof could be anything from reviews on Amazon or YouTube comments under a video.
By leveraging social proof on your channels, you can prove your credibility while boosting engagement levels amongst your audience.
As a result, you'll drive more traffic back to your website/blog/channel, etc.
How To Get Fair Pay As A Content Creator
Content creation is an increasingly in-demand skill, and the amount you can get paid for your work will depend on various factors.
The traditional "one cent per follower" pricing rule that many brands follow when partnering with content creators can leave smaller audiences feeling left out.
Fortunately, plenty of other ways to get paid for content creation exist.
You can start by establishing and sticking to a rate you're comfortable with.
It would help if you considered factors such as the amount of time and effort you put into each piece of content, the uniqueness of your work, and what your competition is charging.
You can also offer package deals or discounted rates for repeat customers.
Another way to get fair pay is by partnering with companies with a payment system specifically for content creators.
Platforms such as Patreon and Substack allow you to charge your audience directly for access to exclusive content or extended membership options.
You can also look for freelancing opportunities on sites such as Upwork or Fiverr.
These sites offer a great way to get quick gigs with flexibility and control over payment terms.
The Role Of SMART Goals As A Content Creator
Becoming a content creator involves more than just waking up one day and getting started.
Having the right goals can go a long way.
SMART goals are Specific, Measurable, Achievable, Relevant, and Time-Bound.
Each goal should have a specific outcome that is measurable, achievable, relevant to the company's overall mission statement, and have an allotted time frame.
If the content creator job appeals to you, here are some specific examples of SMART goals that you may want to consider:
Create five pieces of content per month
Increase digital content engagement by 10% in the next three months
Grow your following by 1000 followers within six months
Reach a total of 1 million views on your channel within 12 months
Launch an eBook in the next 6-8 weeks
Increase website traffic by 15% within two months
As a blogger, publish one blog post every week for the next four weeks
Secure three brand partnerships in the next 3-4 months
Generate $1000 in income from content creation this quarter
Develop a weekly newsletter and acquire 500 new subscribers in the next three months
Become a full-time content creator within the next year
Following SMART goals will help you achieve your long-term career path and objectives and reach success as a content creator.
While goal setting can be challenging, if you break down goals into smaller, achievable tasks, you'll be better able to stay focused and motivated to reach them.
Skills Required As A Content Creator
Succeeding in content creation requires a range of skills.
Here are some of the essential ones when creating compelling content.
Research & Writing
The first step to becoming a content creator is researching your topic.
You should know what is trending in terms of topics and formats so you can create relevant and engaging content for your target audience.
Additionally, ensure that your writing reflects your tone or the one desired by your client or employer.
Overall, it requires creativity, copywriting, and a knack for marketing to craft messaging that resonates with your readers.
It's also great to be comfortable using different platforms and technologies to publish the right type of content.
Videography & Editing
Content creators who specialize in videography have an important job ahead of them.
They must create storyboards and scripts and edit footage before promoting it across various channels.
They also need to track their performance for evaluation purposes.
In this case, one of the best ways forward is to become familiar with the tools for creating and editing YouTube videos.
Various skills come into play, from understanding shot composition, lighting, and audio to setup, editing, and post-production techniques.
You will also need to be able to work quickly with tight deadlines while still producing high-quality content.
Most videographers find that learning templates, recording processes, and editing tools (such as Adobe Premiere Pro or Final Cut Pro) give them the best return on their investment.
Always remember that the combination of many small details goes into creating YouTube videos.
It plays a significant role, from selecting the right music to adding the proper visual effects.
Moreover, it takes time to learn these skills, but anyone can become a successful videographer with practice.
Promoting & Tracking Performance
Creating valuable content is the first part of the equation.
Content creators must also promote their work across multiple channels to reach their target audience.
For example, if you're creating video content for YouTube, consider other formats to help you share it on social media networks like Facebook or Twitter.
Additionally, track the performance of each piece of content.
Doing so allows you to draw insights into what works best and what needs improvement in future projects.
Where Can I Learn These Skills?
The great thing about content creation is that many free online courses are available on platforms like Udemy and LinkedIn Learning.
Such courses can help aspiring creators build their skill sets in these areas.
Additionally, plenty of other resources, such as YouTube tutorials and blogs, offer valuable knowledge on specific topics related to content creation.
From listening to podcasts, researching SEO tools, and connecting with other content creators, there are many ways to learn the skills necessary for content creation.
That said, doing is always better than just learning.
If you want to become great at vlogs, reading about them and watching videos is excellent, but the best way to improve is to start creating and practicing.
Start small, create content as often as possible, and track its performance to see what works best for your target audience.
Using The Right Tools For Content Planning
While creating content is an integral part of the content marketing process, it's equally essential to have a plan before going live with the content.
Several project management tools are available, making it easy for teams to collaborate on tasks and update each other on progress.
Monday.com, Asana, and Trello are popular project management tools that allow multiple members of your organization to work together efficiently.
These tools provide an effective way for team members to communicate with one another and stay organized when working on projects or tasks.
In addition to utilizing project management tools, creating an organized calendar is essential to successful content planning.
An overarching calendar lets business owners plan by predicting future topics each month.
Such a calendar helps ensure the content is relevant, timely, and engaging while keeping everyone on track throughout the month.
Hence, there are no unexpected delays or hiccups in productivity.
Whether you're a freelance content creator, a content writer, or anything in between, having an organized content plan is essential to your success.
Other Vital Factors To Consider
When starting your content creator journey, here are a few other things to consider.
Creating Quality Content
As a content creator, your primary focus should be creating quality content that stands out.
You must understand your audience and their preferences when crafting relevant, engaging content that speaks directly to them.
Additionally, ensure that written posts are well-crafted and error-free.
With all content, ensure that all facts are accurate before publishing anything online.
As content ideas come to mind, document them and create a content plan.
You'll be able to avoid having duplicate ideas or missing out on opportunities that could help you increase engagement.
Staying Ahead of Trends
You must stay ahead of the trends to remain current and provide fresh ideas.
Ensure you know what's new on each platform and watch for upcoming changes or potential growth opportunities.
Proactively spot trends early on; you can take advantage of them before everyone else.
Not only this, but by monitoring user reactions, you can fine-tune your content, so it resonates better with your audience.
Working With Others
Content creation can be challenging if you're generally a lone wolf, as it could require collaboration to produce something remarkable.
Working with other creatives can provide valuable insights into the creative process.
Brainstorming together can lead to powerful new ideas that could benefit both parties involved.
Not only this but collaborating with other creatives can also help build relationships which could prove hugely beneficial down the line.
Investing the time to network with the right people helps bring your content to life and ensures it reaches its intended audience.
Sponsorships
Finally, sponsorships are a great way to monetize your content.
Social media content creators often work with brands and organizations to produce sponsored posts, infographics, or videos in exchange for a fee.
Knowing the metrics that matter to sponsors, such as engagement rate, reach, and impressions can help you secure better deals.
Additionally, having a content marketing strategy that can give sponsors a clear picture of your content creation process is critical.
Whether you're a YouTube content creator or an Instagram influencer, having the correct data available is essential to your success when getting potential sponsorship deals.
Wrap Up.
The creator economy is booming, and content creation is an ever-changing field that will be around for a while.
Getting better at content creation is also invaluable in building a personal brand through digital marketing.
Whether you become a content writer producing high-quality content around a specific topic, a social media content creator crafting posts tailored to different platforms, or a video producer curating engaging clips, the sky's the limit.
Content creation can open doors and provide you with many opportunities.
As visual content becomes increasingly important in digital marketing, having the necessary skills to produce engaging content is a must.
Further reading on AdamEnfroy.com: AI content platform options provide the perfect solution for generating content quickly and easily.
Whether you want to focus on AI blogging, AI video production, or AI marketing, the right platforms are crucial to success.
Editorial Process:
Our reviews are made by a team of experts before being written and come from real-world experience. Read our editorial process here.
Some of the links in this article may be affiliate links, which can provide compensation to us at no cost to you if you decide to purchase a paid plan. These are products we've personally used and stand behind. This site is not intended to provide financial advice. You can read our affiliate disclosure in our privacy policy.