Investing In The Right Podcast Equipment In 2023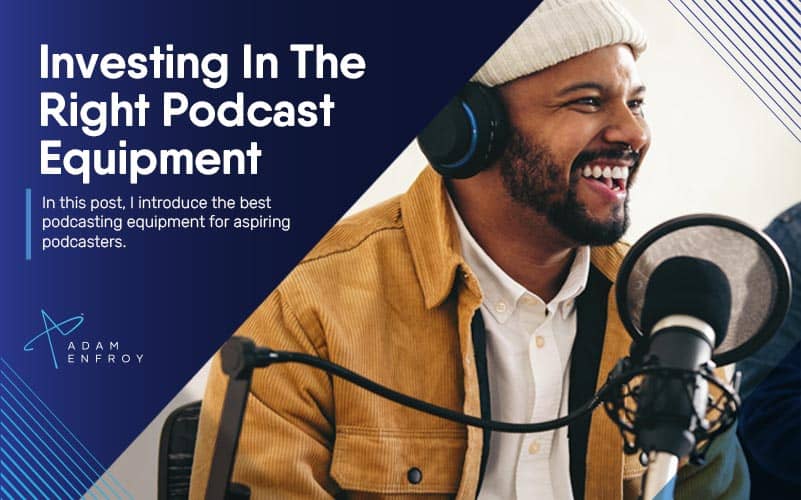 Podcasts have become a popular news source, entertainment, and much more.
It's convenient for listeners and an excellent way for creators to get their message out there.
However, as an enthusiastic beginner, it is easy to get overwhelmed by the available equipment and numerous options.
With podcast hosting and recording tools at your disposal, investing in the right podcast equipment can be the missing piece of the puzzle.
In this post, I'll introduce some must-have podcasting equipment for aspiring podcasters, helping you make the right investment choices whether you're starting or looking to upgrade.
Choosing The Right Podcast Equipment
When selecting the right podcast gear, it's essential to consider how many mic inputs you will need.
A microphone stand can also be a crucial accessory for ensuring high-quality sound.
Many podcast starter kits offer a great starting point for those new to podcasting and looking to incorporate the necessary equipment.
A USB mic or an audio interface with one or two ports is perfect for solo recordings.
Choosing the right microphone can make or break the overall sound of your podcast.
Whether you choose a dynamic, condenser, or ribbon microphone, you should select a mic that complements your voice and environment.
Condenser microphones are known to be sensitive, which means you might hear background noise, making them more suitable for a recording studio.
Dynamic microphones are more robust and ideal for remote recording as they isolate your voice from any surrounding noise.
While selecting the proper hardware is crucial, you should also consider the software you'll use for podcast recording and editing.
For in-studio recordings, you might opt for podcast software like Adobe Audition or Pro Tools, which are great for post-production edits.
There are plenty of free online software options like Audacity, which are perfect for remote recording.
There are also plenty of tutorials to help as needed.
It's important to note that remote recording can come with connectivity issues if you do not have a reliable internet connection.
In that case, recording software like Zencastr or Squadcast allows for separate audio tracks, making editing much easier later.
When estimating a budget for the podcast, it's essential to consider all the equipment needed.
The good thing is that plenty of affordable options are available, and you don't need to break the bank for good quality gear.
USB microphones like the Blue Yeti or the Audio-Technica ATR2100 are great starter microphones that don't require an external mixer and are perfect for solo recordings.
Audio interfaces such as the Focusrite Scarlett 2i2 offer high-quality sound for a reasonable price, which makes them perfect for multiple-person interviews.
Let's however get into the specific hardware and software you might want to consider.
Upgrading Your Sound With Top-Quality Microphones
Having top-quality podcasting microphones can significantly improve the sound quality of your podcast.
Here are some examples.
Pyle's PDMICR42SL Dynamic Microphone
Pyle's PDMICR42SL dynamic microphone is the best choice for podcasters that value aesthetics as much as sound quality.
Its signature retro aesthetic and built-in pop filter brings style and substance to your podcast.
This dynamic mic works with both USB and XLR outputs, giving you maximum flexibility, and it costs less than $50, making it a great budget-friendly option.
ATR2100-USB Dynamic Microphone
The Audio-Technica ATR2100-USB dynamic microphone brings high-quality recording at an affordable price point.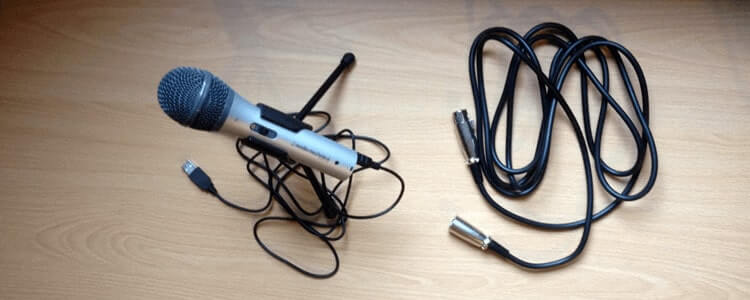 Image credit: https://www.smallbizgeek.co.uk/
The dynamic mic has USB connectivity and XLR output, making switching between digital or analog projects easy.
Its cardioid polar pattern captures sound from a specific area and minimizes background noise.
Its rugged construction ensures durability, and the mic's internal shock absorber minimizes mechanical noise, making it an excellent option for studio recording and live shows.
MXL 990 Condenser Microphone
The MXL 990 condenser mic is another excellent option for podcasters looking for studio-quality sound.
This mic features a giant diaphragm and gold-sputtered capsule, capturing even the quietest details in your recordings.
The included shock mount reduces vibrations and handling noise, while the low-frequency roll-off switch helps control bass distortion.
This condenser mic works with the standard XLR output and is excellent for professional studio use.
Blue Yeti USB Microphone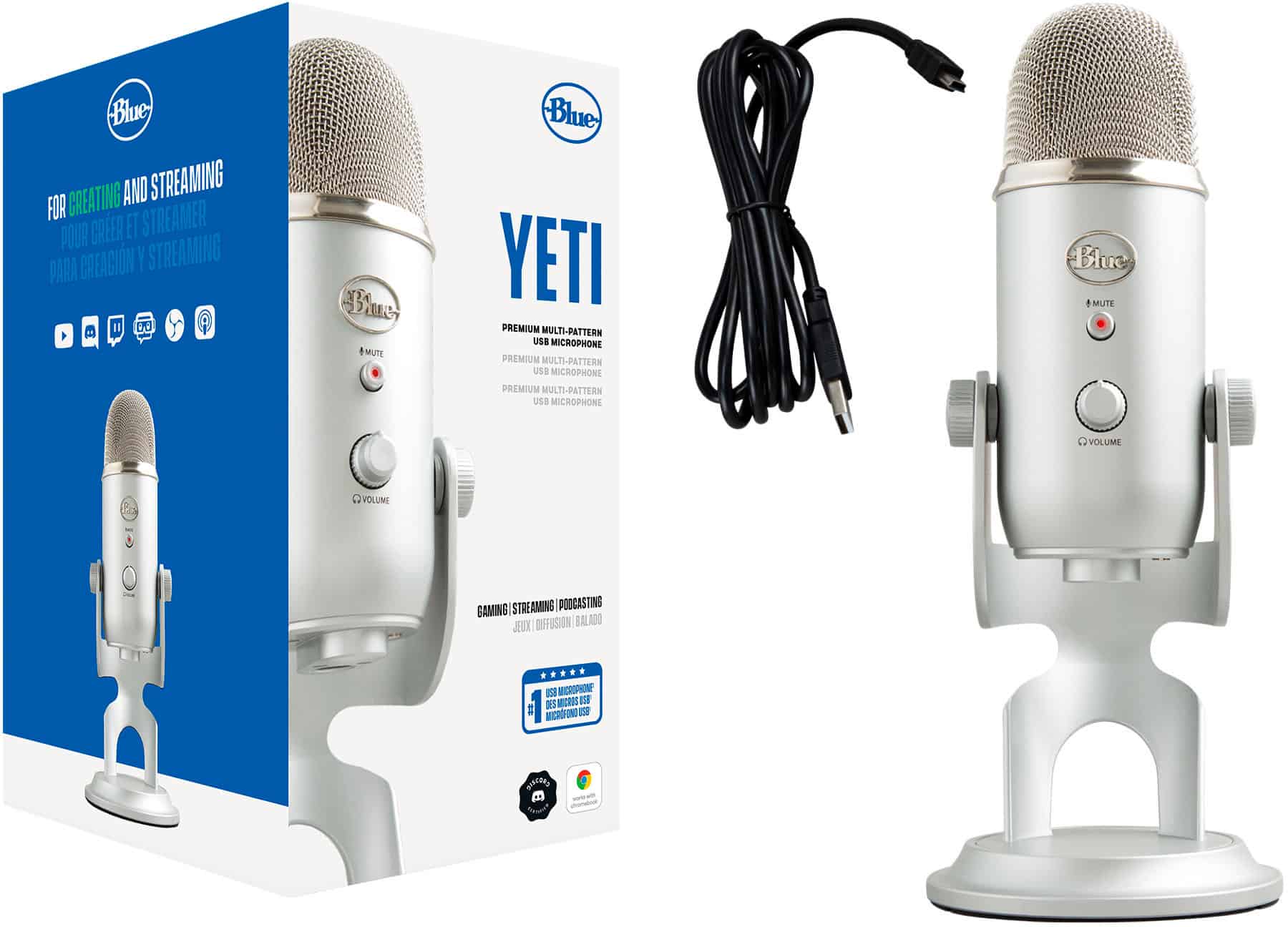 Image credit: https://www.bestbuy.com
The Blue Yeti USB mic has remained a favorite among podcasters since its release in 2009.
It balances affordability with high-quality audio, featuring three capsules and four polar patterns for recording sound in virtually any directional environment.
The mic is compatible with Mac or Windows and requires no drivers, making it a perfect plug-and-play option for amateurs and experienced podcasters.
How To Find Quality Headphones For Podcasting
To find quality headphones for podcasting, consider how well they block out ambient noise.
Additionally, look for headphones that allow precise audio editing, which is crucial in post-production.
Choosing audio gear you're comfortable wearing for prolonged sessions is essential, as not all headphones are created equal.
While headphones are essential for recording audio, they may be less crucial for recording video since the camera's built-in microphone may suffice.
With that in mind, here are some of the best headphones to consider.
Entry-Level Headphones: Audio-Technica Ath-M30x
For those on a budget, the Audio-Technica ATH-M30x is a great option.
Not only is this entry-level headphone affordable, but it offers excellent value for money.
The headphone provides a comfortable fit for long durations of use, and the sound quality is impressive, with a balanced and natural feel to the sound.
Budget-Friendly Headphones: Shure Srh440
The Shure SRH440 is an underrated gem in the world of headphones. It is affordable and can connect to various audio devices, including computers, smartphones, and other recording equipment.
The sound quality is also excellent, with outstanding responsiveness to high-frequency ranges.
Mid-Range Headphones: Beyerdynamic DT 770 PRO
For those seeking an upgrade from entry-level or budget-friendly headphones, Beyerdynamic DT 770 PRO is a great mid-range alternative.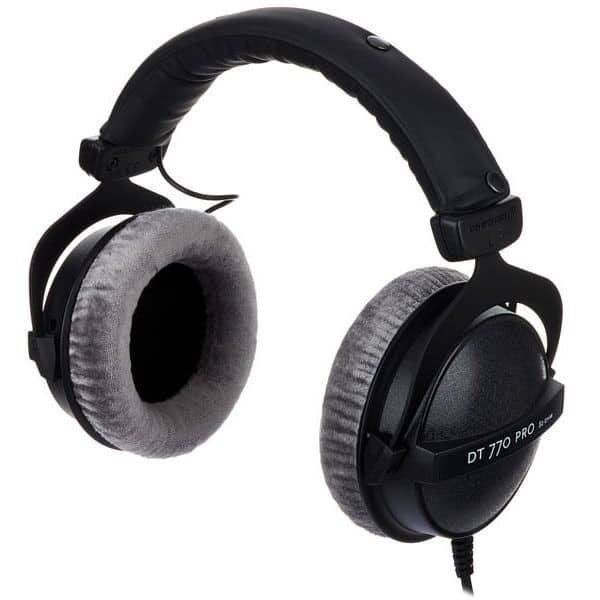 Image credit: https://www.thomann.de
The headphones have superior comfort, and their build quality is durable. It connects to multiple audio sources, and the sound quality is unmatched with its balanced and natural sound.
Top-Of-The-Line Headphones: Audio-Technica's Ath M50x Range
For podcasters seeking to amp their sound quality even further, Audio-Technica's ATH M50x range is a top-of-the-range model that offers wireless capabilities.
The headphone provides increased frequency response ranges from deep bass-tones to shimmering highs, making it an excellent choice for podcasters looking to deliver superior sound quality.
Finding The Best Digital Audio Recording Equipment
Investing in the best podcast equipment is crucial for creating professional-sounding podcasts when starting a new podcast.
Digital audio recording equipment is a must-have, enabling you to easily capture and edit audio files.
However, some podcasters prefer analog signal equipment as it produces a distinct sound many listeners appreciate.
Ultimately, both analog and digital equipment can result in high-quality podcast recordings.
If you're starting and looking for an affordable solution that provides easy connection and conversion to your computer, the Midiplus Smartface II is an excellent option.
It is straightforward to use, plug-and-play, and can record audio from various sources, including guitars, microphones, and other instruments.
Although it has limited inputs and outputs, it's perfect for solo recording sessions and minor projects.
If you want to upgrade your podcast setup, then the MOTU 8pre USB is an excellent choice.
It has up to 16 inputs, making it great value for money for those looking to record with multiple people or instruments.
It's perfect for recording a group podcast or live music performances.
It has high-quality sound and a robust build and is compatible with most digital audio workstations.
For those who don't have budget constraints and want an all-in-one bundle package, the Focusrite Scarlett 2i2 Studio 3rd Gen USB Audio Interface Bundle is the ultimate choice.
This bundle includes a microphone, headphones, and software, making it a perfect package for beginners.
The microphone is one of the best in its range, providing crystal clear sound, and the bundle has everything you need to produce a professional-sounding podcast or music recordings.
Another excellent choice for those looking for flexibility is the Universal Audio Apollo Twin MKII Duo.
It provides a professional-quality sound and has excellent preamps, making it ideal for musicians who want to produce high-quality recordings.
It's perfect for recording various instruments and has built-in digital signal processing capabilities that can help you enhance your sound even further.
It's a bit pricier than other options, but it's worth the investment if you're serious about your music or podcast career.
Finally, the Zoom H6 Handy Recorder is an excellent option if you work on the go.
It's portable and can record up to six tracks simultaneously, making it perfect for location or field recording.
It has high-quality sound and is versatile in the types of microphones it can support.
It's affordable with professional-quality sound, making it perfect for independent filmmakers or journalists.
Lighting Up Your Podcast
To ensure a successful podcast production, having quality lighting in your podcast studio is essential for creating polished video content.
Lighting is essential whether you are into video podcasting, interview-style podcasts, or want your audio content to look more visually appealing.
Natural lighting can be great, but natural light is often unpredictable and can cause shadows and glares in your video.
A good lighting kit can take your podcasting game to the next level.
Affordable Lighting Options For Podcasting
Investing in a lighting kit can seem daunting, but it makes all the difference in the visual quality of your podcast.
Fancierstudio Lighting Kit is one of the most affordable options and comes with two softboxes, two background stands, and two umbrellas.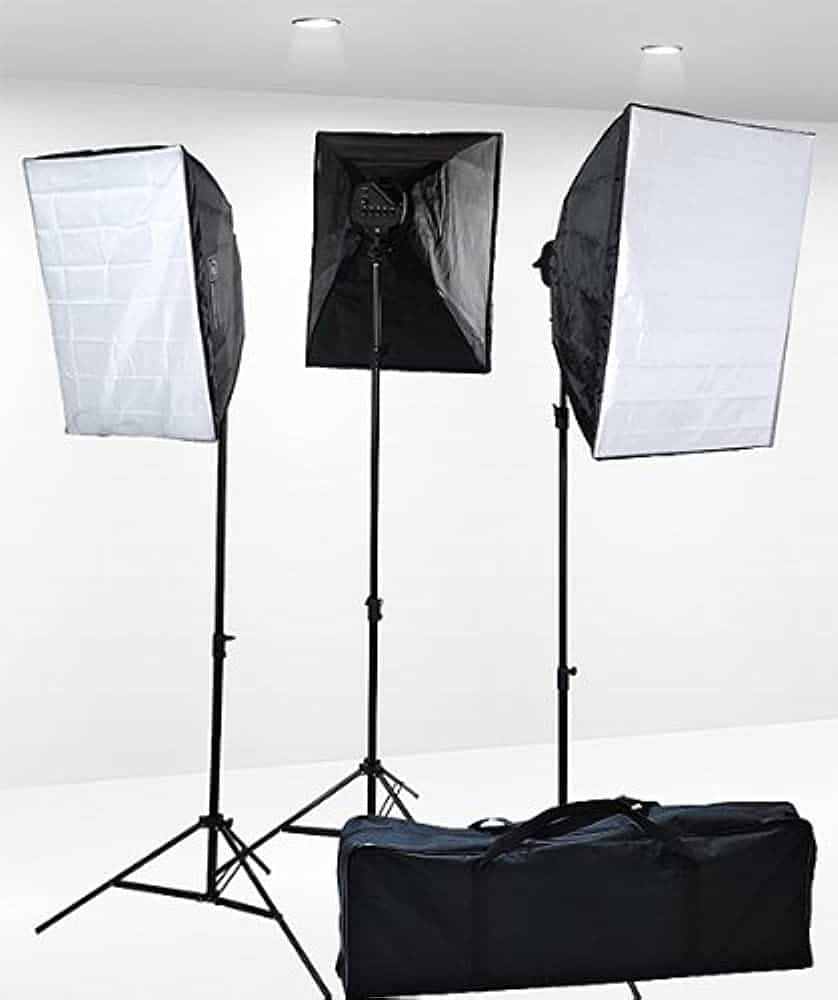 Image credit: https://www.amazon.com/
It's easy to store and transport while providing the optimal color temperature and soft light adjustments.
Another great option is the Neewer 2 Packs Dimmable Bi-Color 480 LED Video Light and Stand Lighting Kits.
It has two LED light panels, adjustable support stands, and power adapters.
Bi-color temperature adjustments and brightness control provide flexibility to fit different podcasting environments.
The Importance Of Using Pop Filters
A pop filter, sometimes referred to as a pop shield, is a device that attaches to a microphone and prevents plosives from being picked up.
A typical pop filter consists of two layers of mesh or foam that capture the plosive sounds between them.
The air can then pass through the filter's fine mesh without producing harsh sounds.
The Shure PS-6 Popper Stopper is a high-quality pop filter with an adjustable arm and clamps for easy attachment to a mic stand.
This pop filter uses sturdy materials, which ensures it lasts for a long time.
The double-layered filter reduces vocal pops and breath noises during recording sessions.
Additionally, it's fully adjustable, so you can position it in a way that suits your microphone and recording setup.
Apart from having pop filters, ensuring clear and professional sound quality for your podcast comes down to investing in a high-quality podcast microphone.
USB mics offer the convenience of easy plug-and-play setup, while XLR microphones require an XLR cable for connection to your recording device.
Those looking for maximum control and flexibility prefer XLR mics over USB ones.
But regardless of which type of microphone you choose, a pop filter can significantly improve sound quality by reducing unwanted popping sounds caused by plosives.
Choosing The Right Podcast Hosting Site
When choosing the right podcast hosting site, it's essential to consider the site's features and pricing options.
Some popular options include Buzzsprout, Libsyn, and Podbean:
Buzzsprout offers an easy-to-use interface, analytics, and flexible pricing plans.
Libsyn, on the other hand, is great for advanced users who need more control over their podcast's distribution and analytics.
Podbean is a feature-heavy hosting site with monetization options but is also more expensive than other sites.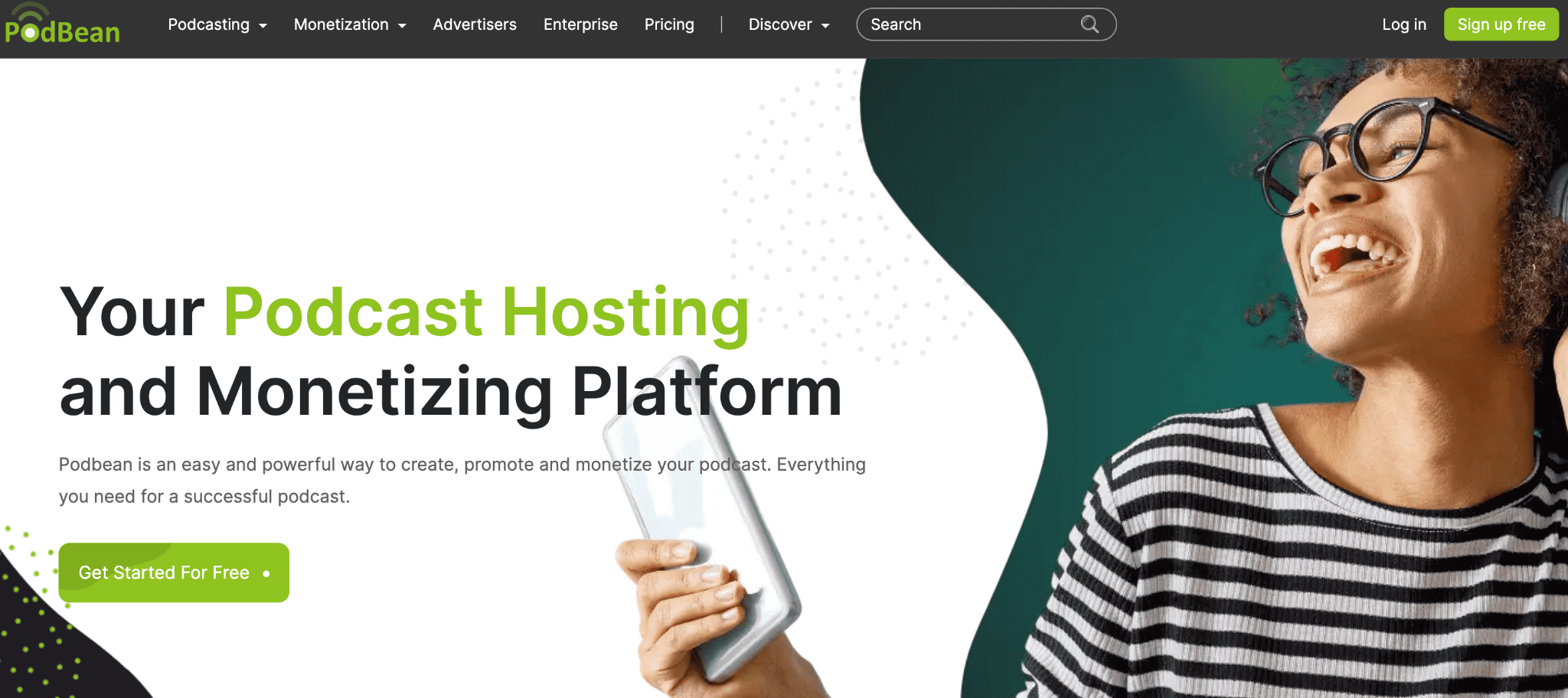 Ultimately, the right hosting site for your podcast will depend on your specific needs and budget.
Researching and comparing different options can help you choose the best fit for your show.
Using Digital Recorders For Podcasting On The Go
While computers and smartphones offer recording options, their limited capabilities can lead to low-quality recordings.
That's where digital recorders come in.
Using digital recorders for podcasting on the go is an excellent way to get quality recordings no matter where you are.
One of the primary advantages of using digital recorders for podcasting is their flexibility in input options.
Most digital recorders have built-in microphones that provide high-quality sound, but they also have multiple input options for external microphones or other audio sources.
Some models even have XLR inputs for professional-grade microphones.
It's easy to record interviews, discussions, and other content on the go without additional equipment.
If you're wondering where to find the best digital recorders, consider Amazon.
With its array of essential podcast equipment, this platform offers digital recorders that make it easy to record audio files with high-quality four-mic inputs, perfect for capturing vocals on the go.
Acoustic Treatments For Better Audio Quality
As a podcaster, excellent audio quality is crucial to attracting and maintaining your audience.
Nothing is more unappealing than listening to a podcast with much background noise and echoes.
Unfortunately, not everyone has a professional studio to record in.
But fear not!
Many affordable ways exist to get excellent audio quality, including acoustic treatments.
Acoustic Treatment refers to the recording process whereby one improves the sound quality of a room by reducing unwanted noise and echoes.
Acoustic treatments can be anything from sound-absorbing panels to blankets or curtains.
By strategically placing these treatments in your room, you can reduce unwanted background noise and improve the overall audio quality of your recordings.
Soundproofing blankets are one of the most straightforward and affordable acoustic treatments available.
These heavy blankets are dense materials that absorb sound waves and reduce echoes. They are ideal for podcasters who record in small rooms or home studios.
Hang the blankets on the walls or wrap them around your recording equipment to create a soundproof barrier.
Moreover, the right boom arm helps to stabilize the microphone and reduces vibrations for more precise sound.
A built-in pop filter helps to eliminate plosive sounds like "p" and "b" for more professional sound quality.
Using a Bluetooth headset can also reduce outside noise and prevent feedback loops.
A windscreen can help to eliminate wind noise during outdoor recordings, ensuring an even better listening experience.
Podcasting And Aspiring Audio Engineers
Aspiring audio engineers can start podcasting using their Android or Apple devices, paired with high-quality earbuds for monitoring.
With editing audio software like Garageband, creators can produce professional-sounding podcasts with ease and precision.
Using reverb effects and other audio enhancements, podcasters can add depth and richness to their recordings, enhancing their overall quality.
Podcasting is the perfect platform for aspiring audio engineers to begin their journey for these reasons:
Emphasizing Content over Equipment: One of the critical advantages of podcasting is that it emphasizes content over equipment. Unlike radio broadcasting, podcasting does not require expensive rigs; you only need a decent microphone and a laptop to get started. Talent and content are more important than fancy equipment, making podcasting an ideal platform for those just starting in audio engineering. Prioritizing content is the key to building an audience, and podcasting allows you to do so without stressing over equipment costs.
Minimal Investment: As an aspiring audio engineer, you don't have to worry about investing thousands of dollars in equipment to get started with podcasting. All you need is a decent microphone and essential recording software, both available at reasonable prices. The most important investment you can make is in developing your audio engineering skills, which you can do while podcasting. You can start small and gradually upgrade your equipment as your skills and audience grow.
Experimentation Opportunities: Podcasting provides ample opportunities for experimentation. You can experiment with different types of microphones, soundproofing materials, and mixing software to achieve the best possible sound quality for your content. By experimenting with various equipment and techniques, you can develop a unique style and sound that sets you apart from other podcasters. The ability to experiment is another reason podcasting is an excellent platform for aspiring audio engineers.
Podcast Equipment- FAQ
What Are The Benefits Of Using A Digital Audio Workstation?
A digital audio workstation (DAW) can significantly enhance the editing capabilities of a podcast, improving sound quality and overall production value.
How Can I Use An Iphone For Podcasting?
An iPhone can be a versatile podcasting tool, from recording audio to creating and uploading content through various apps.
Platforms like Spotify can help by directly integrating your iPhone as a podcasting device, allowing you to record, edit and upload content easily.
Why Are The Rodecaster Pro Headphones Popular Among Podcasters?
The Rodecaster Pro has become popular for podcasters due to its ease of use, versatile inputs, and integrated sound effects and jingles.
Which Sony Headphones Should I Buy For Podcasting?
Sony headphones are popular among podcasters for their sound quality and noise-canceling features. Some popular models include the Sony WH-1000XM3 and Sony MDR-7506.
Wrap Up
Having the right equipment is essential for podcasters who want to produce audio content that is enjoyable to listen to.
Whether you're new to podcasting or a seasoned pro, investing in these essential pieces of equipment can transform your audio quality and help you take your podcast game to the next level.
Further reading on AdamEnfroy.com: Starting a podcast with no audience?
While it might seem daunting to start a podcast without any listeners, there are steps you can take to build an audience and create great content.
Finally, a podcast name generator will help you develop catchy podcast titles that draw listeners in.
With a catchy name, great content, and the right equipment, you'll be well on your way to becoming a successful podcaster.
Disclosure: I may receive affiliate compensation for some of the links below at no cost to you if you decide to purchase a paid plan. You can read our affiliate disclosure in our privacy policy. This site is not intending to provide financial advice. This is for entertainment only.
---
Last Updated on April 25, 2023 by Adam Enfroy