How To Start A Podcast With No Audience In 2023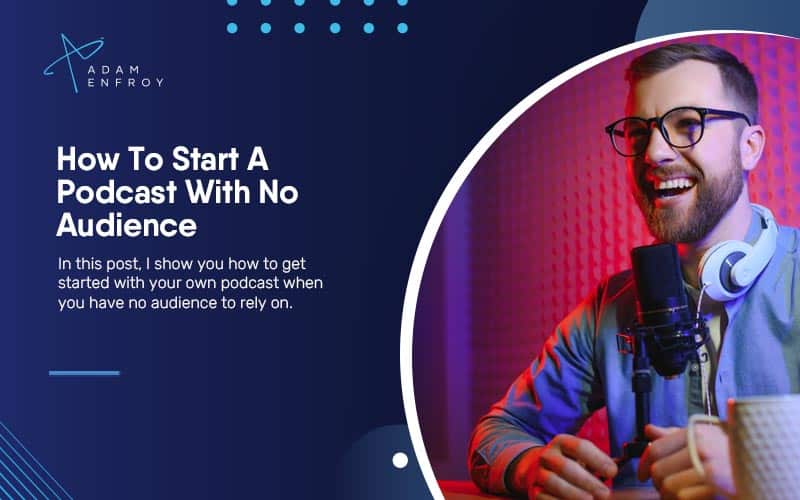 Are you looking to create your own podcast but don't yet have an audience?
The best content in the world won't count for anything if no one is there to listen.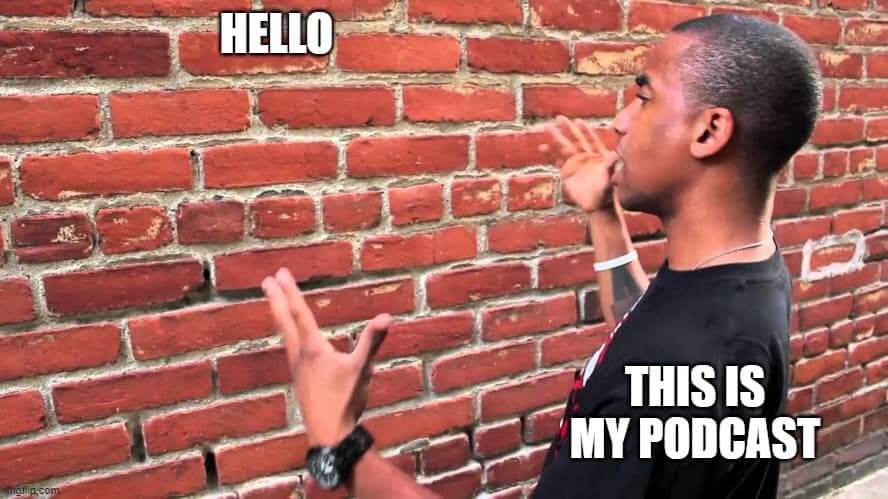 The great news is that building an audience doesn't have to be complicated.
In this post, I'll show you how to get started with your own podcast while providing tips for creating engaging content when you have no audience.
Podcast Basics
Creating a successful podcast starts with understanding the basics of how podcasts work.
In short, a podcast is an audio file hosted on the internet that listeners can download or stream directly.
The key here is consistency; if you produce content regularly and deliver it in high-quality sound, chances are that more people will tune in.
Here are the main steps to consider when creating a podcast.
Finding Your Niche
Starting a podcast with no audience can be daunting, yet entrepreneurs with an interesting perspective to share can succeed by focusing on their niche and content quality.
The great news about not having an initial audience is that it allows you to practice your craft and develop a unique style.
Figuring out the niche you are passionate about makes building a loyal audience easier, as it allows you to hone in on the topics you know and understand best.
Take the time to evaluate what topics within your niche are getting traction on social media like Twitter, Reddit, or TikTok.
Doing so will help inform which conversations to center around and create content for.
Choosing Your Topic
Before you start recording your first episode, it's essential to determine what topics/themes will be the focus of your content.
The best way to get podcast listeners is to offer valuable content that is unique and engaging.
Pick something you have experience with or feel passionate about and think through who would be interested in listening to it.
Is there an existing target audience or community of people who would be interested in this topic?
How would it stand out amongst other podcasts?
Once you've chosen your topic and have some ideas for possible formats or structures for the show, you can move into production mode.
In this mode, creating your show name comes next.
Creating Your Show Name
If you want to start a podcast from scratch but don't have a podcast name yet, you can begin by brainstorming possible titles.
Take some time to research other podcast hosts and the top shows on the podcast hosting platforms to gain some insights.
In other words, don't try and reinvent the wheel.
Take what's working and add your spin to it.
Creating a podcast title that accurately reflects the content of your podcast, as well as its tone and style, is essential for building an audience.
Also, ensure the title is catchy and memorable.
A catchy title helps listeners remember and recognize you among potential listeners and help them find you in podcast search.
Investing In Professional Audio Equipment
Quality matters in podcasts; no one wants to listen to an episode full of static or low-quality sound.
Investing in professional podcast equipment is a great way to build your audience.
Investing in professional audio equipment such as microphones, acoustic filters, or reflection covers will ensure that crystal-clear sound accompanies each episode.
If nothing else, a quality USB microphone should be one of the first investments you make when starting a podcast.
Fortunately, this doesn't have to cost an arm and leg.
There are plenty of affordable options available online on sites like Amazon.
With various tutorials on audio engineering available online, you can also teach yourself the basics of audio editing and production.
At the same time, setting the right expectations regarding equipment and editing is essential.
Realize that you won't have to be a professional audio engineer immediately.
Ensure you produce your content to a standard you are proud of and your audience will enjoy listening to.
Format & Logo/Cover Art
Next is deciding how you want each podcast episode to look structurally – i.e., do each week's episodes follow a specific podcast format?
Do they include specific segments?
Will each one feature different guests?
Having these questions answered ahead of time will help make sure every episode runs smoothly and consistently keeps your listeners engaged over time.
Additionally, having attractive logo/cover art (one you create yourself or outsource to someone else) will ensure people recognize and remember your new show.
Using a tool like Canva can give you a great starting point to your design.
Use Storytelling To Craft The Right Content
Storytelling can help you in crafting content that resonates with your new audience.
There are various storytelling basics popular among podcast listeners, and you should be aware of the best ones in your niche.
In addition, your show's format should provide value.
Whether it's focusing on step-by-step instructions that break down complex topics into simple explanations or a format where you provide actionable advice while showcasing individual journeys, value is critical.
It's also essential to think about the length of each episode.
Generally, aim for an average of 20-30 minutes.
Also, taking the time to put out quality material and craft an intro and outro that ties in with the main storyline of each episode will go a long way.
Doing so will firmly establish your podcast and create loyal listeners.
The Friends And Family Test
Using the friends and family test to get honest feedback on content and audio quality will help ensure you're putting out the best content possible.
Ask someone who doesn't know much about your topic whether or not they like what you created.
Question them about how valuable they found the content and, if applicable, whether they'd know what actions to take if you asked them to.
With your answers, you'll also be able to start building a listener persona.
You can define this as the description, traits, and behavior of the typical person who listens to your podcasts.
The ability to build a real listener persona will pay dividends in the long run.
With this information, you will better understand the content that will resonate most strongly with your potential listeners.
Marketing Your Podcast
Once you create your content, it's time to start thinking about making connections and promoting the podcast itself.
You can use various platforms and channels, such as cold email outreach, social media tools, and even starting a YouTube channel to promote your podcast.
Be sure to include links to your website so viewers can easily find your episodes once they land on the page.
Collaborating with other podcasters or creators helps expand your audiences while maintaining a high-quality production level.
If these connections are genuine and organic, growing an audience is possible if done correctly.
Let's explore some of the best ways to market your podcast in more detail.
Make It Searchable with Keywords
After you upload your first podcast, take the time to create titles and show notes for your podcast episodes.
These notes should include relevant keywords and phrases to help make it easier for listeners to discover your podcast.
Search engine optimization (SEO) techniques can make your podcast easier to find.
If you're targeting a specific audience or niche market, use relevant words that this group will be searching for when looking for podcasts like yours.
Such keywords will also improve your visibility on search engine results pages (SERPs) so that people see your show first before any of your competitors.
Another way to ensure your podcast is easily accessible is to create an RSS feed.
An RSS feed is a type of code that allows podcast platforms like Google Podcasts and Apple Podcasts to pull the metadata for your episodes.
Creating an RSS feed helps ensure all of the information associated with your episode, from title to description, is visible on search results pages.
Include Compelling Descriptions
On top of using the right keywords, it's essential to add detailed descriptions of each episode under its title on every platform you post on.
This information gives potential listeners an idea of what they can expect if they give it a listen.
It also provides an opportunity for further keyword optimization.
With your podcast description, I recommend making it short but informative.
Focus on the highlights rather than giving away too many details so those interested are inspired enough to listen to get the whole picture.
The right call to action is also essential in the description, as it helps viewers know what to do next.
Using a combination of templates and creativity for both the titles and descriptions of your podcasts can make the process easier.
Growing your Podcast
Let's now review some of the best ideas for growing your podcast.
Harnessing Your Social Media Network for a successful podcast
Look at your current network of followers, and categorize them into different segments of people who might be interested in various topics related to your podcast.
As a result, targeting specific audiences will become more straightforward when promoting the podcast.
You can also use this information to develop unique content tailored explicitly toward those audiences.
The more specific your content is, the more effective your ability to engage people (and keep their attention) will be.
Once you have everything organized, it's time to start promoting your podcast through social media channels.
Share teaser clips or photos of yourself recording the podcast – anything that piques people's interest.
Free tools like Hootsuite and Buffer can also make it easy to schedule posts in advance, so you don't have to post from your phone constantly.
Plenty of hosting platforms also allow you to integrate naturally and syndicate episodes on platforms like YouTube, Twitter, and even LinkedIn.
While comparing podcasts vs. YouTube, consider the latter for additional exposure.
Grow Your Podcast with Directories and Newsletters
A significant step in boosting your podcast's reach is submitting it to popular podcast directories.
Some of the most popular ones are:
Apple Podcasts
Google Podcasts
Spotify
Stitcher Radio
iTunes
Google Play Music
Submitting your podcast content will create an online presence that allows people who would otherwise never hear about it to get easy access.
As such, you'll build up the target audience for your show over time.
Once you have submitted your podcast to directories like Apple Podcasts or Spotify, why not take things one step further through a newsletter?
Leveraging podcast newsletters can be a great way to share updates and new episodes with existing listeners and capture new leads from potentially interested parties.
Your hosting provider is the best place to begin when it comes to promoting your podcast via newsletters.
Some providers offer built-in features that make sending newsletters to new listeners easy.
If you have a co-host, ensure you include them in the promotional efforts for maximum reach.
Promote Your Podcast On Other Podcasts
You can access a massive audience by crafting an attention-grabbing trailer or ad for your show and placing it in established shows with a large following in your niche.
Here, it's essential to consider the right show for your podcast ad.
You want to ensure that the podcast has a large enough following; otherwise, you won't reach any potential customers.
At the same time, the topics covered in the podcast show should be relevant to your show's theme.
It would be best if you looked at the podcast listeners' demographics to know you're targeting people interested in what you offer.
Once you've found a good match, it's time to reach out and see if the podcast hosts offer advertising spots.
You might have to research, but most podcasters list their contact information on their podcast website or social media platforms.
Podcast Naming Strategies for Beginners
A cleverly named podcast has a relevant title that instantly explains what type of content you will provide in each episode.
This type of name can become iconic if done correctly, making it easy to remember and recognize.
However, this approach may not work well if you plan to change the topics you discuss in future episodes.
It may also not be the best idea if you want to keep things open-ended while maintaining a consistent theme throughout your show.
Another thing to consider is building a personality-driven podcast.
Using your name as the title of your podcast could give off an air of authority and authenticity – after all, who knows better than yourself?
But without any other details, this option could leave potential audiences wondering who you are and what type of content awaits them.
Additionally, naming it after yourself could limit how much content variety can be within each episode since many people prefer consistency over variety regarding their favorite podcasts.
Generally, you should ensure that your podcast topic is clear enough so people know what they're getting into before listening.
The Benefits of Podcast Production
Producing a podcast offers many benefits.
First, podcast production increases website traffic by allowing people to access your content "on the go.
Even if you created audio versions of your articles or videos, you would make it easier for listeners to consume your materials while doing other activities.
It also makes it easier for people who may not have the time or inclination to read lengthy blog posts or watch long videos.
Secondly, podcasts provide an opportunity to create deeper relationships with listeners through the personal delivery of information and advice.
Using a conversational tone in your episodes, you can create intimacy with your audience that wouldn't be possible through written content alone.
Finally, producing a podcast carries the potential for increased income streams via monetizing or promoting other services/products related to your topic.
You can also use the platform as an avenue for sponsorships which is another excellent way to make money from your podcasting efforts.
Other Podcast Growing Tips
Here are a few final tips to consider.
Collaborating With Brands & Experts
One way to scale your podcast is by collaborating with brands or experts within your niche.
Such experts can bring value and perspective to each episode, allowing both parties to benefit as their reach expands.
Utilizing brand collaborations also helps grow both sets of audiences.
Repurpose Content
If you've already produced content around specific topics in other formats, why not repurpose it into podcast episodes?
Repurposing content also adds variety and creativity in audio production and editing, making it easier for listeners who prefer different mediums when consuming content online.
Utilize Existing Followers
The first step in promoting your podcast should be utilizing the social media followers that you already have.
If people already follow you on social media or subscribe to your email list, they are likely interested in hearing your content.
Start by engaging them through posts, stories, and emails that speak directly to them.
Also, focus on your audience and give compelling reasons why they should check out your new podcast.
Create Calls-To-Action
Another good way to leverage existing followers is by using calls to action in each episode of your podcast.
Encourage listeners to follow you on social media or rate/review the show on popular platforms.
These simple actions can increase exposure and drive more listeners over time.
Engage Fans with User Generated Content
If you want to go above and beyond the content you can produce while engaging loyal fans, user-generated content (UGC) can be the answer.
For example, asking fans for voice messages or posting photos tagging their favorite episode of yours on social media channels are all viable ideas.
UGC helps build hype around a product or service and is something you can do without breaking the bank.
It's also an excellent strategy for smaller businesses or those just starting with their podcasts.
Edit Podcasts Professionally
I've already touched on this briefly, but it bears repeating.
Audio editing may be the last thing that you might want to learn how to do.
However, audio quality and clarity are the most critical aspects of a great podcast.
Developing familiarity with editing software tools like Adobe Audition, Audacity, or Garageband can make a huge difference in your podcast's overall sound.
Professionally editing and mastering your audio files will give your show a more professional feel.
Use The Right Hosting Service
Numerous hosting platforms offer different features tailored to one's specific needs and preferences.
Some platforms even offer native audio recording software that works within a more significant podcasting forum, allowing for quick and easy recording.
Some content producers find that the secret to podcast success is using a host that meets your needs and provides the tools required to produce a great podcast.
Wrap Up.
Having the best podcast in your industry won't be enough if you don't have an audience to share it with.
Considering the above podcasting tips and the right marketing strategy, you can drastically increase your reach and engagement in no time.
As you build your podcast audience and reach, stay consistent in your approach and prioritize quality content.
Ultimately, the effort you put into creating a great podcast will give you long-term success.
Further reading on AdamEnfroy.com: Writing a great podcast script can transform a good podcast into an exceptional one.
Check out the above guide for more details on how to write a great script.
Moreover, here's the latest information on the starter kit you'll need to get started with podcasting.
Disclosure: I may receive affiliate compensation for some of the links below at no cost to you if you decide to purchase a paid plan. You can read our affiliate disclosure in our privacy policy. This site is not intending to provide financial advice. This is for entertainment only.