13 Best Digital Advertising Platforms of 2023 (Ultimate Guide)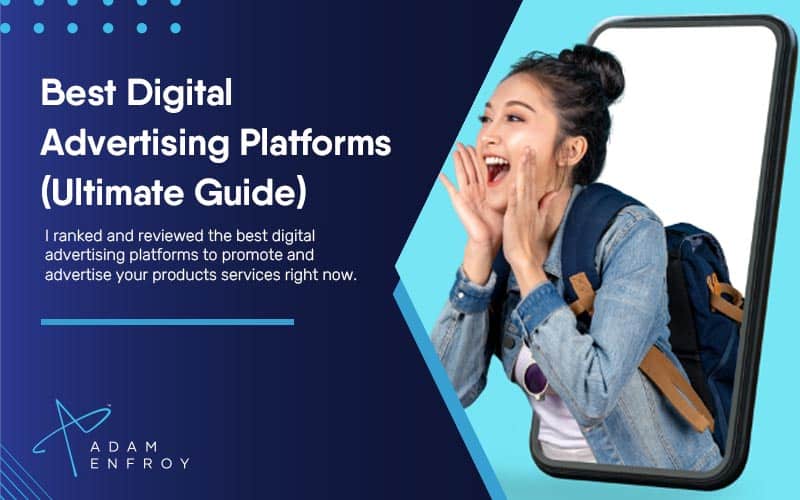 Choosing the right advertising platform is crucial to your business's success. The right platform will allow you to get the word out about your products or services; the wrong one can lead you down a path of failure.
There are several digital advertising platforms out there along with a lot of different targeting options. With 76% of marketers not making use of behavioral data for audience targeting, there's a lot of mistakes to be made when you are just starting.
With so many different options, I've created this ultimate guide for choosing the best digital marketing platforms for your business. This guide will cover all of the top digital marketing platforms on the market right now.
You'll learn about their pros and cons so that you can make an informed decision when choosing which platform(s) to use for your business' online presence. Let's get right into it!
Disclosure: I may receive affiliate compensation for some of the links below at no cost to you if you decide to purchase a paid plan. You can read our affiliate disclosure in our privacy policy.
What Are the Best Digital Advertising Platforms?
The following are the best digital advertising platforms right now.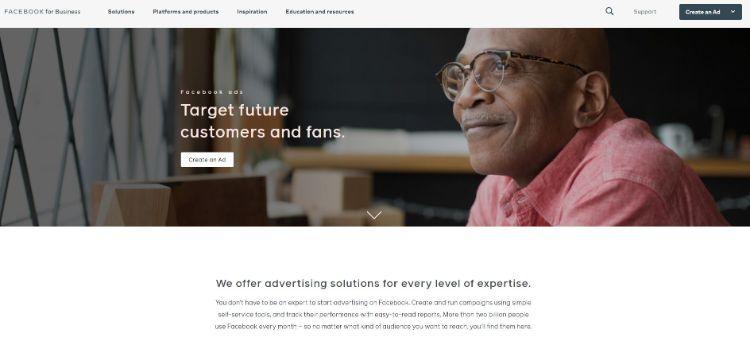 When it comes to online advertising, Facebook ads are the gold standard. Many people will agree that Facebook ads are one of the best online advertising platforms when it comes to selling your products online.
Facebook offers the ability to target highly specific audiences that can be easily customized to fit your business' needs. If you have a local business or if your target audience is based in a specific same city, then geotargeting is the solution for you.
These types of online advertisements allow you to focus your ad campaign on a much smaller audience and this can improve results.
You can also target custom audiences with Facebook ads. If you have an email list or if you use e-commerce marketing, then import your customers to Facebook to see better results. Targeting is very precise when using Facebook ads and this is one of the reasons they're so effective.
When you create a new ad in Facebook's ad platform (also known as business manager), it's smart enough to recommend how much ad spend is needed per click.
The thing you have to realize is that Facebook ads will only work if you allow its algorithm to optimize them correctly for conversions. This might take some trial and error in the beginning so be prepared to spend some money to allow the Facebook algorithm to fine-tune your targeting to the correct settings.
The Google Ads platform is different from Facebook ads as it's based almost entirely on keywords and search terms.
In a way, people are actively requesting information about something they want to know more about – as opposed to Facebook where you're interrupting their browsing experience. This is what makes Google ads so effective for targeted traffic.
Google ads work by allowing you to bid on specific keywords that relate to your business. When people search for those keywords, your ad will appear at the top of the SERPs (search engine results pages).
You can target a few different audiences with Google Ads: location, demographics, and even interests.
Location targeting is great if you have a local business or if you're targeting people in a certain city or country. Demographics are helpful when you want to focus on individuals based on income levels, age ranges, etc.
Google Search Ads also offer remarketing which is very effective if you have an email list or use e-commerce marketing. If someone visits your website, then leaves without converting; Google Ads can advertise to that individual until they do convert.
With different pricing models available, CPC (cost per click) or CPM (cost per 1,000 impressions) are typically chosen.
Finally, if you can combine and implement SEO (search engine optimization) tactics with PPC (Google Ads), you will be able to take over Google's search results for a target keyword.
This means that your website will be displayed on the majority of Google's first page positions instead of your competitors' websites.
Video ads are one of the most effective forms of online advertising. YouTube ads are a great example of this because they offer a great way to engage people and show them what you're offering.
YouTube ads are easy to create and optimize. They work by allowing you to advertise your own video content on the channels you choose. By choosing the right channels (and videos) that fit your business, you can establish trust with people who view your ad.
Video ads allow for better brand awareness as well, which can improve results in the long term. When it comes to online advertising, the more exposure your brand gets, the better off you will be.
With an effective YouTube ad campaign, you're able to generate leads and sales directly from people who see your advertisement – here are the best ways to make money on YouTube.
Combine these with the fact that YouTube advertising is highly targeted and you can start to see why using video ads is a great idea for your business.
Creating YouTube video ad campaigns also has a fairly low learning curve. The interface is fairly simple to use – it is all done through the Google ads dashboard which means that you can manage everything from one place.
This is very useful for businesses that have multiple ads running on different platforms.
4. Bing Ads
Bing ads (sometimes referred to as Microsoft ads) are a great way to use search engine advertising to reach your target audience.
Google and Bing work very similarly in the way ads appear and in how they function. Aside from having a different layout, there are very few differences between these two online advertising platforms.
Bing Search Ads are another great platform for running PPC ads because they can convert well if you have a solid campaign set up. Even though Bing is not as popular as Google, there are still a substantial amount of people that use this search engine.
Therefore, it might make sense to also use this digital advertising platform to test out what results you can get.
5. Amazon Ads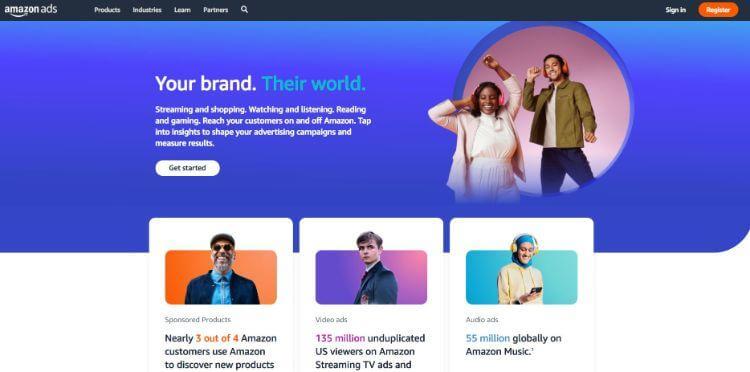 Amazon Ads can help you reach your business goals if you are involved in the eCommerce world.
Ad formats on Amazon are pretty limited compared to the other platforms but these are enough based on the types of products advertised here. There are three main types of ads you can run on Amazon:
Sponsored products ads
Headline search ads
Product display ads
Sponsored products ads are the most common ads you see when shopping on Amazon. They appear in the product listings and allow you to put your affiliate ads before other products that show up organically.
Headline search ads are those that appear at the top of a search results page. They typically consist of a title, description, and some images. Product display ads function in a very similar way to regular banner ads.
A product display ads allow you to promote your product via an image on the side of an Amazon page. You can experiment with banner sizes and different kinds of creative ads until you find something that works well for your target audience.
Following the rules and regulations of Amazon ensures that your ads don't get disapproved and your ad account is disabled. This is very important to ensure long-term results on this eCommerce platform.
6. Instagram Ads
Instagram Ads help to show relevant ads to your target audience on this popular social media. Both image ads and video ads work well on Instagram because both of these tend to stand out more than text ads.
Combining remarketing with your Instagram ads is an excellent way of being able to reach out to the same people more than once.
Instagram ads can be set up through the Facebook business manager and allow you to target an audience's city or country, demographics and behaviors, specific interests, and other things.
With 1.386 billion (and counting) people on Instagram, advertising on this platform allows you to reach your target audience as they are browsing images, videos, and reels on their favorite social media platform.
7. TikTok Ads
Advertising on Tiktok is great if you have a product that is creative in one way or another. While it is easy to grab people's attention, the key is to show them adverts that make them want to keep watching due to something unusual, bizarre, or surprising.
This means that as your ads are shown to more people, your brand gets recognized more and people become familiar with how your product or service works – all while keeping people entertained.
The better you can do this, the more likely it is that people will purchase what you're offering as a result of these ads and you'll end up making money on Tiktok.
With this in mind, this online advertising platform might not be the best place to advertise a product that isn't creative or that catches people's attention.
This platform is an excellent place for promoting any kind of innovation in technology, fashion, or anything in between.
8. LinkedIn Ads
LinkedIn ads tend to work best with professionals. Like Google, they have a self-service ad platform that allows you to choose the audience you wish to target and then also retarget them with different ads.
The key difference between these two platforms is that LinkedIn caters mainly to businesspeople, while Google attracts more general users who are looking for solutions to their problems.
If your company offers tech-savvy solutions to problems in the workplace then LinkedIn can be a great way of reaching out to your target audience with adverts.
The best time to show up ads on LinkedIn is during working hours (specifically between Tuesday and Thursday) when people are more likely to be browsing around their business profiles and checking updates.
9. Taboola
Taboola is a platform that tries to show users ad recommendations based on their potential interests. The goal of this platform is to have your brand or product advertised on websites where someone might be looking for answers that your product provides.
This means that you can be targeting someone who has never heard of your brand before but they are searching for potential solutions at the time when they need them. With over one trillion recommendations, Taboola understands the best places to put your ads.
For example, if you are a fashion blogger and want to make money blogging, then it might be most effective to have an ad placed on sites that are specific to the fashion niche – Taboola will take care of this.
Native ads on this platform ensure that there isn't much difference between the actual content and the ads on a page, increasing the possibility of users clicking on an ad.
This means that it's worth paying a bit more to have ads placed on premium ad slots so that they don't get lost in the abyss of websites available on any given subject.
Many advertisers depend on Taboola's long-term partnerships and direct integrations with the world's top websites, mobile apps and mobile devices, to ensure that only relevant ads are displayed to users.
This means that by using this advertising platform for your next marketing campaign you won't be wasting money on people who aren't interested in your product and you'll potentially gain a much higher return on investment than if you had to advertise on other platforms.
10. Bidvertiser
Bidvertiser allows you to optimize your campaign while taking a closer look at every part of traffic you receive, so you know exactly what to improve.
This platform is great for companies that want to automate their marketing campaign but don't have the advertising budget or staff numbers to do so.
By using Bidvertiser you get access to an automatic bid management tool that enables you to pay per click, pay per website visit or pay by impression (so it's less risky than bidding on a cost-per-sale basis).
Optimization, bid-override, and postbacks are all used to ensure that you succeed. You may target your ads as precisely as you want thanks to specific segmentation: Geo-targeting, user agent, device or browser, internet service provider as well as smartphone carriers.
With this fine level of targeting, you can ensure you are reaching your perfect audience.
You can target people who have never visited your site before, people who have visited it in the past, people who visit frequently, or any other combination of targeting parameters that will allow you to reach your goal.
By being able to segment traffic and display different ads to different people, Bidvertiser can tailor ads specifically for each user. It also has an advanced feature called the bid-override system which enables you to set a daily budget and then manually bid in real-time based on what type of traffic is being sent.
Only traffic sources that have been pre-screened are included in this ad network. This is possible because all traffic going to your ads would have passed through a specific screening system to ensure it meets high-quality standards before it is included.
11. RevContent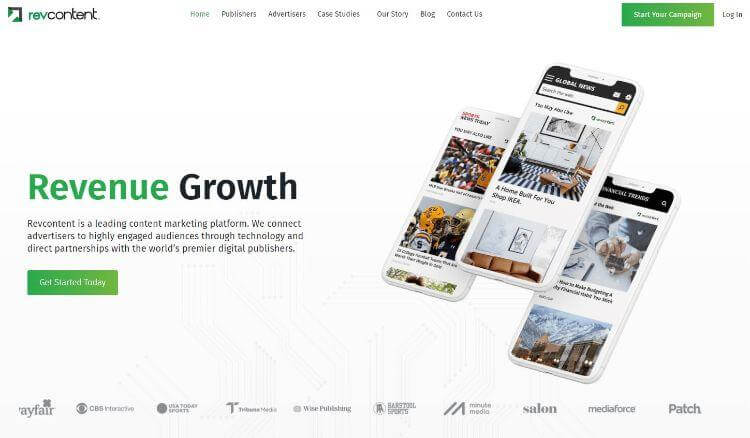 RevContent is a world-renowned content marketing platform.
They use technology and direct partnerships with the world's major digital publishers to deliver relevant content to users, which results in more effective ad campaigns that can do everything from increasing sales and e-commerce revenue to generating leads.
Connecting advertisers to highly engaged audiences is their main objective and they use their expertise to keep things fresh and relevant so that your customers will be provided with what they need (and want).
Put your material in front of a highly interested audience on the world's most popular publication sites to make your marketing strategy more effective. As an advertiser, you don't have to worry about costly ad placement or anything that wastes money.
They use the cost per impression model which means it's incredibly easy to keep track of exactly where your ads are running and how much they are being shown for so you know exactly what type of return on investment you can expect.
No matter what stage of their journey your customers are on, RevContent can deliver a great experience to current and potential customers.
12. BuySellAds
BuySellAds allows you to get special reports and insights on industry trends in advertising. You'll have all the information you need to be successful, including analysis of ad revenue, breakout reports by category, and more.
This is an excellent option for small businesses because it is very targeted and cost-effective while also being easy to use.
By utilizing some of the most advanced technology in the industry BuySellAds allow users more control than ever before which helps you get a higher click-through rate and ultimately more conversions.
Reach targeted individuals at scale, regardless of how big or little your target market is. They allow you to choose the type of people who see your ads, where they see them, and what type of content is displayed with your ad.
Choose from native advertisements, emails, sponsorship on newsletter, paid content advertising, podcast ads, native advertising, and more to help you connect with your ideal clients.
BuySellAds is an ad network that focuses on split testing and has a lot of experience and knowledge when it comes to advertising in this industry.
They also provide excellent customer service with live chat – using BuySellAds will allow you access to better opportunities than ever before while saving time and staying within budget.
13. Adroll
If you are selling in the eCommerce world, then AdRoll is a solid option that provides many of the same benefits as other networks – but with better targeting.
Their technology allows advertisers to quickly become familiar with all of the available tools to make sure they are getting what they need out of this advertising network.
Target customers across online channels using powerful demographics, geography, behavior, social metrics, and more.
With more than 22,000 brands who trust their business to AdRoll, you know you can rely on them to provide your business with a great return on investment and new customers.
With AdRoll, you can target your ads to a specific audience and track their response rate without requiring any technical knowledge.
You'll be able to access all of your campaigns in one place and gain thorough insights about them so you can adjust as needed.
Other channels worth mentioning
Before closing off this section, I also want to mention a few other digital advertising platforms that might be worth considering depending on your business.
These include:
Twitter ads: sponsored tweets can bring in a ton of traffic if your audience is active on this social network
Yahoo native ads: This is another search engine that you can use to bring in targeted traffic to your website
Snapchat: Advertising on Snapchat can be profitable if your target audience is found on this social media platform.
Pay per install networks: These networks (such as CPALead) allow your content to be unlocked after an action is taken by a user. For example, users might have to download and install an app to be able to access protected content. As an advertiser, you will only be charged once someone completes the desired action.
Types of pay-per-click advertising
With so many different advertising networks available, it can be tough to decide which one you should work with or will bring in the best results.
Finding the right type of website traffic for your business is crucial, so here's a quick guide to some of the types of advertising the above platforms offer. We'll also look at the specific benefits and drawbacks.
Display ads
This type of advertising can sometimes come across as aggressive, especially when it's the only form of advertising you're using, but done well, they can provide your business with a huge amount of exposure.
It's highly advantageous for advertisers to set up display campaigns because they tend to have higher click-through rates than other types of digital ads. They also allow marketers to reach their target audience with relevant ads next to valuable content.
This all means more conversions and fewer blind clicks.
The main benefits of using display ads are:
High visibility – you will be able to reach your target audience directly
Flexibility – there is a high level of control over where and when your ads are displayed
Higher conversion rates – through being more targeted towards your demographic, you have a better chance of converting landing page visitors into customers
Well work with retargeting – If you're already running other campaigns such as retargeting (more on this later), then this will create a positive synergistic effect. Retargeting ads tend to perform better than original ad sets because they combine precise targeting of people who have already been exposed to your brand.
The main drawback of display advertising is that it can be expensive and tends to only target people who are actively looking for a product or service like yours.
Video ads
There are many benefits to using video advertising over other types of PPC ads. The biggest advantage is that it allows you to engage your audience differently than other forms of marketing while connecting with them on an emotional level.
When compared to standard search ads, videos tend to have higher click-through rates and provide improved brand awareness.
Lengthy web pages can make potential customers zone out but when you use videos to explain the right concepts and ideas, they will be able to gather the information they need quickly.
Using video advertisements can also help draw in traffic by giving consumers useful insights into how your product or service works.
The benefits of using video ads are:
Videos are engaging and can provide the right mix of education and entertainment which means that people will choose them over other types of ads.
Video advertisements provide you with the option to use sound along with your video, which can help boost engagement rates. You can (and should) also include subtitles to allow people who watch your video ad muted to still understand what your company is all about.
Social media ads
Social media advertising is highly effective at targeting specific demographics, making them great for reaching out to existing customers, driving sales, or increasing brand awareness.
They provide an innovative way for marketers to target the right audience, allowing them to place ads where users already spend a ton of time.
Social media advertisements that use videos can also help generate more leads and improve conversion rates because the content is delivered in an engaging format that's easy to watch and understand.
This type of advertisement also offers a high degree of targeting so it doesn't waste money on people who aren't interested in your brand and it has a better chance at reaching those who are. This all results in higher quality leads for your business.
You get to choose what audio or visual aspects you want to emphasize, including images, headlines, body content, voiceovers, and images.
Using social media ads as part of your PPC strategy has many benefits such as:
Targeting people who are similar / have similar interests to current customers (also known as lookalike audiences) – means that there's a higher chance that these people are interested in what you have to offer.
You have control over the level of creativity in your ads – this can help improve engagement with users.
The targeting capabilities available allow you to reach out to specific demographics without wasting money on ones that won't yield the results you want.
Retargeting ads
Just because someone has visited your website once doesn't mean they are necessarily ready to buy from you or that they will remember your business the next time they're looking for a similar product.
Retargeting ads provide an innovative way for marketers to stay top of mind with customers across multiple platforms including Facebook, Instagram, Google, and more.
This form of advertising works by using cookies (which are tiny pieces of data that are stored on an individual's browser) when visiting certain websites.
They can then be used to track specific data about the user such as their geographical location, interests, age range, and pages viewed on your site.
This allows you to target individuals who have already shown interest in your brand but didn't buy – instead of taking a gamble on new people who may not be interested in what you're selling.
The benefits of using retargeting ads include:
Reaching out only to those who have already shown interest in your brand instead of wasting ad space on users who are not familiar with your business.
You can create highly targeted ads that give you a better chance at increasing conversion rates.
Social media platforms like Facebook give the ability to retarget very specific demographics, interests, and even hobbies which allows marketers to hone in on their ideal customer base.
Wrap Up.
In conclusion, the right advertising platforms can make a big difference to your business because they allow you to reach the people you want without wasting money on those who are not likely to purchase.
By using the right digital advertising platform, you can also benefit from increased leads and conversions that will help contribute to the success of your business.
By now, you should have a better understanding of each of the digital advertising platforms where you can advertise your business.
Keep in mind that while some might be the perfect fit for your business, others might not work at all. For this reason, it is crucial to do your research and carefully analyze each potential platform before deciding on the right one to go with.
What are your thoughts on the digital advertising platforms mentioned in this article? What do you think are the best ones available right now? Feel free to leave a comment below with your thoughts.
Related Reading: Ensure that your website can handle the traffic that you get from online advertising – here are the best web hosting services available right now.
The right web host ensures that you are prepared to serve current and future customers as soon as they land on your site.
Disclosure: I may receive affiliate compensation for some of the links below at no cost to you if you decide to purchase a paid plan. You can read our affiliate disclosure in our privacy policy. This site is not intending to provide financial advice. This is for entertainment only.