Best Blogging Websites Examples To Inspire Your Own Journey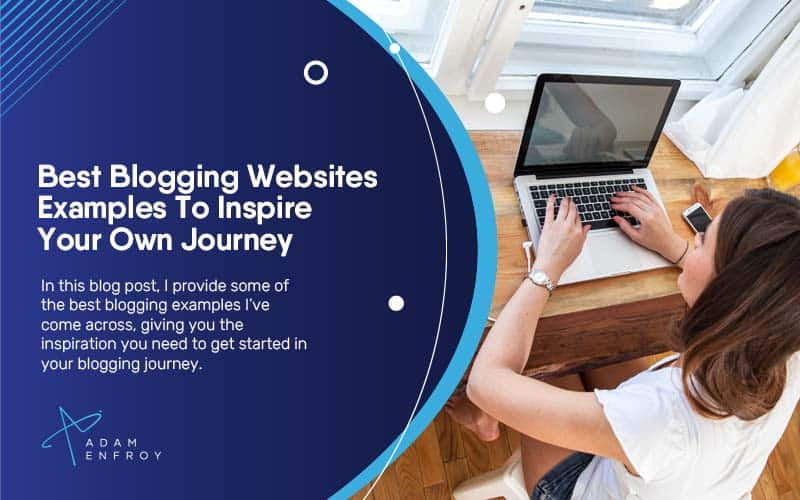 When starting your blog, having examples of successful blogging websites is like having a roadmap.
You don't have to reinvent the wheel or waste time on trial and error.
You can be confident that your actions will lead you to achieve your short and long-term goals.
And having such clarity can mean the difference between quitting and conquering.
In this blog post, I'll provide some of the best blogging examples I've come across, giving you the inspiration and guidance you need to succeed in your blogging journey.
The Best Blog Examples To Consider
Here are some of the best examples of blogging websites available.
1. TechCrunch.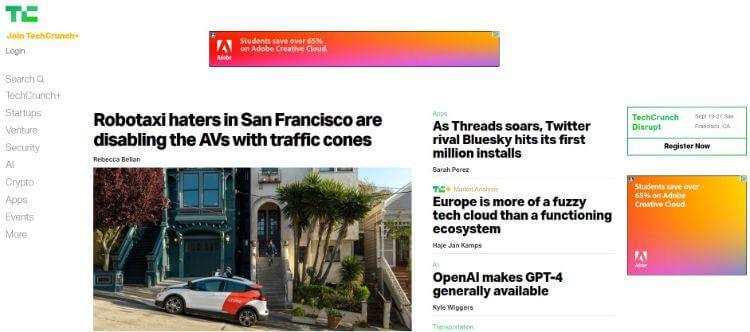 TechCrunch is a premier blog focusing on news and technology industry analysis.
This WordPress VIP site is a go-to source for startup founders, investors, and anyone who wants to know about the latest trends in tech.
One of the standout features of TechCrunch is its clean and reader-friendly layout.
The website is well-organized and easy to navigate.
It displays the headlines and snippets clearly to find the necessary information quickly.
The visuals are also eye-catching, which adds to the overall user experience.
TechCrunch's site is optimized for any screen size, whether you're using a desktop or mobile device.
If you're interested in startup investing, TechCrunch is an essential resource.
The site's coverage of early-stage startups and venture capital funding is unparalleled.
TechCrunch writers provide in-depth analysis of funding rounds, IPOs, and startup success stories.
By following TechCrunch, you'll have a better understanding of the startup landscape and be able to identify promising investment opportunities.
TechCrunch's focus is not just on startups but on the broader tech industry.
The blog covers news from top tech companies like Apple, Google, and Facebook.
You'll also find coverage of emerging tech sectors such as artificial intelligence, blockchain, and cybersecurity.
TechCrunch has something for you whether you're interested in consumer technology or enterprise software.
Finally, TechCrunch stands out because of its expert contributors.
The blog has knowledgeable writers who bring experience to their reporting.
TechCrunch's writers are not just journalists but also entrepreneurs, investors, and tech insiders.
They provide unique perspectives on the tech industry that you won't find elsewhere.
By following TechCrunch, you'll always be in the know about the next big thing in tech.
2. Beardbrand.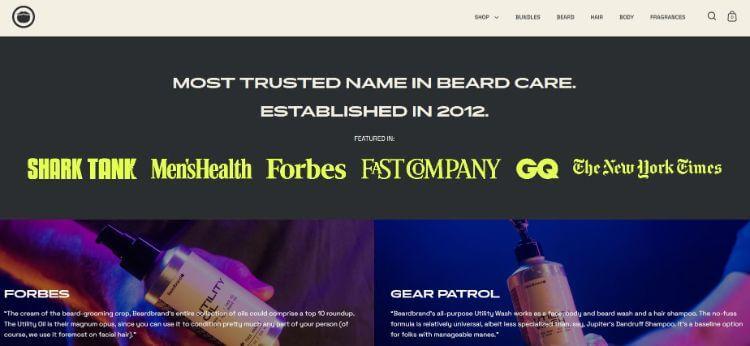 Are you a fan of beards?
Have you ever dreamt of joining a community where you can share your love for them and learn more about beard care?
Founded by Eric Bandholz, Beardbrand started as a passion project dedicated to creating a community of bearded men – and now, it's grown to become a beloved haven with a loyal following of millions.
What sets Beardbrand apart from its competitors is its focus on creating a community revolving around the brand and its love for beards.
The Urban Beardsman blog has over 800k organic monthly visitors and showcases grooming and style articles catering to the bearded man.
It's also a fashion and lifestyle blog that helps men discover their style, giving them the confidence to express themselves and stay true to who they are.
The blog also emphasizes the brand's mission to celebrate individuality and self-expression; it acts as a blogging platform to feature various bearded individuals and their personal stories.
Besides the blog, Beardbrand has a YouTube channel featuring Eric Bandholz, talking about everything beard-related.
From "Grooming Tips for Your Neck" to "The 20 Best Beards in the NFL", the channel has a wide range of content to cater to all beard enthusiasts.
The channel also includes product demonstrations and reviews, helping consumers choose the best products that fit their needs.
3. A Cup Of Jo.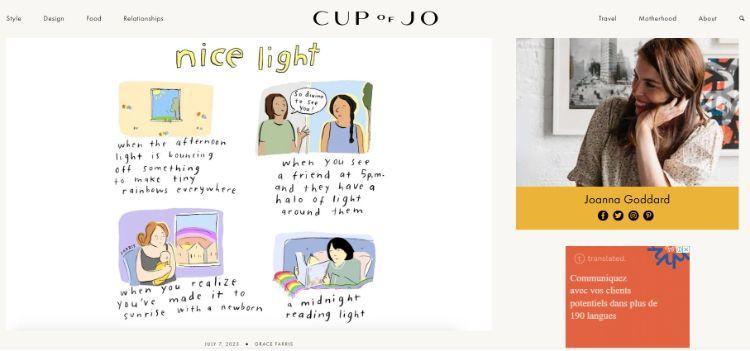 Joanna Goddard, a former magazine editor, initially started her blog, A Cup of Jo, as a creative outlet to share her personal experiences and thoughts.
But due to her excellent writing skills and compelling content, she immediately gained a massive following.
Her blog posts quickly garnered attention from readers and other bloggers, and soon her hobby turned into a full-time job.
Over time, she expanded her team with talented writers who created informative and engaging content to cater to a broader audience.
A Cup of Jo is more than just a blog.
It's a well-organized and visually pleasing platform with an easy-to-navigate interface.
The blog boasts various categories, including travel, food, web design, fashion, career, and relationships, making it a one-stop shop for all your interests.
A search bar on the website also allows readers to find any content they're interested in within seconds.
And for those with limited time, the website features popular article recommendations showcasing the most-read blog posts.
A Cup of Jo crafts its website using WordPress, a content management system people know for its versatility and user-friendliness.
The site has an elegant design with a clean, minimalist layout that's easy on the eyes.
The fonts are clear and legible, and the images are exceptional.
It allows readers to feel more engaged and explore the website more.
4. Zion Adventure.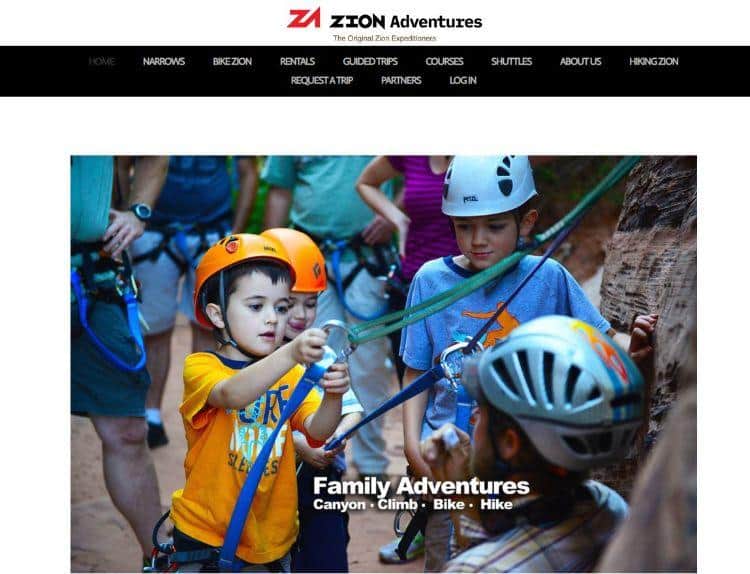 Zion Adventure takes you on a journey with Arika, the talented adventure photographer, and blog founder, through her captivating storytelling and mesmerizing photography.
With the fantastic Wix-design layout and gallery, Zion Adventure will transport you into each photo and make you feel like you are accompanying Arika on every hike.
Not only will you experience the beauty of nature through Arika's photography, but you'll also learn how to take your breathtaking photos.
Arika shares her knowledge of the different settings needed for capturing the beauty of nature in its most actual form.
You'll learn how lighting conditions impact photos and how to experiment with different angles to produce the perfect shot.
With Zion Adventure Photog guiding you in your photography journey, your photos become art pieces.
At the heart of Zion Adventure Photog is the passion for adventure.
Arika and her blog team are fearless in pushing boundaries and taking on daring challenges.
Each experience will inspire you to take on your adventures and find the thrill you crave.
The blog's daredevil atmosphere will make you want to pack your bags and hit the road.
A significant plus of Zion Adventure Photog is its simple and easy-to-use design.
The homepage is inviting, with awe-inspiring travel shots ready to take you on your next journey.
The blog is ad-free, making for an uninterrupted experience.
The design focuses on what is most important, captivating photos and inspiring tales.
It's the perfect place to escape reality and indulge in the beauty of nature.
5. KnowTechie.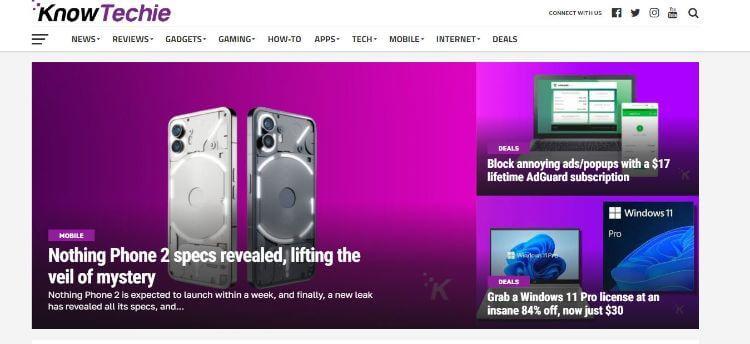 If you want to stay updated with the latest tech trends, KnowTechie should be your go-to website.
This high-traffic website provides content for technophiles in a visually engaging format.
You can browse various categories, including news, reviews, tips, and tutorials.
Whether you're interested in smartphones, smart home devices, or video games, KnowTechie has got you covered.
The website's homepage features well-crafted featured posts, making navigating its content easy.
KnowTechie's expert team of writers delivers high-quality articles that catch your attention from the start and keep you engaged.
Their writing style is simple and easy to comprehend, making them perfect for non-technical readers.
If you're looking for detailed reviews of the latest tech products, KnowTechie has it.
Their reviews are informative but don't overburden you with technical jargon.
The website strikes the perfect balance with its review titles and product images.
Whether you're in the market for a new smartphone or gaming system, KnowTechie's reviews will provide the information you need to make the best-informed decision.
The website also presents its news section chronologically, keeping you up-to-date with the latest tech updates.
The website updates its content regularly, ensuring you're always in touch with the latest happenings in the tech world.
You'll always catch a hot topic with KnowTechie as your source for all things tech.
6. We Talk Money.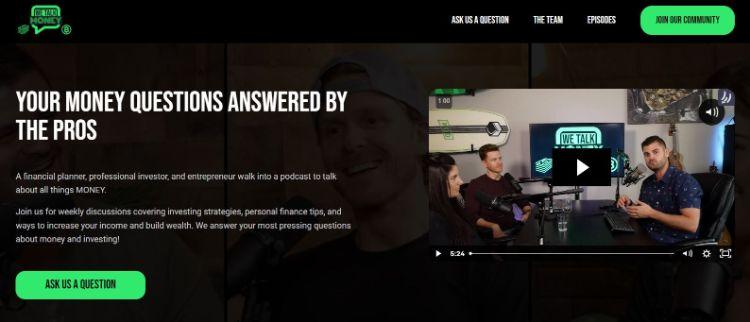 Money management is undoubtedly one of the most critical aspects of our lives.
Unfortunately, not everyone is well-versed in dealing with finances.
Therefore, it's crucial to have a go-to source of information to guide us through money management's murky waters.
That's where We Talk Money comes in – a financial blog in Australia that provides you with unbiased, reliable, and balanced recommendations.
Having trustworthy content is the cornerstone of We Talk Money.
It explains why they thoroughly research each post before publishing.
Once you click on their blog, you'll notice each article's concise and informative nature.
No unnecessary words exist – just straight-to-the-point facts and advice on various topics such as budgeting, real estate investments, retirement planning, and more.
We Talk Money is a must-read blog regarding financial knowledge and guidance.
Be sure to check them out for all the latest financial updates and advice.
The content provided by We Talk Money won't just give you an edge – it will give you the confidence to make informed decisions about your finances.
7. The Verge.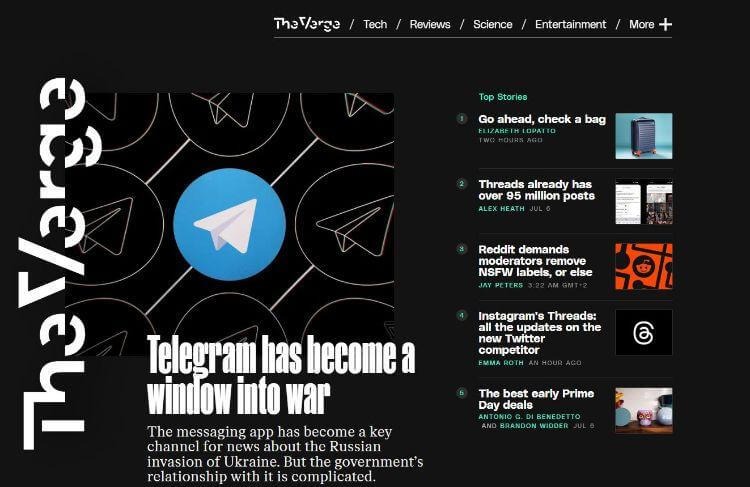 The Verge covers everything from the latest smartphones and laptops to the most incredible wearables and gaming consoles.
Their comprehensive reviews and analysis will keep you up-to-date with the latest tech trends.
They also explore the fascinating world of artificial intelligence (AI), virtual reality (VR), and other emerging technologies transforming our world.
Science is the backbone of innovation and discovery, and The Verge is committed to bringing you the latest developments in this field.
Whether it's medicine, space exploration, or renewable energy, they cover it all.
Their articles and videos educate and inform even the most casual reader.
The Verge also covers the fun side of technology and science by exploring the entertainment world.
From the latest movies and TV shows to the hottest music and video games, their content will keep you up-to-date with the exciting world of entertainment.
8. Engadget.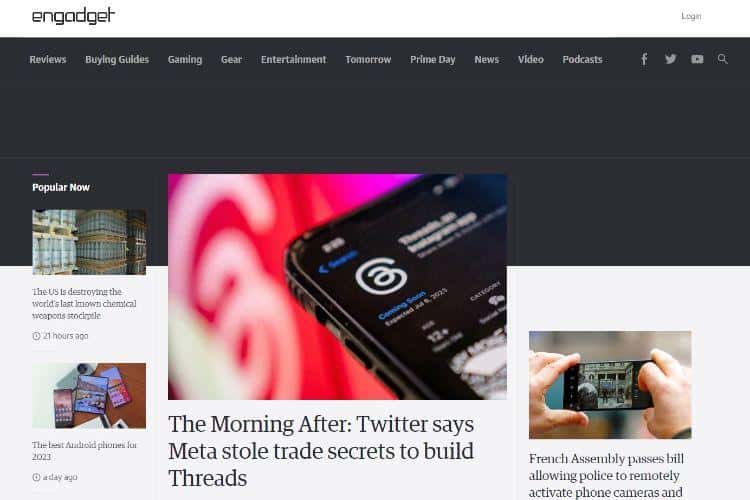 As a tech enthusiast, you want to be the first to know about new gadgets, consumer electronics, and exciting tech deals.
You want to dive deep into the world of technology and learn more about the latest innovations shaping our world.
And that's what Engadget provides – a one-stop shop for everything tech-related!
The Engadget homepage is a captivating collage of photos and headlines showcasing the latest hottest tech tools.
The page is carefully curated to ensure that the most recent articles lead the way, accompanied by captivating summaries and eye-catching visuals.
You're always up-to-date with the latest news and findings from the tech world.
One of the standout features of Engadget is its review section, where you'll find detailed and unbiased reviews of the latest gadgets and consumer electronics.
Engadget's team of experts analyzes products, from smartphones and laptops to cameras and wearables.
The reviews help you make informed decisions when buying your next tech product.
9. Gizmodo.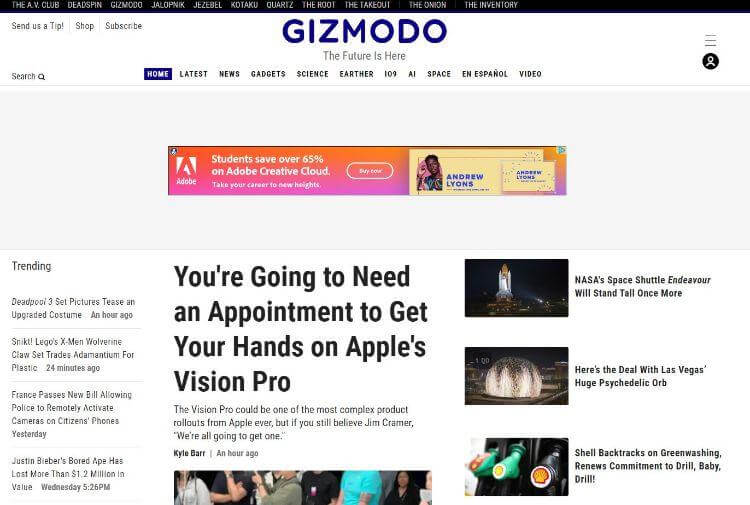 Gizmodo is a tech and culture blog founded by Peter Rojas in 2002.
Since then, it has grown into a leading online publication that covers not just tech but also science, entertainment, culture, and the environment.
Gizmodo's mission is to inform and entertain readers with its comprehensive coverage of the latest news, products, and trends.
From SpaceX launches to smartphone reviews, Gizmodo has it all.
Gizmodo is not just another tech blog.
It is a platform that caters to different interests and fields.
Its visual-focused homepage is user-friendly, making browsing through its different sections easy.
Moreover, Gizmodo's simple color scheme of black and white ensures you enjoy reading without unnecessary elements distracting you.
Gizmodo is not just about tech.
It's also about culture, science, and entertainment.
Gizmodo's sections include News, Reviews, Science, Design, Video, Podcasts, and more.
Each section has its unique content that caters to different interests and needs.
Many articles cover the latest breakthroughs and discoveries if you're into science and innovation.
If you're more into design, Gizmodo's Design section focuses on the intersection between art and technology, showcasing the latest architectural, product design, and graphic design trends.
Not to mention Gizmodo's entertainment section covers movies, music, and pop culture.
10. MyFitnessPal.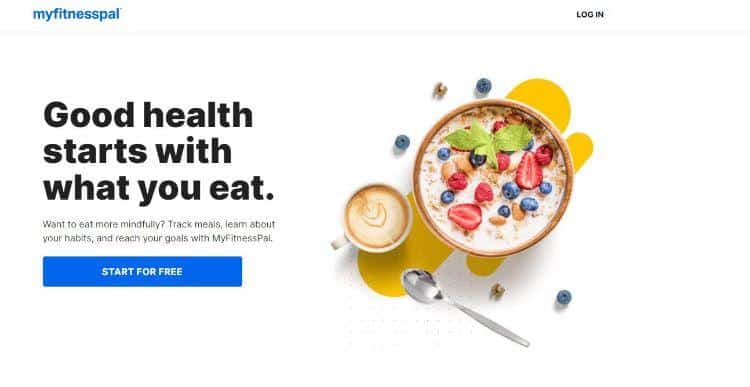 The journey to achieve your health and fitness goals can be challenging.
MyFitnessPal is one of the best lifestyle blogs that offer a wide range of curated content to help you achieve your goals.
Whether you want to lose weight, build muscle, or eat healthier, there's something for everyone on the MyFitnessPal blog.
If you're seeking expert advice and information, MyFitnessPal has you covered.
The blog features articles on nutrition, healthy lifestyle blog habits, and exercise science.
They also have a team of certified experts who answer questions related to diet and exercise.
MyFitnessPal also offers an array of recipes and meal plans for different goals and lifestyles.
The blog has something for everyone, from vegan meals to balanced diets for weight loss.
Not only that, but MyFitnessPal also has immersive workout guides featuring step-by-step instructions with photos and videos to help you get started on your fitness journey.
11. Ben Greenfield Fitness.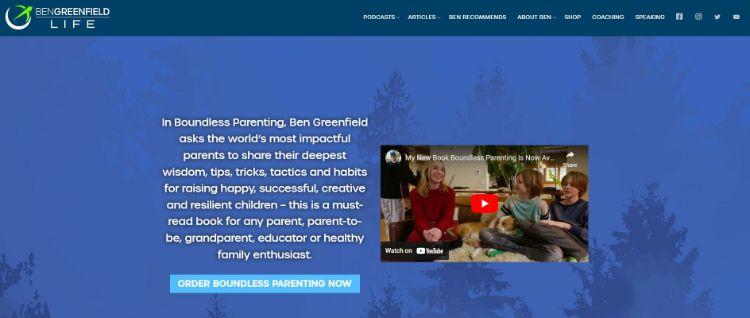 Backed by science and years of experience in the field, Ben Greenfield Fitness is another great blog example to consider.
It offers a wealth of nutrition, wellness, and fitness tips to help you achieve your goals.
Whether you want to lose weight, build muscle, or improve your overall health, this blog is a must-read.
One of the best things about Ben Greenfield Fitness is the diverse topics covered on the blog.
From low-carb and ketogenic diets to supplement regimens, spiritual books, and anti-aging protocols, you will find something that interests you.
The articles on Ben Greenfield Fitness are informative and backed by science.
Ben Greenfield himself is a New York Times bestselling author and renowned speaker, so you can trust that the information on this blog is reliable.
In addition to the blog, Ben Greenfield offers a cookbook website to access his latest cookbook.
With delicious and healthy recipes, you can learn how to fuel your body with the right foods to support your fitness goals.
The cookbook website is user-friendly and easy to navigate, just like the blog.
You can find recipes based on your dietary needs, cooking method, or ingredients.
12. The Confident Teacher.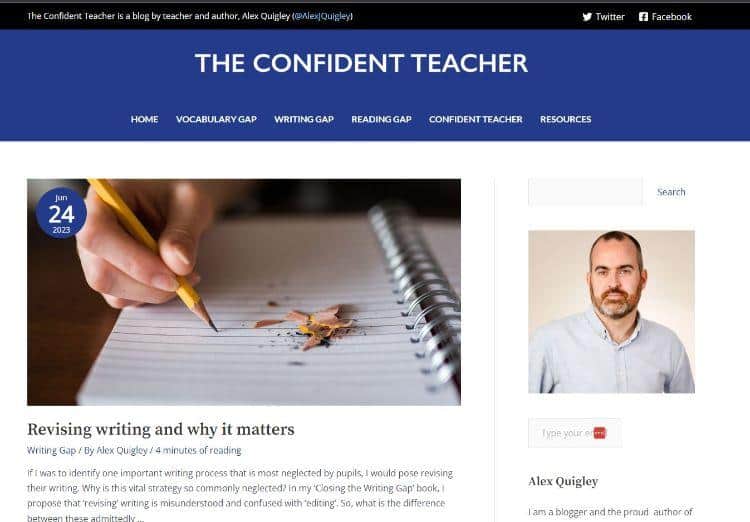 The Confident Teacher offers a wide range of content, from practical advice on classroom management and differentiation to an in-depth exploration of teaching theory and pedagogy.
Whatever your experience or subject area, there is something for everyone here.
And because The Confident Teacher regularly updates the site with new content, you can be sure that you are always getting the latest and most relevant information.
Another great feature of The Confident Teacher is the community aspect.
You can join discussions with other educators, share your expertise, and get feedback on your ideas.
It creates a sense of collaboration and support invaluable in the often-isolating teaching world.
Plus, it is always helpful to hear from peers who can offer different perspectives and insights.
Exploring Different Blogging Niches
From culinary blogging that satisfies users' cravings with gourmet recipes to lifestyle blogging that chronicles daily moments and highlights fashion and lifestyle at its best, there is something for everyone in the blogging world.
You can also create personal blogs, sharing insights and experiences that inspire readers.
Travel blogging is a great way to explore different cultures through captivating stories and personal experiences.
And for those looking to maintain a healthy lifestyle, there are fitness and food blogs that explore the intersection of health and gastronomy.
Health and fitness blogs also provide information on supplements and tips for achieving a healthy and balanced body.
Effective Content Strategies
Here are several critical components of a successful content strategy:
Simplicity in Blogging: A less is more approach works wonders, as seen in popular blog posts with concise yet thought-provoking content. Your blog post title is also essential in SEO, and you must optimize them to ensure visibility in search engines and attract the right audience.
Consistent Posting: The key to audience engagement is crucial in retaining subscribers and maintaining relevance in digital marketing blogs.
Visual Storytelling: The power of imagery in blogs has shifted the dynamic for content marketing, with photography blogs providing the best examples of how stunning visuals can captivate readers. Some of the best photography blog examples feature high-quality visuals that will make an impact.
Relevant Resource Links: Linking to other relevant and valuable resources can help boost your SEO rankings and lead readers to further helpful content. If you have your own photography blog, linking to a successful blog around similar topics can be beneficial.
The Role Of Design In Blogging Websites
Both web and blog design plays a fundamental role in creating an admirable blog.
Several blog design examples show the importance of website design, beautiful blogs, templates, and typography in captivating readers.
In addition, having different blog subcategories like interior Design (on a design block), Design Hacks (on a day-to-day living blog), or Educational Articles (on a nutritional site) can enhance the blog's topics.
Enhancing the reader's experience through various headings, content, and linking to other website examples adds to the blog's value.
Bloggers can even go deeper if desired.
For example, educational design blogs can focus on new bloggers, offering beginner tips and tricks when starting a blog.
The deeper you go with your research, the more knowledge you can offer your readers.
Leveraging Social Media For Blog Growth
Content marketing and social media can boost branding success, especially in niches like e-commerce and travel.
Social content can establish a company's reputation and credibility, engage customers, inform prospects, and drive sales.
Additionally, taking a leaf from blogs on social media management can assist in organizing the digital chaos involved with maintaining a popular blog.
For example, visual marketing blogs emphasize the impact of images in social media, which can be powerful for engaging with readers.
Well-crafted images and effective captions can be a great way to drive conversions.
Wrap Up.
Even if your small business is in a different niche from the above, such blogging websites can still teach you something you can implement.
Whether you're looking for tips and strategies to help build your community, share your content, or even explore the latest educational theories and pedagogy, these sites have something for everyone.
As blogging becomes more popular, knowing how your target market consumes its content is vital.
Keeping an open mind and experimenting with different techniques can help you create the perfect user experience for your readers.
Further reading on AdamEnfroy.com: Want to learn how to monetize your blog?
Here are the best ways to make money blogging.
Moreover, as you dive deeper into your blog and what makes it successful, you can also find useful tips and tricks for SEO optimization.
Editorial Process:
Our reviews are made by a team of experts before being written and come from real-world experience. Read our editorial process here.
Some of the links in this article may be affiliate links, which can provide compensation to us at no cost to you if you decide to purchase a paid plan. These are products we've personally used and stand behind. This site is not intended to provide financial advice. You can read our affiliate disclosure in our privacy policy.