Dropshipping 101: How to Start a Dropshipping Business (2023)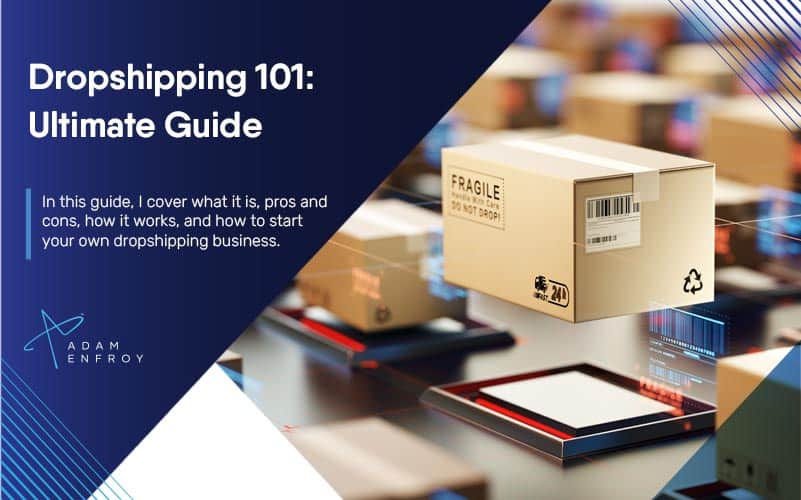 Everyone is looking to start a side hustle these days. In fact, according to statistics, as many as 44 million Americans have a side hustle. And this where dropshipping comes into the game.
If you want to earn a decent passive income by launching your own ecommerce store but are skeptical about the complexities of inventory management, shipping, and order fulfillment, then dropshipping is the perfect option.
However, if implemented correctly, dropshipping can help you make a lot of money.
In this ultimate guide to dropshipping, we cover everything from what it is, how to get started, the pros and cons, mistakes to avoid, to how to run and grow a successful business.
Let's get started.
Disclaimer: This article contains affiliate links that I receive a small commission for at no cost to you. However, these are merely the tools I fully recommend when it comes to starting a dropshipping business. You can read my full affiliate disclosure in my privacy policy.
What is Dropshipping?
Dropshipping is a retail fulfillment method where online stores market products but don't own or maintain an inventory. Instead, customers purchase items from retailers but the manufacturer handles the shipping.
This is the biggest differentiator between this model and and a traditional ecommerce business – no need to handle inventory and shipping.
This is huge, as it allows almost anyone with an internet connection, a website (and some marketing skills) to open their own online storefront and get a cut of all sales they generate.
In addition, it's as easy as ever to source products through a third-party supplier as business owners.
This ensures that the target audience finds what they're looking for.
While the profit margins aren't usually as high with drop shipping for store owners, many of them focus on high AOV products to make up for it.
Let's look at the old model of retail vs. dropshipping.
Let's consider someone making a purchase at Best Buy, one of the biggest electronics retailers in the US.
A customer walks into Best Buy, buys a new smart TV, pays their bill, and walks out. In this case, Best Buy has to purchase the TV wholesale from the manufacturer and store it in their retail location so that the buyer can preview it and take it home.
Not only that, but they also have to pay for retail space to keep it on display, hire workers to move the products from storage, hire workers to collect payments at the cash register, hire security guards, and (in the case of ordering from BestBuy.com), ship the TV themselves.
It's a lot of work and all of the manual labor drastically cuts down on profit margins.
Dropshipping cuts out a lot of these steps.
In this instance, a customer visits an online retailer and purchases a Samsung TV. The dropshipper then sends the customer and order information to Samsung and that's it.
No workers to hire, no products to display, and no physical retail space.
Here's a simple breakdown of how dropshipping works: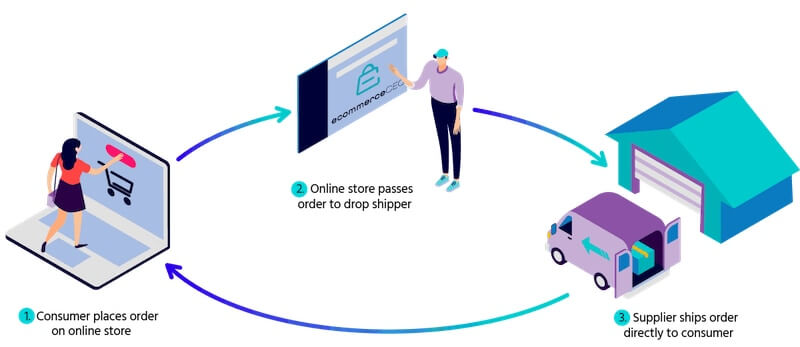 It's inexpensive to start this type of business – all you need is some online software and access to dropshipping suppliers.
Have a look at these dropshipping statistics:
In the year 2016-2017, around 23% of all online sales, which amounts to $85.1 billion, were made via drop shipping.
In fact, even Amazon made 34% of its total sales via drop shipping, way back in 2011. The numbers have only increased every year.
And it's a very lucrative medium of conducting business. A study proves that manufacturers who do business with dropshipping retailers end up earning 18.33% more profit than those who rely on more conventional channels.
Here the exact steps required in a drop shipping purchase:
You (the retailer) market products online.
You attract an online consumer to make a purchase.
You forward the buyer information to the manufacturer, wholesaler, or distributor, along with order details.
The manufacturer ships the items to the customer.
With this model, the customer is not aware that the online store they purchased from did not actually ship the products. This is especially true if the manufacturer adds retailer packing slips in the boxes.
Overall, dropshipping requires a good deal of trust and a long-term partnership between retailers and distributors.
Ready to start drop shipping? Get started with a 14-day free trial of Shopify.
The Importance Of Defining Your Niche
Starting a drop shipping business is relatively easy. You have to:
Sign up for an ecommerce platform and design your website.
Sign up with a dropshipping supplier and choose your products.
Add or sync the product to your store.
Set up your tax and shipping settings.
Test your checkout process.
Launch your website.
That's about it. As long as you have a functional website with a home page, product pages, and the ability to buy products, you have an online store.
For example, you can use an ecommerce tool like Shopify, automatically sync your products with a dropshipping site like Inventory Source, and get your website up in a day or two.
If you need help setting up your drop shipping store, one great resource is Fiverr. They have a dedicated area of dropshipping freelancers who can help with anything from setting up your ecommerce platform, designing your store, and syncing your inventory.
Check out Fiverr's dropshipping experts here.
How Do You Start a Dropshipping Business?
The importance of defining your niche cannot be stressed enough – you can't become a successful drop shipper without first setting yourself apart from the competition.
If you are starting a dropshipping business from scratch, it is extremely important to choose your niche before you even start choosing products to sell.
In the realm of eCommerce, if you aren't different from your competitors, then there is simply no reason for customers to buy from you instead of the other guy.
Having a narrow focus is a simple yet direct way to set yourself apart from the competition.
You might have a general idea of what you want to sell, but when it comes time to start looking for products, it's much easier to find, negotiate with and monitor suppliers when your focus is narrow.
It also helps if you're an expert in the fields that you choose.
It's All in the Marketing.
The challenge often isn't launching your store, it's marketing your store.
Here's an example from my life.
In 2017, I launched a drop shipping store in the outdoor adventure niche. I called it "Rebel Peak" and it had products at the intersection of camping and tailgating – truck tents, cooler speakers, camping gadgets – really cool stuff.
I spent hours and hours developing the perfect logo, site design, marketing collateral, etc.
But when I launched my store and started promoting it, it was a rude awakening. The camping niche was ultra-competitive.
I tried to post a few ads on Google Shopping and was competing with sites like Dick's Sporting Goods, Target, and Walmart.
The competition was high and the margins were low.
Ultimately, I gave up and shut down the store.
The truth is, setting up any small business online is easy. Marketing is hard. I simply didn't have enough marketing experience at that point in my life to make it work.
Growing a website and getting traffic is a hustle. If I were to go back and do it all over again, I would have developed a different plan:
While paid traffic can test out your niche, it isn't sustainable. I would have focused almost 100% on SEO strategies to obtain free traffic over time.
This would have included aggressive guest blogging and link building to obtain backlinks and build Domain Authority (DA).
Let's break down more marketing strategies.
1. Marketing Your Store.
With intense competition in the ecommerce space, effective marketing is crucial.
First, you need to do thorough research on your target audience and attempt to solve a problem for them.
A product that solves a real problem is key. Then you can personalize your marketing efforts to this specific customer persona.
You should start by marketing your online store on the following channels:
Social Media.
Promote your store on social media channels like Facebook, Instagram, Pinterest, etc.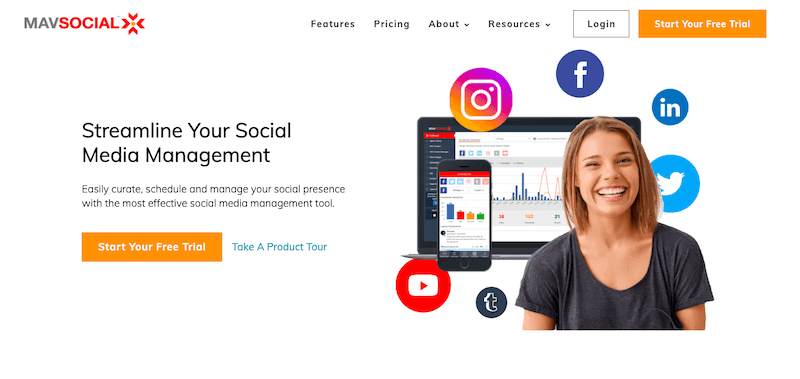 Here's a list of the best social media management apps that can help you promote your pages. You can also run ads on social media channels to reach your target audience right into their personal social media feeds.
Email Marketing.
It's one of the most effective forms of marketing for ecommerce businesses. Email marketing allows you to engage with your customers where they are – their inbox.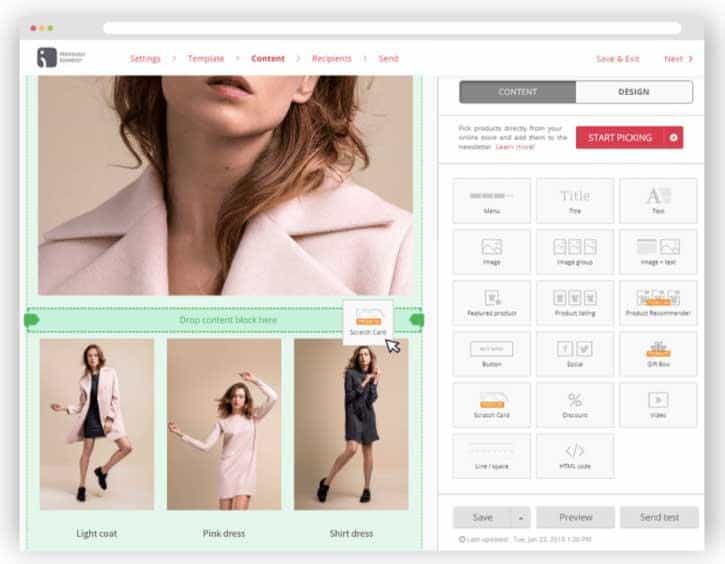 Use email marketing software to send welcome emails (with a discount) and abandoned cart emails.
Paid Ads on Google and Facebook.
As mentioned above, you can run paid ad campaigns on Google and Facebook. Here's a breakdown of some of the common types (and goals for each).
Google Search Engine Marketing (SEM) or Pay Per Click Advertising (PPC).
If you've heard of SEM or PPC (same thing), these are the ads that appear at the top of Google search engine results pages (SERPs). With this form of advertising, you choose keywords you want to bid on and create a text-based ad with a title and description. You also select a geographic area where you want your ad to appear, and a schedule of when the ad will run.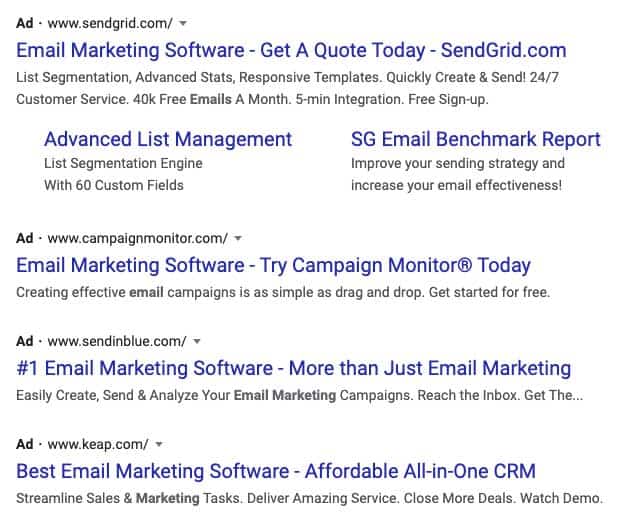 When a user searches for this keyword and clicks on your ad, you pay Google for that click. This is called cost-per-click and this number is dictated by the competition and who else is bidding on your keyword.
While this form of advertising can get you a lot of clicks and quickly test products, I don't recommend it for new dropshippers as it can get extremely expensive very quickly.
Google Shopping.
Instead of text-based PPC ads, ecommerce retailers more commonly use Google Shopping ads.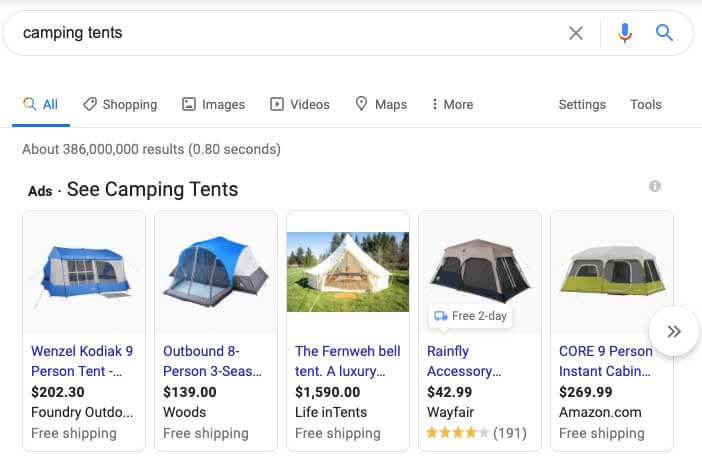 These ads are created by uploading a product feed and appearing for searches related to your keywords. The ads have images and texta and are placed next to competitor ads so consumers can compare pricing.
Google Shopping is a great competitor research tool to check and see how saturated your niche is. If you're starting a new drop shipping business and see that your products are competing with massive national brands, it may be time to rethink your strategy.
While there are tons of other ecommerce marketing strategies (that I wrote about in my guide here), those are some basics for now. Let's move onto the next strategy to think about when starting your business.
2. Maintaining Inventory.
While the dropship business model doesn't require you to store inventory, it's a good practice to keep a tab on the inventory of the suppliers' warehouse since you'll be selling their products under your brand name.
The good news is that numerous advanced inventory management software and multi-warehouse drop shipping management software tools are available on the internet to help you manage and track the inventory easily.
Take the example of Ecomdash.
It has revolutionized the automation software market for dropshippers with multiple order fulfillment centers.
Keeping track of your inventory with a tool like inFlow Inventory can help you:
Avoid unpleasant surprises after a customer places an order (that could have been avoided if the information was available that it was out of stock)
Helps you make re-orders in time
Helps in improved two-way communication with customer (improves customer experience)
3. Provide Impressive Customer Support.
With the global income levels rising, and massive competition across all forms of businesses, there has been a standardization with respect to the product and service they provide.
One of the differentiating factors is expected to be excellent customer support.
Some of the common platforms you can use to provide exceptional customer service are:
Telephone
Social media platforms
Emails
Live chats
A 24/7 help-desk is also an aspect that you should look into as your business continues to mature.
4. Product Exchange and Refund Policy.
Your exchange and refund policy is a glaring touchpoint of the drop shipping business that can make or break your business.
With the popularity of social media, communication is no longer a challenge. However, in the case of online retailing, positive word-of-mouth marketing can do wonders for your business, but negative word-of-mouth can prove to be detrimental.
If you want to earn the goodwill of your customer, then make sure to take prompt action any time a customer requests for product exchange or refund.
Handling customer complaints and product exchange and refund policies reflect the culture of the company and how much they prioritize their customers.
Providing a high level of satisfaction to customers here can result in improved Customer Lifetime Value (CLV) as well as the generation of new customers.
Here's an example from the return and refund policy of Gymshark.
As you can see, the return policy makes it effortless for the customer to return the wrong product.
However, refunding dropshipped products is a bit different than a traditional ecommerce site.
Here, you'll have to collaborate with the supplier to successfully collect the product from the customer and then issue an exchange or refund.
These points are by no means a comprehensive insight into what you must do to run a drop shipping business. But following them will help you tremendously in setting up and running your drop shipping business.
How to Grow Your Dropshipping Business?
Keep one thing in mind — the dropshipping model is a slow business model.
Expectations of a very steep growth and large profit margins in a short span of time are unrealistic. Instead, the business model requires long-term investment for it to grow into a profit-generating entity.
But that doesn't mean you should let up on all the impressive work you've done over the days. Now, you need to focus on scaling up and growing the business.
Taking the following measures can help you grow your drop shipping business:
1. Use Multiple Channels.
It's never a good business idea to place all your eggs in a single basket. Thus, it makes sense to take advantage of the multiple channels available to you, including Amazon, Alibaba, eBay, and more.
This way, the number of customers you can reach out to increases exponentially. Catering to such a broad audience is impossible if you use only one channel.
However, when you are using multiple channels, you must ensure your top-selling products are always stocked and ready for shipment. Otherwise, if you sell the same product on different online stores, and the number of customer purchases is very high, the product can quite easily run out of stock. Out of stock products give rise to backorders and may cause a significant delay in delivery. This may create a negative customer experience.
Once you've ensured that you are stocked-up, you can even target audience globally.
2. Build Dropshipping Stores.
While using multiple channels when having a dropshipping business idea can help with the profit margin, it's also essential to build your own store to enhance your brand image.
Building your drop shipping store has many benefits attached to it, like:
Greater control over website's user-interface
Greater control over products, stocking, and marketing
Better decision making when it comes to discounts and bundled sales
Control brand positioning and brand imagery
The ability for owners to have their own dropshiping stores also means they don't have to pay a commission to online vendors to showcase their products. As a result, the profit margin per product increases, ultimately translating into higher revenue.
You can use several online websites and ecommerce store builders to create your store. Most of these builders come with attractive templates and various marketing and analytical tools to help you grow your store.
Check out my review of some of the best ecommerce platforms to choose the best option to build your dropshipping store.
3. Leverage Email Marketing.
According to email marketing statistics by Oberlo, at $32 return for every $1 invested, email marketing offers one of the highest rates of ROI.
That's why it's essential that to make drop shipping profitable, you focus on your email marketing strategy.
For that, first, you need to build an email list that consists of a relevant audience. The best part about email marketing is that it gives you direct access to the leads who have willingly subscribed to receive your emails.
To build your email list, you can pique your audience's interest by offering something valuable for free.
Take a look at my email form: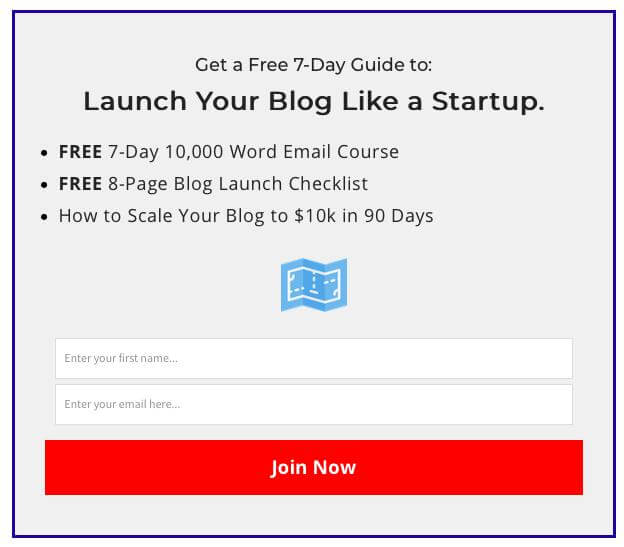 To encourage my readers to subscribe to my email list, I offer them a free email course upon registration.
After you build your email list, make sure to engage your audience regularly. Send out follow-up emails, offer discount coupons to give them a nudge to buy from your store, and more.
However, don't go about flooding your subscribers' inbox every other day. Let them know how frequently you plan to send email newsletters and then follow through the promise. A very high frequency of emailing can work against you and make customers unsubscribe.
4. Use the Right Channels For Advertisements.
While proper investment is required for your business to take off, spending money in the right places is imperative for the money to pay dividends.
That's why, before increasing your marketing budget, you should spend time doing appropriate market-research. Try to identify the advertising channels that can help you maximize customer visits on your website.
For a drop shipping business, where you lack a physical shop, it's crucial to take advantage of online advertisement modes like pay-per-click (PPC). Running ad campaigns is easy across several social media platforms like Facebook, Instagram, and Twitter, among others.
Make sure you don't waste your money spending it on websites that bring in low traffic.
Here's an example of a dropshipping business done right:
Ad campaign budget optimization, among other measures, worked wonders for both Andreas and Alexander. They optimized their Facebook ads in a way to receive maximum returns.
5. Use Video Advertisements.
Video marketing is the new medium of reaching out to your customers.
Here're some statistics that will make you realize the amazing advantages of video advertisements:
82% of Twitter users use video
More than 500 million hours of video are watched on YouTube every day
33% of online activity is spent on watching videos
85% of US internet audience watches online videos
Video has the power to reach a massive audience, thereby increasing your reach by many times.
Apart from advertising your products and brand, video advertisements have the power to do a lot more, such as:
Customer engagement
Making your leads click-through and arrive at your store
Influence your potential customers to buy your product
To reach your target audience, you can stream your video on social media platforms, YouTube, or purchase advertising space on a third-party website to increase your visibility.
Pros of Dropshipping.
Dropshipping emerged as a lucrative business opportunity because of its low barrier to entry.
With a small initial investment, anyone can start their drop shipping company. And there are plenty of helpful guides to help you. In addition to this article you're reading now, there are other helpful resources like this guide on how to start a dropshipping business in 21 days from Drop Ship Lifestyle.
Here's a list of some of the pros of starting a drop shipping business:
1. Minimal Startup Costs.
Unlike a brick-and-mortar store or a regular ecommerce business, you don't need a physical warehouse to store the materials. You only need to pay for the domain and hosting plan of your dropshipping website.
You don't have to worry about loss in revenue or holding excess inventory.
You don't have to manage or worry about shipping costs or shipping times as much.
2. Minimal Order Fulfillment Costs.
Since you aren't responsible for the sourcing, packaging, and delivery of the product, you don't have to worry about the additional cost incurred in the entire process. You simply forward the customer request to a third-party wholesaler or import products with a company like AliExpress dropshipping and you're all set.
They'll be responsible for the movement of the product along the supply chain. You only have you to ensure that the customer received the final delivery.
3. Low Risk & Flexibility.
Not handling inventory naturally results in minimum risk. On top of that, you get to offer a much more comprehensive product selection, along with the potential to scale.
Plus, it's low risk. If you're unable to make money from your dropshipping business, you can back out anytime without much of a loss compared to losing a bunch of stored inventory.
You can also easily partner with multiple wholesalers, distributors, and even multiple suppliers for added flexibility in your business.
Since you don't have to pay upfront to stock your products, you also have more cash on hand.
4. Easier to Pivot.
You have the option to easily change your niche and move to another product in case your current domain area doesn't work out.
Drop shipping offers you smooth facilitation of up-selling and cross-selling of products.
5. Automatically Sync Inventory.
Dropshipping suppliers like Inventory Source allow you to automatically sync your online store's inventory count with your manufacturer.
You simply sign up for Inventory Source, integrate your online store with one-click, search for dropshippers and choose products – and that's it. There are also failproof settings so that if a manufacturer's inventory is running low (under 2), you can automatically say "out of stock" on your website so that you don't accept any orders you can't fulfill.
Cons of Dropshipping.
No business model is without its fair share of disadvantages, and the dropshipping model is no exception.
Here's a list of some of the most common cons of drop shipping:
1. Over-reliance on manufacturers.
Since you don't physically hold products, you always rely on your partners to keep their own inventory count. You're also at the mercy of their customer service and could review negative reviews based on shipping that you're not in control of.
2. Little control over order delivery.
Since you don't have any product stocked yourself, the onus is entirely on your partners to deliver the product by the stipulated time. In case they fail to deliver the product on time, customer satisfaction decreases, which will eventually hurt your business. That's why efficient partners are essential to run a successful business.
3. Less control over customer service.
With dropshipping, you're not in charge of the entire supply chain, including packaging, warehousing, delivery, etc. Everything is taken care of by your partners. As a result, if there's an error on their part, you might get a bad review.
4. Lack of branding.
Since you're selling other wholesalers products on your site, your brand image can suffer. To mitigate this, make sure your wholesaler allows you to insert branded packing materials upon shipping. That way, even if the product is coming from another brand, the unboxing experience ensures the customer remembers who you are.
5. Lower profit margins.
There is less room for profit when you're selling retail vs. manufacturing your own products.
In general, you can expect a profit margin of 20-30%. These metrics might change according to your dropshipping industry, but are a good benchmark.
You also need to factor in marketing costs to ensure you're making a profit. You can check out my guide to ecommerce marketing for more ideas on how to drive traffic to your online store.
Here are the overall pros and cons, summed up in short: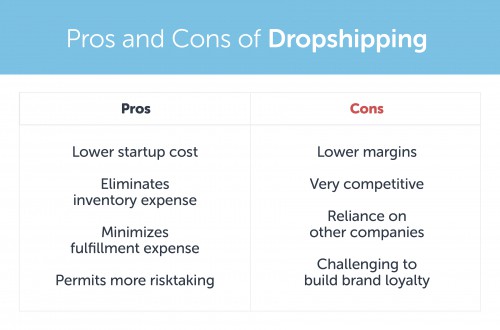 Who is Dropshipping For?
Drop shipping is great for budding entrepreneurs, marketing novices, and people not looking to invest a lot of startup costs.
Earlier, setting up a business required a large amount of money. People usually get their parents to loan them the capital or work overtime to earn money. In fact, Jeff Bezos started Amazon by borrowing money from his parents.
The point is, without the initial capital, starting a business was a major obstacle.
But now, with the advent of digitalization and social media, starting an online business is easier than it has ever been at any point in history.
However, the drop shipping model is a slow path to being successful and making huge profits. To put it simply, it's a patient man's game.
It's great for:
Budding Entrepreneurs
People looking at sustained growth
Professionals interested in having their own retail business
People savvy in marketing that can drive significant web traffic
Breaking it down, it's a perfect business model for the following group of people:
1. Entry-level Entrepreneurs.
Dropshipping is a great business model to get introduced to the world of business and learn the tricks of the trade for the first time. Entry-level entrepreneurs are likely to fail a few times while trying to grasp new concepts in business.
However, since there's nothing much at stake in the drop shipping business, they can afford to fail here.
For example, you could start an ecommerce website selling low-cost t-shirts to test your marketing chops. With such a low barrier to entry, it's great practice for budding entrepreneurs.
2. Sellers With Multiple Product Niches.
If you sell an extensive range of products, drop shipping is an excellent option for you. In such a scenario, keeping stocks and inventories of a wide variety of products becomes very cost-intensive, and may not be sustainable in the long-term.
This holds true, especially if you plan to sell a range of products in the league of Target or Walmart. Going for a dropshipping model, in this case, can save you a lot of money by doing away with the need for maintaining stocks, inventories, and having shops or warehouses.
3. Budget Entrepreneurs.
It's straightforward — you want to make money, but don't have money to invest right now. Obviously, since you're on a tight budget, renting warehouses or retail locations is expensive.
In this case, dropshipping is the perfect model. With no upfront investment in inventory, middlemen, or warehouses, one can start a dropshipping business with practically zero cost going into it.
4. Retailers Looking For Validation.
Consider this scenario:
You've got a product to sell, but you're unsure if it will work in the marketplace. Making a warehouse and renting out space for it doesn't seem like the wise thing to do at the moment. First and foremost, you need to test the waters.
With drop shipping, you can get the validation you need at practically no initial cost. If the response to your product turns out to be positive, you win and can now launch the product widely. If it's negative, at least you won't end up making huge losses.
Either way, you'll be gaining ample experience and might get successful along the journey.
5. Side Hustlers.
If you're in the pursuit of passive income or want to make money online, then dropshipping is a great option for you. You don't have to lift a finger or store products. Drop shipping is an excellent way to sell products without storing inventory and earning passive income for years to come.
A beginner might face some challenges at the beginning, like marketing the product, reaching potential suppliers, etc. However, once they get ropes of the business, dropshipping can turn out to be pretty lucrative.
Ready to start dropshipping? Get started with a 14-day free trial of Shopify.
Finding Dropshipping Products to Sell.
We covered how dropshipping is a straightforward business model. With the right partnerships, products, and a little patience, anyone can reach success.
However, dropshippers need to differentiate themselves in the marketing and focus on branding over anything else.
While people remember the products they buy, they always remember the brand they bought them from.
Choosing the right niche is key. It will help you pinpoint your brand's voice and help you appeal to a specific target audience.
Here's a list of some of the trendiest dropshipping niche ideas for you to try.
Tech niche ideas: Wi-Fi 6 products, Wireless tech, Wearables and accessories, 360-degree cameras & accessories, and VR devices
Lifestyle niche ideas: As lifestyle blogging becomes more popular, smart home devices, tourism gear, indoor gardening tools, swimwear, and water bottles get more in demand.
Fashion niche ideas: Rattan bags, hair clips and barrettes, metallic clothing, women shorts, and lace clothing
Apart from this, you require a proven set of criteria to determine the type of product(s) you want to sell, including:
1. Pricing.
When you are drop shipping products, a massive part of your success and profit margins will depend on the retail and wholesale prices.
A low price can boost sales, but your profit margin will suffer. On the other hand, if you markup your price, you might dissuade most customers from buying, but you'll make more from each sale. Thus, it's essential to strike a balance and choose the right price point.
To do this, research competitors in your niche, MSRPs, and develop a plan to sell products at a competitive price point.
2. Size and Weight.
The size and weight may manipulate and affect the prices of the product more than you anticipate.
A larger and heavier product will command:
Higher packaging charges
Higher shipping charges
Handling charges (sometimes)
It makes sense to at least start with smaller products, and settle for a lower margin. It will at least help you avoid additional expenses that you'll likely incur with larger and heavier shipments.
If you need help shipping heavy items, you can use an order fulfillment service like Red Stag Fulfillment who specialize in this area.
3. Cross-selling and Up-selling.
It's better to choose a niche that makes it easy for you to cross-sell and up-sell your product(s).
Have a look at some of the key benefits of upselling and cross-selling: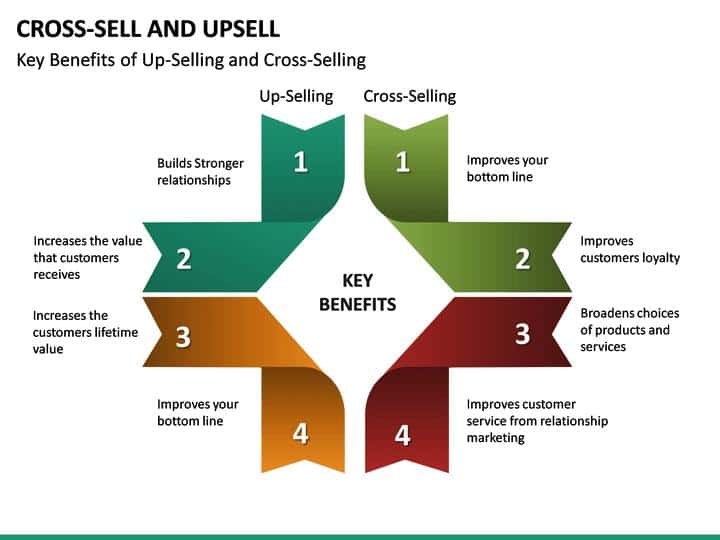 Both these techniques not only help you sell more, but they also help you obtain more revenue and push up your margins at no extra cost.
A great example of cross-selling would be selling shoelaces along with shoes or selling mobile phones with tailor-made, specific phone covers.
An example of up-selling would be the campaigns of Dollar Shave Club, which attracts you with the prospect of shaving at $1 and then displaying pricier options on their website.
Their selling point? Excellent value!
Both up-selling and cross-selling can help you earn excellent profits and make your dropshipping business standout.
4. Renewability.
It makes sense for you to sell products that have a moderate shelf-life. Products with low durability need to be replaced, and with any luck, more customer orders can come your way.
It's like comparing a toothpaste with a refrigerator. While you may need a new toothpaste bottle every other week (low durability), you probably won't replace your refrigerator in the next decade or do (high durability).
It's all about playing at the margins, and it's for you to decide what type of product you want to sell.
5. Grudge Purchases.
A grudge purchase is a product that the consumer doesn't want to buy, but they have to since their options are limited. For example, products like hospital insurance, medical supplies, automobile tires, coolants, and engine oil are all grudge purchases. No one wants to buy them, but they have to, due to dire circumstances.
If you are selling products like tires and coolants, orders may be far and between, and selling points can also become a problem for you.
You should be careful while selling these products. They aren't purchased in bulk either, and margins tend to be very low.
With grudge purchases, it gets challenging to sustain over a long period, so you may want to avoid such products at the beginning of your drop shipping venture.
Common Dropshipping Mistakes to Avoid.
As lucrative as it can be, dropshippers tend to expect too much at the beginning.
In anticipation of quick results, they end up making a lot of common mistakes.
Here's a list of some common dropshipping mistakes to avoid:
1. Over-Reliance on Vendors.
Relying too much on a vendor is not healthy for a sustainable business. Make sure to set clear norms and point out the consequences in case of any breach. It's essential to keep the vendors on their toes so that they put their best foot forward.
Better yet, don't rely on a single vendor. For instance — if you only have a single vendor, they might stop dealing with you all of a sudden or could raise their prices out of nowhere. In such a scenario, you'd have no other option but to comply with their requests.
A relaxed and indifferent attitude from vendors is very detrimental to business, and more often than not, stems from over-reliance.
2. Wanting Easy Profits.
There's no free lunch in this world.
Similarly, expecting easy money with little effort is something that doesn't really work in the real world, more so in the drop shipping business.
Even though you can enjoy certain benefits in dropshipping over traditional retail, you'd still have to face the problem of intense competition.
For obvious reasons, a lot of online retailers are opting for the drop shipping model. Any complacency on your part can result in losing customers to your competitors.
Therefore, without expecting easy money, you should focus on how to create value through your dropshipping business and implement it professionally.
3. Limited Visibility (Not Investing In Promotional Activities).
Dropshipping, like any other business, requires enough promotion to be able to reach your target audience.
To reach out to the customers and boost sales, the first thing you need is visibility. Thus, you should invest in promotional activities and image building exercise.
You don't want your audience to forget about your brand, which is why it's essential to market yourself aggressively. As they say, 'Out of sight, out of mind.' Your core challenge will be to occupy the mind space of your customers.
Try to enter your name and address on the product packaging, or slip the latest product portfolio inside the packaging for advertisement. It's also an excellent idea to follow-up with a 'Thank you' note or asking them about their shopping experience.
Take this "Thank You" email, for instance:
A follow-up email like this (with an additional discount coupon) goes a long way in engaging your customers and at the same time showing them how much you care about their experience.
4. Compromising Order Details.
You need to desperately avoid compromising order details. If you fail to satisfy your customers with your service and inadvertently botch up order details, they're unlikely to do business with you ever again. On top of that, the chances are that they'll probably give you poor reviews, which will again put off many potential customers.
A Walker study has predicted that by 2020, customer experience will overtake price and product as key brand differentiators.
Some of the things that can impact customer experience are:
Delivery at the wrong address
Wrong packaging for product
Wrong product delivery
Correct product delivered but the incorrect quantity
Product specifications don't match the order
Broken or tampered product
The drop shipping retailer must provide timely and accurate information about the order. Otherwise, unhappy customers will simply migrate to your rival businesses, leading to your loss of revenue.
5. Selling Goods With Copyright/Trademark.
Selling goods that are trademarked and copyrighted without prior permission, albeit with no nefarious intentions, is best to avoid.
It could unexpectedly embroil you in a trademark infringement case that can be extremely time-consuming as well as costly.
Selling branded stuff with logos of brands like Giorgio Armani clothing, Nike shoes, or Rolex watches without clearance can result in a lawsuit or even getting your drop shipping business closed down.
Avoid this mistake by selling "white-label" products that can be easily rebranded and resold under your business umbrella, without the complications of legal cases.
You can refer to this guide to know more about white-label products and how the entire concept works.
6. Not Establishing a Proper Return Policy.
If you don't provide a provision for the return of goods, things can get messy with your customers.
With so much variety in the market, a customer may want to buy something else, even after ordering a specific product. Immediately after an order is declined, returned or refund requested, dropshipping retailers should get to work and offer a prompt refund.
A swift and speedy collection of sold products and a refund in full is what can separate you from your peers in the marketplace.
Moreover, it's also vital to add proper instructions on your site on how to return the product and collect a refund.
Many dropshippers make the mistake of not taking this process seriously, causing much pain and distress to the customers. Avoiding this by providing a proper return policy can help you run your drop shipping business run more smoothly.
Ready to launch your Shopify store? Get started with a 14-day free trial of Shopify.
Finding The Right Dropshipping Supplier.
It goes without saying that drop shipping suppliers are one of the essential cogs in your business model.
You need to rely on suppliers for a variety of functions, like:
Stocking up the product (exact specifications).
Hassle-free last-mile delivery.
Efficient handling and shipping of goods.
You just have to convey the order, customer details, and product requirements to the suppliers. After that, it's the suppliers who have to do the entire groundwork.
That's why it's essential to your business that you team up with the right supplier.
First, make sure to check out my reviews of the 17 Best Dropshipping Suppliers to use this year.
So what should you look for while partnering with the suppliers? Four things essentially:
1. Find a Supplier Who is Tech-Savvy.
In today's age, a tech-savvy supplier is no longer an asset, but a prerequisite to a great business model.
When choosing your supplier, it's crucial to ensure that they are well-versed with all the tech required to keep up with the entire cycle.
2. The Supplier Should Be Punctual.
Shipping the product on time is extremely important for a drop shipping store. On top of that, it bodes well for your business if you manage to deliver the products within 1-2 business days.
With too many competitors in the market, you have no scope for a let-up, and must always put your best foot forward. Your customer won't think twice before switching to your competitors if you take a long time to dropship products.
That's why punctuality is one of the essential deciding factors when choosing a supplier. You can even try placing test orders to check whether the supplier is prompt or not.
3. Find A Supplier With An Experienced And Dynamics Team.
Since you won't be the one making the last-mile delivery, you need to ensure that those who do manage to portray a positive picture of your business.
An experienced supplier who has a dynamic and efficient team of sales representatives and executives is likely to know all the nitty-gritty of the drop shipping business. If you manage to team up with such a supplier, you already have a great platform to succeed.
4. An Ideal Supplier Should Focus On Quality.
Like retail and traditional ecommerce business, drop shipping also hinges on the quality of the product. That's why it is an important attribute to consider when evaluating your product supplier.
Suppose there are three suppliers to choose from, for the same product.
There isn't any significant variation in the prices and delivery lead times.
So which supplier should you choose?
The supplier who provides the best quality, of course.
Naturally, the customers want value in exchange for their money.
Thus, it's best to always go for a reputed supplier who is unlikely to ever compromise on quality.
A supplier who values and focuses on quality can ensure:
The rate of return of goods is low
The number of canceled orders is small
Customer satisfaction is high
Customer lifetime value (CLV) is high
Now the question is – there are probably thousands of such suppliers in the business world, so how do you identify the best fit?
You can use various dropshipping directories available on the internet that provide a credible database of suppliers that are often organized by niche.
Worldwide Brands is an excellent example of a drop shipping directory.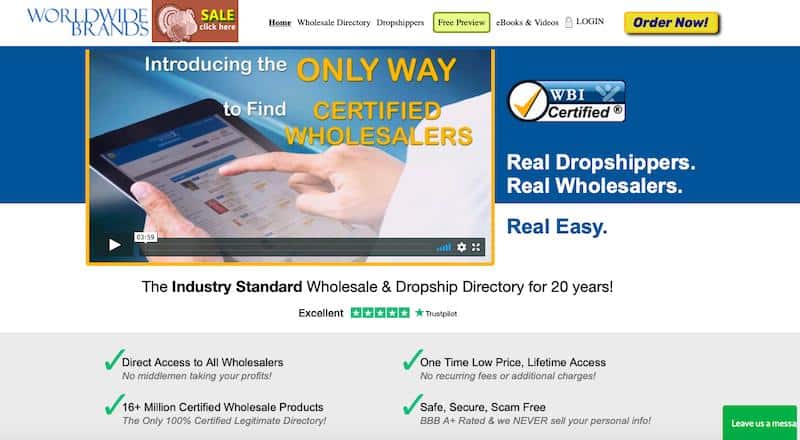 One of the best things about Worldwide Brands is that it ensures that every supplier or wholesaler it features is legit.
Once you reach out to the suppliers from online directories, evaluating the suppliers is easy. Simply ask them a few probing questions, and gauge their answers to determine whether they align with your expectations or not.
Here are some pointed questions that you might want to ask:
What is the return policy, if any?
How much price fluctuation can be expected?
Are there any warranty periods for the products?
What is the clause for free delivery?
What level of customization in the products can be expected?
What are the terms of pricing? Are the pricing terms negotiable?
Only after the responses align with your expectations and vision about the future of the business, should you take the negotiation to the next level.
While zeroing in on the ideal partner, it's also important to not fall prey to cunning con artists.
You also need to ensure that you tie-up with a legitimate business supplier.
There are many indicators of a fraudulent supplier that can help you spot one very easily.
At the very first, you should obtain details about their registered address, speak to industry players, and look at online reviews.
All of these make it relatively easy for even a new drop shipper to separate the legit suppliers from the unscrupulous and corrupt ones.
It's very important that you maneuver your way out of these traps, because not only can they impact your business in the long-term, they can also irreversibly damage your brand image in the marketplace.
Ready to start dropshipping? Get started with a 14-day free trial of Shopify.
Examples Of Successful Dropshipping Companies.
The business landscape is littered with success stories from dropshipping companies.
One of the best examples that immediately comes to mind is Wayfair.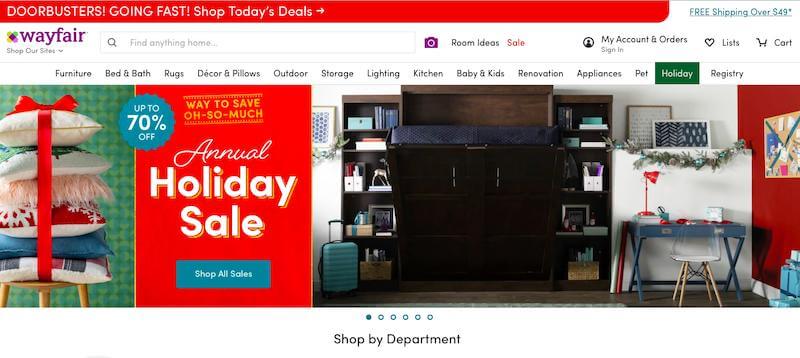 Started by two University graduates in 2002 in Boston, Massachusetts who didn't have the luxury of deep pockets like their rivals, Wayfair turned out to be a huge success.
Over time, they understood the drop shipping model, and eventually started making around 25% to 35% profits year-on-year and quickly became one of the most acclaimed dropshippers.
Today, they boast of more than 10 million items in offerings, and over 14000 suppliers. In 2018, Wayfair's revenue exceeded $5 billion.
Another example here is Justin Wong, the owner of So Aesthetic.
After trying multiple business options, Wong decided to set up a drop shipping store. He needed zero investment to start the store, and guess what? Within a month of starting, he had already made $12,000 through the business.
More and more people are now making profits using the drop shipping model.
Here are some real-life examples of many more dropshippers who've made a successful career out of the drop shipping business model.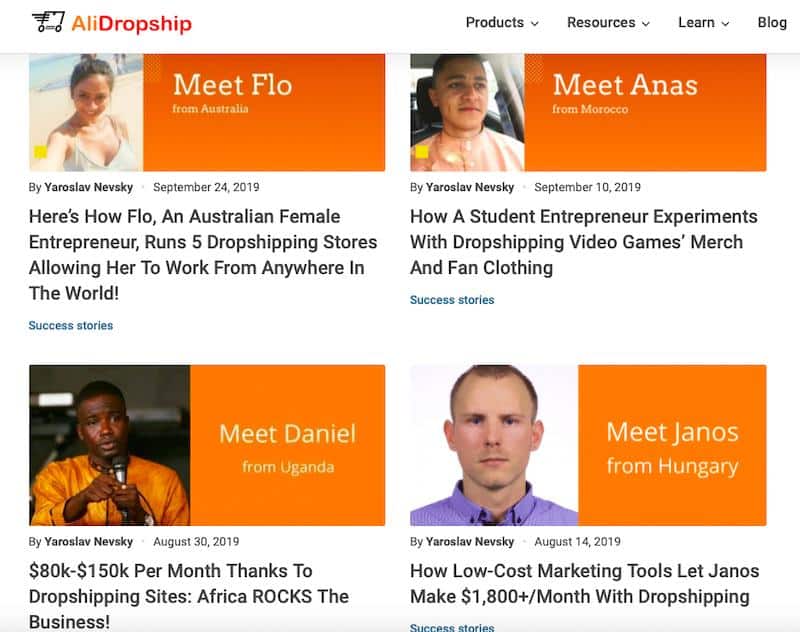 Dropshipping For Beginners: FAQ.
Here are some quick answers to the most frequently asked questions:
Q1. How does the dropshipping model work?
As already mentioned, Dropshipping is a business model where you can sell your products online, without having to stock, supply, distribute, or deliver the product yourself.
Drop shipping requires you to act like a mediator between the consumer and the supplier.
It's simple! The customer puts an order at your store, then you forward that order to the supplier, and finally, the supplier delivers the order straightaway to your customer. Your role as a drop shipper is to focus on marketing and promoting the product, while the supplier fulfills the entire supply chain cycle, including maintaining the inventory, packaging, shipment, etc.
Q2. What are the benefits of drop shipping?
Dropshipping is a profitable business model. The best part is that you don't require massive capital or spend money on things like inventory management, warehouse rent, and shop rent, among others.
You can expect a profit margin of 20-30% and a conversion rate of 2-3%. These metrics might change according to the industry and situation.
Q3. How to start a dropshipping business?
To start your drop shipping business, you can follow a step-by-step process:
Decide what type of product(s) you want to sell.
Partner with a supplier.
Either register with dropshipping sites like eBay or build your own website.
Market your drop shipping store
Promote using social media platforms and paid ads
Q4. What is the investment needed to start with dropshipping?
Not much since you don't require any shop, and you won't hold any stock, you don't need a substantial investment at the start.
Q5. Can I sell globally?
Yes, you can. The beauty of drop shipping is that since it's online, you can target the entire global target. Your customers could be from anywhere in the world.
Q6. Can I use multiple channels for selling?
Of course, you can. In fact, it's highly recommended to sell your products across multiple channels, such as eBay, Amazon, etc.
Q7. What is the profit margin that I can expect from dropshipping?
The margin primarily depends on the cost of the items that you sell, and the volume of items sold. However, on average, you can expect to make a profit of anywhere around 15% to 20%.
Q8. Do I need to pay taxes?
Taxes are subject to the local governance of the areas that you will deliver to. Usually, you are required to pay taxes for international delivery.
Q9. How can I promote my website?
There are several ways to promote your website. You can buy advertisements on websites, ecommerce stores, and social media platforms. You can also buy YouTube advertisements, get involved in customer engagement on social media platforms, conduct webinars, and more.
Q10. How can I select the suppliers?
While choosing your suppliers, go for someone punctual, tech-savvy, has an in-house team of experienced sales representatives, and has the reputation of providing top-notch quality products. Make sure to look at online reviews before selecting suppliers.
Q11. Should I use my own online drop shipping store, or should I rent someone else's space?
At the start, you can rent shop space on sites like Amazon, eBay, and Alibaba. But if you are looking to scale-up and build your own brand, it's better to have your own online store. You have greater control over the user interface and display of your products and can boost your brand image accordingly.
Q12. Should I work alone or hire assistants?
At the start, when the business is small, you can work alone. However, as the business starts to expand, it will get difficult for you to manage all aspects of the business. Keeping expansion in mind, hiring assistants for specific roles is recommended. You can hire virtual assistants from websites like Upwork, Fiverr, Guru, and more.
Executive Summary.
This article gives you an in-depth insight into the entire dropshipping business model. As outlined, it is not for someone who is looking to make money very fast and exit.
Sure, drop shipping seems like easy money. You just have to act as a link between the customer and the wholesaler/supplier, and take a cut for yourself. However, when you consider all the cons, challenges, effort, attention, and work, drop shipping doesn't sound as easy.
You need to stick to your business plan to make it work, and then reap the benefits.
With no initial outlay, rent or cost of inventory, dropshipping can provide the perfect environment for someone to test their business acumen, try out their new products, and gauge the product viability and market scenario.
An excellent option for entry-level entrepreneurs and budget businessmen, dropshipping is also a very safe platform. Even if you fail, you don't stand to lose a lot of money. On the other hand, the process helps you gain precious business insight and market knowledge.
I hope the article was useful and will spur you on to starting your first drop shipping business.
What type of product would you like to sell using the Dropshipping model? Let me know in the comment section below!
Ready to start drop shipping? Get started with a 14-day free trial of Shopify.
Further Reading on AdamEnfroy.com: Check out my article on the best ecommerce fulfillment companies if you'd rather hire a 3PL company to provide your ecommerce business with two-day shipping capabilities.
Disclosure: I may receive affiliate compensation for some of the links below at no cost to you if you decide to purchase a paid plan. You can read our affiliate disclosure in our privacy policy. This site is not intending to provide financial advice. This is for entertainment only.