The Best Cooking Affiliate Programs For Food Bloggers (2023)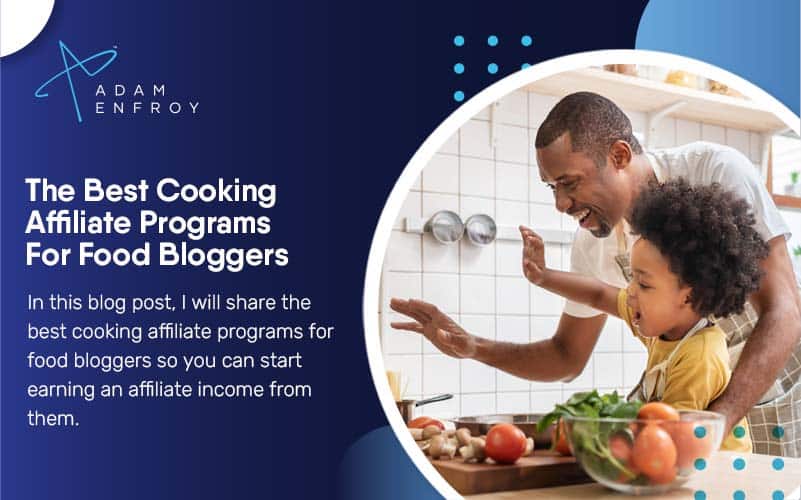 You've heard that food is the universal language of love.
And guess what?
It's also the language of some seriously juicy (pun intended) affiliate revenue!
I bet you've already put two and two together, haven't you?
That's right, today, I'm mixing my love for digital marketing and sizzling SEO techniques with an insatiable appetite for good food.
I'll be creating a mouthwatering fusion that's as enticing as a perfectly grilled ribeye steak on a summer barbecue.
In this blog post, I will share the best cooking affiliate programs for food bloggers so you can start earning an affiliate income from them.
What Are The Best Cooking Affiliate Programs?
Here are some of the top cooking affiliate programs to consider.
1. ButcherBox.
ButcherBox delivers monthly meat subscriptions straight to your door, curated for paleo lovers, fitness enthusiasts, and busy moms.
As an affiliate, you get access to high-quality products with unbeatable commissions.
ButcherBox offers a range of meat options, including beef, chicken, and pork, all sourced from humanely raised animals.
Plus, their meat is free of antibiotics, hormones, and added sugars.
As a result, ButcherBox has a loyal following of satisfied customers.
You can tap into this following and earn commissions from purchases as an affiliate.
To promote ButcherBox, you can use a variety of marketing channels, including social media, blogs, email, and paid advertising.
You can also leverage ButcherBox's custom options to target specific niches.
For example, if you have a fitness blog, you can promote ButcherBox's beef and chicken options to your audience.
Meanwhile, if you have a parenting blog, you can promote their family-friendly options.
ButcherBox has integrated its affiliate program with the ShareASale affiliate network, a leading affiliate marketing platform.
You can access various affiliate programs and tools through ShareASale to help you grow your commission earnings.
Plus, ShareASale provides comprehensive reporting and analytics to help you optimize your campaigns and improve your ROI.
As an affiliate, you can earn a commission of $20.00 per sale with a cookie duration of 30 days.
Plus, with custom options available, you can promote ButcherBox to niches such as paleo and fitness, parents, cooks, and meat enthusiasts who love to grill.
Join now and start profiting from high-quality meat delivery.
2. Zwilling.
If you love to cook, you know the importance of high-quality cookware.
And Zwilling – your one-stop-shop for cookware needs – understands that too.
They offer everything from knife sets to storage solutions and accessories, ensuring you have everything you need to take your culinary skills to the next level.
One product, in particular, that's worth mentioning is Zwilling's single blender.
Its sleek design, powerful motor, and professional grade-quality blades make it an asset to any kitchen.
But the best part?
It can earn you up to $18 when you promote it through the affiliate program.
It's a win-win situation – your audience gets access to an exceptional product, and you get to earn big commissions.
Zwilling's affiliate program allows you to earn while promoting their products.
With a commission of 6%, an impressive EPC of $43.77, and a cookie duration of 14 days, there's a lot to gain.
Whether you have a website, blog, or social media presence – you can leverage their program to make it work.
And with their fantastic range of products, finding something that resonates with your audience is easy.
One great thing about Zwilling's affiliate program is that it caters to diverse audiences.
While it's perfect for cooking verticals, it's also an opportunity for food and lifestyle bloggers, wellness influencers, and anyone who has an audience interested in upgrading their kitchen equipment.
With so much to offer, it's easy to see why many affiliates are already partnering with Zwilling.
3. Laconiko.
Are you a culinary enthusiast who loves savoring premium olive oil with exceptional taste and quality?
Laconiko is an artisanal olive oil brand crafted by a family with generations of experience.
Laconiko offers various olive oil products, including balsamic vinegar and olive oil soap.
Laconiko's olive oil products stand out because of their exceptional taste and quality.
The olives used to make their oil are grown in the fertile soil and favorable climate of the Southern Peloponnese region of Greece.
Throughout the year, the family carefully tends to the olive grove, ensuring they only harvest the finest olives for Laconiko's products.
They press the olives using traditional methods that preserve the flavor and nutrients.
The result is a premium olive oil perfect for salads, dipping, cooking, and more.
By joining Laconiko's affiliate marketing program, you can earn an 8% commission on every transaction.
Food bloggers and top performers can earn up to $10 per transaction, and bonuses are also available.
The conversion rate is high, at 7%, and the cookie duration is 30 days which means that even if someone doesn't make a purchase right away, you can still earn a commission if they purchase within 30 days of clicking on your link.
And with an EPC of $83.04, Laconiko's affiliate program promises to be a lucrative opportunity for culinary lovers.
4. Mamasezz.
MamaSezz is a healthy meal delivery program that caters to your dietary needs and preferences.
They create delicious and healthy plant-based meals that are perfect for busy people on the go.
But did you know you can also earn extra cash while enjoying these tasty meals?
Mamasezz Affiliate Program is a fantastic opportunity to earn extra cash by referring others to MamaSezz's products.
Once you become a MamaSezz affiliate, you'll receive a unique referral link to share with your friends, family, and followers on social media.
When someone makes a purchase using your referral link, you'll receive a commission of up to 10% on most products and 5% on the All Day box.
With a 90-day cookie duration, you'll earn commissions on orders within this period.
MamaSezz's Affiliate Program is an excellent opportunity to promote healthy eating while earning extra cash.
MamaSezz's meal plans and products cater to everyone's dietary needs and preferences.
They only use natural and organic ingredients in their meals, and everything is 100 percent plant-based, perfect for vegan, vegetarian, or want to eat healthily.
With an average order value of $150, if you refer ten people a month, you could earn a minimum of $150 extra cash in commissions.
5. Purple Carrot.
Purple Carrot specializes in delivering delicious plant-based meals throughout the US.
Plant-based meals have recently been on the rise, and for good reason.
It accommodates dietary restrictions, is environmentally friendly, and reduces the risk of chronic illnesses such as heart disease, diabetes, and certain cancers.
At Purple Carrot, they believe everyone should have access to tasty and nutritious plant-based meals regardless of their busy schedules.
With the Purple Carrot Affiliate Program, they use the trusted Impact network/software.
It ensures that every sale from your unique affiliate link gets tracked, and you get credited for it.
You can also easily track your earnings and progress through the network portal.
The 30-day cookie duration enables you to generate more conversions from the audience that clicks through your unique affiliate link.
If someone clicks on your link and decides to purchase anytime within the next 30 days, you still get credited for it.
A longer cookie duration also translates to more earnings at the end of the day.
6. Dry Farm Wines.
Dry Farm Wines offers a wine subscription service specializing in natural, organic, sugar-free, additive-free, and keto-friendly wines.
This unique focus makes their subscription service a favorite among wine lovers looking for healthy options.
As an affiliate, you can join the movement to promote healthy drinking while earning a commission.
The affiliate program offers an 8% commission on all sales for the customer's lifetime.
This recurring commission structure opens up possibilities for passive income.
If you know how to attract wine lovers to their fantastic subscription service, you stand a chance to reap dividends for years to come.
Furthermore, the Dry Farm Wines affiliate program offers personal attention and tips to help you make successful sales.
They understand that successful affiliates are critical to their success, so they provide the resources you need to promote their brand successfully.
Your affiliate account will attribute visitors to your site or social media profile who become customers thanks to a 30-day cookie duration.
7. Snake River Farms.
Snake River Farms offer a range of premium meat cuts that appeal to food lovers and cooking enthusiasts.
These cuts are the choice of many renowned chefs and culinary experts.
When you join the Snake River Farms affiliate program, you get access to all these fantastic products and can earn a commission of 7% on every sale you make.
One of the best things about the program is that it is easy to join.
You can easily integrate the program into your website through Affilimate or ShareASale.
With their intuitive dashboard and easy-to-use tools, you can track your earnings and manage your affiliate activity.
You also get access to a wide range of marketing tools and resources that can help you promote the products and increase your earnings.
With prices ranging from $20 to $66, Snake River Farms' products provide a high average order value.
Moreover, they offer a monthly subscription option where customers can receive a box of premium meat cuts delivered to their doorstep.
This subscription model ensures that you earn a recurring commission on every sale.
From steaks to bacon and sausages, the variety of their products means there's something for everyone.
8. HelloFresh.
HelloFresh is a subscription meal kit service with top-notch ingredients delivered right to your door.
One of the most significant selling points of HelloFresh is the quality of its ingredients.
HelloFresh works with trusted suppliers to ensure everything they send their customers is the best.
Plus, with their easy-to-follow recipes and pre-portioned ingredients, cooking a delicious meal has never been more convenient.
Their affiliate program is effective and user-friendly.
Plus, with generous commission rates and a long cookie duration, you can earn money through the program without hassle.
Partnering with HelloFresh is a win-win for both you and your readers.
9. Food52.
Are you a passionate cook who enjoys sharing your love of food with others?
Do you have a blog or social media platform dedicated to culinary delights?
If so, you're in luck because Food52's affiliate program through Partnerize could be your ticket to earning some extra dough while doing what you love.
Their 9% baseline commission and 7-day cookie duration are generous and designed to give you the best chance of success.
In addition, Food52's brand is highly respected in the culinary world, making it more appealing to potential customers.
Their online shop features unique and high-quality items that customers won't find elsewhere, and their excellent customer service has earned them loyal followers.
As an affiliate, you can feel good knowing that you're promoting top-notch products that come from a reputable source.
10. Rachael Ray.
The Rachael Ray affiliate program is an excellent opportunity to earn money.
As an affiliate partner, you'll receive a generous commission rate of 5% per sale.
You will also get access to professional marketing materials such as banners, links, and product images.
Rachael Ray's outstanding reputation for producing high-quality cookware, dinnerware, bakeware, and cookbooks will enable you to attract a steady stream of buyers.
The best way to generate interest in Rachael Ray products is by featuring them prominently on your website.
Share your positive reviews on Rachael Ray's cookware, books, or home goods on social media, your website, or your blog.
You can use images, descriptions, and reviews to entice your visitors.
Consider an email newsletter featuring Rachael Ray's products or a holiday gift guide.
You can earn a commission on every sale when you promote Rachael Ray's products on your website, blog, or social media platforms.
11. Cuisinart.
Cuisinart is another excellent option for earning an income with your website.
Cuisinart's Affiliate Program is for affiliates passionate about recommending top-of-the-line kitchen appliances, cookware, and tools to their audiences.
As a member of the Cuisinart program, you will receive a unique affiliate link that you can post on your website, social media pages, or blog.
Whenever a customer clicks on your affiliate link and makes a purchase, you earn a commission of 10%.
CJ Affiliate program manages Cuisinart, which provides excellent tracking and reporting features.
Joining the Cuisinart Affiliate Program is a straightforward process.
Visit the Cuisinart Affiliate page, and click the 'Join' button.
Fill in your details, such as name and website, and submit your application for review.
Once they approve your application, you will receive access to the CJ Affiliate platform, where you can access the affiliate links, banners, and marketing materials.
What Are Cooking Affiliate Programs?
Cooking affiliate programs are marketing efforts by meal delivery services like Dinnerly that provide commissions to affiliates who refer new customers.
These programs aim to increase brand awareness and gain customers for the meal delivery service.
Through these programs, affiliates can earn a flat commission fee of $15 per referral, making it a lucrative opportunity for those interested in cooking affiliate programs.
The process is simple: as a food blogger, you can sign up for the program and receive text links or banner ads to promote the products or services of the meal delivery company.
When someone clicks on one of these links and makes a purchase, the affiliate earns a commission on the sale if they follow all terms and conditions outlined by the meal delivery service.
Benefits Of Joining A Cooking Affiliate Program
Whether you are a blogging beginner or a veteran, joining a cooking affiliate program is a great way to earn passive income and make money online.
Promoting products that align with your cooking or food blog can earn affiliate commissions for every sale made through your unique affiliate link.
Not only does this boost your earnings, but it also drives targeted traffic to your website, expanding your content reach.
Partnering with reputable brands such as Amazon and Rakuten can enhance your credibility in the cooking niche.
You can promote various products, from cooking classes to dish cooking classes to an online cooking school.
You establish yourself as a trusted authority by providing your audience with valuable resources.
Becoming a part of a great affiliate program in the cooking industry can be a lucrative choice for content creators.
With the potential to earn passive income and drive targeted traffic to your website, the benefits of joining a cooking affiliate program are worth exploring.
How To Promote Cooking Affiliate Programs Effectively
If you're a foodie who wants to earn extra cash, cooking affiliate programs are your ticket to success.
With step-by-step tutorials on optimizing your website for SEO and incorporating affiliate links strategically, you can make the most out of your content.
Use WordPress plugins to streamline the process and promote kitchen tools and cooking products.
Remember to leverage social media platforms to reach a wider audience and offer exclusive discounts or bonus content to entice your viewers.
Consider promoting cooking courses and other affiliate programs to save money and offer more opportunities for beginners.
You can even start your subscription box to offer your readers a curated selection of kitchen tools and cooking products.
With these tips, you can start earning from your love for cooking.
Tips For Choosing The Right Cooking Affiliate Program
When choosing the right cooking affiliate program, you must consider several factors.
First and foremost, evaluating the commission structure before selecting a program is essential.
For example, Commission Junction is a great platform, offering various food affiliate programs with varying commission rates.
When it comes to payout, it's essential to understand the payment terms for each program.
Some offer a one-time payout, while others provide recurring payouts, so choosing a program that aligns with your goals and expectations is essential.
In addition, assessing brand reputation is crucial in promoting the best food affiliate programs.
Programs like Hello Fresh and Home Chef are popular brands that have proven successful in affiliate marketing.
It's essential to check for affiliate support and resources, including access to an affiliate manager, to help you navigate the industry and maximize your earnings.
Lastly, choosing a kitchen affiliate program that aligns with your target audience is essential.
If you're targeting a specific niche like supplements, gluten-free, or low-carb diets, choosing a program that offers products that cater to that audience is essential.
By considering these factors, you can ensure that you're selecting the right cooking affiliate program to maximize your earnings and reach your affiliate marketing goals.
Understanding Affiliate Marketing Metrics In The Cooking Niche
In the cooking niche, affiliate marketing metrics play a crucial role in measuring the success of food affiliate programs.
Understanding conversion rates is essential, as it gives insights into the percentage of visitors who purchase cooking-related products.
Click-through rates (CTR) are also significant, as they reflect the effectiveness of a marketing campaign in enticing potential customers to click on the affiliate link.
Average order value (AOV) provides valuable data on the spending habits of consumers in the cooking niche, from buying high-end cutlery to signing up for online cooking courses or even a vegan meal subscription from companies like Hello Fresh.
Earnings per click (EPC) is another vital metric, as it calculates the income generated from each affiliate link click.
For kitchen affiliate programs, these metrics can help determine the best food affiliate programs to partner with and maximize revenue opportunities for home chefs or those looking to improve their cooking skills.
Wrap Up.
Cooking affiliate programs are an excellent way for affiliates to make money while promoting fresh, healthy meal delivery services.
With the right marketing strategies, affiliates can attract customers and earn commissions from these services.
With the proper research and implementation of effective marketing strategies, cooking affiliates can maximize their earning potential with meal delivery affiliate programs.
Further reading on AdamEnfroy.com: Starting a personal blog can be an excellent way to build a passive income.
By leveraging various affiliate programs, affiliates can increase their earning potential and promote the right products to their audience.
Editorial Process:
Our reviews are made by a team of experts before being written and come from real-world experience. Read our editorial process here.
Some of the links in this article may be affiliate links, which can provide compensation to us at no cost to you if you decide to purchase a paid plan. These are products we've personally used and stand behind. This site is not intended to provide financial advice. You can read our affiliate disclosure in our privacy policy.