How To Start A Travel Blog: Travel & Make Money in 2023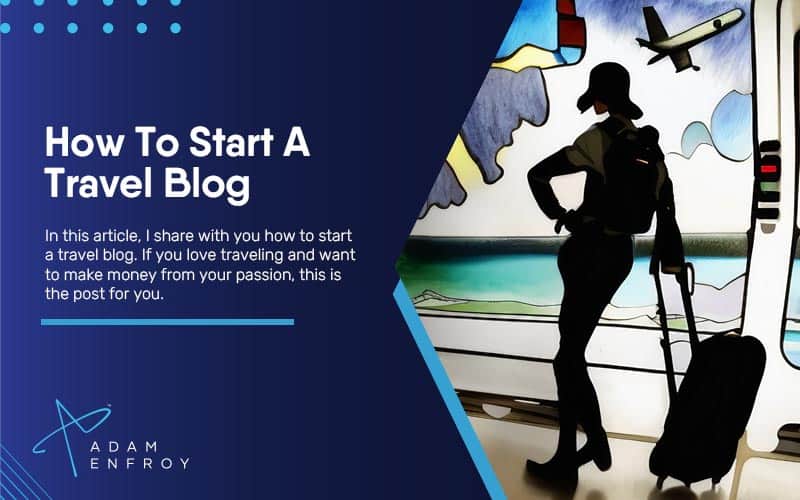 The feeling of hopping on a plane, jetting off to an unknown destination, and exploring the world is irreplaceable for many people.
Other people prefer to know more about where they're going, often turning to the internet for advice.
As many as 80% of people plan their travel mainly over the internet.
A travel blog lets you share your stories with a global audience, inspiring others to follow in your footsteps.
If you're looking for a new way to travel and make money, starting a blog could be the opportunity for you.
In this article, I'll provide a guide to help you do that, so if you're ready to start a travel blog and make money, read on!
Why Travel Blogging Is A Great Way To Make Money
Here are some of the top reasons to consider.
You can make a living from your blog: To make money blogging, you can sell products or services related to travel, such as ebooks or courses. You can also earn money through affiliate marketing by recommending products and services from companies you work with. With the right strategies and a little hard work, you can easily create a steady income from your blog.
You can inspire others to travel the world: Travel blogging provides a platform to share your stories, advice, and experiences with an audience of potential readers. As a result, you can inspire others to explore new places and cultures.
You can create a global community of like-minded travelers: By blogging about your travels, you'll be able to build an engaged following and interact with other passionate travelers.
You can make money through sponsorships, advertising, and affiliate marketing: Once you've built an engaged following, you can start to monetize your blog by working with sponsors or companies to feature their products and services. You can also make money through advertising and affiliate marketing.
Choosing The Right Blog Name
Here are some tips to help you choose the right blog name.
It Should Be Memorable
The best travel blog name is catchy and easy to remember.
For example, if you deal with budget travel tips, then including "budget" in your blog name can help potential readers understand what content they can expect from your blog.
A successful travel blog lets site visitors know what topics they can learn about.
The right travel blog name is also essential for SEO purposes, so try to make it as keyword-rich as possible.
It Should Represent The Type Of Travel You Blog About
As a professional travel blogger, you must look at your blog like a business.
Your blog name should reflect what type of travel content you're providing.
While the travel blogging community presents a very laid-back vibe, the travel blogging niche is highly competitive.
A WordPress blog that accurately reflects your identity and interests will help you stand out.
It Should Be Easy To Spell And Pronounce
Whether someone is making a Google search for your blog name or referring their friends to it, having an easily spelled and pronounced name makes it simpler for people to find you online.
Avoid hyphens in your domain name, as this can make it difficult for users to remember what they need to type into the search field.
How To Start A Travel Blog
Here is a step-by-step guide to becoming a successful blogger.
Choose Your Niche
Knowing where your passion lies is critical, especially when starting a site within various travel blog niches.
If you have an area of expertise or exciting traveling experiences, those will be great topics to focus on in your blog.
While going broad and talking about all types of traveling can be easy to write about but makes it hard to target a specific audience.
A particular subject matter can help engage readers in reading more of your content.
Choose A Content Management System
WordPress.org is my absolute favorite CMS for creating a travel blog.
The WordPress dashboard provides a great way to customize the design of your blog, from choosing fonts to adjusting color schemes.
There is also WordPress.com, a free hosted version of WordPress.
This blogging platform has limited features (compared to the self-hosted counterpart), but it can be a great starting point for those just getting started in blogging.
For those who want to use something different, Wix provides an easy-to-use platform for creating websites for all businesses, including blogs.
However, I recommend using WordPress since it has more features and customization options than other CMSs.
Select A Domain Name And Web Hosting
Hosting companies like GoDaddy and Bluehost are a must-have when setting up your travel blog.
These companies provide reliable hosting services to ensure your website runs quickly and efficiently, ensuring readers don't get frustrated while waiting for pages to load.
Hosting companies can also provide you with the right hosting plan that fits the size of your website, so you only pay what you need to.
Research what is best for your travel blog.
From shared hosting plans to WordPress-specific, there are various options.
Ensure you research what works before choosing your service.
The right hosting provider might also provide you with a free domain name, which is excellent if you want to save money in your blog's beginning stages.
Design Your Website
Depending on your content management system, you can start designing your website.
WordPress offers free themes that add to the functionality of a travel blog, and you can easily customize various elements such as fonts, colors, and images.
From changing your header image to your homepage, having your travel blog on WordPress gives you endless possibilities.
In addition, with a premium WordPress theme, successful travel bloggers can give their blogs the professional look they desire.
Use The Right WordPress Plugins
Your content management system can also host various plugins that help run your travel blog easier.
For example, Yoast SEO or RankMath are excellent plugins for optimizing web pages for search engines.
These plugins ensure people are more likely to find it when searching for terms related to travel topics.
Additionally, social media plugins help make it easy to share your content across networks and grow a larger readership.
Write Great Content
Your blogging journey officially starts when you start writing content.
For a new travel blog in its first year of business, content is the foundation of a successful website that engages people and entices them to come back for more.
As you create content, remember that search engine optimization (SEO) can help make your posts more visible on the web, so readers easily find them.
Some top travel blogs rely on SEO for a reason – it's worth the effort!
Promote & Market Your Blog
From posting on travel forums to exchanging links, marketing is key to having a successful blog.
As a successful travel blogger, you will interact with plenty of guest bloggers, write guest posts, and network with other micro-influencers and media outlets.
All these sources can help promote your website if they find interesting content that resonates with their readership.
Monetize Your Travel Blog
Having a blog gives you a lot of opportunities to monetize and profit.
Monetization is another reason why choosing the right niche is crucial.
For example, one can use Mediavine and Adsense to run advertisements on your website for additional income.
You can also consider affiliate marketing to help sell anything from backpacking items to luxury travel packages.
A platform such as Amazon can help with this.
One's blog sidebar is an excellent place to consider placing these various offers.
Customizing Your Travel Blog
Here are some of the best ways to make your own travel blog stand out from the competition while customizing it to fit your style.
Choose A Theme That Stands Out In Your Niche
Your blogging platform should be easy to navigate and have a modern look.
On a self-hosted WordPress account, you can choose a premium theme that gives your website an edge in terms of visuals, layout, and ease of use.
Plenty of themes are also available if you're using other CMSs like Squarespace or Wix.
Utilize Great Visuals And Graphics
No matter which platform you use, finding a great tutorial that shows you how to add quality images to your posts can be essential.
That said, you can find plenty of help with a quick search.
If you want to avoid taking the time to learn photo editing software, Upwork and Fiverr are great places to outsource your graphic design needs.
Optimize For Search Engines
Consider critical SEO best practices when you add new content to your travel blog.
These practices include using keywords relevant to the topic, using meta descriptions that accurately describe the content, and linking internally or externally where appropriate.
Remember that formatting your content for readability is also essential for SEO as the focus on user experience becomes more critical.
There are also plenty of plugins that can help with optimizing your blog posts and making them more visible to web crawlers.
Create Content That Is Worth Sharing
It would help if you always aimed to create content that readers would find informative, entertaining, or inspiring.
The best way to do this is by providing unique insights and experiences from your travels that others may need help to access quickly.
Focus on quality over quantity, and ensure you engage with other travel bloggers in the community.
What You Need To Know Before Starting A Travel Blog
The following are some key points to keep in mind when starting a travel blog.
It Takes Time And Patience
Building up a successful travel blog will take time.
You must put in the consistent effort required for your blog to grow and attract readers.
You Will Need To Be Consistent
As a digital nomad, sharing your travel experiences can be a great way to inspire others.
However, you will need to maintain consistency to build an audience.
Travel bloggers like Nomadic Matt and Adventurous Kate have been creating content for years to build their brands.
It's unreasonable to expect your travel stories to go viral and attract many readers instantly.
You Need To Have Outstanding Content
Creating your first blog and making it a success revolves around producing quality content.
Said differently, don't just rewrite what everyone else is writing; be creative and try to bring something new and exciting to the table.
Whether this is your full-time gig or not, make sure you put in the effort necessary for success.
The Technical Aspect Is Still Important
It would help if you learned many things to ensure your blog runs smoothly and optimally.
Fundamental technical aspects include:
Taking backups of your content regularly to avoid getting lost if anything goes wrong with your web hosting company.
Creating a contact page (or any other page as needed) that you can edit as visitors reach out to you with questions or comments.
Knowing about your domain privacy and how this affects the visibility of your website in search engine results pages (SERPs).
Having a Google Analytics plugin on your blog when you install WordPress. This plugin allows for tracking of the metrics that help you measure your success and where readers are coming from.
You Must Know How To Market Your Blog
Whether you plan on creating a blogging course or keep providing travel guides and travel tips to your readers, a lot of hard work goes into getting the word out about your work.
You will need to develop an understanding of social media marketing and search engine optimization (SEO) so that people can find you in their online searches.
Developing relationships with other bloggers, influencers, and potential sponsors through networking and collaborations are also essential for growing your blog.
Finally, having an email list of readers and subscribers is a great way to stay in touch with your audience and let them know about new content you have published.
Building such a list takes time but can be incredibly beneficial for growing your travel blogging business.
How To Create Content For Your Travel Blog
Let's get into the nitty-gritty of your blog: content creation.
Content is king, and if you take nothing else away from this guide, remember that creating high-quality content should be your top priority when running a successful travel blog.
Here are some travel blogging tips for getting started with content creation for your travel blog.
Share Personal Experiences & Stories
From your about page to blog posts, share the stories of your travels and adventures, as these are often the most exciting reads to followers.
For beginners and advanced bloggers alike, being authentic and sharing personal narratives will allow readers to connect with you on a deeper level.
In addition, the way you customize each story makes it unique – so don't be afraid to get creative and use digital tools like Canva or Photoshop to enhance your content.
Create Helpful Guides And Tips
As you brainstorm content ideas, think about the topics you know best.
For example, if you're an expert on finding the cheapest flights, compile all your tips into one blog post so readers can save time and money when planning their trips.
Take Pictures Or Videos Of Your Journeys
Videos are becoming increasingly popular in travel blogging as they give followers a better visual representation of a particular place.
If taking photos isn't your thing, try shooting a travel vlog instead to capture your experiences.
Offer Reviews On Destinations, Hotels, Restaurants, Etc
Remember to include reviews in your content strategy as you explore new places.
Doing so will build trust with readers.
You might also bring in potential sponsors due to detailed and accurate reviews.
Host Podcasts Or Interviews With Locals And Other Bloggers
Interviews are a great way to create unique and engaging content for your blog.
Plus, connecting with like-minded people from the travel community is always nice.
Try hosting conversations with locals or fellow bloggers about their journeys – you could do this through video or audio recordings.
Tips For Making Money Through Your Travel Blog
Finally, if you're looking to monetize your own blog, here are some tips:
Sell advertising space: You can generate revenue by selling ad space on your website or in a newsletter. The more site visitors you have, the higher the dollar amount you can ask for advertising.
Offer sponsored posts and collaborations: Another way to earn through your travel blog is by working with brands for sponsored content and partnerships. The possibilities are numerous – from using social media platforms to creating product reviews, you can choose what works best for you.
Promote services: If you have the knowledge and experience in travel, why not offer your services to others? You can provide custom itineraries, coaching sessions, and more to help readers plan their trips.
Write a paid eBook or course: If you have a wealth of information about a particular aspect of travel, consider writing an online course or an eBook to teach others how to become experts in the same field.
Wrap Up.
Creating a travel blog can be a rewarding and beneficial experience.
Remember that everyone starts somewhere, so don't be discouraged if your blog doesn't gain traction immediately.
Focus on providing quality content and engaging with readers; the rest should follow.
Further reading on AdamEnfroy.com: AI SEO tools help content creators write better content for blogs with more efficiency.
Learn more about it and how to use AI SEO tools to increase organic traffic to your blog.
You can also check out this guide on email marketing as a blogger.
It will help you understand how to create an email list and use it to reach readers, build relationships with brands, and grow your blog.
Disclosure: I may receive affiliate compensation for some of the links below at no cost to you if you decide to purchase a paid plan. You can read our affiliate disclosure in our privacy policy. This site is not intending to provide financial advice. This is for entertainment only.