The Ultimate List of Live Streaming Statistics for 2023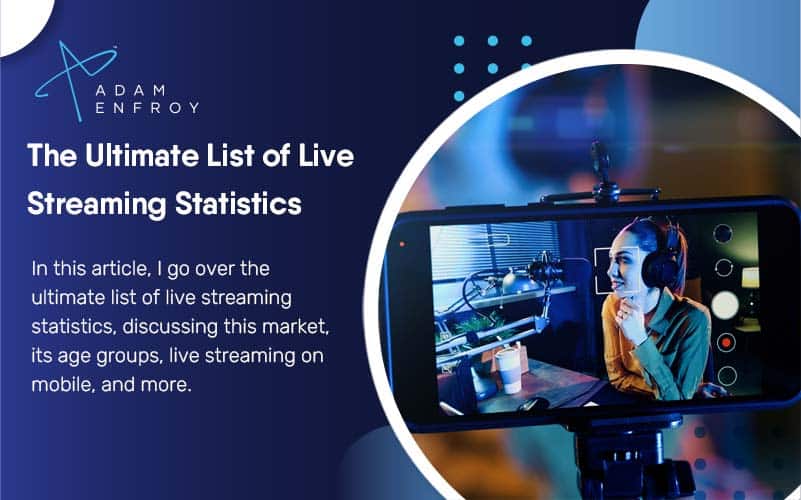 Live video streaming is a big deal.
With more video platforms and websites offering live streaming capabilities, the adoption rate of live streaming is expected to explode in the next few years.
While the VOD streaming (video on demand) market has become crowded and competitive, live streaming is still an upcoming market with huge potential.
Platforms like Twitch and YouTube Live have streaming software that can be embedded into any website or blog while also allowing streamers to make a living off their talents.
The live streaming industry is still in its early stages, but it has already made a name for itself and attracted interest from big media buyers.
This trend shows no sign of slowing down.
In this post, I will provide a synopsis of some of the most impressive statistics and trends that I have seen for the live streaming industry.
If you are thinking about getting into the live streaming business, these stats can help you understand the industry and build a successful business around it.
Let's get right into it.
The Live Video Streaming Market
1. $184.27 billion – the valuation of the live streaming industry by 2027.
(Tech Jury)
By 2027, the live streaming market will be valued at $184.27 billion, according to Tech Jury.
Live streaming is becoming more and more popular, from streaming video games to streaming concerts.
The projected valuation of this industry in a few years is enormous and only shows how big live streaming will become.
2. 26% of people that watch something live do it due to exclusive coverage.
(GWI Consumer Trends Report)
Wanting to get something exclusive is a human need that has driven people to watch things live for years.
Think of significant events like the Super Bowl or an awards show, usually watched by millions worldwide.
Many people tune in precisely to hear that one line that one might say or just because they want to see something without anybody spoiling it for them.
Many live streams will teach something exclusive to an audience that can't get access to it in any other way.
3. Facebook Live made video content 32% more crucial for a company's marketing strategies.
(Wyzowl)
The introduction of Facebook Live sparked a huge interest in live streaming and has caused a lot of companies to implement live video content into their marketing strategies.
According to Wyzowl, video content became more critical when Facebook introduced Facebook Live Videos because it gave companies a way to market themselves in real-time.
Also, with Facebook's algorithm promoting those that can engage an audience with their content, live streaming has become an excellent way for companies to attract organic internet traffic from Facebook.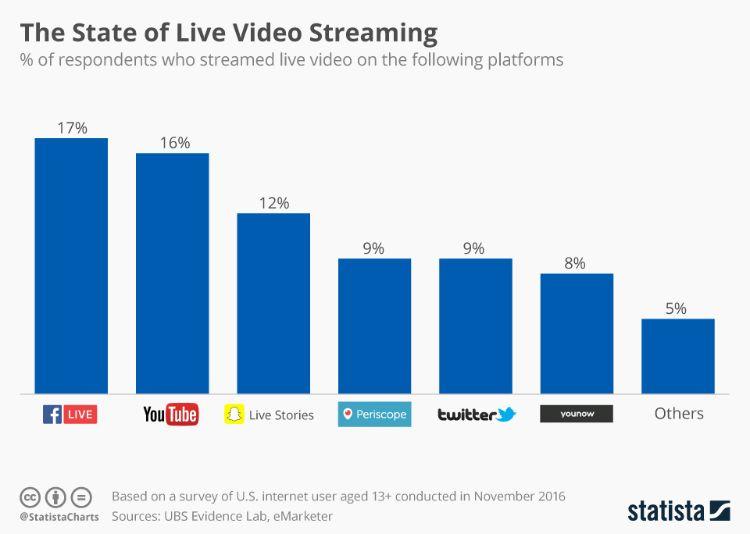 Image credit: Statista.com
Age Groups
4. Millennials & Gen Z stream content while Boomers and Gen Xers consume more broadcast TV.
(GlobalWebIndex)
How people consume content has changed a lot over the years.
For example, when TV was introduced, it became common for families to sit down and watch TV shows together.
Nowadays, this is rarely done.
There are so many options available that Millennials and Gen Z would rather stream content on their devices.
Compared to the older generations that still watch TV, younger generations stream content more and own fewer TVs.
5. Social platforms attract 34% of Generation Z due to live streaming capabilities.
(GWI Flagship Report)
A third of the people in the Gen. Z category are on social media platforms (such as Facebook, Twitter, Tiktok, and Snapchat) for one primary reason.
According to GlobalWebIndex's Flagship report, 34% of Gen Z are primarily on social media due to its live-streaming capabilities.
While traditionally, Gen Z has preferred social platforms that allow them to post pictures and connect with others, now they are moving onto the platforms' live streaming features as more of a priority.
The ability to go live on TikTok, Instagram, and Facebook has become increasingly important to this generation.
6. Millennials stream the most live content. This happens with 63% of this age group (between 18-34).
(Neil Patel)
The Millennial generation is the age group that spends the most time on live platforms, with 63% of them watching live streaming content.
Growing up and being exposed to the various stages of internet development caused Millennials to spend their time on more traditional communication platforms.
Now they are moving away from these platforms' features and onto live streaming.
One of the reasons might be that they prefer the ability to connect with people in real-time rather than read updates that can come hours or even days after they were published.
Mobile Viewing
7. As much as 79% of mobile use will go towards live streaming by 2022.
(Cisco, 2021)
According to survey respondents, almost 80% of mobile use will soon be spent on live streaming.
This makes sense as most people now own a smartphone, and the number of smart devices is only going up, including TVs, cars, watches, etc.
All these devices will allow individuals to access live content everywhere they go.
Gone are the days when people purely used mobile devices to call and send SMS.
8. 7 minutes – the length of time people stream videos on a desktop.
(Statista, 2019)
Nowadays, people don't seem to watch many videos on their desktops.
This might be caused by our busy lives and always having somewhere to be.
Most people view videos for around 7 minutes on a desktop computer.
9. 16 minutes – the length of time people stream videos on mobile.
(Statista, 2019)
When considering the last statistic and comparing it to this one, it's not surprising that the average viewer watched more content on mobile – 16 minutes to be exact.
This may be due to higher phone capabilities making people more willing to watch videos on their phones or simply because they are so portable and can be taken everywhere.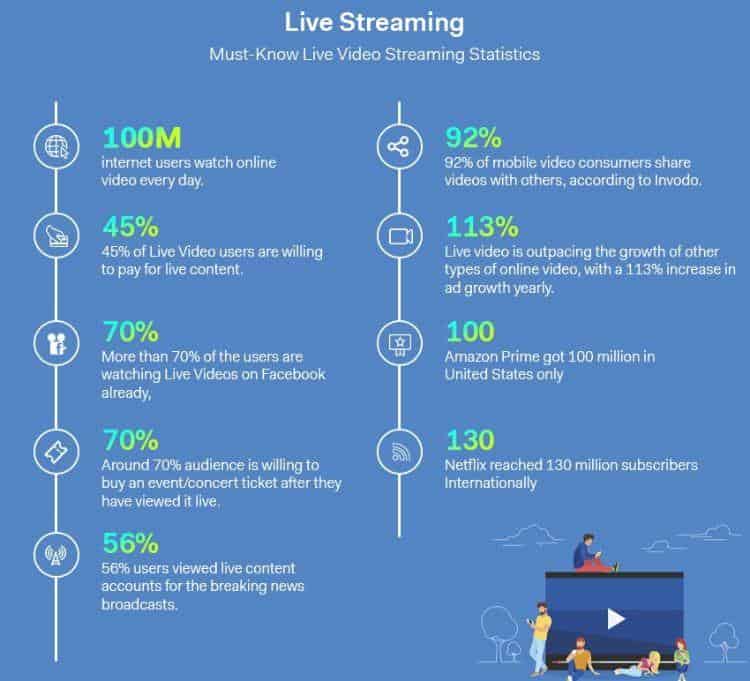 Image Credit: Hackernoon.com
Using Live Video To Grab Attention
10. The average watch time for live videos is 26.4 minutes per session.
(Streaming Media, 2019)
A lengthy 26.4 minutes is the average watch time for live video sessions.
This is because people can authentically connect with live broadcasts, experiencing every detail as it happens.
This makes it much more likely for people to stay tuned in for longer.
This is an excellent stat for companies considering advertising during a live broadcast.
11. When it comes to grabbing and holding attention, live videos have users' attention for as much as 10 to 20 times longer than other types of video content.
(Forrester)
We've all heard that the average attention span is consistently getting less and that it's a difficult task to keep someone engaged.
However, using live streaming services might be the best way to get people to continue watching content longer.
People are 10-20 times more likely to watch a live video than other types of videos.
This could be due to content that is being created in real-time and it's authentic, two things that one can't say about pre-recorded or edited videos.
12. 70% of people that watch live streams do so every day.
(Interactive Advertising Bureau)
The repeated viewership of live streaming is quite unmatched.
70% of people who watch live videos do so daily.
When watching live streams, people seem to become hooked to them and become daily viewers.
This is one of the reasons why live video works so well when it comes to hardcore viewership.
13. When it comes to live streaming, video buffering and start times are better than videos on-demand.
(Streaming Media)
Sometimes, it's fascinating to think about the advancements in technology and the speed with which things have changed.
When live streaming came about, there were problems with latency, lag, and buffering – all of which would destroy a good viewing experience.
However, companies have improved the buffer time for live video considerably.
Streaming live can now be done faster and in higher quality than on-demand videos.
This makes the experience much more enjoyable for concurrent viewers, especially for live sporting events or other time-sensitive material.
Live Streaming Challenges
14. The most significant difficulties that live streamers have to overcome are: employees tuning in to live streams (41%), being in a remote location or at a conference and having to live stream (39%), understanding bandwidth needs and their repercussions (36%).
(Haivision)
There are still issues with live streaming, and many are related to the fact that different people like to stream at various qualities.
Not everyone has unlimited bandwidth, and adjusting accordingly can be a problem – especially when someone is in the middle of watching something important.
In addition, being in a remote location and getting people to tune in to the right stream can be difficult.
These are all issues that have to be overcome by live streamers so the viewer experience can become the best it can be.
15. A live stream fails to start in 2.6% of all cases.
(Streaming Media)
Live streams aren't always perfect and don't always go according to plan.
With that said, a failure to start only happens in minor situations.
This might be one of the reasons why live streaming has become so popular – it allows people to reliably tune in and know that reliability is almost a given.
16. If the quality degrades in an OTT platform, revenue might fall by up to a quarter.
(Livestream)
Quality is one of the top priorities for live streamers, and this is because it impacts the viewer experience.
Over the top platforms (OTT) have to make sure that their streaming is of high quality because if it's not, there will be a significant drop in viewership.
The degradation of a live stream might reduce revenue by up to 25%.
This highlights just how important live streaming is and how much care companies need to ensure the experience is perfect for their viewers.
17. If videos take more than two seconds to load, the abandonment rate will increase at a rate of about 6% with every incremental second.
(Akamai)
6% is how many viewers (compared to the total amount) will abandon a video if it doesn't load in two seconds.
This is an interesting stat because it shows how impatient people are when watching videos online.
Live streaming has become so popular because of this need for instant gratification and the craving for instant consumption.
People are only willing to give such videos a couple of seconds to load before deciding it's not worth their time.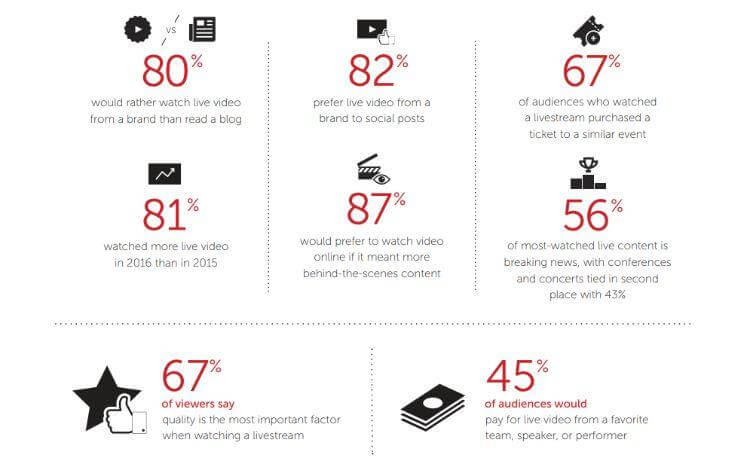 Image Credit: Restream.io
Uses Of Live Video
18. Thanks to online videos, calls for customer support are 43% lower.
(Wyzowl)
Companies find that they can significantly reduce their customer support calls by running online videos that explain how stuff works.
Customer support costs are high, so cutting the number of requests through other means helps businesses save money.
Online videos can be beneficial because they show people exactly how to use a product or service and how it works in everyday life.
19. Engagement is more than double for influencers and content creators who use streaming videos.
(RhythmOne)
Instead of having a faceless person write about products or gameplay, people can watch a live stream where the influencer goes through a demo of how things work.
This is why influencer marketing has become so popular – it allows brands to reach their target demographic in a natural and relevant way.
In addition, people are more likely to engage with an influencer who runs a stream than one who writes about products or talks about products in a very detached manner.
With live streaming, the concept of transparency and realness entices an audience to watch and even engage with the influencer.
20. The 2019 Coachella event had 82.9 million live views, making it the highest streamed event ever.
(Variety)
Coachella is a famous music festival that's been running since the 1970s.
In 2019, it became the highest streamed event, with 82.9 million people tuning in.
This tells us that live streaming is becoming more and more popular, with different live events becoming more successful in the online space.
What Makes A Live Stream So Popular?
A few main things make a live stream more attractive to the audience.
One of them is the transparency of the content on screen.
The people behind this streaming channel let everyone know who they are, often even offering their full name, making it easier for viewers to connect with them.
Another reason why people watch more and more live streaming channels is that some channels offer information about specific upcoming events – even before more official media outlets do so.
This happens because live streamers have real-time access to data from different sources rather than relying on reporters.
A good example is when sports fans know about their favorite teams' lineups before traditional sports news websites report these updates.
Live streaming is becoming more and more popular, which is why other media outlets should learn from these channels' success stories and use them in their marketing strategies.
The Difference Between Streaming Live Video And On-Demand video
The streaming market is vast, and it encompasses both on-demand video streaming and live video streaming.
Live videos are transmitted "live" as they happen, meaning that users can enjoy them during the actual transmission of video from the recording device.
Live stream viewers get the satisfaction of seeing the content directly from the source, which also means that they will get a real-time experience of whatever event they choose to watch.
On demand videos are pre-recorded and then uploaded on different channels to watch.
These videos can also be edited to see better what happened during the recording of the event.
On-demand videos, unlike live videos, also allow internet users access to a variety of features such as multitasking and rewinding on some channels.
There is also the concept of SVOD, which is short for "subscription-based video on demand".
This type of content is only available to those who pay a fee.
Live Streaming Video Viewers
With the need for speed and the excitement of knowing that they're part of an exclusive club, many former television viewers have been replaced by live streaming enthusiasts.
This is because viewers prefer real-time information over something that happened hours or days ago.
Spurred on by quality and affordable equipment, users can only expect more and better live streaming options for their viewing pleasure.
Users that are also looking for alternatives to traditional TV are definitely on the rise, and the internet is the perfect channel for this.
This market is scorching among all age groups.
Amongst others, these include:
Millennials are increasingly turning to new technological options that would allow them more freedom regarding what they watch and how they watch it.
Internet-savvy baby boomers are also one of the live video audiences that used to go online and search for the latest TV shows and movies; now they also turn their attention to live streaming videos.
Traditionalists and the silent era are generations that are also learning how to navigate live streaming channels.
Live Streaming On Social Media
The Facebook live stream feature was one of the first to introduce live streaming abilities to allow people to share what they were doing live at any time.
After that, many new platforms were developed to satisfy this need.
Nowadays, it only takes a couple of clicks on one's mobile device to 'go live'.
People can choose whom to invite for this live discussion by adding specific friends or choosing their entire community.
The live streaming market is in full swing, and there seems to be no stopping it, with many other social media platforms introducing their own (and better) version of live streaming.
Live video streaming statistics for social media also suggest that this is the best way to engage with an audience.
Gaming In Live Streaming

Image Credit: Restream.io
Gaming live streams exploded in popularity over the last several years, especially with the worldwide eSports market.
The Covid-19 pandemic also upped the need for the right live streaming platform for gaming.
While Facebook gaming appeals to various gamers, many Twitch users started streaming live games for their audience during the Coronavirus situation.
With various apps available in this market, streaming live content through a mobile device or dedicated app has become much more straightforward.
Other Considerations In Live Streaming
Finally, big platforms such as Netflix, Amazon, Conviva, Hulu, and others are already using live-streaming capabilities (to some extent or another) to reach the public.
In addition, big research companies are deeply interested in what these platforms can do now and in the future.
With platforms such as Nielsen and Grand View Research performing various tests and research while analyzing data from streaming platforms, the excitement surrounding this market will not die down anytime soon.
Wrap Up.
The above video streaming statistics illustrate how popular this online medium has become.
Live streaming is the future of entertainment, and social media makes it even easier for fans to connect with their favorite channels or celebrities.
Live streaming stats also show that people want this channel to keep growing and are willing to take the time to understand how it works.
While live streaming was initially introduced for people to connect through different means, it has quickly become famous as a means of sharing anything with one another.
It's also even an avenue for celebrities who want to showcase their talent to fans worldwide, which helps it become more mainstream.
What do you think? Do you tune in to live streaming videos, or do you prefer on-demand videos? Share your thoughts in the comment section below.
Further reading on AdamEnfroy.com: Here are the best online video platforms right now that allow you to create and share your videos with others.
In addition, if you're looking for YouTube alternatives to monetize your videos, there are various platforms to consider that will suit your every need.
Disclosure: I may receive affiliate compensation for some of the links below at no cost to you if you decide to purchase a paid plan. You can read our affiliate disclosure in our privacy policy. This site is not intending to provide financial advice. This is for entertainment only.