Senior Blogging: Using Technology to Share Life's Experiences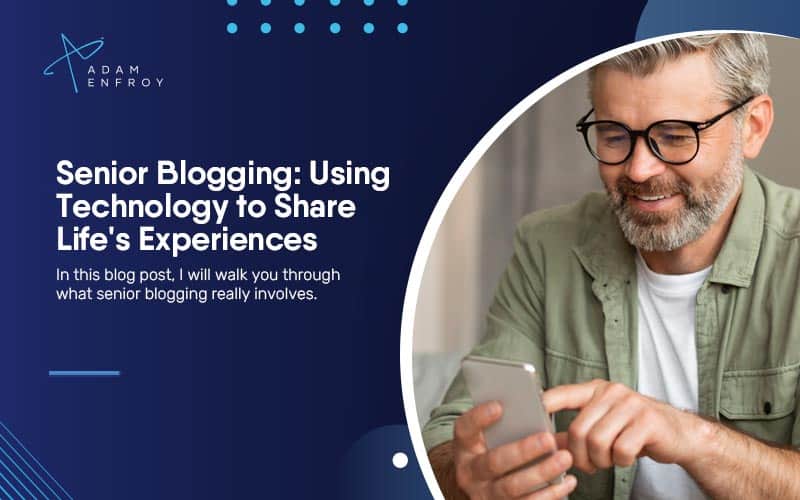 If you're in your more experienced years and ever thought about blogging, you might just have gotten a twinkle in your eye and a hint of worry on your brow.
You might think it's all just too much techy stuff, right?
That it's a young person's game.
But let me tell you something – that's just not the case.
Remember when we first hopped on bikes?
It was tough at first, and we got a few scrapes and bruises.
But we didn't stop, did we?
We kept going until we could ride down the street with no hands, the wind in our hair.
Well, blogging is just like that.
Sure, there might be a few bumps initially, but you'll be pedaling along with ease in no time.
But I hear you going, "Where do I even start? How do I get in on this?"
Don't worry, I've got your back!
In this blog post, I will walk you through what senior blogging involves. If you've got a story to tell or a message to share, this is the place to start.
The Best Senior Blogging Sites To Consider
Let's start with some of the top senior blogging sites you can model when starting your own.
1. Feisty Side Of 50.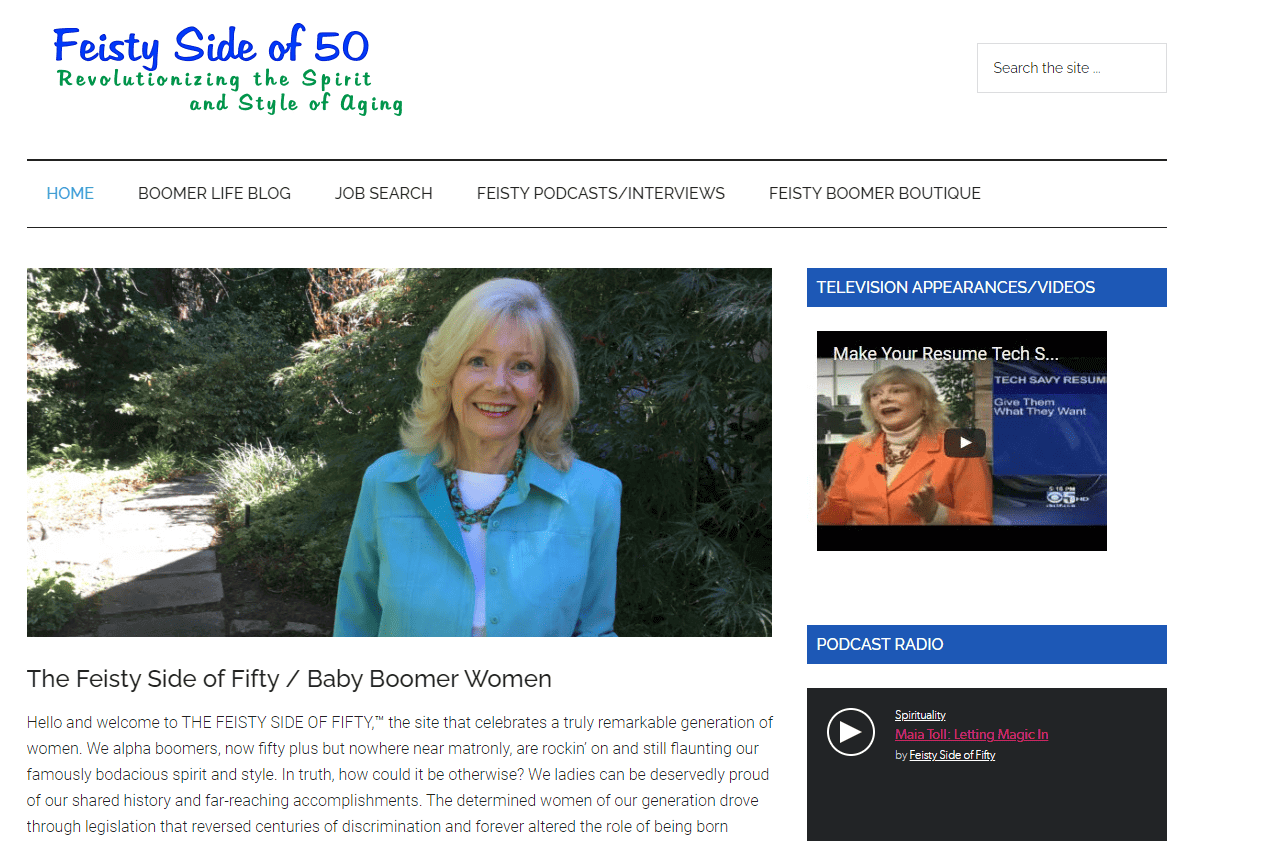 Are you looking for a new job or planning to start a business?
Feisty Side of 50 can be your go-to resource for career-related queries.
Mary Eileen Williams has years of experience as a career counselor and shares her wisdom through her blog posts.
She covers everything you need to know, from resume tips to networking strategies to ace the job market after turning 50.
You'll also find inspiring stories of women who started new careers or businesses in midlife, proving that it's never too late to pursue your dreams.
Maintaining good health becomes crucial for enjoying life fully as we age.
Feisty Side of 50 provides practical advice and tips on how to stay healthy, fit, and radiant after 50.
You'll find posts on anti-aging skincare secrets, healthy recipes, fitness routines, and mental wellness.
Mary Eileen Williams emphasizes the importance of self-care and encourages women to prioritize their health and well-being.
With her expert advice, you can adopt healthy habits that will enhance your vitality and longevity.
Feisty Side of 50 offers valuable insights and guidance on preparing for a fulfilling and joyful retirement.
You'll learn about retirement community savings strategies, financial planning, travel opportunities, and lifestyle changes.
Mary Eileen Williams also shares stories of women living their best lives in retirement, proving that it's a phase to look forward to, not dread.
Feisty Side of 50 encourages women to cultivate a success-driven mindset that aligns with their values and aspirations.
You'll find posts on personal growth, self-reflection, gratitude, and confidence.
Mary Eileen Williams empowers women to embrace their strengths, overcome their fears, and pursue their passions with purpose and joy.
2. Senior Planet.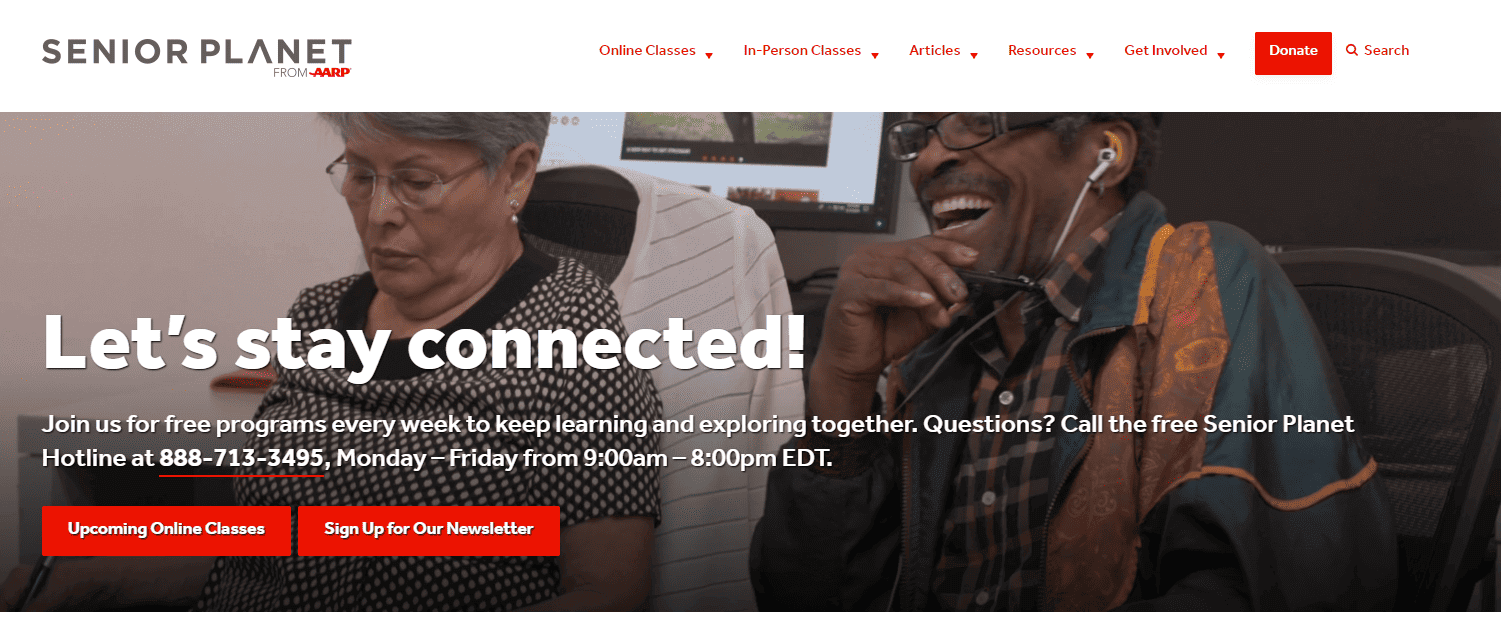 Senior Planet is one of the best senior websites around.
Its actionable posts are an excellent resource for readers to unlock the power of digital technology and make senior life easier.
With the proliferation of the internet, technological tools, and social media, Senior Planet provides step-by-step guides that are easy to understand for seniors to navigate these innovative trends.
From using social media to maintain healthy relationships with loved ones to accessing senior services, Senior Planet offers comprehensive online resources that help seniors make the most of digital technology.
Moreover, seniors have unique healthcare needs, and staying up-to-date with medical advances is crucial to maintaining optimal health.
Senior Planet's diverse range of topics includes articles on medical research that are thought-provoking and informative.
From the latest studies on aging to information on emerging healthcare trends, Senior Planet ensures seniors have access to relevant health topics.
Furthermore, the Senior Planet offers content on activism, which is paramount in today's world.
With social issues taking a central stage in the world, seniors can use their voices to promote the causes they believe in.
Senior Planet's informative articles on how seniors can get involved in advocacy work are heartwarming and inspiring.
Senior Planet releases content approximately once a month, ensuring visitors to the website have access to updated topics.
Regular visitors can attest to the site's credibility and relevance.
The user-friendly interface allows seniors to browse through the website with utmost ease.
From the latest conversations on online forums to new articles, the senior Planet is the perfect companion for seniors looking to stay up-to-date with the latest trends.
3. Grandma's Briefs.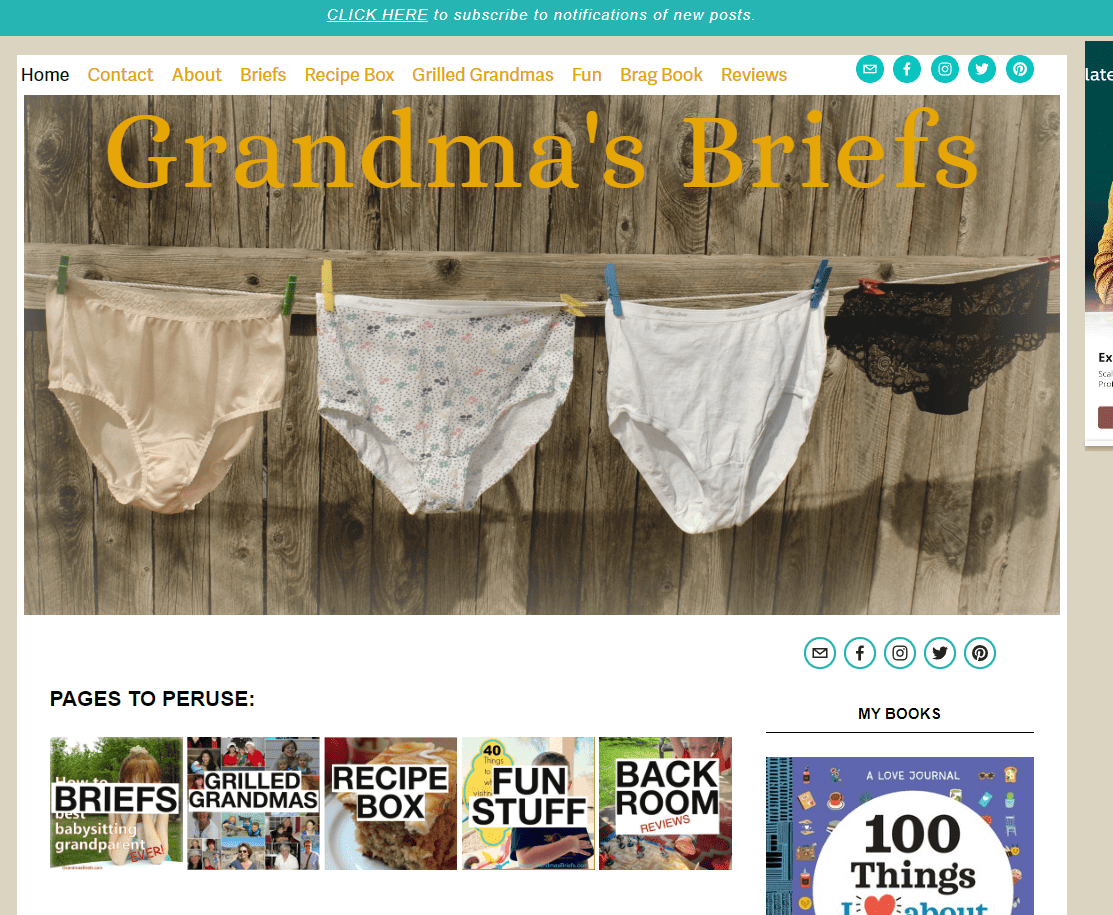 The creator of Grandma's Briefs is Lisa Carpenter, a seasoned newspaper editor and proud grandmother.
Her writing style is genuine, relatable, and hilarious at times.
Her dedication to celebrating the joys of grandparenthood is evident in every post.
You'll find a mix of personal stories, humorous anecdotes, and heartfelt advice on her blog.
Lisa truly knows how to capture the essence of being a modern grandma.
One of the best aspects of Grandma's Briefs is Lisa's mouthwatering recipes.
From classic comfort food dishes to innovative family recipes, Lisa's blog will have you drooling in no time.
Plus, with her step-by-step instructions, you won't have to worry about kitchen mishaps.
Not only will your grandkids love you for making them delicious treats, but you'll also impress your adult children with your culinary skills.
Another fantastic feature of Grandma's Briefs is the profile features on inspiring grandmas.
These women are trailblazers, innovators, and risk-takers who have defied stereotypes about what it means to be a grandma.
Reading about these inspiring grandmothers will leave you feeling motivated, encouraged, and ready to take on new challenges.
As senior bloggers, we must remind ourselves that age is just a number and that we're never too old to chase our dreams.
Grandma's Briefs also offers exciting reviews and giveaways to make your grandkids think you're the coolest grandma in town.
From educational games to fun activities and family-friendly products, Lisa reviews and gives away some of the best grandparent-approved items on the market.
The giveaways are a great way to bond with your grandchildren and create special memories.
4. Grey Fox.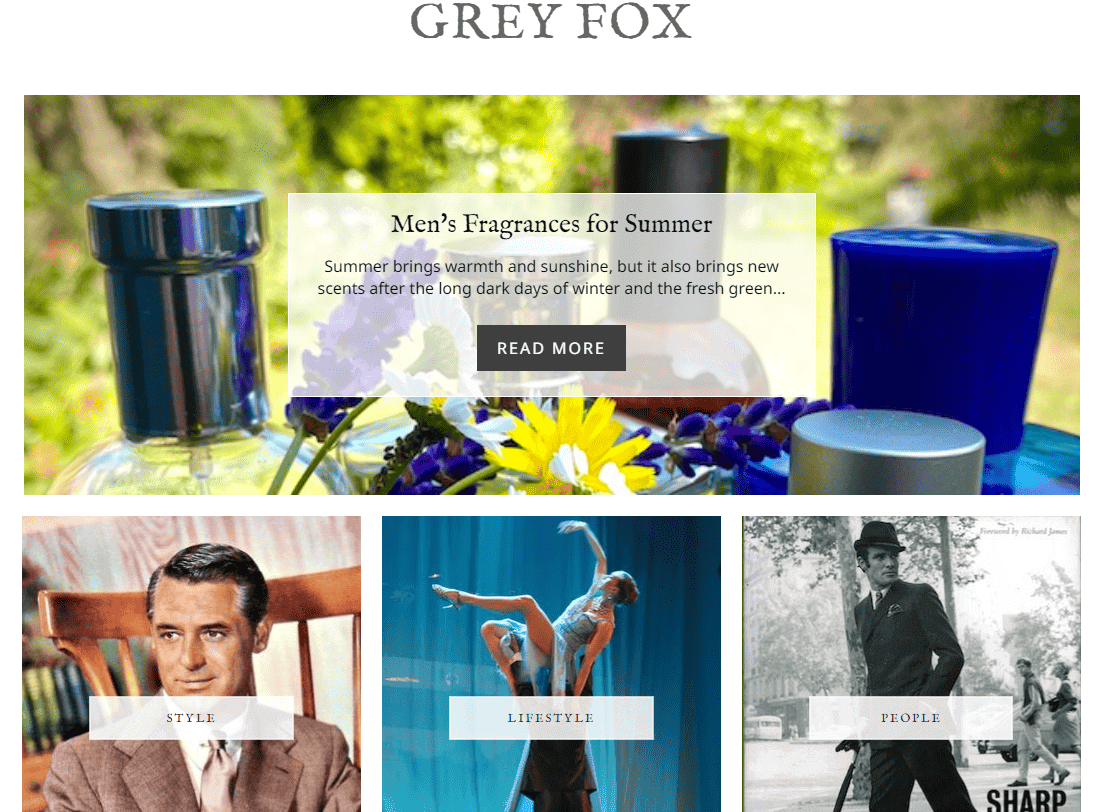 Fashion may seem like a young man's game, but David Evans is here to prove otherwise.
As the writer of Grey Fox, a fashion blog specifically tailored for men over 40, Evans is passionate about bringing attention to a demographic he believes has been woefully underserved by the fashion industry.
In particular, Grey Fox highlights British brands, offering honest reviews and histories that will provide readers with a new appreciation for the clothes they wear.
But Grey Fox isn't just about exclusivity or looking fancy – Evans' approachable writing style and practical advice make fashion attainable for even the most basic t-shirt and jeans man.
5. GypsyNesters.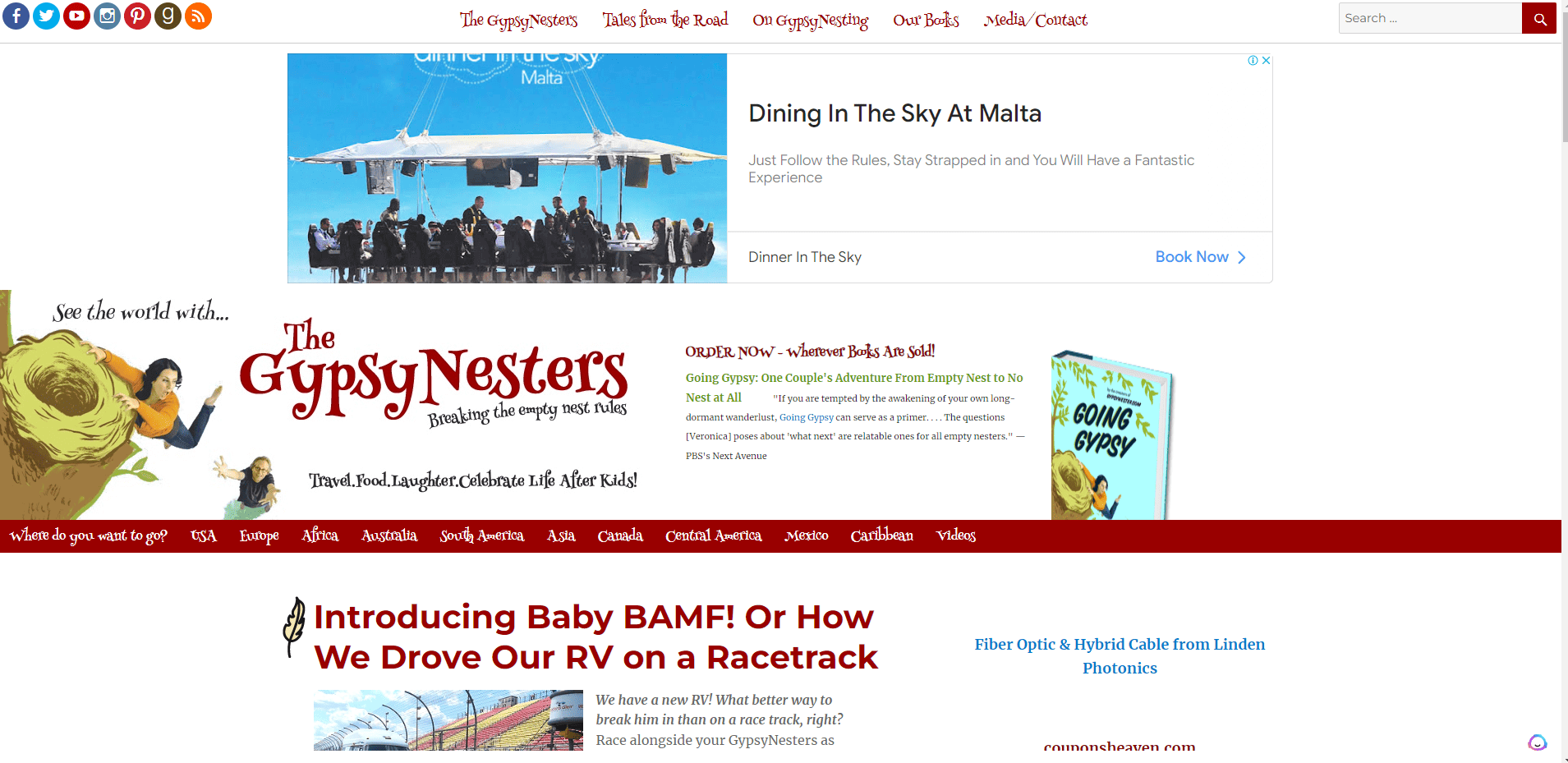 David and Veronica James are a couple who have embraced the idea of an empty nest as an opportunity for adventure.
They have taken their love of travel to new heights by sharing their stories and tips on their blog, GypsyNesters.
Their journey started with a cross-country trip over 10,000 miles on the backroads of America.
Their experiences led to writing a book called "Going Gypsy", which documents this amazing journey.
The Jameses' spirit of adventure and willingness to share their stories has inspired readers worldwide to embrace the idea of travel and adventure in their own lives.
Key Truths About Senior Blogging
Before you start your own blog (or take your current senior blog to the next level), it's essential to understand the truths about blogging.
Blogging Takes Time And Patience
Building a blog is a long-term game.
Initially, your audience may consist mainly of a small group of friends and family.
It's common to feel frustrated and discouraged when you don't see rapid growth in your blog's traffic or social media following.
But it's crucial to remember that every successful blogger started from zero.
Staying consistent, committed, and patient is essential to succeed in blogging.
Remember, gaining traction, building an audience, and establishing a reputation in your niche takes time.
Blogging Offers Opportunities To Share Knowledge And Connect With Your Local Community
Blogging is a fantastic way to share your knowledge and expertise with others.
You can document your experiences, offer advice, and inspire your readers to act.
Blogging can also help you establish connections with your local community.
You can feature local events, interview local business owners, and write about local news.
Blogging allows you to become an influential voice in your community and foster positive change.
Blogging Can Help You Build Connections And Even Earn Some Extra Cash
If you're willing to work, blogging can be a great way to make extra money.
There are various monetization methods, such as affiliate marketing, sponsored posts, and selling digital products.
However, earning money through blogging is not easy.
It requires a lot of dedication, hard work, and patience.
Building an audience and establishing trust with them is crucial to monetizing your blog successfully.
It's also essential to avoid misleading your audience or posting content solely for the money.
Consistency Is Key
To succeed in blogging, consistency is vital.
It's crucial to develop a posting schedule and stick to it.
Your readers should know when to expect new content; consistency builds trust and loyalty.
Publish high-quality content regularly, and engage with your audience through social media and comments.
Respond to your comments and emails and always offer value to your readers.
Stay Motivated And Committed
Blogging can be a lonely and isolating experience.
You may face writer's block, burnout, or lack of motivation.
But staying motivated and committed is crucial to succeed.
Find inspiration in your niche, follow other bloggers and industry leaders, and engage with your audience.
Take breaks when you need them, but don't give up.
Remember, every successful blogger faced challenges, but they kept going.
Steps To Starting Your Successful Blog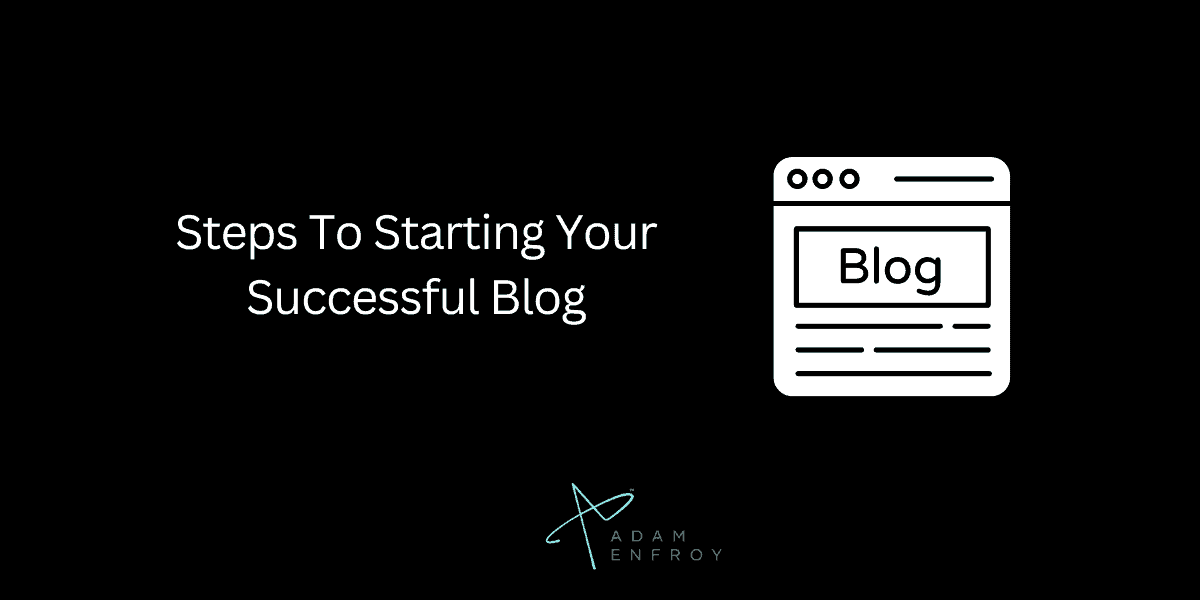 Let's now walk through the steps you need to start your blogging journey.
Find The Perfect Platform That Suits You
The first step to starting a successful blog is to select the platform that best suits your goals and needs.
There are many platforms to choose from, including WordPress, Squarespace, and Wix.
These platforms offer a variety of features, such as customizable templates and plugins that can enhance the functionality of your blog.
Research and compare the options before selecting the best for you.
Create An Account And Select An Appealing Username
Once you have selected your platform, create an account and choose a unique and memorable username.
Your username should be representative of your blog's brand and identity.
Remember, the username will be visible to the public, so choose something you are comfortable associating with your blog.
Pick A Catchy Name For Your Blog (You Can Always Change It Later)
Selecting a catchy name for your blog is crucial as it is often the first thing visitors will see.
The name should be relevant, memorable, and reflective of your blog's content and focus.
When choosing a name, research to avoid copyright violations and verify that your domain name is available.
Dive Into Writing And Publishing Your Inaugural Post
Now that you have created your account and chosen a name, it's time to write and publish your inaugural blog post.
Your first post should introduce yourself and your blog's purpose.
It should be engaging and informative, geared towards your target audience, and reflect your unique voice and perspective.
Keep The Creativity Flowing By Regularly Publishing New Content
To be successful in blogging, regular publishing of fresh content is critical.
Establish a publishing schedule or routine that works well for you based on your posting frequency, content theme, and personal plan.
Consistency is critical to building a loyal following.
Gain Inspiration From Fellow Bloggers And Establish A Supportive Online Community
Connecting with a community of bloggers is a crucial way to inspire and motivate you as you develop your blog.
Joining online forums, Facebook groups, or associations dedicated to blogging can offer helpful support and encouragement.
Networking with like-minded individuals passionate about blogging and learning from experienced bloggers can help boost your confidence and give you new ideas.
What Can You Blog About?
As seniors age, they are often faced with new challenges that can be difficult to navigate alone.
However, these challenges also present opportunities for growth and learning.
For instance, senior living, assisted living, home care, and assisted living communities can be fascinating topics to blog about.
By sharing their experiences and wisdom, bloggers can create a thriving senior living blog that provides knowledge and insights. Bloggers can use senior living blogs to talk about healthy aging, the benefits of assisted living, and even the realities of old age.
Seniors can also explore various topics, such as new technology in senior living, financial planning for retirement, and traveling in old age.
Through blogging, seniors learn to improve their digital literacy skills, which can lead to better cognitive activity and boost social interaction.
With technology advancing rapidly, apps like AARP can help older adults stay connected and engaged with the world around them.
Blogging can also serve as a tool for memory care and Alzheimer's patients by allowing them to document their life experiences and share them with others.
It also allows citizens to make new friends and connect with other senior women living similar experiences in their golden years.
Whether through the same providers or different ones, helping others facing the same issues as time goes by can be a great source of comfort and advice.
By sharing their experiences and opinions, seniors can significantly contribute to the senior living community and enrich the lives of others.
Enhancing Your Blog Posts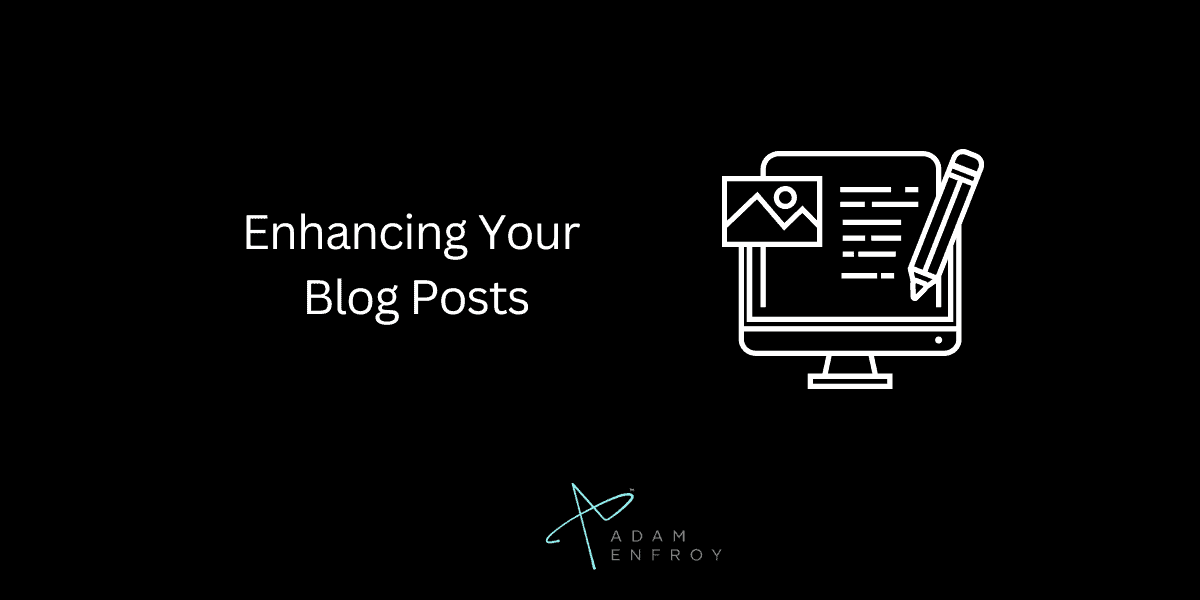 Whether you are starting a new blog or have been writing lifestyle blogs for seniors, several elements can make your informative posts more thought-provoking and engaging.
Using high-quality images and videos is a great way to capture your audience's attention and make your senior blogs more visually appealing.
Additionally, structuring your blog posts for easy reading and writing engaging titles and headlines can increase the chances of a wider audience seeing your work.
By utilizing guest authors and collaborating with other famous silver foxes or roaming boomers, you can enrich the value of your senior blog and provide helpful information regarding easier senior life, senior housing, senior care, and more.
You might also consider hosting an event or creating a special offer for readers as incentive to promote your blog and gain more subscribers.
Promoting Your Senior Blog
Social media platforms like Facebook, Twitter, and Instagram can effectively engage with a larger audience and promote your content.
Furthermore, engaging with comments and creating a community on your blog can foster a sense of connection and engagement amongst readers.
Another strategy is implementing search engine optimization (SEO) strategies to improve your blog's ranking on search engines, which can help attract more readers.
Collaborating with other senior bloggers can help you expand your reach and tap into new audiences.
An informative blog can help readers make better-informed decisions that can improve their quality of life.
While it's tough to provide one way that fits all blogs regarding promotion, focusing on these blogging tips and strategies can help you find success.
Dealing With Blog Challenges
Whether senior citizens want to share their experiences and knowledge of assisted and independent living, in-home with caregivers, nonprofit organizations, or any other topic, they often face obstacles.
One such obstacle is the infamous writer's block.
The good news is that overcoming writer's block is possible by setting a routine and taking breaks when necessary.
AI writing tools can also help you get creative and produce content that resonates with your audience.
Another obstacle is finding the time to write a blog post when juggling other tasks such as work or family obligations.
Fortunately, it's possible to do both by setting aside a specific amount of daily time dedicated solely to blogging.
Ensuring online privacy and security is another challenge in today's digital age.
Senior bloggers must take precautionary measures to protect themselves and their audience from cyber threats.
Furthermore, dealing with negative comments or feedback may be daunting, but addressing them professionally and courteously is crucial.
Staying updated with blogging trends and technologies is another challenge to overcome when attracting and retaining a readership.
With these challenges and considerations in mind, senior bloggers can confidently share their thoughts and experiences with their audience.
Wrap Up.
Senior blogging can be a rewarding and satisfying experience for baby boomers.
Whether you want to stay connected with your kids, share your knowledge and expertise, or express yourself creatively, the possibilities are endless.
With several platforms making building your online real estate easy, there's no excuse not to start blogging today
Further reading on AdamEnfroy.com: If you want to make money blogging, check out my guide on blogging for beginners so you get started on the right foot.
If you're still not sold, here's more information on why you should start a personal blog this year.
Editorial Process:
Our reviews are made by a team of experts before being written and come from real-world experience. Read our editorial process here.
Some of the links in this article may be affiliate links, which can provide compensation to us at no cost to you if you decide to purchase a paid plan. These are products we've personally used and stand behind. This site is not intended to provide financial advice. You can read our affiliate disclosure in our privacy policy.