How to Use Youtube Studio to Grow Your Youtube Channel
If you're planning on starting a YouTube channel and making money from it, you'll need to become familiar with YouTube Studio.
From learning about where your viewers are mainly coming from to keeping track of vital channel statistics, YouTube Studio is an essential tool for anyone wanting to grow their channel through the most popular video platform in the world.
If you're also using (or plan on doing so in the future) online course platforms to host and sell your courses, understanding what makes your videos resonate with viewers on YouTube will also come in handy when creating those courses.
In this article, I explore YouTube Studio, YouTube's official channel management tool. I will show you how to use this in-depth platform to help you grow your channel and monetize your videos.
Let's get right into it.
Getting To The YouTube Studio
From the main YouTube page, click on Customize Channel to the right of your channel name.
This will take you to the YouTube Creator Studio. If you can't find the Customize Channel button, click on the three lines in the top left corner and select YouTube Studio.
You will then get to the backend of your YouTube Channel, where you can manage all aspects of your channel.
Checking The Channel Performance
From the YouTube Studio's main dashboard, you can see the latest video's performance, which will give you an idea of how well your recently-uploaded videos are doing.
You can also see the most recent subscribers, which will tell you if you're growing or losing people that follow your channel.
You can also see the latest comments people have left on your channel.
There's also a link to Creator Insider, a great way to stay updated on the latest YouTube news, tips, and tricks.
YouTube Content
Once you get to the content section, you'll see all your videos, live posts, and stories, allowing you to quickly go through everything published on your channel.
When you hover over an individual video, you can go into the video details, review the detailed analytics, check out any video comments, see monetization options, and more.
You can also get a shareable link to post on social media or other websites, promote the video through paid ads, download it, or even delete it forever.
Be careful not to hit this option unless you're sure you want to delete a video, as there is no way to get it back once this is done.
There is also visibility information for each video, with the choices being private, unlimited, or public.
If you have memberships enabled, you can set the option so only members can see specific videos.
Monetization Status
If you have issues with monetization, this is also the section you will want to check out.
You can quickly see any claims or issues with your video, and if there's anything that needs your attention, it will be highlighted in red.
Different colored icons will also show your video's status, which might include any copyright claims on a particular video.
You'll also be able to see when the video was uploaded, its current status, and more video-related information.
The YouTube Video Editor
In the content section, you can press edit on a live video, which will take you to the live editor.
Note that you won't be able to perform all the features traditionally associated with video editing software with this web app, as editing YouTube videos should be done before you upload them.
The live editor is more for fixing small mistakes or adding an end screen.
With the YouTube editor, the video will stay live on site while you perform the needed video editing, which is handy if you only want to remove a part of your video.
If you have copyright claims or strikes on your channel, you can use this editor to remove the part of the video causing the issue.
You can also add an end screen using the same editor, which is a great way to promote your other videos or playlists.
This is especially useful if you have a series of more videos that you want people to watch, videos that you uploaded after the specific video you're reviewing.
Setting Up Playlists
Playlists are a great way to organize your videos, and they're also a way to get more views.
To create a playlist, click on the New Playlist button in the top right corner.
You can then give your playlist a name and set its privacy settings.
Once you've done that, you can add videos to your playlist by dragging and dropping them into the playlist or clicking the add to playlist button.
You can also rearrange the order of the videos in your playlist by dragging and dropping them around.
When you're happy with your playlist, click on publish, and your playlist will then be live on your channel.
As a side note, thinking about videos that can be grouped in a playlist is a great way to come up with new video ideas, and it's also a great way to get more views on your existing videos.
Remember that alongside videos, playlists can appear in search results, so naming them similar to how you'd name any one video you upload can be helpful.
YouTube Analytics
This screen gives you all the data related to the number and statistics for your channel, such as the average number of views, watch time, subscribers, and more.
This means that you can see how your channel is performing, or you can drill down into specific videos to see how they're doing on a video-by-video basis.
This is a great way to see what's working well on your channel, and what's not.
At first glance, you can see the channel views, watch time, subscribers count, and estimated revenue.
Channel views refer to the number of times your channel has been viewed.
Watch time is the total time people have spent watching your videos.
Subscribers are the number of people who have subscribed to your channel.
The estimated revenue is a rough estimate of how much you will make from Google Adsense on your video.
For each of these metrics, you can click on the specific tab, and the graph will show you how your channel has been performing over time for the specific metric.
You can also see the live subscriber count that can be used on live streams or other real-time events.
The best streaming software for YouTube (and even Twitch) in such situations will come in handy with features that can help you add to the value of your live stream.
Top Videos
Scrolling down the overview screen, you can see the top videos on your channel for the past period.
You can also see how much YouTube Reach your channel has had on this screen.
This refers to the number of people who have seen your videos, including people who have subscribed to your channel and seen your videos through other means, such as search results or recommended videos.
You can also investigate how your YouTube Reach has changed over time and which videos have had the most reach.
This is an excellent way to devise a plan of action to boost those videos that are not doing as well as you would have hoped.
Whether it's making a better video thumbnail that stands out or using a different video title, there's always something you can do to get your videos in front of more people, and the reach tab is a great place to figure out what that might be.
You can also see the views and unique views you're getting.
Seeing how many people return to your channel more than once is a great way to gauge your channel's current success (and its potential).
The aim is to get repeat visitors to your YouTube channel that enjoy your content and watch multiple videos.
Traffic Sources
The traffic sources screen shows you where your views are coming from.
You can see how many views you get from YouTube search results, other people's YouTube channels, or external websites.
If you do external YouTube promotions, this is a great way to see if your marketing efforts are paying off or if you need to change your strategy.
In addition, if you're getting a lot of views from YouTube search results, that means people are searching for keywords you target in your videos and finding your content through search.
This is a good sign that you're using the right keywords in your titles, descriptions, and the actual content itself.
If you're getting a lot of views from other people's channels, then that means people are watching similar content on various other channels and finding your channel that way.
If you're currently working on building relationships with other YouTubers and getting your videos featured on their channels, this could be a good sign to keep on doing the same.
There are also suggested traffic sources, which happen through the videos that YouTube recommends once someone has finished watching a video.
Search traffic will generally keep ranking highly for longer than suggested, but no additional traffic source is ever bad.
Reporting Tool
When you click on "see more", you can add various items to your reports.
You can add channel growth, watch time, traffic sources, and more.
This is a great way to track your progress over time and see what's working well on your channel.
YouTube Studio will cross some items out as they won't apply to the specific report you're generating.
You can also change the period you're looking at and use the compare feature to see different periods side by side.
Seeing data for two periods can help you see patterns you wouldn't have noticed otherwise.
You can also see the first 24 hours of two separate videos, which can be helpful for troubleshooting videos that didn't perform as well as you'd hoped.
You can also identify the best time to post on your channel for maximum visibility and engagement
In general, the reports feature is a great way to track your channel's progress and see what's working well for your channel.
Comments
Here you can see comments, where you can adjust what's displayed by default.
There are also mentions where people have tagged your channel in their comments.
Moreover, you can see things like top commenters, top liked comments, and top replies to comments.
Generally, the comments tab is a great way to see what people say about your channel and videos.
You can also look at comments held for review, which is where YouTube holds comments that might be spammy.
Adding Subtitles
You can add subtitles and closed captions to your videos so that people can watch them in different languages.
While YouTube will automatically generate subtitles for your videos, you can also upload your own, giving you more control over what's displayed.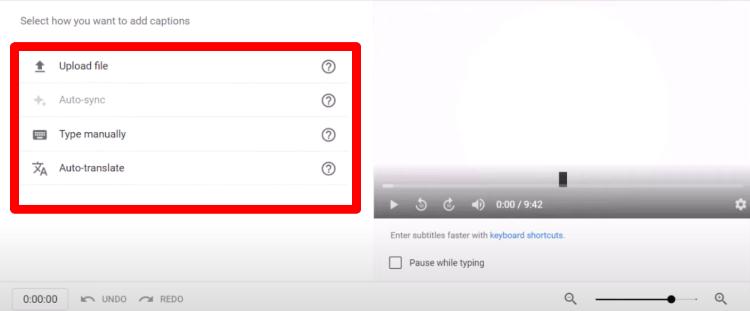 Adding subtitles and closed captions is also a great way to make your videos more accessible to people who speak different languages.
In addition, subtitles can help people who are hard of hearing or have difficulty understanding spoken English (or whichever language you're mainly using in your videos).
Copyright Matches
You'll see matches where someone attempted to use your video without permission on this screen.
You can see the uploaded videos that matched yours, the policy that was matched, and the match date.
As such, the copyright match feature is an essential tool to protect you from uploaders who try to re-upload parts of your videos without permission.
It also works on the opposite end, showing you when you've used someone else's video without their permission.
Monetization
Seeing your Adsense revenue is a great way to track the success of your channel.
You can see how much revenue you've generated, what videos have generated the most revenue, and what countries your ads are being shown in.
You can also see super chats and super stickers, which are donations that people make while watching your live streams.
These relatively new features are a great way to support your channel and even allow people to engage more during your live streams.
Depending on the size of your channel, your memberships, sponsorships, and merchandise sales can also be displayed here.
Customizations And Channel Trailer
Controlling the look and feel of your channel is a great way to make it more inviting for new viewers.
Firstly, you can (and should) add a channel trailer, a video that will play automatically when someone visits your channel homepage.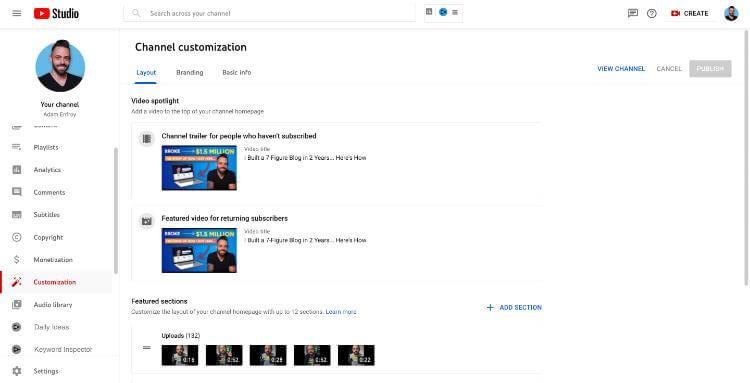 This is a great way to give new viewers a taste of what your channel is all about, as putting your best foot forward is a great way to ensure new viewers stick around and become regular viewers.
There is also the branding section, where you can add your display picture and banner image.
Your profile picture is what people will see when they visit your channel, as well as the one being displayed under each video, so make sure it's something that represents your channel well.
Then, your banner image is what people will see at the top of your channel homepage, so make sure it's something that will grab people's attention.
There are specific sizes that you need to follow for both your picture and your banner image.
Note that the given image dimensions are the maximum size the image can be when it comes to the banner.
That said, the typical banner display will only show the middle of the banner on regular-sized screens, including laptops and mobiles.
Suppose you want specific elements to be shown on the banner (especially on a small mobile device screen – whether it's an Android or iOS iPhone – or a smaller-sized laptop screen).
In that case, you need to ensure that such elements are placed in the middle of the banner image.
Beyond the profile picture and the banner, there is also the option to add a watermark image, a small graphic appearing in the bottom right-hand corner of your videos.
This is an excellent way to brand your videos and ensure that people know whose channel they are on.
You can use a subscribe button as the watermark, allowing people to subscribe to your channel with one click.
Once you make changes, don't forget to press Publish when you're done.
Audio Library
If you're looking for copyright-free music to use in your videos, YouTube has an audio library that you can access.
Since you should never use copyrighted music in your videos, the audio library is a great resource to consider.
You can find all sorts of different genres of music, as well as sound effects to use in your videos.
While the quality (and variety) might not be as professional as third-party music libraries (for which you'll have to pay a premium), it's still good enough for most YouTube videos.
Settings Option
The final tab is the Settings tab, where you can control various aspects of your channel.
You can change the currency you want to be paid in, as well as your home country and time zone.
You can also change the audience settings to the right option if your video content is generally made for kids.
You can also check the feature eligibility, which is a great way to see what features you can enable.
The upload defaults section is where you can save the standard description included with every video uploaded.
This is a great way to save time with each video you're about to publish, as you don't need to keep typing out the same information for each video.
You can also decide on the default visibility, which can be public, unlisted, or private.
In a nutshell, public means that anyone can see the video, unlisted means that only people with the link can see it, while private means that only you and the people you choose can see the videos.
This is a great way to keep your videos hidden if you're not ready to share them with the world yet.
Next, you can set the license type, which can either be the Standard YouTube License or Creative Commons.
A standard license means you're granting YouTube the right to monetize your video and put ads on it.
Creative Commons is a way to let others use your video as long as they give you credit.
Depending on the type of content you publish, this could be a way to promote your channel while allowing others to use your content.
You can also set the default options for paid promotions.
For example, you could decide to set all uploaded videos to be non monetizable, which allows people to watch the video without ads.
Next, you can set user permissions for your channels, allowing you to set various roles for specific people.
This is a great way to give others access to your channel without giving them complete control.
Next, the community channel allows you to set the moderators on your channels and add hidden users, which is a great way to keep your channel safe from trolls.
There are also blocked words, which is a great way to keep your comments clean.
The creator demographics feature, one of the relatively new features, is an opt-in survey that YouTube uses to determine who uses the platform and how to better appeal to them.
The final tab is the agreements tab, where you can see the various contracts you've agreed to.
You can click on any of these and review them if you want a refresher of any terms of service or community guidelines.
Finally, you can also send feedback along with an optional screenshot to YouTube, which is a great way to help improve the platform and get answers to your questions.
Wrap Up
As a content creator, the YouTube studio app allows you to perform various features.
From seeing your channel analytics, reviewing your videos, adding end screens, generating interactive reports, and anything else in between, the answers lie within this YouTube management tool.
If you're looking to grow your YouTube channel, understanding where all the options are and how to access them can help you reach your goals.
Further reading on AdamEnfroy.com: While YouTube is the most popular video hosting site, it isn't the only one.
In addition to this platform, you can use several other ones to host your videos.
These YouTube alternatives can help you monetize video content without using YouTube, so if you're looking for other options, it's good to know which options are out there.
Finally, if you want to convert YouTube videos into an audio format, here are the best YouTube to MP3 converters to consider.
Whether you want to turn your videos into a podcast or just listen to them on the go, these converters can help you get the job done.
Disclosure: I may receive affiliate compensation for some of the links below at no cost to you if you decide to purchase a paid plan. You can read our affiliate disclosure in our privacy policy. This site is not intending to provide financial advice. This is for entertainment only.