What is AI And How it Works in 2023 (Ultimate Guide)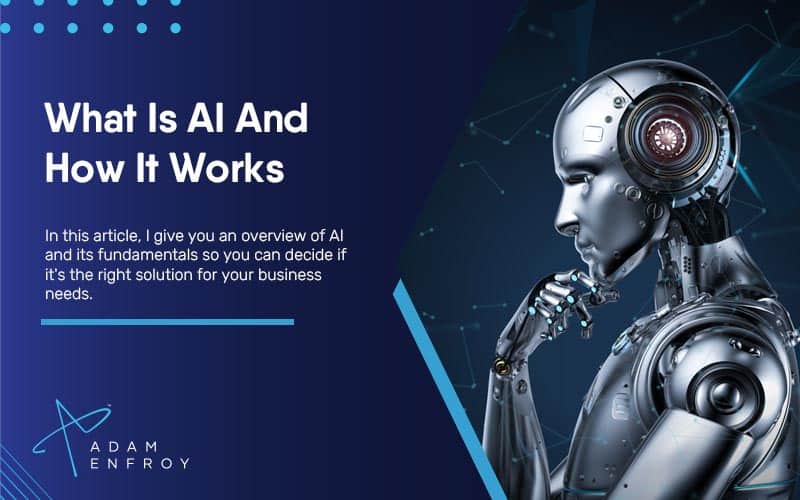 An AI-based survey found that businesses that welcomed artificial intelligence adoption had close to an 80% increase in revenue – compared to those that didn't.
However, companies can't just drop everything and start operating their business with robots and machines.
Business owners need to understand what AI is all about and, more importantly, how it can help them.
Whether you want to use AI development software to create apps, AI writing software to create content, or AI video generators to create videos, understanding AI is the first step.
In this article, I'll give you an overview of artificial intelligence, so you have a deeper understanding of AI and its ramifications for society.
Let's dive deep into this topic.
What Is Artificial Intelligence (AI)?
Artificial intelligence AI systems are software applications that can, to some degree, understand and respond to human language.
For example, suppose you ask a digital assistant like Siri or Cortana for help with something.
In that case, they'll use their natural language processing capabilities to understand what you're asking and provide you with an appropriate response.
The concept of natural language processing (NLP) as part of computer science has evolved to help machines understand human language and respond in a way that is natural for humans.
In addition, AI technologies within neural networks can now simulate human intelligence, which means they can learn and improve over time without additional intervention.
While human intelligence can only process a limited amount of information at any given time, AI systems don't have this same limitation.
This means they can process large amounts of data quickly and effectively, which is why AI is often used for tasks like data analysis and pattern recognition.
How Does AI Work?
Algorithms that help with the decision-making process work in real-time to optimize results by understanding historical data and patterns they came across before.
Tapping into big data sets helps with the problem-solving nature of AI as it can identify correlations that a human might miss.
Traditionally, a computer program could only provide an output after being given a specific input.
However, with learning algorithms forming part of specially created expert systems, AI can now provide outputs for inputs it has never seen before.
How AI Has Changed (And Keeps On Changing) The Way We Live Our Lives
With Deep Blue AI able to beat a world chess champion in 1997, people started to become more aware of how AI could be used in business.
John McCarthy, the father of AI, was one of the first to start thinking about AI practically.
While the human brain can still understand and process more information than machines, specific tasks are much easier for the latter.
With artificial intelligence systems now able to understand the context of significant parts of human language, they can assist humans in decision-making, natural language processing, and image recognition – the last being a critical factor in computer vision.
In this regard, the term artificial intelligence in everyday life is often used to describe how these systems augment human abilities rather than replace them.
Translating human intelligence processes into machine learning models that computers can use is a significant focus of AI research.
While this translation isn't yet perfect, and there are still many tasks that are better suited for humans, the goal is to continue to improve the accuracy of these models so that they can be used in more practical situations.
AI Challenges
Despite artificial intelligence helping people in various areas, significant challenges still exist.
Here are some of the major ones.
1. Data Accuracy And Bias
The first challenge to consider is data accuracy and bias.
Data used to train artificial intelligence models can be inaccurate or biased.
For example, if a training dataset contains more males than females, the AI model will learn to associate males with the task at hand more than females.
This can lead to problems down the line.
Another example relates to a facial recognition system trained on a dataset of a specific race.
This might mean that it will be less accurate when recognizing other races, as the data it was trained on was relatively subjective.
2. Cybersecurity
Another challenge with AI use is cybersecurity.
Since AI systems are often connected to the internet, they can be vulnerable to cyberattacks.
For example, a cyberattacker could use an adversarial learning technique to poison an AI system's training data.
This would cause the AI system to learn inaccurate information and make decisions favoring the person attacking the system.
3. Ethics
The third challenge is ethics.
As AI systems become more powerful, there are ethical concerns about how they will be used.
For example, who is responsible if a self-driving car gets into an accident?
Would it be the car manufacturer, the software developer, or the person who owns the car?
There are also concerns about how AI will be used in the future.
For example, will AI be used to control people or make decisions for them?
Or will it be used to help people and make their lives easier?
These ethical questions must be answered as AI becomes more prevalent in society.
4. Implementation
AI implementation is yet another factor to consider.
Implementing an AI system can be difficult and time-consuming, as AI systems often require a lot of data to be effective.
Collecting and labeling this data can be a significant challenge, especially if the data is sensitive (such as in the case of medical data) or unstructured (such as images or video).
5) Maintenance
The final challenge is maintenance.
AI systems need to be regularly updated and maintained.
The data they are trained on can become outdated quickly, especially in fast-moving fields such as finance or healthcare.
Keeping track of all the different parts of an AI system can also be challenging, making maintenance an issue.
AI In Various Industries
Here are some of the AI applications in various industries and the benefits AI systems bring.
Virtual Assistance
One of the most common applications of AI comes in the form of virtual assistants.
Virtual assistants are computer programs designed to help humans with scheduling, customer service, and even personal tasks such as ordering groceries or booking a hotel room.
Some popular virtual assistants include Amazon's Alexa, Apple's Siri, and Google's Assistant.
While there are differences between AI tech like ChatGPT when compared to Alexa, Siri, and others, virtual assistants are becoming increasingly common.
They can perform many tasks that humans traditionally did.
This can free up time for people to do more productive things.
Autonomous Vehicles
Self-driving cars are one of the most promising applications of artificial intelligence.
Autonomous vehicles are cars capable of driving themselves, using a variety of sensors and cameras to navigate their surroundings.
They could reduce the number of accidents on the road, as well as make transportation more efficient and affordable.
Voice Recognition
Voice recognition is a form of AI used to identify human speech.
From using Alexa or Google Home to give you information about the next train to asking Siri or Bixby to set a timer, voice recognition is something we use every day.
It can be used for various tasks, such as identifying the speaker of a particular utterance, translating speech into text, or searching for specific information.
Using speech recognition tools as part of computer systems can help make them more user-friendly and efficient, resulting in time savings for users.
Healthcare
AI algorithms can come into their own when analyzing large amounts of data in the healthcare sector, where a massive amount of data must be processed and analyzed.
AI can be used to develop personalized treatment plans for patients and predict the outcomes of such treatments.
With breakthroughs in AI, we can expect to see even more impressive applications of AI in the healthcare industry in the future.
Manufacturing
AI solutions in the manufacturing industry can help with items such as quality control, predictive maintenance, and process optimization.
With unstructured data coming in from various sources and needing to be processed, AI use cases in manufacturing are vast.
In this case, various machine architectures can be developed to help with predictive maintenance, such as using tools to detect patterns that could indicate an issue with a machine.
Industries That Use Cloud Computing
With workflows in data management and database software becoming more efficient, the applications of AI, as used by developers, can be seen in various industries.
With Python being a commonly used language to develop these applications, the benefits of using AI are vast – from retail and e-commerce to banking and financial services, developers are finding ways to use AI to make their cloud applications more efficient.
The Four Types of Artificial Intelligence
As things stand, there are four main types of artificial intelligence, which are as follows.
Reactive Machines
Reactive machines can react to their environment and take action to achieve a specific goal.
They are not able to form memories or learn from past experiences.
While there is a time and place for such AI, it is not as commonly used as the other types of AI.
Limited Memory
This type of AI is similar to reactive machines but with the addition of memory.
This allows the machine to remember certain aspects of its past experiences and use that information to inform its actions.
For example, a self-driving car with limited memory would be able to remember the location of a stop sign it came across earlier in the day and use that information to avoid running the stop sign.
Theory of Mind
This type of AI is still in development but holds much promise for the future.
AI resources with the theory of mind would be able to understand the mental states of other individuals and use that information to decide what to do.
For example, a theory of mind AI might tell if someone is lying by analyzing their facial expressions and body language to a much higher degree of certainty than current lie detection methods.
Self-Awareness
This is the future of AI, and it is still very much in the development stage.
A self-aware machine would be able to understand both its thoughts and emotions and those of others.
It would be able to interact with humans in a completely natural way, just as another human would.
Resembling a scene from a science fiction movie, this type of automation could achieve goals independently without any human intervention.
While this may seem like something that is far off in the future, there are some applications of this type of AI that are being actively worked on today.
One example is Google's DeepMind, an algorithm that learns from experience.
Narrow Artificial Intelligence Vs. Machine Learning And Deep Learning
Narrow artificial intelligence (a.k.a. narrow AI / weak AI) is a form of AI where machines are designed and trained for a specific task.
This type of AI we see today in applications such as facial recognition, spam filters, and self-driving cars.
On the other hand, machine learning is a subset of AI that allows computers to gain knowledge from set data without being instructed to do so.
Deep learning is a subset of machine learning that uses algorithms called artificial neural networks to learn from data in a way that resembles how humans learn.
This is what enables machines to do things such as recognize objects, images, and facial expressions they would have never come across before.
It also allows for developing applications such as voice recognition and natural language processing that evolve.
Research In The Field Of Artificial Intelligence
Current AI research focuses on understanding how the human mind works to create systems replicating or exceeding human intelligence.
This research is necessary because we must understand how the human mind works to create brilliant machines.
With that in mind, here are some of the most common research areas related to AI.
Reinforcement Learning
Reinforcement learning teaches agents how to maximize their rewards by taking the right actions in an environment.
This area of research is essential because it can be used to create AI systems that can learn from their own experiences and improve over time without human intervention.
Robotics
Robotics research is focused on creating robots that can naturally interact with the world.
This can lead to the development of robots that can perform difficult or impossible tasks for humans, such as exploring other planets or going into dangerous areas as part of rescue missions.
Natural Language Processing
Natural language processing (NLP) research is focused on giving computers the ability to understand human language.
Regarding human-like communication, NLP is still in its early days.
However, one impressive achievement in this area has been the development of AI chatbots that can hold natural conversations.
Recommender Systems
Recommender systems are a type of AI used to predict what a user might want to buy or watch based on their past behavior.
Personalizing the user experience based on individual preferences is essential for many companies.
Recommender systems are used by major businesses such as Amazon, Netflix, and Spotify to provide their users with tailored recommendations.
Internet Of Things
The Internet of Things (IoT) refers to the network of physical devices, vehicles, and home appliances connected to the internet and can share data.
AI-enabled IoT devices have the potential to revolutionize our lives by making everyday tasks easier and giving us more time to enjoy life.
As much as $1 trillion has been spent on the Internet Of Things, which puts into perspective how big this area has become.
With major companies like Amazon, Google, and Microsoft all working on their own IoT devices, it's clear that this area has lots of potential.
AI Frequently Asked Questions (FAQ)
What Is The Turing Test?
The Turing Test tests a machine's ability to exhibit intelligent behavior similar to a human.
It is named after Alan Turing, the computer scientist who devised it.
The test involves three participants: a human interrogator, a machine, and another human being.
The interrogator asks each of the other two participants questions.
If the machine can fool the interrogator into thinking it is the other human being, it has passed the test and shows promise in its AI development.
What Are Some Of The Best AI Programs To Consider In Business?
IBM's Watson and Google DeepMind are two of the best AI programs to consider in business.
What Is Artificial General Intelligence (AGI)?
AGI, or strong AI, is a hypothetical form of intelligence that can understand or learn any intellectual task that a human being can.
Currently, no machine has been able to achieve this level of intelligence.
However, some AI researchers believe that AGI will someday be possible and that it could have profound implications for the future of humanity.
Wrap Up
Understanding how AI works is critical in an era of big data and smart devices.
While AI technology is still in a relatively early stage of development, it can potentially transform our lives in several ways.
By continuing to research and develop AI technology, we can ensure that its benefits are realized while minimizing its risks.
What do you think about AI and the future of humanity?
Share your thoughts in the comments below!
Further reading on AdamEnfroy.com: When using AI in specific business areas, AI marketing can help companies automate tasks, save time, and improve customer engagement.
Editorial Process:
Our reviews are made by a team of experts before being written and come from real-world experience. Read our editorial process here.
Some of the links in this article may be affiliate links, which can provide compensation to us at no cost to you if you decide to purchase a paid plan. These are products we've personally used and stand behind. This site is not intended to provide financial advice. You can read our affiliate disclosure in our privacy policy.
---
Last Updated on September 13, 2023 by Adam Enfroy