Blog Income Report for February 2020: How I Earned $45,152 This Month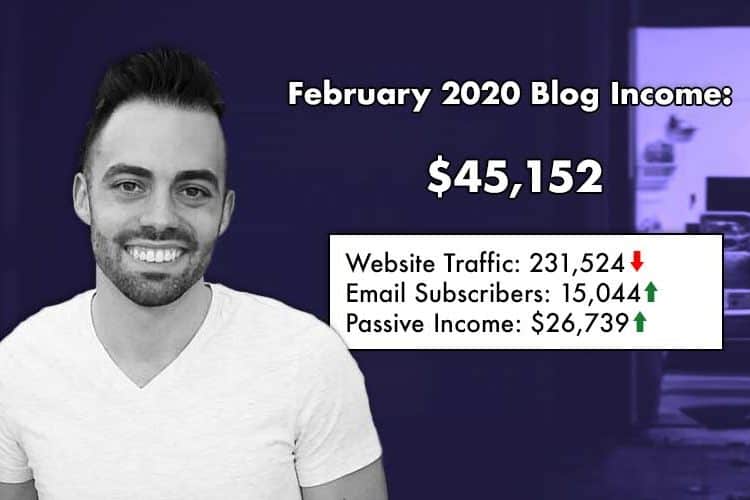 While most blog income reports are from bloggers who started 5+ years ago, here's one for my blog that launched 14 months ago in January 2019.
If you're looking to launch a blog and follow my strategies, you can check out my full guide on how to start a blog and launch your blog with Bluehost for just $2.95/month.
Get started with Bluehost.
Disclaimer: The two Bluehost links above are affiliate links which provide a small commission to me at no cost to you. These links track your purchase and credit it to this website. Affiliate links are a primary way that I make money from this blog and Bluehost is the best web hosting option for new bloggers. You can read full affiliate disclosure in my privacy policy.
Let's dive into my blog income report.
1. Blog Income in February 2020:

$45,152
My blog hit a few milestones in February.
I passed revenue milestones of both $40k and $45k for the first time and passed $25k in affiliate revenue for the first time. I also got paid over $500/month from 12 different companies' affiliate programs for the first time.
Let's look at my blog's income streams.
Affiliate Revenue: $25,584

3dcart
Adobe
Airbnb
Amazon Associates
Aweber
BigCommerce
Bluehost
Buzzsprout
Canva
Captivate
Castos
ClickMeeting
Constant Contact
Corel
Creative Market
Demio
Easy Webinar
FlexJobs
GetResponse
Gist
Hibu
HostGator
Hostinger
Kajabi
Leadpages
LearnDash
Learnworlds
LinkedIn Learning
LiquidWeb
Luminar
Mailjet
PodBean
Podia
Renderforest
Resume.io
Script Reader Pro
Shipbob
Shopify
Simplecast
Skillshare
Smart Podcast Player
Spocket
Teachable
Thinkific
Transistor
Unbounce
Visme
WebinarJam
Weebly
Wix

Digital Product Sales: $1,155
SEO and Link Consulting for 9 B2B Clients: $18,413
Expenses in February 2020:

$2,998
Freelancer $1,200
Content $770
Book Consulting $300
WP Engine $290
CPA $245
Development $155
ConvertKit $149
Cloudflare $76
BigGuestPosting.com $59
Adobe CC $56
G Suite $38
Grammarly $19
Net Profit:

$42,154 (93.4% Gross Profit Margin)
Now, onto some key takeaways, traffic stats, and a February recap.
2. February Takeaways:
1. Affiliate Programs.
In February, I made $25,584 from 50 affiliate programs.
Overall, I increased my affiliate income by 11% this month, from $22,952 to $25,584.
This proves to me that you can start to generate life-changing income in 14 months (or sooner) with the right growth strategies.
To make money blogging from affiliate programs, the first step before publishing an article is keyword research. I recommend using a tool like Ahrefs and looking for keywords with the term "best" at the beginning.
For example, in finance, it could be something like "best credit cards." In tech, it might be "best laptops of 2020." Or in fitness, it could be "best Peleton accessories."
When you Google these terms and look at the top 10 results, you'll see that typically 70% of the ranking sites are affiliates. These comparison shopping keywords signal that searchers are looking for reviews before making a purchase decision. They'd rather go to a review site and read about the product rather than going right to the brand website itself.
If you can dominate and overtake these keywords, you outrank the major brands and they pay you affiliate revenue.
Aim for these "best" keywords with a monthly search volume between 1,000 – 5,000 if you're just starting out and between 5,000 – 10,000 (or higher) if your blog has some Domain Authority (DA).
2. SEO Consulting.
I currently work with 9 clients and provide them with SEO consulting, link building, and brand mention services. My SEO and content marketing consulting revenue increased to $18.4k this month, compared to $11.3k in January.
This income is easy to generate because it is tied to my link building and guest blogging strategy. While I build links for my own site, I also help build them for other large SaaS brands and B2B websites.
When it comes down to it, guest blogging and link building can be tough for new bloggers and large brands alike.
The process includes list building, email outreach, topic pitches, following editorial guidelines, and dealing with annoying or unresponsive content managers – not to mention actually writing the article and getting it published.
The way that my blog's traffic scaled so quickly was by scaling systems and using strategies I learned from tech startups. By hiring and outsourcing both the outreach and content creation for my guest posts and link building, I build DA on autopilot and have more time to focus on the quality of my content and writing posts like this one.
For guest posts, you can find a number of good ghostwriters on sites like ProBlogger, Fiverr, and Textbroker. This part can take a lot of time as you need to vet writers to find one that matches your style and can finish content quickly.
I recommend you find a ghostwriter for your guest post first drafts. You simply create an outline for them and they write the first draft. Then you edit the Google Doc, add in 2-3 links to your blog, and submit it to get published.
You'll see below that I published nine guest posts this month with this strategy.
Second, with Google claiming to crack down on guest post links over the last 5-6 years, I compliment my guest posting with link building outreach and networking.
You can't fake authority in your niche.
By building real relationships and getting links from major sites within their existing articles, you shield yourself from the dangers of only guest blogging and diversify your link portfolio.
Remember, the first step is to provide value.
The more authority and links you can provide other blogs, the more you'll get in return.
3. Traffic for February 202

0:

231,524 Sessions

(-6.98%)
My blog's traffic saw its first month-over-month decrease since I launched in January 2019 (although there were two fewer days in the month).
However, I'm not concerned as traffic is up 8,815% year-over-year compared to February 2019 (2,579 sessions).
In fact, traffic increased so much year-over-year that last year's traffic is basically just a non-existent orange line:

Here are my monthly visitor metrics so far:
2019
January: 1,147
February: 2,055
March: 7,672
April: 16,920
May: 34,261
June: 46,355
July: 76,926
August: 105,056
September: 133,391
October: 141,348
November: 143,705
December: 178,021
2020
January: 248,910
February: 231,524
This 6.98% drop in sessions, but 11% increase in affiliate revenue shows me that the amount of traffic is not as important as the valuable affiliate keywords you rank for.
Research the average cost-per-click metric for every keyword you target in Ahrefs to see the value someone would spend pay-per-click (PPC) dollars on.
For my blog, if I had to pay for all of the keywords I get free traffic for via PPC advertising (ads at the top of Google), I would have to spend $330k/month.
But it's 100% free – that's the power of SEO.
4. Email Subscribers for February 2020:

+1,865
I currently make 2% of my revenue from my email list. As I've scaled up my blog's traffic, I've been focused on increasing affiliate revenue – it's more passive and easier to manage than digital product sales or courses to an email list.
Not that I don't love everyone on my email list – I do. It just takes more time to manage and answer my flooding inbox, and time freedom was the reason I started this blog in the first place.
However, this is an untapped area for my site I plan to work on more over the following months.
I use ConvertKit for my email marketing and added 1,865 new email subscribers in February and increased my list size to 15,044.
5. Tasks Completed in February:
I was interviewed by Pat Flynn of Smart Passive Income and we discussed how to diversify blog income in 2020. You can listen to the podcast here.
I was featured in the most recent OptinMonster case study. I use them for my email opt-in forms and they showcased my blog and email metrics from 2019. You can read the case study here.
I published 7 articles on my blog totaling 30,684 words.
I published 9 new guest posts for:

skubana.com
elasticemail.com
marketcircle.com
clicdata.com
formassembly.com
stackla.com
score.org
piktochart.com
renderforest.com

Link building: I received 536 new backlinks from 129 new referring domains; 24 domains with a Domain Rating (DR) > 60.
My Alexa Rank improved from 23,658 to 20,479.
Launched a new finance blog with my friend Jeremy Moser, co-founder of uSERP, at WealthRebels.com. We published our first five articles and the goal is to expand my affiliate revenue into the more lucrative finance and investing niche.
Negotiated with three affiliate programs for higher commission rates.
That's it for my blog's income report for February 2020.
The purpose of these new blog income reports is to showcase that with the right strategies, you can make significant income quickly.
Thank you so much for reading – I'm very grateful you found your way here.
If you're looking to launch a blog and follow my strategies, you can check out my full guide on how to start a blog and launch your blog with Bluehost for just $2.95/month.
Get started with Bluehost.
Disclaimer: The two Bluehost links above are affiliate links which provide a small commission to me at no cost to you. These links track your purchase and credit it to this website. Affiliate links are a primary way that I make money from this blog and Bluehost is the best web hosting option for new bloggers. You can read full affiliate disclosure in my privacy policy.
Here are some other personal things I'm currently focused on outside of my blog if you're interested:
I just started flight training to get my private pilot's license. I'm going twice/week and will hopefully get my license in 6-7 months.
I'm starting to work with Michigan State University (my alma mater) to create a new scholarship for students who show innovations in digital entrepreneurship. It will hopefully be the second-ever scholarship for the Burgess Institute for Entrepreneurship & Innovation.
I'm working with a publishing consultant to write and publish an informational non-fiction book related to entrepreneurship in the digital age.
On the fun side, I've been watching and listening to a lot of Bill Burr comedy lately. Here's a hilarious animated YouTube video taken from his standup (warning: NSFW).
Feel free to follow me on Facebook, Twitter, and Instagram so we can connect.
Finally, if you want to start treating your blog like a business and make life-changing money in months, not years, join my email list for a 10,000+ word, 7-day email course on how to do it.
Editorial Process:
Our reviews are made by a team of experts before being written and come from real-world experience. Read our editorial process here.
Some of the links in this article may be affiliate links, which can provide compensation to us at no cost to you if you decide to purchase a paid plan. These are products we've personally used and stand behind. This site is not intended to provide financial advice. You can read our affiliate disclosure in our privacy policy.