How To Start A Fashion Blog: Your 2023 Guide To Success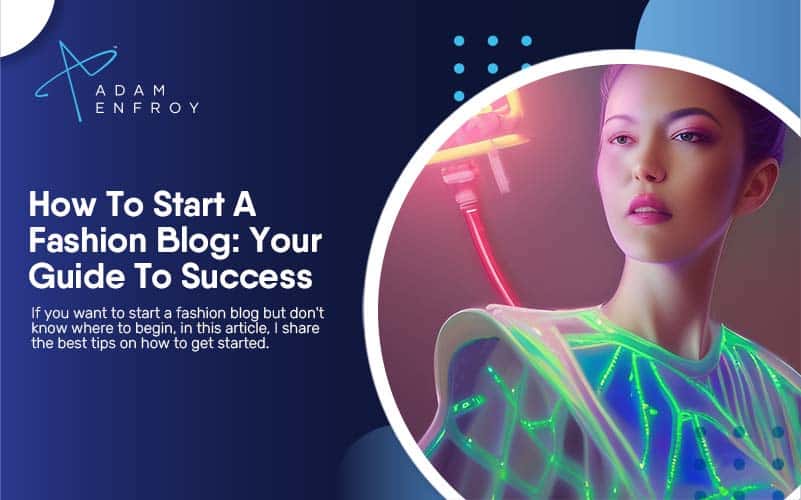 Did you hear about the fashion police questioning the man over criminal ties?
Cringe jokes apart, with fashion trends changing so quickly, many people need help keeping up.
If you have an eye for fashion, there are plenty of great opportunities to share your knowledge and passion with others through a fashion blog.
Starting a blog is also not as complicated as it may seem.
In this article, I'll share the best tips to consider when starting a fashion blog.
I'll cover the following:
How to start a fashion blog
The best way to select your niche
How to expand your reach
Answer some of the most frequently asked questions
And more.
Let's dive into this topic.
Starting A Fashion Blog
Here are the steps to follow when starting a fashion blog.
Determine Your Blog's Focus
As a fashion blogger learning how to make money, focusing your blog on a specific niche is essential.
While you might see successful fashion blogs as ones that can cater to multiple niches, there are better options for those with a smaller budget.
For example, if you love vintage fashion, hone in on that passion and create content.
Having a singularity of focus regarding your blog's content makes getting website traffic more accessible.
Choose A Platform And Design Your Blog
WordPress.org is one of the preferred choices for any fashion blogger looking to create an online presence.
With plenty of WordPress themes that match any style, bloggers have plenty of options for creating a well-designed and visually appealing blog.
That said, plenty of ecommerce platforms can also help you monetize your fashion blog.
WordPress.com is a similar yet slightly different platform to WordPress.org.
Wix and Squarespace also offer good alternatives with missing features compared to WordPress.org.
Choosing the right web hosting service ensures quick page loading and secure data storage.
Create Content For Your Blog
Quality content is the name of the game for any fashion blog.
If you want to make money online, you need to provide value for those that visit your website and engage with your content.
As you develop your style and know-how to write about fashion topics, consider which subjects interest you the most, are relevant to your readers, or can provide unique insights into the latest trends.
You might also start collaborating with other fashion brands that help drive more attention toward your blog posts and create more monetization opportunities.
Content optimization is a never-ending process that you can use to ensure that people who visit your blog through search engines have access to well-structured content.
Market Your Blog
Getting your blog name out in the fashion world is essential for increasing website traffic and making money.
Many fashion bloggers start their fashion blogs yet fail to make them mean anything because they need to market themselves more effectively.
There are venus marketing avenues to consider.
One is social media marketing aimed toward your target audience.
Another involves using digital marketing to leverage influencers.
These people can help you get more eyes on your content.
A fashion blogger can use plenty of strategies to increase exposure and ultimately make money online.
Knowing how best to approach these strategies will put you ahead of the competition and increase the chances that you'll be able to monetize quickly.
Grow Your Audience
The right digital marketing strategies can help bloggers build a loyal following.
In addition to marketing campaigns showcasing your blog, growing your audience means engaging with them to promote relationships and build trust.
From investing in search engine optimization to finding new ways to interact and engage with followers, there are plenty of strategies to grow a loyal following for your fashion blog.
However, there's one super helpful tip above all else.
One helpful perspective to consider is to not just think of yourself as a fashionista; instead, think about yourself as a marketer specializing in fashion-related topics.
As a result of this thinking, you will start behaving like a business owner, getting more eyes on your content by targeting the right people and creating engaging content.
Monetize Your Blog
The fashion industry leads itself to tons of monetizing opportunities through one's blog.
For example, the right affiliate program can help you earn a commission for each product or service you help promote and sell.
Affiliate marketing is all about finding products related to the content you create on your blog and bringing those products to the attention of your followers and readers.
With Amazon and other affiliate programs making it easy to integrate their products into your website, monetizing your blog can be achieved quickly with minimal effort.
Other blogging platforms, such as Patreon, allow fashion influencers to create exclusive content for their subscribers in exchange for monthly payments.
Using widgets on your blog makes it easy to install the correct code that will allow you to display ads from sponsors and other programs.
Selecting Your Niche
Let's now consider how to determine the perfect niche for your fashion blog.
Brainstorm Blog Niches
Beginner fashion bloggers want to create a blog that speaks to everyone.
However, this is a mistake.
Top fashion bloggers start by selecting a specific industry segment and focus their efforts on catering to that segment.
Here's a list of key questions to ask yourself:
What kind of style do I enjoy?
What type of fashion trends am I passionate about?
Who might be my ideal audience for my blog?
What topics can I talk about related to this niche?
How will my chosen niche fit into the broader fashion industry?
Using mind-mapping software, you can brainstorm possible topics for your blog.
Research And Analyze Competitors
After your brainstorming exercise, consider your competitors in the fashion industry.
These fashion influencers have already done something right.
As a small business, you don't want to reinvent the wheel.
Instead, take time to analyze what's already working and use it as inspiration for your blog.
Choose A Niche That Fits You
Choosing the right niche helps you stand out from other fashion bloggers, so take your time with this step.
Your niche will also influence your domain name, as this usually reflects your company and personal brand and what content your blog provides.
For search engines and website visitors, your domain name should communicate what kind of fashion blog they can expect when visiting your site.
Pick A Sub-Niche If Desired
While this is optional, consider whether you can go even deeper with your fashion blogging business.
In the fashion industry, niche topics are often more exciting and appealing than broader ones as they offer a unique take on an already established case.
For example, a 'street style blog for teens that love rock while focusing on urban looks' might be more successful than a 'general teen fashion blog.'
Utilize Keywords To Guide Your Content
Keyword research can become a full-time job as the search landscape for fashion topics constantly changes.
However, the quick solution is to select some of your target topics and plug them into your favorite (or soon-to-be-come) SEO tools to help with keyword research.
These tools can assist you in finding the perfect words and phrases to target in your content.
As a result, your fashion blog will stand out against the competition.
Expanding Your Reach
Here are some practical ideas for getting your blog out to the masses.
Optimize Your Site For SEO
Optimizing your fashion blog for SEO will increase its visibility on search engine results pages and attract more visitors to your website.
You can optimize your website with helpful content, relevant keywords, and meta descriptions.
Additionally, it would be best if you focused on link-building strategies to build a network of high-quality sites that link back to yours.
Utilize Content Creation Tools
Content creation is at the heart of any successful fashion blog.
AI content generation options ensure you have a steady stream of content regularly published on your blog.
From product reviews and tutorials to interviews, feature stories, and more, there are various options.
Make Use Of Social Media Platforms
Social networks are great for fashion bloggers to reach out and engage with their target audience.
Ensure social share buttons are easy to find on your blog posts so readers can spread the word quickly and easily through social media marketing.
In addition, consider using visual platforms like Instagram, Tiktok, and Tumblr to boost your fashion blog's engagement and spread the word.
Leverage Influencer Marketing Strategies
Influencer marketing helps you create relationships with influential people in the fashion industry who can promote your work and help you reach new audiences.
Fashion blogs should also focus on creating valuable content that resonates with potential sponsors or partners that could further increase your reach.
Try Email Marketing To Grow Your Audience
Email marketing is one of the most effective ways to stay in touch with your current readers and draw new ones.
You can create newsletters, special offers, and regular updates on industry trends to help you build relationships with your followers and keep them coming back for more.
Choosing The Right Fashion Blog Plugins
Here are some plugins to consider if you want a professional look for your fashion blog.
Instagram Feed Plugin
This plugin is great for fashion bloggers looking to show off their latest looks and products on the platform.
It allows you to embed your most recent posts into your website, making them fully interactive with buttons enabling visitors to like, comment and share.
An E-Commerce Plugin
For retailers that want to sell items directly from their blog, an e-commerce plugin can be very useful in setting up an online store quickly and easily.
With plenty of templates on offer by various providers, it's easy to match this feature seamlessly with the rest of your site's design.
An Image Compression Plugin
Slowing down your WordPress hosting because of large images is a common issue.
While the visual aspect is important, fast loading times are essential for a great user experience.
A suitable image compression plugin can give you the best of both worlds.
An SEO Plugin
Search Engine Optimization (SEO) is key to succeeding with any blog on the web that depends on organic traffic.
Make sure you have an up-to-date SEO plugin installed that will keep track of everything from meta tags and keywords to indexing for search engines like Google and Bing.
This way, you'll ensure your content gets found by potential readers quickly and easily.
A Social Media Sharing Plugin
Enabling social media marketing through sharing is essential to get the word out about your own fashion blog.
Look for a plugin that allows readers to share content on popular sites such as Twitter, Facebook, and Pinterest.
A Security Plugin For Added Protection
Keeping your website safe and secure should be a priority, especially if you plan on accepting payments or storing sensitive customer information.
Installing a good security plugin will help keep hackers at bay and ensure your data remains safe.
A Spam Prevention Plugin
Sifting through spam comments can consume time and resources.
Consider installing an anti-spam plugin to keep them to a minimum.
Starting A Fashion Blog – FAQ
What Are Some Examples Of Web Hosting Providers?
Some examples of website hosting providers are Bluehost, GoDaddy, Hostgator, SiteGround, and Dreamhost.
Is Google Adsense A Good Way To Monetize My Blog?
It depends.
Google Adsense can be a popular choice for monetizing blogs.
It is easy to set up and provides an effective way to generate income from your blog.
However, there might be better advertising methods for a high return on your investment.
You'll need tons of clicks to make a significant amount of money.
Can I Start A Free Fashion Blog?
Yes, you can start a free fashion blog.
However, if you want more control over your blog, you must invest in a paid hosting plan and domain name.
What Type Of Content Can I Create On My Fashion Blog?
From the latest tutorial on how to style an outfit to insider tips on the newest trends in the industry, you can create a wide range of content on your fashion blog.
You can also include reviews of products and services and interviews with fashion icons and influencers.
How Can I Show My Personal Style Through My Own Blog?
From free themes that can be customized to having a designer create a unique look for your blog, there are many ways to show off your style.
Can You Collaborate On A Self-Hosted Blog?
A WordPress blog can be an excellent platform for collaboration.
The built-in functionality allows you to invite other bloggers and content creators to contribute. You can even create roles and access levels for different users.
Wrap Up.
Creating a successful fashion blog takes time and effort, but it is worth it.
Make sure to research the latest trends and fashion topics to keep your blog relevant.
Also, regularly update your blog with fresh content and use social media platforms to promote it.
Finally, build relationships with other fashion bloggers and industry professionals.
These relationships will help you gain knowledge from their experiences and support each other in growing your blogs.
Further reading on AdamEnfroy.com: Check out this Lululemon affiliate program review if you're looking for a fashion affiliate program to promote on your newly built fashion blog.
Furthermore, consider that building a blogging business correctly requires knowing what effective strategies are all about today.
Gone are the days when you could throw something up on the web and expect it to be successful.
Moreover, using YouTube as a blogging platform has become increasingly popular, with video content being the most engaging form of media today.
If you learn how to start a YouTube channel that can be combined with your blog and form the foundation of a thriving business, you can have a company capable of producing passive income.
Disclosure: I may receive affiliate compensation for some of the links below at no cost to you if you decide to purchase a paid plan. You can read our affiliate disclosure in our privacy policy. This site is not intending to provide financial advice. This is for entertainment only.