Blog Income Report for November 2020: How I Made $83,737 This Month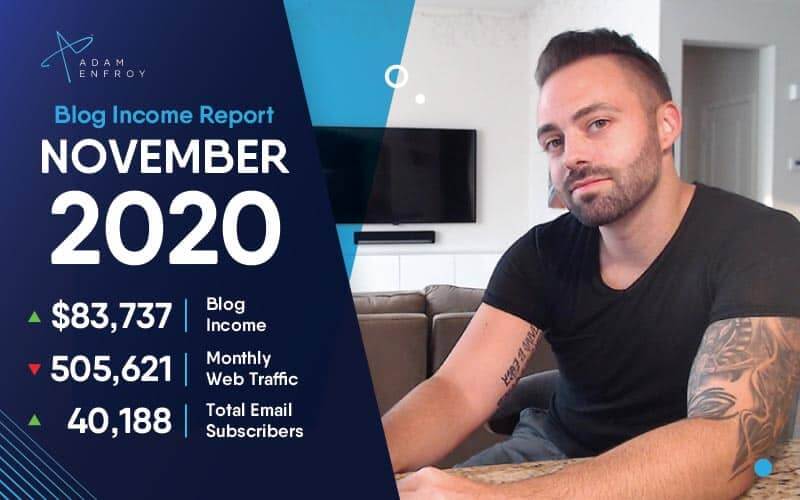 It's hard to believe, but since my blog's inception in January 2019, I've made over $935k. With December projections, I'll easily hit $1 million within two years of launch.
Why am I doing this?
Well, besides the fact that I despise the corporate rat race and would rather watch reruns of Survivor all day, I want to prove that making money with a blog is still possible, even in 2021 and beyond.
It's not too saturated.
It's not too late.
If you've failed before, it won't mean you'll fail again.
Trust me, I've failed plenty of times.
My blogging system only works because I gained enough professional experience and learned a ton about SEO and content marketing while working for tech companies.
I failed in the past because I didn't know what I didn't know.
That's why I aim to share everything I learned.
To that end, I'm currently building a premium blogging course that will be released in early 2021. I recently announced it in our Blogpreneurs Facebook Group and am super excited to get started with the beta group.
It will cover every single detail about how to start a blogging business: niche selection, web hosting and WordPress, keyword research, guest blogging and link building, affiliate monetization, etc.
I hired a course creation expert and want it to be the best blogging course in existence.
The beta is full and we're starting in two weeks.
In addition to helping new bloggers, this course will also bring another revenue stream to my business.
As of right now, I make money mainly from affiliate marketing and ad revenue.
So in this income report, I'll cover how I'm doing it all today.
First, if you're looking to launch a blog and follow my strategies, you can check out my full guide on how to start a blog and launch your blog with Bluehost for just $2.95/month.
Get started with Bluehost.
Disclaimer: The two Bluehost links above are affiliate links that provide a small commission to me at no cost to you. These links track your purchase and credit it to this website. Affiliate links are a primary way that I make money from this blog and Bluehost is the best web hosting option for new bloggers. You can read full affiliate disclosure in my privacy policy.
Let's dive into my blog income report.
1. Blog Income in November 2020: $83,737
In November, my blog brought in $83,737.
Website traffic decreased slightly from 524,808 sessions in October to 505,621 sessions in November. There was one less day in November so traffic was pretty flat overall.
Let's move on to my blog's income streams.
Affiliate Marketing Programs:
Overall, I brought in $59,859 from 58 different affiliate programs.
This is a month-over-month increase of 16%.
It's also a 253% revenue increase compared to November of last year (when affiliate revenue was $16,926).
My Affiliate Marketing Process
Affiliate marketing is my favorite form of blog monetization, but it's a tricky strategy for beginners to implement.
For example, I often get asked questions like:
Do I join affiliate programs in a network or just search for them?
Do I write my topics based on affiliate programs or should I do keyword research and think about affiliate programs later?
When do I add affiliate links?
How many do I add?
How do I review affiliate products if I haven't used them?
The unfortunate answer to these questions and almost everything else in blogging is: it depends.
My friend Colin put it this way:
Running PPC or Facebook Ads is like going to a grocery store and shopping for oranges. You go to the fruit section, pick them out, checkout, and you're done. It's easy. There's a clear formula with predefined boundaries.
Running a successful blog is like going into an open field at night and saying, "I'm hungry."
There are an unlimited amount of options and possible paths to take. And the best path will be different for every single person based on life experience, writing skills, connections, and professional leverage.
You can't follow an exact formula. However, I can teach you how I currently do it.
Here's what I typically do to generate affiliate revenue:
First, I perform keyword research and publish articles based on monetizable affiliate post types in my niche. There are really only 3-4 major types of affiliate posts: "best" list posts, "vs" posts, "alternatives" posts, "company" reviews, etc.
For example, if you're in the golfing niche, you could target keywords like:
Best Drivers 2021
Callway Mavrik vs. Taylormade SIM
Taylormade SIM alternatives
Taylormade SIM Review
To begin my keyword research, I use Ahrefs and look for keywords that have low keyword difficulty (KD) scores and decent search volume. The numbers here are entirely dependent on your current Domain Rating and niche.
If you're just starting out aim for "20 and 200": under 20 KD and over 200 monthly search volume.
I write more about how I find these with the Ahrefs Keyword Explorer in my article here.
After I find a few keywords I like, I check to see if they could be monetized via affiliate links. How do I know that?
I Google the term and deconstruct the competition.
For example, if I search for "best email marketing software", I can view the top 3-5 ranking sites, see which companies the articles place near the top, and hover over the external links to see if they're affiliate links.
If I see affiliate potential, I add that keyword to my content calendar.
When I publish the post, I don't add any affiliate links to it yet. I simply add the companies that have affiliate programs to my article, but the links just point to their homepages.
Why?
I don't want to waste time joining the affiliate program and adding the affiliate links before I know the post will even work.
So instead, I publish the article as-is, build backlinks to it, and wait.
When do I add the affiliate links?
Only if and when the post starts ranking on at least the second page of Google.
Remember, this is a number's game.
You need a good amount of traffic to get affiliate link clicks and sales.
And since only 10-20% of your affiliate articles might ever make you money, there's almost no way to know which articles will rank and which won't.
Some of my articles have hit #1 on Google and make five-figures per month. Others never make it past the 5th page.
There is no perfect strategy.
The only strategy is to stop planning and start taking action.
Advertising Revenue
I joined the Mediavine ad network in July and really like their platform so far.
Overall, ad revenue was $14,557 in November. This came in at a $28.79 RPM (revenue per 1,000 sessions) and equated to an extra $485 per day for no extra work.

My RPMs increased by 7.9% compared to October.
Ad Revenue and Keyword Monetization
I took my first stab at Google AdSense about a year and a half ago.
At that time, my blog was getting 20-30k visitors a month. After about a week, I took a look at the reports and, to my dismay, saw that I was only making $3 a day.
It was useless at that stage of my blog's timeline. I didn't have enough traffic yet.
To me, ad revenue is the last resort when it comes to blog monetization.
It's the way that you make money from an article when you've exhausted all other options.
When you think about your ad strategy, don't think about ads for your entire blog, but on an article-by-article basis. Some keywords and topics are more suited for ads than others.
And this all comes down to keyword research.
Remember, traffic does not equal money.
Let's look at two examples:
If you rank for a transactional keyword like "best web hosting", that has a ton of transactional value. It's great for affiliate links and should avoid ads at all costs (because they make way less money and can impact affiliate clicks and conversions).
Alternatively, if you rank for an informational keyword like "leadership" there is very little transactional value. Someone just wants to read information. This is a good post for ads.
This is considered transactional vs. informational search intent.
Not every single blog post has a strong ROI.
This is why when you visit a food blog, you have to scroll through 15 ads and someone's entire life story to get to the actual recipe. You're not there to purchase anything – you want to read the recipe and leave. But the blogger still wants to get paid.
That's what ads are for.
Ads aren't a bad thing, they're just a catch-all when you don't have a more lucrative option.
If you want to earn more money from every web visitor, you need to focus on affiliate marketing and write content that is transactional in nature.
This focus on transactional search intent is the #1 way bloggers make money.
The process looks like this:
Google Search => Your Blog => Purchase (affiliate)
Someone is looking for a product, types it into Google, visits your blog for a review, clicks your affiliate link, and makes a purchase.
This is the ideal scenario for a strong content ROI.
On the other hand, when it comes to ad revenue, it looks like this:
Google Search => Your Blog => Read something and leave (ads)
You include ads in a post when all other revenue streams are exhausted and the post is simply providing information.
This is why monetization must drive your keyword strategy in the first place.
You have to write about things that can actually lead to a purchase. If you don't, you'll have to rely on ads.
Don't have to rely on ads.
Summing It Up:
If you're looking to find valuable affiliate keywords to write about, check out my new article on keyword monetization and why you only need to write two types of posts to make money.
Furthermore, I recommend you only implement ads after monetizing your blog with consulting and affiliate marketing first. And only once you have over 50,000 monthly visitors and can join a good ad network.
My Other Revenue Sources:
Digital Product Sales: $1,221
SEO Consulting for 3 B2B Clients: $8,100
Total revenue in November: $83,737
Now that we've covered revenue, let's move onto my expenses.
Expenses in November 2020: $14,734
This month has been all about spending money now to make more later. AKA spending a lot more than I normally do.
Premium Blogging Course: I hired a course creation expert named Colin to help me plan and launch my premium blogging course. He's currently building his own blog as beta student #1 and is an absolute whiz when it comes to building online courses.
This course will cover every single detail about starting and scaling a profitable blogging business – I'm trying to make it the best blogging course on the Internet.
I announced in our Facebook Group of Blogpreneurs that this will be going live in early 2021.
The beta group is full and is starting on December 14th.
Annual Web Hosting: Besides my normal fixed expenses, I also paid for a full year of web hosting in November, for a total of $4,400.
Blog Content Design: I'm currently working on building out some content silo pages for a new content architecture on my blog. I paid my developer about $1,050 to make some updates.
Those are all of the major expenses this month in addition to my other software and content costs.
Total expenses in November: $14,734
Monthly Profit: $69,003 (82.4% Gross Profit Margin)
Now, onto some traffic stats and a November recap.
2. Traffic for November 2020: 505,621 Sessions (-3.7%)
Month-over-month, my blog traffic decreased by 3.7% from 524,808 sessions to 505,621 sessions. This was primarily because there was one less day in November compared to October.
From a year-over-year perspective, traffic is up 252%, as traffic was 143,705 in November 2019.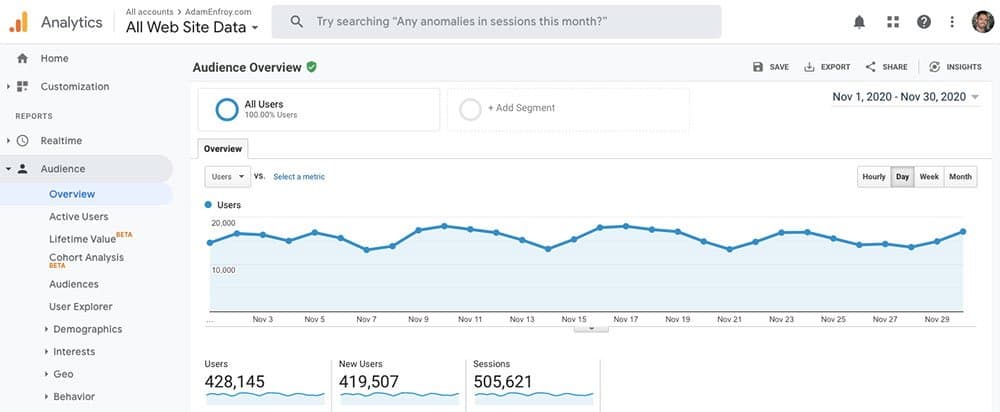 Here's a monthly breakdown by sessions:
2019
January: 1,147
February: 2,055
March: 7,672
April: 16,920
May: 34,261
June: 46,355
July: 76,926
August: 105,056
September: 133,391
October: 141,348
November: 143,705
December: 178,021
2020
January: 248,910
February: 231,524
March: 303,960
April: 414,389
May: 444,461
June: 383,863
July: 412,848
August: 484,246
September: 531,587
October: 524,808
November: 505,621
Overall, I'm happy with where I'm at. While my goal is to hit 1 million monthly visitors and beyond, I view traffic as a vanity metric.
I could probably make 80% of my current revenue with way less traffic. It's all about your keyword monetization strategy and converting visitors into sales.
I remember being thrilled when I hit 1,000 visitors a month. The same was true when I hit 5,000 and 10,000. Those are serious numbers.
If you don't have much traffic yet, don't get discouraged.
You don't need a ton of traffic to make money and I don't want anyone to look at 500,000 like it's a prerequisite. I know plenty of sites making 5-figures/month with 20,000 monthly visitors or less.
Ultimately, this process is all about building authority and expertise in your niche. For example, maybe you can turn 100 visitors into one high-paying client. Or 50 into a few coaching clients.
Your blog is a business, and I want you to remember that traffic does not always equal money.
All that you can do is launch your blog, develop your content strategy, and build authority to turn your blog into a monetizable asset.
To sum it all up: You have to be fluid in your approach. Blogging is a messy process. Choosing the perfect niche is impossible, so go with your name and move on. Then continually publish, test, tweak, and pivot based on what is working for you.
4. Total Email Subscribers as of November 2020: 40,188
As of November 2020, I have over 40k subscribers in my email list. I currently use Convertkit for email marketing, which I find a great option for bloggers.
Our Blogpreneurs Facebook Group is also growing quite fast, with 5.3k members as of today. There are a lot of awesome discussions going on and some really cool bloggers helping each other out. Please join us if you haven't already!
5. Tasks Completed in November:
Published guest posts on Noupe, Qualtrics, DollarSprout, Combin, Flippa, AppSumo, JerryJenkins.com, Nethunt, Promo, and more.
Published nine new articles on my blog.
Hired a course creation expert.
Planned the first three modules for my blogging course and finalized the beta group.
That's it for my Blog Income Report for November 2020.
It's getting cold here in Michigan and I'm planning to get the hell out of dodge and move down to Florida soon. Wish me luck!
I'm also looking forward to doing some traveling once things open back up. Feel free to comment and let me know where you're from – I've met a ton of awesome people through this blog and would love to visit if I'm in the same part of the world. 🙂
Finally, thank you so much for reading – I'm very grateful you found your way here.
The purpose of these blog income reports is to showcase that with the right strategies, it doesn't take years to make a substantial income.
If you're looking to launch a blog and use my tactics, you can check out my full guide on how to start a blog and launch your blog with Bluehost for just $2.95/month.
Get started with Bluehost.
Disclaimer: The two Bluehost links above are affiliate links that provide a small commission to me at no cost to you. These links track your purchase and credit it to this website. Affiliate links are a primary way that I make money from this blog and Bluehost is the best web hosting option for new bloggers. You can read full affiliate disclosure in my privacy policy.
Feel free to follow me on Facebook, Twitter, and Instagram so we can connect.
Editorial Process:
Our reviews are made by a team of experts before being written and come from real-world experience. Read our editorial process here.
Some of the links in this article may be affiliate links, which can provide compensation to us at no cost to you if you decide to purchase a paid plan. These are products we've personally used and stand behind. This site is not intended to provide financial advice. You can read our affiliate disclosure in our privacy policy.