The Ultimate List of Blogging Statistics for 2023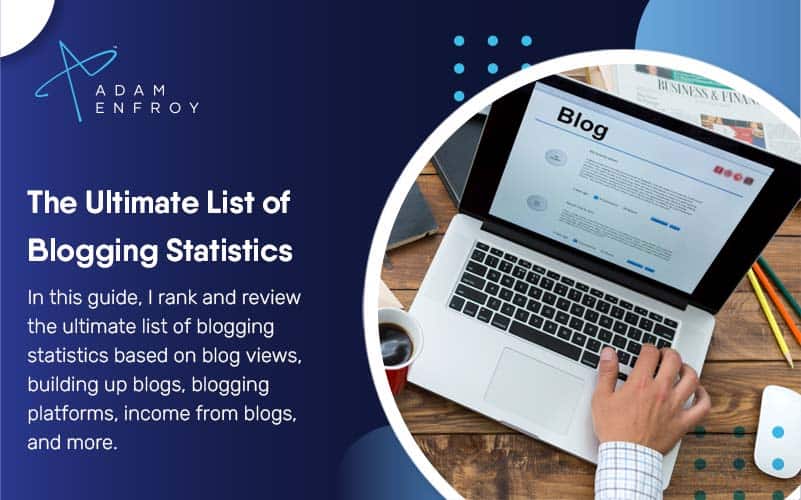 Building a blogging business is much like building a brand.
You need to define your target audience, learn the lay of the land and create content that will resonate with the people that visit.
While building a wildly successful blog doesn't happen overnight, you'll build up a fantastic readership base who respect your knowledge and expertise if you work at it.
In addition, making money blogging is still very much alive and possible, generating a passive income for those that take the time to understand how it all comes together.
In this article, I review the blogging landscape through current statistics that will help you understand what blogging is all about today.
Let's dive deep into this topic.
Blog Views
1. Every month, there are 70 million fresh posts on WordPress. These get as many as 409 million views monthly.
(WordPress)
WordPress is by far the most significant blog software in existence.
It's not hard to understand why, especially when you consider that it powers more than 60 million sites.
If you're thinking of starting a blogging business, WordPress is where you need to be.
With this many views on WordPress, your blog posts will get more exposure than they would on any other platform.
Building Up Blogs
2. Of those who outsource their content strategy, many also outsource the content creation process. In addition, 35% of these people also hire someone to distribute content around the web.
(Content Marketing Institute via SlideShare)
Outsourcing is not for everyone, but it can be beneficial if you always end up struggling to meet deadlines.
If you work full-time on the blog, outsourcing might not be a needed option for you.
But if blogging is your side hustle, freelancers can help build up your blog with fresh content at a fraction of what you would pay full-time employees.
Some also outsource the distribution process, helping them get content at the top of search engine results pages.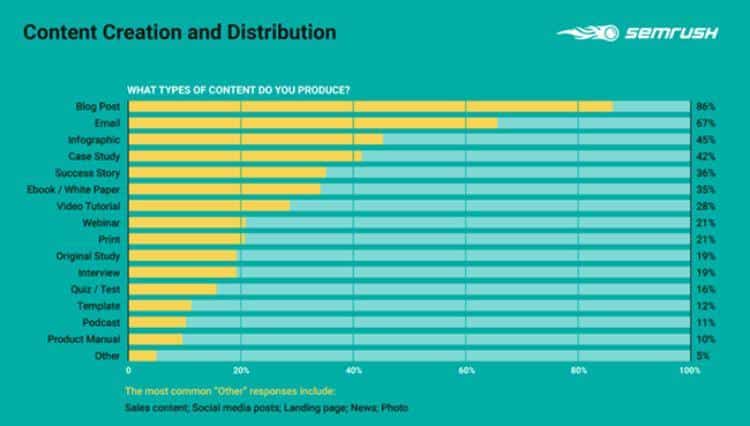 Image Credit: Startupbonsai.com
3. Once a week is the average frequency at which bloggers publish new posts.
(ConvertKit)
Publishing once a week is a great way to keep your readers interested and entertained.
You don't want to overwhelm them with so many posts that they begin to lose interest in what you have to offer.
While some industries can justify a daily blog post, this frequency is excessive in other cases.
If you produce a top-quality content piece once a week and do so for several years consistently, you should have no problems keeping your readers engaged for the long term.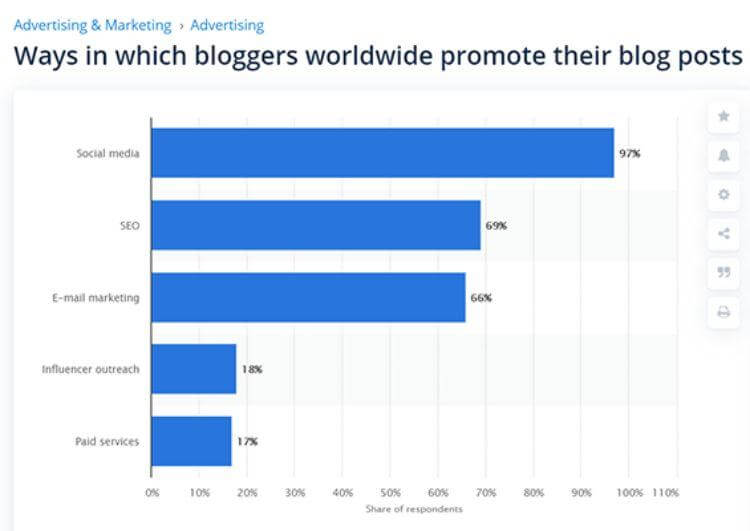 Image Credit: Startupbonsai.com
4. Marketers spent an additional 78% more on content marketing in 2019 than they did the year before.
(Zazzle Media)
The increase in content marketing budget reflects the fact that more businesses are becoming aware of the importance of blogging.
If you want to make money through blogging, this is excellent news for you if you want to start a new blog.
It means that there are more opportunities out there to take advantage of, especially with new niches (and sub-niches) popping up every so often.
However, this also means increased competition in the content marketing game, so having a solid plan is essential.
5. Publishing regularly (15%) and having good writers (12%) were reasons for a blog's buildup of credibility.
(Social Marketing Writing)
When you publish regularly, people know when to expect new content.
This helps build trust and shows that you're in this for the long haul.
One of the main objectives of blogging is to get more traffic over time.
So, if you stop posting after building up a decent readership base, it will be challenging to maintain your position.
Having good writers on your team is also essential because they know how to connect with the audience.
Using the wrong tone or language can either turn people off or fail to hold their interest, which will hurt your blog's reputation.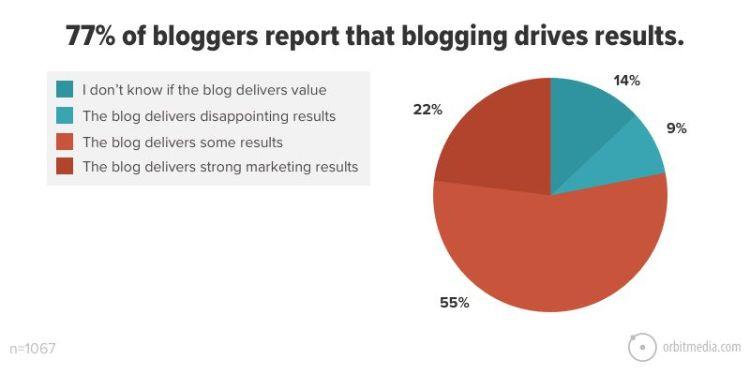 Image Credit: Orbitmedia.com
6. Almost 69% of bloggers surveyed said that a blog adds to their credibility in their industry.
(Social Marketing Writing)
Credibility is yet again mentioned when it comes to blogging.
This is especially important if you're running a blog related to marketing or finance, where small details can make or break your site's reputation.
In the end, people will trust the content you publish if they know it's accurate and worth their time.
7. In 2016, most bloggers spent between 1 and 2 hours working on their blog posts. By 2020, 22% of bloggers spent three hours on every released post.
(Orbit Media)
The increased average time it takes to push a blog post live shows that the number of bloggers who understand the importance of time when creating quality content is rising.
Doing this will help you develop high-quality posts, which are the ones that tend to go viral.
If you rush your blog posts and put them online before they're ready, it's unlikely that people will want to share them or read them in detail.
8. Half the people surveyed said they reached out to a maximum of ten potential sites for guest posting opportunities monthly.
(Referral Rock)
On average, bloggers reached out to others as many as ten times during a given week, asking for guest posting opportunities.
Guest posting is one way to draw traffic to your blog.
This is especially true if you work with other bloggers to get content onto their sites and create a link between your site and theirs.
Although guest posting opportunities will always fluctuate, it's a good idea to reach out to as many as possible (within reason) because there's no such thing as too much good exposure for your blog.
9. 60% of the bloggers previously mentioned write between 1-5 guest posts per month.
(Referral Rock)
After reaching out to potential guest posting sites, 60% of bloggers said they publish an average of 1-5 blog posts per month.
If you're starting with your blog, this is a good number to aim for because you have time to focus on other aspects of your site.
However, it's essential to stay true to this schedule if you do opt for guest posting because it will help you keep momentum and attract more readers over time.
Blogging Platforms
10. According to a recent study, more than 60% of WordPress sites are out-of-date. This is much lower than other CMS platforms, including Magento (97% of installs are outdated), Joomla (85%), and Drupal (81%).
(Sucuri)
WordPress sites are quite vulnerable to out-of-date versions because of their open-source nature.
If you run a WordPress site, it's important to keep your site, theme, and plugins updated regularly.
Other platforms suffer from similar vulnerabilities.
In addition, it seems that their internet users are also less aware of the need to keep their blogging platform updated.
Income From Blogs
11. Sponsored advertisements on The Huffington Post earned $14 million in revenue every month. Engadget, Moz, and Mashable are doing something similar on a smaller scale with $5.5 million/month, $4.2 million/month, and $2 million/month, respectively.
(Forbes)
$14 million is the amount of revenue The Huffington post makes every month, and this shows just how influential this site is.
It also shows that blogs that provide their target audiences with good content over time are in-demand.
This is why it's a good idea to take your time with understanding how many blogs and posts you can run simultaneously.
This ensures you provide interesting and valuable content to your readers.
12. Among $50,000+ per year bloggers, content quality is the most critical factor.
(Growth Badger)
Quality is again the keyword in the spotlight for bloggers making money.
This means your blog posts need to be worth reading if you want people to keep returning and clicking on advertising banners and other ad links on your site.
It's also essential that they find real value in this content because otherwise, they won't come back, and you'll lose any potential revenue.
13. On average, in the United States, bloggers make $51,120 per year.
(Glassdoor)
This stat comes from a Glassdoor survey and is based on salaries provided.
Considering that once a blog is set up, there are minimal extra costs to running it.
This makes $51, 120 is a good amount of money for anyone just starting a blog who also enjoys the process of sharing valuable content with an audience.
People And Blogs
14. Survey participants said they would stop browsing a site if photos do not load (53%) or will sometimes switch devices (32%) and try again.
(Adobe via SlideShare)
Broken photos can have a significant impact on your blog's traffic and bounce rate, as well as revenue.
Adobe found that 53 percent of website visitors will simply leave a site if they encounter broken images.
Sometimes, an image that takes a few seconds too much to load might be interpreted as being broken.
This is why it's important to always check your blog for slow loading times and ensure there aren't any issues with broken/large file size images.
15. 59% – the percentage of shoppers who said they'll do some research on a product's website or blog before buying it in-store or online.
(Think With Google)
A blog is a great way to give your customers more information on something they're interested in.
It can help them learn about new products, read others' opinions on certain items, and even provide links to purchase them straight from the site.
Influencing customer buying decisions shouldn't be taken lightly, and being authentic in a blog is always the best approach.
16. The most significant reason that helps customers make up their minds about whether or not to buy a product is a company's online content, according to 62% of millennials.
(Business Wire)
For more than six out of every ten millennials, how a company presents itself through its content is vital when making purchase decisions.
This aligns with how bloggers and business owners need to be authentic in their blogging and show what they're about rather than just trying to sell something.
If you focus on promoting your products just for the sake of it, without adding value to the content you publish, your audience will feel like they can't trust your judgment.
This is why it's important to be upfront about what you do and who you are, so people know exactly where you stand on specific topics.
17. The majority of people read blogging material on their mobile devices. As a result, bloggers should produce shorter pieces more suited for modern readers.
(BuzzSumo via OkDork)
Mobile devices significantly impact how people read blogs and how they expect to consume content.
This means shorter posts with a concise message that quickly teach something of value are crucial.
At the same time, it's important not to let this influence you too much if you believe that long-form content is needed to get your point across.
In other words, it's essential to give your audience a variety of content types so they're getting an optimal experience on your own blog.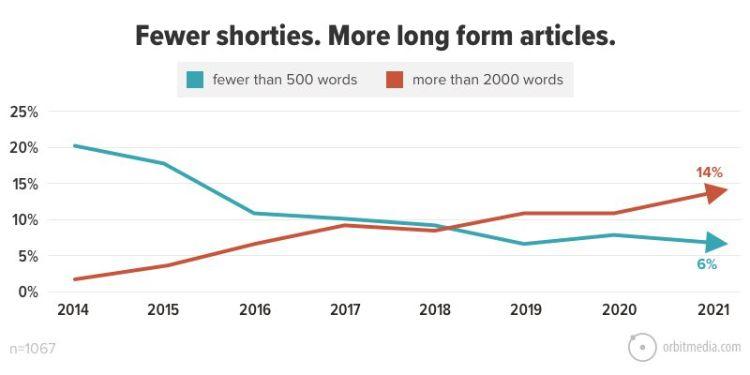 Image caption: Orbitmedia.com
Blog Posts Success
18. According to 77% of bloggers, the most popular blog format is 'How-to' articles. News and trends (49%) are second, followed by guides and ebooks (47%).
(Statista)
Creating how-to blog articles has always been one of the most popular blogging trends.
These posts are easy to comprehend and require little effort on the reader's part.
If you're looking to gain new readers or grow your community, how-to articles will always be a safe bet for your audience base.
In terms of the type of content, it's also a great idea to offer new and trending information so people can come to your blog for the latest updates.
This ensures a steady flow of readers will return to your site regularly, which will help you develop better relationships with them.
Listicles, infographics, and roundups are also popular content types commonly published by bloggers.
19. Longer writing pieces receive a 77.2 percent higher number of links than shorter ones. The same logic applies to social media sharing, but after the 2000 word mark, social sharing reaches the point of diminishing returns.
(Backlinko)
The word count of a blog post can significantly impact how successful it'll be.
In general, shorter posts don't necessarily contain as much value as longer ones because the blogger is limited in how extensively a point can be made.
In general, this means people aren't as likely to share them as more extended content pieces.
If your goal is to build backlinks or generate more organic search traffic, going for a longer post will give you a better chance of success.
Blogging Your Way To Success
While there are many things I wish I knew before starting my blog, some key factors stick out the most.
Let's look at the most important concepts when creating your blog.
Understanding search intent
Most important blogging statistics and search engine optimization (SEO) ranking guidelines will tell you to write for your audience first and search engines second.
Instead of putting an excessive amount of focus on keywords, the best thing you can do is create blog high-quality content so people will want to read it.
If a blog post doesn't interest your readers, then they're not going to share it either, which means that your search engine rankings will drop as a result.
This is why it's essential to do your research and understand what your readers want to know, as this will give you a better idea of what topics or questions they're trying to find the answers to.
Keyword research
Even though you should write with your target reader in mind, you can't forget keyword research and search engines.
The best way to drive organic traffic to your blog is by creating content that will help search engines rank your posts highly for specific keywords.
As you start building up your blog, you might have a much higher click-through rate if you're targeting long-tail keywords instead of more generic ones since they will have less competition and be easier to rank for.
Use tools such as Semrush or Ahrefs to find the kind keywords for your needs.
Getting strong results will depend on this.
Build your list
Email marketing delivers strong returns for both B2C and B2B marketers.
As such, business blogging is important to consider when building up your email list.
Therefore, lead generation should also be included in your blog-building process.
When you have a list, you can also compound your marketing efforts by doing affiliate marketing and suggesting products or solutions to your blog readers that will be helpful to them.
Your blogging platform
WordPress has become the blogging platform of choice these days.
It's free, incredibly customizable, and easy to work with overall.
On top of this, you can incorporate tons of plugins to make your site run much smoother without sacrificing too much functionality – both in terms of design and overall content management.
With that said, other platforms might be more suited to what you need, so doing your research in this area is key.
The average blog post length
Knowing the average length of a ranking blog post helps you understand how long the specific piece of content you create should be.
As mentioned before, longer blog posts are more likely to rank better than shorter ones, so it's essential to keep this in mind as well.
Your marketing strategy
A great content marketing strategy will help you grow your blog, which is why it's essential to stand out from the crowd through your marketing.
If you can create a great content marketing strategy, you will see benefits from generated brand awareness through increased blog traffic and visibility.
Your blogging industry
Content marketers and bloggers should be aware of their industry's current news, trends, and influencers.
Find out what's going on in your niche and keep up with any significant events that will affect the industry as a whole.
Going into an industry for the first time means that you need to understand what other bloggers are doing and identify gaps in which you can slot in.
Make use of video content
Visual content is vital when it comes to several blogging stats.
Whether you are starting a blog post or even running a number of blogs, having video content can be very beneficial to getting your message across.
Video content is also helpful for both digital marketing and inbound marketing as a whole.
As part of your overall strategy, look at what video content can do for you and start producing it alongside your written content.
If you want to take things to the next level, you might also consider having a podcast to get more of the market share in your industry.
Building backlinks
Getting the most out of your blogging efforts also requires building backlinks to your site.
This is the process of getting high-quality websites to link back to your site, which boosts its authority, visibility, and overall rank in search engines.
The best way to do this is by having a great blog full of informative content and then reaching out to potential guest blogging sites and offering to write for them as a guest.
Your website traffic will increase with good backlinks because you will feature higher search engines for selected keywords.
Wrap Up.
The general blogging statistics above will help you get started and improve your overall blogging efforts.
Remember that quality content and attracting targeted traffic in your chosen niche will be the determining factor when it comes to your success or failure as a blogger.
Using these latest blogging statistics as a guide should help you have a well-structured site that provides valuable content for your audience, sharing it with others interested in the same topic.
This builds up a snowball effect of targeted traffic landing on your blog.
Whether you are a small business or a published author, blogging is one of the best ways to reach your clients, build up an email list, and move your business forward.
Have you ever started a blog? What was your experience like? Let me know in the comments section below.
Want to get the best training online on how to start a successful blog? Register for my free masterclass to learn how to build a blog from scratch and turn it into a highly successful business.
Further reading on AdamEnfroy.com: Finding the right platform to host your blog on is critical. Here's how to choose the best blogging platform for your needs.
Disclosure: I may receive affiliate compensation for some of the links below at no cost to you if you decide to purchase a paid plan. You can read our affiliate disclosure in our privacy policy. This site is not intending to provide financial advice. This is for entertainment only.