How to Stream on Discord (Step-By-Step Guide)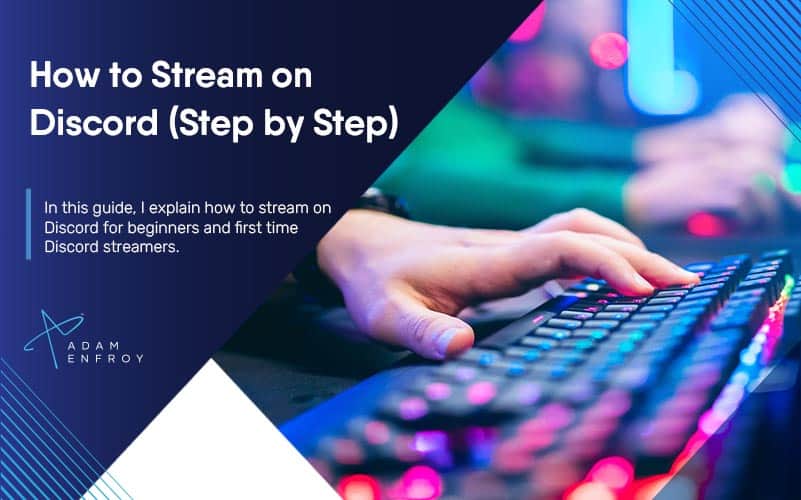 Discord is a free voice-over-internet service that allows users from all over the world to join together to discuss anything they like. The ability to do live broadcasts with a few clicks also makes it an attractive option for streamers of any level.
You can stream anything you want, including gameplay, Netflix shows, tutorials, and more.
It's a great place for communities to congregate and socialize while talking about the things they love.
It also boasts many similarities to Twitch. However, Discord's unique voice chat feature makes it stand out from other streaming services.
The voice chat function allows subscribers to interact with streamers in the same room as them. At the same time, it helps streamers increase their viewership and community size by providing more engagement opportunities between the two parties.
Streams are also much more convenient to use than Twitch and Youtube due to fewer complications and restrictions. You just have to hit the Go Live button so that people looking at your profile will be able to see your stream and click on it.
Another caveat is that Discord only allows streaming from your Windows and Mac apps. There's no way to live stream directly from a mobile phone or the browser.
If you already stream on Twitch, you'll find out that it has more advanced streaming functions than Discord. However, if you want an audience that is always available, more interactive, and willing to go the extra mile than Twitch, it may be worth giving Discord a try.
Now, let's get into the step-by-step process of how to stream on Discord.
Setting Up Your Discord Server.
To stream on Discord, you need to have a server and a voice channel. You also need to install the Discord app on your system to be able to stream.
Head to the Discord download page and click on the "Download for Mac/Windows" option. Once you are through with the download, start the installation process and follow the instructions on the screen.
Open the app on your system. You can log in with the QR code or using an email or your phone number.
If you are entirely new to Discord, sign up by clicking on the "Register" option.
Now, once you log in, you'll see a screen with your existing servers in the leftmost box, along with a plus icon and an option to explore public servers.
Click on the large "Plus (+)" icon in green to create a new server of your own.
Next, a "Create a Server" window will appear on your screen with several template options, including gaming, artists & creators, local community, etc.
You can also start from scratch by clicking on the "Create My Own" option.
Add a server icon and give a name to your server.
Also, make sure to read Discord's Community Guidelines before proceeding from here.
Your server is finally ready.
Now you can send invites to your friends, share all types of content, start your live stream, receive donations, and more.
You can even create multiple text and voice channels for different topics. This way, you can separate your members into different channels to split them into smaller groups of people who share similar interests.
You'll get a "General channel" by default for your Voice Channels as well as the Text Channels section.
Creating a new channel is also simple and requires only a few clicks.
Just click on the small "+" icon placed to the right of the "Voice Channels" or the "Text Channels" tab.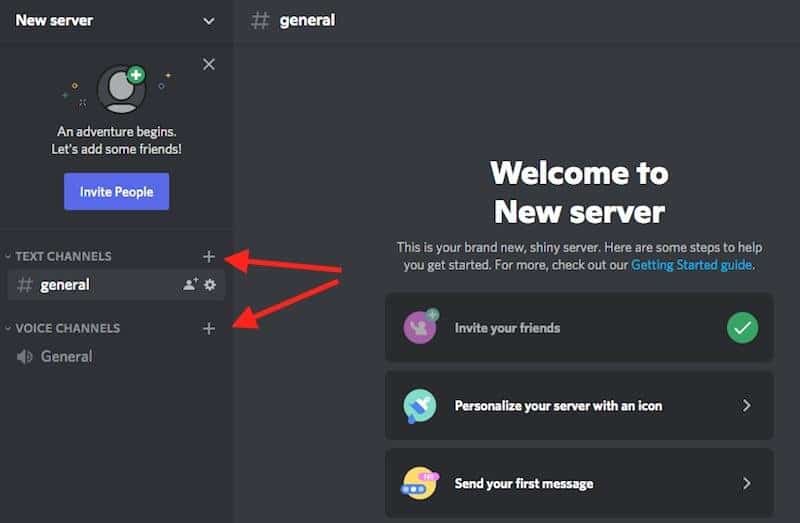 Pick the channel type (Voice channel or Text channel?), give your channel a name, and finally click on the "Create Channel" option.
You can also choose to make your channel private to allow only select members and roles to view it.
Now, you can start streaming on any channel you want.
Streaming on Discord.
You already know that Discord allows streaming only on Mac or Windows app. You can't stream from browsers like Chrome, Safari, or even iPhones or Android devices.
If you are using Discord for game streaming, the app will detect the game and pop it into the chat itself. Its built-in system can recognize almost every video game you might want to stream.
Besides game activity, you can also stream your favorite shows or any other content on your screen with the option to show your entire screen. It's just that they offer a unique recognition system for games.
Turn on Your Camera.
First and foremost, open Discord and join a voice channel in the server you want to stream in. You can enter any voice channel you want by clicking on it.
A "General" voice channel is present in every server by default. Once you click on the channel, the option to switch on your video will appear on the lower-left portion of the screen.
Hit the "Video" button to turn on the camera to appear on the screen. Click on the "Screen" option to share your screen (more on this later).
You'll instantly appear on the screen, along with the screen you shared. There's no webcam configuration required.
Note that audio sharing is only available when using Windows 10 or macOS version 10.13 or later. Follow this guide here to enable audio sharing on your macOS.
After you hit the "Video" button, your primary will automatically turn into the conversion mode.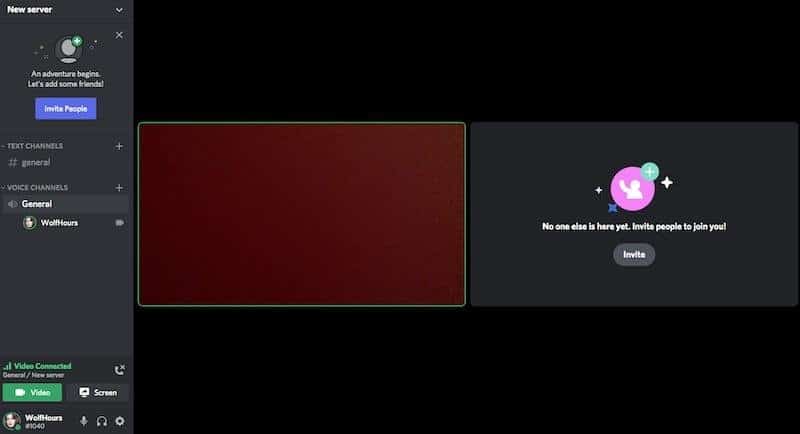 Share Your Screen With Your Viewers.
Screen sharing is also straightforward and requires a single click.
Next, click on the
Screen icon to share your screen with your viewers.
A new pop-up window will appear on your screen. From here, you can choose to either share an individual application, a screen opened on your system or the entire screen.
Select the screen you want to share, and then you'll get automatically redirected to configure stream quality under the stream settings.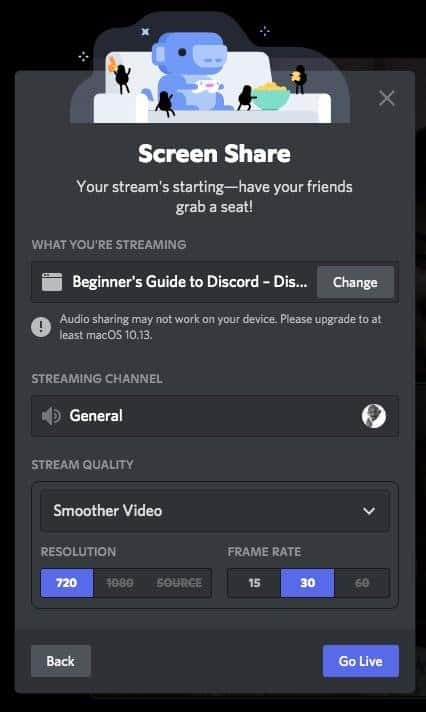 If you're using a regular Discord plan, you can stream up to only 720p and 30fps.
To stream HD resolutions at a better frame rate (60 fps per second) and for other additional chat perks, you have to subscribe to Discord Nitro. It's going to cost you $9.99 per month or $99.99 for an annual plan.
Finally, click on the "Go Live" button on the right to share your screen with your viewers.
You can even switch to another screen or application you want in the middle of streaming by clicking on the "Screen" button and then the "Change Windows" option.
Finally, once you are all set up, your friends can join your stream by clicking on the server voice channel you're broadcasting in.
Send a Server Invite Link.
If no one's present on your new server, you can also invite your friends manually to join you.
There are two ways to do it. You can either hit the Invite buttons to invite friends individually or send a server invite link.
Copy this link and send it to anyone you want.
You can further edit the server invite link by clicking on the "Edit invite link" option.
You can change the expiration date, the number of maximum users, and the type of access granted to each user group. Here, the type of access means you can choose to grant temporary membership to the users.
Disconnect The Stream.
Simply click on the red Disconnect button at the bottom of your Discord screen to disconnect your live stream.

Alternatively, you can click on the small disconnect icon on the bottom-left (precisely above the "Screen" button).
Watch Someone's Discord Stream.
If you're already present in a server where someone is doing a live stream, you can join the stream with a single click.
You'll see a red "Live" badge to the right of the server's username. This indicates that they're currently doing a live stream.
Click on the server's username in the voice channel, and a window will pop up, giving you the option to join the stream. Hit the "Join Stream" button and instantly start watching the stream.
You can also double-click to enlarge the window and watch the screen in full screen. Press the "Esc" button if you want to minimize the screen again.
Share Your Game on Discord.
If you're streaming your game on Discord, you don't need to add it manually. They have a method of detecting what you're playing automatically.
First, open your Discord server and launch the game you want to stream.
The game you launched will automatically appear on the bottom-left of your screen. You'll also see a "Go Live" panel there with the Stream (accompanied by the name of the game you're playing) button.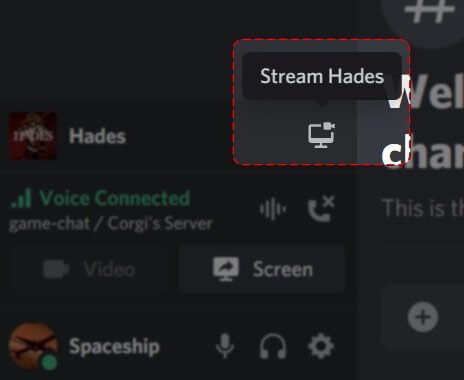 After pressing the Stream button, a Picture-in-Picture (PiP) window will pop up to give you a preview of the game you're streaming.
Hover over the Picture-in-Picture window to see options to adjust the stream's settings or end the stream.
What if Discord Doesn't Detect Your Game?
Most of the time, Discord will automatically detect the game you're playing and want to stream.
However, some games might not get detected on their own. It's not your fault. If you're having issues with Discord not detecting certain games, there is a solution.
You can manually add the game by heading to the User Settings menu by clicking on the cog icon from the bottom-left of your screen.
Then click on Activity Status under the Activity Settings tab.
You'll see a "No game detected" text and "Not seeing your game? Add it!" right below it.
Click on the "Add it" link. After that, select the game you want to broadcast from the drop-down menu and finally click on the "Add Game" button.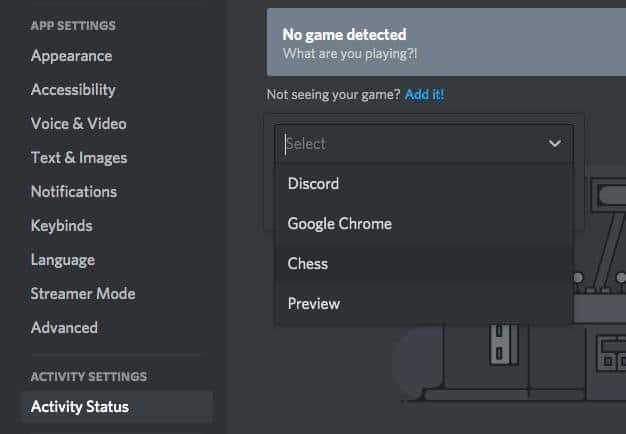 Note that this drop-down menu lists all the active programs running on your system, not just the games. You can even select a video player, document, or even your web browser.
Once you add your game, the "No game detected" section will turn green and display the name of the game you're playing.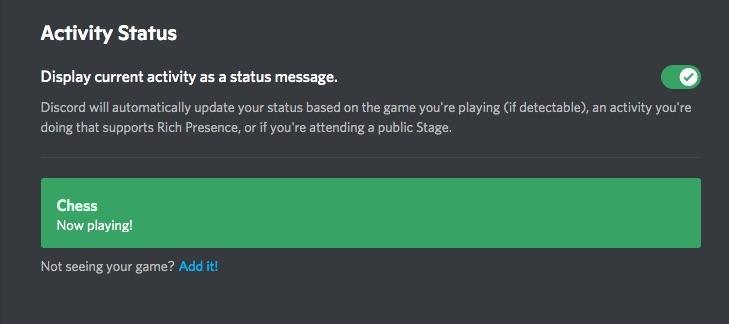 After this, follow the usual steps to stream your game by hitting the "Stream" button from the bottom-left panel.
Increase Your Viewership on Discord.
Whether you want to create a gaming community or just be a part of every server out there, knowing how to grow your audience on Discord is an essential skill for any streamer.
A Discord server is a great way to help you build your brand, find new customers and promote your content.
Here are some quick ways to engage current viewers and increase your viewership on Discord.
1. Host Events.
Hosting events on Discord can be a great way to get your stream more viewers. You can do special giveaways and encourage people to join your server and watch your stream.
This will even compel your current server members to invite their acquaintances, resulting in more members on your server.
2. Promote Your Server on Server Listings.
You can advertise your server on numerous discord server listings to garner more traffic. Discord server listings are like directories of the best discord server lists and communities to help find new servers on discord.
They help people find like-minded communities, meet new people, join guilds, and more.
These listings usually contain descriptions and links of servers in different categories. By getting added to these listings, your server will get recognized by thousands of potential members.
Discords.com is one such server list you can try out.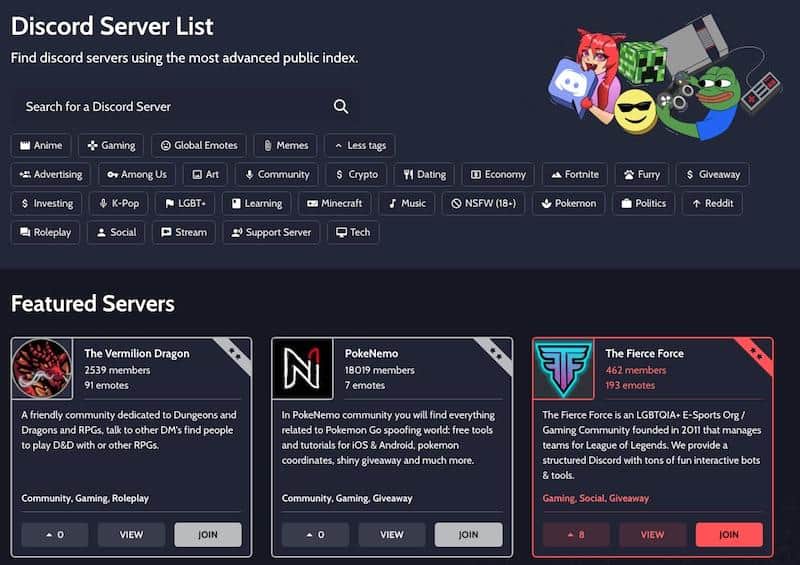 Other than this, you can also get your server listed on the following server lists:
Make sure to list your server only once or twice. If you go overboard and start spamming the list, you might get removed altogether and a permanent ban even.
3. Advertise on Reddit.
If you want to share your discord server with other people and want more members on your server, Reddit is the place to go.
You can begin by listing your server on the r/discordservers subreddit.
It's a dedicated Discord-related subreddit that allows you to post one link to your server. With over 114,000 members, the subreddit gives you an excellent opportunity to get exposed to thousands of potential new members.
4. Engage Your Viewers While Streaming.
When doing a live stream on Discord, you can interact with your viewers and see comments and replies in real-time. Replying to your viewers' messages or sending in-built GIFs is a great way to engage them.
When you're engaging with people who are there because they want to be there, the conversation tends to go much more in-depth. And this is where the true value of a community can be found.
Once you build a tight-knit community, your existing members will spread the word around to promote your server.
Make Money Through Your Discord Server.
Discord servers are small communities of people from all across the world who come together in one place to share their ideas, stories, and interests.
It's just like a real-life community. People can get to know each other, make friends, and enjoy their interests (like gaming) with similar-minded members. There's a certain feeling of connection shared among users, making it easy to get to know each other.
And this might be the most significant way it differs from more prominent streaming platforms like Twitch, where you can broadcast to thousands of viewers at once. Making money is also usually the primary motive of users on such platforms.
This doesn't mean you can't make some passive income through Discord. On the contrary, Discord also provides plenty of ways to help you make money through the app.
Here are some easy ways to make money through your server.
1. Connect Your Server With Patreon.
Connecting your Patreon and Discord server could unlock a ton of potential for you. And luckily, Discord provides native integration with Patreon, making it easy for you to streamline them.
You can provide your viewers with exclusive access to specific private rooms, grant them the ability to post links, and join your private streams and voice chats. And in exchange, they can buy your Patreon membership.
2. Get Donations Using the DonateBot.
DonateBot is Discord's very own bot that allows you to accept donations via PayPal.
All you have to do is to authorize the bot, and they'll do the heavy-lifting for you.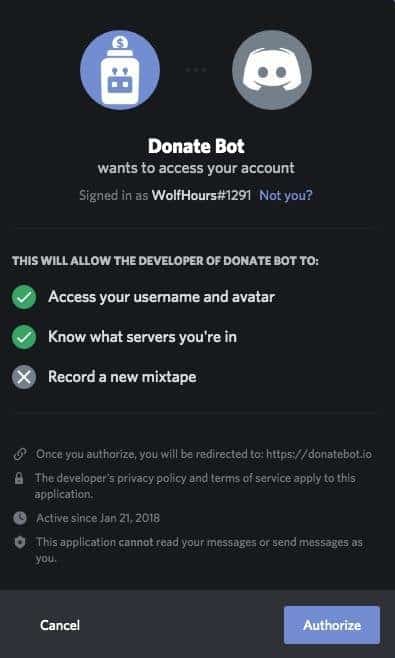 After that, you'll get redirected to a page to select the server where you want to add the Donate Bot.
Select the server to add the bot and click on the Add Bot to "Server Name" button. The Donation Bot will finally get added to your server.
You can now start receiving donations from your members in exchange for special perks like custom roles. You can also sell your merchandise or any digital product and get paid via PayPal.
3. Offer Affiliate Products to Your Members.
Aside from offering memberships via Patreon and earning donations, you can also consider offering affiliate products to your members.
Affiliate products allow you to earn commissions from a product that you promote to your members. As they buy the product through your link, you receive a commission.
However, make sure you're offering something relevant and valuable to your audience and are upfront about it being an affiliate product.
For example, if you run a financial advisor, you can recommend a stockbroker you like, which could be helpful for your audience. You can make the recommendation in your live stream and then pin the affiliate link in any channel on your server.
How to Stream on Discord FAQ.
What is a voice channel?
Voice channels are a place where you can hang out over video and audio. It's a lot simpler than calling and is one of the primary features of Discord.
Can you stream your entire screen with Discord?
Yes, you can stream your entire screen with Discord. You can enable this when you are setting up your stream via the stream settings.
What are the screen sharing options on Discord?
Discord streams have multiple options for sharing your screen from individual windows, the entire screen, and screen selection.
Executive Summary.
This article covered everything you need to know about Discord streaming, from getting your own Discord server to what goes into streaming.
The number of gamers wanting to stream video games with their live commentary while playing is increasing every year. That's why we also went over what you can do to make yourself stand out in the sea of streamers and how you can build your community for maximum effect.
And finally, you can try to monetize your streams and earn through your server once you have a significant audience.
Looking for other related posts to read?
Disclosure: I may receive affiliate compensation for some of the links below at no cost to you if you decide to purchase a paid plan. You can read our affiliate disclosure in our privacy policy. This site is not intending to provide financial advice. This is for entertainment only.