The Ultimate List of Digital Marketing Statistics for 2023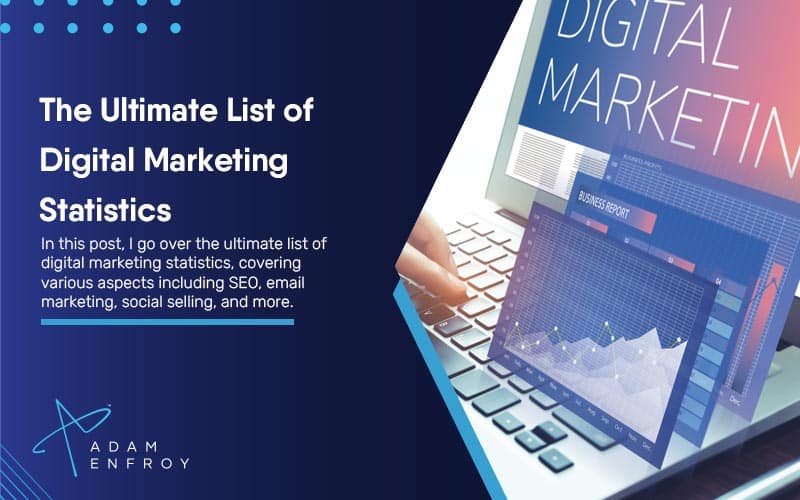 While the term digital marketing gets thrown around a lot, it's rare to find a resource that genuinely captures the current digital marketing landscape through the right statistics.
With various marketing strategies available for companies and digital agencies that utilize different channels and mediums, it's essential to understand which methods are more popular and effective.
In this post, I've compiled the ultimate list of digital marketing statistics to help educate marketers on where the industry is headed.
Let's get right into it.
Search Engine Optimization
1. Only 10% of web pages on the internet get Google organic traffic.
(Databox)
While more than one billion sites exist on the web, only a fraction of these sites appear on Google and ultimately get organic traffic.
Only around 10% of all web pages get any organic traffic, while the other 90% of web pages are left un-indexed by Google, or if they are added to Google's database, they get no visits or clicks at all.
Understanding this puts into perspective how vital the right SEO marketing tactics and strategy is for organically driving traffic to one's website.
2. Over 77,000 searches are conducted every second on Google.
(Internet Live Stats)
Google is a powerhouse of searches for anyone looking for anything on the internet.
As many as 77,000 searches are conducted on Google every single second of the day.
With people searching for everything from local businesses to international news, Google has become the go-to resource for getting users the information they want.
With that said, one shouldn't ignore other search engines, with Bing and Yahoo! commanding a small yet decent percentage of search engine traffic.
3. A Featured Snippet box exists on only 12% of search queries on Google.
(Ahrefs)
Featured Snippets are the question-answer boxes on the top of Google's search engine result pages (SERPs) that display a specific answer to a search query.
These snippets can garner more clicks than the actual organic result.
This means it's become essential for websites to be listed within them to optimize the number of clicks they get through Google.
It turns out Featured Snippets only appear on 12% of all search queries.
This means that since there is currently low competition for these slots, you should do your best to optimize your site for these snippets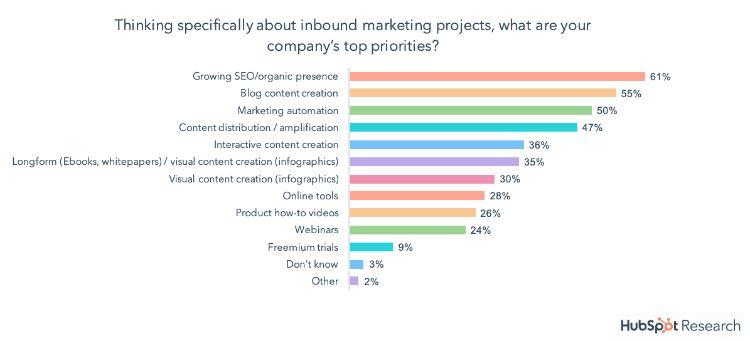 Image Credit: Hubspot.com
4. Content creation is the most effective SEO strategy for 72% of online marketers.
(isitwp)
Content creation is the most popular SEO strategy for marketers to utilize.
Almost three-quarters of online marketers update their content with new articles consistently, with many updating specific keywords and phrases within these articles for targeted optimization.
While it does take some time to create engaging content that stands out, ultimately, this is how you can skyrocket your website up Google's SERPs.
5. Almost 70% of all website clicks for searched keywords are divided between the top 5 spots on Google's search results.
(Advanced Web Ranking)
The top five positions for any searched keyword result get the most clicks for that keyword.
While the top three positions get the vast majority of these clicks, it's still important to note that in many searches, you're still getting a solid amount of traffic from Google even though you're in the fourth or fifth position.
That also spells bad news for anyone not found within these first five positions, and especially those found on the second page and after.
Very few people would ever go beyond the first page since they can typically get the results they want from the websites ranking the highest.
6. Half the number of search queries are four words or more.
(Propecta)
Long-tail keywords are becoming more and more prominent in Google's search results.
Even though many marketers spend the majority of their time trying to rank for highly competitive keywords (i.e., short-tail keywords), it turns out that only 50% of all search queries on Google consist of three words or less.
Plus, one can also argue that these short keywords are generic and people with a buyer's mindset wouldn't necessarily use them.
If you want to sell your products and services, give solutions to problems that people have through the use of long-tail keywords.
This is the best way to appear in front of your ideal target audience while utilizing their favorite search engine.
Email Marketing Statistics
7. In general, email marketing has a 4400 percent return on investment.
(OptinMonster)
Email marketing is one of the best ways to get people back on your website and continue engaging with your brand.
It's also a great way to make new connections and bring in potential customers through new subscribers.
The ROI for email marketing is monumental, with more than 4400 percent of one's investment typically being returned.
Building your email list in this digital marketing world is critical for any business owner.
8. The typical open rate of welcome emails is 82 percent.
(GetResponse)
Still featuring one of the highest open rates, a welcome email is are the email that forms part of your email marketing automation and is sent to new subscribers as the first point of email contact.
This makes it incredibly important for marketers to try and create welcome emails that impact the subscriber and increase the click-through rate (CTR) of the links found within such emails.
To increase your open rate, consider sending these emails as soon as possible after a person subscribes to your list and include a personalized subject line.
This makes your email subscribers more inclined to open them.
9. As many 90% of email users have opted out of a company email they previously signed up for.
(HubSpot)
While welcome emails get a high open rate, many companies are not doing nearly enough to keep their subscribers engaged.
9 out of 10 email users have opted out of an email list they once signed up for, meaning that they're probably gone forever.
This leaves companies having to find new leads over and over again.
A majority of marketers are now aware that they need to try and keep as many people as possible from opting out, with the best way being sending helpful and consistent content.
10. Spam is a broad term that refers to unsolicited commercial emails, with as many as 54% of all emails sent classified as such.
(Statista)
With spam filters weeding out most emails, many marketers find it challenging to get their messages across to their subscribers.
Spam filters do the best job at filtering out these types of emails but can also flag good emails as spam.
This means that it's up to companies to make sure that they're not triggering any spam filters when sending out their email content.
By keeping your email marketing campaigns in line with your subscribers' wants and needs, you'll be able to avoid being viewed as a spammer and therefore increase your email deliverability success rates.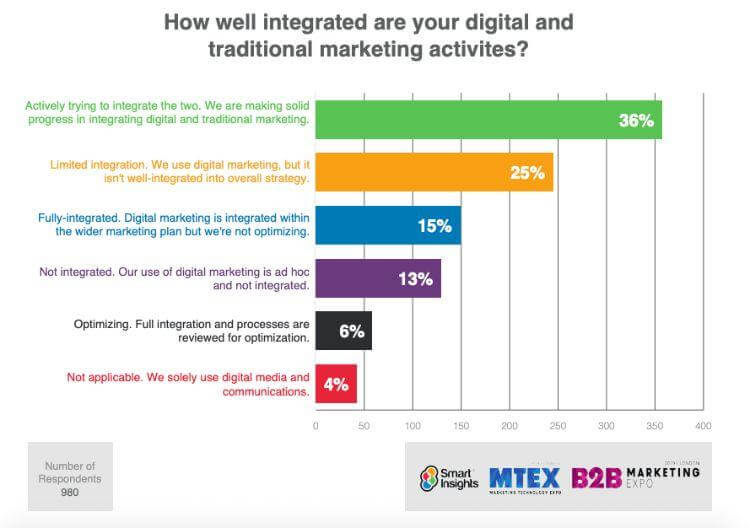 Image Credit: Smartinsights.com
Social Selling Statistics
11. Those having 5,000 or more LinkedIn connections manage to hit their sales targets in 98% of the cases.
(The Sales Benchmark Index)
Social selling is the new way of finding great sales opportunities.
This concept has taken over the world by storm, partially because people are now glued to their mobile screens.
Social selling is now part of the whole social media marketing experience.
Having thousands of connections on LinkedIn might seem like a big goal many marketers strive for, but it's not impossible to achieve.
What's important is ensuring that these connections are the right target audience for whatever you are promoting.
The good news is that once you have a significant number of targeted connections, the sales these connections can bring in will be immense.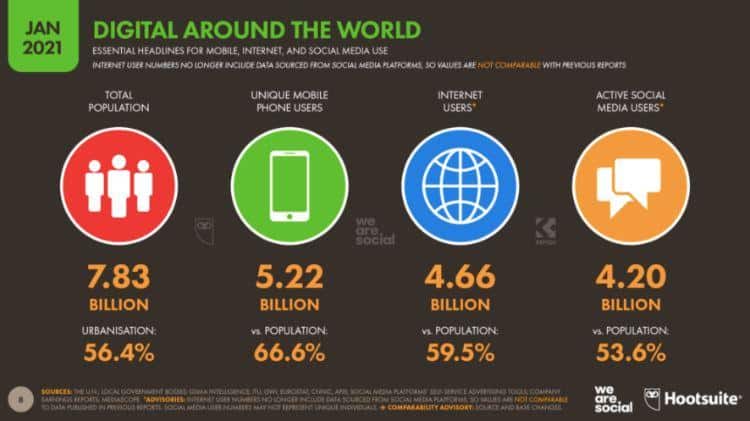 Image Credit: Hootsuite.com
12. Cold calling has a dismal 2.5% outbound sales success rate.
(Keller Research Center)
Cold calling is still a way to reach new customers and find good sales prospects, but there are many more efficient ways to get the job done.
With a low 2.5% outbound sales success rate, marketers need to find a way to market themselves efficiently and cut down on the amount of time they spend trying to sell.
This is where social selling comes into play.
Unlike cold calling, selling on social networks can be done anywhere, and companies are increasingly using this in their favor.
13. IBM boosted sales by 400 percent after launching a social selling program.
(IBM)
Social selling is both the present and future of sales, and IBM is one company that has seen excellent results since implementing its social selling program.
A 400% increase in sales is unheard of and could be one of the long-term targets of every business out there.
This goes to prove that if you're not marketing yourself through social media and its various platforms, then you're losing out on a ton of sales opportunities.
14. According to recent survey respondents, only about 20% of B2B purchasers will communicate with a sales agent before conducting their own research.
(Corporate Executive Board)
Doing one's research is how most B2B purchasers go about their buying process, meaning that most people will not contact sales agents before diving into the appropriate website or other available marketing materials.
This means that 80% of people are unwilling to give out personal information and allow themselves to be sold to, before researching the product they're interested in.
This makes it even more crucial that your online presence is up to scratch and that you're giving helpful information and helping people with their problems.
This will help them with their research and ultimately get them to reach out to you as soon as they're ready to move on in the buying process.
eCommerce Statistics
15. Organic Google searches made up almost 43% of eCommerce traffic.
(Wolfgang Digital)
eCommerce and SEO work hand in hand.
Organic Google searches are the most popular way people find eCommerce websites.
It's nothing new either; people have been using Google for years to find information on the web, and it's no different when it comes to online shopping.
This clarifies that having a solid SEO strategy is vital no matter what type of website you have.
16. There are now over 286 million active PayPal accounts globally.
(Statista)
PayPal is the world's favorite online payment processor.
With PayPal offering buyer protection in the case of a problem with a purchase (and if the buyer and seller can't reach an agreement), it's no wonder many buyers seek to use this payment processor.
In addition, Paypal makes it easy to login and pay for things whenever making an online purchase.
Apart from this, hundreds of millions of businesses also use PayPal to transfer money and process payments to various stakeholders.
With as many as 286 million active accounts on this platform, accepting Paypal payments is a great way to get more sales on your website.
17. When customers are in a physical location, 65% of potential purchasers look up price comparisons on their mobile phone.
(KPMG)
Even though many customers will visit a physical store to see, touch, and try on the products they're thinking about purchasing, one of the most popular trends is looking up prices online.
KPMG found that 65% of customers will look for price comparisons online in a physical store location.
This means that if you don't have your products listed on eCommerce websites or even price comparison websites, you might miss out on many sales.
If that's not possible and your business sells items that one can find elsewhere, then having competitive prices (or even better offers) is something to consider.
18. 2-4% of visitors that trigger an exit-intent campaign/ad get converted into email subscribers.
(OptinMonster)
Rather than having someone leave your website and never come back, specific campaigns can trigger when someone makes it clear they want to leave your site.
This gives you the chance to convert them into subscribers or get them to purchase down the line.
These exit-intent campaigns increase conversion rates by about 2-4%.
While this number might seem low, these people would have been lost anyway.
In addition, the numbers add up, and by building your emailing list, you will eventually get more sales.
FOMO Statistics
19. Many people feel a sense of FOMO, which is highest among millennials.
(Eventbrite)
The fear of missing out is prevalent in today's society.
More commonly known as FOMO, this can affect how people make buying and purchasing decisions.
This fear is the highest among millennials, with as many as 70% of people in this age group saying they experience this feeling regularly.
This means that many millennials are more likely to buy something because they fear missing out on the opportunity to own it.
20. As many as 27% of social media users go to their favorite network as soon as they open their eyes in the morning.
(Mashable)
The fear of missing out also leads almost three out of every ten people to go to social media as soon as they wake up in the morning.
Companies often use FOMO to their advantage, with so many people checking their Facebook, Twitter, Tiktok, Instagram, Pinterest, and other popular social media platforms first thing in the morning.
What Does Digital Marketing Consist Of?
Digital marketing uses the internet as a platform to communicate about a brand, products, and services.
This can mean anything from creating a website for one's business to doing something as simple as posting on social media sites.
While digital marketing has been around for years, people have only recently started to realize how effective it can be and are fully utilizing it.
Areas In Which Businesses Need A Digital Marketing Strategy
Let's explore the various areas in which businesses can use a solid digital marketing strategy.
Social Media And Digital Marketing
Various social media statistics show that many B2C marketers use social media for their marketing campaigns.
A company's digital marketing efforts aren't going to be complete without a presence on social media.
Many famous brands have more than one million followers on various social media sites.
Having a digital marketing strategy that caters to mobile devices and social media is a must if you want to take your business to the next level.
With mobile users and social media advertising becoming more popular, having a digital marketing strategy that caters to these two areas is necessary to take your business to the next level.
The Right Content Marketing Strategy And SEO
Several content marketing statistics state that more B2B content marketers are creating information (including formats such as infographics, eBooks, audio, video marketing and visual content, etc.) and using it to boost their SEO efforts.
A solid content marketing strategy can boost your brand's awareness and image and make it more recognizable to the public.
Since these strategies are designed to help more internet users find information on your company, they can help increase revenue and acquire new customers.
In addition, getting organic search traffic is one of the most critical business goals.
With both on-page and off-page SEO, you'll be able to reach the top of search engines, which will help people find your site even more efficiently without you having to spend money on paid advertising.
Digital Marketing In Ecommerce Sales
When selling through ecommerce, website traffic is one of the most important things a company can have.
Having a great digital marketing strategy that incorporates pay-per-click ads and SEO will help your ecommerce business grow and succeed.
In addition, mobile commerce (which is defined as selling items on a handheld device) should be another factor ecommerce companies consider when building up their online presence.
Digital Marketing For Lead Generation
Various marketing statistics for lead generation show that the internet is one of the best resources for this goal.
Lead generation can help you build a list of people who are highly interested in your business's solution.
Small businesses can attract more website traffic when using digital marketing strategies with high-value content.
The right ad spend with paid search ads (a.k.a pay per click PPC) can also help with lead generation, targeting the right-people looking for solutions on offer.
With a good strategy for lead generation, you'll be able to increase revenue and acquire new customers for your business.
Digital Marketing And Influencers
Some companies prefer to spend their marketing budget and focus on influencer marketing (targeted at industry experts, thought leaders, or simply people with large followings).
Influencer marketing can be very effective when done right.
Using influencers correctly could mean the difference between a profitable campaign and one that falls flat.
A solid strategy for influencer marketing should include reaching out to influencers and asking them to promote products across their marketing channels in exchange for something they deem valuable.
Digital Marketing And Video Content
Having high-quality video content is another way to attract more traffic to your website using digital marketing.
What's great about video marketing is that one can use it across multiple digital channels.
Video content typically results in higher engagement rates than regular text content does.
Webinars, which are live or pre-recorded video broadcasts, can be another great way to reach your target audience and increase revenue for your company.
In addition, webinars usually have a higher retention rate than blog posts or other types of content.
With more people spending time indoors during the recent pandemic, the market share of digital video marketing has increased significantly.
That said, marketing professionals recognize that video is the future of digital marketing and embrace it.
Wrap Up
The latest digital marketing statistics above show that digital marketing is more effective than ever.
By having a solid digital marketing strategy, you'll be able to attract new customers and increase your revenue.
Simply put, you can't have a successful business that doesn't incorporate digital marketing into its everyday business practices.
Considering one's needs and ensuring the proper marketing budget for both B2C and B2B marketers will help a business achieve its goals.
Remember that having an online channel (such as a great website) is the first step to making money online.
Having an excellent digital marketing strategy is the second step.
What is your favorite digital marketing stat?
Let me know in the comment section below.
Further reading on AdamEnfroy.com: Want to embrace digital marketing in your life?
Here's my take on how to become a digital nomad in this day and age.
Also, if you're interested in how the digital world is constantly evolving, check out this post on digital real estate.
It provides an overview of how you can digitally invest in future technology.
Disclosure: I may receive affiliate compensation for some of the links below at no cost to you if you decide to purchase a paid plan. You can read our affiliate disclosure in our privacy policy. This site is not intending to provide financial advice. This is for entertainment only.