How To Make Money on OnlyFans (Options in 2023)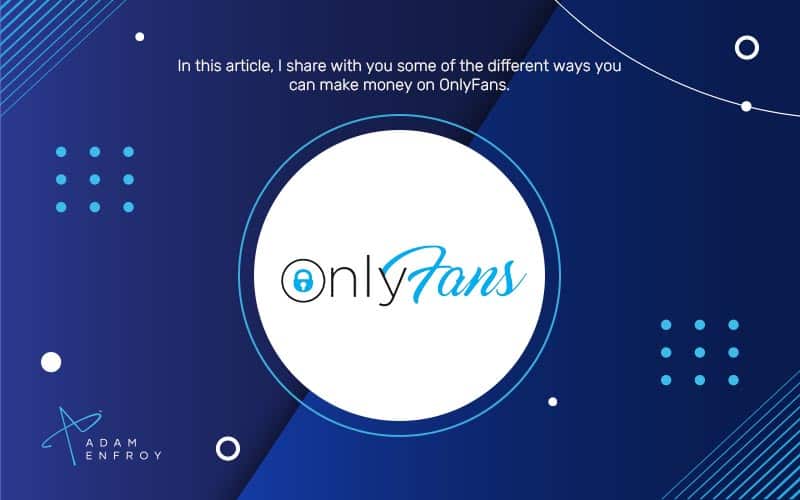 OnlyFans is a social media platform that allows content creators to connect with their fans by sharing exclusive content.
Many people use OnlyFans to share adult content that involves nudity, but the platform can be used for any type of content.
From fitness workouts to cosplay tutorials and everything in between, there's an audience for just about everything on OnlyFans.
In this article, I'll share with you some of the different ways you can make money on OnlyFans, so you can decide which option best aligns with your goals.
Let's get right into it.
The Best Ways To Make Money On OnlyFans
From influencers to professional content creators, people are making a full-time income from OnlyFans.
There are several ways to make money on OnlyFans, and the best method for you will depend on your content, audience, and goals.
Here are some popular methods for making money on this platform.
Paid Subscription Service
One of the main ways an OnlyFans page makes money is through paid subscriptions from fans.
Fans can subscribe to your page for a monthly fee, and they will have access to all of your exclusive content.

You can also offer discounts to potential fans to get them to subscribe.
From using promotional discounts that give a 5% to 100% off the subscription price, to creating a subscription bundle to entice members to sign up for a more extended period, there are many ways to encourage fans to subscribe to your OnlyFans page.
Paid Posts
The OnlyFans platform allows content creators to make money by charging for individual posts.
Having a free account that offers a few posts behind a paywall can still be profitable.
If you have quality content that your fans are willing to pay for, this is a great way to show what you can offer through your free stuff and then have other more exclusive content (for which fans will have to pay).
Paid Messages (PPV Messages)
Using the platform's pay-per-view to reach fans over direct messages is another excellent way to make money on Only Fans.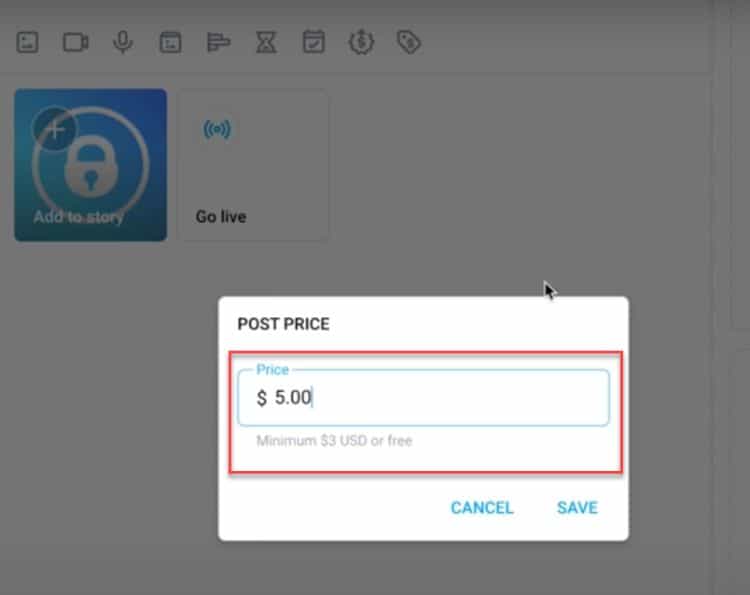 This option is available to both free and paid subscription accounts and is a great way to monetize your fan base.
Building up a fanbase through this method can also create a larger audience for your other monetization methods, such as paid posts and paid subscriptions.
One can also enable the option to have subscribers tip to be able to message the creator, which adds another method of monetizing your OnlyFans account.
Live Streaming
Going live on OnlyFans is another way to make a good amount of money on the platform.
Ticket prices start as low as $5 and allow fans to pay to watch your live stream.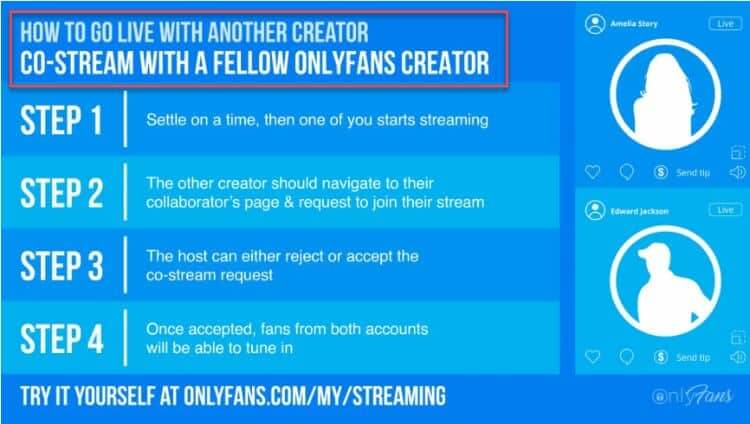 With the ability to go live with another OnlyCreators creator, this monetization method can be used to reach a larger audience and make even more money.
These payment gated streams allow creators to interact with their fans and build stronger relationships, which can lead to more conversions and sales in the long run.
Tipping
Getting people to tip for content is another great way to make money on OnlyFans.
If you're an influencer or content creator that shares behind-the-scenes content, exclusive photos, or videos, then having a tipping option can be a great way to get a better return on your account.
Having a tipping menu for your OnlyFans subscribers can also help increase the number of tips you receive as people will know the services you offer.
From custom content to shoutouts and everything in between, you can offer a variety of services that fans can tip you for.
Fundraising
While the subscription-based service gives you plenty of ways to make money, there are also times when you may want to use OnlyFans for fundraising.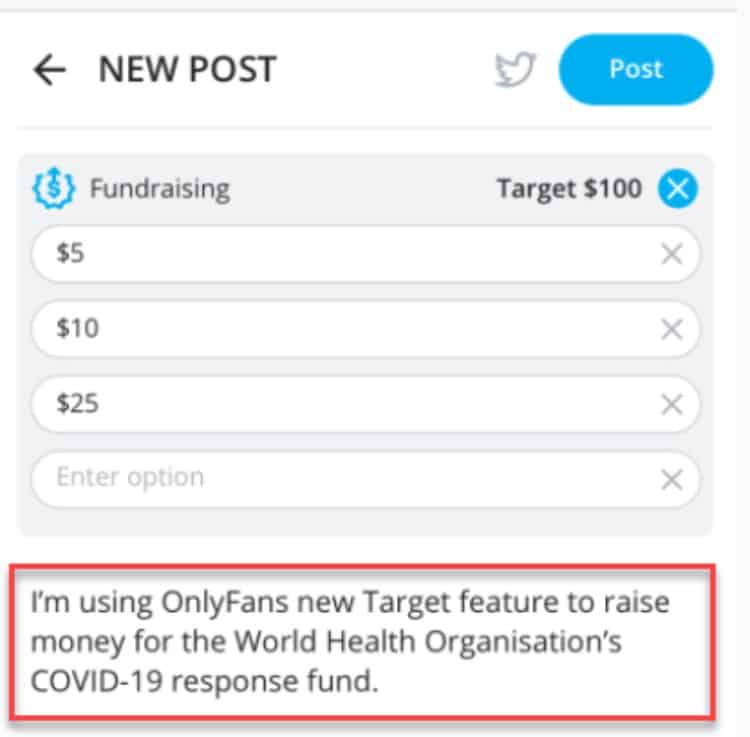 Whether you want to raise money for a good cause or wish to fund your content creation to be able to buy better equipment and increase production quality, using OnlyFans for fundraising can be a great way to get the support you need.
Create An Amazon Wish List To Share With Others
This can be a great way to get people to donate items you need for your content creation, such as cameras, tripods, and editing software.
Depending on the type of business you're running, there may be other options available to you as well.
For example, if you're a fitness model, you could create a list of healthy foods and supplements your fans can purchase to help with your diet and exercise routine.
If you're a blogger, you could create a list of items you need to help with your blog, such as a new laptop, software, or camera equipment.
The possibilities are endless, so get creative and see what works best for you and your business.
Selling Physical Products
Another way to make money online on OnlyFans is by selling physical products.
This could be anything related to your industry, ranging from clothes to phone cases to calendars.
While you can use the platform to promote your products, direct payments can't yet be made on it.
This means you'll have to set up an ecommerce account through a third-party platform to make selling physical products more accessible.
For example, Shopify is an ecommerce platform that can be used to create and manage an online store.
It's easy to use and can be set up in a matter of minutes, which makes it ideal for those who want to start selling physical products but don't have the time or knowledge to build their own website.
Maximizing Your Earnings
Here are some top tips to consider to maximize your monthly earnings.
Upload High-Quality Content
Getting someone to keep paying monthly for OnlyFans content means you have to provide high-quality content in exchange.
Ideally, it should also be content they can't find anywhere else.
Creating new and unique content that will keep your subscribers engaged.
On the flip side, if you're offering something that isn't unique while charging a monthly subscription fee, it'll be tough to keep people subscribed for long.
Get Creative
OnlyFans accounts allow for a lot of creativity in content creation.
If you can get creative with the material you produce, you'll be able to keep people subscribed for longer.
For example, artists that use OnlyFans can offer exclusive access to new artwork involving their OnlyFans subscribers.
Fitness models can offer workout routines and meal plans that are subscriber-exclusive.
The options are endless, so get creative with the content you produce.
Listen To Feedback
From allowing private messages that give feedback on content ideas to following through and creating the kind of content requested by the fanbase, OnlyFans provides a great way to listen to feedback and then act on it.
This helps keep the content varied and gives the people what they want to see.
Coupled with creative content, this is a recipe for success that will help keep people subscribed for the long run.
Use Social Media Accounts
From using Tik Tok Reels to boost your monthly subscription rates to using Snapchat to help promote your account, social media can significantly increase your OnlyFans earnings.
In addition to using social media sites to drive traffic to their OnlyFans account, top earners are also utilizing these platforms to post behind-the-scenes content, giving potential subscribers a taste of what they can expect if they sign up.
The benefit of OnlyFans over social media platforms is that the type of content that can be shared is much more suggestive, which ultimately helps increase monthly earnings.
Offer Discounts
OnlyFans users that offer discounts on monthly subscriptions can generally increase their earnings.
With psychological triggers like scarcity and urgency at play, offering a discount for a limited time can help entice people to subscribe who may have been on the fence.
It's important to note that discounts shouldn't be offered all the time, as this will train subscribers to only sign up when a sale occurs.
Use The Referral Function
The OnlyFans affiliate program allows OnlyFans users to earn money by referring other users to sign up for the platform.
Sharing your referral link with others will allow them to join and create their own account, earning you a 5% return of the referred creator's earnings for the first year.
Simply by inviting someone to create an account that allows them to make money, you can boost your bottom line as well.
Post Regularly
If you want to make money on OnlyFans, you must post regularly.
This means that you need to have a consistent upload schedule so that people know when they can expect new content.
If you're sporadic with your content, people will be less likely to subscribe (and stay on) as they won't know when they can expect new content.
Engage With Your Fans
Engaging with your fans is essential to make money on OnlyFans.
This means responding to messages and comments and liking and commenting on other people's content.
The more you engage with your fans, the more likely they will stick around.
How To Make Money on OnlyFans – FAQ
How Much Do OnlyFans Creators Make?
OnlyFans keeps 20% of all earnings that creators make.
This means that creators get 80% of their earnings deposited into their bank account.
Considering all the features that OnlyFans offers its creators, this is a pretty good percentage.
Can You Use A Fake Name On OnlyFans?
While you can use a stage name on your public profile, you must use your real name when connecting your bank account and uploading your verification documents, as OnlyFans will have to verify your identity.
This is to protect both the platform and its users from fraudsters.
Wrap Up.
When it comes to my final thoughts on OnlyFans, I think it's a great platform for those who are looking to make extra money as content creators.
While explicit content is the first thing that comes to mind when many think of an OnlyFans account, a wide range of content can be posted on the platform.
For those looking for a side hustle that can generate passive income, this platform gives you all the tools you need to get started and build your audience.
It also provides a great way to connect with the right target audience that is happy to pay for your content.
Further reading on AdamEnfroy.com: The right community platform can make or break a business, giving you features such as a social media-like news feed, group chat rooms, and the ability to join or create sub-communities.
If you want more features than an OnlyFans account can offer, researching the best community platforms can help you choose the perfect solution for you.
In addition, with various membership site tools that can help you build the right site for your business, there's no reason not to start building your community site today.
Disclosure: I may receive affiliate compensation for some of the links below at no cost to you if you decide to purchase a paid plan. You can read our affiliate disclosure in our privacy policy. This site is not intending to provide financial advice. This is for entertainment only.