Finding the Right Podcast Topics for Your Niche Audience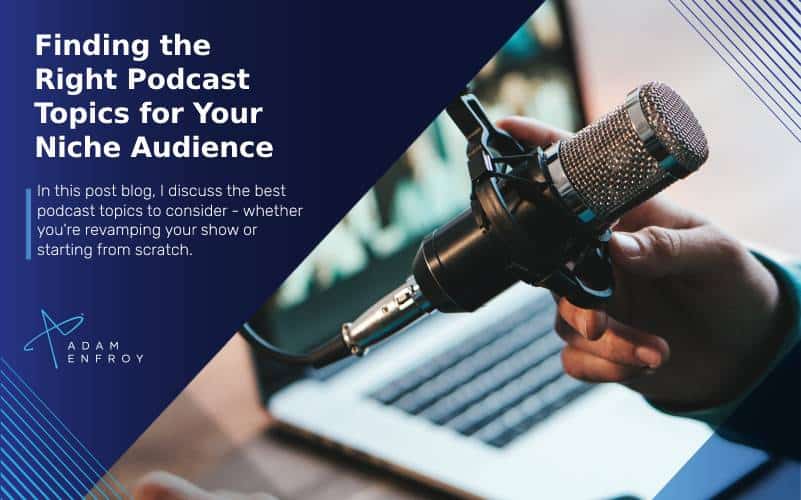 Starting a podcast is undoubtedly exciting.
Building an audience, connecting with people that want to learn from you, and becoming an expert in your niche are positive aspects of podcasting.
However, as the podcast host, you want to keep your listeners engaged.
Choosing the right podcast hosting site is a great first step.
Such a site can help you better understand your audience and their interests.
But that is only the start.
It would be best to find interesting topics to keep people tuned in.
In this blog post, I'll discuss some of the best topics you might consider while giving you ideas to help you generate endless podcast topics over time.
Various Podcast Topics To Consider
Here are some of the best ideas to consider when developing your podcast topic.
ASMR
This podcast idea is perfect for anyone exploring the tingle-inducing and calming effects of autonomous sensory meridian responses (ASMR).
With such a topic, you can also give your audience tips and advice on how to get started with this topic and provide information about the science behind it.
You can also cover different triggers, what tools can help create the most immersive experience, and more.
With this podcast topic, you'll have an opportunity to gain insight into the world of ASMR while assisting others in exploring its capabilities.
Travel Podcast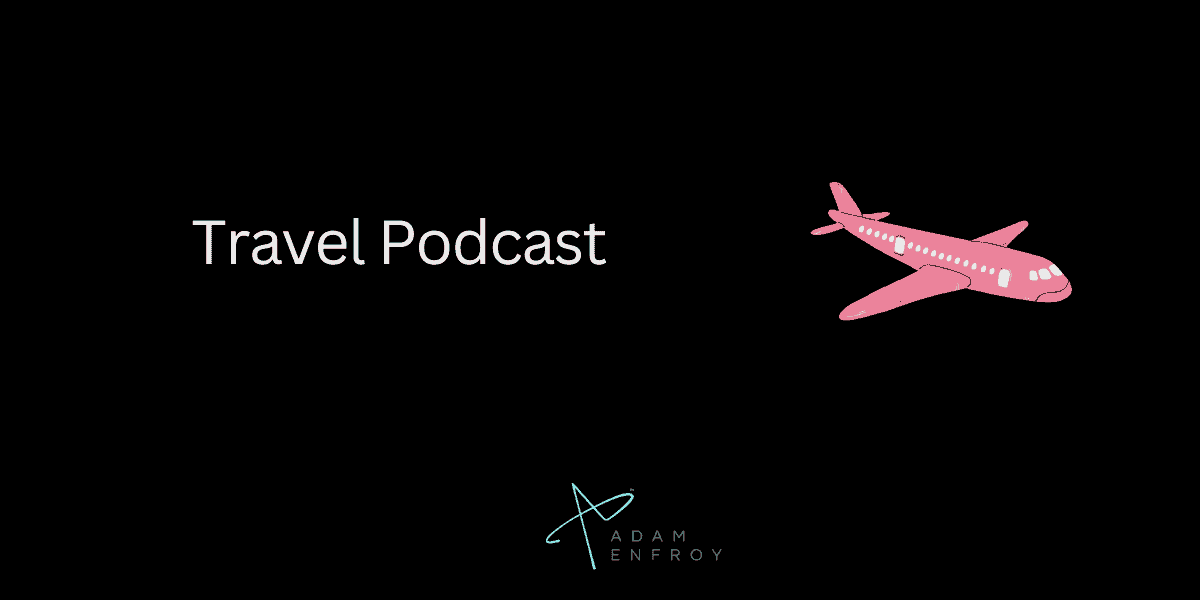 A travel podcast will be perfect for anyone who loves traveling or has a burning desire to explore more of the world – but has yet to take the plunge.
After all, a podcast is a way to share your personal story, whether you're a beginner or more advanced regarding specific topics.
Covering all aspects of traveling, from packing essentials to dealing with culture shock and more, you'll give your listeners valuable advice to provide them with a memorable and educational experience.
You can also feature interviews with people who have visited different places and are willing to share interesting stories from their trips.
Small Business Podcast
From coming up with a marketing strategy for those in the early stages of their entrepreneurship journey to helping a lot of people break out from their stagnant and traditional career paths, the possibilities are endless.
This podcast will provide insights, strategies, and tips to help new business owners maximize their time and resources.
You'll be able to share success stories from people who have made it in the world of small business and explain financial terms and other aspects of managing a venture.
Reviewing the typical day of an entrepreneur and how to stay productive can also be explored.
The podcast can also deep dive into the trends in the business world, such as emerging technologies that could help entrepreneurs succeed better.
Short Story Podcast
This podcast idea is perfect for those who love literature and want to explore the world of fiction.
It's an excellent way to introduce your audience to various types of stories – from sci-fi to horror, romance, fantasy, and more – while helping them develop their understanding of storytelling techniques.
You can also invite other authors on the show as guests so they can discuss their works and inspire others.
Interviews with influential people
Having a show interviewing influential people is ideal for anyone who wants to bring inspirational stories from famous figures and experts in their respective fields to their audience.
You can feature celebrity interviews and discussions with politicians and entrepreneurs, scientists, authors, and more as your guests on the show.
Your listeners will get an insight into the life of these influential people and gain valuable advice they can apply to their own lives.
This podcast will surely be a great source of motivation and inspiration for your audience.
Live Shows
The live show concept is perfect for those looking for a unique twist on traditional podcasts.
Instead of recording content beforehand, as most shows do, you can engage your listeners directly while broadcasting a live performance.
You and your guests can interact with your audience in real-time and hold exciting conversations you can share with listeners worldwide.
Book Reviews and Recommendations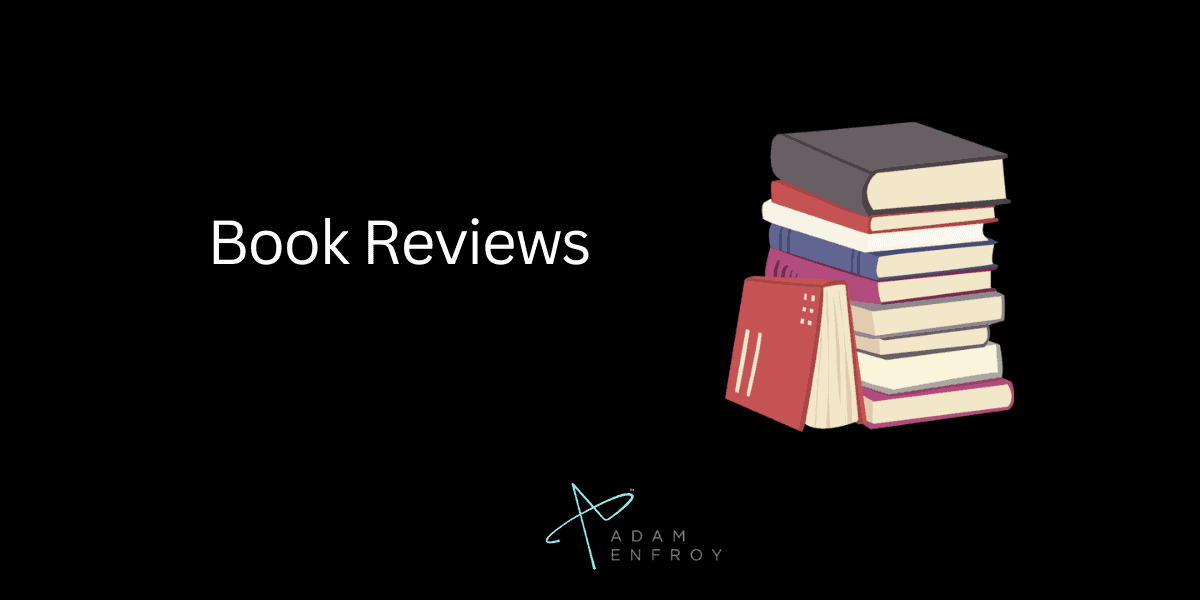 Opting for a podcast reviewing books is excellent if you're an avid reader or have read many great books.
You can use your show to share book reviews and recommendations with your listeners and help them find fantastic stories they could enjoy reading.
Along with reviews, you can also advise them on how to get started with reading better, what genres to look out for, and more.
Other great podcast ideas within the book review niche could be author interviews, talking about adaptations from books to movies and vice versa, discussing recent releases, and more.
Health And Wellness Topics
If you're interested in better performance in the various aspects of your life, this podcast idea might be just right for you.
You'll want to provide helpful advice on health and wellness and its multiple subcategories during such a show.
You can cover nutrition, exercise, mental health, sleep hygiene, and more.
With tips from experts in the field and personal anecdotes from your listeners filling up an entire podcast, this could become an invaluable resource for anyone looking to improve their well-being.
Comedy Podcast
If you can start a podcast that makes people laugh, you'll have a listener base who will keep coming back repeatedly.
Podcast content within this genre can range from political humor to one-liners and observational comedy.
Talk Show Style Format
For an engaging and entertaining podcast experience, why not experiment with a talk show-style format?
This podcast allows you to invite guests to the show and discuss topics ranging from politics, current events, pop culture, or anything else.
The best podcast ideas within this format should come from topics that you're passionate about and likely to be able to discuss with an interesting guest.
Educational Content For Children
This podcast idea is great for anyone wanting to help young learners.
You can create educational content to engage and educate children about various topics.
Topics include anything from history, science, geography, mathematics, or other subjects.
Awareness of your audience's age and level of knowledge is essential to ensure the content is enjoyable, engaging, and informative.
DIY projects
If you are interested in do-it-yourself projects, this podcast can help you build an audience of listeners with the same interest.
You can discuss different techniques, tips, and methods to complete various projects.
Consider anything from furniture building, gardening, home improvement projects, or other DIY topics.
Listeners will appreciate being able to gain personal insight and advice on their project ideas while they listen.
Music Production Tutorials
As far as the possibilities within this niche go, music production tutorials can be beneficial.
Educating listeners on recording, mixing, and mastering would create an excellent resource for aspiring producers.
True Crime
Having a podcast discussing true crime stories can be an intriguing topic.
An interesting podcast topic in this niche would be to discuss unsolved cases.
Doing so would create an interactive dynamic between the host and the listeners, where they can also submit their theories.
Behind The Scenes
If you want to give your audience an insight into what goes on behind the scenes of a specific industry or trade, this podcast idea is ideal for you.
You can interview people working in that field and discuss their day-to-day job, their challenges, the tools they use, and much more.
It's sure to be an enlightening experience for your listeners, allowing them to get a different perspective on the industry.
Another podcast topic idea is to bring in other experts to debate and discuss various topics within that field.
You can give your listeners valuable information and entertainment all at once.
Histories Of Different Cultures Or Countries
Are you interested in different cultures and countries worldwide? You can take your audience on a journey through history, exploring fascinating stories from ancient civilizations or modern-day events.
With a mix of facts, anecdotes, and colorful characters, this educational experience will surely captivate your listeners.
TV Shows
Another podcast niche to consider is reviewing popular TV shows.
Whether you're into comedies, thrillers, or dramas, you can explore your chosen shows in detail, discuss the latest episodes, and share opinions with your audience.
You can take the point of view of a fan or an analytical critic, offering insightful commentary while having fun.
With new episodes of many shows coming out weekly, this could be the perfect podcast topic for those who consume many shows.
While the subject matter of TV reviews will vary a lot, the common thread is always the conversation between you and your listeners.
Having a unique angle for each show you review can help keep the content fresh and exciting.
Grab your popcorn, sit back, and start discussing!
Current Affairs
People enjoy staying up-to-date on the latest news.
To help with this, you can discuss current affairs and the latest developments in politics, business, technology, sports, etc.
A tech podcast that combines everyday life short stories and how they relate to technology can be interesting.
Your show could also focus on an issue or topic trending in current events to inspire debate and discussion among your audience.
Furthermore, a great podcast topic could revolve around a recap of live events that just ended, a look at the stock market, or even a discussion on recent celebrity news.
Surviving Natural Disasters Or Extreme Situations
On such a show, you can discuss surviving natural disasters, extreme weather conditions, and other dangerous situations.
With a group of people knowledgeable in survival techniques, your listeners can learn valuable strategies and tips to help them prepare for any situation.
You could consider a day in the life of someone going through a tough time and offer hacks that could help make their day better.
As far as popular podcast topics go, this one is a surefire way to engage your listeners as it relates to everyday life.
Best Ways To Generate Podcast Topics
With the above podcast episode ideas in mind, here are some top ways to create podcast topics.
Use Idea-Generating Tools
The internet is full of idea-generating tools that you can use to generate podcast topics.
For example, an exercise like "Google the Alphabet" can create many ideas around a specific topic.
To use this technique, start with the letter "A" and then type a keyword related to your case.
Then move to the letter "B" and repeat the process until you get to "Z.
You'll be surprised at how many different ideas you can generate from this technique.
Other idea-generating tools include random word generators and brainstorming sites.
These can help you create a new podcast with better ideas, angles, and perspectives on a topic than what currently exists.
Using idea-generating tools can help digital marketers develop good podcast topics that capture audience attention and offer insights into industry trends and developments.
Participate Actively On The Right Platforms
Being active on platforms like Reddit or Quora allows you to post questions, respond to those asked by others, and get feedback on your ideas.
Participating on such platforms also helps you improve your communication skills and enables you to build a community around your podcasts.
Both are key when building up your own podcast from the ground up.
Post Surveys in Podcast Show Notes
Conducting surveys with your current audience is another way of getting more clarity around your podcast topic.
You can figure out your next podcast topic by posting a link to an online survey in your show now.
Doing so will allow you to understand your audience's preferences better and optimize engagement.
By examining the reactions to other podcasts and podcast episodes, content creators can generate valuable topic ideas that align with listener interests.
Join Facebook Groups and Use Social Media
Social media is an effective tool to generate feedback from potential listeners.
For example, Facebook groups related to your podcast topic can help you get into the mind of your listeners.
Joining a Facebook group also enables you to get new perspectives and ideas from people interested in the same topic as you and become part of an active discussion.
Use social media platforms to post questions, polls, and Q&As regarding your podcast topics.
Being Creative Yet Logical with Podcasts
One of the best podcast topic ideas includes exploring the intersection between emotion and logic.
Sharing funny stories and personal experiences can create a compelling and relatable podcast.
When brainstorming podcast ideas, consider what unique perspectives or expertise you bring.
Authentic and engaging podcast talking can help build a loyal listener base.
Simultaneously, being logical and reviewing facts can spice up any podcast and make it even more enjoyable.
Engaging an audience requires thought-provoking conversations that keep people on their toes.
Research crucial topics in your niche, and be bold and discuss controversial debates.
Here are some ideas to help you find the perfect mix of logic and creativity.
Planning Is Key
One of the most critical aspects of podcasting is planning.
To create a successful podcast, you must envision your goal. Ask yourself some questions like:
What is the theme of your podcast?
Who is your target audience?
What are the topics you want to cover in your podcast?
Once you have a clear idea of what you want to talk about, staying on track is more manageable.
You should also look at the top podcasts in your niche on Apple Podcasts or Spotify to understand the competition when planning.
Be Mindful Of Your Schedule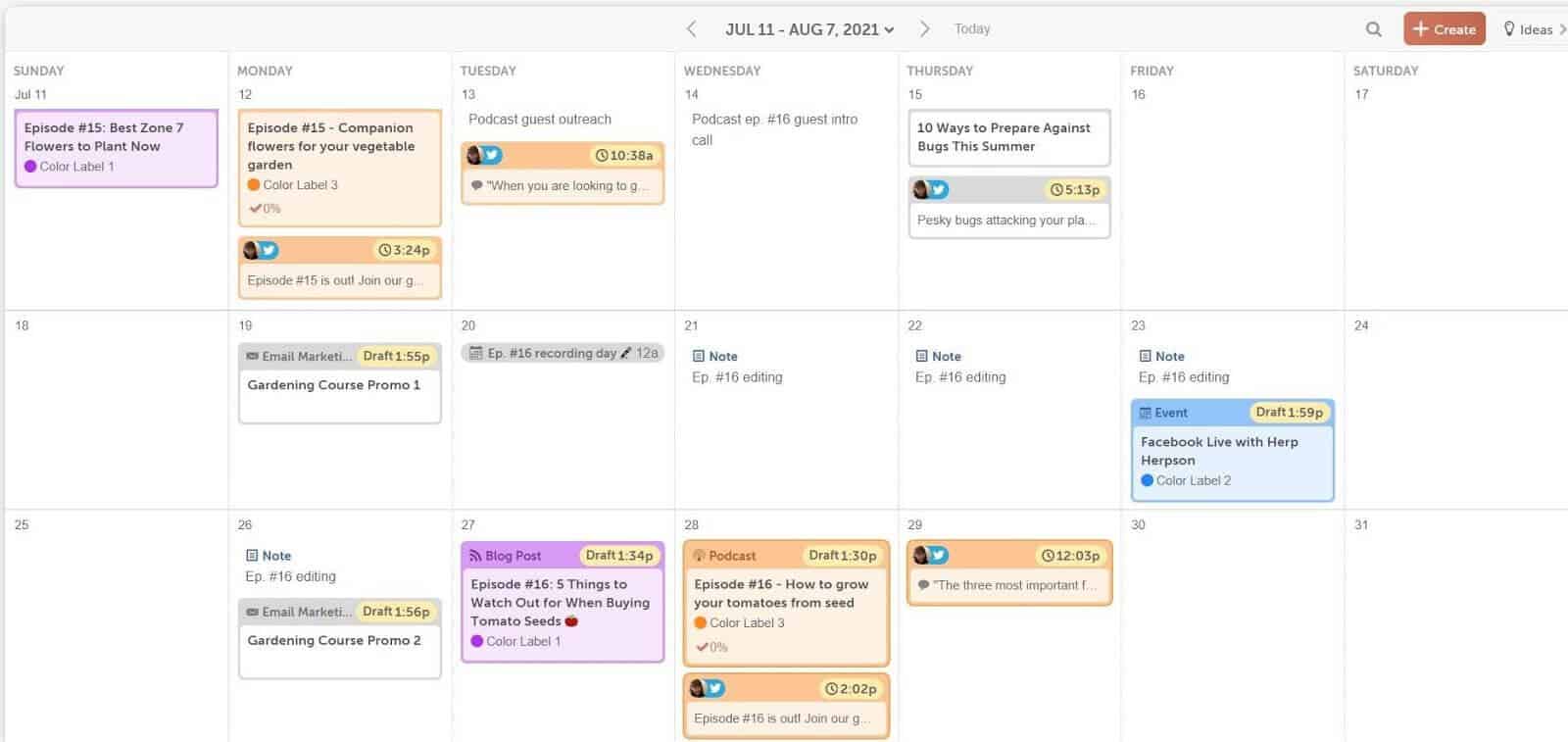 Image credit: https://coschedule.com/
Managing your time is crucial when it comes to podcasting.
While churning out a podcast episode (or more) every week might be tempting, it's not always practical, especially as you're finding your voice and posting frequency.
Sometimes, it's better to create less frequent yet higher-quality content.
Consider setting yourself a realistic schedule that you can stick to.
This way, you'll avoid working around the clock and burnout.
As you build up a popular podcast, you can focus on producing high-quality content and be at your creative best.
Use A Spreadsheet To Stay Organized
Using a spreadsheet can be a game-changer when organizing your podcast.
Consider creating a schedule on a Google sheet that includes each episode's title, guest, if any, release date, and a summary of the topic.
When you have all your ideas organized in one place, keeping track of them and avoiding duplication is easier.
It'll also be easier to ensure that you cover all the topics your audience is interested in and that everything runs smoothly.
You'll also be able to market your podcast more effectively.
Record Evergreen Content
When choosing a podcast format, consider what works best for the intended topic and potential listeners.
To effectively reach potential listeners, it is essential to understand the target audience and their interests.
Image credit: https://digitalmarketinginstitute.com/
Moreover, having content that remains in season for a long-time means podcasts you record today will still be valid.
As such, brainstorming unique and engaging evergreen podcast topic ideas is critical.
Creating A Podcast Audience Avatar
An avatar is a character that represents the ideal listener or customer of your podcast.
When starting a podcast with no audience, an avatar can help you better understand who you are trying to reach and how to create tailored content for them.
With an avatar, you can hone in on the interests and values of your target audience so that your content resonates with them more effectively.
Here's how to create an avatar that you can use as a reference when recording various podcast shows.
Identify Your Ideal Listener
Before creating an avatar, you need to be able to answer the following questions:
What age range is your ideal listener?
Are they male, female, or non-binary?
What kind of job do they have?
Where do they live?
What are their interests?
Answering these questions will give you a better idea of who you're targeting with your podcast.
Understand Your Avatar's Challenges
Your avatar will have challenges that your podcast can help them solve.
For example, if your podcast is about personal finance, your avatar might struggle with debt or live paycheck to paycheck.
If your podcast deals with health issues, your avatar could have difficulty finding time for exercise or following a healthy diet.
Understanding your avatar's challenges will help you create content that resonates with them.
Craft Topics for Your Avatar
Now that you understand your avatar's challenges, it's time to create content addressing them.
Remember, your avatar represents your ideal listener, so crafting topics that appeal to them will help you connect with your audience.
While finding the right mix of topics can be challenging, it's worth the effort.
Also, don't be afraid to think outside the box and explore topics that might be more on edge than others in your industry talk about.
Engage with Your Avatar
Finally, engage with your avatar every chance you get.
Engaging with your avatar will help you build a loyal following.
Ask for feedback, answer questions on social media, and make them feel like they're a part of your community.
Wrap Up.
Building a podcast listener base interested in your content takes time and effort. As with any other following, you can't expect results overnight.
However, with the steps outlined above, you can create and build content that resonates with your audience, engages them, and ultimately helps to grow your podcast listener base.
While it might seem like many steps are involved, don't forget to have fun.
Building a podcasting business you enjoy working on will help you remain consistent and motivated.
Further reading on AdamEnfroy.com: If you're comfortable being in front of a camera and thinking about starting a podcast, why not start a podcast on YouTube?
You'll be able to reach an even larger audience and make double the use of your content simultaneously.
Finally, here are various ways to monetize your podcast so you can make money while sharing your expertise with your target audience.
Disclosure: I may receive affiliate compensation for some of the links below at no cost to you if you decide to purchase a paid plan. You can read our affiliate disclosure in our privacy policy. This site is not intending to provide financial advice. This is for entertainment only.
---
Last Updated on April 23, 2023 by Adam Enfroy