How to Start A Podcast on YouTube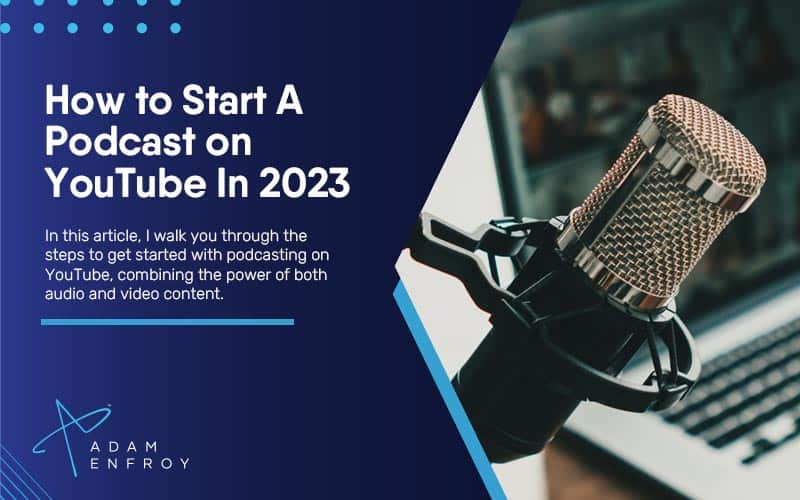 A podcast is a great way to share your message with the world.
Making your audio content accessible through podcast hosting platforms can help you reach millions of people around the globe.
The problem is that many podcasters don't realize YouTube's power in helping them reach new heights.
With its vast content repository, YouTube is one door that unlocks greater visibility for any type of digital media – including a podcast!
In this article, I'll walk you through the steps to get started with podcasting on YouTube so you can combine the power of both audio and video content.
Starting A Podcast on YouTube
Here are the basic steps to follow when starting a podcast on YouTube.
Creating Your Channel
Uploading your new podcast episodes to YouTube requires starting a channel.
You'll need a free Google account to create a channel on YouTube.
Once logged in to YouTube with your account, click the circular icon in the top right corner and select "Your Channel" from the drop-down menu.
From there, follow the instructions provided to create your channel.
Once you have created your podcast channel, you must upload the right visual elements to make it look professional.
Your channel cover art and profile picture should represent your brand.

Ensure you take the time to create something that looks great.
You can use a free design tool like Canva or a paid one like Photoshop to create professional-looking images for your channel.
You'll also want to write an engaging and informative description of your show in your channel's "About" section.
Doing so will help potential viewers understand what your podcast is all about and why they should listen.
Afterward, you are ready to start creating your podcasting YouTube videos.
Making Quality Content
Starting a successful audio podcast on YouTube requires creating high-quality content that will keep your audience returning for more.
Knowing how to use (at the very least) basic video editing software will help ensure that any visual elements match what guests are saying in each episode.
Uploading Your Podcast To YouTube
When uploading your podcast to YouTube, you must do a few things before you push it live.
First, you'll want to add relevant tags and titles to help people find your podcast in the YouTube search bar.
Moreover, visualizing templates, including episode numbers, titles, descriptions, and thumbnails, can help make your podcast look more professional.
As you create and upload video content for each episode, consider including text that will stand out on the screen.
You can also group videos and create a playlist for your podcast episodes, making it easier for viewers to find and watch all your podcast episodes in one place.
Engage Viewers with Various Visual Content
While a podcast hosting platform is a great way to distribute your podcast audio content, uploading it to YouTube gives you some advantages.
From slideshows and B roll footage to video recordings of the actual podcast, visuals add a whole new layer to your podcast content.
Video recording takes your podcast up a notch, as viewers can now see you in the comfort of your studio and add a more personal touch to your podcast.
SEO Optimization & Analytics
YouTube isn't just about reaching new audiences; it's also about engaging existing ones.
As a search engine, YouTube's algorithm looks at elements such as thumbnails, titles, tags, and descriptions to determine how to rank videos.
As a result, optimizing your content for SEO is essential.
This practice includes using relevant keywords in titles and descriptions and your keywords within the YouTube video recording.
Your YouTube account has many analytic features that can help you identify which topics draw more views or subscribers.
As a result of using YouTube studio, you can focus on creating more content related to those topics in the future.
Tracking engagement metrics like watch time, comments, or likes helps determine which content resonates most strongly with viewers.
You'll then have valuable insights into what works best on YouTube and what doesn't.
Finally, from a human point of view, creating eye-catching thumbnails that grab viewers' attention also helps.
Ways To Create Content
Let's explore various ways to create content for your YouTube podcast.
Uploading Full Episodes
Full episodes are a great way to dive in with a video podcast and take viewers on a compelling journey.
In this situation, you'll record and upload the entire podcast to YouTube as an episode, along with text and visual elements that help viewers understand what is happening.
Doing so makes it easier for viewers and listeners who may not be familiar with accessing audio podcasts.
Additionally, this makes it easier for people who are simply more visual to enjoy your show.
As such, creating your podcast and uploading the recorded video file to YouTube can be a great way to reach new viewers.
Streaming Live
Another great option is live streaming.
Here, viewers can interact directly with you during the show.
This ability allows them to ask questions in real-time and provide feedback as soon as they hear something they like or disagree with.
As far as live stream technology goes, all you need is to create a YouTube podcast channel, verify your account, and you are ready to go.
To make the most of your live stream, follow a consistent schedule, so viewers know when to find your shows online.
Creating Montages
One creative way of using YouTube is by crafting montages from previous episodes of your podcast.
Montages let you give viewers a taste of what past episodes have been like without having them commit to going through entire episodes at a time.
It also gives new listeners an easy entry point into discovering all the unique content you have created in the past.
To stand out, start by finding a background image that viewers can begin associating your podcast with can be helpful.
While a static image can work, adding motion to the imagery will make it even more effective in getting potential viewers interested in your channel.
As you start scaling, having a video editor familiar with working on YouTube videos can also come into play.
Here, the idea is to have all your videos professionally assembled and look great when viewers get to consume them.
While not a requisite from the start, it's something to consider as your channel grows.
The Concept Of Micro-Videos (a.k.a. YouTube shorts)
Micro-videos are short snippets from podcasts uploaded as separate videos onto YouTube, usually around one minute long or less.
These videos should be eye-catching and draw in viewers who may have yet to find your podcast page.
While creating stand-alone micro-videos used to take up much time, the proper recording software selection can now simplify the process.
Creating micro-videos from your podcast episodes gives you more creative freedom than ever.
You can turn one episode into multiple shorter clips that appeal to different tastes and interests among potential viewers.
As micro video podcast episodes are becoming increasingly popular, the right editing tools and software can help you create content faster than ever before.
Essential Filming Equipment
If you want to start a podcast on YouTube, having the right equipment is essential.
A professional-looking backdrop, attractive lighting, and high-quality audio equipment can make your video stand out from the crowd and create a great viewing experience for your audience.
While producing an audio-only show requires a limited number of podcasting equipment, a podcast video generally requires additional quality equipment.
Backdrops and Lighting
Creating an attractive backdrop that perfectly matches your brand identity ensures you get a professional look and feel for your videos.
Illuminate the area with soft background lighting to set the mood and use directional light for highlighting yourself in front of the camera.
Audio Equipment
High-quality microphones are essential for producing clear and engaging audio.
A high-quality dynamic microphone that plugs into your computer would help create quality podcast audio files.
Tools such as mixers and power panels can help enhance the sound even further.
My step-by-step podcast starter kit can help on the audio side, giving you the tools and information to select the proper recording gear for your podcast.
External Cameras for Recording
Next up, a video recording device can capture your video files.
While many beginning podcasters think they need fancy equipment to record video for their show, basic equipment such as an external webcam can be an excellent way to get started.
If you have a modern phone with a top-notch camera, you can use that as well.
As you scale, you may invest in more advanced cameras offering better lighting and resolution options.
While external cameras are expensive, they are worth it if you want your video podcast to look as professional as possible.
Make Your Podcast Professional
You must put in some effort if you want the best quality content.
Here are some additional tips to consider.
Planning Before Filming
Before filming, planning and considering additional channels where you'll share your video file (e.g., Facebook, TikTok) is essential.
To ensure maximum exposure for your content, gear up accordingly.
For example, vertical footage works when creating teaser videos.
Additionally, plan where you will direct viewers after the video.
This place can be anywhere from a website to other social media profiles.
It's essential to think about this prior, so you can keep it in mind as you shoot the video and include the right call to action at the end.
Pre-Production Work
Pre-production work is essential to ensure your podcast sounds just right.
Script out conversations, get on the same page with co-hosts/guests, and ensure all topics are thoroughly researched before recording begins.
Pre-production also helps ensure that each podcast episode is recorded in one take for smoothness and professionalism.
How to Record Podcast Interviews Remotely
Tools like Zoom (or one of its alternatives) allow you to set up your remote recording studio quickly.
All you need is a guest list and many great topics to discuss.
To make the recording process even more accessible, consider adding multiple camera angles for an interesting split-screen recording.
Such a setup can look professional without complex editing.
Once your equipment is ready, it's as simple as hitting record and letting your conversation flow.
The Benefits of Recording Remotely
Recording remotely has many benefits.
Not only does it save time and money on travel expenses, but it also makes it more convenient for guests who are located worldwide.
Furthermore, by recording each episode in one take, there is less fuss regarding post-production editing.
Tips for Recording Remotely
Remember a few fundamental things when recording remotely if you want your audio and video quality to remain top-notch.
Ensure all participants have good internet connections with low latency (a measure of the delay between when something is said and when the other person hears it).
Additionally, use high-quality headphones or earbuds with built-in microphones so your guests' voices will be crystal clear.
Be sure both participants wear headphones while talking so their voices don't bleed into each other's microphones (which can create a muddy sound).
Using YouTube to Grow Your Podcast Audience
As you work on perfecting your podcast, always consider your audience and the value you provide them.
Here are a few key details to consider.
YouTube Analytics For Podcasts
Once you've uploaded all of your episodes, you should check out YouTube's analytics feature, which provides insights into how well each video performs.
It allows you to track views over time and get detailed information about who is watching your videos and where they're coming from.
This data can be invaluable when understanding what content resonates with different audiences and help inform decisions around future topics or guests for upcoming episodes of your show.
Connect With Listeners Through Comments
Another way to maximize engagement with your podcast is by connecting with listeners through comments on YouTube.
This process helps foster a deeper connection between the host and their listeners since viewers will feel like their opinions are heard and respected.
Encourage viewer feedback by asking questions or soliciting listeners' opinions in each video's comment section.
How to Monetize Your YouTube Channel
There are various ways to make money from your YouTube channel as you upload more podcasts.
One way is to become a YouTube Partner and a YouTube Partner Program (YPP) member.
Once accepted into the YPP, you can start making money based on ads on your videos and through direct sponsorships from companies looking for influencers.
You can also monetize your channel by creating exclusive bonus material, such as insightful product reviews or behind-the-scenes footage that won't be available elsewhere.
You can then offer these materials exclusively to paying subscribers.
These materials will give them access to the content they couldn't get anywhere else.
In addition, you can use the "unlisted" or "private" settings when publishing videos on your channel so that only those with access can view them.
You can also create product reviews, one of the most effective ways for YouTubers to profit from their channel.
When providing a product review, aim for a thorough yet concise overview of the product's features and benefits, including pros and cons.
Doing so gives viewers a comprehensive understanding before deciding whether to purchase it.
To increase views, you can also film a video unboxing the item upon its delivery so that viewers can see what they're getting when they buy it themselves.
Additionally, why not offer incentives like discounts or giveaways for each review to generate more interest?
With so many methods to monetize your channel, the sky's the limit.
The Benefits of Starting a Podcast on YouTube
Here are the main benefits of starting a podcast on YouTube.
Increase Visibility & Reach
Creating a podcast on YouTube allows you to increase your visibility and reach potential customers more quickly than on other platforms.
With millions of people using YouTube daily, you can use the platform to spread your message far and wide.
Plus, with its "Suggested Videos" feature, viewers will likely find your videos while searching for related content, which has even more significant potential to increase visibility and reach.
Grow Your Brand
One of the best podcast options people listen to is the Joe Rogan Experience.
Joe Rogan has become a household name after gaining success on YouTube and through his podcast.
While you might not (or don't want to) become as well known as him, creating a podcast on YouTube allows you to develop and grow your brand.
When building a brand, the power of storytelling is immense.
Video podcasting allows you to share stories about yourself or your business that resonate with podcast listeners.
You can use this facility to share your expertise or discuss topics relevant to your industry.
Podcasting is also great for networking.
Many successful podcasters have built online communities by connecting with their followers through their shows.
How to Start A Podcast on YouTube – FAQ
Does One Need An RSS Feed Created When Starting A Podcast?
While uploading videos doesn't require an RSS feed, it's a good idea to have one when podcasting.
Said differently, if you want to submit to podcast directories (which you should), you need an RSS feed.
This feed should include each episode's title, description, and audio/video file.
It also allows subscribers to receive new episodes automatically when published.
Can I Use An Apple iPhone Or iPad To Record Podcasts?
Yes, you can record podcasts using an Apple iPhone or iPad.
If you have a newer device model, it will likely have a good-quality microphone built-in and produce good audio results.
You could also use external microphones if needed.
What Is The Best Audio Software To Use For Podcasting?
Many audio software options are available, including free and paid versions.
Popular choices include Audacity, Adobe Audition, and GarageBand.
Each has its features and capabilities, so it's essential to research before deciding which one is best for you.
The know how needed for content creators to use these audio editing software may vary, but the good news is that most of them come with user-friendly interfaces and tutorials.
Are Apple Podcasts And Google Podcasts The Same Thing?
These two are separate podcast directories.
Apple Podcasts is the largest podcast directory and has the most reach, while Google Podcasts is growing in popularity due to its integration with other Google products.
As podcast directories, both can provide you with maximum reach for your own podcast.
To get maximum reach, you should submit your podcast to both Apple Podcasts and Google Podcasts.
What Is The Best Quality To Produce A Podcast?
You should aim for a minimum resolution of 1080p and 30fps.
Your video pixels should also be high enough that viewers who watch at a higher quality don't lose out on quality.
Regarding audio, you should aim for a minimum bitrate of 128 kbps. You can go higher if you want to – this will usually result in better sound quality.
Should I Start With A Podcast Or YouTube Channel?
It depends on your goals for the podcast.
As you start recording, you should consider both mediums.
Uploading the video to YouTube can help build an audience and give your podcast more visibility.
Moreover, recording video episodes and building your channel can also be a great way to monetize the podcast through another channel.
How Important Is The Podcast Intro In A Podcast?
Whether people are listening on iTunes or Spotify or watching on YouTube, your intro should grab their attention and let them know what your podcast is about.
If you are on YouTube, having transcription available will also help people follow closely and can also help optimize search engine results.
Wrap Up.
Podcasting is a great way to express yourself creatively and reach a wider audience.
Combining that with YouTube allows you to amplify your podcast's reach and give it that extra boost of visibility.
Whether you're a beginner or an experienced podcaster, following the above steps will help you spread your message to the world through the right YouTube podcasts.
Further reading on AdamEnfroy.com: Are you more interested in starting a podcast?
Here are the latest podcast statistics to help show you if this is the right choice.
Finally, check out this post on how to make money on Audible to get to know about another channel that can compliment your podcasting and YouTube channel.
Editorial Process:
Our reviews are made by a team of experts before being written and come from real-world experience. Read our editorial process here.
Some of the links in this article may be affiliate links, which can provide compensation to us at no cost to you if you decide to purchase a paid plan. These are products we've personally used and stand behind. This site is not intended to provide financial advice. You can read our affiliate disclosure in our privacy policy.
---
Last Updated on June 13, 2023 by Adam Enfroy