RedCircle Podcast Review: Pricing & Features in 2023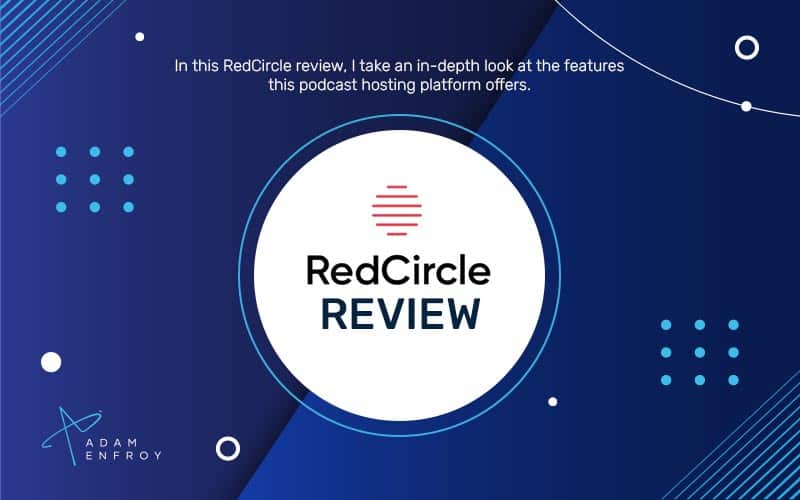 Are you considering starting your own podcast and sharing your thoughts?
Choosing the wrong podcasting hosting site comes with a significant learning curve that doesn't allow you to start immediately.
RedCircle is a podcast hosting platform recently gaining popularity for its ease of use, features, competitive pricing plans, and superior advertising and monetization opportunities.
In this RedCircle review, I'll take an in-depth look at the features this podcast hosting platform offers so you can decide if it's the right fit for your needs.
Let's get right into it.
What is RedCricle?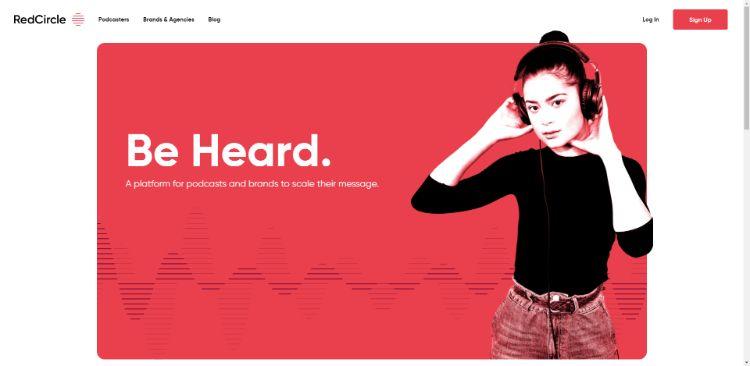 Kadin and Jeremey Lermitte (former Uber employees) founded RedCircle in 2018, having a vision of growing it to be a platform where podcast creators could easily connect and grow their fan bases.
RedCircle is a podcast hosting service that allows users to manage and track their analytics and access various features that can help promote and grow their podcasts.
With a unique twist in advertising through its cross-promotion marketplace, this podcasting tool is a one-stop shop for everything from recording your podcast to marketing and distributing it – all steps crucial to success.
Account Management
With the ability to create unlimited podcasts with each plan, RedCircle gives users many features to help manage their accounts.
The higher-paid plans allow more options to help customize and manage those podcasts.
The interface is very user-friendly, with all the features easily accessible from the main dashboard.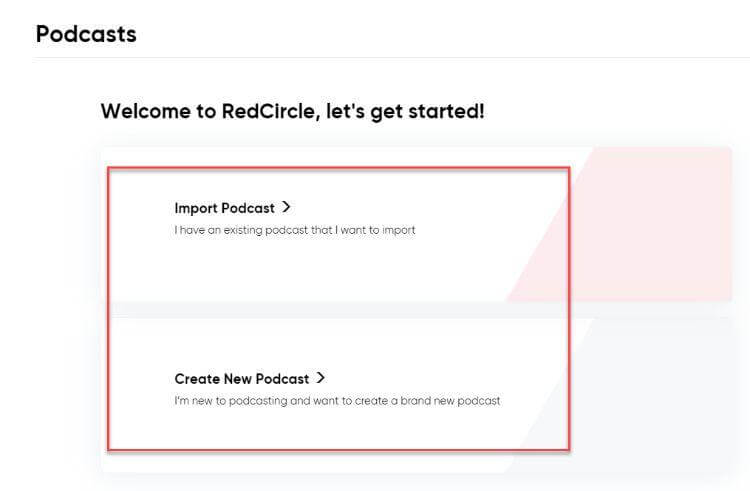 With the provided analytic insights covering a lot of valuable data, you can track your progress and see which episodes resonate best with your audience – so you can do more of those.
Whether you want to understand your audience and track your progress, get smarter as you go with built-in analytics, or track downloads by specific demographics, RedCircle has the features you need to succeed.

Let's dive deeper into some of these features.
RedCircle's Unique Selling Propositions
I mentioned that RedCircle allows you to profit from your podcast through an advertising model not commonly found on competing platforms.
RedCircle's platform is an all-in-one hosting tool for podcasters, where you can host and distribute your content and monetize it through branded ads.
To get this done, podcasters are given the right tools to customize their ad placement, frequency, and timing.
Podcasters can control their content and how they want to deliver it to their audience.
That said, the following are some of the ways that podcasters can make money through RedCircle:
Cross promotions allow podcasters to promote other podcasts on other shows and, in turn, return the shoutout, which is an excellent way for podcasters to grow while helping others.
RedCircle also offers an option for those who love the idea of a subscription model. You can provide value to your listeners by giving them bonus content, early access, or even ad-free content. While podcasters traditionally turn to platforms like Patreon to set this up, RedCircle makes it easy to do everything in one place.
In addition, podcasters always appreciate donations as it allows them to continue doing what they love without worrying about the financial aspect. RedCircle makes this easy by offering subscribers an A to Z solution to donate to their favorite show.
Last but not least are hosting and distribution. RedCircle will host your podcast for you and distribute it to all the major platforms, such as iTunes, Spotify, and more. This is a great way to take distribution off your plate so you can focus on creating great content.
Podcasters get paid when they make money, allowing them to access their funds in days, not weeks or months, as other platforms do.
With Stripe integration, podcasters can get paid through their account, which is very convenient.
RedCircle Ad Platform
RAP (or RedCircle's Ad Platform) is an advanced technology-based marketplace that allows brands with advertising requirements to connect with the right podcasters.

It's important to note that this is a very different way of monetizing your podcast, as you're not selling ads yourself but rather allowing brands to find (and be a part of) your show.
Gone are the days when podcasters have to reach out to brands themselves in the hopes of getting a sponsorship.
With RAP, all that is taken care of by RedCircle, saving time.
It also is a win-win situation for brands.
Here, such brands can reach out to their favorite podcaster and get in front of their very engaged audience, lining up their message with the content the podcaster usually covers.
Moreover, when it comes to advertising, RedCircle offers podcasters the ability to optimize this using methods such as A/B split testing, where podcasters can change the messaging and placement of specific ads.
Direct communication between both parties ensures those using RedCircle can give brands feedback on how specific ads are doing, including what's working and what's not.
Overall, the RedCircle ad platform comprises a well-thought-out set of tools for podcasters to monetize their show.
Distribution
Regarding getting the word out about your podcast, RedCircle has various features ready to help ease your workload.
With an RSS feed and iTunes support, it's easy to submit your podcast to various directories and have it appear in search results.
Your podcast will be available on various devices and platforms, such as the iPhone, iPad, iPod touch, and even iTunes.
Any podcasts you create can be delivered on platforms like Spotify, Stitcher, YouTube, and Google Play Music.
Moreover, even if you manage multiple podcasts, RedCircle easily tracks them through one singular interface.
Dynamic Ad Insertion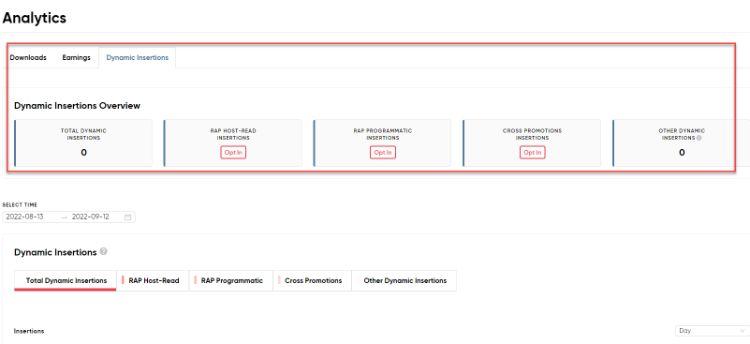 One feature podcasters seem to like is the ability to insert ads dynamically into their podcast.
RedCircle creates blocks for each ad to easily be inserted into your podcast episode at the proper intervals.
If you do, you can optimize the exact placement of the ads to ensure they play in the most compelling moments of your podcast.
For example, you wouldn't want to be cut off in the middle of a sentence, so RedCircle provides the tools to make the right changes.
Customer Support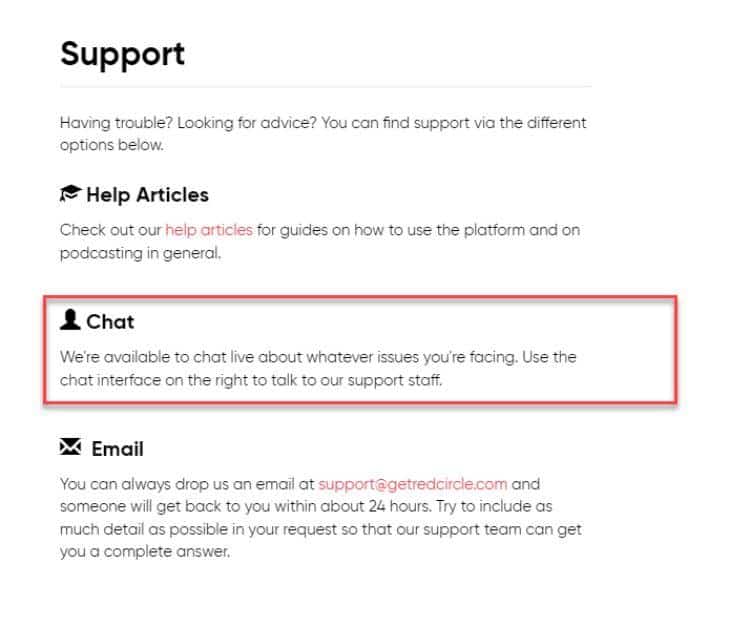 Top-notch customer support is critical with any online platform, especially with something as technical as podcasting.
You can contact RedCircle's excellent customer support team in various ways, including via email, phone, or live chat.
There's also a help center filled with how-to articles and FAQs in case you need a quick solution to your issues.
Moreover, tons of online tutorials are available from other podcasters, which can be very helpful if you're starting.
RedCircle's Cut
When writing this article, RedCircle takes a 4.5% cut of each transaction as a service fee whenever a podcaster gets a donation.
Moreover, RedCircle keeps 12% of any subscriptions that a podcaster gets.
When it comes to sponsorship, they take 30% of the payout.
The platform also keeps half of any income podcasters make from programmatically inserted ads into podcasts.
In addition, with RedCircle using Stripe as their primary payment processor, there's a 2.9% + $0.30 fee for each transaction that occurs as part of using this payment processor.
Pros And Cons Of RedCircle
Let's now consider some of the pros and cons of using RedCircle.
Pros of RedCircle
Pricing to suit all budgets: With RedCircle, you can choose from various pricing plans that fit your budget and needs.
Get paid quickly: RedCircle pays out quickly, so you don't have to wait long to receive your earnings.
Diverse monetization features: There are various ways through which you can monetize your podcast on RedCircle, such as donations, subscriptions, sponsorships, and programmatic ads. With this on-demand audio platform, there are multiple ways to make money.
Straightforward interface: The interface is easy to use and navigate so that you can get started immediately.
Embeddable media player: The media player is easily embeddable on any website or blog.
Community and collaboration: There's a community of podcasters on RedCircle that you can collaborate with and get advice from.
Free unlimited hosting: With RedCircle, you get unlimited storage as the podcast host, allowing you to create unlimited podcasts.
Good customer service: The customer service team is responsive and helpful, so you can always get the support you need.
Quick distribution: It's easy to submit your podcast to various directories and get it to show in their search results.
In-depth analytics: You can track your podcast's performance in downloads and listener engagement.
Team members: You can add team members to help you manage your podcast.
Cons of RedCircle
Although there are many positives to using this platform, there are a few negatives that are worth mentioning:
Can't live stream: With RedCircle, you can't live stream your podcast episodes.
No video podcasts: You also can't record or upload video podcasts.
Can't record or edit through the platform: You'll need to use an external recording and editing tool as there's no way to do so within the platform.
Big cut: RedCircle takes significant earnings, so you won't make as much money as possible with other platforms.
Only supports MP3 and M4A files: You can only upload audio files in the MP3 or M4A format.
No mobile app: Unlike other podcast listening apps, RedCircle doesn't offer one, so you'll need to use the website to manage your podcast.
Despite these negatives, RedCircle is still an excellent option for those looking for an easy-to-use platform with great features.
Pricing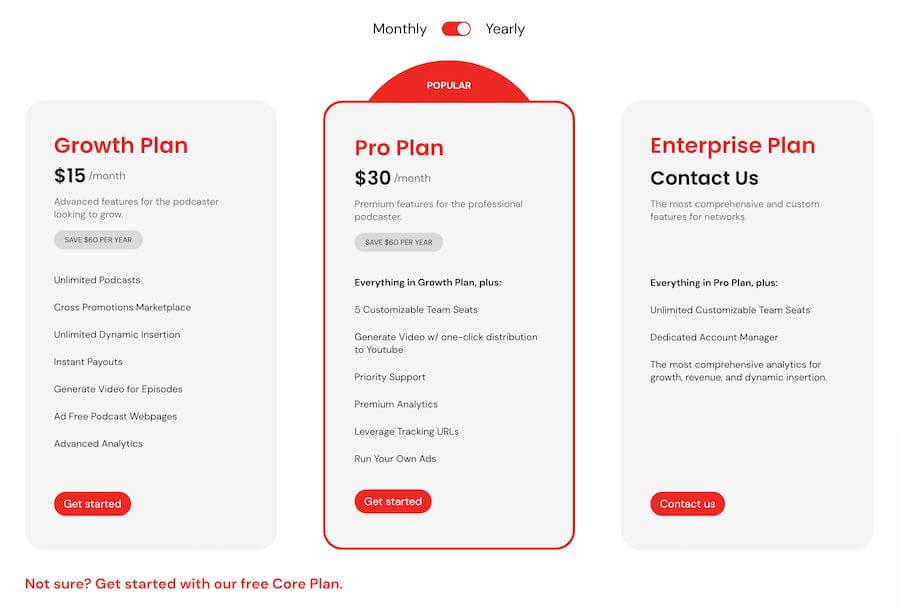 RedCircle offers the following pricing plans:
Core Plan: Free
Growth Plan: $15/month
Pro Plan: $30/month
Enterprise Pan: Contact RedCircle for more details.
The above can be paid monthly or yearly.
Why A Podcast Is Great For Building Your Brand
A podcast is a powerful tool for building a brand in today's digital age.
Through podcasting, brands can connect with their audience on a deeper level and establish themselves as thought leaders in their industry.
Here are some reasons why a podcast is great for building a brand:
Firstly, people love listening to podcasts, presenting a massive opportunity for brands to reach a new audience through podcasting.
Secondly, podcasts are a highly engaging form of content.
Unlike written content or videos, podcasts allow for more personal and authentic connections with the audience.
Listeners can hear the tone and inflection of a host's voice, which can create a strong sense of trust and familiarity.
Thirdly, podcasting is a cost-effective way to share information and promote brand awareness.
Creating a podcast requires relatively low overhead costs, and the content can be easily shared across multiple platforms, including social media, email newsletters, and websites.
Lastly, podcasts can help to establish a brand as a thought leader in its industry.
By providing valuable insights and expertise through a podcast, brands can demonstrate their knowledge and establish themselves as authorities in their field.
RedCircle Podcast Review – FAQ
What Are Some Of The Best Podcast Hosting Platforms Available?
Podcast hosting sites include Transistor, Podbean, Buzzsprout, Libsyn, Anchor, Simplecast, Google Podcasts, Apple Podcasts, and Spreaker.
What Are Some Of The Advertising Functionality Offered At RedCircle?
RedCircle offers advertising tools to help podcasters monetize their content, including display ads, pre- and post-roll audio ads, and sponsorships.
What Are The Distribution Options On RedCircle?
From social media sharing to website and player integrations, RedCircle offers a variety of options to help you distribute your exclusive content.
You can also embed your podcast on WordPress and other web hosting, making it easy for listeners to find and subscribe to your show.
Who Is RedCircle Best For?
RedCircle is best for:
Beginners that want to create a podcast website to share their thoughts
Startup owners that want to spread the word about their business
Advanced, independent podcasters that wish to captivate their audience and grow their show
And more.
RedCircle is an excellent option for anyone creating and sharing audio content online.
In addition, anyone with an online presence wanting to share audio content with their audience can do so without understanding highly detailed technical knowledge.
For podcast hosts looking for unlimited bandwidth to create and grow their podcasts, RedCircle is an excellent option for those of all levels and with various requirements.
Can You Add Show Notes On RedCircle?
Yes, you can add show notes when you upload a new episode.
It's a great way to engage your audience and tell them what they can expect from the episode.
What Is Dynamic Insertion All About?
From inserting ads into a podcast intro to including ads at specific moments, RedCircle allows podcasters to customize their ads for maximum impact.
Host-read ads are also possible, which is a great monetization option offered by RedCircle.
Do Free Podcast Hosting Platforms Exist?
Yes, there are a few free podcast hosting platforms available.
However, these usually have limited features and storage.
It's much better to go for a platform offering a free plan to upgrade as your needs grow.
This way, you're not limited by the limited storage and features usually offered on such free plans.
Wrap Up
Through this RedCircle podcast review, I hope that you have a better understanding of the features and benefits this platform has to offer.
RedCircle.com is an excellent option for anyone looking for an easy-to-use and feature-rich solution to sharing their message with the world.
The prices are also quite reasonable, especially compared to other industry providers.
Get started with RedCircle.
Further reading on AdamEnfroy.com: Learning how to record a podcast in a way that sounds great doesn't have to be complicated or expensive.
With the right podcast starter kit, you can sound pro without spending much money.
Finally, here are the best ways to monetize a podcast, so you can make money from your show.
Disclosure: I may receive affiliate compensation for some of the links below at no cost to you if you decide to purchase a paid plan. You can read our affiliate disclosure in our privacy policy. This site is not intending to provide financial advice. This is for entertainment only.
---
Last Updated on April 7, 2023 by Adam Enfroy