7 Best Dictation Software of 2023 (Speech to Text Tools Ranked)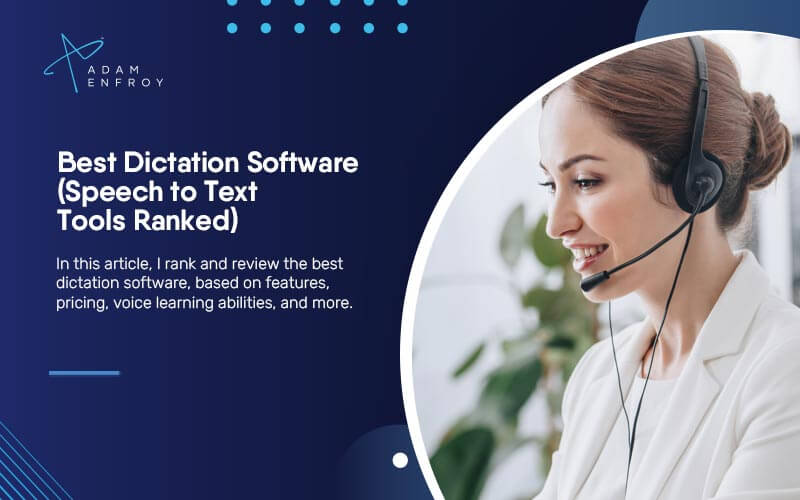 Many people have heard of transcription services, which allow you to convert speech to text.
While this is an essential feature of these tools, the best transcription software can do more than transcribe.
This software is used by some of the best VOIP providers to provide features such as automatic captioning, real-time translation, and even creating subtitles for videos.
Moreover, some of the best work-from-home jobs involve using such software to create text content from audio recordings.
Dictation software takes things one step further, however.
This software can create and format documents, 'write out' email responses and even browse the web using one's voice.
As you can imagine, this gives dictation software users a lot of possibilities when it comes to boosting their productivity.
That said, not all dictation software is created equal.
In this article, I rank and review the best dictation software, based on features, pricing, voice learning abilities, and more, allowing you to find the right tool for your needs.
Let's get right into it.
What Is The Best Dictation Software?
The following are the best dictation software currently available.
1. Dragon Professional Individual.
Best Overall Dictation Software.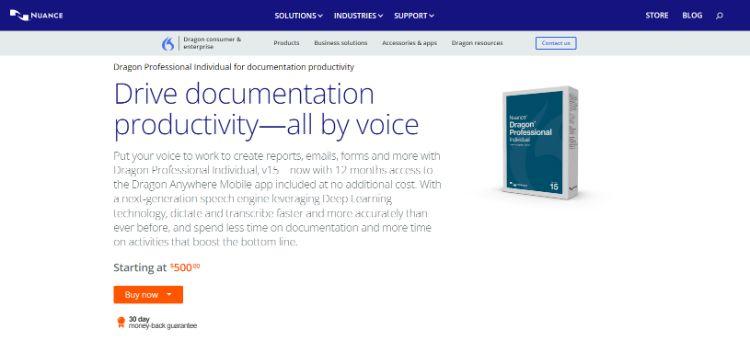 Dragon Professional Individual by Nuance is the best overall dictation software.
This tool is designed for busy professionals who need to quickly and efficiently create long-form documents.
You also get access to the Dragon Anywhere Mobile app when you purchase this software, which allows you to use your voice to create documents on the go.
With a highly customizable user interface, advanced transcription features, and excellent accuracy, it's no wonder that Dragon Professional Individual is considered one of the best dictation software on the market.
You can also streamline repetitive steps using the software's robust macro-building tools.
With a platform that uses Deep Learning technology, you can expect continued improvements in accuracy and functionality over time.
There are other products made by the same company, including Dragon Home, which caters to the average computer user.
Key Features: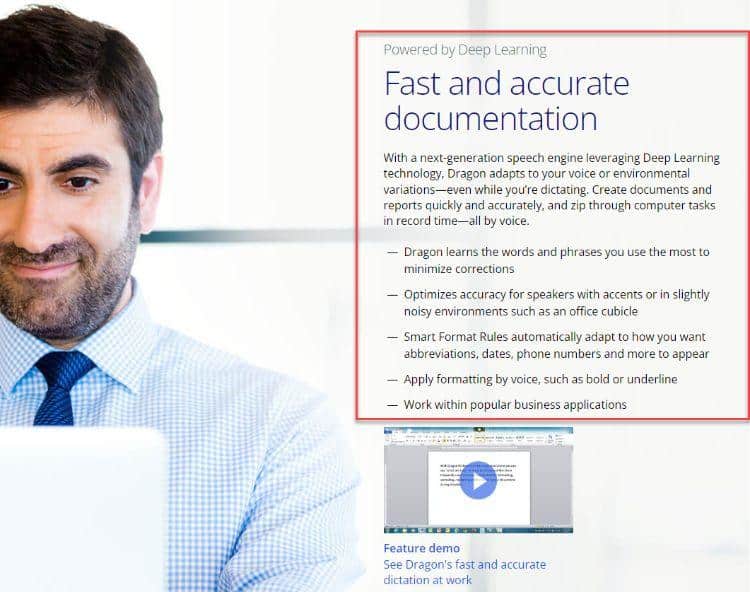 Create time-saving macros that help you automate complex processes
Import and export custom word lists for acronyms that you use often
Work within popular business applications so you can dictate directly to them
Apply formatting by voice, such as bold or underline
Smart Format Rules automatically adapt to how you want abbreviations, numbers, and dates to appear in your documents
Optimizes accuracy for speakers with accents
User Experience: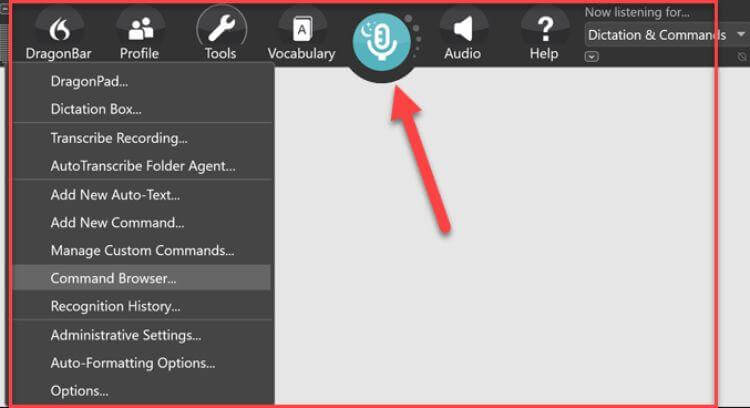 With a menu bar that hovers at the top of your screen, you can access all of the software's features without leaving your current window.
I also like that you can easily create custom commands for frequently used actions.
Pricing: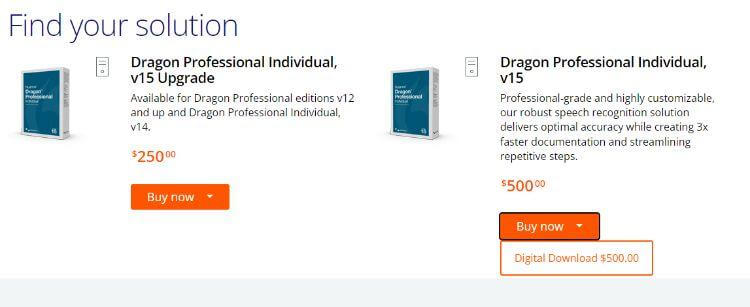 You can buy the software as a digital download for $500.
You can also contact their sales team to order in volume.
What I Like/Dislike About Dragon Professional Individual
Like:
The software helps you become more productive by automating complex processes.
For those that aren't interested in learning touch typing, it's an excellent alternative.
Dislike:
Voice training takes some time to get used to.
Product Updates:
You may now say "Show Links" to view all links on a Web page that you can voice-click.
Words are now synchronized between your desktop version and Dragon Anywhere in the background, thanks to Dragon Cloud.
2. Otter.
Best For Transcribing Live Audio.

Otter is another great dictation software tool, and it's the best option for those who need to transcribe a lot of audio.
One of Otter's best features is its import function, which allows you to transcribe audio from various sources – including recorded meetings, lectures, and phone calls.
Otter also offers real-time transcription, perfect for live events like conferences.
This software also offers excellent collaboration features, allowing you to share transcripts with team members and add comments.
Capture all your meeting minutes and brainstorming sessions with Otter – it's the perfect tool for busy professionals who need to stay organized.
Key Features: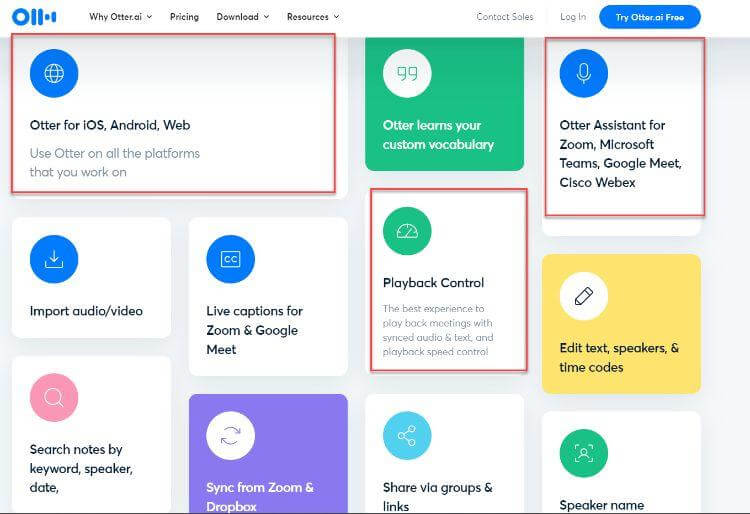 Get the most out of your meetings by automatically transcribing and saving them.
Get smarter with Otter by using the search function to find critical points in your transcripts.
Access Otter anywhere by logging into your account on the web or using the mobile app
Accessibility and inclusivity features such as live captioning and transcription in multiple languages.
User Experience:
With time stamps, speaker names, and keywords, Otter makes navigating your transcripts easy.
I also like that you can add comments to transcripts, which is perfect for team collaboration.
Pricing: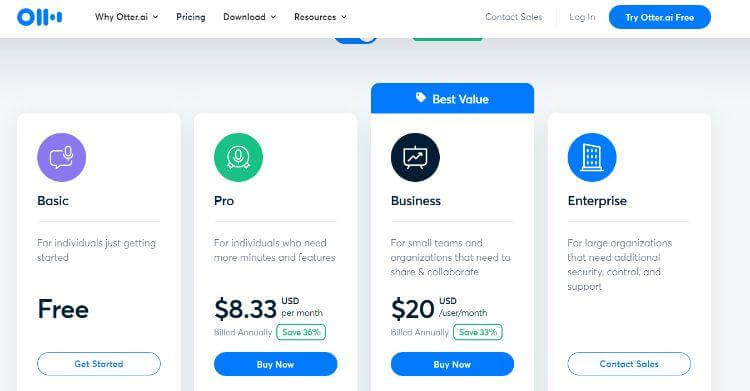 These are the pricing plans on offer:
Basic: Free
Pro: $8.33
Business: $20
Enterprise: Contact sales for a customized plan
What I Like/Dislike About Otter
Like:
Meeting transcriptions are immediately saved and can be easily shared with team members.
The import function makes it easy to transcribe audio from various sources.
Dislike:
Occasionally, accuracy is not as high as one would like it to be.
Product Updates:
All Otter plans now come with two-factor authentication
Otter weekly insights help you track your productivity.
3. Google Docs Voice Typing.
Best Free Dictation Software.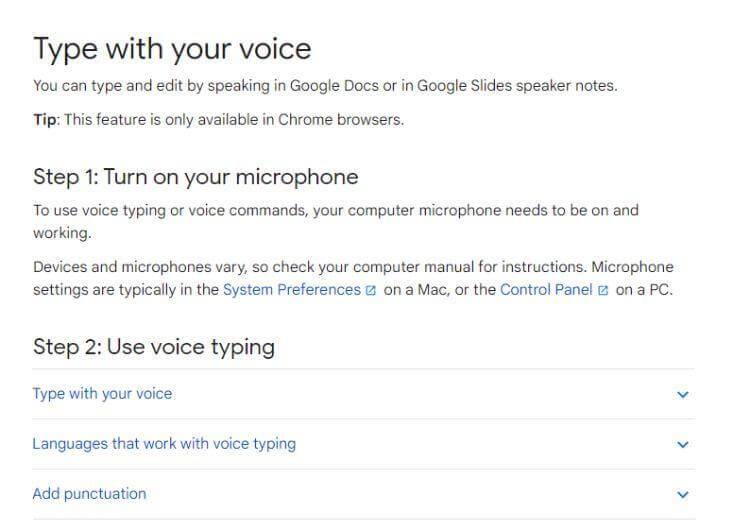 Google Docs Voice Typing is an inbuilt speech-to-text feature in Google Docs that can be used to transcribe audio into text.
All you need to do is speak clearly and loudly, and Google Docs will do the rest.
One of the best things about this tool is that it's free to use – so if you're on a budget, it's a great option.
Another great thing about Google Docs Voice Typing is its straightforward use.
There's no need to install any software or set up an account – you can start using it immediately.
Whether you're working in Google Docs, Slides, or any other Google app, Voice Typing makes it easy to dictate audio.
One thing to note is that you must be using a Chrome browser for Voice Typing to work.
Key Features: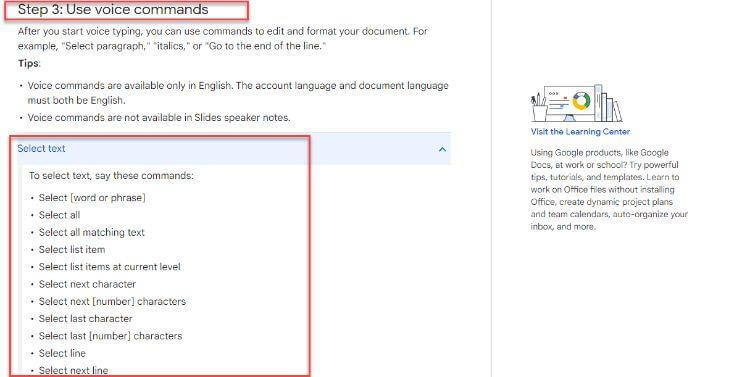 Format your document the way you want it with voice commands. You can format words or paragraphs, change font size, or make text bold or italic.
Edit your document as you go along. You can delete, add new words, and even replace words with other words.
Voice Typing makes it easy to add and edit tables in your document. You can add rows or columns and even merge cells.
Move around your document hands-free with voice commands. You can go to the next or previous page, jump to the top or bottom of the page, or even scroll up or down.
When you're finished dictating, you can stop Voice Typing anytime.
If you make a mistake while dictating, you can resume Voice Typing and continue from where you left.
User Experience: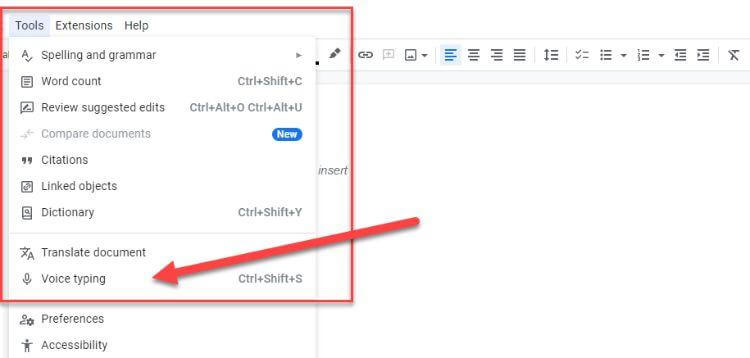 With a simple interface, you can access with a couple of clicks, Google Docs Voice Typing is very user-friendly.
Open up a new Google Doc and click on the Voice typing item within the Tools menu to start.
Pricing:
Google Voice is free to use.
What I Like/Dislike About Google Docs Voice Typing
Like:
Reliable and secure way to transcribe audio into text.
The fact that it's free to use is a big plus.
Dislike:
You must be using a Chrome browser for Voice Typing, so it might not be suitable for everyone.
4. Windows Speech Recognition.
Best For Windows Users.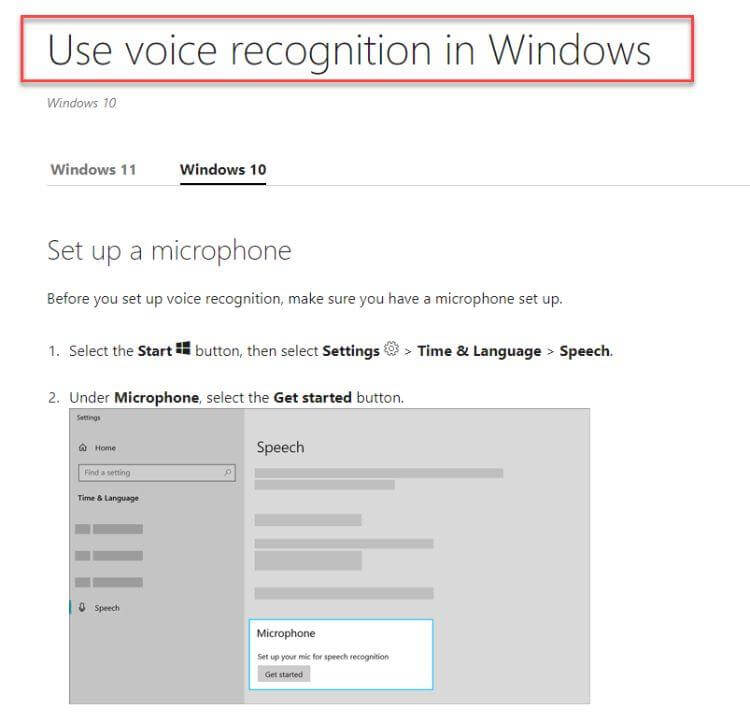 Windows Speech Recognition is a built-in speech-to-text feature in Windows that can be used to transcribe audio into text.
To use Windows Speech Recognition, you need to have a microphone connected to your computer.
Once your microphone is set up, you can start using Speech Recognition by opening the Control Panel and selecting "Speech Recognition."
Follow the instructions to set up Speech Recognition, and then you can start dictating.
Windows Speech Recognition is an excellent tool for dictating audio on Windows 10 or 11.
You can also teach the software your voice, so it's better able to understand you.
Key Features:
Native Windows software means it integrates well with other programs
Can be trained to understand your voice better
It's free to use with Windows
User Experience:

Living at the top of your screen, Windows Speech Recognition is always there when you need it and out of the way when you don't.
Pricing:
Free to use and comes with Windows operating system.
What I Like/Dislike About Windows Speech Recognition
Like:
You can dictate a whole lot faster than you can type
Dislike:
It doesn't always match the accuracy of some of the other software
Product Updates:
The most recent upgrades to Windows 11 enhance voice accessibility using the touch keyboard.
5. Apple Dictation.
Best For Apple Users.
Apple Dictation can be used on any Apple device, including the iPhone, iPad, or iPod Touch, to turn speech into text.
It's a built-in feature of iOS, so there's no need to download any third-party apps.
If you want to use your voice instead of your keyboard to type, you must enable Dictation in the Settings app.
Once Dictation is enabled, you can start using it by tapping the microphone icon on the keyboard.
Apple Dictation uses Siri's speech recognition engine to transcribe your words into text.
With a feature that underlines a word if the software is unsure of what you said, Apple Dictation makes it easy to correct errors.
The software is also available on Mac, giving the same user experience as iOS devices.
Key Features: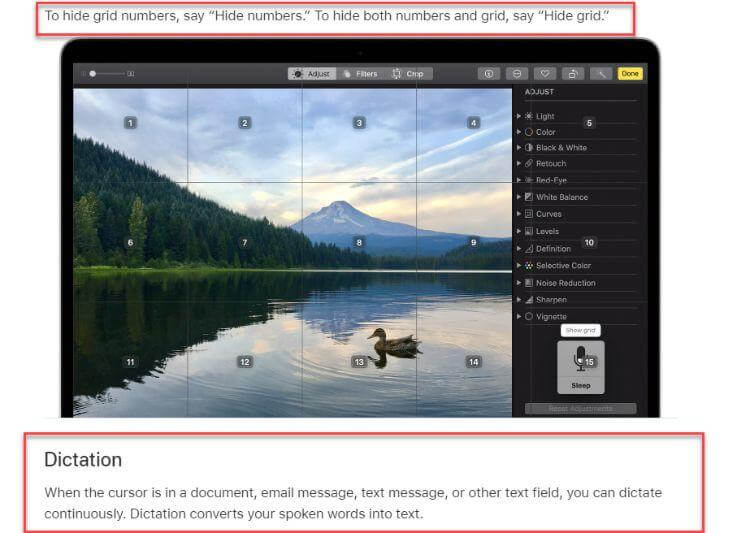 Use punctuation and formatting: With Apple Dictation, you can use punctuation marks such as full stops, question marks, and commas. You can also format your text by saying "new line" or "all caps."
Highlight words it's unsure of: If the software is uncertain of a word, it will underline it in blue. You can then tap on the word to choose the correct spelling.
User Experience: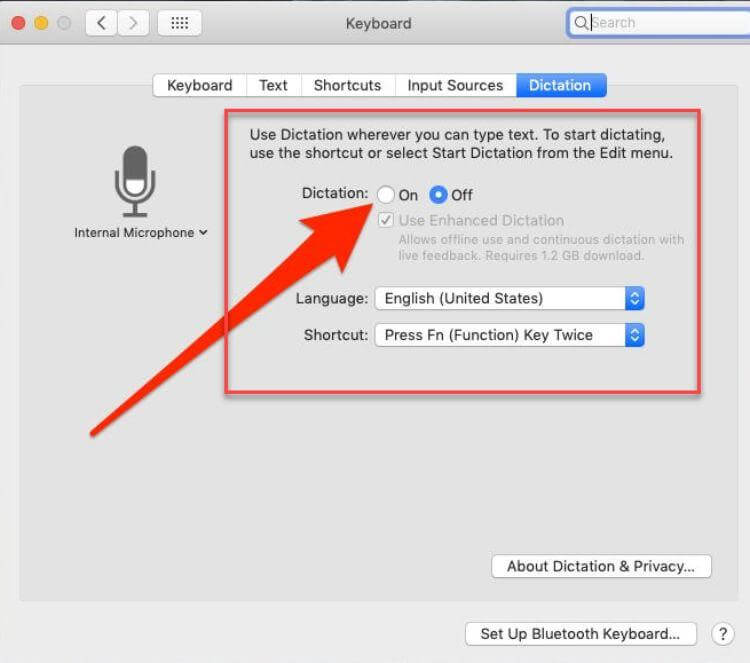 It's easy to get started using this software.
Just enable Dictation in the settings, and you're good to go.
Pricing:
Free to use with Apple devices.
What I Like/Dislike About Apple Dictation
Like:
High ratio of accurate transcription
Uses Siri's speech recognition engine
Dislike:
Only available on Apple devices
Product Updates:
Dictation integrates touch and voice in a new on-device way that allows users to switch fluidly between voice and touch input.
6. Microsoft Word speech to text.
Best For Use With Microsoft Office.

If you're an avid user of Microsoft Office, you'll be happy to know that Office has a built-in speech-to-text feature.
To use the speech-to-text feature, you must open up a new Microsoft Word document and click on the "Dictate" button.
Once you click this button, you'll be able to start speaking, and your words will be turned into text.
One of the great things about using Microsoft Word for speech-to-text is that you can format your document as you go along.
You can bold, italicize, or underline words by saying "bold that," "italicize that," or "underline that."
You can also add bullet points, numbered lists, and headings by saying "add a bullet point," "add a numbered list," or "insert a heading."
Key Features:
Punctuation features allow you to add common punctuation marks such as full stops, question marks, and commas.
Editing features let you make changes to your text without returning and re-edit it.
Creating lists is a great way to organize your thoughts, and you can do it with just a few voice commands.
By adding comments, you can insert notes into your document without interrupting your Dictation.
Pricing:
Free for use with Microsoft Office applications.
7. Braina.
Best For Productivity.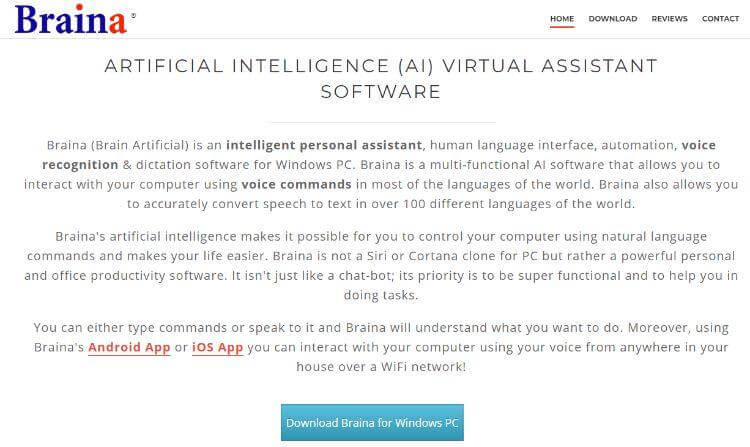 Braina uses A.I. to transcribe speech into text.
It also has many other features, such as scheduling reminders, sending emails, and searching the web.
You can also interact with your computer using your voice, so you don't have to use your keyboard or mouse.
This means you can consider Braina dictation software a powerful personal and office productivity software that can go above and beyond simple dictation.
With an Android or iOS App, you can use Braina to dictate text anywhere.
Key Features:
Search information on the Internet automatically so you don't have to it manually
Play the songs you want to hear, making it great for hands-free music listening
Open or search files on your computer, so you don't have to go hunting for them
Set alarms and reminders, so you don't forget important tasks
Do mathematical calculations using your voice
Remember notes for you, so you don't have to write them down
Pricing: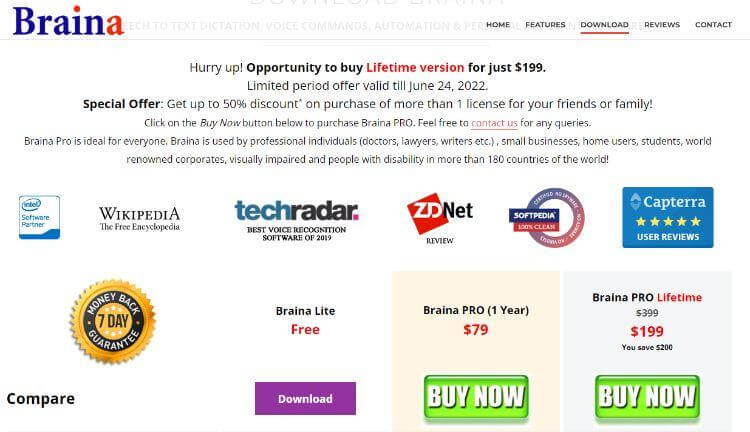 The following plans are available with Braina:
Braina Lite: Free
Braina PRO (1 Year): $79
Braina PRO Lifetime: $199
What Is Dictation Software?
Dictation software allows spoken words to be converted to text.
This type of program is also known as speech-to-text or voice recognition software.
Dictation software can be used on a laptop, desktop, or mobile device.
The software typically requires you to have a microphone that you speak into.
Your words are then converted to text and appear on the screen.
The benefit of voice recognition software is that it helps to eliminate the need for typing.
It can also be used for various tasks, such as taking notes, writing essays, or sending emails.
Using voice-to-text technology, you can format your text without using a keyboard.
Advancement in speech recognition software makes it possible to create documents with little to no errors.
With dictation tools, one can also use a specific voice command to perform various editing tasks, such as deleting a word or sentence.
With a human language interface, this software makes it convenient to get your work done without ever having to touch a keyboard or mouse.
The Difference Between Dictation And Transcription
Many make the mistake of believing that these two functions are the same – however, there is a slight variation between them.
Dictation is the process of converting spoken words into text in real-time.
Transcription, on the other hand, is the process of converting any audio or video recording into text.
Transcription software allows a user to import audio and video files, and the software will generate a text version of the recording.
This can be done using automatic speech recognition (ASR) or manual transcription.
In some situations, having both dictation and transcription software can be beneficial.
For example, if you are creating a tutorial, you might want to use dictation software to dictate your thoughts to your computer.
You could then use transcription software to transcribe the video's audio itself and use that text to create subtitles or captions.
On the flip side, you can also consider using text-to-speech software to get written words converted into spoken ones, which can then be used as a voiceover for various videos.
Voice Dictation Features
While many dictation software only require an internet connection to use, not all of them have the right features for your needs.
Here are some of the most common features when choosing dictation software.
Setting The Right Keyboard Shortcuts
Whether you want to initiate a specific workflow or use your headset to navigate an app (or even the web), being able to use keyboard shortcuts within the dictation software is useful.
Artificial Intelligence
Enhanced dictation abilities can be achieved using artificial intelligence (A.I.) that can learn your voice, style, and preferences over time.
The more you use such dictation software, the better it gets at understanding you.
This also includes making corrections to improve accuracy.
Recognition accuracy used to be an issue in the early days of voice recognition, but A.I.-based software has made great strides in this area.
Ambient Voice Intelligence
This feature makes dictation that much better.
With mobile devices (such as Android and iOS) potentially being used in an environment with ambient noise, this technology can help eliminate that noise and still provide an accurate result.
Different Languages
Whether your native language is English, Spanish, French, or any other, you should be able to find a dictation tool that supports it.
Many software offer support for multiple languages, which can be helpful if you need to transcribe audio or video in a foreign language.
Voice Commands
Being able to move your cursor on the screen and 'click' on buttons (hands-free) can be a significant time-saver, especially if you're a power user that's constantly multitasking.
Some dictation software support voice commands that allow you to perform tasks such as opening and closing apps or even controlling your smart home devices.
This also means that dictation apps can help those with disabilities become more independent.
Integrations
Integrating dictation software with text applications can help with spelling and grammar.
This is always helpful, especially if you're working on a critical document and need to ensure as much accuracy as possible in your work.
Other integrations that might be useful include those with note-taking apps, document management software, task managers, and cloud storage services.
Wrap Up.
Small businesses, busy professionals, students, or anyone who wants to be more productive can benefit from dictation software.
The right features and integrations can help you get your work done faster and with less stress.
When choosing dictation software, be sure to consider your needs and find a tool that offers the features that are most important to you.
Further reading on AdamEnfroy.com: Did you know that some streamers use dictation software to control their live streams?
Whether you're just learning how to stream on Discord or you're a Twitch veteran, the best streaming software can be integrated with dictation software to make your life easier as a streamer.
Disclosure: I may receive affiliate compensation for some of the links below at no cost to you if you decide to purchase a paid plan. You can read our affiliate disclosure in our privacy policy. This site is not intending to provide financial advice. This is for entertainment only.