How To Start A Blog Anonymously: Is It Possible In 2023?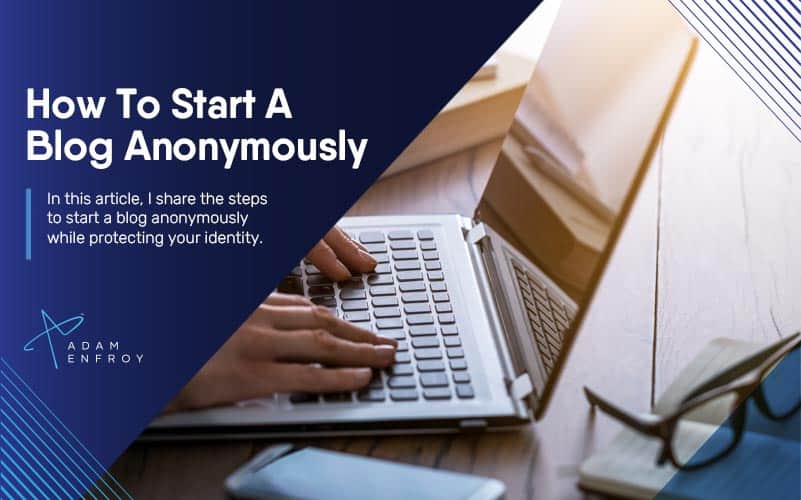 For many, starting a blog is a mark of freedom – a way to express themselves freely.
However, if you're worried about being identified as the author of your blog, then it might be worth considering starting your blog anonymously.
A blogging business can offer a unique channel for those wanting to share knowledge about topics they may feel uncomfortable writing about under their names.
Additionally, anonymity can create an air of intrigue and mystery around a blog and protect the identity of writers and followers alike.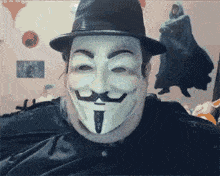 In this article, I share the steps to start a blog anonymously while protecting your identity.
How To Start Blogging Anonymously
Here are the steps to consider when starting a blog anonymously.
Choosing A Domain Name And Hosting Account
Having a successful blog requires a domain name and hosting provider.
When shopping for domain names, choose one that uses domain privacy protection, which hides your personal information from being publicly visible.
You can do this through web hosting or a domain registrar such as GoDaddy, BlueHost, or Namecheap.
Regarding the actual name, take the time to find something catchy and memorable.
It should also accurately reflect the content you'll be writing about and resonates with your intended audience.
Hosting is another crucial element to consider.
Mann hosting providers offer anonymous hosting packages, which means your personal information isn't visible to anyone that shouldn't have access to it.
Choose Your Content Management System
Starting a blog anonymously may seem challenging, but with the right content management system (CMS), it can be much more straightforward.
Before launching into full-time anonymous blogging mode, select a suitable CMS.
This choice will also determine how your site looks and functions.
WordPress is one platform that offers this, but other CMSs, such as Ghost and Write.as, are explicitly designed for anonymous bloggers.
Blogging platforms generally allow the admin to create various users that then post on the site.
In some cases, you can also choose anonymous as the account type.
While there are many options you could go for, I generally recommend a self-hosted WordPress blog.
This CMS offers a great way to start blogging anonymously and a wealth of customization options that allow users to customize their site as needed.
Finding The Best WordPress Theme
Let's say you're going with WordPress as your anonymous blogging platform.
You then need to choose your theme.
One can describe the theme as the skin of your blog.
If you choose a paid theme, read customer reviews, compare prices, and test out multiple ones before investing in one for your start anonymous blogging journey.
Some hosting platforms also offer some starter templates that simplify things.
You'll also want to consider features such as responsive design, search engine optimization (SEO) capabilities, and the ability for readers to leave comments or like posts.
Start Writing
After customizing each element on your WordPress dashboard, you can jump right in.
In your WordPress dashboard, go to posts and choose 'Add New.'
If you've already selected a pen name, include it with your post, so readers can start identifying with you.
Whether you're creating content with a twist around a personal finance blog, travel blog, lifestyle blog, or a blog revolving around any other topic, you should always consider a few key aspects.
Using creative language, speaking about exciting topics, and using the right images will draw more readers into reading your posts.
Even if you want to share your heartfelt thoughts and vulnerabilities with the world (but don't want them attached to your personal life, it's best to consider producing content that has maximum impact.
Moreover, ensure every post contains quality content with relevant keywords, visuals, and links so readers can easily navigate from one page to another without difficulty.
Have A Content Calendar
One essential tip when creating content is to have a blog calendar that helps keep things organized.
Ensuring you have enough content to post regularly without running out of ideas or feeling overwhelmed can be difficult, so it's best to plan.
The Benefits And Downsides Of Anonymous Blogging
Starting a blog anonymously can be an empowering experience for bloggers who prefer to keep their blog secret and not be associated with their real name.
However, it also comes with a few cons.
Let's explore both sides of the equation.
Benefits Of Anonymous Blogging
Many new bloggers want to express their opinions without fear of repercussions or backlash from their friends, family, or even those in their professional life.
Being anonymous, bloggers won't have to worry about someone looking up their old posts if their opinion changes in the future or if they state something controversial that could come back to haunt them.
Additionally, anonymity creates mystery around a blog or website, benefiting those who prefer to keep their identity private.
In addition to providing anonymity, this blogging genre opens up the possibility for creative expression and experimentation that wouldn't be possible with traditional methods.
You can push the boundaries and explore topics that may not be suitable for public consumption without fear of repercussion or criticism.
This freedom ensures that bloggers can focus on creating content without worrying about how an audience perceives it.
The Downsides Of Anonymity
While starting a blog anonymously can be a great way to explore personal stories and issues, anonymous blogging also has its downsides.
As an anonymous user, not having your blog connected to a single identity or blog name can make it harder to gain trust and build an audience.
Starting a personal blog means you won't get any recognition for your work, and it can be challenging to market a blog when there isn't an established identity.
It can make it difficult for readers to build trust in your content since they won't know who is behind it.
Additionally, anonymity makes it easier for trolls and spammers to target unsuspecting blog owners since they don't have any real accountability.
While it keeps your identity as the author private, it also means sponsored posts, affiliations, or other partnerships might be more challenging to acquire.
Finally, anonymous blogs often struggle with building an audience because people tend to gravitate toward content creators with an established online presence and reputation.
This online presence is something anonymous bloggers find more challenging to build as they keep their identities hidden.
Key Factors When Blogging Anonymously
Here are a few key factors to consider when blogging anonymously.
Secure Your Data
One of the critical steps in anonymous blogging is to secure your data.
Create strong passwords, change them regularly, and never use the same one for different accounts.
It's also great to start using two-factor authentication (2FA).
2FA requires you to enter an additional, usually randomly generated code when logging into your account from a new device or browser.
This code is sent to you via text message or email and will help keep your account safe even if someone gets their hands on your password.
To ensure the highest level of security, you should also hide your IP address and your online activity when using the internet.
In this regard, a virtual private network (VPN) service is suitable for maintaining anonymity.
There are many different types of VPN services, but the premise is that they will encrypt your data and make it nearly impossible for anyone to track your online activity.
Engage With Your Audience
Being an anonymous blogger doesn't mean you should use anonymity to hide behind a wall of silence.
Anonymous bloggers have an advantage over traditional bloggers because they can engage with their audience without fearing being judged based on their identity.
You should use this advantage to interact more deeply with readers while protecting yourself from personal attacks or harassment.
Ask questions, start conversations, and be prepared to answer them honestly and openly.
Doing so will help build trust between you and your audience, which is essential for successful blogging.
Always Focus On Creating Great Content
Anonymous blogging doesn't have to mean you post without a purpose.
Develop your content around specific topics to help create a more engaging and focused blog site.
All your blog posts should offer value to your readers, whether it be advice, entertainment, or educational content.
Be sure to focus on your content's quality and create informative, helpful, and unique posts.
Always strive to provide something new or different than what other bloggers in your field are offering so you can stand out from the crowd.
By creating fake names or aliases, you can still build a personal brand and help readers relate to the content on your blog.
Whois Privacy
Whois Privacy is a service that conceals your personal contact information from the public domain registry when registering a domain name.
People won't be able to view the administrative and technical contact information associated with your domain name.
As a result, you control who gets access to your information.
Whois Privacy is available from most domain registrars, and it's an excellent option for anonymous bloggers who want to protect their personal information.
How To Market An Anonymous Blog
Marketing is crucial to any successful blog, whether anonymous or not.
Here's how anonymous bloggers can make the most of these tools.
Guest Blogging
Guest blogging offers an effective way for anonymous bloggers to get their content seen by new people without using their names or revealing any personal information.
You can look for websites in your industry that accept guest writers and submit your work for consideration.
It would be best if you also kept an eye out for guest post submission requests from other blogs in your niche.
Being first to submit quality pieces increases your chances of getting published and building an audience.
Promoting Your Blog on Other Sites
By creating accounts on platforms like Reddit and Quora, you can leverage them to promote your blog anonymously.
Not only will this help spread awareness about your blog, but it will also bring more traffic directly to your website via backlinks included in your posts.
Make sure that whatever platform you use has content guidelines that don't forbid anonymity before posting anything about your blog.
If applicable to your niche, creating tutorials on such platforms can help others in your community, build your audience, and get noticed – all at the same time.
You can also use any available apps in your industry to showcase your skills and share content about your blog without revealing any personal information.
Email Marketing
Email marketing campaigns can help with promoting an anonymous blog.
Armed with a new email account, you can build an email list of readers and create highly targeted campaigns to keep them engaged with your content.
You can also use email marketing to share interesting content from other bloggers or websites as well as your own.
Creating an anonymous Gmail account is the perfect solution for those seeking a way to get started.
However, other options exist for those looking for more than just basic email functionality.
An anonymous email account on Guerrilla Mail, Protonmail, or AnonAddy can help.
These tools provide extra privacy and anonymity when sending and receiving emails.
SEO
Once you have chosen a content management platform to use, SEO should be your next priority.
For long-term results, your blog must be search-engine friendly.
On-page SEO depends on two critical factors for anonymous bloggers—keywords and content.
When writing posts, research keywords that are relevant to your topic.
When search engines see your content is relevant to a specific topic, they will rank it higher in the search results.
It would be best if you also strived to create quality, well-written, informative, and engaging content that gets people to stay on your site for as long as possible.
Social media
Using second media as an anonymous blogger means establishing social media accounts under your pseudonym and using them to share your blog posts and other helpful content.
Knowing the terms and conditions of different social media platforms is essential in this scenario.
Specific rules may apply depending on the type of content you post.
Always ensure to read up and stay compliant with whatever sites you use.
That said, sharing snippets of blog posts or blogging tips related to your industry can help boost awareness about your website while still protecting your anonymity.
You could also join industry-specific groups related to your blog's topic and start conversations or post helpful advice.
Moreover, consider cross-publishing content between platforms to ensure your blog posts reach a wider audience.
How to Monetize your Blog Anonymously
Let's now explore how you can make money from your anonymous blog.
Affiliate Marketing and Ad Placements
One of the most common ways to make money blogging is through affiliate marketing and ad placements.
This method involves inserting links or banners of products or services into your posts to generate revenue when users click on those links or banners.
It's also a great way to earn passive income as long as you have enough traffic from readers.
Depending on the type of product or service you promote, affiliate marketing may require disclosure about who you are and where the links on your blog will lead customers.
Alternatively, you can use Google Adsense to display ads on your site.
This method can help you monetize your blog without disclosing your identity.
Selling Products/Services
Selling products or services is a great way to monetize your blog anonymously if you're offering physical products or services.
You can set up an online store with e-commerce solutions like Shopify, WooCommerce, and BigCommerce.
Then, use payment processors such as PayPal and Stripe to process payments without revealing any identifiable personal details.
Depending on what type of product or service you offer, it may take more effort than other forms of monetization due to fulfillment and customer support requirements.
Creating Online Courses
Another option for anonymous bloggers is creating online courses using platforms like Teachable or Thinkific.
While this requires some upfront work in creating quality course materials.
However, once you set it up, it can become a consistent source of passive income with relatively low maintenance costs.
When creating an online course, one thing to remember is that if students need support, they typically expect a response from the instructor.
While not essential and depending on the situation, this might require some degree of identification.
Other Channels
Ultimately, the type of content you're posting can help you determine which option is best for your blog.
Many other marketing options exist.
It all depends on the channels you want to use for monetization.
These could include offering premium content, accepting donations, or even providing consulting services or webinars.
You could also speak on podcasts, increasing sales as an affiliate or a product owner.
Always consider how far you want your anonymity to go and take the necessary steps to protect your identity while benefiting from your blog.
How to Create a Pseudonym for Your Writing
Everyone has heard of authors like Mark Twain and George Orwell, but did you know that their real names were Samuel Clemens and Eric Arthur Blair?
Many successful authors have used pseudonyms throughout history, and there's no reason why you can't do the same.
The first step in creating a pseudonym for your writing is to choose an appropriate alias.
Depending on your writing style or genre, you should pick something that reflects your work.
For example, if you write historical romance novels full of intrigue and scandal, then a name like "Mysterious Millie" might be fitting.
On the other hand, if you prefer more serious literary fiction, then "William Wright" could be just right.
Put some thought into picking out the perfect pseudonym.
After all, this will be how your readers recognize and remember your work.
The second step is to keep your pseudonym separate from your real identity.
Do not link it with other services, such as social media accounts or email addresses.
It will be much harder for anyone to trace your true identity from the pseudonym alone.
You can also use different payment methods when setting up accounts associated with your pseudonym.
Doing so means there won't be a link to your personal accounts.
If you're having trouble finding an appropriate pseudonym, plenty of random name generators are available online that can inspire some ideas.
They allow you to specify gender, nationality, and even specific letter combinations so that they can generate names explicitly tailored to what you have in mind.
However, remember that these generators aren't foolproof.
Do some research beforehand to ensure that any potential aliases don't already belong to someone else.
Wrap Up.
Learning how to start an anonymous blog and monetize it involves several steps.
From creating a pseudonym to choosing the right monetization channel, there are plenty of factors to consider.
You can create a successful blog without sacrificing anonymity by carefully planning out each element and taking the necessary steps to protect your identity.
Further reading on AdamEnfroy.com: Want more in-depth information on starting a blog?
Here's my guide on blogging for beginners, which can give you an overview of the entire process.
You can check out this article on starting a book blog if you are interested in a specific niche.
Editorial Process:
Our reviews are made by a team of experts before being written and come from real-world experience. Read our editorial process here.
Some of the links in this article may be affiliate links, which can provide compensation to us at no cost to you if you decide to purchase a paid plan. These are products we've personally used and stand behind. This site is not intended to provide financial advice. You can read our affiliate disclosure in our privacy policy.